How to Make Your Own Bumper Stickers Like a Pro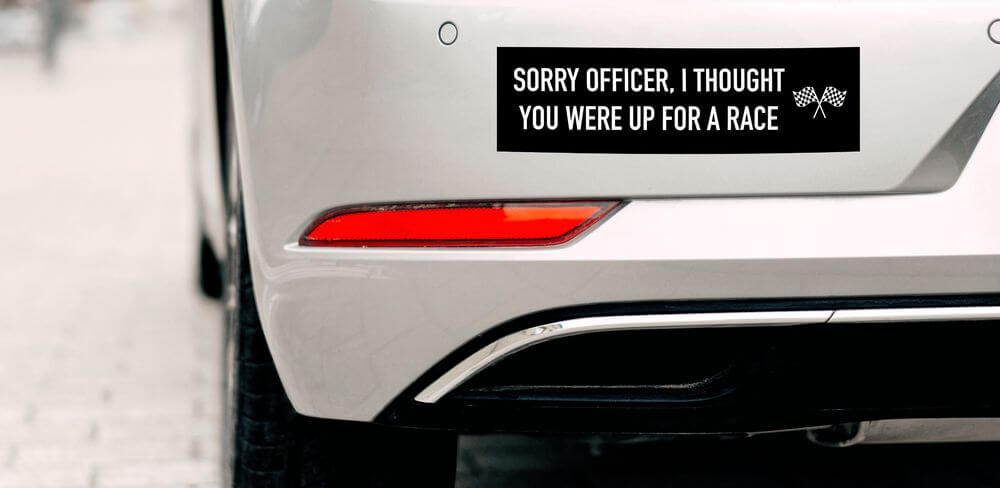 When it comes to making money from print on demand, custom bumper stickers are a great method. They're widely popular, easy to make, and have phenomenal profit margins. 
Even if you haven't started selling stickers on Etsy or an eCommerce storefront, there's no time to design like the present. Bumper stickers are not limited to cars. Laptops, posters, and wall decorations can all be redefined with the right sticker.
Why Make Custom Bumper Stickers With Printify?
Working with a print-on-demand dropshipping platform means that you won't have to worry about a ton of business realities. Printify handles all product creation, shipping, storage, sourcing, logistics, quality control, and so much more. Oh, and it's entirely free to start. 
It all adds up to a scalable, risk-free business opportunity. That's right. You can start your very own bumper sticker business today – with no up-front investment.
Make Your Own Bumper Stickers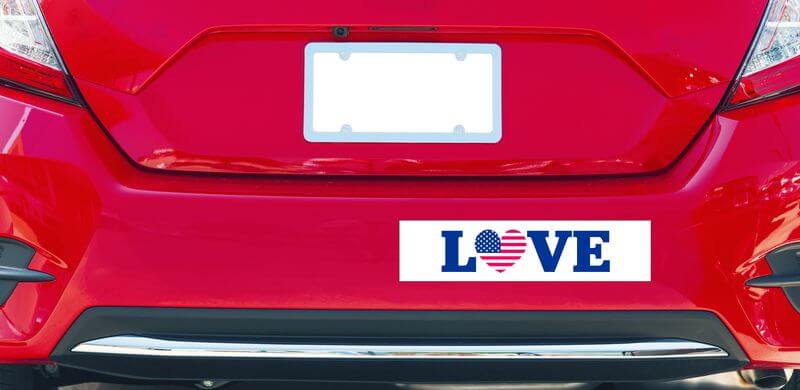 Bumper stickers are everywhere – meaning they're profitable. In 2020, over 7 million stickers were printed regarding the American presidential race alone. And, just like the ebbs and flows of governmental circuses, bumper sticker sales also spike relative to trending or popular subjects. 
It's the work of a moment to make (and publish) a bumper sticker to your store. As such, it's no task to customize, tinker, and add new of these lucrative products to an inventory lineup. After, it's a potential lifetime of passive income flows. 
Furthermore, customers often buy more than one item with their purchases. It could be a great idea to introduce a bundle deal, discount, or another incentive to drive traffic toward your store.
Make Your Own Bumper Stickers!
Bumper Sticker Design Ideas
Here are a few general concepts to jumpstart your thinking process for the perfect sticker concept. Remember, if you can improve on them, please do so. Maybe your special spin is everything needed to be the next big hit in the sticker world. 
Peace and Love on a Sticker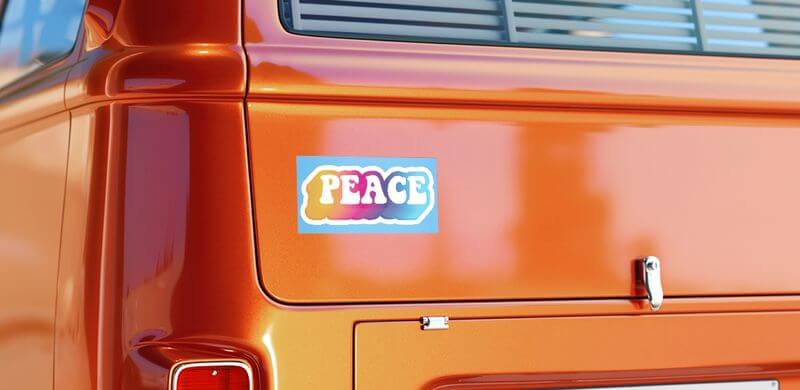 This genre can be a bit generic… but who doesn't love the idea of love. Even if poorly delivered, the simple act of putting forth a positive ripple may just be what saves us all. In a world of passionate people, be one that says nice things.
It's all good

Groovy, man

We're all riding our own wave

Let the good times roll

Peace, love, and harmony
Sarcastic Bumper Stickers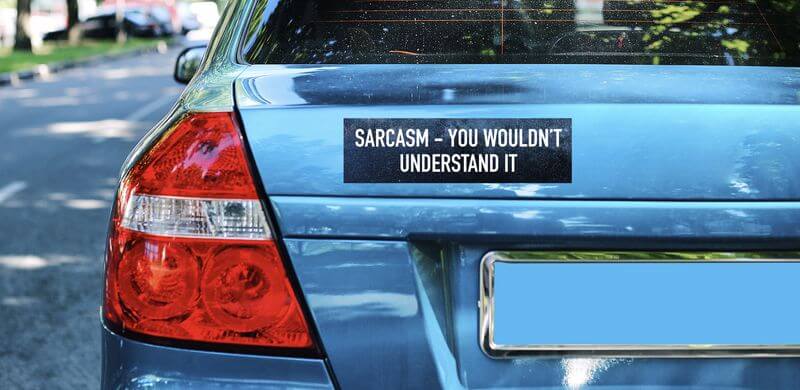 Who doesn't love a few puns or twists on common humor? Sometimes, it's the little things that make the most impact. Furthermore, text is quick to make while being effective and broadly appealing.
Shouldn't you be watching the road?

If you're reading this, you're too close

Warning, Sarcastic Driver Ahead

Reading is a good idea on the road

It's a fine day to read other people's bumpers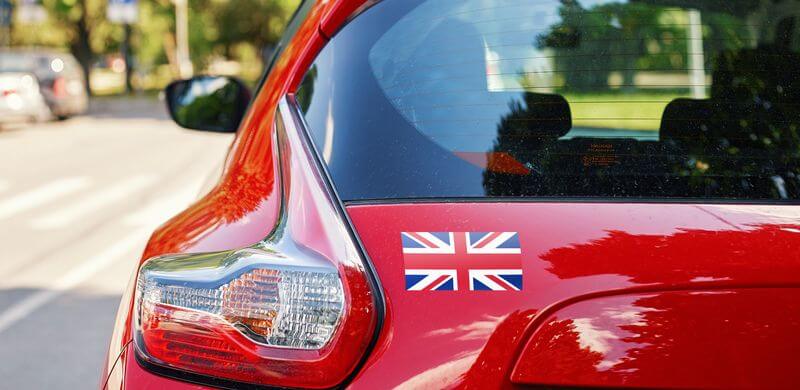 Oh say can you see… my bumper sticker with my country's flag on it. What better way to stand up than by flying the symbol of a certain nation. Keep in mind that these icons can mean different things to different people, depending on what city, border, or neighborhood you wind up in. Here are a few flags that tend to get hearts pumping a bit faster. 
America

Jamaica

England

IKEA… I mean Sweden

Mexico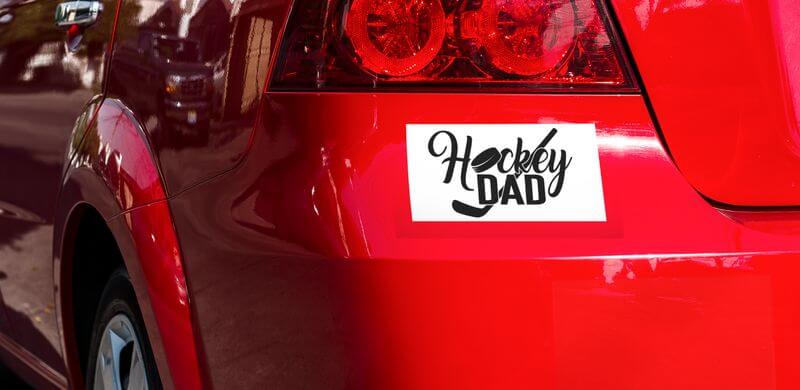 People love sports. As such, there's a fair bit of money to be made by playing on the latest Superbowl, championship, final four, race, fight, or whatever else it may be. However, be sure not to steal the intellectual property of a particular team/individual, there are many funny plays that can be made regarding athletes, teams, and other public figures.
Wanna race, officer?

See you on the gridiron

I wish I was playing hockey

The right team, right here

If you're reading this, we could use an outfielder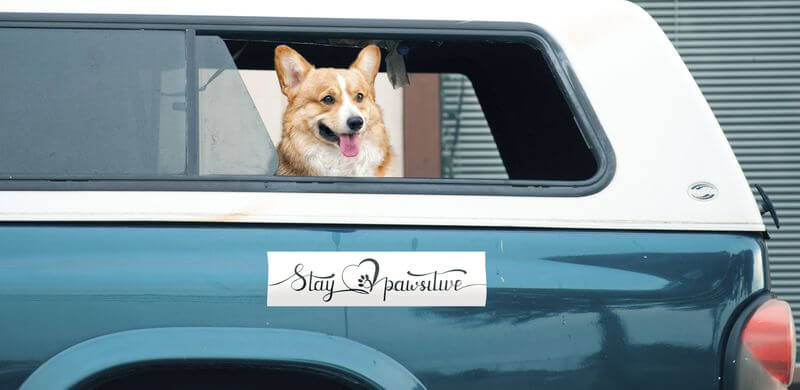 Few things pull at the heartstrings as directly as furred, feathered, or scaled little friends. Why not build a few products catering to the more animalistic-oriented parts of the population?
Keep all paws inside the vehicle

My dogs are my babies

Caution, wild animals inside

Backseat barker

Proud cat owner
Common Questions About How to Make Your Own Bumper Stickers
As a popular product, bumper stickers are often inquired about. Here are some of the most frequently asked questions about how to make your own bumper stickers.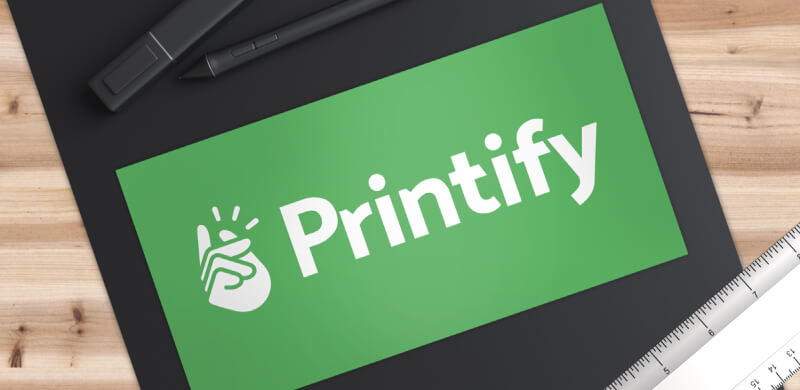 How Can I Make My Own Bumper Stickers?
Right off the bat, this is arguably the easiest part for people wondering how to create their own bumper stickers. 
Go to the

bumper sticker page

Press "

Start designing

".
From the designing page, you'll see a rectangular square representing your future sticker. How are you going to customize it?
Image, Artwork, or Design:

This is easy. Simply upload a design or drag-and-drop into the specified area. From there, you can move things around until you've found the perfect fitting.

Text:

To have a bumper sticker featuring a message, slogan, or other written content, press the "Custom text" button. From there enter your text on the provided panel. You can also change text colors, fonts, and other options.
For any questions on creating text, please see this article or this video.
How Much Does It Cost to Make a Bumper Sticker?
This one is easy. All the pertinent information is listed on the product page. We won't detail them here because things may change. Just add the production and shipping costs together along with whatever profit margin you'd like to add.
Where Can You Make Your Own Bumper Stickers?
Currently, our custom bumper stickers are provided by Printed Simply – an American producer of high-end custom stickers and printed goods. Their facilities are located in-country, so this is terrific news for shipping – if you're targeting an American (or nearby) audience. 
How Long Will My Bumper Stickers Last?
These bumper stickers are rated to last up to six years. This is pretty good news, considering most companies tend to underrate their services to avoid legal action for false claims. As such, it's very possible that these stickers carry on shining after the six-year mark.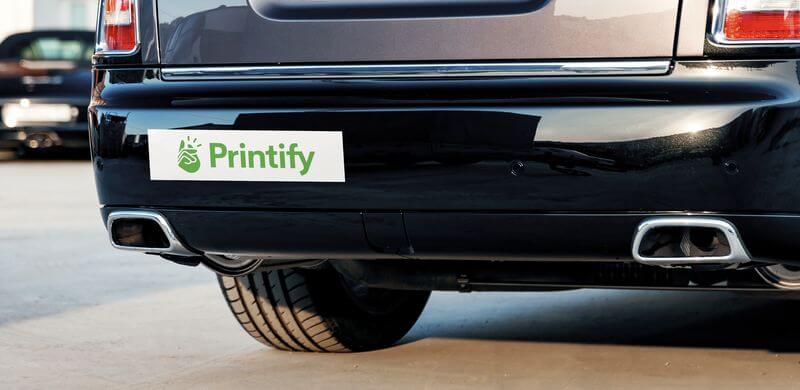 Bumper stickers are here to stay. As a predictable, trending product, there's very real value in entering into this market. All it takes is a moment of inspiration and a minute of creating through the mockup generator to create the next winning product. 
So take that time; make your mark on the eCommerce world. As a remarkably simple passive income stream, print on demand is skyrocketing in popularity. 
Start Selling Your Own
Bumper Stickers!
Share the article
Topics