Custom Car Seat Covers – Great Price, Useful Product, High Potential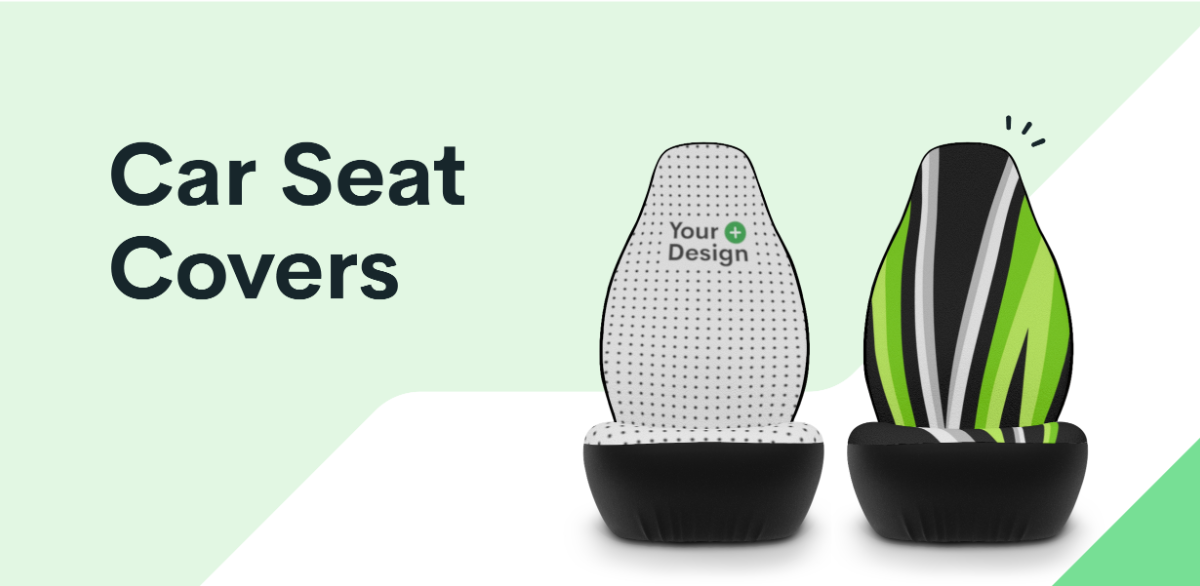 Love that new car smell? Suffering from a serious case of new owner pride? Well, the last thing you need right now is a big brutal stain on your front seat. Thankfully, a simple car seat cover can protect our beloved vehicles from everyday wear and tear, kids, pets, as well as the usual foreseen and unforeseen accidental disasters. 
With the vehicle seat cover market valued at $5.1 billion in 2019, this is the perfect time to enter the niche by adding custom car seat covers to your online store. Help your customers spruce up their car's interior with some stylish, unique, and practical accessories.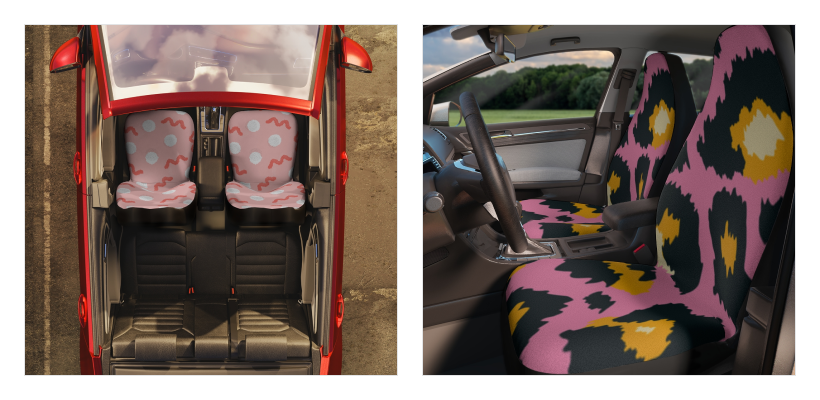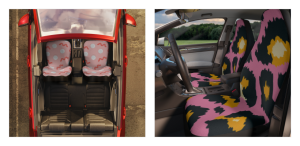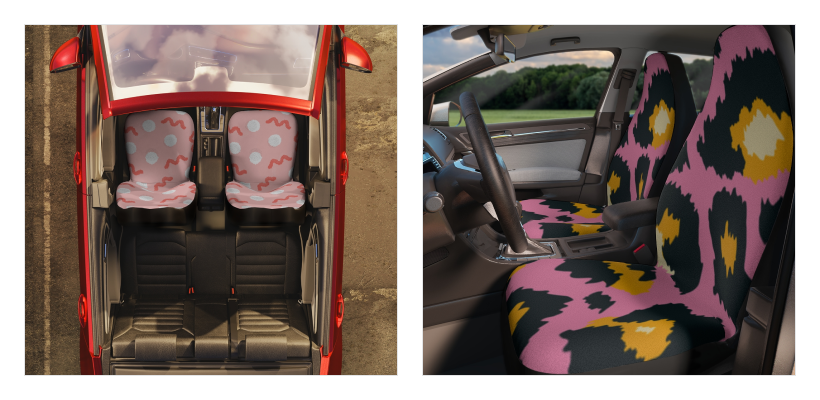 5 Reasons Why Car Seat Covers Are Necessary
Even the world's topmost luxurious cars are not perfect. All cars need improvements. And by improvements we mean protectors. Whether we're talking about a family sedan, a truck, limos, or one of those chic but comfortable vans, every customer will find value in protecting their vehicle and its seats.
Leather or polyester, every car seat needs a protection shield once it's left the factory, as life on the go can often be rough. 
Let's take a look at some of the most common situations when durable car seat covers might come in handy.
1. Protect From the Weather
Winter to Summer, there's no escape from the weather. From bright sunny days to rain and snow, car seats are cushions that soak up the climate and store it in their soft comfy fibers.
Quality seat covers protect seats from fading in the sun or losing quality and durability from rain and snow. Unlike seats, covers are easy to remove, clean, or replace. Customize your seats in style and save them from the weather at the same time.
2. Save the Seats, Maintain the Car's Value
Adding a protective layer to your seats will help to preserve the original seats as well as your vehicle's value. This is invaluable for anyone looking to sell their car at a reasonable price – or just keep it clean.
Safeguard every inch of your seats from wear and tear, dust, stains, the environment, and accidents with a custom cover. It's a budget-friendly luxury that pays off in no time.
3. Add a Little Bit of "You" to the Interior
Car seat covers are a unique way of expressing a bit of personality with different patterns, color combinations, and, of course, fresh designs. Sit in style while protecting your interior with one-of-a-kind car seat covers for every taste.
We all know that your vehicle says a lot about you. Build your street cred and maintain a brand by representing your interests, values, hobbies, sports team, or favorite boxset on these clever car accessories.
4. Take Your Pet for a Ride
While pets bring joy and happiness into the world, they are big carriers of dirt, drool, and dust. Make weekend travels with your pet more enjoyable by covering your seats with an extra layer.
You no longer have to hastily cover every surface with a blanket. With a durable seat cover tailored to protect from the mud, sand, leaves, dirt, and random sticks the only things you need to worry about are great memories and comfortable travels.
5. Provide a Clean Ride and Raise Kids
We all know children tend to spill and drop things all over the car. In order to preserve the general condition of a beloved vehicle and protect it from stains, spills, and damage, seat covers are the way to go.
No need to worry about footprints on the seat, spilled juice boxes, or greasy stains from on-the-road snacks. Breathable, lasting, and stylish seat covers will protect your vehicle while looking good at the same time.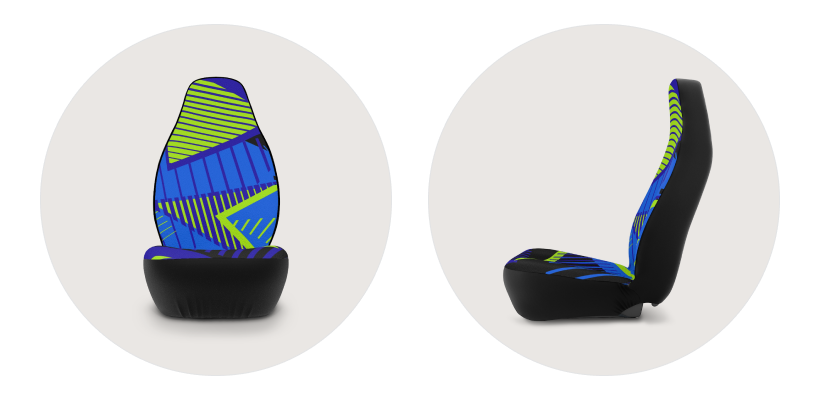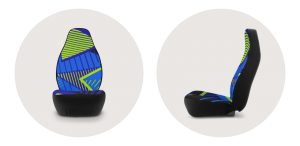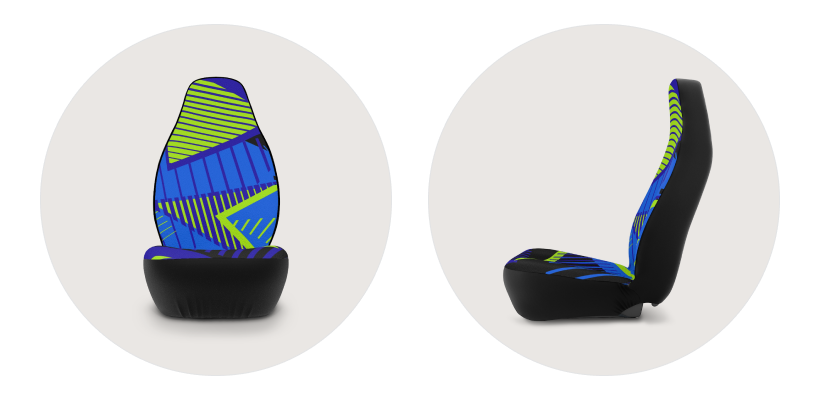 Design and Sell Custom Seat Covers With Printify
Design and sell the best seat covers with Printify. Pick the product, customize it, and list it online. Simple, fast, and easy.
Whether by car, truck, or limo everyone who drives anywhere knows just how important the front seat of your vehicle is for your commute, school run, or weekly shop. 
That's why Printify offers front car seat covers for every taste and style with some of the best and most important features for both customers and merchants:
Quick and Easy Installation.

Just put the seat cover on, connect the hooks at the back, and you're good to go.

Competitive Pricing. The seat cover set comes at a production cost of $31.03 (with Printify Premium), allowing great profit margins, even up to

200-300%

on Etsy.
A Full Set.

One set contains two seat covers with an identical design, one for each of your front seats.

Top-Tier Polyester.

Made from a thick fabric for long-lasting durability.
Sell Custom Car Seat Covers
Start selling custom seat covers for cars and deliver a little bit of style combined with a lot of practicality to customers around the world. The low production cost of only $31.03 (with Printify Premium) makes these accessories a great addition to every online shop.
Seat covers are a useful product with great potential for those who have long commutes, pets, kids, or simply good taste. Add seat covers to your inventory and develop brand awareness for car enthusiasts alike.
Share the article
Topics