Are Personalized photo puzzles the next bestseller?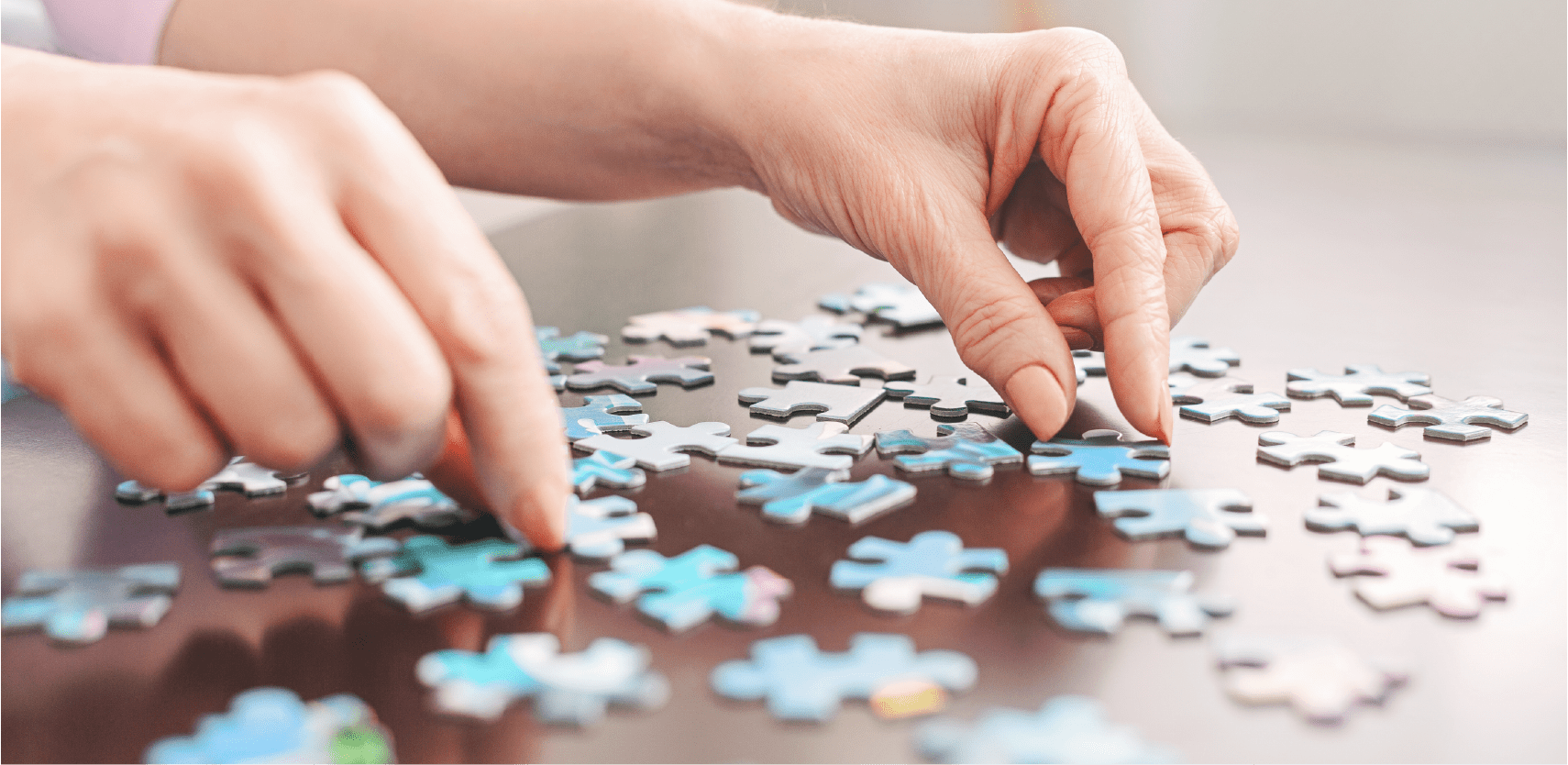 It's 2020, we're all holed up indoors with family, and after going months on end with the same people, you probably have run out of things to say. That's where photo puzzles come in.
Today we'll be talking about print on demand puzzles. Yes, those little mind-boggling, adrenaline-filled and fun, photo puzzles. Better yet, if you personalize them yourself, you can give them to friends and family as gifts and watch them squirm to complete their own faces. Photo puzzles are family fun-filled activities that will bring everyone together, or, in the least, fill the awkward silence.
How did puzzles get here?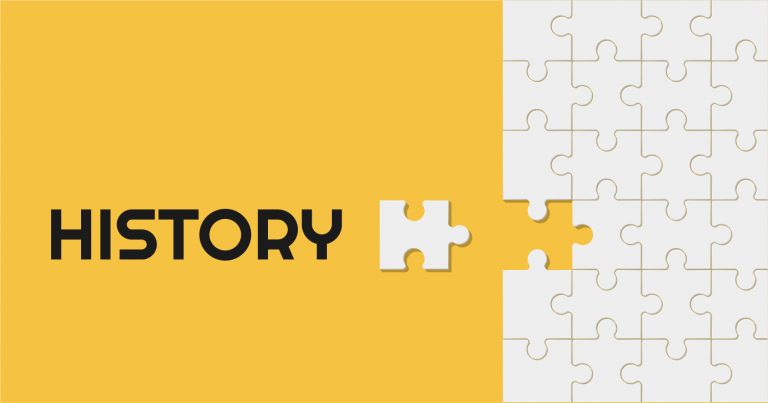 Before we had print on demand puzzles, commercial puzzles were called jigsaw puzzles and were first created by a British cartographer and engraver named John Spilsbury. He created a European map photo puzzled by cutting out country borders out of hardwood a marquetry saw which he used to cut along the border lines. He intended for the jigsaw puzzles to be used as educational tools for children in geography class. His first prototype was called "dissected maps".
After the puzzles were well-received by teachers and children, John Spilsbury began making puzzles as a business, and produced map puzzles of eight geographical locations: the World, Europe,  Africa, Asia, America, England and Wales, Ireland, and Scotland. His early puzzles were popular even with affluent households, including the then British Royal family.
Major improvements to the jigsaw puzzles were made during the Second Industrial Revolution of the 19th and 20th centuries. There was significant improvement in the puzzle-making process which saw the use of lithographic printing techniques that enabled puzzle makers to transfer higher quality prints onto wooden surfaces. Puzzle makers also switched the wood they used from mahogany, which is a hardwood and heavy, to using plywood which is lighter, easy to cut and more affordable.This enabled them to produce larger numbers of puzzles. With the invention of foot-powered saws, manufacturers could now create more intricate interlocking pieces quickly.
Print on demand photo puzzles
Recently, we've all had to spend an unprecedented amount of time indoors. This phenomenon has led to an uptake of indoor games and group activities to bring us closer and pass the time. Print on demand photo puzzles has become the new trend for family and friends. You can now place a puzzle but also be completing a family photo with your loved one.
Before, if you wanted a personal and unique jigsaw puzzle, you would have to go through the tedious task of submitting your photo to a printing puzzle company and wait for it to be made.
But because of the nature of print on demand, creating personal photo puzzles has become very easy.
You can easily customize a 252 piece puzzle with unique features such as your own photos, educational material for kids, graphic designs, illustrations, branded logos, and more. Photo puzzles can now be an extension of people's personalities and hobbies, giving people a chance to flaunt their style and share fond memories.
Printify's 252 piece photo puzzles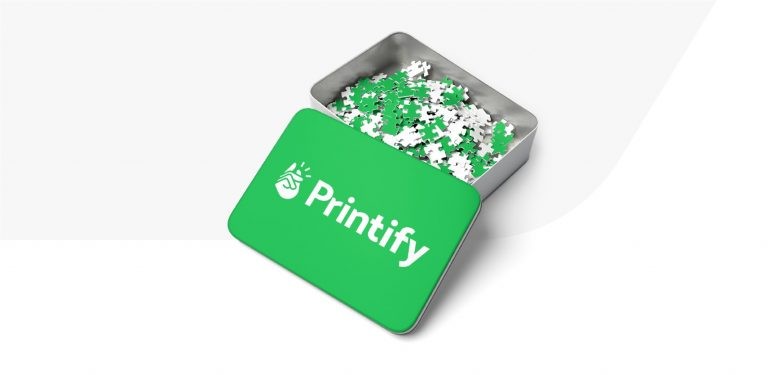 Now you can customize your own photo puzzle with Printify. Our 252 piece puzzles are precisely interlocking and make an excellent gift for family or any soon-to-be puzzled enthusiasts. Available in 11 x 14-inch size, the photos are sublimated on chipboard material, then finished in satin. The pieces of the puzzle are die-cut and come contained in a stylish metal tin. This 252 piece photo puzzle is made for fun, not frustration, and is nowhere near the difficulty of a thousand-piece puzzle but still challenging enough to draw the whole family's attention for an evening.
252 precise interlocking pieces

Satin finish image sublimated on chipboard

Comes in a metal tin
With print on demand merchandising taking new heights this year, creatives and online sellers worldwide have started to build successful online businesses by transforming their unique designs and ideas into custom photo puzzles. Here are some of the many benefits of customizing photo puzzles with print on demand.
1. Personal – You can easily customize photo puzzles with pictures of family, friends, and other pets with print on demand.
2. Affordable – They are cheap, which means you can price your items with a high-profit margin as a seller.
3. Versatile – Photo puzzles can be gifts, party favors, decor pieces, promo giveaways, and much more.
4. Durable – Our photo puzzles come in a protective metal tin to keep them safe and dry to last longer.
5. Unique – Personalized print on demand photo puzzles are uniquely yours, which means no one else in the world has it.
How to sell print on demand photo puzzles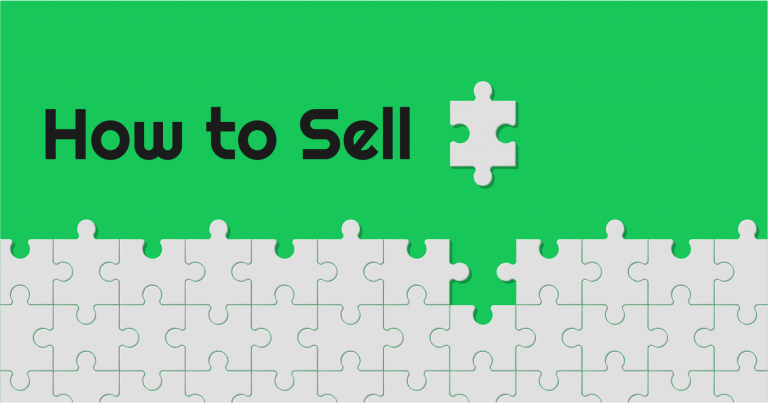 You're intrigued and would like to not only make your own photo puzzles but also sell them online. The good news is you can quickly set up an online store to sell photo puzzles today, but it would also be wise not to go in blind. Like every profitable business, there are a few steps to take before designing and customizing photo puzzles for sale. Establishing your business niche, brand, your core target audience and picking a print on demand partner are essential steps to begin your custom photo puzzles. The following guide will give you everything you need to create beautiful photo puzzles, source a reliable partner, and build a business that withstands the competition.
A niche is a specialized interest or segment in the market that sets you apart and helps create demand for your photo puzzle business. You can find your niche buy either choosing a topic or a cause that you deeply care about or a cause that you would like to support. A niche like this helps you design about an interest you are already familiar with, which can easily resonate with other people like you. These people then become your core target audience. Also, because you're creating designs for something you feel strongly about, it won't feel like work. You'll not only appreciate the end product but also enjoy getting there.
Alternatively, you can find your niche through market research. This method allows you to tap into an already established niche. The niche will probably have an already passionate and engaged audience for you to sell to. An engaged audience means you will already have a market for your photo puzzles, which will be perfect for your new business. You can still set yourself apart by adjusting the wording or designs. A populated niche is not easy to break into and will require outstanding products in order to succeed.
Once you are clear on who you're going to be selling your photo puzzles to, your core target audience and nice, then you proceed to designing. It's time to come up with cherished moments or cool designs for your photo puzzles. Customizing photo puzzles does not require a high knowledge of graphic design. You can easily design them or take great pictures of your family and friends.
If you would like to enhance your photos and designs or add unique elements to them but don't have any design skills, there's a wide variety of websites that connect you to free design tools, talented artists and graphic designers. Once you have your cool designs and photography that you want to place on photo puzzles, the next step is creating them using our free mockup generator. 
How to make photo puzzles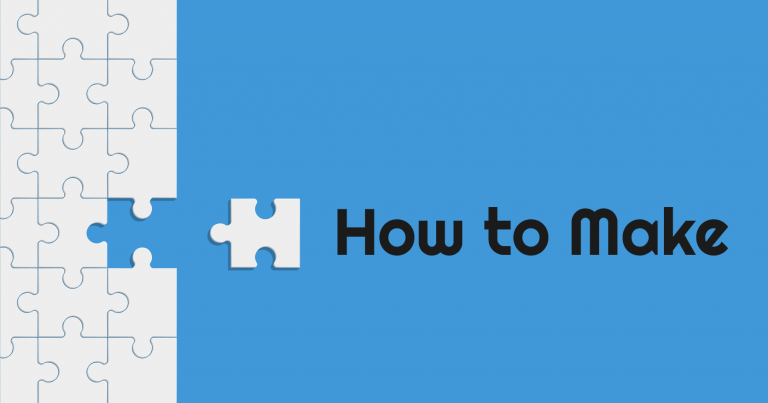 Ensure that you have a right to sell the photos. The photos must be your original images, licensed or free to us.
Make sure that your photos are in the right resolution for the best print quality. Lower quality and resolution of images create a low-quality print which will not look good. It may also impair your pieces' clarity, making it difficult for players to finish the puzzle correctly.
Head to the Printify catalog and open the photo puzzles page. Click start designing and upload your photos to the mockup generator. Check that the image meets the submission guidelines. Adjust the photo to fill in your puzzle pieces and check for quality and placement.
Preview your puzzle pieces in the mockup generator's preview mode. You may also download these images to use in your store as product images later.
Complete the design process, edit the photo puzzle captions and pricing. Remember to include all overheads such as shipping costs, and add your profit margin.
Publish your photo puzzle to your store through one of our integrated platforms such as Etsy, eBay, Bigcommerce, and Wix.
Design ideas for photo puzzles
Family portrait photo puzzles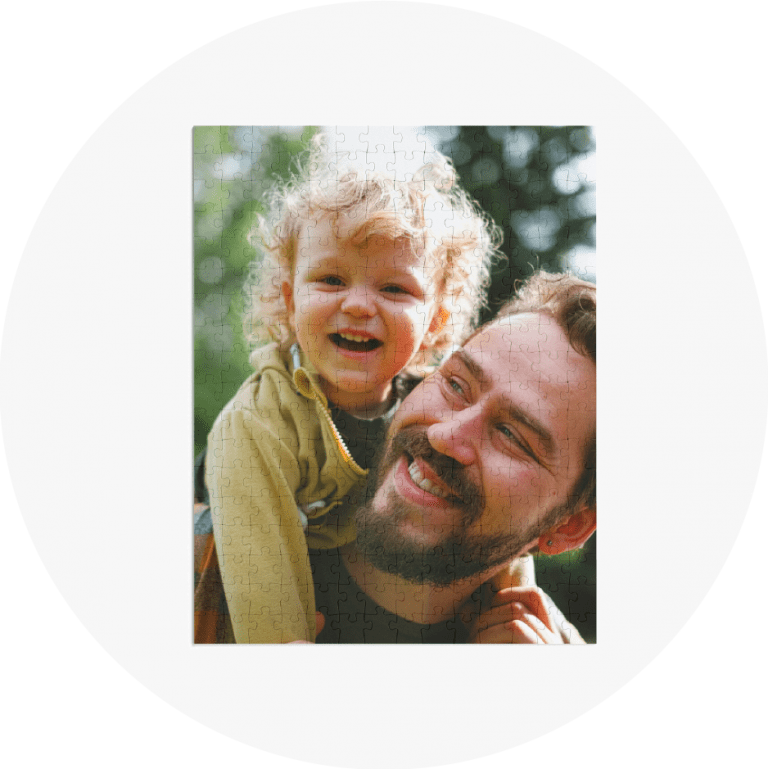 Customize print on demand puzzles with the photos of your loved ones. As a seller, you may offer your customers the option to send you high-resolution photos to place for them. Personalized photo puzzles are a great way to start an online business.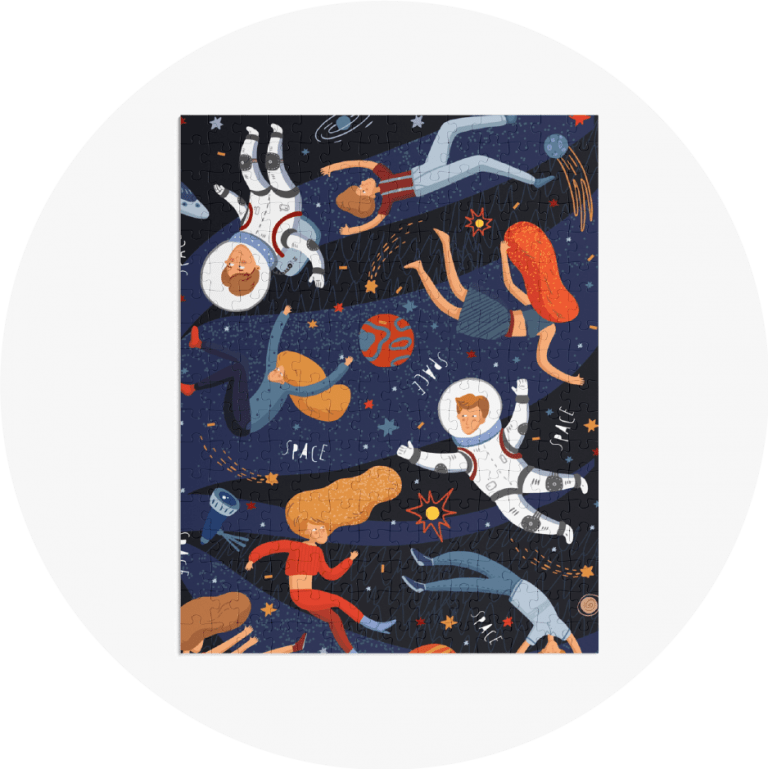 Besides offering parents the chance to customize print on demand photo puzzles with their children's images, you can also create photo puzzles specifically for kids. Easy photo puzzles with either color themes or other educational objects are a great way to entertain and improve children's eye-hand coordination.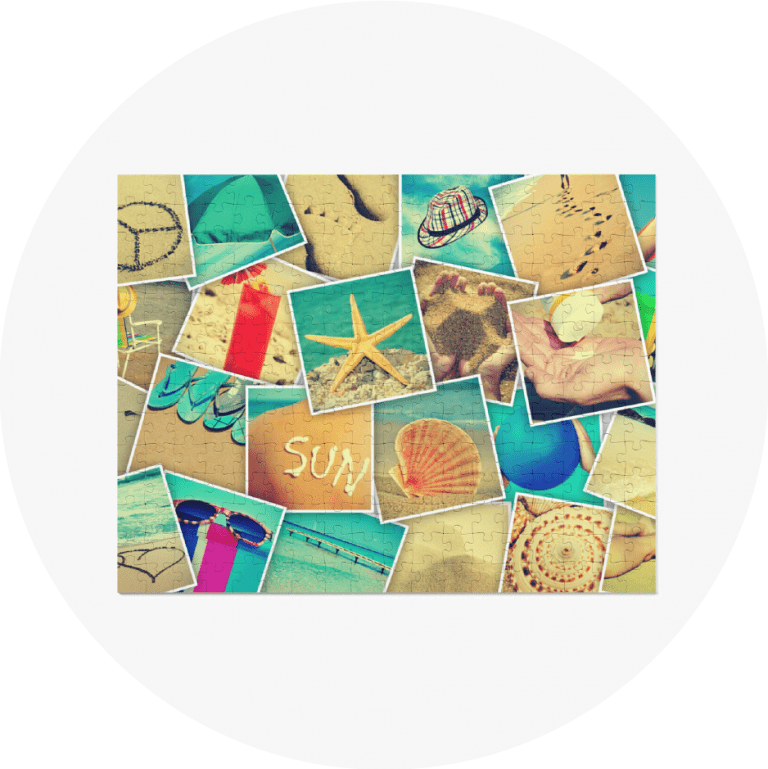 Perhaps the hardest to design and complete, a photo mosaic puzzle is when images are created by combining thousands of smaller images. These images are then blended to create a larger themed portrait such as Star Wars or Coca-Cola. The key to solving a mosaic puzzle is to cross-reference the options for cells that have neighbors in common. Personalize and create your own.
Choose Printify for your custom photo puzzles
Print on demand is a business model that allows you to create a diverse range of products such as photo puzzles, t-shirts, hoodies, phone cases, pillowcases, mugs, and many more. Products are printed after each sale and sent directly to customers. You don't keep an inventory, but you keep all the profit. 
Not only does Printify offer a free and easy to use mockup generator, but we also connect you to our network of great print providers around the world. Through the Printify platform, You can easily integrate your online shop into store platforms such as Etsy, eBay, Shopify, and WooCommerce. The Printify platform becomes a one-stop-shop for your business. You take care of designing fun photo puzzles while we take care of the rest.
Start selling photo puzzles with Printify
With no order minimum, an excellent mockup generator, and a network of print providers from Printify, you can start your print on demand photo puzzles business today.  We are well equipped to manage your sales through our automated production and fulfillment partners. You can also diversify your catalog and generate a vast customer base in both the USA and Europe. Don't miss out; join the thousands of sellers designing and selling their products today.
Share the article
Topics