What's in every home and is always in desperate need of decoration? The answer is, of course, walls, and one of the best ways to uplift one's surroundings is a wall tapestry. Design your own custom tapestry and start selling today.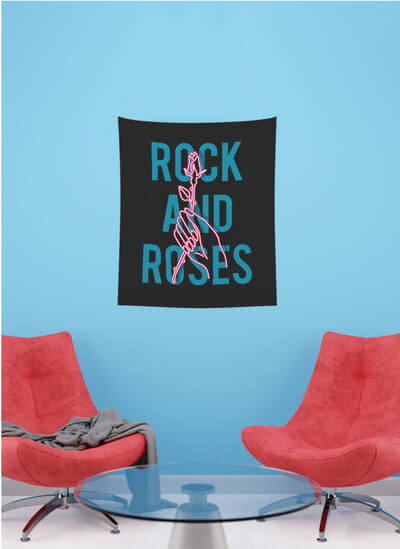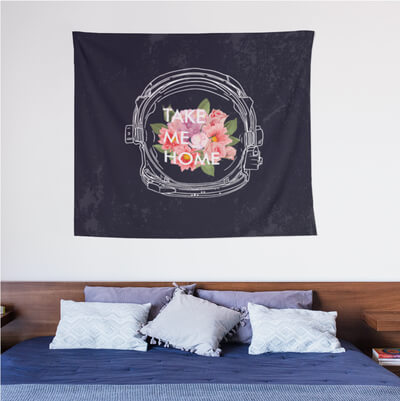 Make Your Own Tapestry With Printify
Design Your Custom Tapestry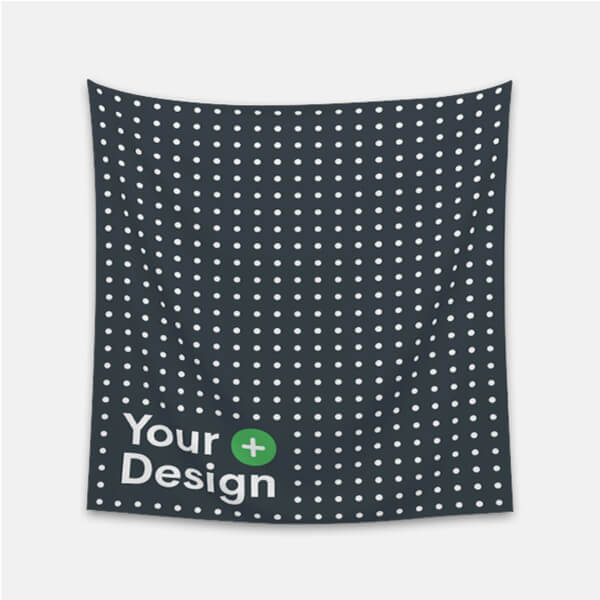 From USD 11.19 · From USD 8.62 with Printify Premium
Print unique designs from edge to edge over small or large areas. The sublimation in a polyester microfiber fabric guarantees vibrant colors and fine details.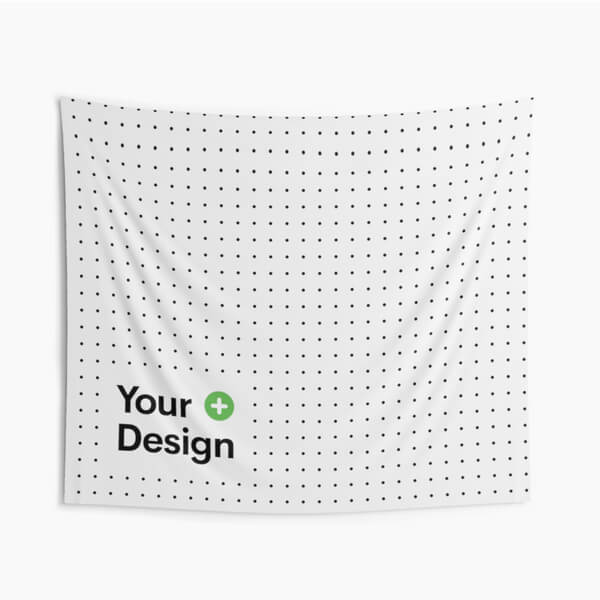 From USD 14.10 · From USD 10.86 with Printify Premium
Especially suited for indoor decoration, these tapestries are available from small to large sizes. Its polyester medium is water and mildew resistant and allows fine printing with vivid colors. 
Incredibly Detailed Wall Tapestry, 
No Matter How Big or Small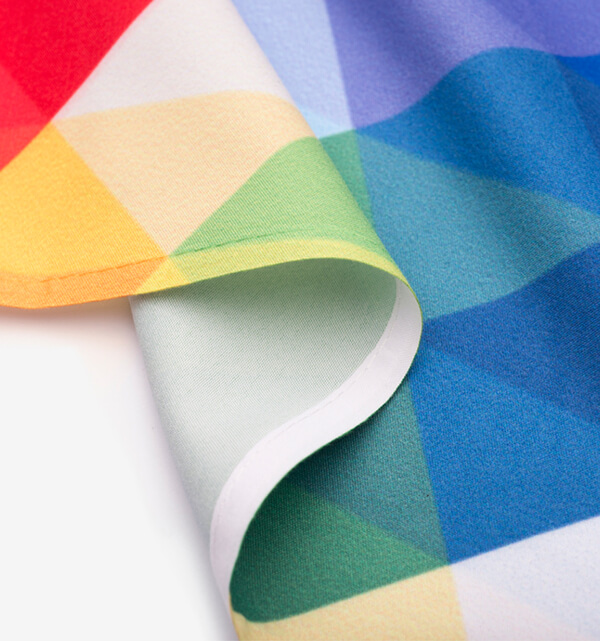 Any tapestry in our catalog features polyester blends sewn around all the edges. That isn't any cheap custom tapestry but quality merchandise.  
This fabric is remarkably durable and withstands washing cycles without issues. 
The polyester material adds resistance to water and mildew, so hang the wall art without concerns regarding room humidity. Avoid bleaching or dry cleaning – that will extend the fabric's lifetime.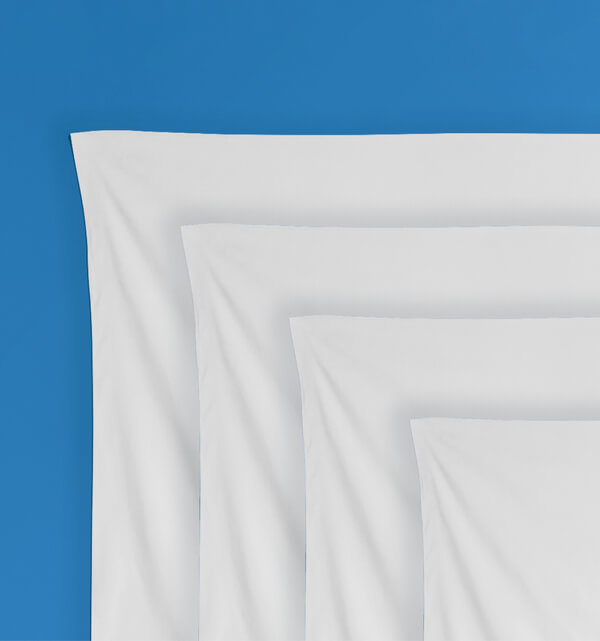 Our tapestries are available in eight sizes, from 26 x 36 inches to 88 x 104 inches. Check the tapestry size chart for all detailed measurements.  
Bring character to any space in the room with customized tapestries. Sizes won't be a problem.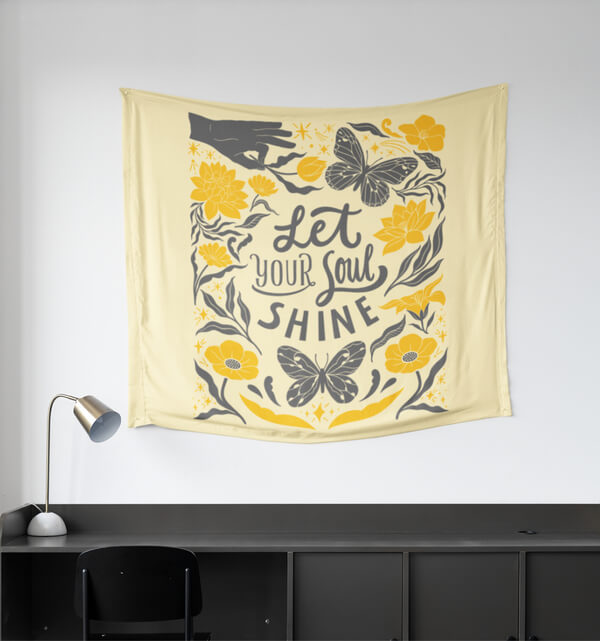 The coloring and details of your custom-made tapestry should remain crystal clear, even when printed over a large space.
That is all possible thanks to our partners' latest printing technologies, ensuring crisp detail and vibrant colors for all your compositions – even when things get too exotic.
Want to learn more about our printing techniques?
Design Your Custom Tapestry
How to Design Your Tapestry With Our Mockup Generator
Thanks to our intuitive custom tapestry maker – the Mockup Generator –  you can make tapestry designs come to life, creating unique pieces that will be faithfully printed. 
The tool is user-friendly and gratis, and all you need to do is follow the next instructions.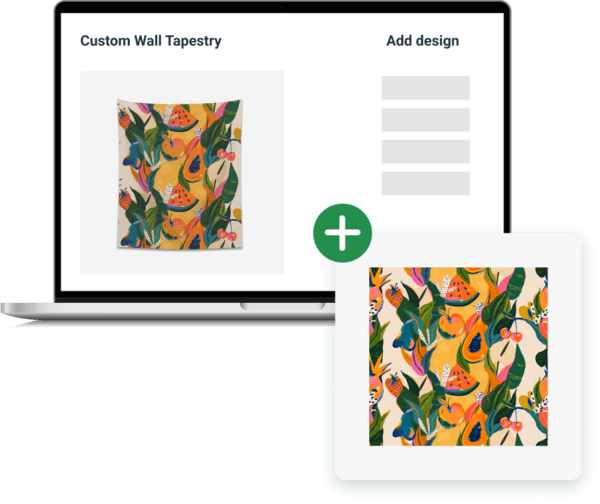 Design or Personalize the Tapestry
Design a tapestry on the Mockup Generator by clicking Start Designing. Once there, you'll be able to upload your designs or create a tapestry from scratch with the Shutterstock integration.  
If your designs are ready to go, drag and drop them straight into the Mockup Generator from the desktop. Alternatively, you can upload it via Dropbox or Google Drive. All tapestry designs are stored in your Mockup Generator library, where you can always revisit and edit them further.
Once your design is on the Mockup Generator, resume editing it by adding extra layers of custom text or new photos.
When you settle on the final idea, enter Preview mode on the top right of your screen.  In preview mode, you can check how the personalized tapestry will look in real life and make any necessary edits.
Everything finalized? Perfect, all you have to do now is to order for yourself or publish your product in your shop and start selling. With just one click, you can have your product live – it really is that simple. 
Printify seamlessly integrates with all major e-commerce platforms: Etsy, Shopify, Wix, eBay, or any sales channel of your choice. We'll handle fulfillment and shipment.
Connect Your Shop and Start Selling Tapestries Online
Sell personalized tapestries with the best eCommerce platforms on the market. Printify integrates with Shopify, Etsy, Walmart, WooCommerce, eBay, BigCommerce, Wix, Squarespace, and PrestaShop.
Start Selling Custom Tapestries
Custom Tapestry Design Ideas
For good reasons, photo tapestries, nature scenes, and landscapes are staples in decor. Landscape custom tapestries create relaxing scenes in any environment, adding beauty in a neutral manner. Create tapestries with forests, beachfronts, fields, or orchards for timeless wall art.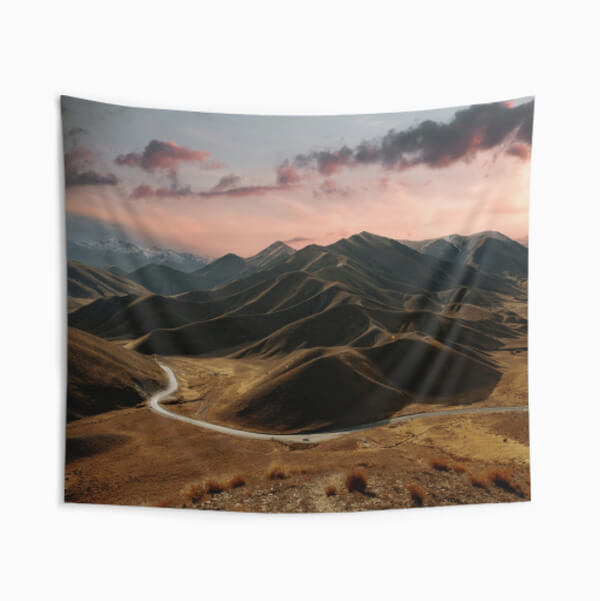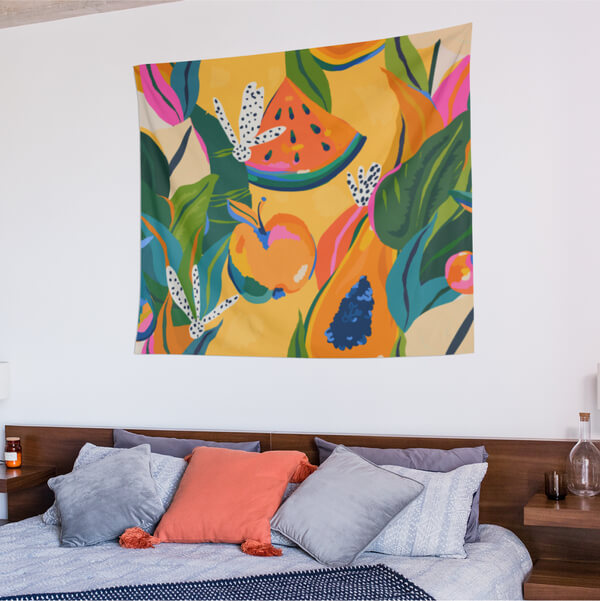 Custom Art Print Tapestries
Wall tapestries are a terrific choice for any artist or enthusiast looking for ways to showcase and monetize their art. Print your tapestry with unique artwork, bring your inspiration to real life and stand out among competitors. 
Custom Tapestries With Quotes or Statements
Perhaps you're not an artist but are engaged in social causes or sports. 
Make tapestries with statements or quotes, suitable not only to decorate and hang on indoor walls but for external use as banners in parades, sports games, or events. Cover a medium with meaningful or supportive statements and make your point public.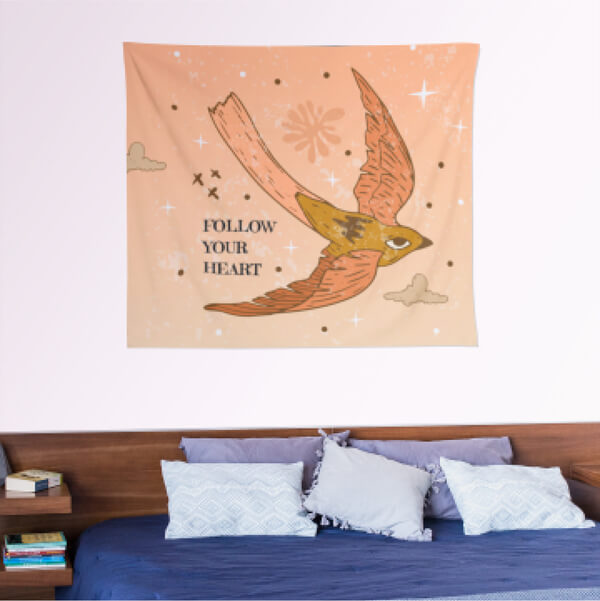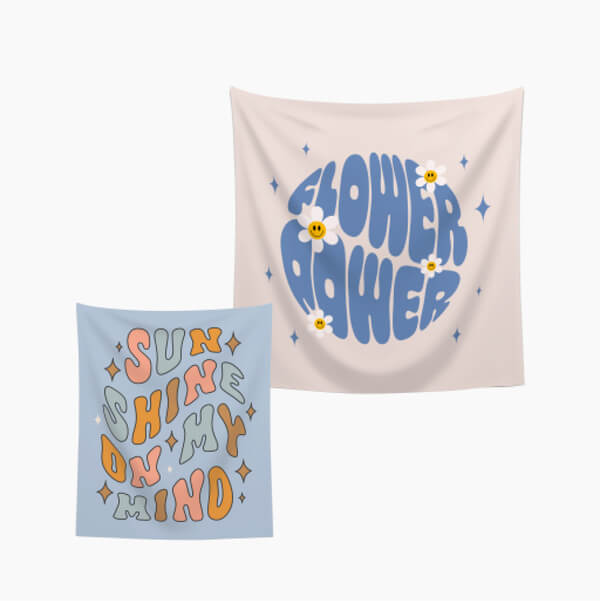 Create matching artwork design sets with tapestry printing, sell them in bundles in an online shop, and multiply the profits. Landscapes, planets, fauna and flora, letters or symbols – the possibilities are endless.
Flags are like a badge of honor, and they still resonate with many people due to that symbolism. From expatriates who miss home to people identifying with noble causes and movements, it's simply empowering.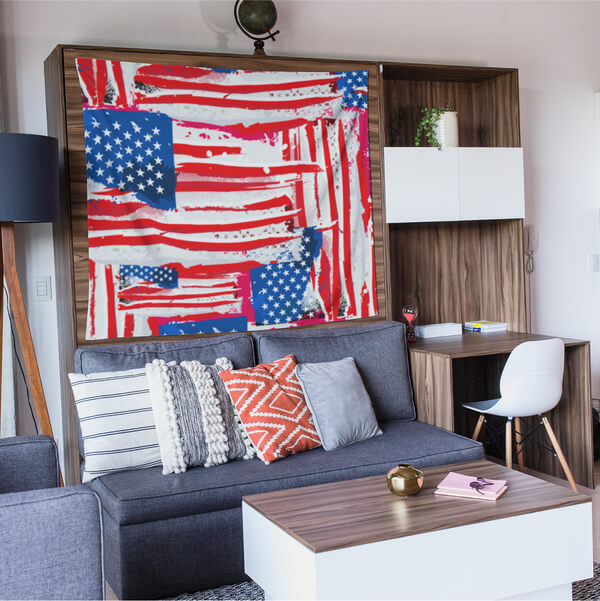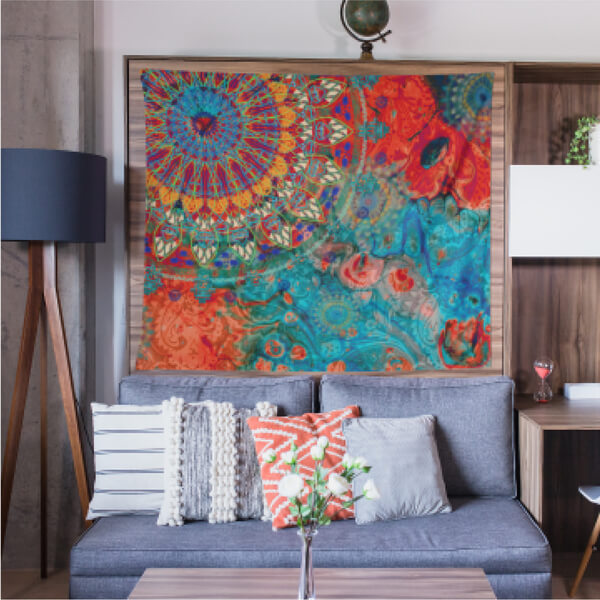 Custom Mandala Tapestries
Folks who love life and are deeply connected with spiritual well-being practices are one of the most expressive audiences. From yoga to meditation, they dive deep into their beliefs and ensure that their surroundings follow suit. Create your tapestry featuring a mandala with its sacred geometry. That makes both a mesmerizing sight to gaze in and a huge selling point for your business.