What is in every home and always in desperate need of decoration? –The answer is of course, walls, and one of the best ways to uplift one's surroundings is a wall tapestry. Design your very own and start selling today.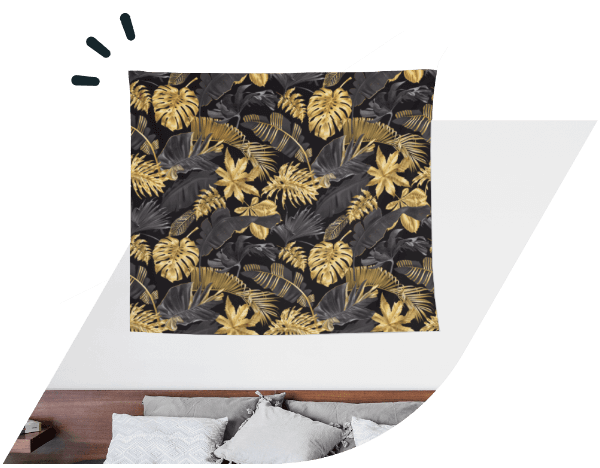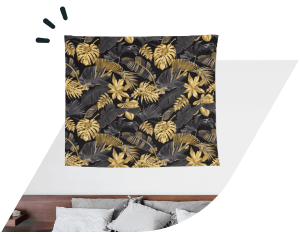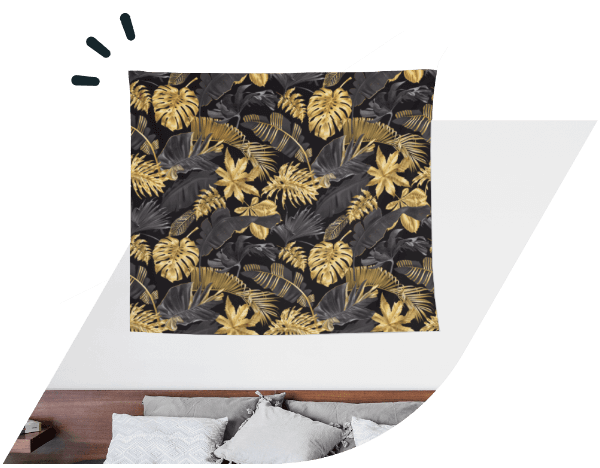 Make Your Own Tapestry Designs Today
Incredibly Detailed Wall Tapestry, No Matter How Big or Small
Our custom wall tapestry features a 100% polyester fabric blend with hemmed edges.
This combination makes for high-end durability that can withstand repeating washing cycles and greatly reduces fraying.
To maintain, do not bleach or dry clean.
This tapestry is available in multiple sizes:
       

23" x 36"

       

51" x 60"

       

68" x 80"

       

88" x 104" 
Choose the one that best fits your needs and bring life to any wall to table with a personal touch.
In order to make your own tapestry design, we need to ensure that your print's color and details remain crystal clear, even on the biggest sizes.
That is all possible thanks to the latest printing technologies that our partners use, ensuring crisp detail and vibrant colors for all your compositions – even when things get too exotic.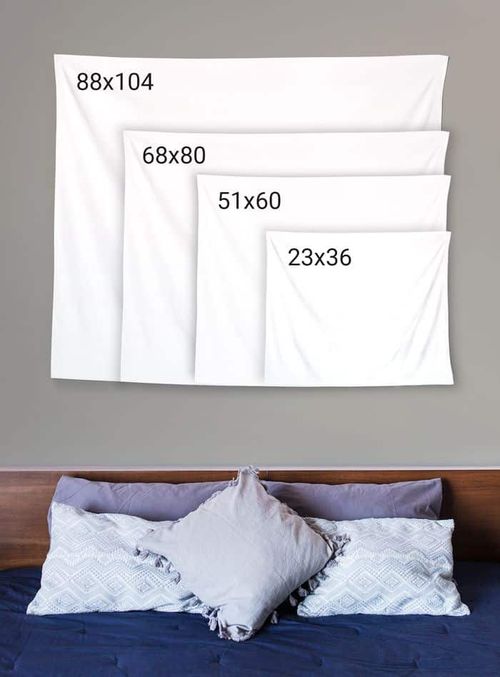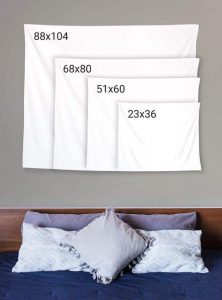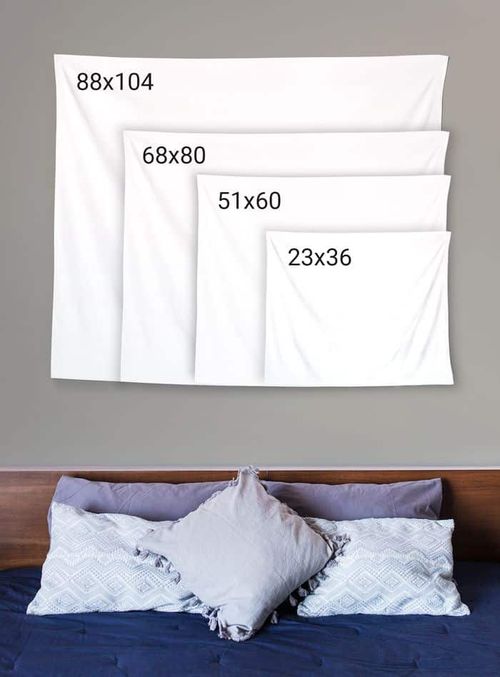 Start Selling Custom Tapestry!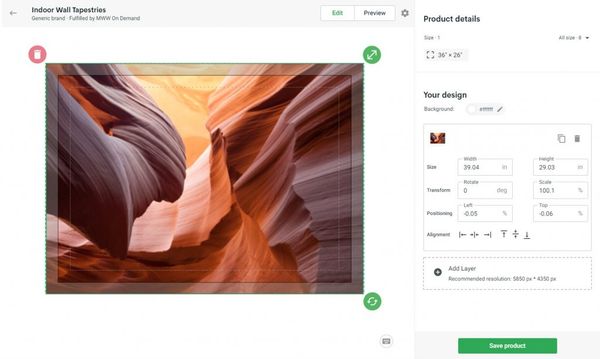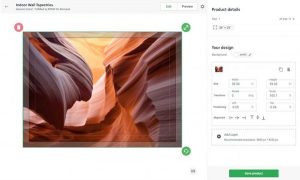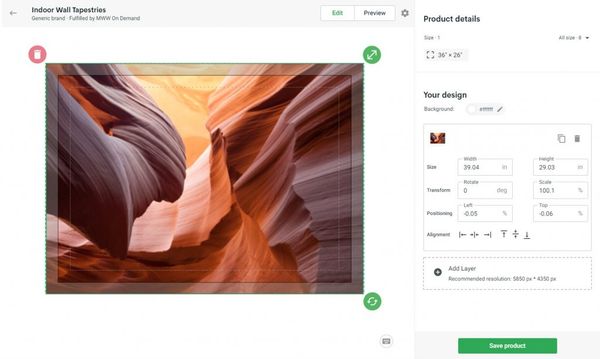 How to Make Your Own Tapestry With Our Mockup Generator
Putting an existing design or creating your own from scratch is as easy as ABC. 
That's thanks to our intuitive, easy-to-use Mockup Generator; a powerful yet foolproof designer tool that helps make your own tapestry designs come to life. Plus, it's absolutely free and all you need to do is follow the next three steps.
Make Your Own Tapestry Online
Click on "Start Designing" and head into our Mockup Generator. Once there, you'll be able to upload your own designs, or make your own tapestry designs from scratch.  
If your design is ready to go, you can drag and drop it straight into our generator from your desktop. Alternatively you can upload it via Dropbox, or via Google Drive. All tapestry designs are stored in your Mockup Generator library where you can always revisit and further edit them.
Once your design is on the Mockup Generator, you can resume editing it by adding extra layers of custom text, or even new pictures. When you settle on the final idea, you can enter "Preview" mode on the top right of your screen. 
While in preview mode, you can check how your design will look like in real life, and make any necessary edits.
Can't find an awesome idea? No worries. Printify is also integrated with Shutterstock, one of the world's biggest stock photo libraries. Dive into Shutterstock and discover millions of pictures, ready to be featured on your large wall tapestry.
Everything finalized? Perfect, all you have to do now is to order for yourself, or publish your product on your own store and start selling. With just one click, you can have your product live and selling – it really is that simple. 
Printify seamlessly integrates with all major e-commerce platforms; Etsy, Shopify, Wix, eBay or any sales channel of your choice. Ready to get started? Make your own custom tapestry, or head below to our FAQ section for more info.
Make Your Own Tapestry & Bring Your Space to Life
Looking at a plain wall, or gazing into picturesque beachfronts, mountainsides, orchards, and forests? The answer is obvious and as humans we've always been fascinated by the sheer beauty of nature. 
Becoming a tapestry maker who captures this basic human need for beauty in our surroundings, can be a huge factor of success for your online store.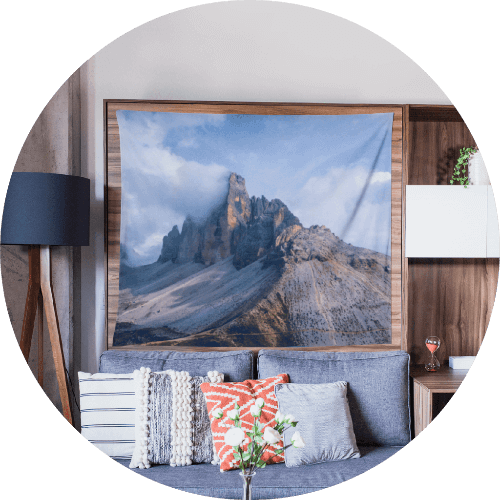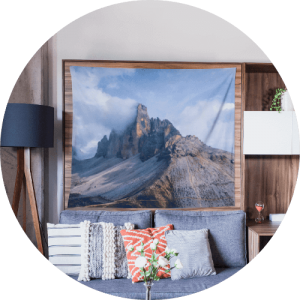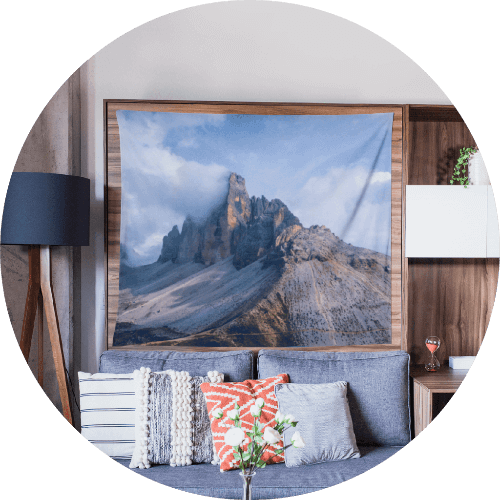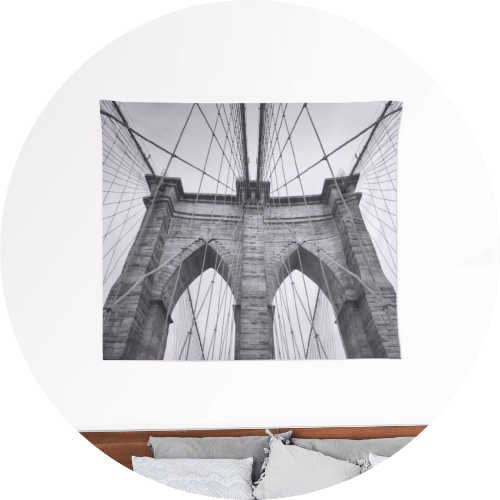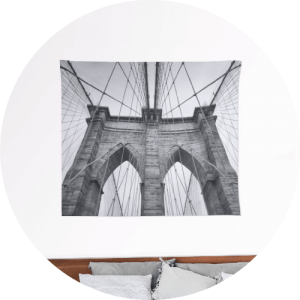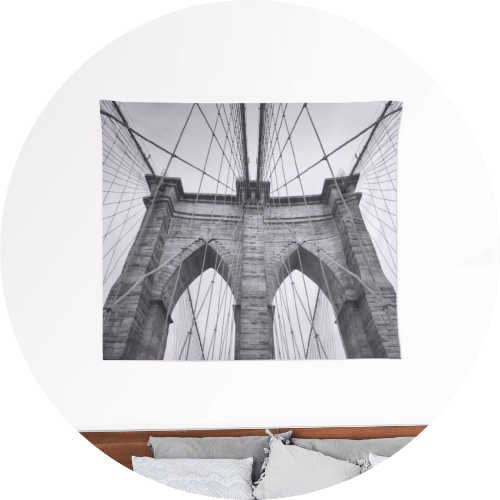 Imposing structures and architectural marvels are one of the most common themes when it comes to decorating; from paintings to pictures, to desktop and smartphone backgrounds, they're simply magnetic to look at. Make your tapestry with an architectural theme and grab the attention of a wide audience for your online store.
Flags are like a badge of honor and they still resonate with a significant number of people due to that symbolism. From expatriates who miss home to people identifying with noble causes and movements, it's simply empowering. Also, why not set up your store already for the 2022 FIFA World Cup and get a head start? Make a tapestry today by clicking right below.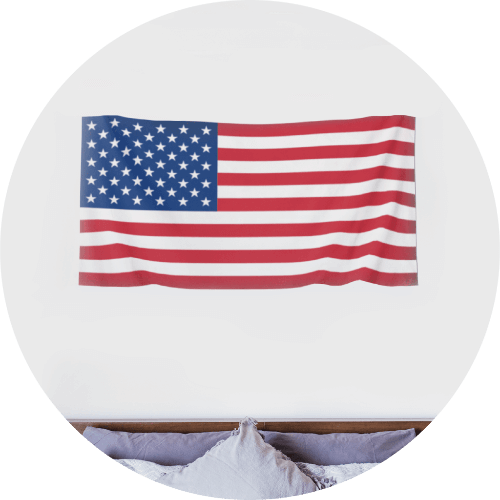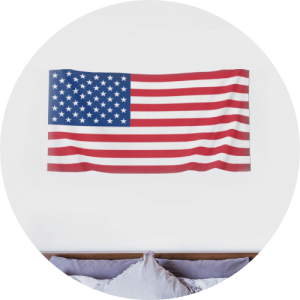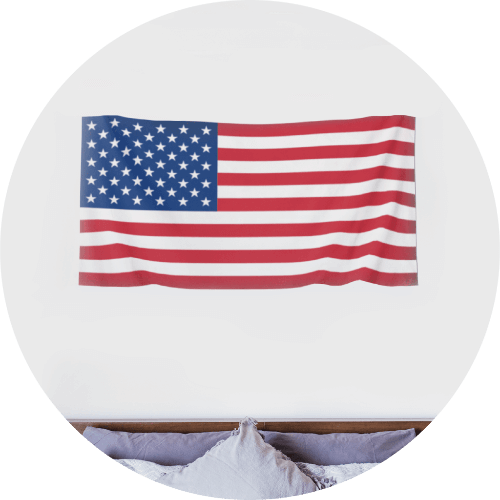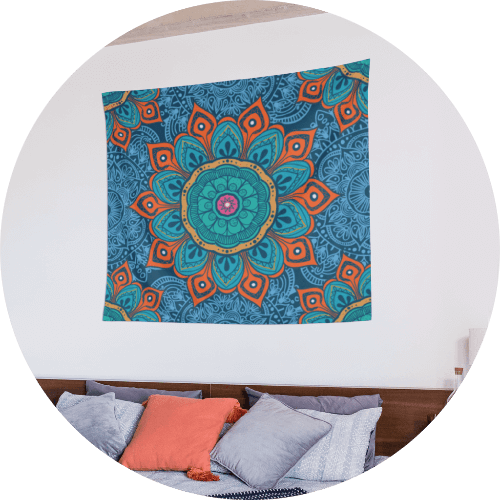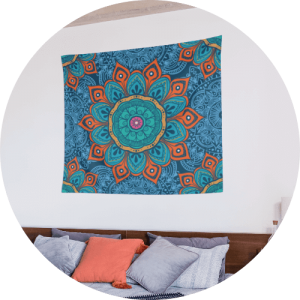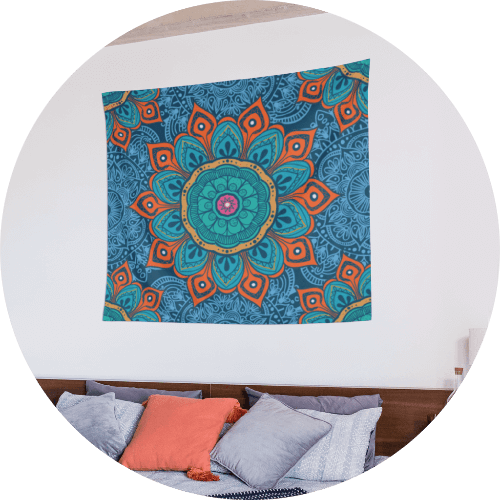 One of the most expressive audiences is folks who love life and are deeply connected with spiritual wellbeing practices. From yoga to meditation, they dive deep into their beliefs and make sure that their surroundings follow suit. For example, creating a Mandala wall tapestry with its sacred geometry makes both for a mesmerizing sight to gaze in as well as a huge selling point for your business.
There doesn't have to be a specific theme in mind, here. Any pleasing representation, repeating or not, can be a brilliant method for upgrading a room's vibe. From creating a psychedelic wall tapestry line, to incorporating mathematical and geometrical patterns, there are so many avenues to take.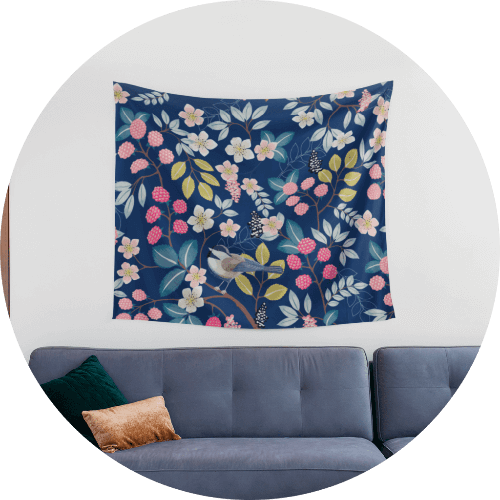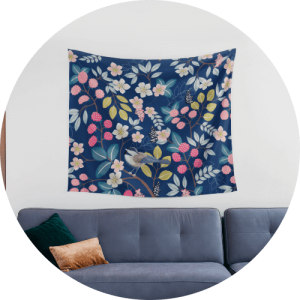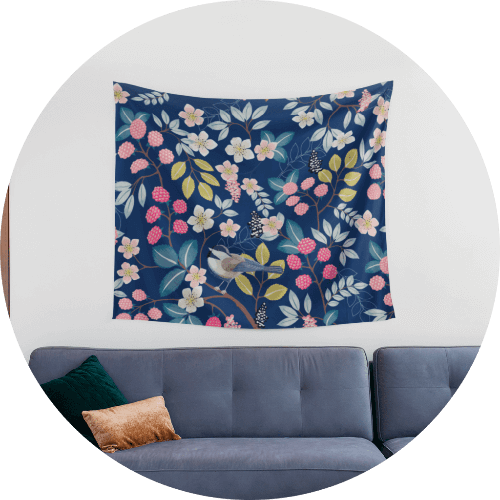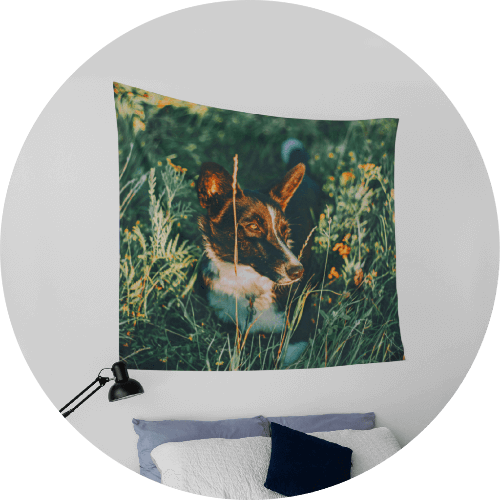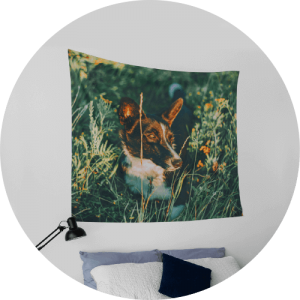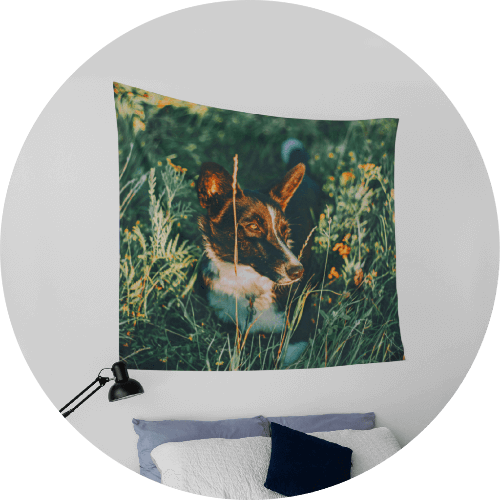 Blow up a stellar shot of a smile, doggie, or any special moment on a custom tapestry. Making your own tapestry with a special photo can breathe new life into any environment, as long as the chosen picture is a high enough resolution to survive the stretch. The virtually infinite possibilities of this category make it a very popular addition to any store.
Frequently Asked Questions
Make Your Own Tapestry Today!