Personalized Custom Dog Bandanas
Our furry little friends deserve the best, so we've added this unique new product to our catalog – personalized dog bandanas! Please every dog owner out there with cute and adorable designs and get your sales through the woof!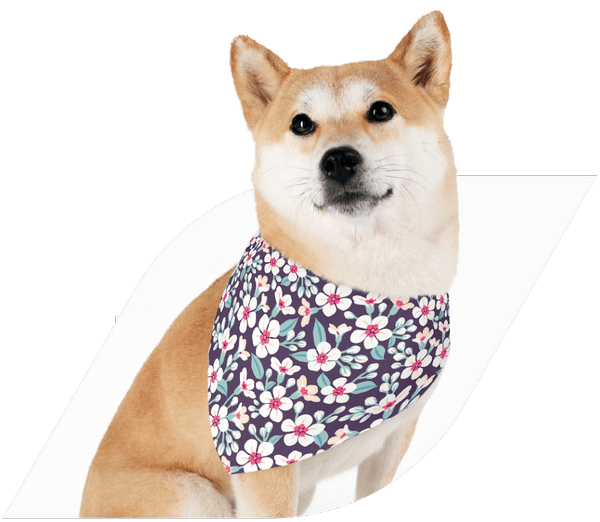 Create custom dog bandanas & start selling!
What personalized dog bandanas do we offer
Personalized dog bandanas are a great accessory for special occasions, such as your furry little buddy's birthday, or simply to wear it every day. People are always looking for that "aww" factor, and a cute bandana might just be it. In our catalog, you will find two types of dog bandanas that will suit most dogs and look hella cute both in person and in photos.
The classic tie-on bandana
Our classic tie-on custom dog bandana is the perfect accessory for your little buddy. It comes in one size, is made of soft-spun polyester that is very gentle to your dog's skin and is oh so easy to clean. This custom pet bandana will help bring the dog's personality to the next level. All you need to do is create stunning designs for the all-over-print bandana
Dog bandana with adjustable strap
This dog bandana puts a fun spin on standard pet accessories. It is made of polyester duck fabric and is printable on one side with a seam to seam, stunning all-over-print. Available in sizes small through large to fit most dogs. The construction and printing are durable enough for many wash cycles. The adjustable strap collar will help keep in place even during the wildest of plays.
Why create custom dog bandanas and sell them online?
People love their dogs. And people love accessorizing their dogs with custom collars, tags, even vests, snow booties, and, yes, bandanas. It lets them express their pup's personality with a fun piece of garment or accessory. And that's where you come in: you give them what they want. Personalized dog bandanas are fun and easy to design; they come at a great price point and look adorable in real life!
Two-thirds of U.S. households own a pet
According to a recent report, the average U.S. pet owner spends more than $500 on each of their pets per annum, with more affluent Americans spending more than $1500. And while much of these figures are made up of food and veterinary visits, pet owners also pay more each year on pet toys and other accessories such as dog bandanas.
Disposable incomes and demand for pet products increasing globally
The important thing to remember is that this massive increase in demand isn't just occurring in the United States. With eCommerce expanding worldwide and the middle class increasing in size in markets from Brazil to China, there have never been this many customers out there who have the disposable income to spend on their pets.
The global pet industry is expected to be worth a whopping $270 billion by 2025. (Global Market Insights and Statista) As you might expect, much of this is being driven by online sales, with pet owners enjoying the convenience, comfort, product choice, and transparent pricing comparisons made available. 
Personalized dog bandana provides the aww factor
Barky with a bandana collar is all the cuteness you could ask for. With your popping designs, you will help our furry buddies look absolutely darling. Besides, you can design personalized dog bandanas not only for cuteness but also merit: bandanas can help distinguish various important dog characteristics. For example, whether the dog is a service dog, or whether they're friendly or, on the contrary, people, especially small kids, should keep their distance because the dog is a grump.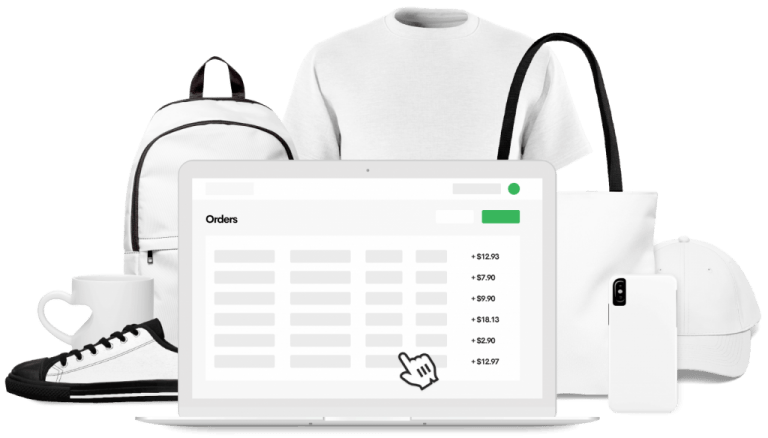 Why should you choose print-on-demand for custom dog bandanas?
Print on Demand (or simply POD) is the process of manufacturing goods and then sending them directly to customers immediately after an online sale is made.
Whereas traditional businesses are forced to invest in and hold inventory, POD dropshipping services such as Printify offer the huge advantage of you not needing to manage, store, or protect your stock with custom dog bandanas. The print provider produces the exact qualities your customer has purchased and then sends them directly to your customers – no hassle, no burdensome visits to the post office to dispatch the goods. 
With POD Dropshipping, most of the key risks and headaches associated with the traditional merchandise business model have been eliminated, enabling you to focus on building your brand and expanding the pet product range you offer in your eCommerce store.
Why choose Printify as your trusted dropshipper?
Printify offers unparalleled price and performance ratio – the blank product prices in our catalog are highly competitive. For example, a personalized dog bandana starts from $10 (this is what you pay us after you've sold it), and you sell it for, say, 15 or even 20 dollars. This means you keep every cent except those ten dollars you've paid for the blank product. What else? We have a customer service that will bend over backward to help you if needed. Also, we work with more than 90 print providers worldwide to deliver goods to your customers no matter where they live, thus saving on shipping costs. Besides, using Printify is always free. Of course, you can opt for our Premium subscription, but only if you want to get up to 20% off of all items and get free samples – we're here to help you earn more money with less effort!
Easy-to-use, absolutely intuitive mockup generator
When you choose Printify for your dropshipping needs, you get so much more. Our catalog consists of more than 300 hundred (and counting) blank items for you to design. And the designing process happens here, on the Printify platform, with the help of our trusty design tool, aka mockup generator. You can easily use it on desktop and mobile. All you need are high-quality graphic files to upload and then adjust on the blank items to your liking. 
Designing personalized dog bandanas are as easy as pie – you simply upload the desired graphic and come up with a gorgeous continuous print area that's covered from seam to seam.
Design ideas for custom dog bandanas
Not all dogs love wearing vests or sweaters, but most doggos will rock a custom bandana, no questions asked. Design a cool fashion statement for your dog or excite all the other dog people out there with personalized dog bandanas. What would sell well? Oh, boy – this niche is a bottomless pit! From cute, to helpful, to fun and playful!
Frequently asked questions about personalized dog bandanas
Start selling custom dog bandanas!