Say goodbye to generic pet tags and hello to amazing designs that showcase the pet's unique personality. Create custom pet tags and start selling in your online store today.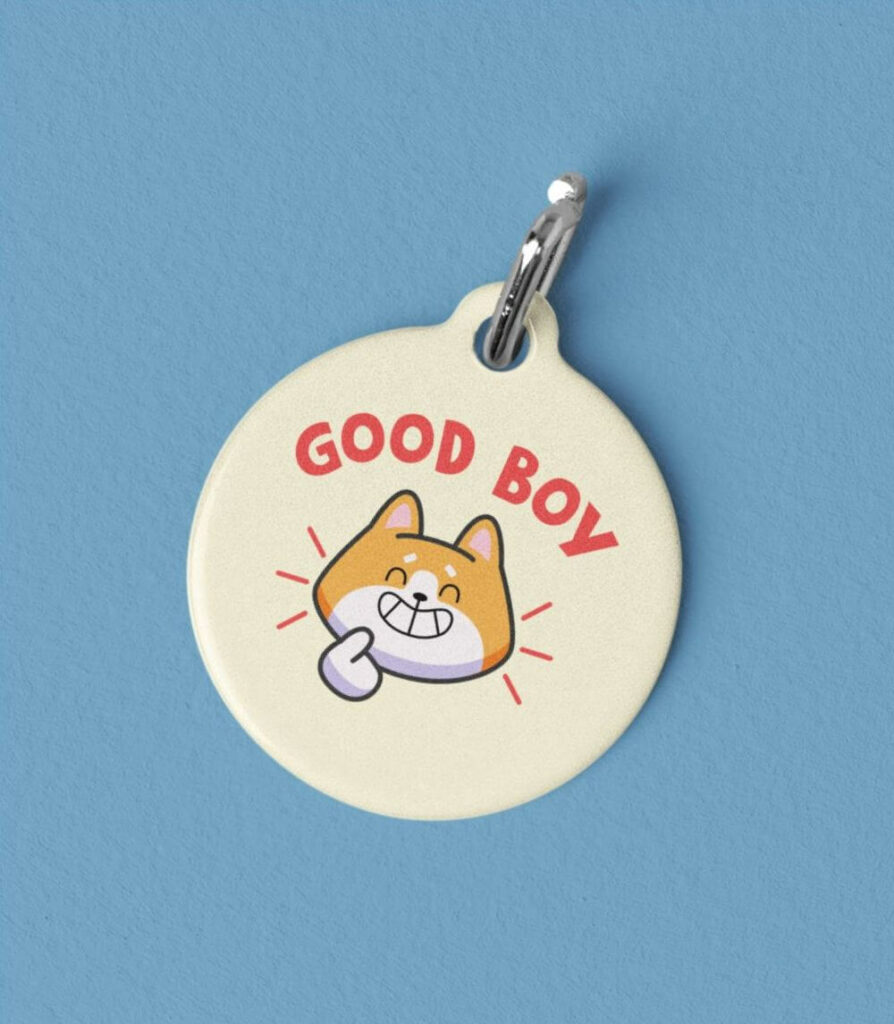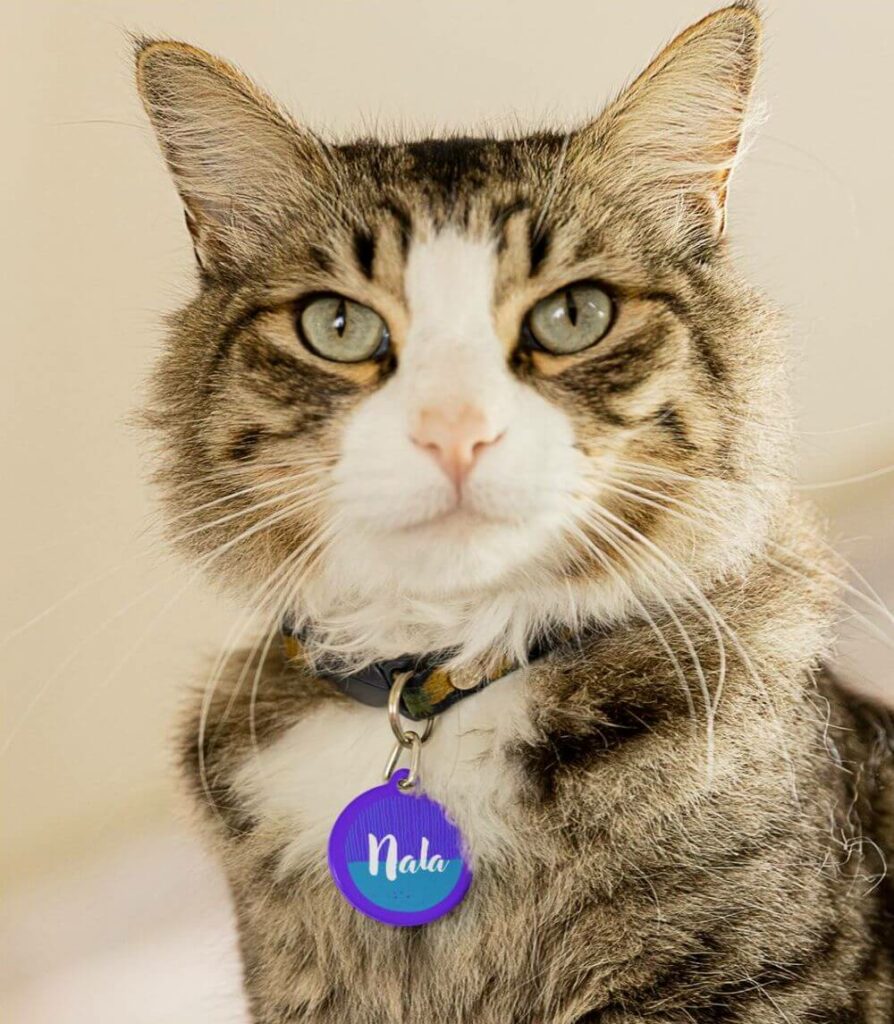 Create Your Own Custom Pet Tags!
Why Design Custom Pet Tags?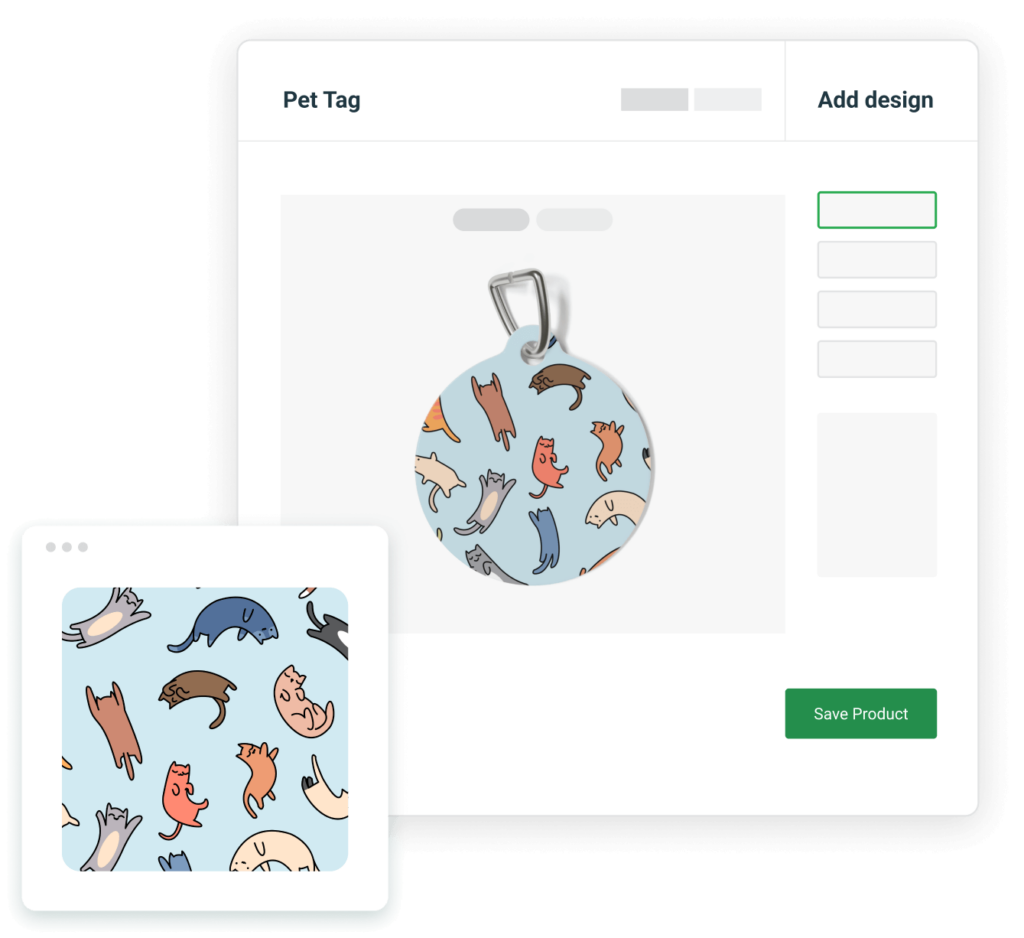 Make Custom Tags for Your Pet
Sell Personalized Pet Tags Online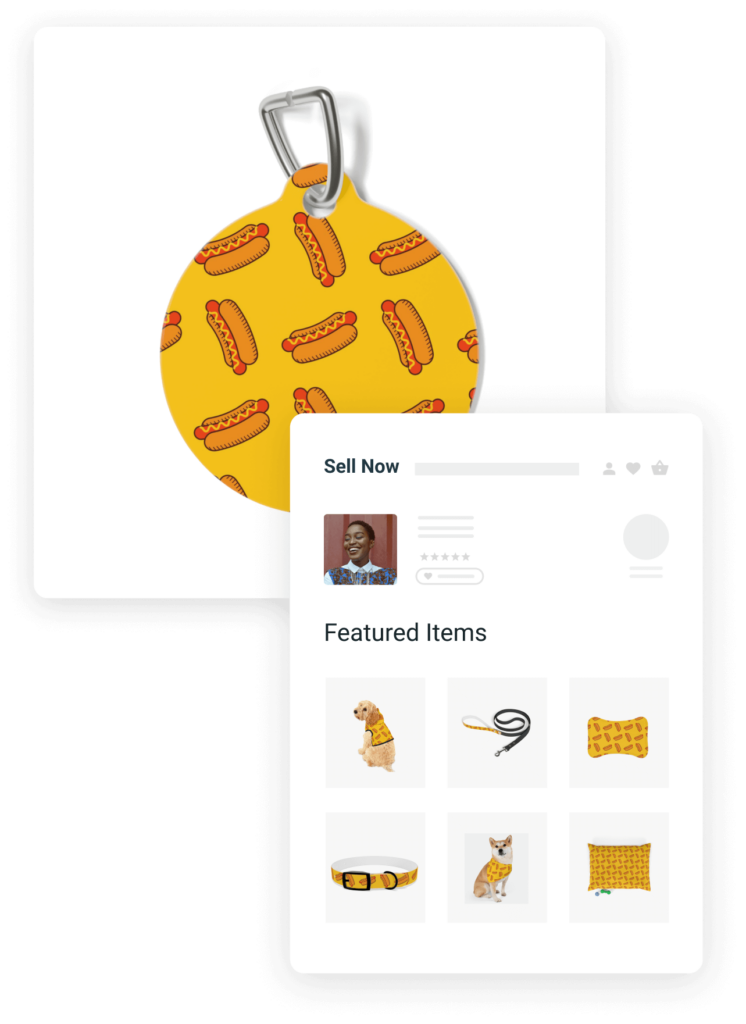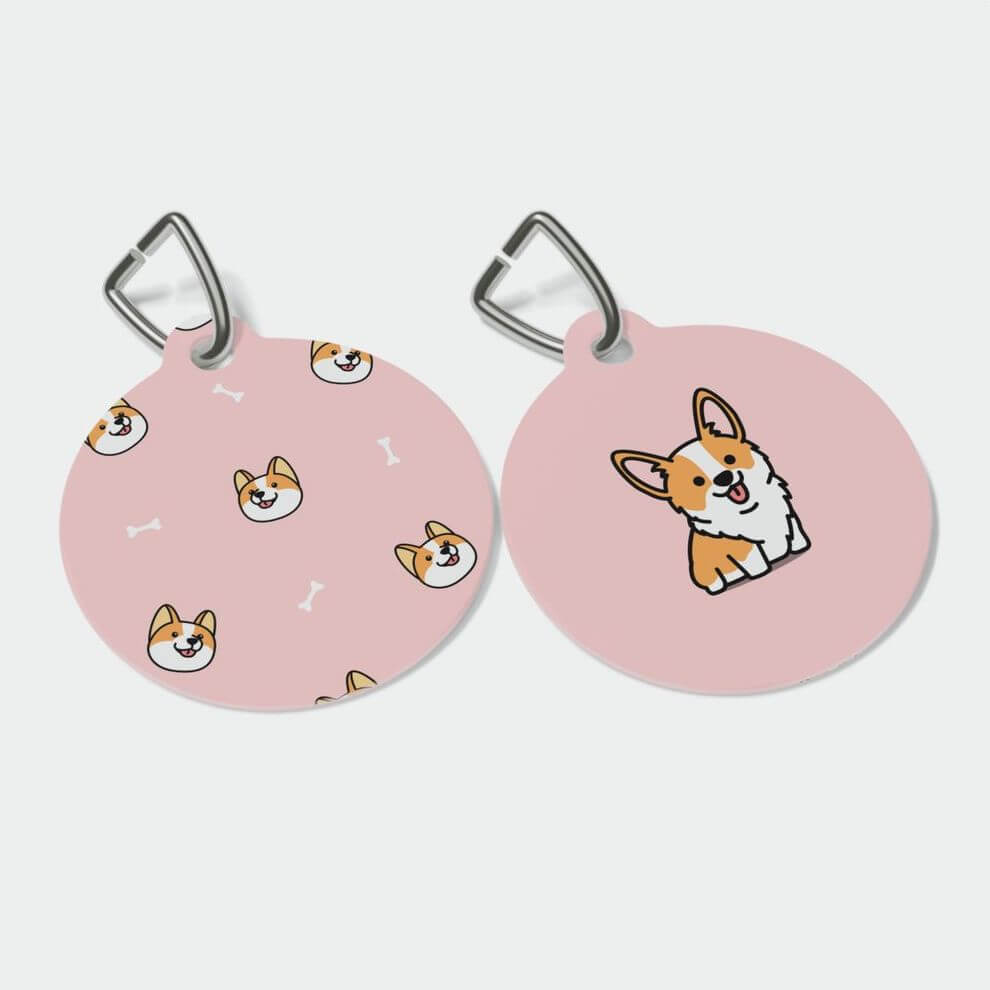 Personalized Pet Tag Specifications
Our personalized pet tags are the perfect way to show your dog's unique personality. They're made of white-coated solid metal, making them durable and long-lasting. Attach it securely to your pet's collar thanks to the tag's metal clip – it will stay put during even the wildest of plays.
The glossy finish adds a touch of shine to the design, and the solid one-piece construction ensures that the tag will not wear out or fall apart over time. Use it as a pet ID tag or just as a beautiful accessory – you won't find anything like it in any pet store.
Make a Matching Collar and Other Pet Accessories
After designing your personalized pet tag, don't stop there. Take your pet's style to the next level by matching it with a custom collar and other custom pet products.
Make sure to coordinate your custom pet tag with a matching collar for a complete look. And if you want to take it a step further, you can even create a custom leash, bandana, and more. Your pet will be the most stylish on the block!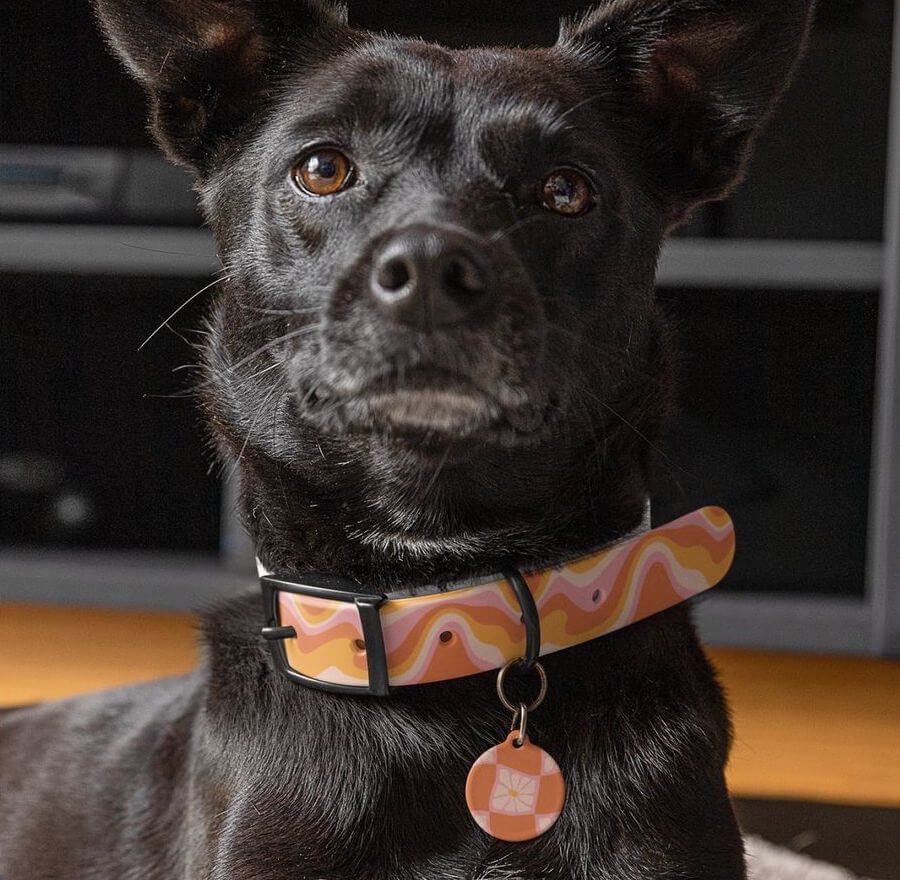 Create Personalized Dog Tags in Minutes
Creating personalized dog tags has never been easier. You can design a unique product that perfectly represents your furry friend with just a few simple steps.
Create a Printify Account
Joining Printify is as easy as pie – simply sign up for a free account, either through a desktop or mobile device, with no need for credit card information. All you need is a valid email address and a strong password.
Discover over 850 great products in the Printify Catalog. You'll surely find the perfect match for your furry friends and other customizable pet products to design and add to your store – think food mats, leashes, high-quality bandanas, and even super lightweight dog t-shirts.
Use Printify's Mockup Generator to create a custom design for your dog tag with ease. You can upload up to ten layers, use the text edit tool, create all-over-print designs, and even access our Shutterstock integration, where you can search for millions of amazing stock photos to include in your custom dog tags. 
With the Mockup Generator, you have everything you need to create a unique and personalized pet ID tag in minutes.
Custom Pet Tag Design Ideas
Looking for inspiration tips for your line of custom dog tags? Here are a few design ideas to get you going.
Dog Tags With Phone Numbers
A phone number dog tag is a great way to ensure your furry friend is returned to you if they ever get lost. You can include your name, phone number, and address on the tag, so anyone who finds your pet will be able to contact you. 
Keep the design simple and clear, so the information is easily readable – select a color scheme that creates a high contrast or a larger font.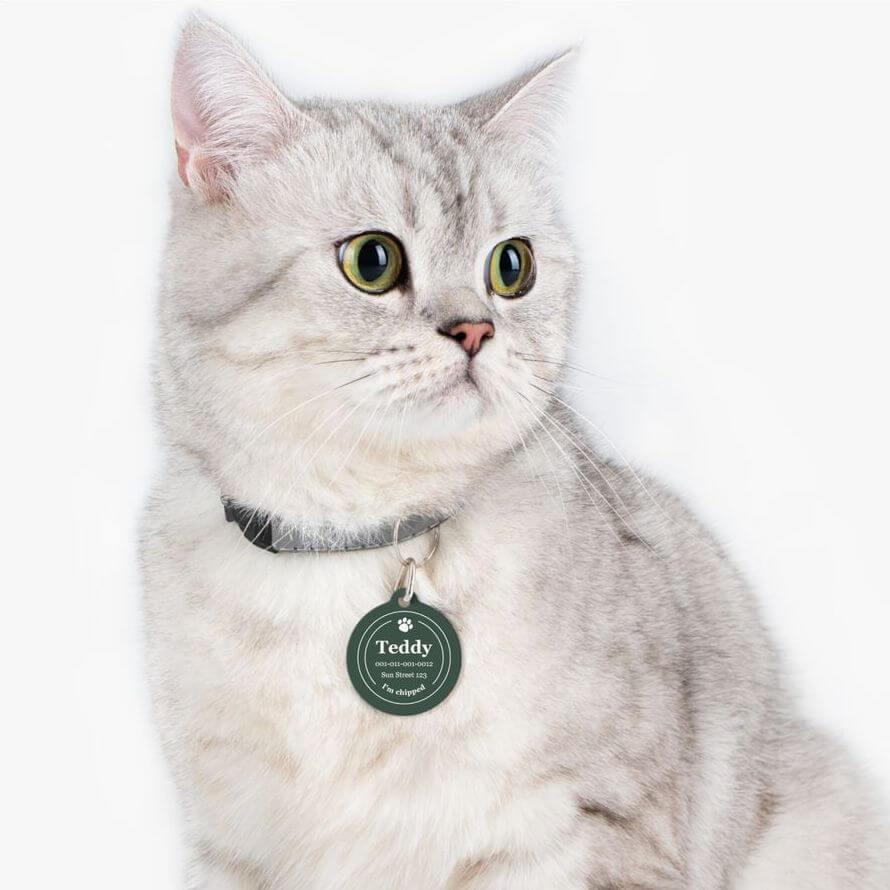 A cat or dog ID tag is a must-have accessory for all dog owners. ID tags can include your pet's name, your name, and your phone number. You can also include information such as your pet's breed, age, and any special needs or health conditions. 
Make sure to design an ID tag that's easily readable and eye-catching, so your pet is always identifiable.
Normal Wear and Formal Wear Tags
Many pet owners have a normal wear tag for everyday use and a formal one for special events. Normal wear tags can be simple and functional, while formal tags can be more elaborate and decorated. 
Consider matching the tag to a personalized dog collar for a cohesive look, or choose a design that showcases your pet's personality and fashion.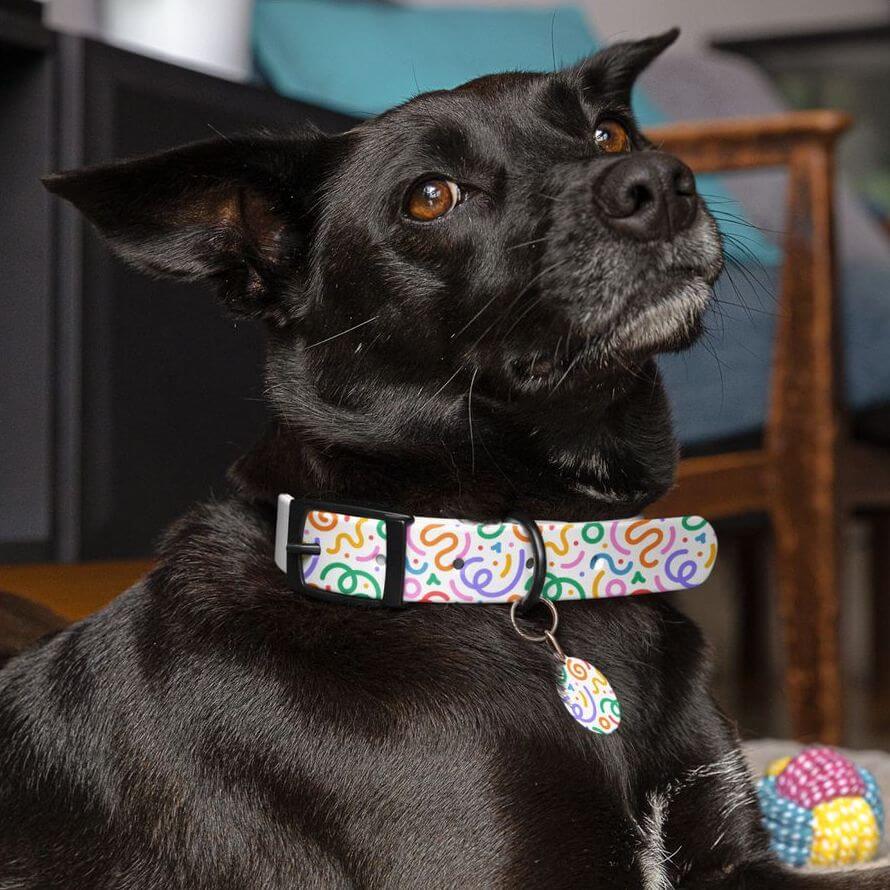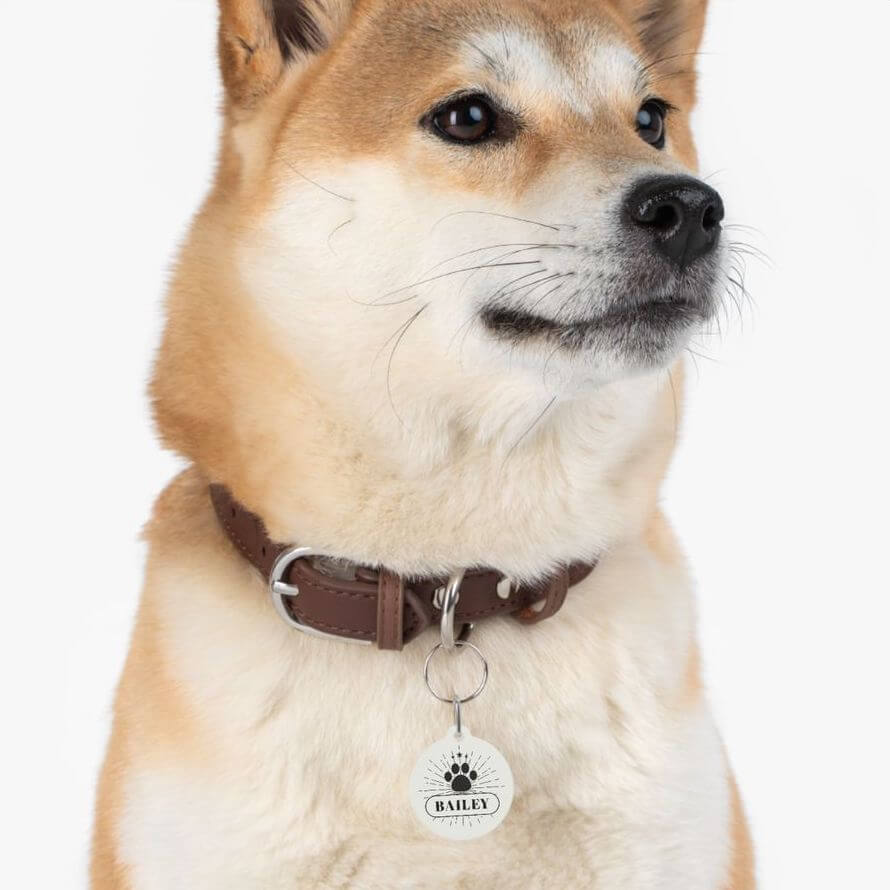 A dog name tag is the perfect way to introduce your dog to the world. You can include your pet's name and any additional information you would like to add, such as your phone number or your pet's breed. 
Choose a design that's easy to read and eye-catching, and personalize the tag with a fun element, like a photo or graphic, to make it truly unique.
Showcase your pet's cute and charming looks by printing photos that will proudly dangle from the dog's collar. Simply upload a picture of your furry friend that captures their essence and personality, and add a special message or their name to make it truly unique. 
These tags not only keep your pet easily recognizable, but also add a personal touch to their collars. The glossy finish and sturdy construction ensure the tag will withstand daily usage, preserving your pet's memories for a long time.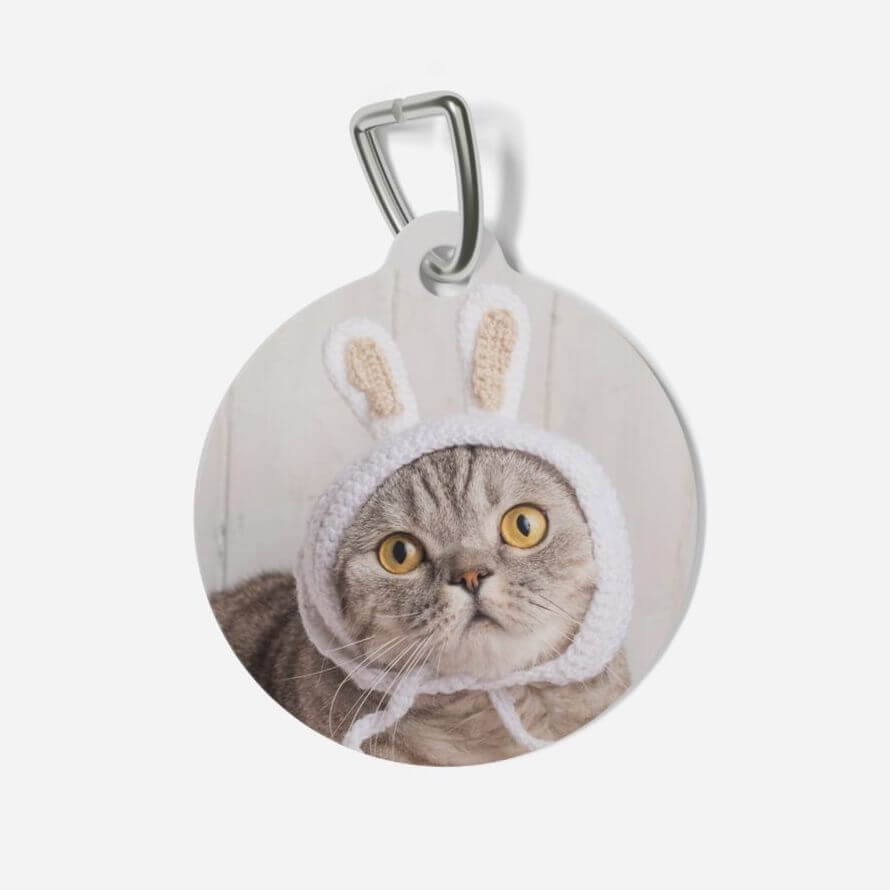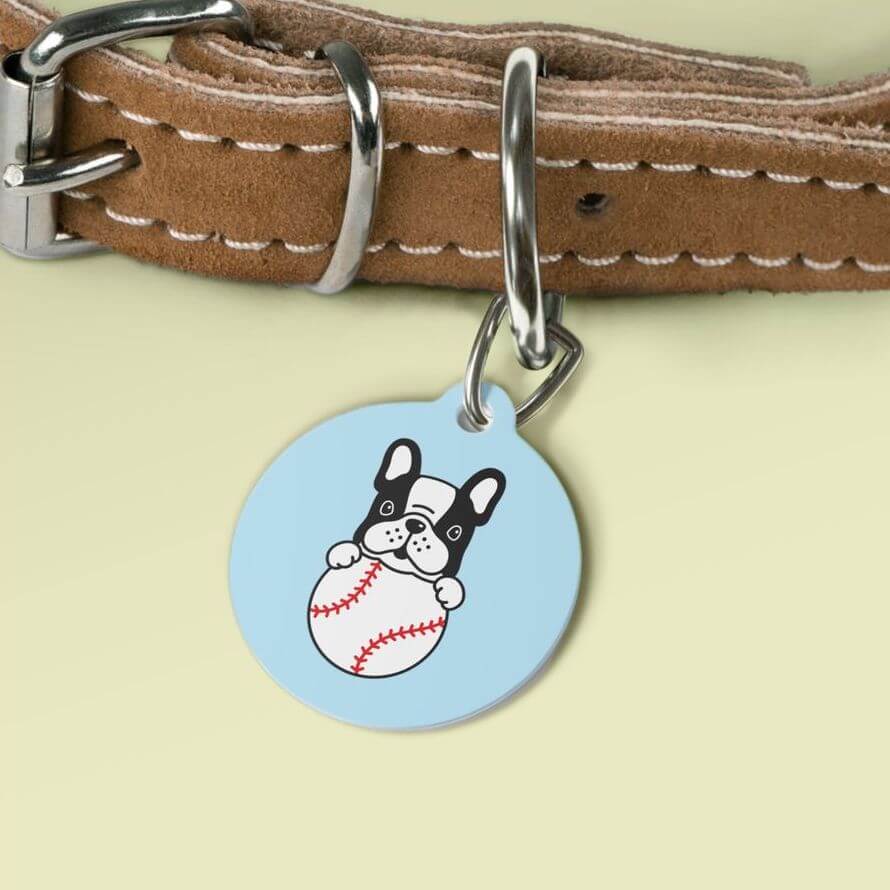 Give pets around the world a unique identity with a custom symbol tag. Represent the pet's breed, favorite activity, or personality with a choice of symbols such as bones for dogs, fish for cats, and more. Create a tag that perfectly captures the pet's essence, whether adventurous, playful, or simply cute.
Whether it's a paw print, a ball, or a heart, a symbol tag is a great way to show off your pet's (or owner's) personality and style. With an array of options, you can make your pet's tag truly one-of-a-kind and a reflection of your four-legged friend and their individuality.
Sell Personalized Dog and Cat Tags With Printify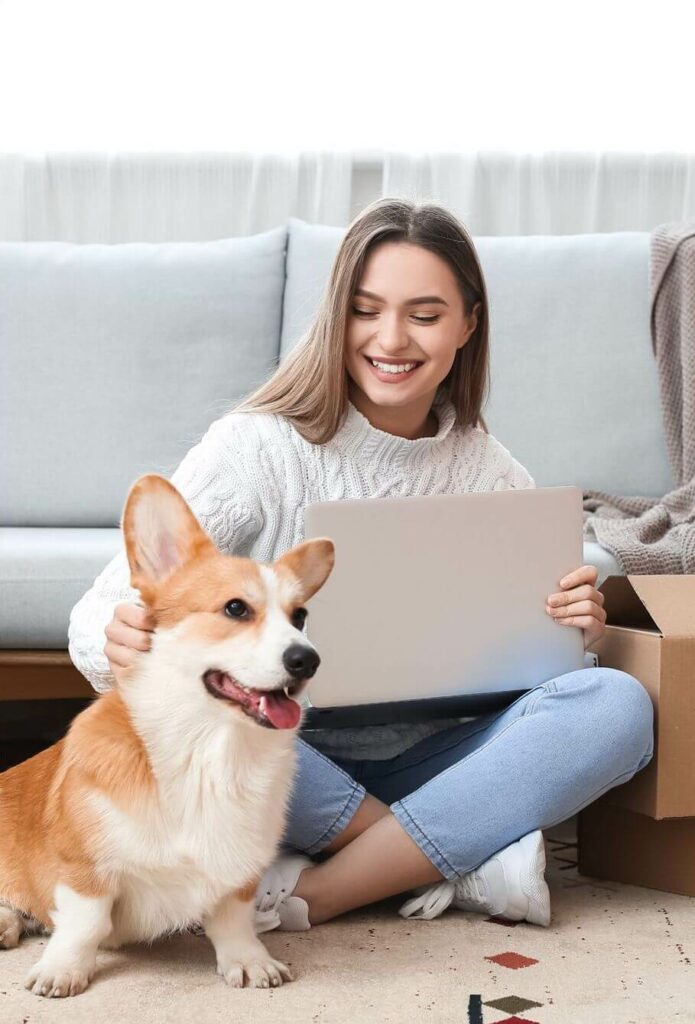 Printify's Print Providers use high-quality printing technologies to ensure that your custom dog tags and collars are long-lasting and look great for years to come, no matter how intense the playtime gets.
With us, you don't need to worry about large investments to get started. This is great news for anyone wanting to start a business selling personalized pet tags but doesn't have a lot of money to spare. With Printify's pay-as-you-sell model, you only pay for each tag you sell. This means you don't have to worry about large upfront costs, making it a flexible and affordable option for entrepreneurs of all sizes.
With more than 850 quality products, you're sure to find the perfect pet tag and other products for your needs. From custom dog tags to cat collars and everything in between, you'll have plenty of options to choose from. Create matching pet and owner sets for the most adorable photo moments.
Printify is easy to integrate with a store of your liking. We offer smooth integrations with the most popular platforms and marketplaces like Etsy, Walmart, Shopify, and WooCommerce. You can start selling your pet tags in no time and with no previous experience. Whether you're a seasoned eCommerce aficionado or just starting out, Printify is the perfect place to start and succeed.
Our dedicated Support team is available 24/7 to answer any questions or concerns, ensuring a smooth and seamless experience. You can rest assured that you'll receive the help you need when you need it – whether it's an issue with your order or simply a question about the platform, our team is always available to assist you.
Yes, with Printify, you can easily make your own dog tags in minutes. Sign up for a free account to personalize pet ID tags and other quality products with our Mockup Generator, where you can upload your design and apply it to a product without ever leaving your house. 
Order custom pet tags for yourself or start selling online – you decide, and we'll accommodate to your needs.
Short answer – no. Longer answer – even if you wish to order just one pet ID tag for your pup, you can at no extra cost. 
And the same goes for larger orders – if you want to order pet products in bulk, you can (and save on shipping costs). Orders of small sizes, bulk orders, and selling cat collars, dog tags, and other pet products online are all within your reach.
The essential information you should put on your pet ID tag includes the following:
Pet's name

Your phone number

Your address (optional)
This information will help ensure your pet can be returned to you if they get lost. You can also include additional information, such as your pet's breed, age, or any medical conditions they have.
Other than that, you can let your imagination run as wild as your puppy – print various patterns, symbols, funny sayings, and photos to create an unforgettable and beloved product. Match your dog tag designs with an owner's t-shirt to increase your sales and create an unforgettable shopping experience.
Create Your Own Custom Pet Tags!