Custom Christmas T-Shirts
Create Your Own, It's 100% Free!
Ho ho ho! Christmas Time is the time for giving, parties, and fun holiday cheer! Give a Christmas gift that keeps on giving with your own unique Christmas T-shirts – with Printify, no money upfront!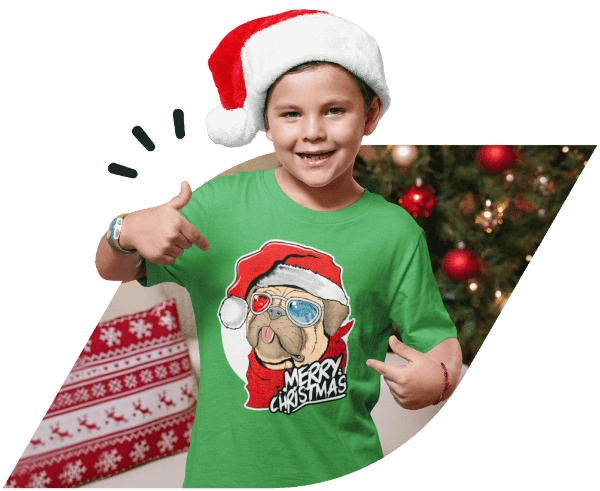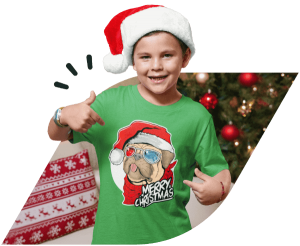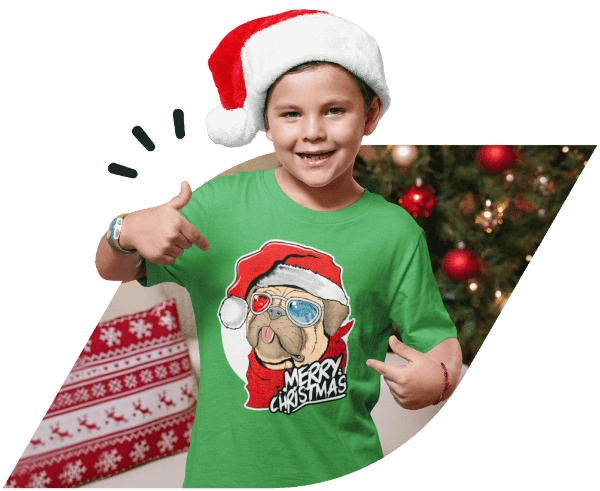 Create and Sell Custom T-Shirts for the Holidays
What Are Some Popular Christmas T-Shirts?
Christmas is known as a time of cold weather, so why would you want to push to sell Christmas T-shirts in your store? Simple. Firstly, not everyone lives in a cold-weather area. Secondly, a lot of people will still wear a Christmas t-shirts in colder weather. You can add these Christmas t-shirts to your store and easily capture a new market segment. Don't believe us?
Let's Talk About Some Popular Uses for Christmas T-Shirts!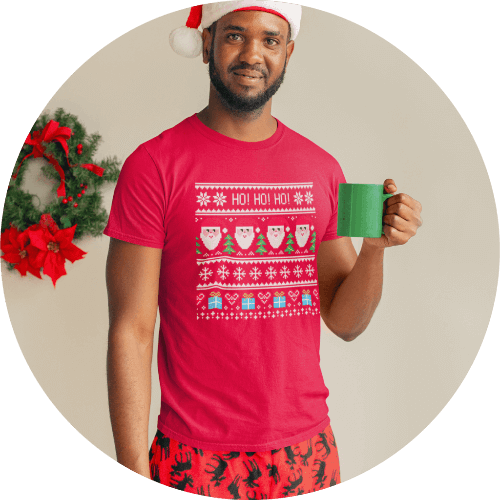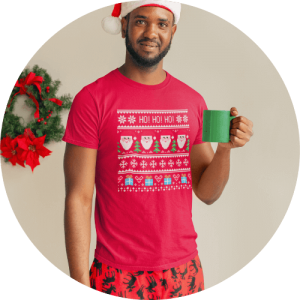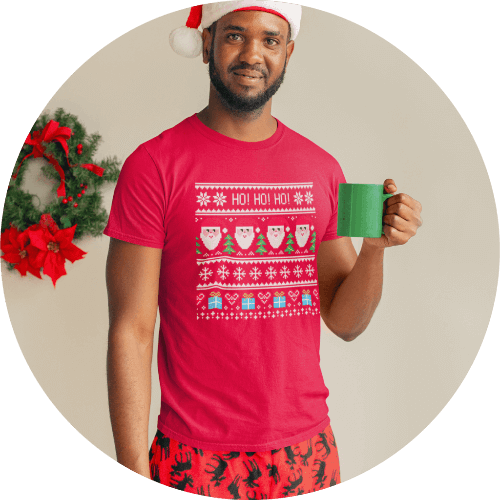 The warmer weather cousin to the ugly Christmas sweater, the ugly Christmas t-shirt is just as popular as its heftier friend. Why? We're glad you asked. Let's talk about some of the advantages of the ugly Christmas T-shirt, and there are many!
The ugly Christmas T-shirt is more portable than the ugly Christmas sweater, and that has its advantages. You may not want to be wearing a heavy ugly Christmas sweater all day, and yet an ugly Christmas T-shirt can be put on over the top of your office attire, and you're ready for the Holiday party.
Your customers also might find themselves in a crowded area or on a pub crawl to celebrate the holidays. That means warm places and warm bodies – but how can you maintain your holiday cool with all of that warmth? Answer: the ugly Christmas T-shirt. Your customers can stay in theme while staying cool on the dance floor or crowded holiday party.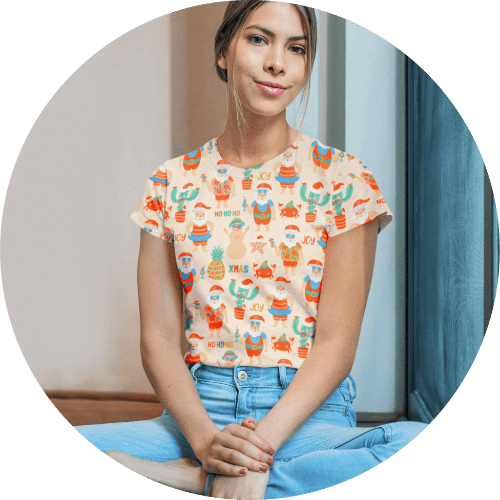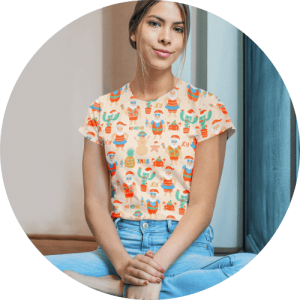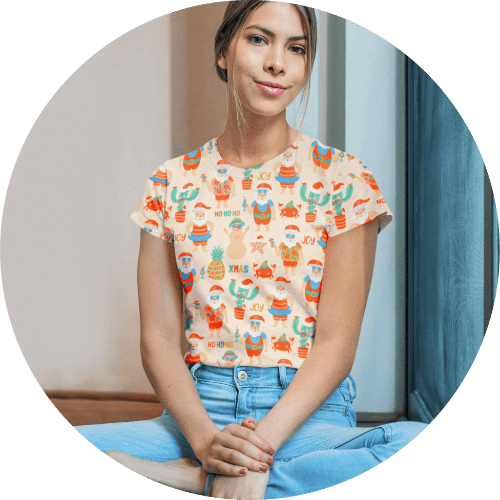 Sell some funny Christmas T-shirts and make your customers and friends about the life of the party! From our all-over print shirts (which allow you to print over the entire surface area of the shirt) to simple slogans, funny shirts are what makes the holiday parties a little more fun and sometimes a little more cringe.
Some popular shirts include thug life reindeer, Santa Claus in various naughty situations, and of course, the simple slogan or saying. It might surprise you to learn that some of the best-selling shirts and hoodies carry simple messages on the front, often a quote or funny witticism.
Experiment a bit with your own humor. If you operate in a niche, you can try to think of funny Christmas themes around that niche. Another good idea is to try to lampoon shared experiences, like the struggles of putting up holiday decorations or lights. Whatever you decide, your customers will make up their minds if it's funny, and that could mean a lot of holiday sales for you!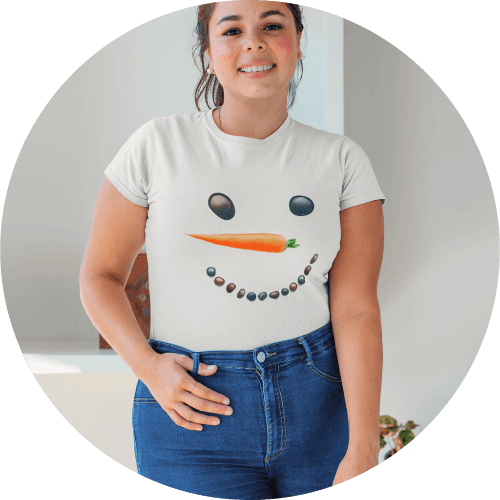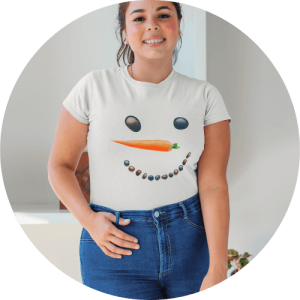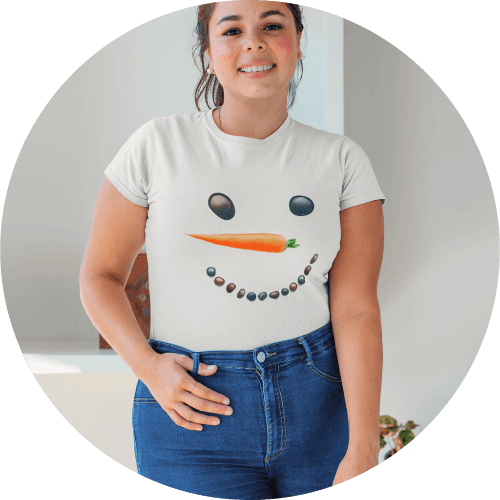 Christmas T-Shirts Plus Sized
In the past, it was difficult to even find plus-sized clothing, let alone themed clothes. Yet we know that plus size is getting more and more accepted culturally and also as a fact. For example, the market for plus size women's clothing in 2019 was estimated to be worth $180bn. From fashion models to normal, everyday people, plus sizes don't carry a stigma and certainly won't hurt your wallet! Carry plus-sized Christmas T-shirts in your store for some great returns!
When looking at plus-sized Christmas T-shirts trends, you'll find they are very similar to the market for Christmas T-shirts generally. As most plus sizes are geared towards women (it's very difficult to get data on the market for plus size men), it would be wise to bend your designs towards them. Christmas cats, fun Christmas scenes, and anything that shows off the holiday spirit are all acceptable. Why not design some of your own plus size Christmas T-shirts today, and cash in on this market?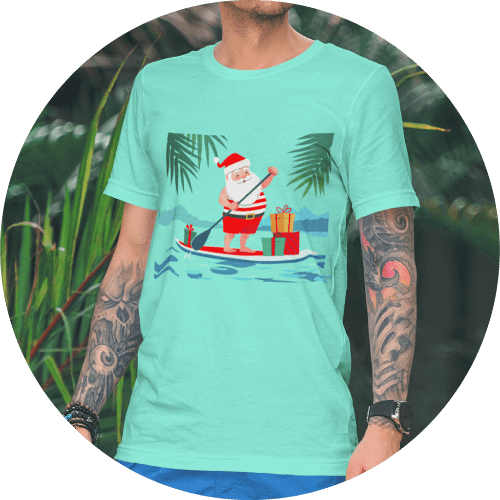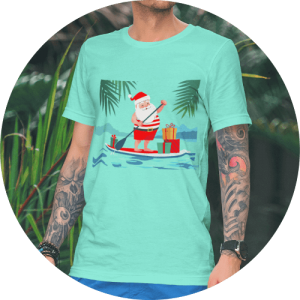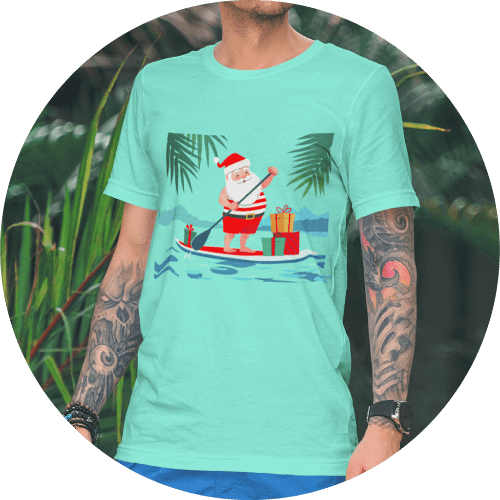 Christmas Vacation T-Shirts
Want to know a deep, dark secret that most people won't admit for the holidays? It's a great time to take a vacation. Whether people are trying to avoid their families, the holidays in general, or just want to use this vacation time while they can, Christmas vacation T-shirts are a fun way to commemorate the occasion!
Imagine, your customers are planning on starting a family, but before they do, want to have that one last special trip together before they do, so they're going to go from their snowy hometown to the Keys or even the Bahamas! What does that mean? Hot weather, and also, unsurprisingly, a great chance to show off some Christmas vacation T-shirts with just a little bit of irony!
Santa Claus and Christmas trees on a Jet Ski! Help your customers get there with some great looking and fun Christmas vacation T-shirts. These are great for gifts (surprise! Christmas vacation!) or just to wear while they're there. Show some creativity and do your sales bottom line a favor!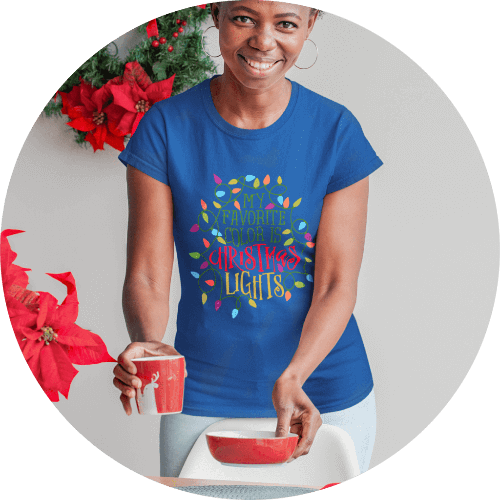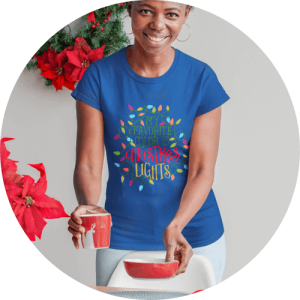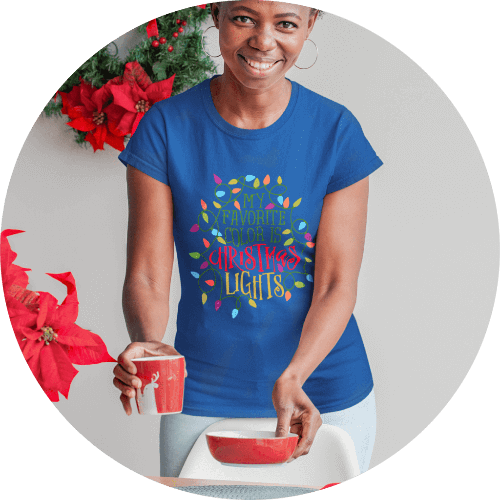 Women's Christmas T-Shirts
Women's Christmas T-shirts are a huge sales opportunity, as women make up most of the buying market for clothes (even men's clothes) and are the primary gift buyers for the holidays in most families as well. If you don't have Women's Christmas T-shirts in your store, then you're definitely missing on sales. But what kind of sales?
Women's Christmas T-shirts are more light and festive than general shirts. They can also be sassy and have a lot of animal themes. Don't forget the food themes too – as in most families eating during the holidays is a given, and food is where a lot of family traditions are held. Finally, cute patterns that ring in the holidays with cheer and festive thoughts or quotes are also great for Women's Christmas T-shirts. Make some for your store today for some great sales opportunities!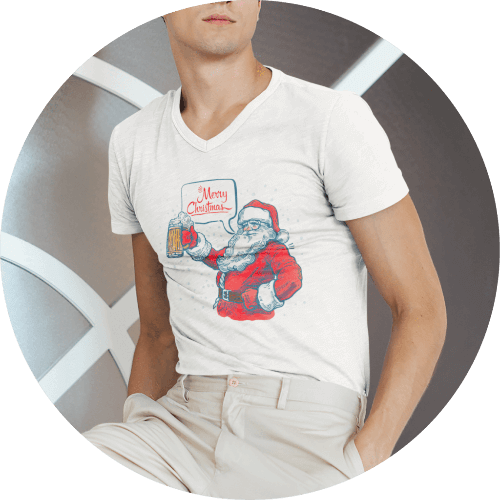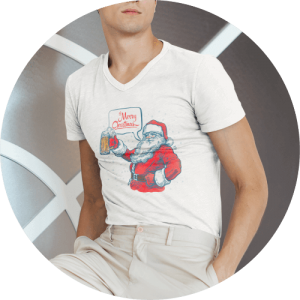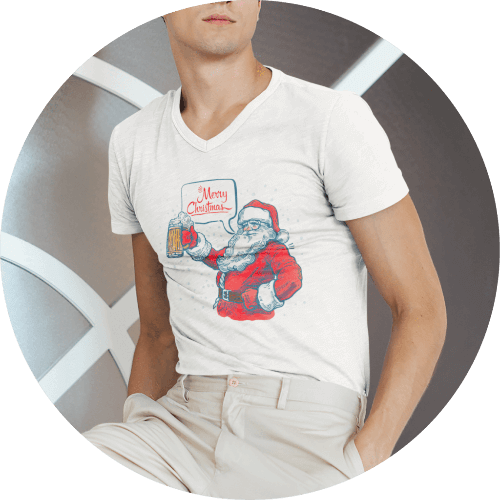 Men's Christmas T-shirts are a bit less sentimental, and usually a lot more fun. Men are buying their holiday attire for a different reason, usually for theme parties or to dress up quickly for office get-togethers. That means that they're looking for something quick and easy, and also usually a bit funny.
You can get away with less intricate patterns and more overtly humorous and ironic designs when you sell Men's Christmas T-shirts. What better way to make an impression at that office party than with a clever Christmas T-shirt that everyone loves? How about that Santa Pub crawl with friends, isn't this a perfect opportunity to remove that ugly Christmas sweater to reveal…an even uglier Men's Christmas T-shirt? 😂 There are so many opportunities for lampooning the holidays, and the absurd family traditions that some have to observe, so give a bit of irreverence and fun with Men's Christmas T-shirts!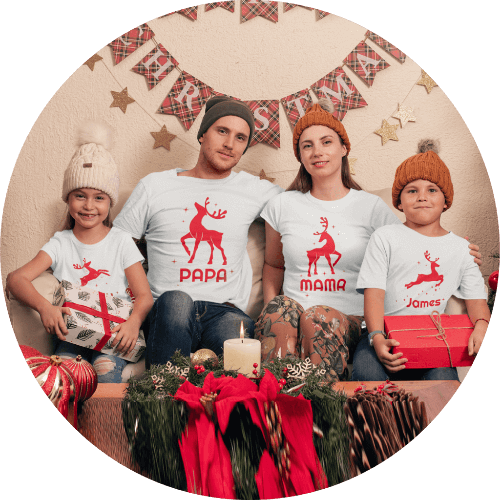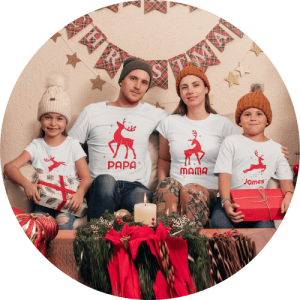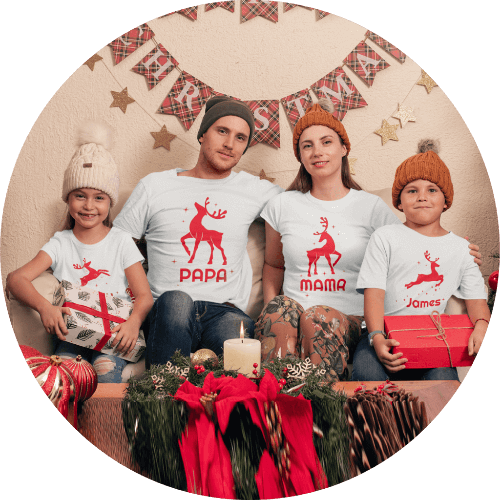 Family Christmas T-Shirts
Family Christmas T-shirts are a huge seller, and Christmas time, in general, is all about spending time with families and celebrating traditions. When families get together for their themed gatherings, Christmas T-shirts are on their minds and with good reason. Families like to have fun, and even larger gathering see the immediate families of those attending dressing in theme attire or even the same shirts. Some will be reindeer; others will be Santa and elf themed, but they'll all certainly be fun and festive!
Help that family of four to wear identical Christmas T-shirts to their next party! Nothing says festive like the whole family dressed up in the same Christmas T-shirt and ready for the holidays. Get some classic Santa Clause themed designs, like coming down the Christmas tree or eating the cookies for your next family themed designs!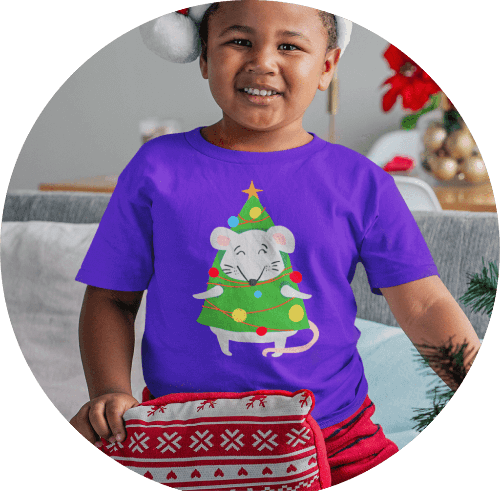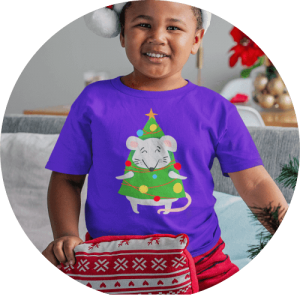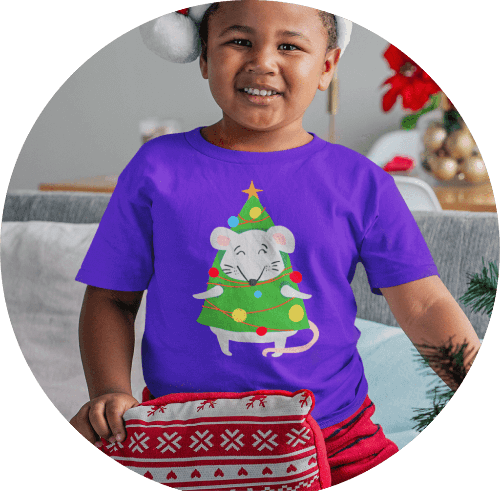 Christmas T-Shirts for Kids
We know what you're thinking. Kids Christmas T-shirts, when they already get so much for Christmas? Yep. Having your kids dressed up and appropriately for any occasion is a goal of most parents, and kids have parties and family functions to attend to as well. Why not cash in on this opportunity as well?
Kids' Christmas T-shirts are all about fun and the holidays. Stay away from those ugly patterns because kids won't get the irony, and will just see…ugly. (ok, we confess, a few kids will probably like them!). Make sure you have some funny and illustrative designs for kids to show off at their school parties before they say goodbye for Christmas vacation, and you can cash in on these sales too!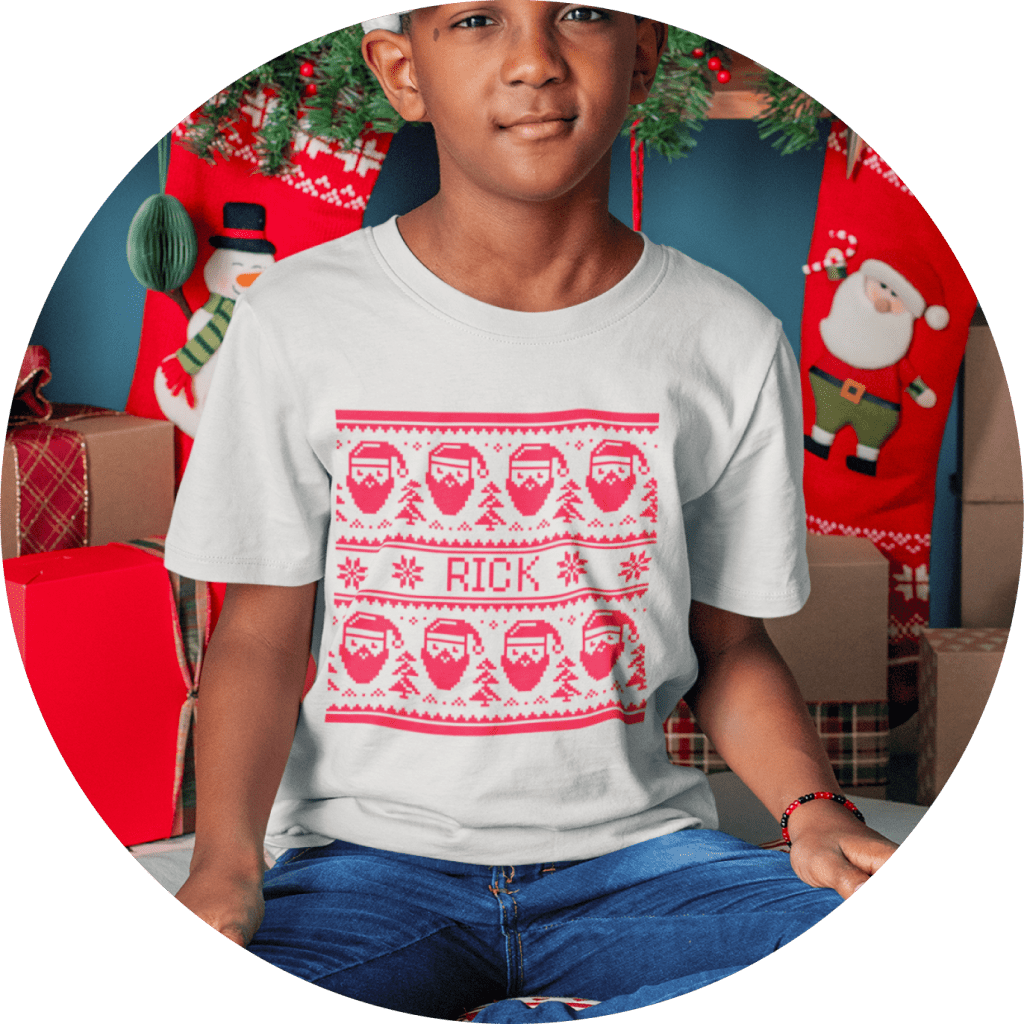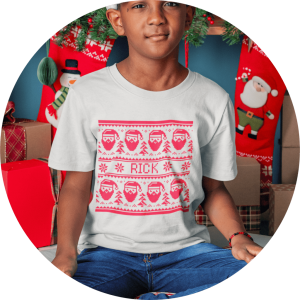 Personalized Christmas T-Shirts
Personalized Christmas T-shirts are another untapped sales opportunity for our store owners. With a little engineering, you can tap into our API and start to personalize your Christmas T-shirts and other products for your customers. What is personalization?
Personalized Christmas T-shirts might have family photos or other designs created by your customers and uploaded to your store and then bulk ordered or ordered as a one-off. If you sell bulk order personalized T-shirts, then you're one of a few store owners that will have this option and will take advantage of Printify's entire platform of print providers. Go ahead and experiment with the API or find a talented computer guy to help you, it's not too difficult!
Start Selling Custom Christmas T-Shirts!
Be Ready for Holiday Season: Three Uses For Merry Christmas T-Shirts
Start designing today with Printify's mockup generator! You can get a design up and running with our easy to use mockup generator. The more shirts you design, the easier it will get to put even more designs up. And remember, more designs mean more profit for you! We have short sleeves, long sleeves, crew neck, v neck, thick, thin, and everything in between T-shirts to use! Check out our free designs or make your own – there's a lot to choose from!
You can start designing and putting up Christmas T-shirt designs, but what are some of the most popular things people buy Christmas T-shirts for? Well, we talked briefly above about each, but let's go into more detail now. You might be thinking that all Christmas clothes are the same, and you can use them for any occasion, but you'd be wrong.
Christmas T-Shirts With No Minimum Order
Printify has no minimum order for any of its products, and that includes the T-shirts you can use for your amazing custom Christmas T-shirt designs. Take a look at all of the products that we offer, and you'll find some other amazing ideas for no minimum orders! Whether it's one or one thousand, we'll be able to make your customers happy with our no minimum orders.
Create and Sell Personalized Christmas T-Shirts With Print on Demand
The print on demand model allows you to ship and sell products to your customers without ever touching them. The products themselves are only created after you sell them, so there's no upfront investment and no minimum order necessary to sell any particular item. Don't believe us? Just give it a try, create as many products as you want(Christmas t-shirts, ugly sweatshirts, or even Santa hats)  – there's no charge until one is sold! And at great prices to boot, print on demand is really a deal for store owners!
Start Selling Custom Christmas T-Shirts!
Bestselling Christmas T-Shirts - A Lineup
The Unisex Jersey short sleeve tee from Bella + Canva is one of our best selling and best-looking tees. It has some amazing features that, like combed ring-spun cotton that make it great for taking ink and feeling soft and comfy. It's also made from 100% cotton, so it's breathable and lightweight fabric keeps you cool during those hot…Christmas parties. 
100% combed ring-spun cotton
Retail fit (with side seams)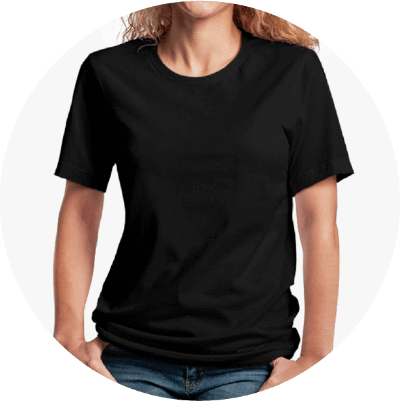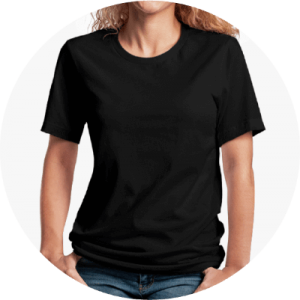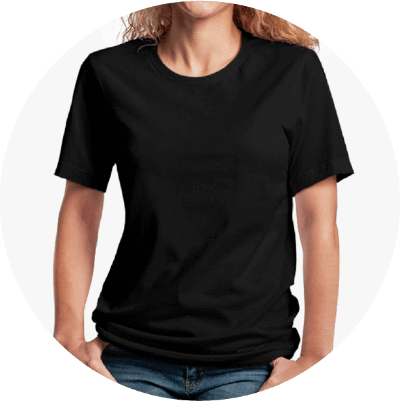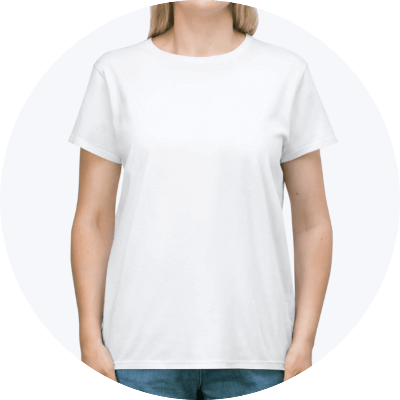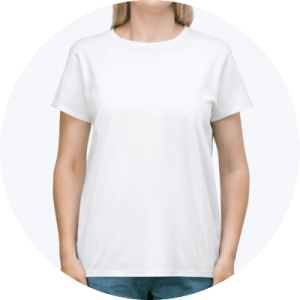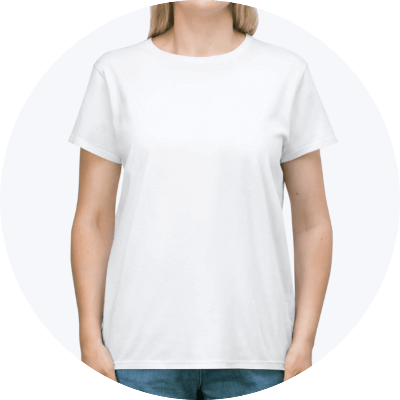 The Unisex Heavy Cotton Tee is perhaps a bit more appropriate for Christmas. It's a little more affordable, is a classic fit, and comes with a tear-away label. It's also made from 100% cotton, making it another great option for everyone on your Christmas list. If you're looking for a quality shirt to order in bulk for the whole office, then this is definitely the Christmas T-shirt for you!
The Unisex AOP Cut & Sew Tee is our way to give you the power to print it the way you like it, all over. Choose and design a pattern or a large graphic and print it over the entire tee. What says Christmas better than an oversized and jolly Santa, grinning at everyone during the holidays? Make it happen with this tee!
Regular fit (true to size)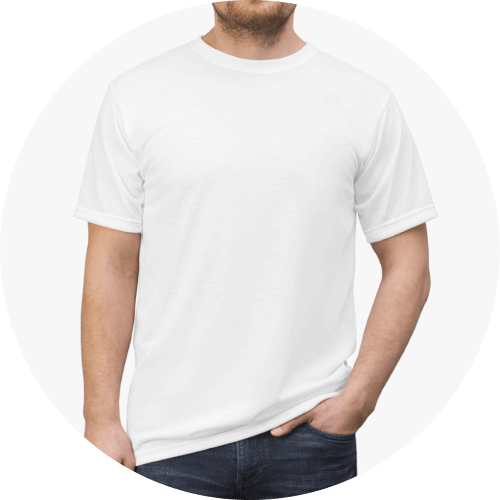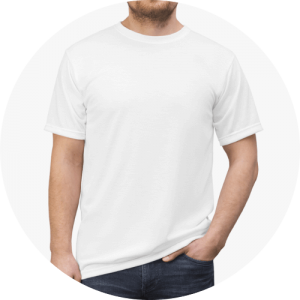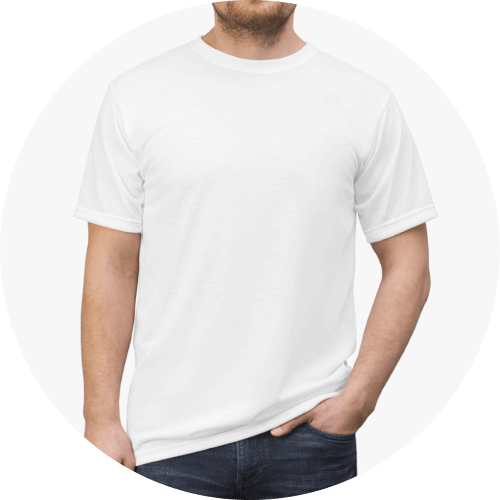 FAQ About Custom Christmas T-Shirts
Ready to Ring in the Holidays With Personalized Christmas T-Shirts?
Ok, there are just a few steps left if you want to get started selling Christmas t-shirts with Printify!
Straighten up your hair, because we're about to get serious!
Start Selling Custom Christmas T-Shirts Today!