Whether for your eCommerce store, family, or friends, Christmas t-shirts are ideal for bringing both smiles and profit. As merry as they are practical, they'll uplift the spirits of any recipient.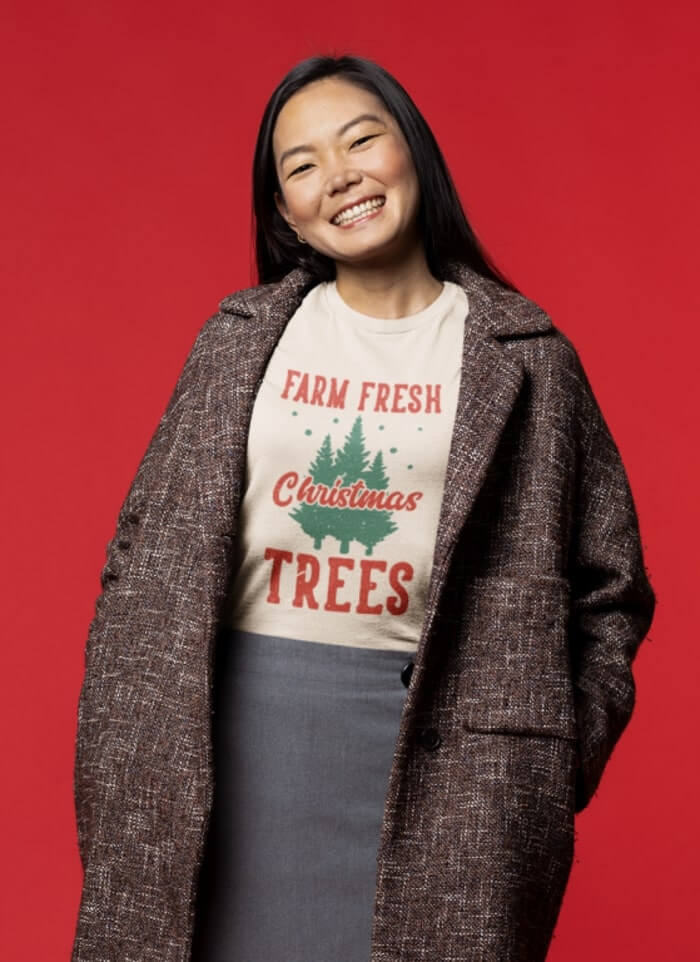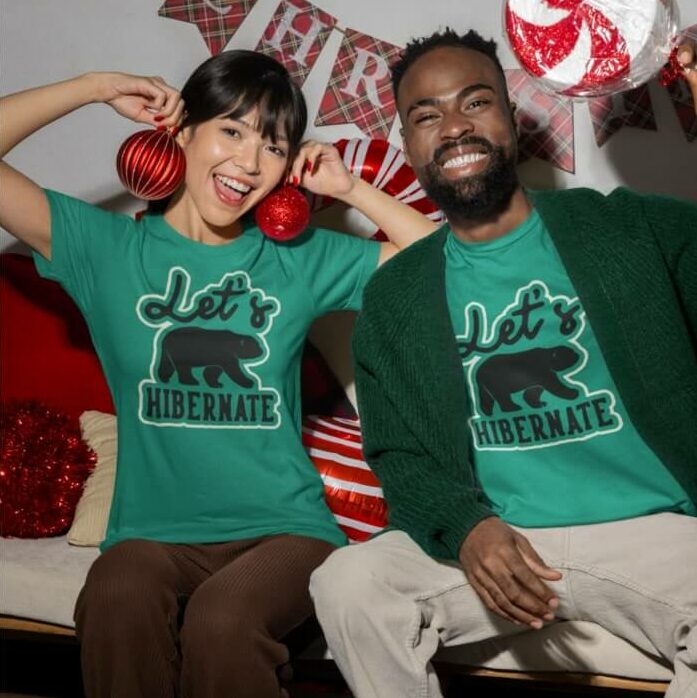 Christmas T-Shirts Done Your Way
How to Create Custom T-Shirts in Three Easy Steps?
With Printify, start selling beautiful Christmas t-shirts or create them for yourself. All without any hassle. 
Once it's produced, we'll print, package, and ship directly to you or your customer's doorstep.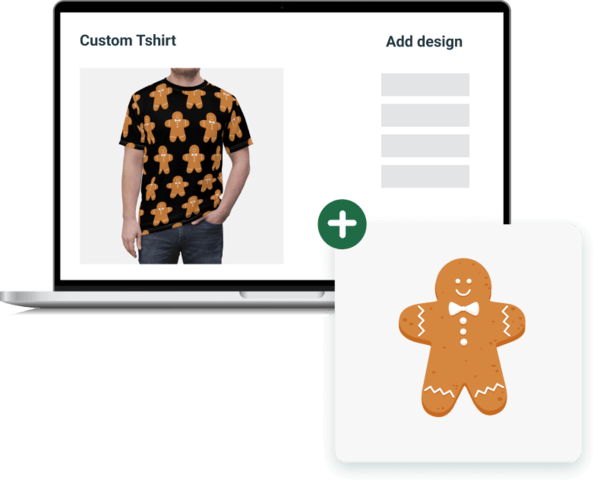 The Printify Catalog has a wide selection of stylish t-shirts for women, men, and children. Just browse through our collections, pick your favorite, and click Start designing.
Our beginner-friendly Mockup Generator lets you easily upload graphics, photos, or text. When a design is complete, you get a mockup of how the t-shirt will look in real life.
Design Christmas T-Shirts With Printify
Whether you're looking for a casual t-shirt or something more extraordinary, the Printify Catalog has it all. With a wide variety of high-quality t-shirts from the world's most popular brands, anyone can find the perfect fit for their needs.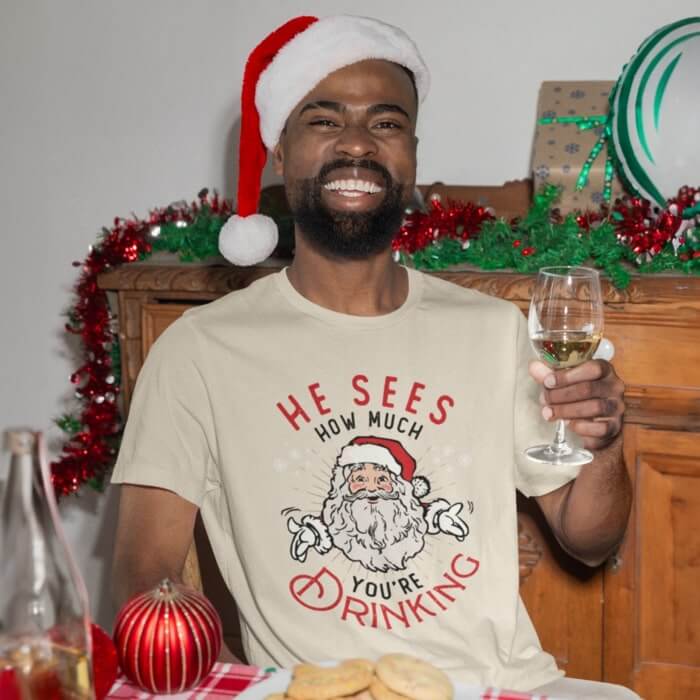 While many of our t-shirts sell well, these remain unrivaled, especially during the holiday season. In an ever-changing market landscape, they're everyone's all-time favorites.
Style, quality, and price set them apart, keeping people happy and returning for more.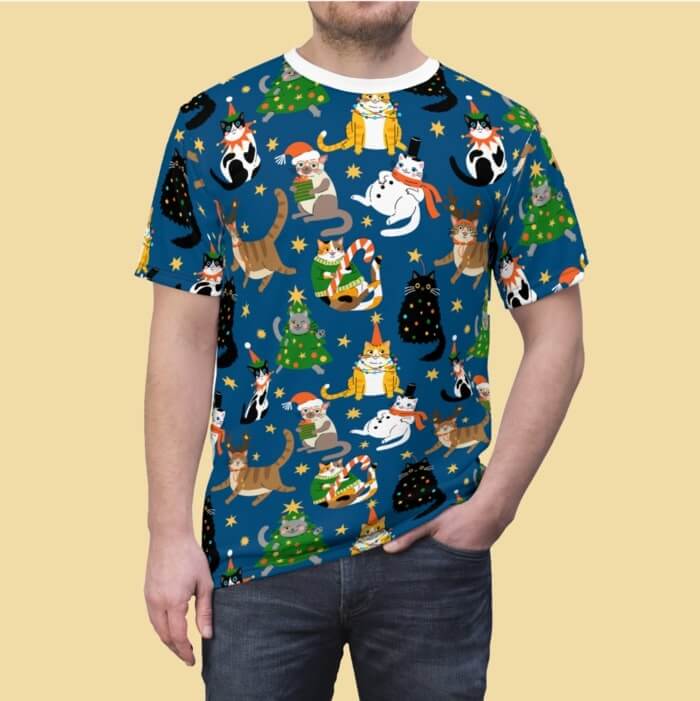 Nothing gives more festive vibes than a fun t-shirt with whimsical holiday patterns – candy cane stripes, snowflakes, or fairy lights. Whichever you choose, these will bring a merry atmosphere to any occasion.
With an all-over printing technique, you get high-quality prints that cover the entire product and provide long-lasting results.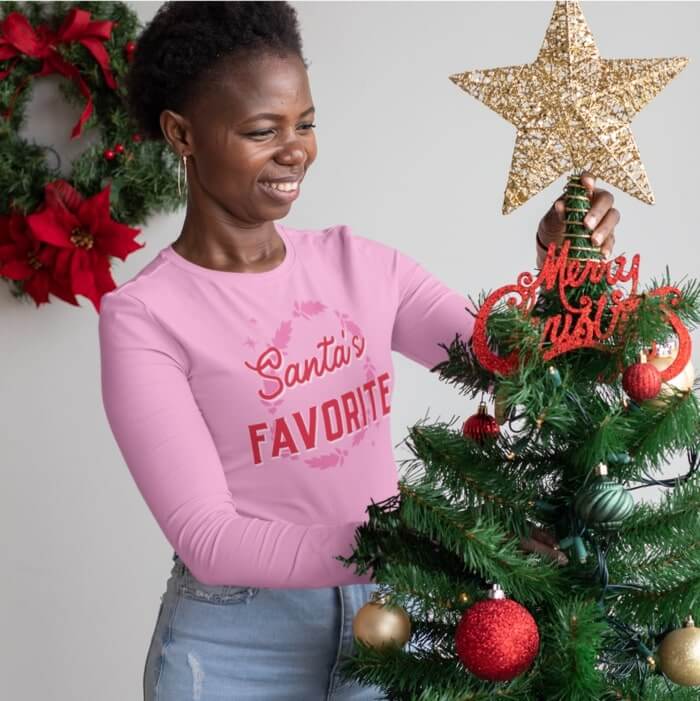 Keep yourself and your customers warm throughout the holidays with comfortable long-sleeve t-shirts. 
As versatile as they are stylish, they're an ideal gift for both men and women. Whether it's a cozy family gathering or a formal office party, with a beautiful design, they'll suit any festive setting.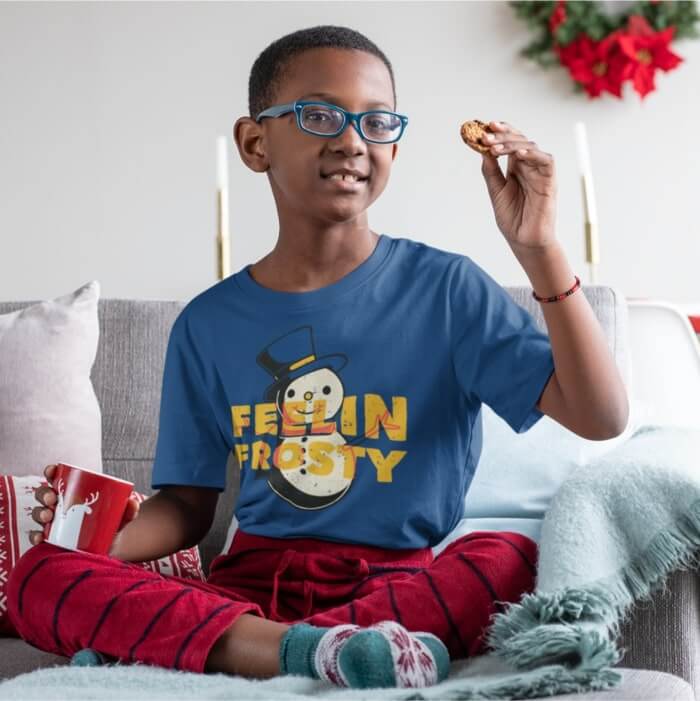 If you want to design funny Christmas shirts, children are the right audience. After all, parents spare no expense to make their little ones happy, making these an ideal addition to your holiday collection.
Their exceptional quality, durability, and comfort make them the perfect choice for children, allowing them to fully enjoy the holiday festivities.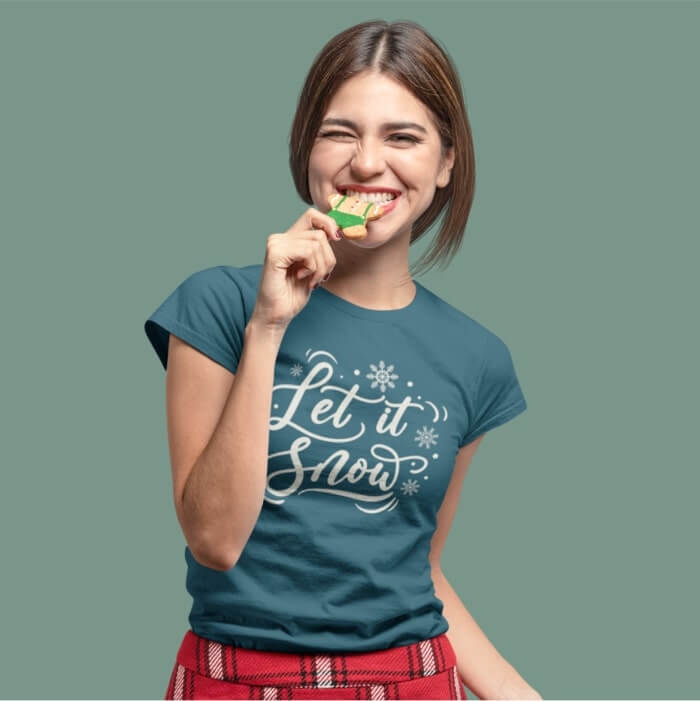 As sustainability continues to gain importance, aligning aesthetics with ethics is a great way to appeal to eco-conscious family members, friends, and customers. 
These t-shirts are made from materials that are kinder to Earth, promoting an environmentally friendly approach to fashion.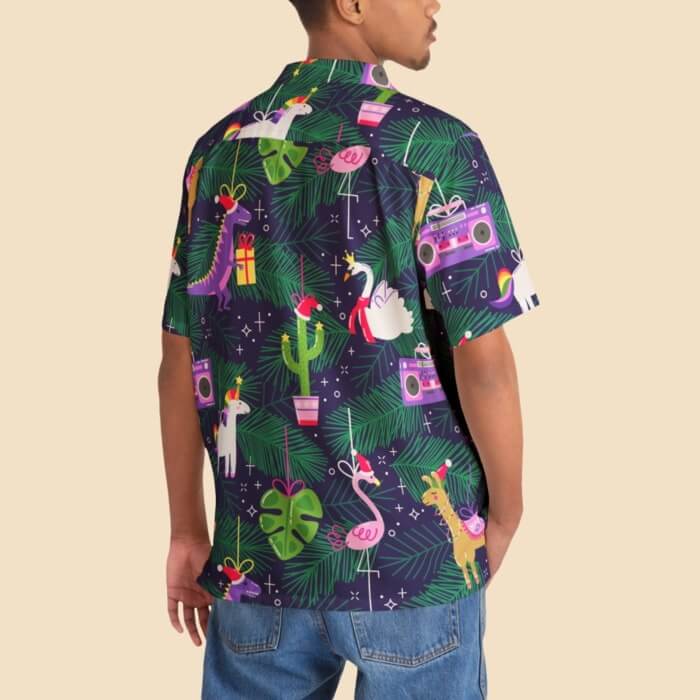 If you're looking for a fashionable product unlike anything else, you're in luck. Whatever creative designs you have in mind, we impose no limit on your imagination – a fun Christmas Hawaiian shirt? Sure thing. An ugly Christmas shirt? Absolutely.
While originality in design is critical, so is comfort and durability, which these have in abundance.
Join More Than Eight Million People Who Trust Printify
With our merchants at heart, we strive for excellence in everything we do, and we are grateful for the trust they put in us.
I don't have to invest the money I can't lose into my business. With Printify, I only pay the fulfillment fees, and the rest is all profit.
I really appreciate working with Printify on my brand. Afro Unicorn was only supposed to be my design on a white shirt. It is so much more. Printify allows me the time to run the business and not work in the business.
Printify helped me start a completely hands-off revenue stream. When you spot a niche that you want to enter quickly, you don't have to worry about buying stock or equipment.
Printify Premium has helped my profit margins tremendously, and spending $20 a month has probably saved me over $200 a month.
Using Printify saved our struggling business of 6 years and gave us more time with our family.
I like Printify products because they tie in with our organisation's message.
I love the Printify Mockup Generator. It keeps everything consistent and allows me to keep my brand looking sharp and professional.
Christmas T-Shirt Design Ideas
When designing custom Christmas shirts, options abound. With a creative idea, you can turn an ordinary t-shirt into festive attire that captures the spirit of the holidays.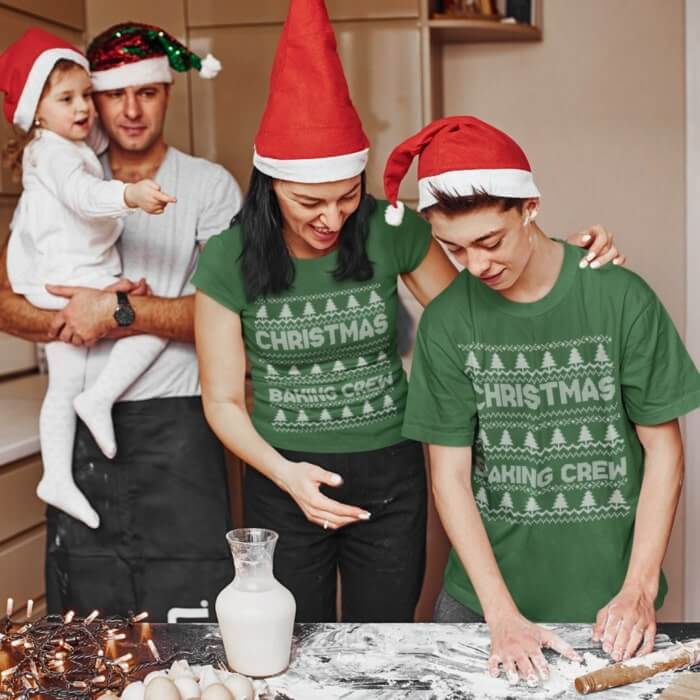 When families gather, they enjoy having fun and wearing t-shirts with matching designs – a heartwarming sight. Whether for yourself or your customers, they're ideal for creating memories that last a lifetime.
A wildly-designed ugly Christmas shirt can instantly create a light-hearted atmosphere and bring joy to any festive party. With these, heads will turn wherever you or your customers go, sparking conversations and spreading holiday cheer.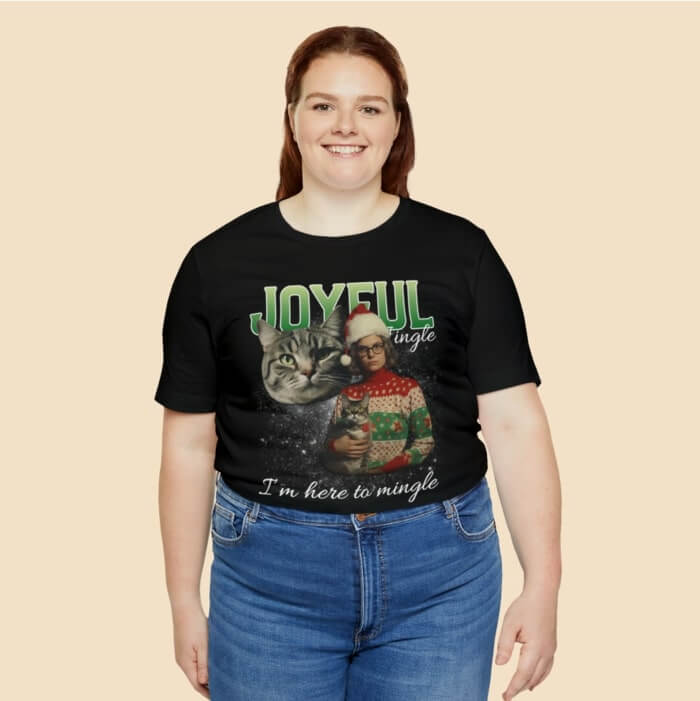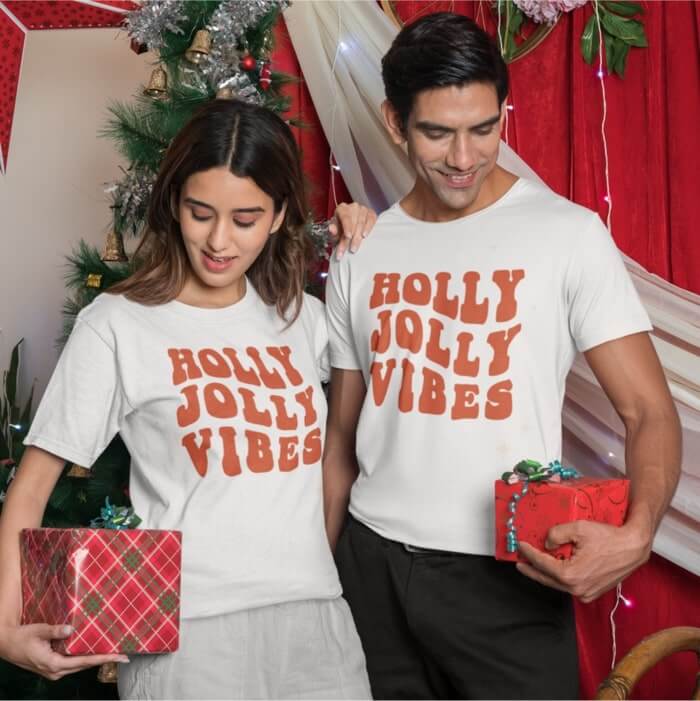 Matching Christmas Shirts
Imagine arriving at a gathering and capturing everyone's attention with adorable couples' Christmas shirts. The compliments will pour in, making the duo the center of joyful conversations. A delightful gift to your friends and a great addition to any eCommerce store.
A popular trend during the holiday season, beautifully combining one of Christmas symbols with festive fashion. If you or your customers prefer a classic yet fun design, this one's perfect.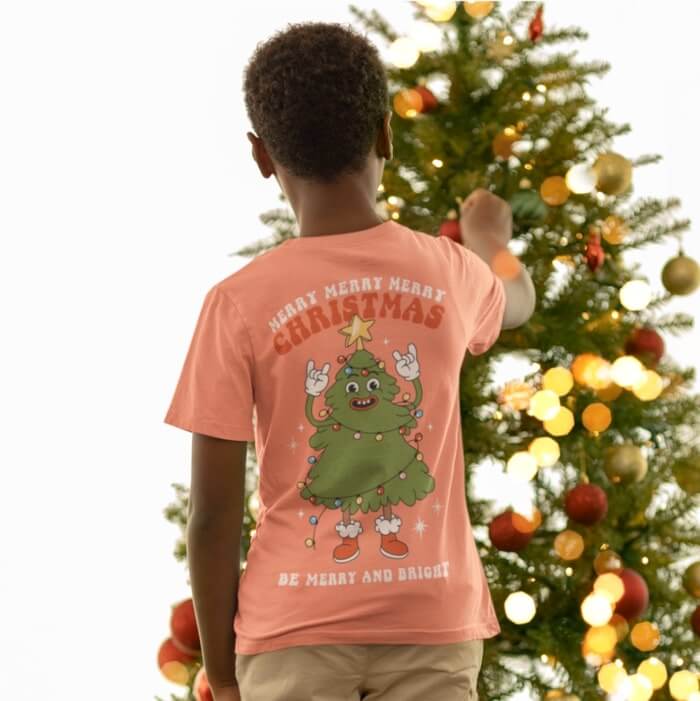 Why Sell Christmas T-Shirts?
If you want to skyrocket your holiday sales, selling eco-friendly, unusual, or funny Christmas shirts is a great way to appeal to a wide audience by capturing the festive spirit.
As popular and practical products, festive and fun t-shirts make thoughtful gifts for family, friends, and colleagues, so finding customers won't be hard.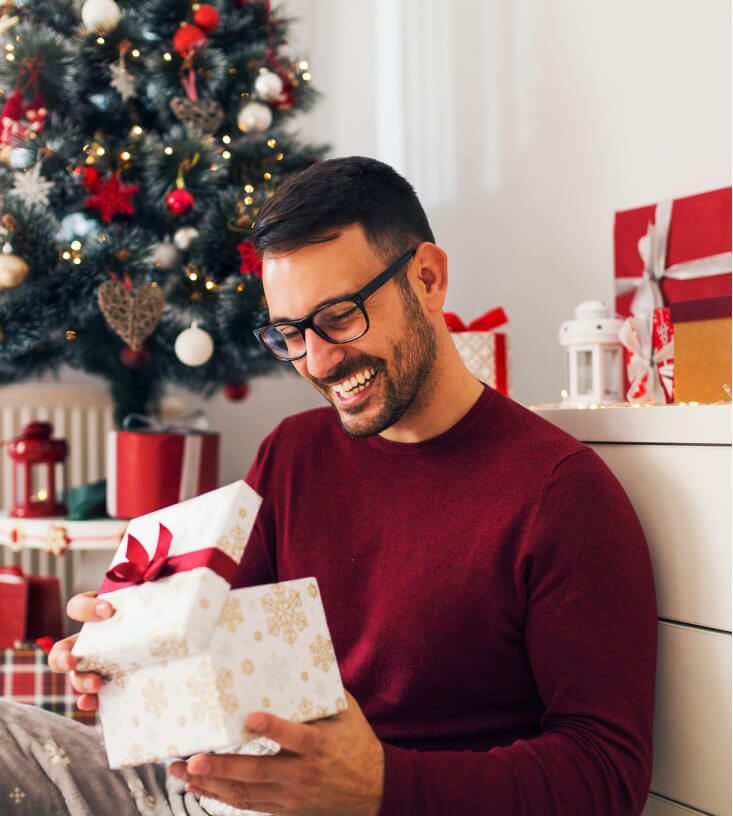 Frequently Asked Questions
While many love Christmas t-shirts, interest can be fleeting. With that in mind, consider other products you can customize for yourself or add to your eCommerce store today.
With Printify, creating awesome Christmas t-shirts is easy. We're an all-in-one solution for all your business needs, providing high-quality apparel at the best prices on the market.