10 Winning Ideas For Desk Mat Designs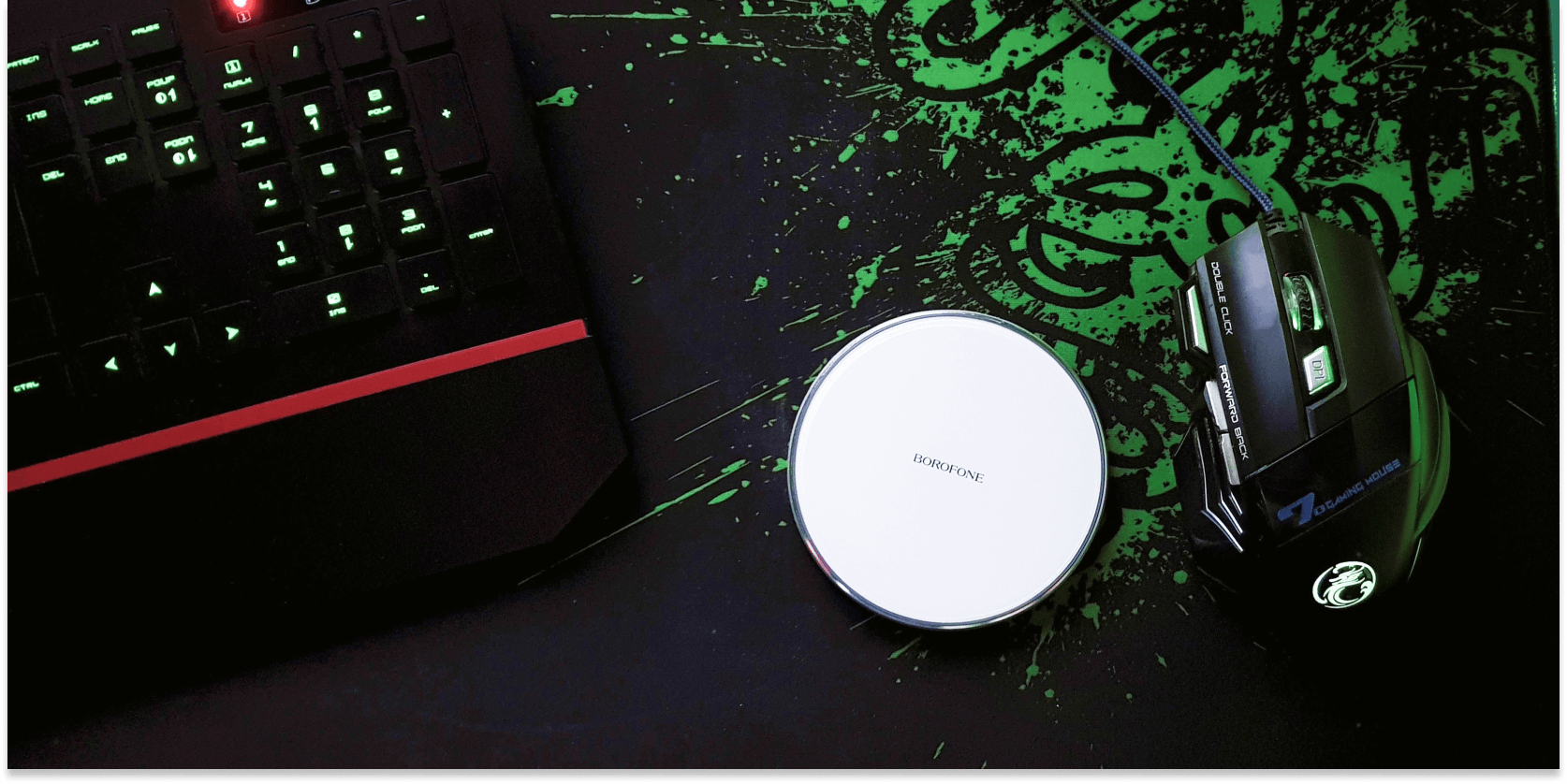 "A man is only as good as his tools," Emmert Wolf once said. And it's true, isn't it? No matter how fancy your computer mouse is, if it's scratching every surface in the tristate area,  it's just annoying. 
I remember my first mouse pad. Dear lord, how ugly it was! It was the ugliest item in my room. It did serve its purpose, though: it protected my hard-earned gaming desk from violent scratching while I was fighting pixelated wild boars in an enchanted forest. 
The times have changed; now we can have a comfortable workspace with a desk mat that is not only practical but also easy on the eyes. Beautiful custom desk pad designs can contribute to a pleasant and productive time by the computer, while protecting your furniture and adding personality to your workspace.
A Desk Mat Can Tell a Story
Picture this: you walk up to your colleague's desk at work or see your friend working at the cafe, and notice something unique: a desk mat with a design way beyond the generic stuff you're used to seeing in office supply stores. Not only do desk mats keep the work area protected from everyday wear and tear, they also speak volumes about the owners' personality, hobbies, ideas, what motivates them, or what makes them tick. 
Maybe it has a picture of their adorable child looking up at them, as if to remind them that someone's waiting at home. Or a cool world map, reminding them of all the places they've been and where to go next. Suddenly, you remember you haven't taken a vacation in years and feel inspired to book that flight ASAP.
Fact: A personalized desk mat is the latest trend in office and workspace accessories. And as the trend for custom desk mats rises, their potential for sales grows with it. There are over 7000 listings for desk mats on Amazon alone and over 32k listings on Etsy, where a single store has sold over 5000 of these babies.
Desk mats are beautiful cushioned coverings for any desktop. They are designed to designate a working space and minimize clutter, but they can be a stunning decor element as well. Personalized desk mats are so in right now, especially with more and more people working from home, needing to protect their home office furniture. As a smart online merchant, you'd be missing out on a massive opportunity for your store if you didn't get in on the desk mat craze. 
Desk mats are fun and easy to design; it's a unique piece of home decor, and versatile because it takes any form and purpose you want it to be. Here's a list of desk mat designs that might spark your imagination, so you can make one for yourself or start selling them online. By the way, custom mats also make for cool, personalized gifts. 
You'll find fully customizable desk mats in the Printify catalog that are ideal for that extra personal touch at work or in your home office. They are made of 4mm thick neoprene material, with an anti-slip backing and hemmed edge for stability and durability, and come in three sizes: 12"x18", 12"x22", and 31"x16".
10 Desk Mat Designs That Are Selling Like Hotcakes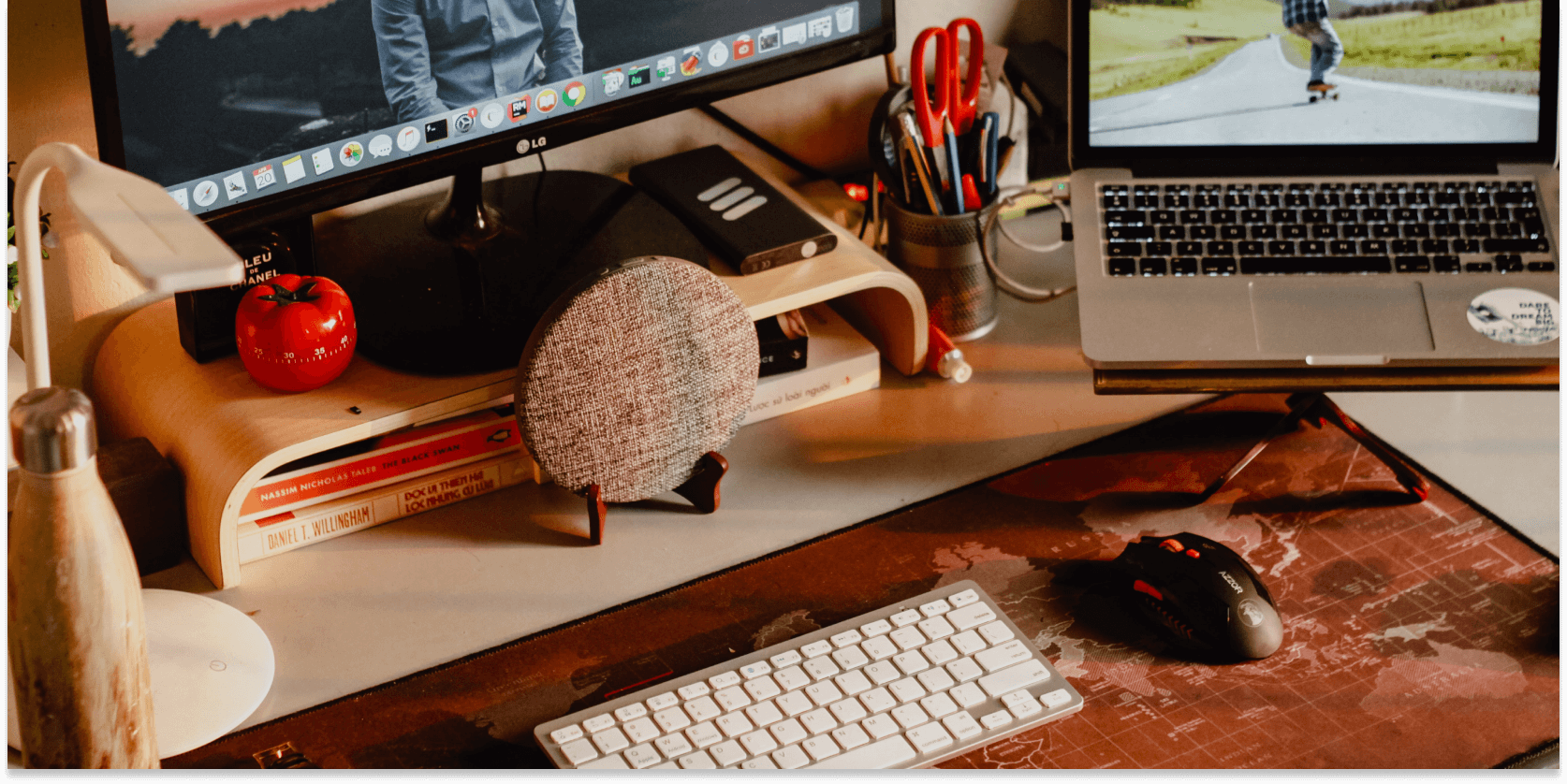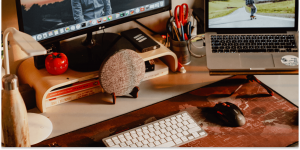 The versatility of aesthetic desk mats is what sells them so well. They can mimic any idea, personality, or style that you want.  So, without further ado, here are 10 desk mat designs that sell super well.
1. Nature Designs To Calm That Anxious Mind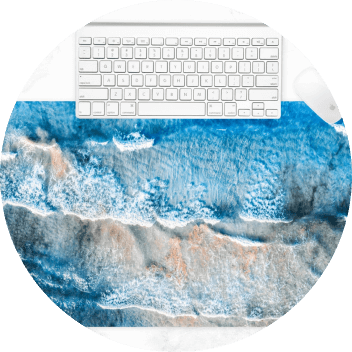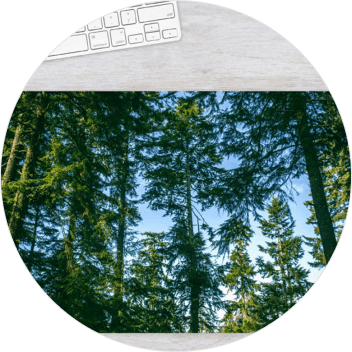 Nature designs such as water, tree bark, pink salt, or rock formations are among the most popular designs for desk mats. That's because they have a calming effect when one takes a moment to look at them. Beautiful emerald green waters make you feel like you are floating alone in the sea, watching the horizon as the tension in your neck melts away. When printed on a desk mat, these minimal natural designs make you crave an escape, but they are so beautiful you just want to stay in the moment. And the work that must be done doesn't feel that cumbersome anymore.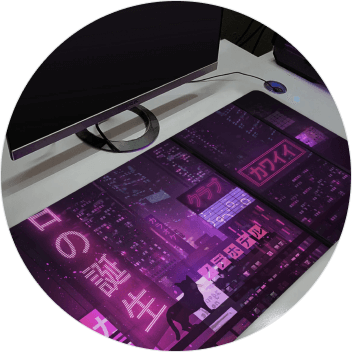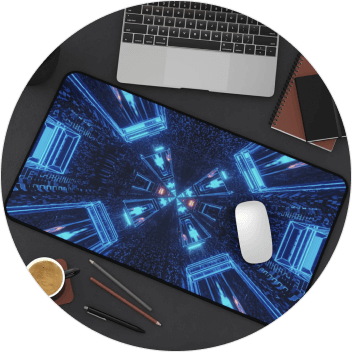 No list of desk mat ideas would be complete without a gaming theme. And most gamers would agree their setup is not complete without a good-looking mat. Hard core gamers are looking for maximum precision and a high-quality desk mat provides exactly that. 
Gaming setups are known for their futuristic, neon-color designs, so you should design accordingly. Dark, mysterious themes with abstract lines or color splashes are among gamer favorites. Faraway galaxies, popular game characters, fantastic landscapes and anything else fantasy-related will do.
3. From Manga to Anime and Studio Ghibli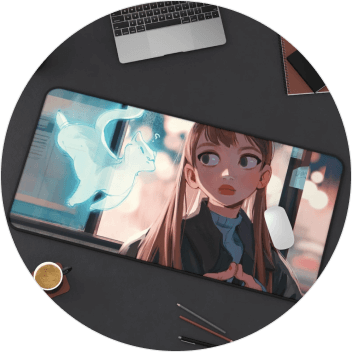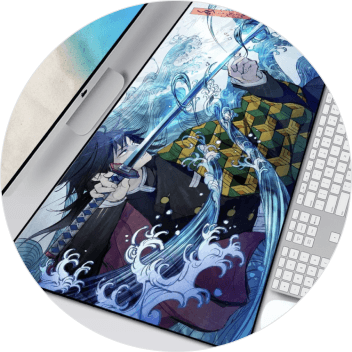 Japan has always been a leader in many things, and the world of characters is one of them. Designing anime desk mats with characters will take some groundwork – you want to get fair-use images, and make sure you do not break copyright laws, but it is possible. Find out how best to find imagery that is legal and beautiful, and you'll be on your way to creating one of the most sought-after desk mats online.
4. The World Is Your Oyster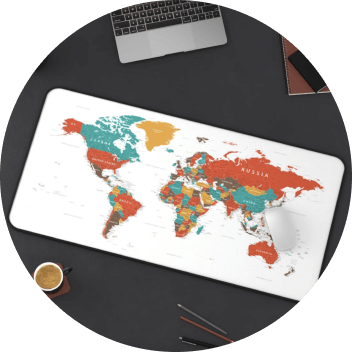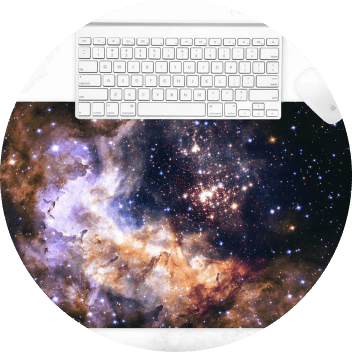 Travel buffs are everywhere, with some people working merely so they can afford to travel. The working space is a break from true happiness and they can't wait to embark on their next adventure. For them, desk mats with the world map would be amazing, and a bit of an added bonus if you design them in a way that they can use a marker to color in the places they've been. 
Perhaps, the appeal of long layovers and backpacks is lost on them. They rather fantasize about being in the galaxy, dancing with the stars (pun intended), or floating in the atmosphere. Give them a taste of the otherworldly by designing gorgeous maps of the universe, starlit skies, and space. To cater to an even wider audience, try star formations in zodiac signs.
5. This Time It's Personal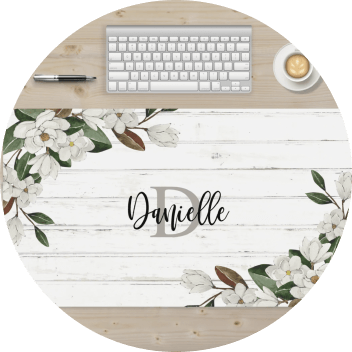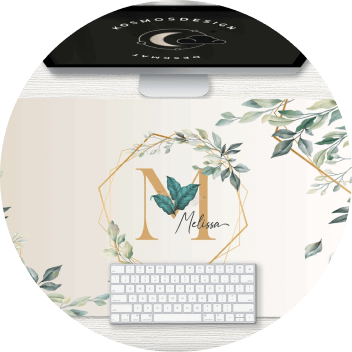 Trends show that in the last few years, simplicity in decor has not been very popular. We all crave beauty around us, and even better if it feels very personal. That's why a popular trend is to create desk mats with chic floral minimalism and geometric patterns, complete with the customer's name or monogram. 
This is one of the trends that's easy to do. All you need is to find patterns you like and offer customized services to your customers. This type of design is doing well for online sellers.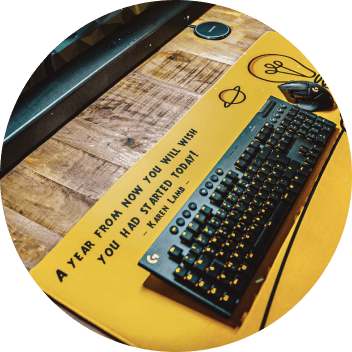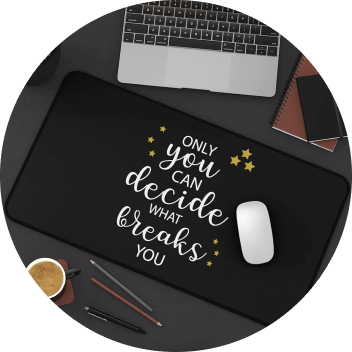 Inspirational quotes are as popular today as they have ever been. They are joined by words of encouragement, such as motivational quotes, famous sayings, proverbs, and riddles. They can be easy to design with quotes and sayings, as many are available online for free. 
Find different typography and fonts and you're ready to design unique inspirational desk mats. Remember to play around with placement and font sizes to give them a distinctive touch that is uniquely yours.
7. Laughter Is The Best Medicine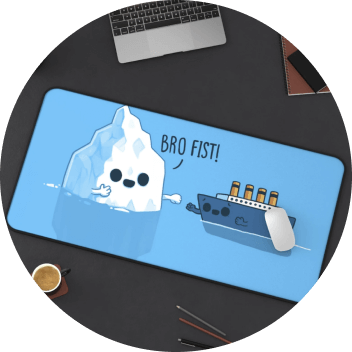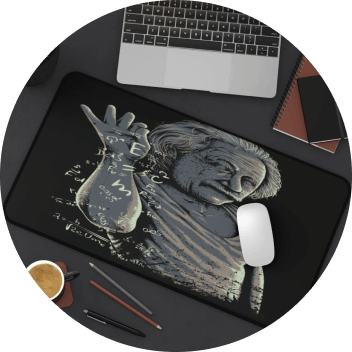 This one is for the creative thinker, for a wordsmith, if you will. The one that loves a good story and can appreciate a joke time and time again. If you're a seller who's also good with creative writing or can tell a mean joke, this design style is for you. 
You can browse for interesting free-to-use stories, essays, jokes, and memes online for desk mat ideas. Perhaps engage your shoppers in sending you their personal pieces to customize on the desk mats for them. A fun joke, essay, or short story on a desk mat makes such a charming gift.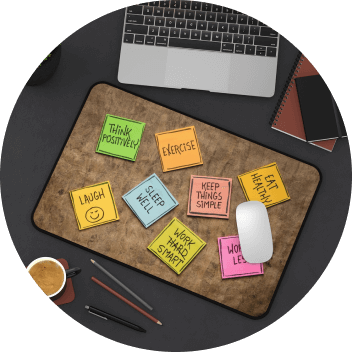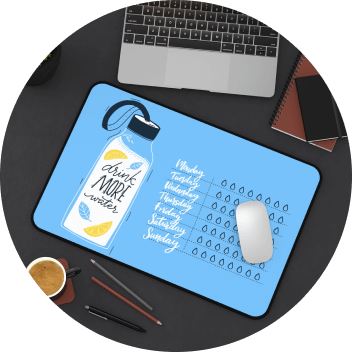 This desk mat design is for customers that care about wellness and creating healthy habits. The savvy customers always look for something that triggers an action, such as a constant reminder to check their posture or hydrate. A desk mat can be just that. 
You can design desk mats with health and wellness themes that serve as reminders for everyday mundane actions: checking your posture, not missing a meal, drinking water, taking a screen break, standing up and stretching, taking a walk, and much more.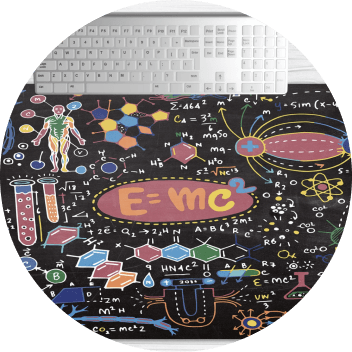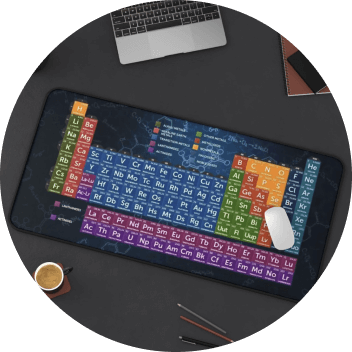 Tap into the DIY market with standard measurements and recipes for popular things. Universal measurement graphs, such as the periodic table for students, math and physics formulae for the brainiacs, cups, and ounce to grams and liters for the baker, or one on how to make an iron man suit. Anything is possible. 
These super-intelligent desk mats will keep the juices flowing and help with everyday memorization. Maybe you are an architect or mechanical engineer, and you have specific information that is frequently used in the field. It's one of those desk mat ideas that's so simple, it's genius.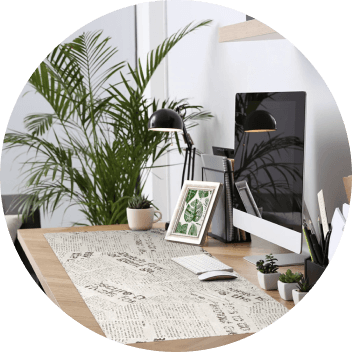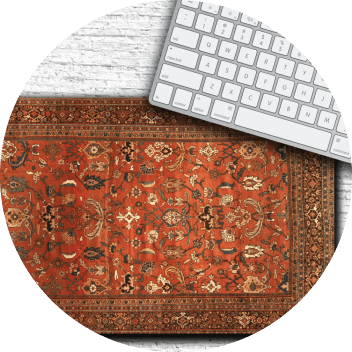 A niche design style that is not overcrowded and has a very eclectic customer base, the vintage design style is one to go for. Vintage magazine covers, pieces of newspaper from the 1940s, books in "ye olde" English, and other eclectic collections are the designs for this type of niche. 
The color palette for vintage desk mats is usually tans, taupes, and creams, which create a sense of adventure and intrigue. Or go crazy with Persian rugs! Designing custom desk mats in this style will appeal to young and old alike, which broadens your customer base tremendously.
And Now, It's Time To Make Some Money
Go to the Printify catalog and pick the desk mat size you prefer. Then use the free Mockup Generator that's so easy to operate, even those with no prior design background can do it! 
Printify connects over 2 million merchants to our network of over 90 print providers worldwide. We also provide smooth integrations with the most popular platforms and online marketplaces in the world: Shopify, Etsy, eBay, BigCommerce, Wix, and others, which makes it easy for you to sell on any of these platforms with no start-up costs. 
Now that you're all set, start designing custom desk mats today.
Share the article
Topics