Create your own outstanding custom desk mats as a centerpiece for any workspace or office. Our fully customizable desk mats hold an unbridled quality texture with full-resolution prints for photo and graphic designs.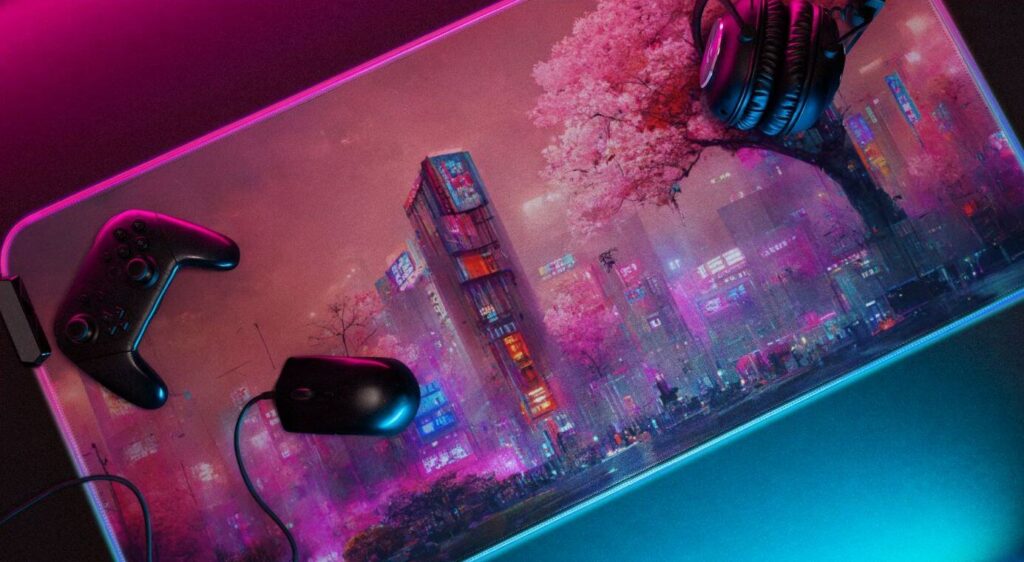 Custom Desk Mat Printing With Printify
Create Your Own Custom Desk Mats!
Make Your Desk Mat in Three Simple Steps
Set aside some time to think of a good design, whether you're ordering for yourself or planning to sell online. Luckily, once you picture an idea and have an ideal audience to create a product for, you can get right to it without stepping away from your device.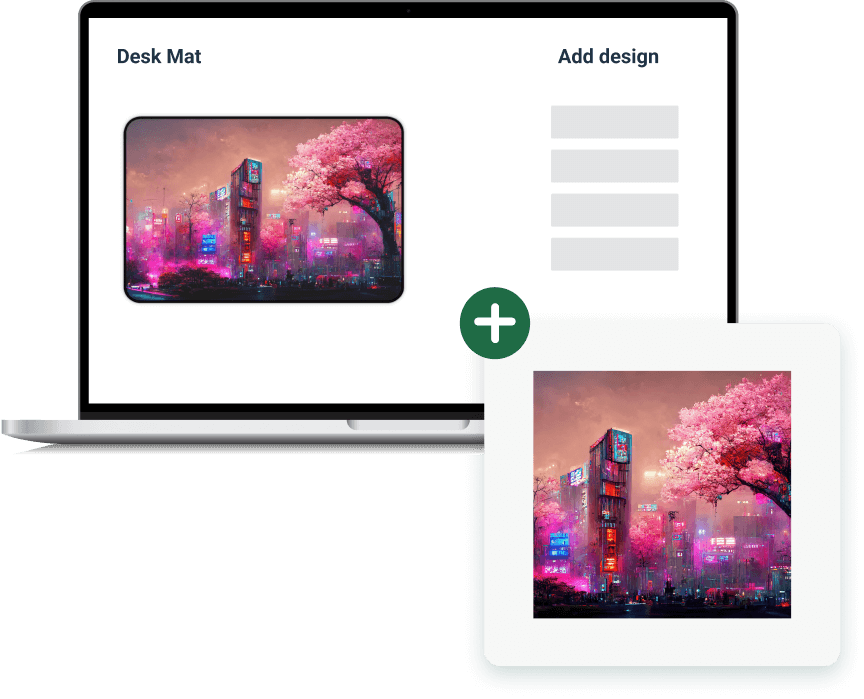 First, create an account with Printify and add your store details in the profile settings. If you don't have a dedicated store, don't worry – you can still design and create custom desk mats and ship them manually.
On the upper dashboard, go to Catalog to see our full collection of printables. Use the filter to search based on tags and production methods. Once you find the right product, click on it to inspect the details and start designing.
On the design page, you'll see a blank template of your custom mat or other apparel item. Prepare your design in the appropriate format by following the instructions on the right-hand side. Submit your image by uploading it to the website and dragging it to your preferred print location.
Why Should You Sell Custom Desk Mats?
Desk mats are your way to style a design as a center point in many people's day-to-day lives. More offices allow for remote work, so people can personalize their desktops and reinvent a better work and rest space.
eCommerce buyers have similarly increased and are becoming the majority of all sales.
More people begin to look for home decor online, impressed by the variety of options and the quick order and shipping process. Custom desk mats are an excellent choice that improves comfort and productivity, adding more profit variety for your online business.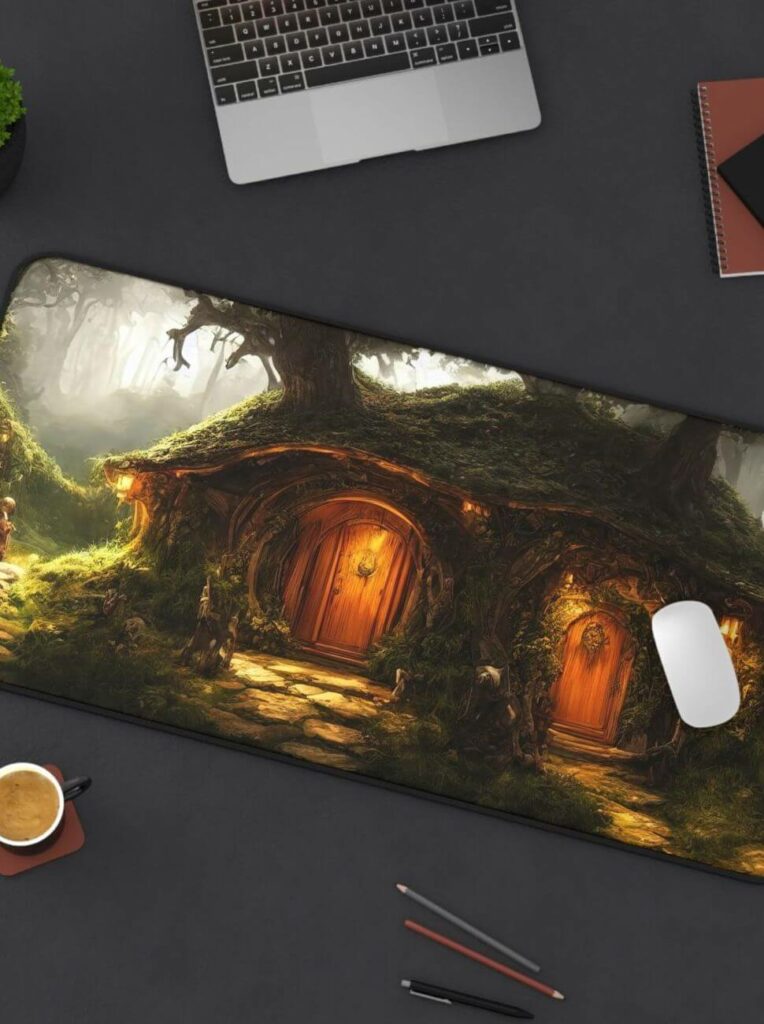 Introducing Our Custom Desk Mats
Printify's collection of desk mats combines a functional and ergonomic feel with a white surface for amazing designs in vibrant colors. Choose between multiple sizes and decorate any desk space with personalized desk mats.
Take advantage of our state-of-the-art printing techniques to create your own custom desk mat with high-resolution artwork, photography, or pattern graphics. Browse all of our product options in the Printify Catalog.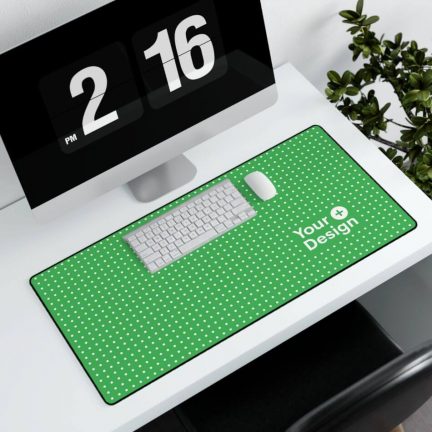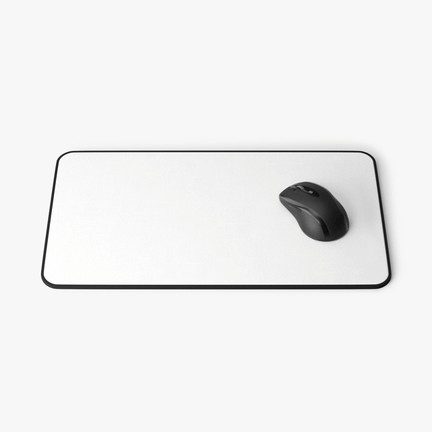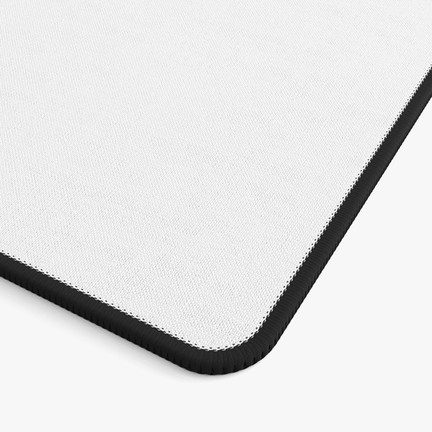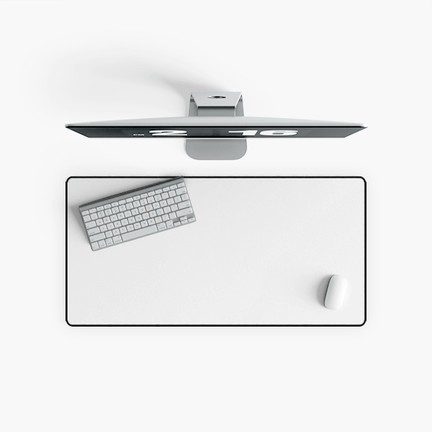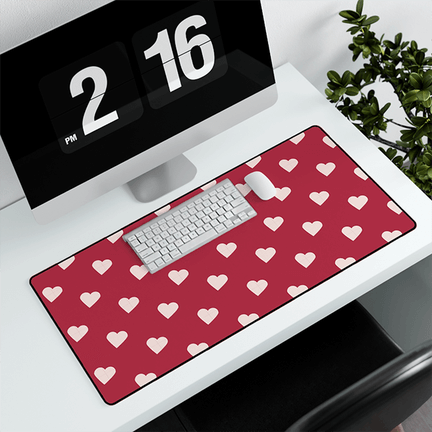 Try our classic desk mat with a smooth print surface and glide your way through through a full range of motion. Enjoy the benefits of tear-resistant sides via black anti-fray edges, and use the classic custom desk mat to frame your graphics with a dark and sleek outline. Perfect for a fixed workplace set-up that won't move an inch due to a natural rubber backing.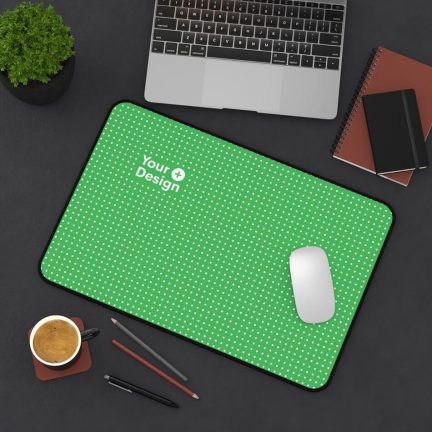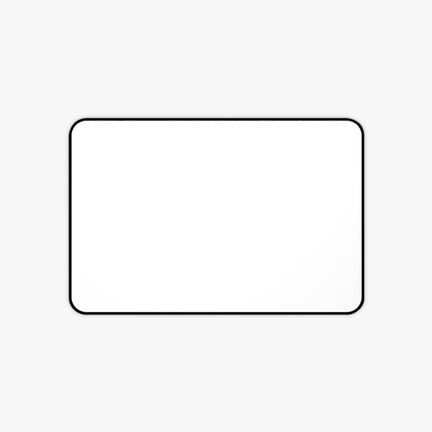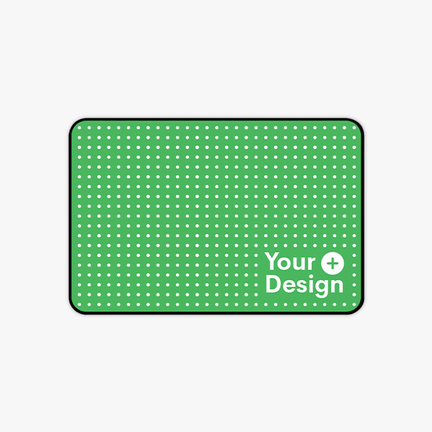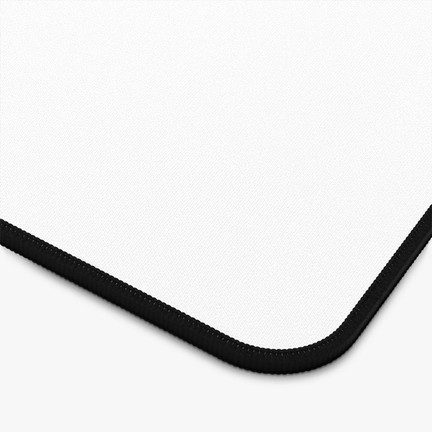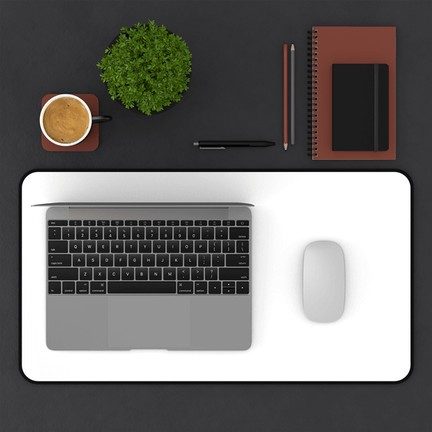 Our variant desk mat stands out with a supportive multifunctional surface in multiple sizes. Define a focused crafting, writing, or typing desk space that holds a full print in bright colors. Easy to roll out and fix to one place with an etched slip-resistant backing and strong boarder hem lines.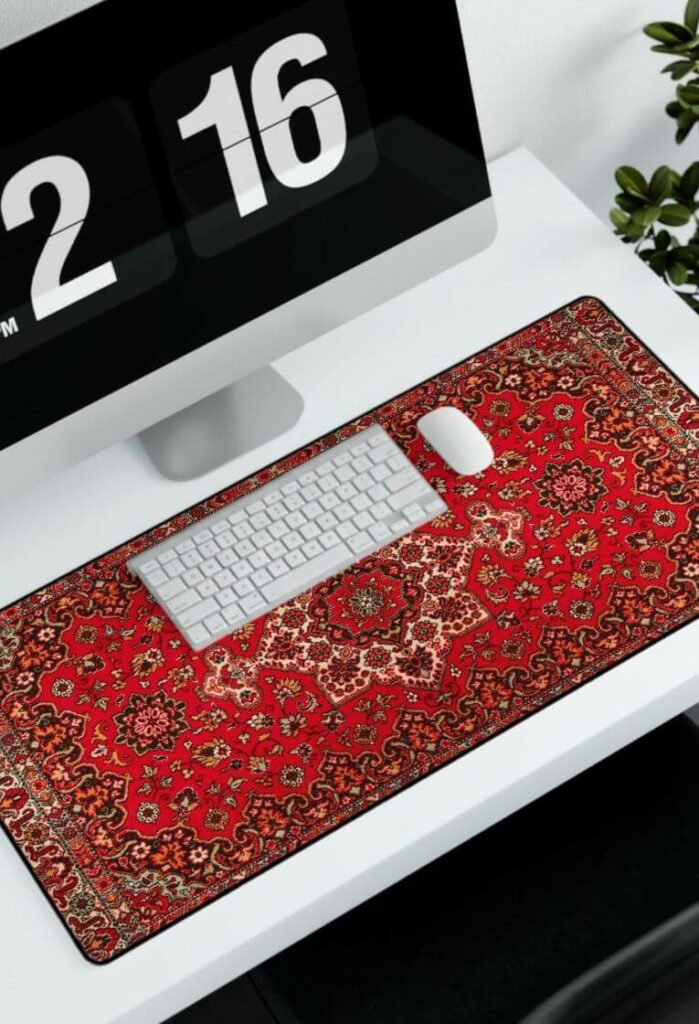 What Are the Benefits of Using a Desk Mat?
Create your own desk mat or cater to an audience that likes gaming, arts, crafts, etc. Combine desk space with comfort, functionality, and creativity that offers something to everyone.
Along with a quality supportive surface for writing, typing, or crafting, custom-made desk mats offer additional benefits for everyday use:
Say goodbye to scratches, stains, and spills.
Avoid clutter and distractions, and boost productivity.
Enhance the style and look of your workspace with something more than just a standard mousepad.
Desk mats don't need to stay on your desk – you can use them on any surface. They're perfect for arts, crafts, and anything creative.
Start Selling Custom Desk Mats
Creating Your Custom Design
Applying a fresh design on your custom desk mat is simpler than it seems – you don't have to be an artist, graphic designer, or editing expert. Select a design method that works for you, balances your business workload, or gives more creative input.
With simple vector editing software and a bit of patience, you have the potential to edit and create custom image mats that cater directly to your customers. Perfecting your unique art style is an excellent way to sell branded custom mats without excess costs.
Check in with the Printify Experts Program. We've partnered with existing merchants and eCommerce professionals who have faced the same difficulties as you. For any personal guides about designing, ordering, creating a product photo, or setting up a store, rely on seasoned experts to give you a head start.
Alternatively, try out services like Fiverr and other apps to contact professional designers that can turn your vision into reality. From designers working specifically with POD businesses to artists with a fitting style, browse the web and find the perfect commission.
Printify and Shutterstock have partnered to curate a wealth of expertly shot photos and images. Connect your Printify account and browse Shutterstock galleries without running into a paywall. With a pay-as-you-sell system – no upfront investment is needed.
Make and Sell Custom Desk Mats With Printify
Print on Demand is a modern eCommerce business model with a fully automated order fulfillment process. Sell hundreds of products with zero order limits, all from the comfort of your home. Save up on inventory space and, with on-demand ordering, reduce fabric waste by only producing what sells.
Design, create and add amazing products to your store all in one place using the Printify website. Our service makes print on demand simple, offering a broad array of valuable features: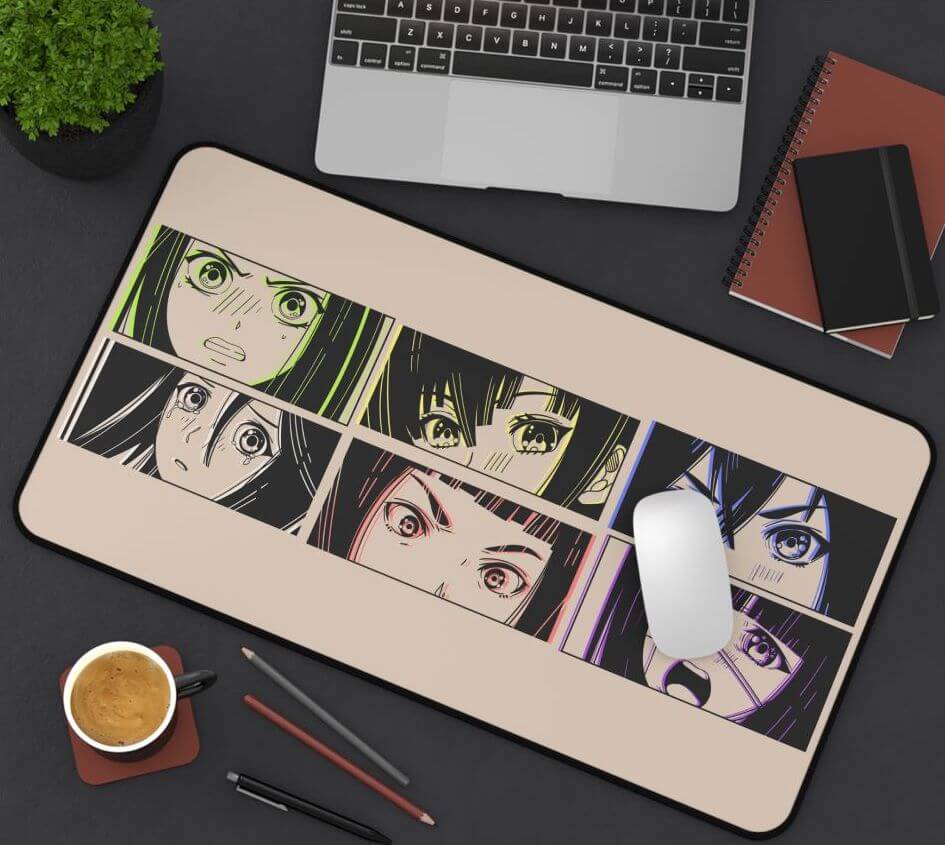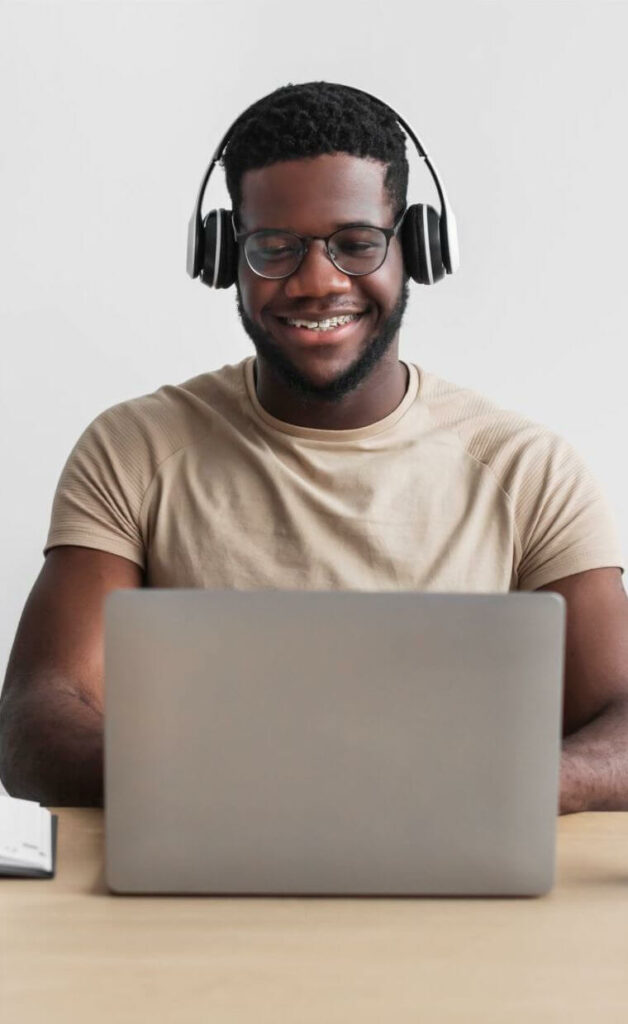 Start adding designs and selling your personalized desk mat in just a few clicks.
Browse an ever-expanding list of new product releases fulfilled around the world for any brand preference.
Express every quality pixel in your design through a dedicated printing interface.
Contact our veteran eCommerce Support team and learn from a library of curated POD guides, blogs, videos, and eCommerce tips.
Add your Printify products to eBay, Etsy, Shopify, WooCommerce, and other top sales channels with a single click.
Start out by selecting a desk mat from our catalog. Add a design with our free Mockup Generator, edit your product info, and integrate everything straight into your store.
Once you make a sale, we take care of all printing, packaging, and delivery. Printify gifts you that extra free time you need to promote and optimize your digital enterprise.
Sell Printify Desk Mats on Top Sales Channels
Printify has partnered with a diverse selection of eCommerce marketplaces and platform integrations for you to choose from, and we operate custom API solutions for other sales channels.
When selecting where to place your online storefront, it's important to consider whether the customer base, subscription price, and platform interface are the right choice for your business.
Top 5 Questions About Selling Custom Desk Mats
Check Out Other Lovely Products We Offer
Create Your Own Custom Valentine Shirts!