Why Selling Personalized Beach Towels Could Be a Multi-Million Dollar Idea?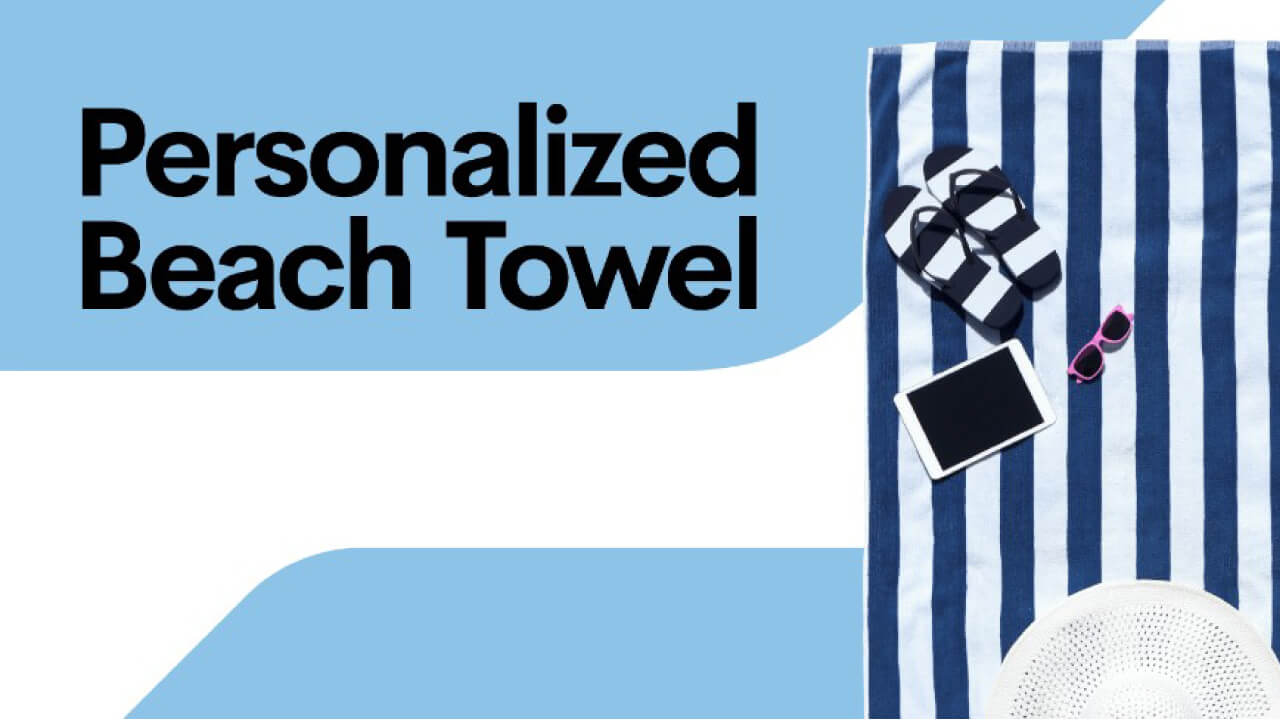 Beach towels are an essential summer item. They are often the first thing we pack into our beach bag and the first thing we lay down once we find the perfect spot to spend the day. So why should customers accept boring, standard beach towel designs, when they could be the envy of the entire beach with your personalized beach towels?
Why Sell Personalized Beach Towels
Every year, Americans make more than 400 million visits to the beach, while millions of people go on beach holidays around the world. There is one item that you can almost guarantee will be going with them – a beach towel. Create your own beach towel collection and don't miss out on this income wave with custom designs.
There are plenty of reasons to get excited about summer. Customers are eager to update their summer wardrobe and accessories, they are looking for the hottest trends in beachwear, and everyone is generally in a much brighter mood. Get in on the profits while your customers are gazing in the sun next to sandcastles and beach umbrellas.
Creativity Is Key With Personalized Beach Towels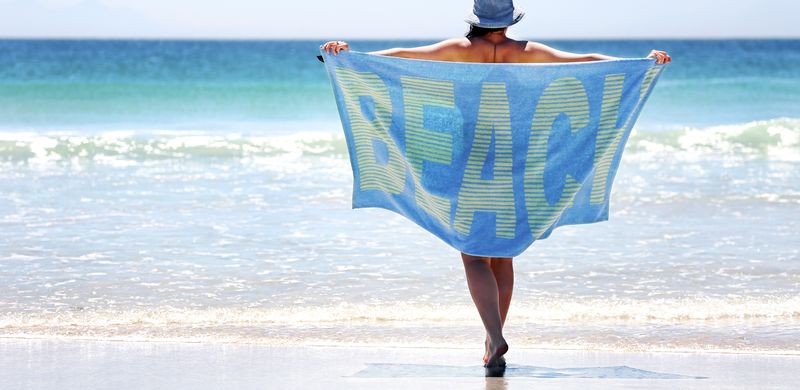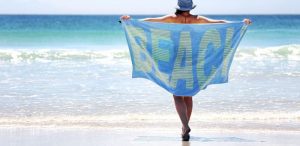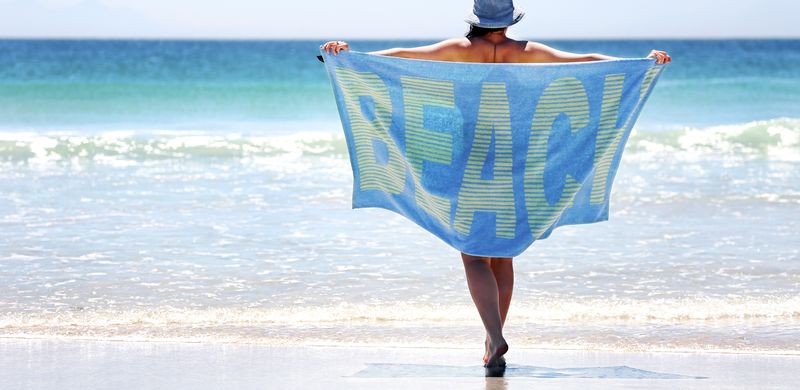 How do you stand out in a market that is worth billions of dollars each year? There are two key things to look at here, the first is to be creative with your personalized beach towel designs. The second is to create a following, a group of people that love your product and will be happy to talk about it.
If you can think about your beach towels as a large canvas, then you can start to unleash your inner artist. When we look at the most popular beach towel designs there is a fairly consistent pattern – bright, bold colors and strong patterns.
The key to eCommerce success is to capture the audience with a relatable design that captures the attention of everyone. Let's take a look at some popular trends and designs for your personalized beach towels.
Personalized Beach Towels for Adults
Personalized Beach Towels With Wavy Lines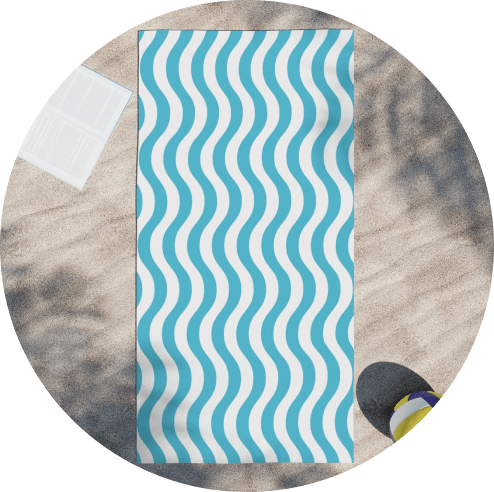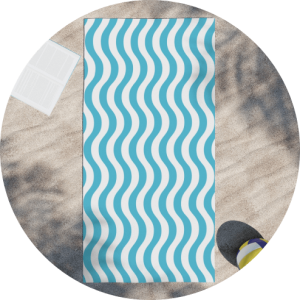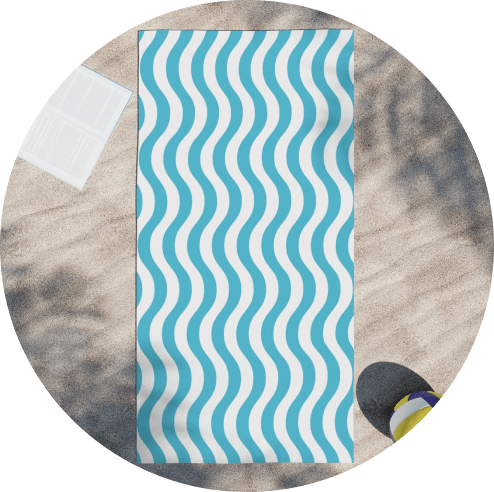 Take inspiration from the ocean and design your own beach towel with wavy lines and bright colors. Geometric shapes are always a winner when it comes to personalized beach towel design. Not only are they easy to spot on a crowded beach, but your customers will also look great wrapped up after a swim in the sea.
Personalized Beach Towels for Him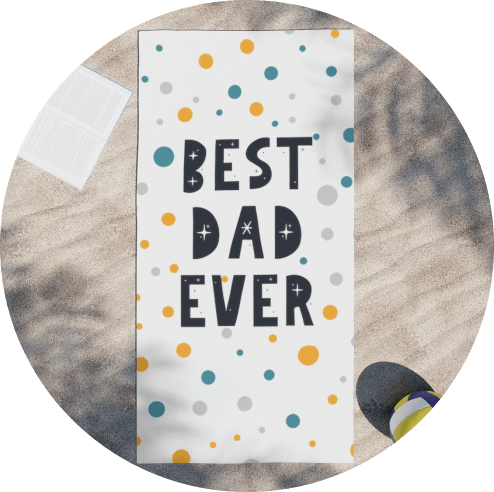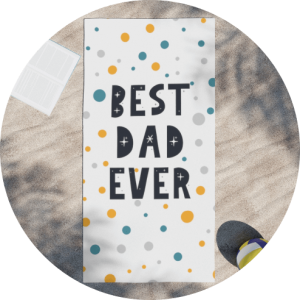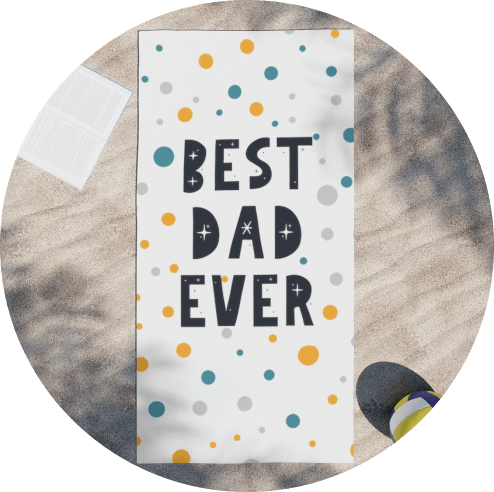 These will make the perfect gifts on Valentine's Day, birthdays, or other special occasions for all the important male figures in our lives. From "Best Dad" and "Best Hubby" to various designs with hobbies and interests for all the role models and that special someone.
Personalized Striped Beach Towels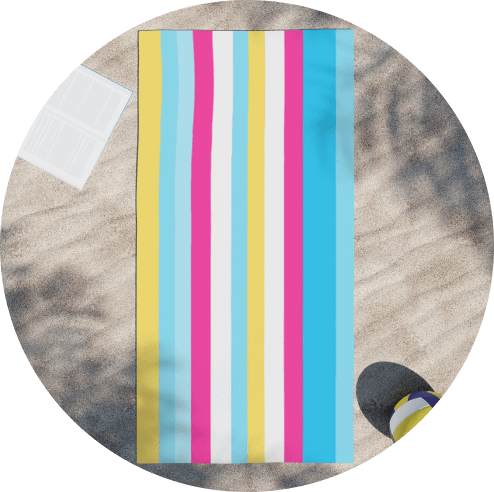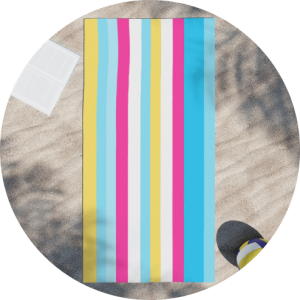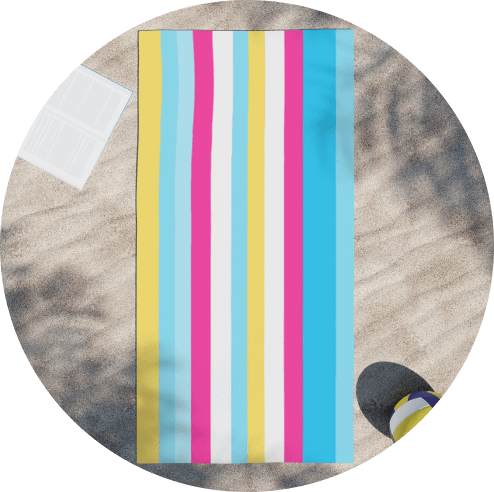 Straight Lines – a far more traditional approach, however, that doesn't mean it should be boring. Two well-chosen contrasting colors can result in the best-selling personalized beach towels. A little more conservative than geometric designs but no less desirable. Design your own beach towel for a traditional day at the beach.
Personalized Beach Towels for Her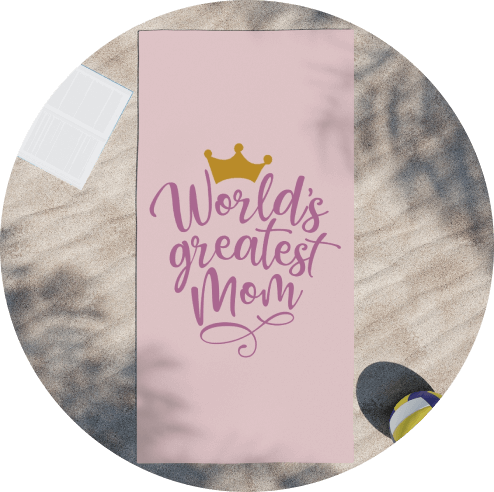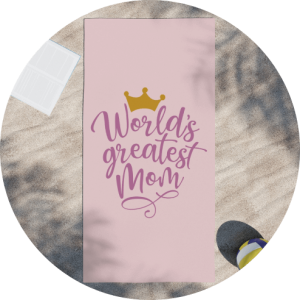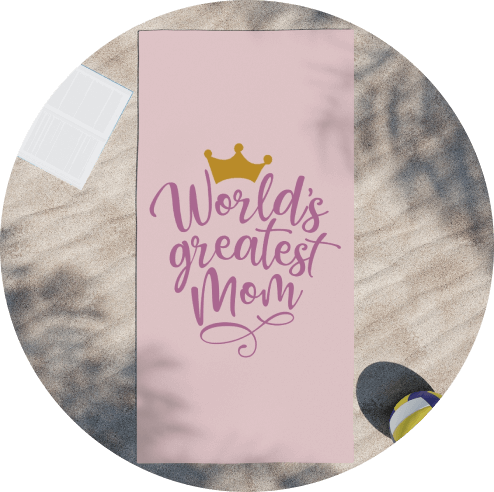 Make every woman feel extra special on Women's Day, Valentines, birthdays, and more with custom designs for all the ladies out there. Wrap yourself on the beach with a "Best Mom" or "Wifey" towel, feminine patterns, designs, and more.
Personalized Wedding Beach Towels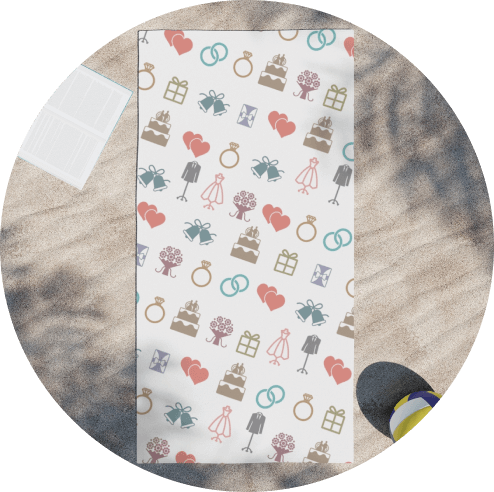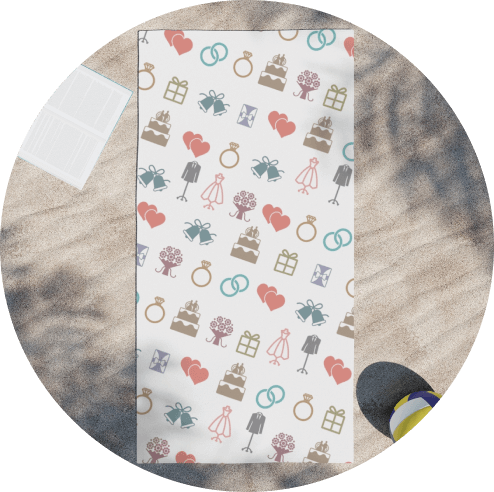 The perfect gift for the happy couple. Custom beach towels for weddings and anniversaries will be a great addition to your online store. From lovey-dovey imagery, wedding symbols, and quotes, personalized wedding beach towels will be the perfect accessory for the honeymoon or a relaxing weekend on the beach.
Personalized Beach Towels for Kids
Beach holidays are the most popular family holiday, so designing a range of personalized beach towels for kids is a great market to think about. If you offer both children's  and adult beach towels, you also increase the likelihood of selling more than one beach towel in your store. 
Children love everything from cute animals to dinosaurs and superheroes, after all, a beach towel is basically a cape. So let's take a look at some fun designs for kids.
Personalized Beach Towels With Tropical Patterns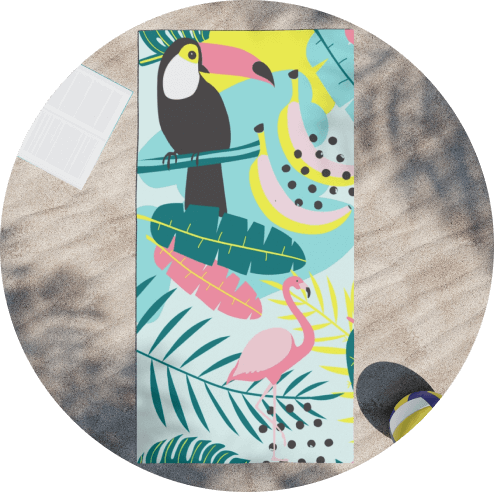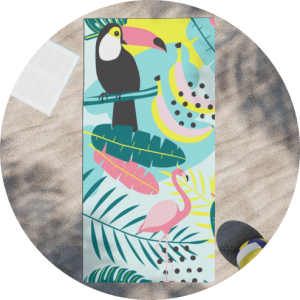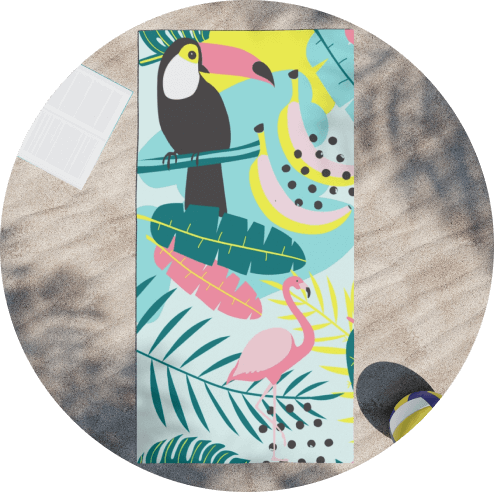 Harness the spirit of the jungle with some tropical designs. This is a trend that is set to continue for at least a few years. Bright background color with contrasting jungle leaves, fruits, animals,  and patterns is the way to sell your personalized beach towels in bulk. 
Design a personalized flamingo beach towel, patterns with jungle themes, palm trees, coconuts, watermelons, even animals, and more. A personalized shark beach towel with a clever design will be scarily popular amongst the little enthusiasts. Be creative and have fun with designs for kids.
Personalized Towels With Their Favorite Creatures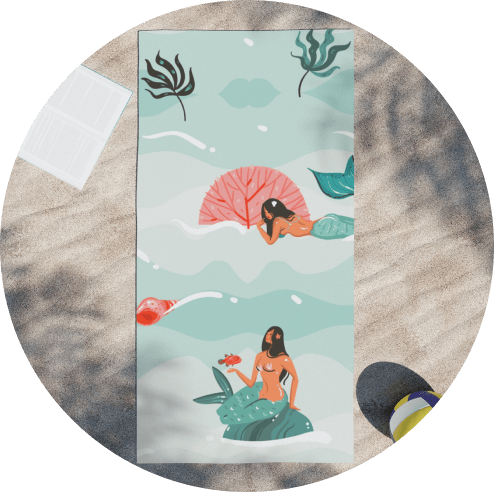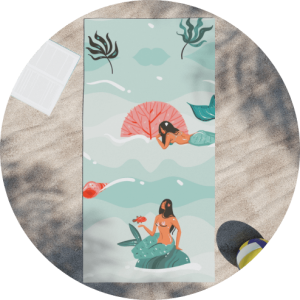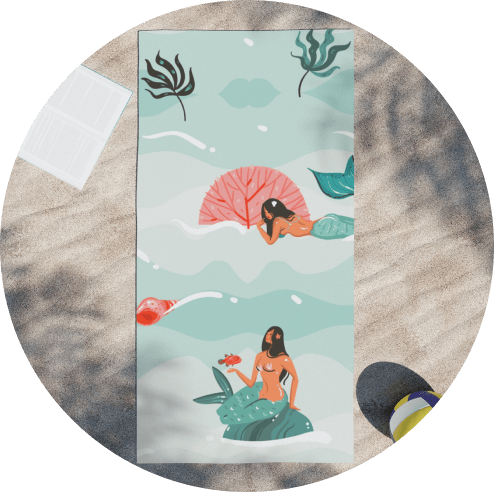 Every little girl will be ecstatic to lay her favorite personalized unicorn beach towel next to her sandcastle and enjoy some fun in the sun. Others might prefer dinosaurs or any other beloved creature or animal.
From a personalized mermaid beach towel to designs with superheroes, other mythical creatures, or their favorite animals, Put every kid's favorite character on personalized pool towels.
Personalized Towels for Businesses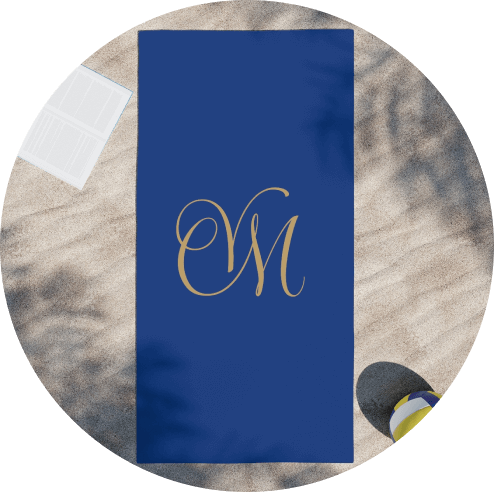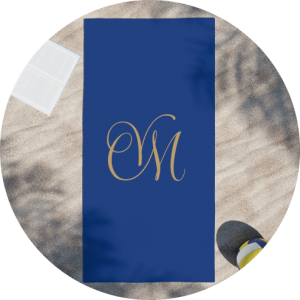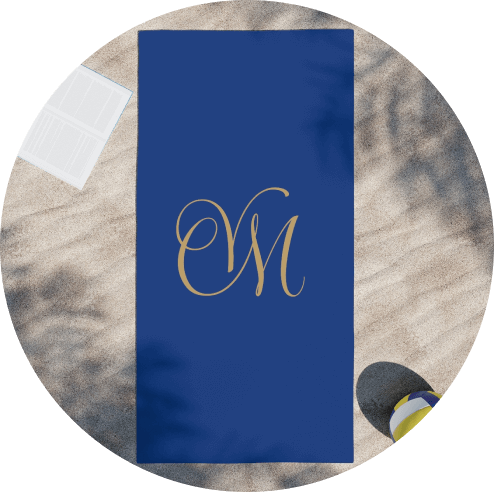 Putting the initials of a brand, business, or someone's name is always a good option for free advertising and a sense of belonging. Businesses can use monogrammed towels as a statement or a way to set themselves apart from competitors. Businesses such as hotels, restaurants, and spas could definitely benefit from this idea.
Towels with Logos or Slogans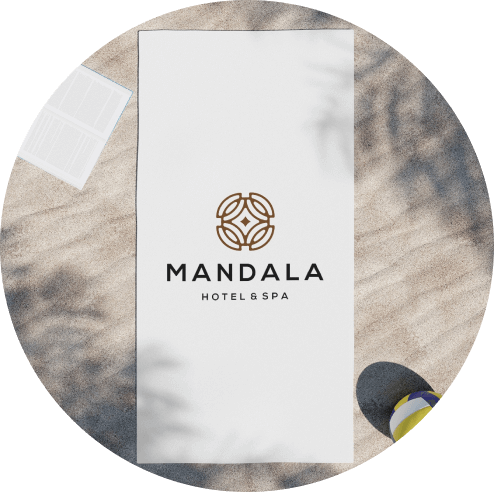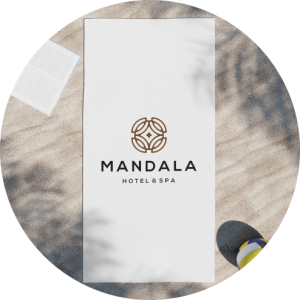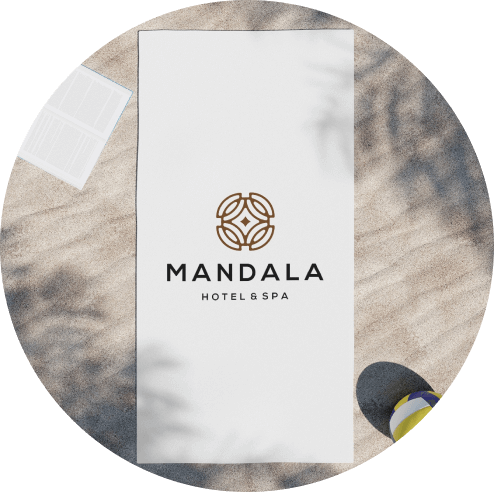 Logos and slogans are another way of advertising your brand to customers and a broader audience. Putting a slogan and a logo on a beach towel is a great way to provide existing and potential clients with unique gifts and accessories.
Personalized Beach Towels With Printify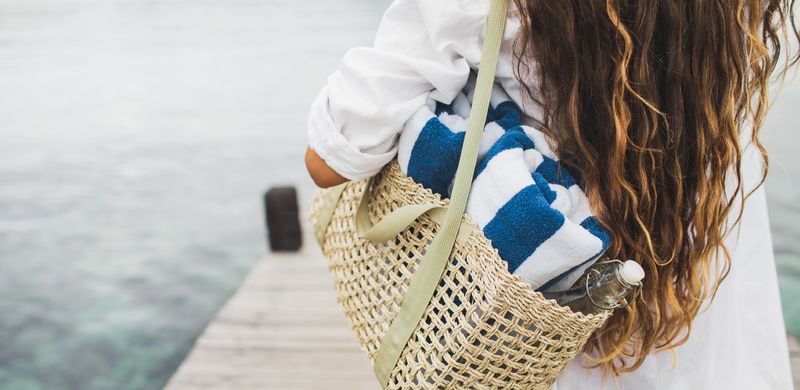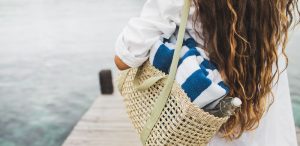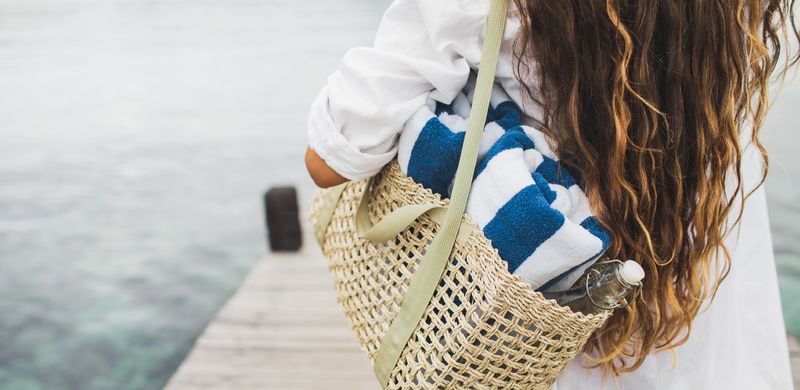 If you're just starting your custom print beachwear range, there are a few products to look at. Mix and match your range with several beach-themed items and sell more than just one. 
Personalized Beach Towels, Starting From $13.10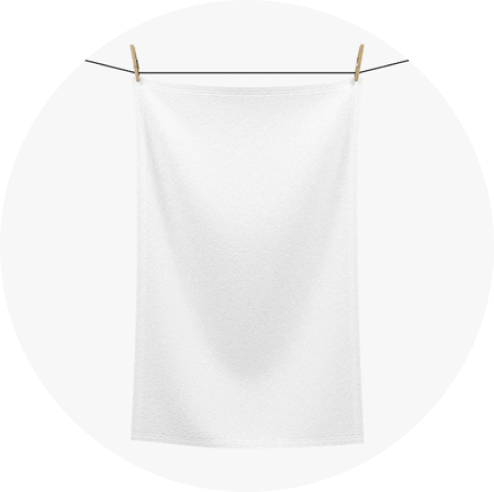 Personalized Beach Bag, Starting From $24.42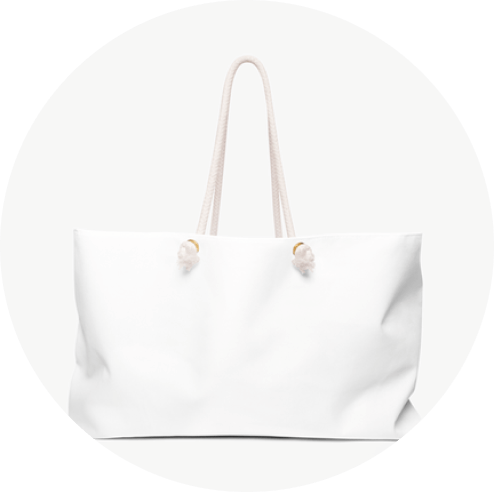 Choose beach-appropriate products, upload as many designs as you want, and make changes and small adjustments to suit the ever-changing market. This flexibility is key to the success of any new brand, as is the ability to get new lines to market as soon as possible.
Making $5million With Beach Towels
It's hard to imagine making millions from selling cheap personalized beach towels, but the reality is, if you get your target market right, it's a very real possibility. 
We have picked out two of the industry's hottest beach towel brands to see what they have done to make their business a success. Let's see what designs they feature and how you could apply some ideas to your own personalized beach towel brand.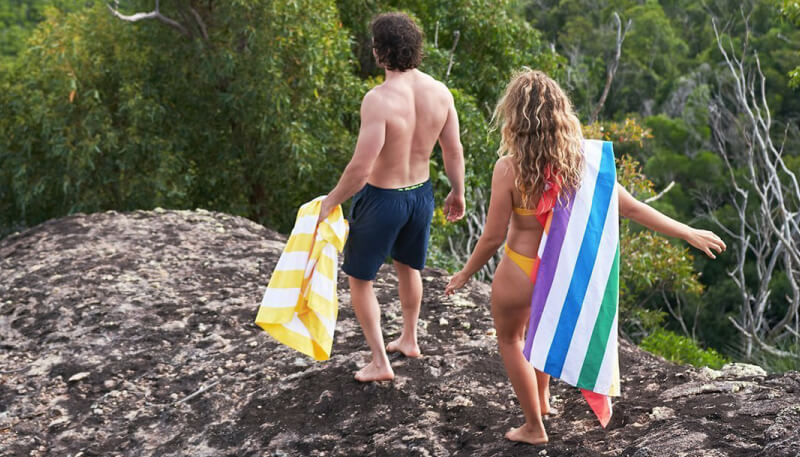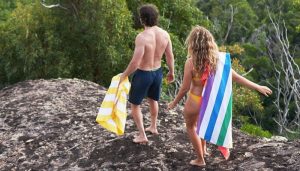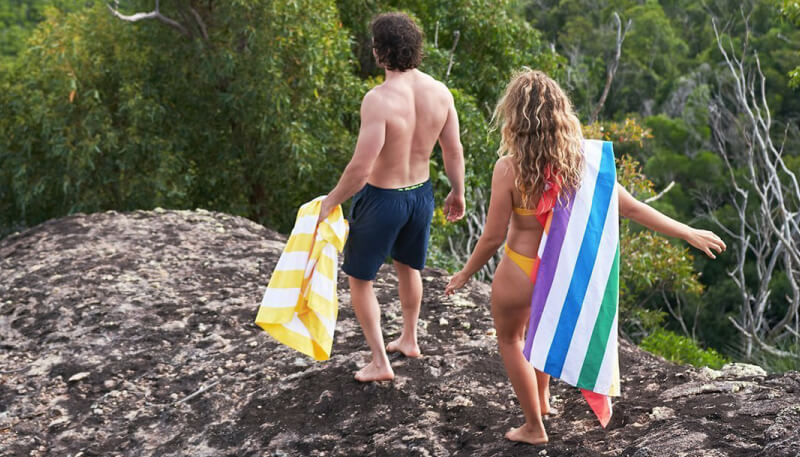 From start-up to $5million in revenue in just 5 years, is the journey Dock & Bay has been on since 2015. They have a very clear identity, with simple designs and a great message for their audience. They don't overcomplicate their business and focus on beachwear. Keeping their product ranges to a minimum helps them target their market more effectively.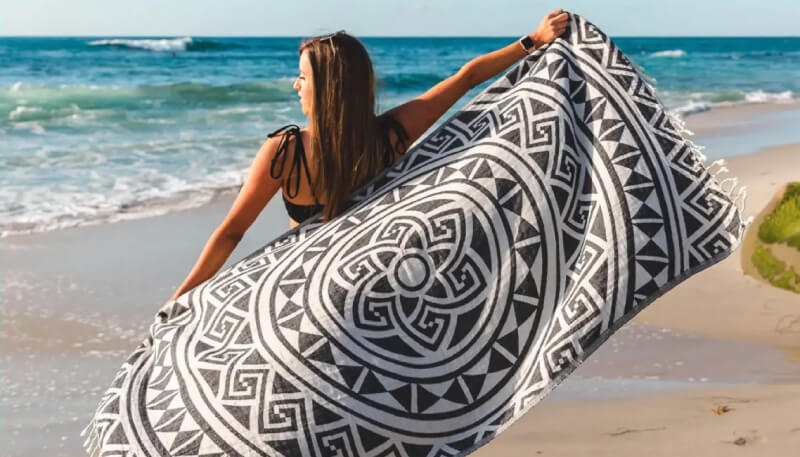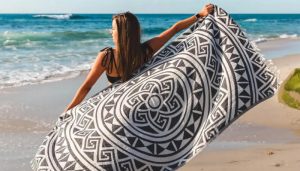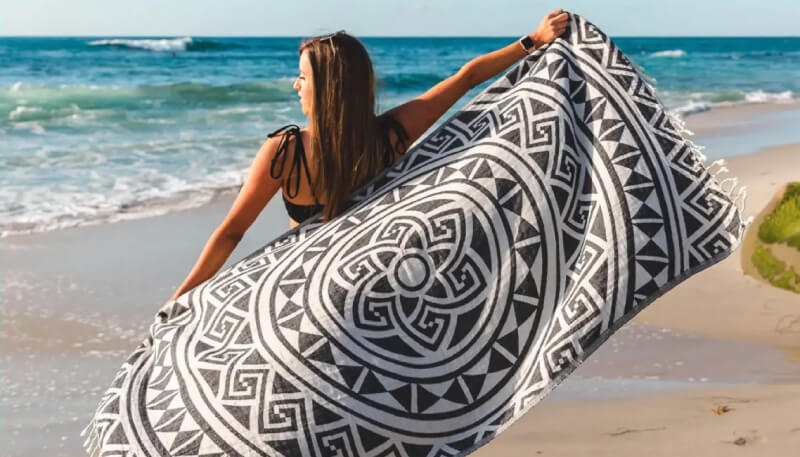 The brand with a focus on eco and marine ecology. Aside from designing beautiful beach towels, Sand Cloud delivers a powerful message. Donating 10% of profits to marine conservation, customers buy with the confidence that they are directly helping to protect marine life. 
Customers love to be part of a movement and Sand Cloud has successfully done this, reaching almost $7million in sales in 2018. Co-founder Brandon Leibel points out that starting your own brand does not guarantee success. "We were so inexperienced at the time, we thought we were just going to put up a website and become millionaires."
Note. Using Printify is a great way to minimize your expenses. You can then allocate some resources to your marketing and getting your brand noticed, just be prepared for hard work.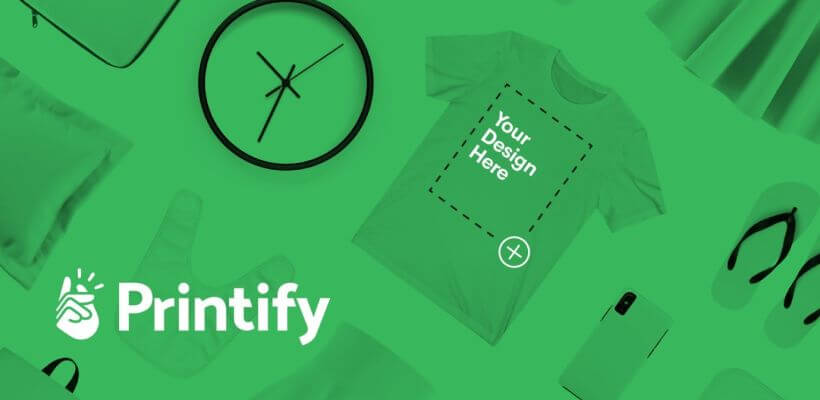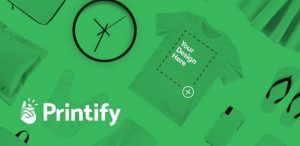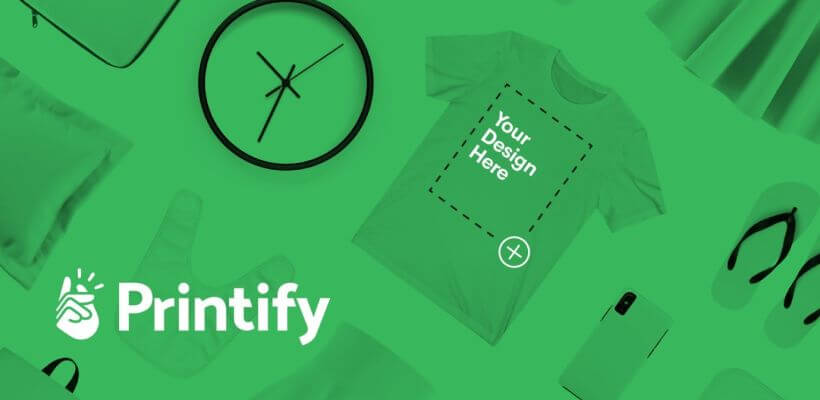 Design Your Own Beach Towel With Printify
Selling cheap personalized beach towels with Printify is a breeze. You can manage every step of the process with us, from designing your first beach towel to shipping to your first customer. With summer fast approaching, now is the best time to launch your personalized beach towels range with Printify in five simple steps.
Set up a Printify account and take advantage of all the great features our platform offers. Create an account and start designing your brand merchandise with little to no up-front investment. Sign up for Printify Premium and get up to a 20% discount on all products. 
Create an account using your email address, put in a business name, contact info and you're good to go. Manage your store, settings, orders, and more all in one place.
Browse our catalog and choose the best of the best. From large personalized beach towels to towels of various sizes. Currently, our catalog offers rich-colored beach towels and personalized beach towels in three sizes.
Soft to touch, various sizes, and super absorbent. Our towels will make sunny shenanigans at the beach even more fun, enjoyable, and comfortable. Check out the prices, printing partners, and locations, and pick the right one for your business and customers.
Printify has gone the extra mile to make our free Mockup Generator as simple, easy, and user-friendly as possible. Designing products should be the most fun part of your eCommerce journey, and we made sure our platform ensures it every step of the way.
Drag and drop or upload your designs, switch between colors, check out previews, and make adjustments to match your vision. Use our text editor and add text directly to the product, change fonts, text size, color, create layers, and do just about anything to achieve the perfect design.
Setting the right price is one of the most important steps. Set it too high and buyers will opt for your competitors. Set it too low and either create doubt about your product quality or simply lose money in the process. Lucky for you, Printify is here to help.
Price your products right by taking into account all the metrics and factors involved in the fulfillment process, such as fixed costs, competitors, market research, variable costs, profit margins, and more. Pick the right pricing strategy and stay in the pluses from the get-go.
5. List Your Products Online
Choosing the right sales channel to reach the right customers. Printify offers integrations with the top eCommerce marketplaces: eBay, WooCommerce, Wix, Etsy, BigCommerce, Squarespace, Shopify, PrestaShop, as well as our very own Printify API.
Picking where to sell your products can be nerve-wracking and take up a lot of your time. Browse our blog for multiple comparisons and answers on which sales channel to pick. While some are relatively similar, they all offer something different. Pick the right one for your business and thrive among competitors.
Beach days are bliss. And what better way to enjoy them than with a personalized towel that will turn heads on a sunny day?
Add custom beach towels to your online store and provide customers worldwide with a stunning appearance under the hot summer sun.
Share the article
Topics