Reusable Water Bottles – Your Next Big Business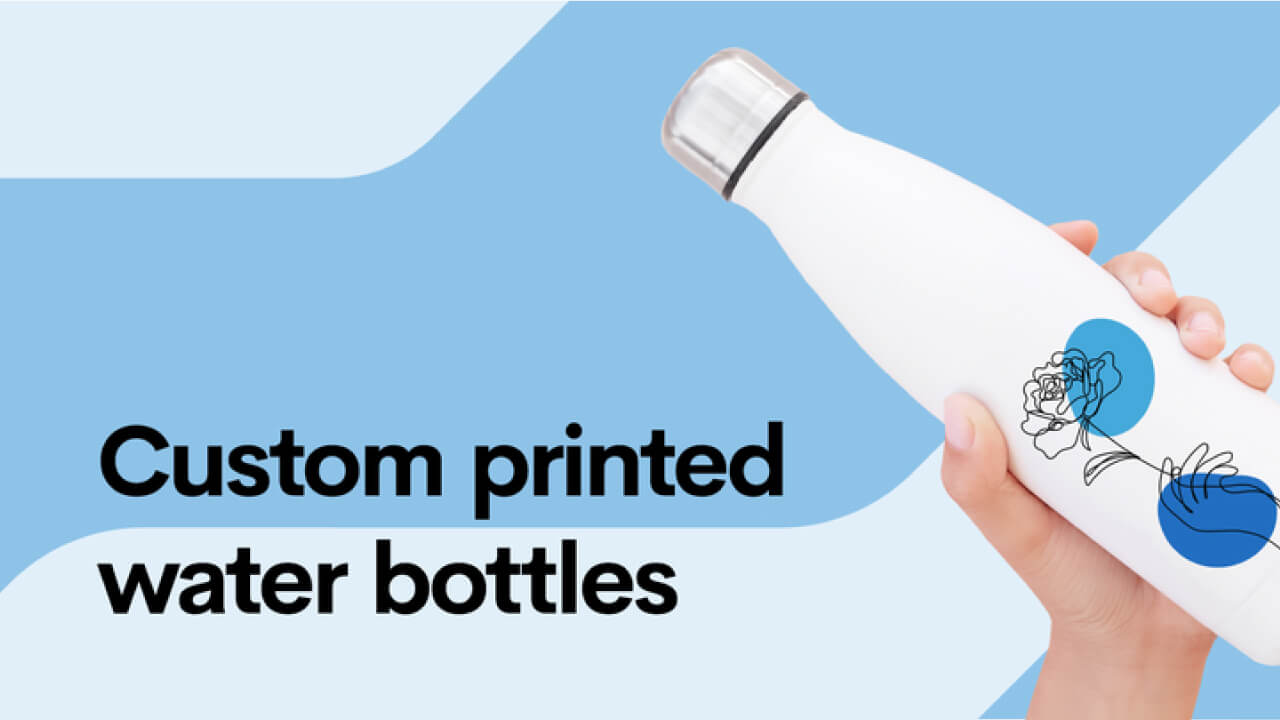 Hydration is important. Everyone knows it. That's why every other person today owns or plans to own reusable water bottles. Not only is it for their own water intake needs, but it's also hella sustainable. Forget single-use plastic bottles—welcome BPA-free plastic, stainless steel, or glass bottles that one carries around. The trend of carrying around a reusable water bottle is so ingrained in today's everyday life that what used to be a cheap, disposable, throwaway plastic is now an eco-fashion statement.
Fun fact: a $20 reusable water bottle can save the average American $6,180 after five years of use. By switching to a reusable water bottle, one person can save 217 plastic water bottles from going to a landfill that year. – Penn State University Journal.
Why Should You Sell Reusable Water Bottles?
According to recent research, the global reusable water bottle market size was valued at USD 61.74 billion in 2020 and is expected to grow at a compound annual growth rate of 4.0% from 2021 to 2028.
Bottle Prices Range From $20, $30, and Even $80.
… or $500, like in the case of S'well and Swarovski collab – and it's really popular, too. This only shows that people are willing to pay a premium price for a product that's not only high-quality but also aesthetically pleasing. Ergo, reusable water bottles are going to be a lovely addition to your eCommerce store.
Create Your Own Personalized Water Bottle
Printify allows you to easily customize high-quality stainless steel bottles with no inventory and no prior agreement with a printing company. All you need to do is create a product, sell it, and we will take care of the rest: printing, packaging, and even shipping. Use the Printify app to sell it on Etsy, Shopify, Woocommerce, Wix, and other hugely popular online marketplaces, or your own custom store.
What Customizable Bottles Do We Offer?
In the Printify catalog, you will find three different, highly customizable stainless steel water bottles. Let's take a closer look at each of them.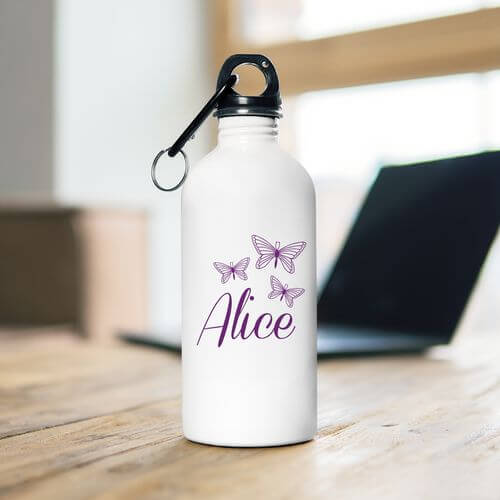 Fully Printable Stainless Steel Water Bottle
Cater to the needs of those who love their water ice cold and other beverages – hot, for this double insulated hits the spot. Starting at $18, this 20oz bottle comes with a silicone seal to protect from spillages and is highly customizable: create a line of artsy bottles or offer your clients personalized bottles for their business, schools, or other organizations.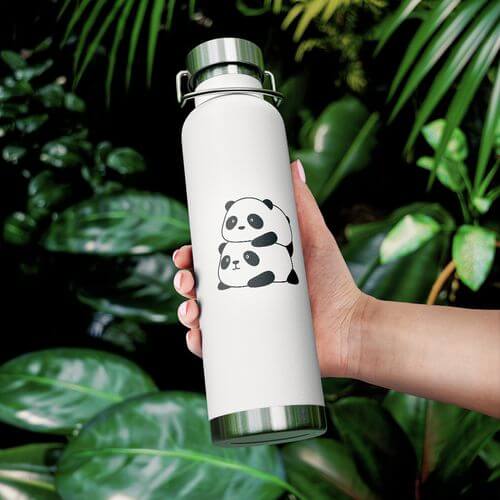 Personalized Vacuum Insulated Bottle
Our newest addition to our line of custom water bottles. Vacuum insulation is a big deal for those who care about the temperature change. Double-wall construction means that hot liquids can remain hot for up to 12 hours, while colder beverages can last good 48 hours. This stainless steel bottle is also condensation-proof, which means no sweating or slipping. Built to fit standard vehicle cup holders, the mate printable stainless steel sides are both scratch and fade resistant.
What's Trending in Reusable Water Bottles?
A quick look on Etsy, Amazon, and eBay will show you that stainless steel water bottles are ruling the game. The three main style trends in high demand are: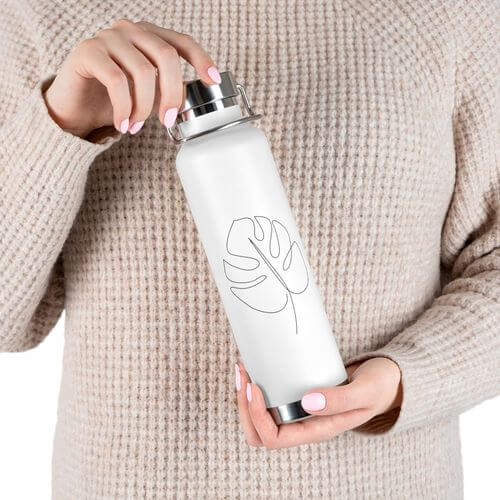 Simple, minimalist bottles are the biggest trend at the moment. Matte, black, all-white, or light pastel matte colors that exude coolness & freshness seem to be the best bet. You can also include small prints in a minimal font to customize or personalize.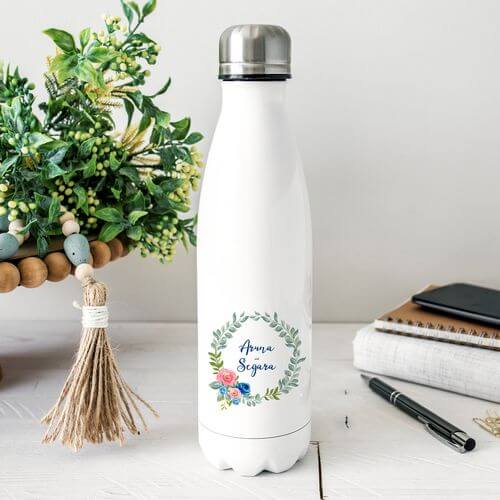 Celebratory Custom Water Bottles
You can come up with a line of bottles for different celebrations: birthday bashes, office parties, and even weddings. Personalized bridesmaids' water bottles are the latest addition to the bridesmaids' kit (together with custom jackets, personalized cheeky panties, bridal party t-shirts, etc.). This has created a demand for customized water bottles with the bridesmaids' names on them.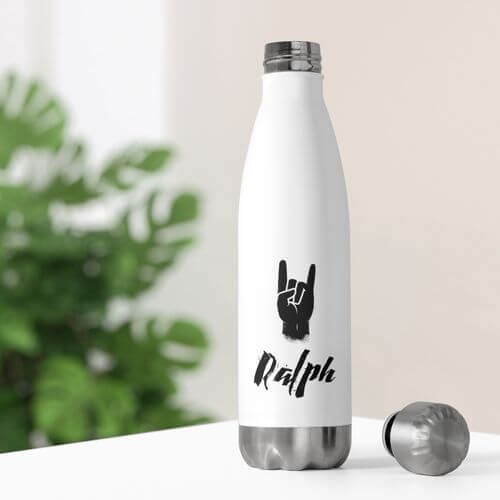 It seems everyone wants to see their name in cute, glitzy water bottles. The names come in a range of colors, e.g. marble and rose gold, with nice flowery fonts. They make beautiful personalized gifts too.
A great trick is to pre-personalize your bottles with names. Check out the most frequent names by state here.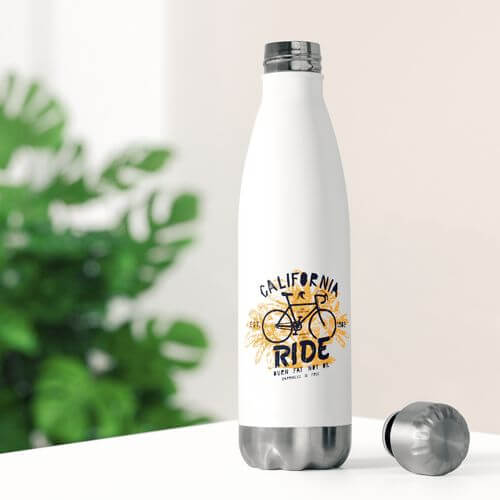 Add funny words to your bottles to appeal to winer, I mean, wider audiences.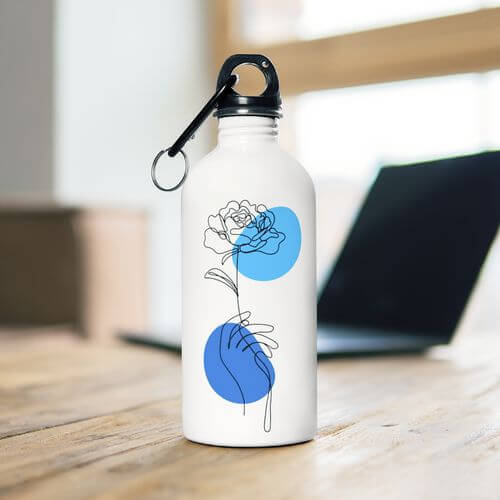 If plain and mellow is not your style, let the colors explode on your custom water bottles, for the smooth stainless steel surface allows you to cover the whole area in prints brighter than the sun itself!
Start Designing Reusable Water Bottles
Now that we've introduced you to our gorgeous custom water bottles and you know that they sell really well, it's time you started designing some for your online store. What will it be – pastels, puns, or heavy-metal inspired bottles? No matter what you choose, we here at Printify are here for you. We are an online print on demand dropshipping platform that connects our users to a network of print providers. And we're here to help you earn more by doing less. Come up with designs, use our mockup generator to create product mockups, add to your online store, and start selling!
Create Your Own Custom
Water Bottles!
Share the article
Topics