Introducing – Printify Connect. Manage Less, Earn More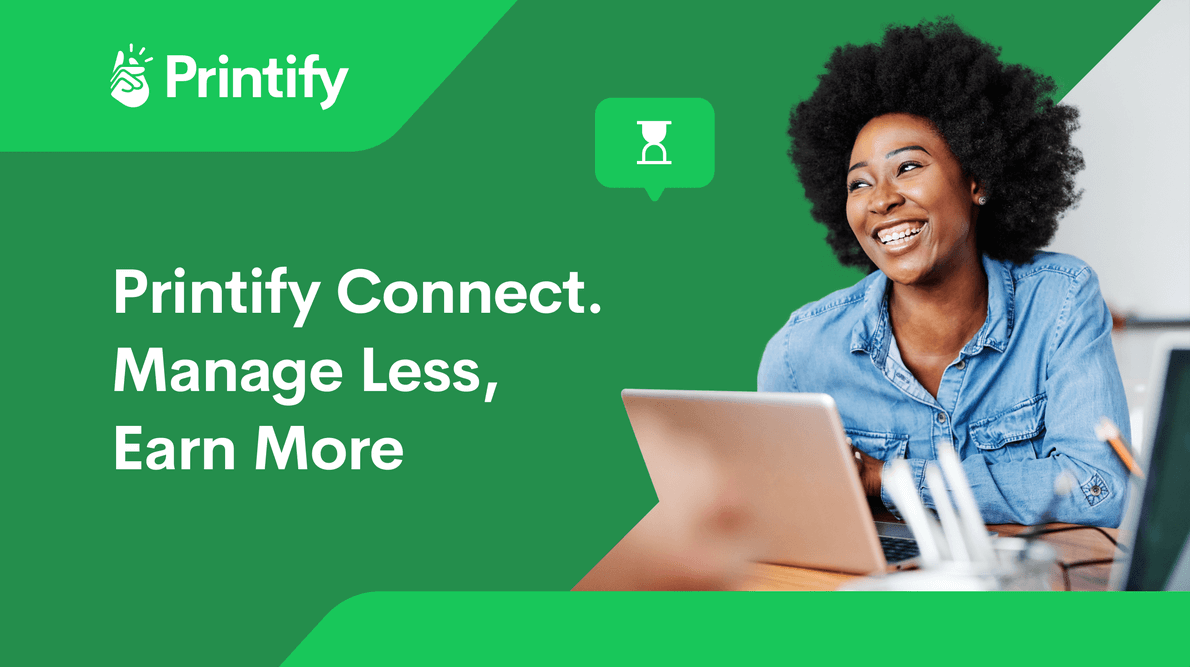 Spend less time dealing with customer inquiries and focus more on your brand while we handle the feedback via Printify Connect.
Printify's mission is always to go the extra mile to make your eCommerce journey as smooth and simple as possible. That's why we're super proud to introduce – Printify Connect – our latest feature for our Premium subscribers.
This feature will significantly reduce the time you spend on order management and allow you to focus on growing your business.
Printify Connect. What is it? How does it work? How does it benefit you? Let's take a look.
Save Time on Order Management
A big part of why Print on Demand is so inviting is the opportunity to make money with no upfront investment, and for less effort than a 9-5 job. While this is true, merchants still need to handle several order issues regarding problems, reprints, and refunds. 
The process of handling consumer inquiries can be time-consuming and tedious.
It can quickly become a never-ending loop, going back and forth between merchant support and your customer. You are the mediator, asking for details, forwarding information, and providing solutions.  But what if you could skip all that? 
With Printify Connect, we handle the issues for you.
Save Time.

Our study shows that high-volume sellers spend up to

5 hours a day

during peak shopping season managing and tracking orders, reprints, refunds, and inquiries. Printify Connect saves you precious time by handling issues ourselves.

Drop the Middleman.

The portal allows the end customer to contact our support team directly – without your involvement. They can quickly track their order status and provide feedback.

Focus on More Important Things.

With Printify handling your customers, you'll have more time for your business. Focus on marketing campaigns, promotions, and product listings, instead of worrying about orders.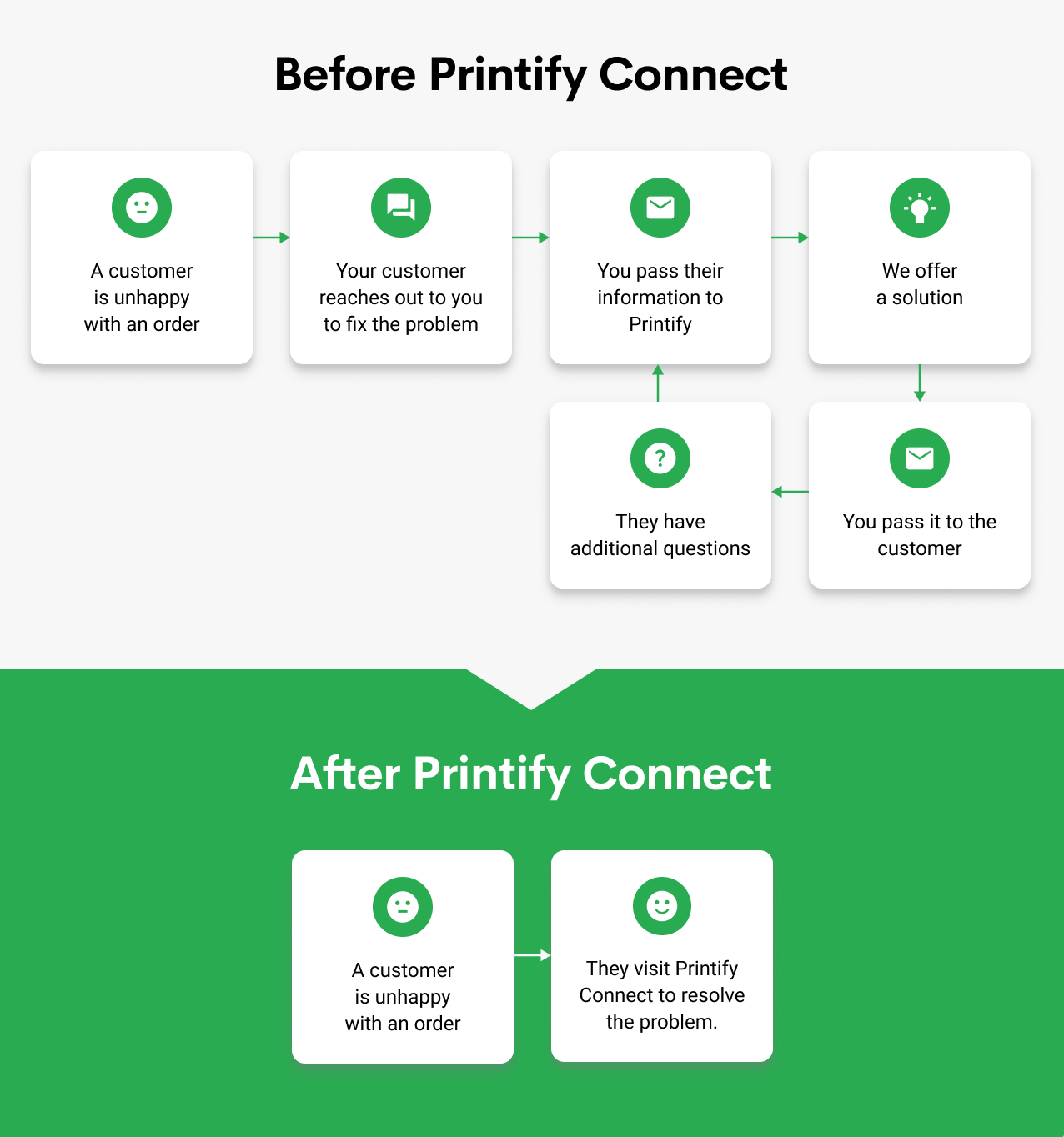 A Better Shopping Experience for the End Customer
Printify Connect is not just beneficial for you. It's a gift that keeps giving to everyone involved – merchants and customers. 
Merchants

spend less time dealing with customers and order management, focusing on their brand.

End Customers

can access all order information in one convenient place for a fast and direct response regarding issues.

Meanwhile,

Printify

gathers feedback and useful customer data and uses it to improve our products and services.
A better overall experience for your consumers will lead to positive feedback, recommendations, and return customers. It's a win-win-win for everyone.
Now that you know what Printify Connect is and what it does, it's time to see how it operates.
Printify Connect is only available for merchants who are subscribers to the Printify Premium plan.
The feature is not currently available for merchants using Walmart, Etsy, or eBay marketplaces.
Two reasons for using Printify Connect: 
Feedback.

The customer can leave feedback regarding the product, design, and delivery. 

Issues.

There's an issue with the order, and the customer wants to report the problem and request a reprint or a refund. 
Let's look at how Printify Connect comes in handy in both situations and how the portal works.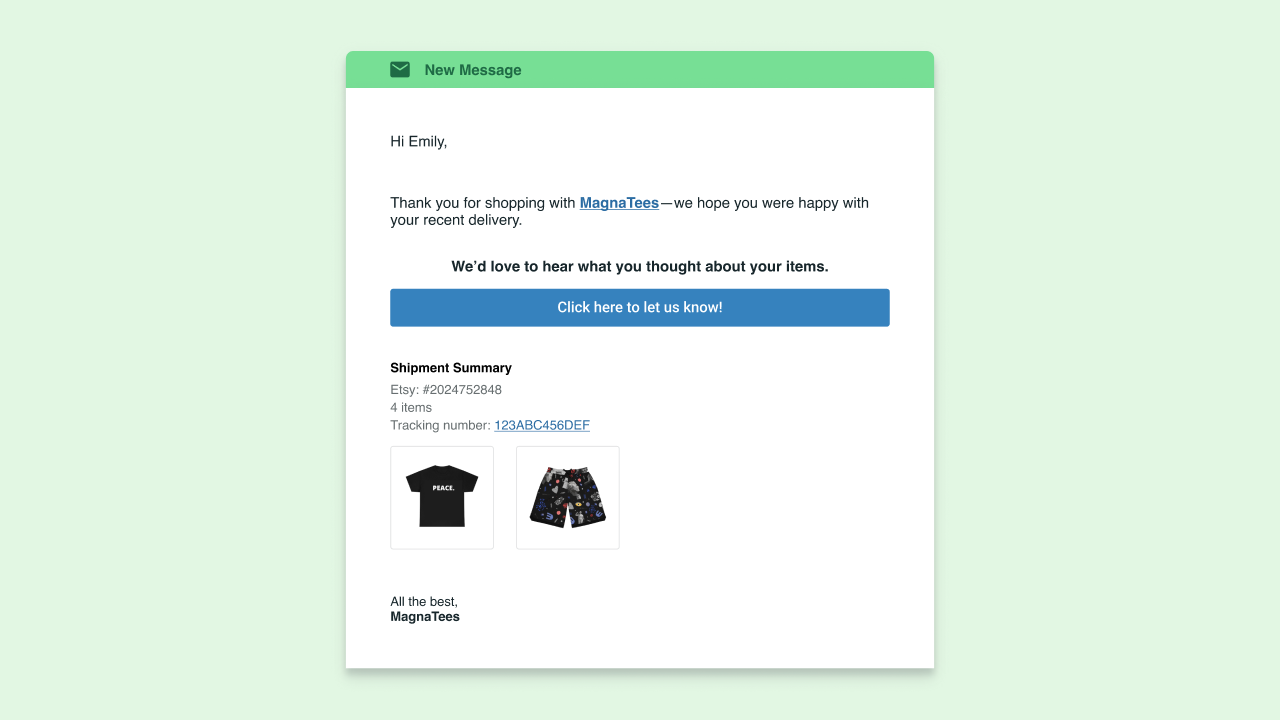 Once your goods are

delivered

, the customer receives an email asking them to rate the order. The email will contain your store name, sales channel, number of items in the order, and the order's tracking number – without any branding or reference to Printify.
Product names and visuals in the email will match the ones on your Printify account, not your sales channel.
The link in the email sends the customer to the

Printify Connect page. There is a detailed overview of the order with options to leave a review or report a problem.

The customer can click the Leave a review button on each item separately and give feedback regarding delivery, print quality, and the product itself.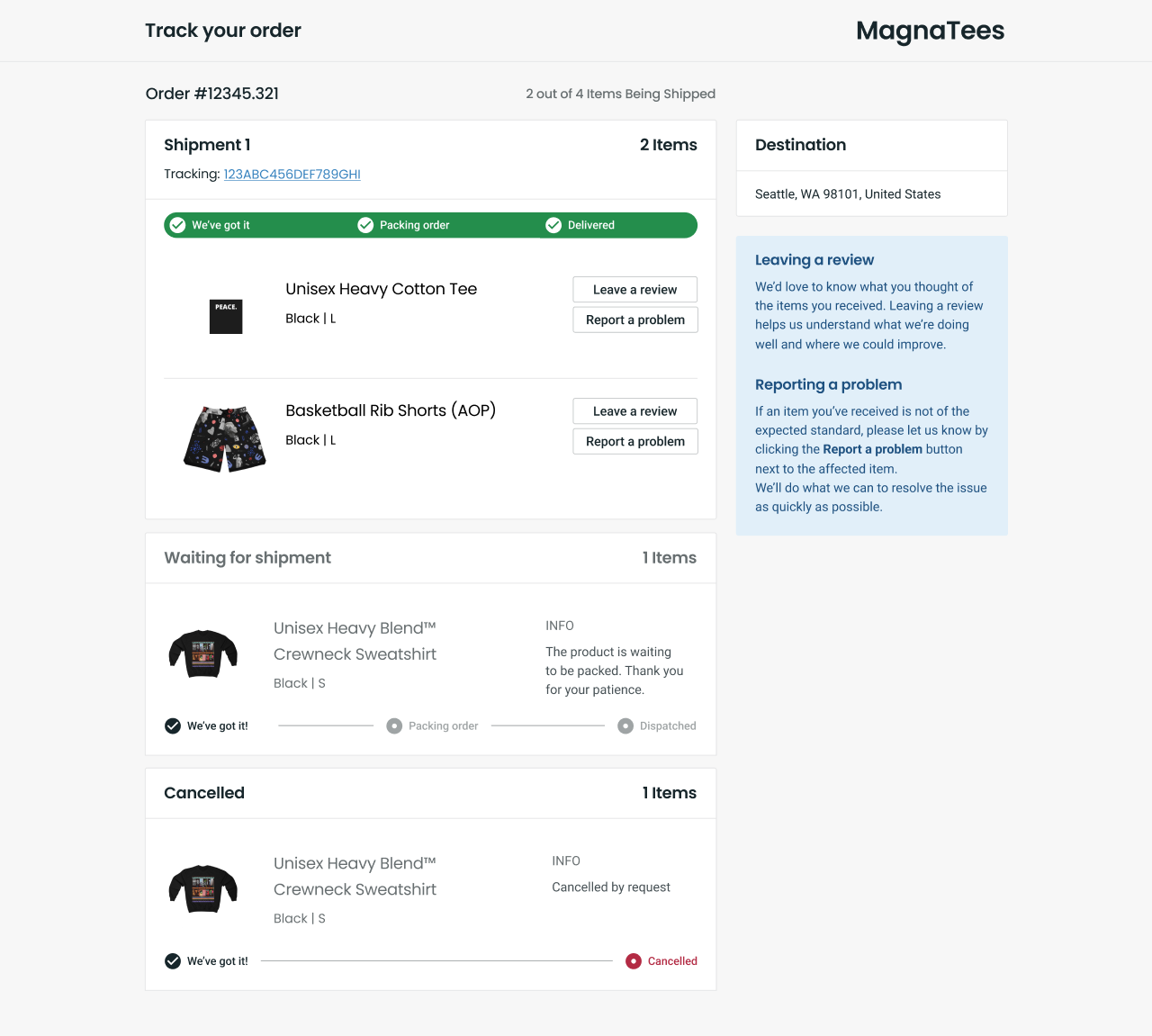 The Printify Connect page also shows no reference to Printify.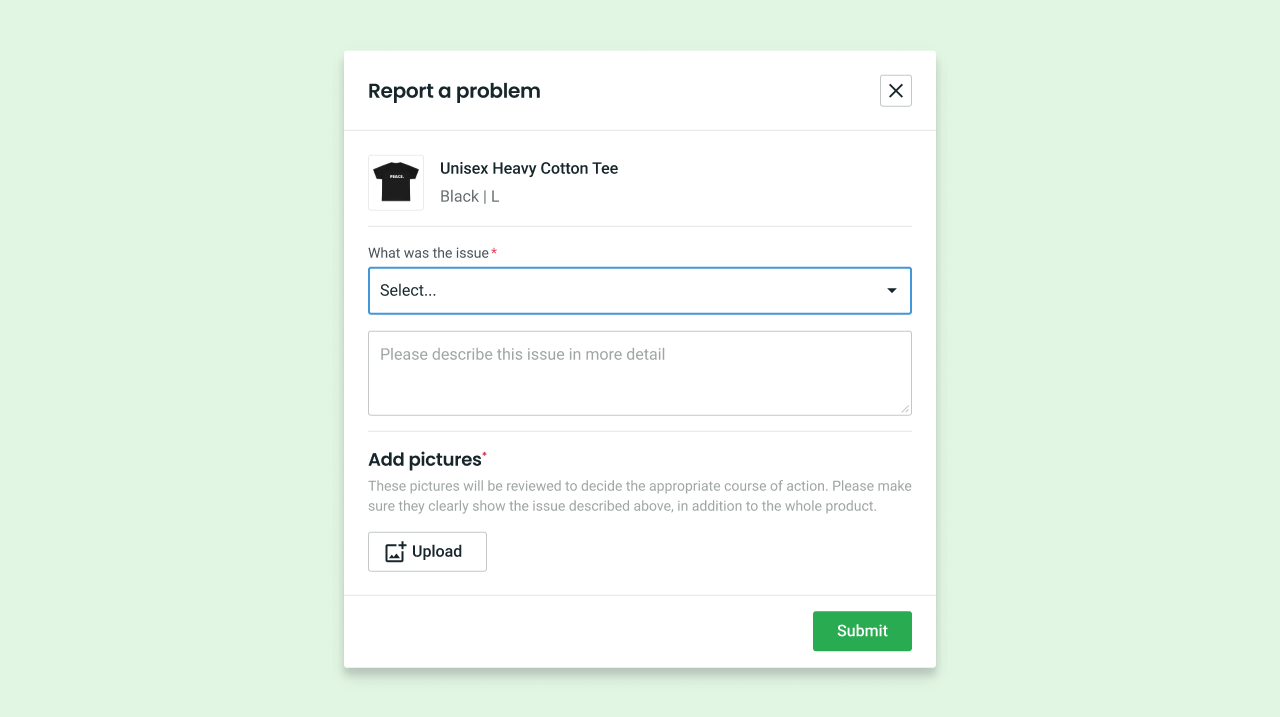 If the customer is not satisfied with the order, they can click the

Report a problem

button, fill in a form describing the issue, and add visual evidence to support their case.
In case your customer ignores the post-delivery email and contacts you directly, you can find the link to Printify Connect from the respective Order's page, copy it, and send it to them. We'll take over from there.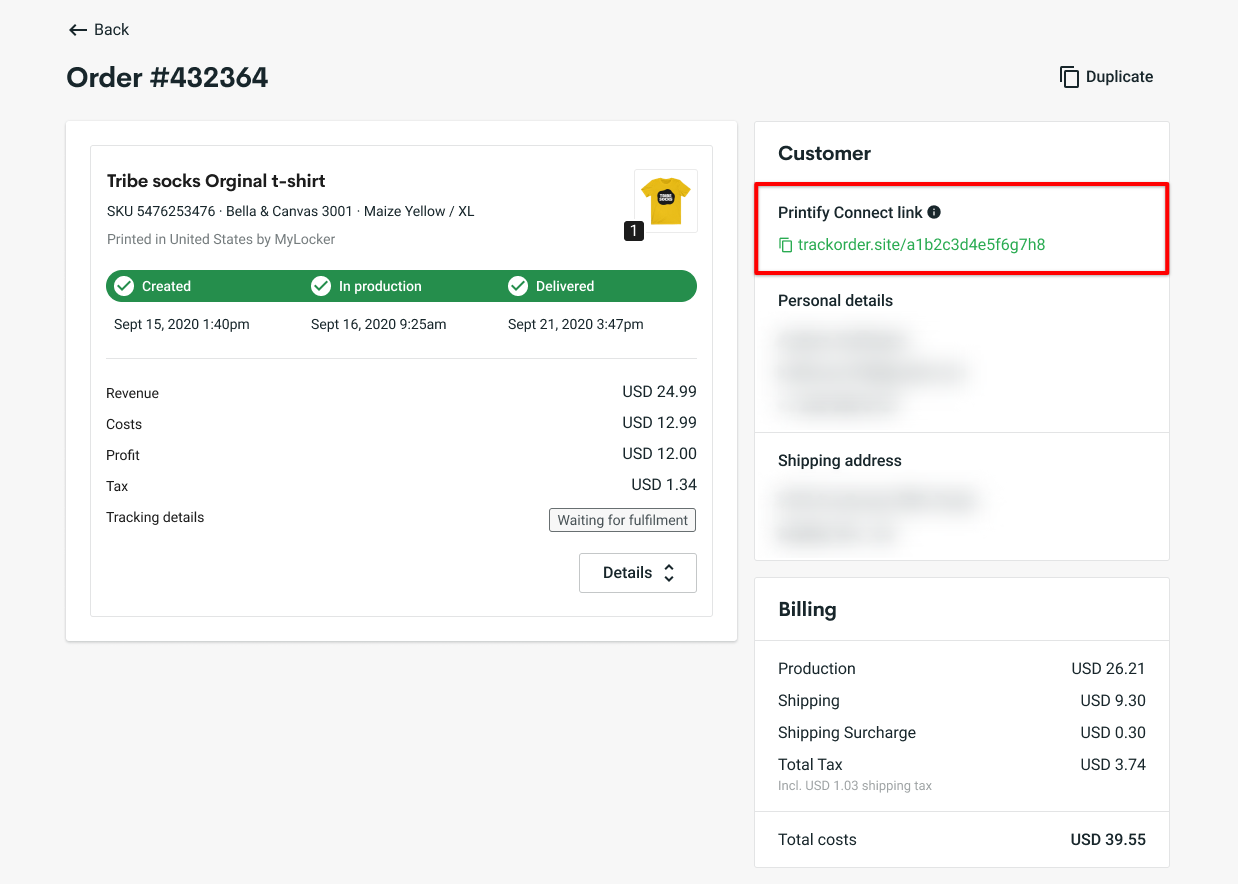 When a customer reports a problem, Printify notifies you via email, providing the order number, and investigates each case separately and in detail.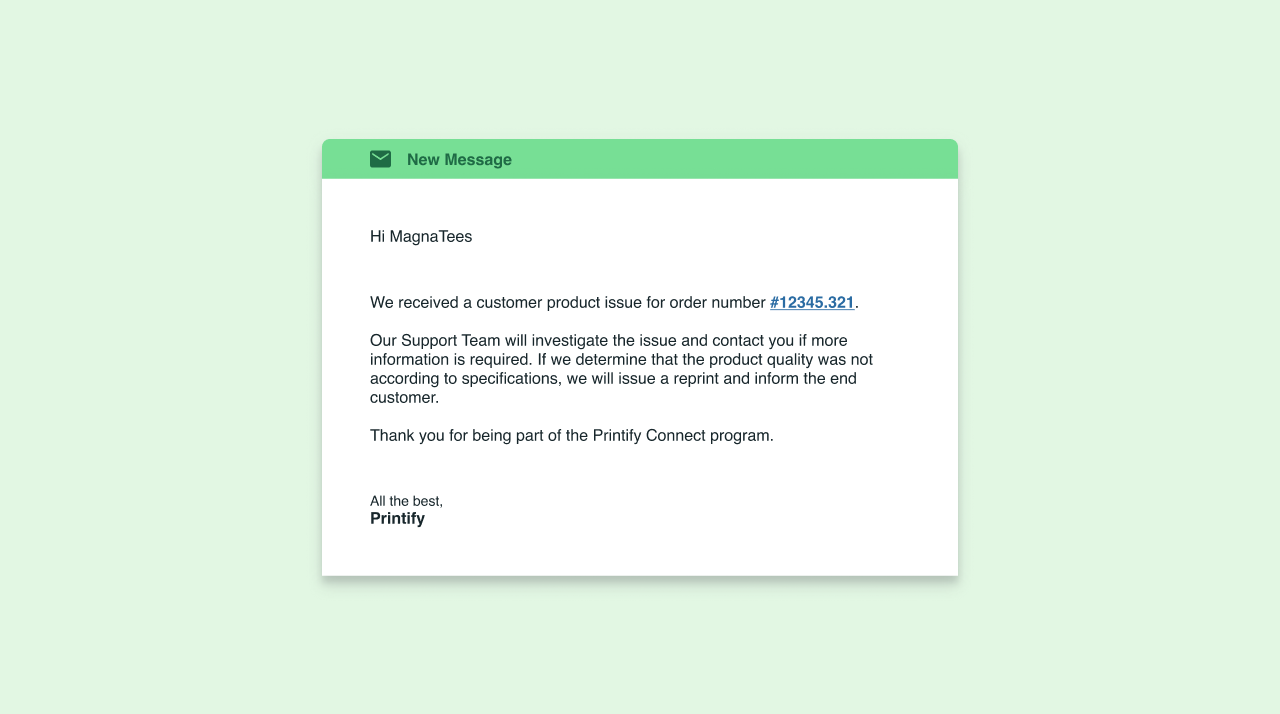 Printify decides whether a reprint or a refund is warranted and notifies you via email. From there, you can take over and pass the decision on to your customer.
You can track each step of the reprint process from your Orders page.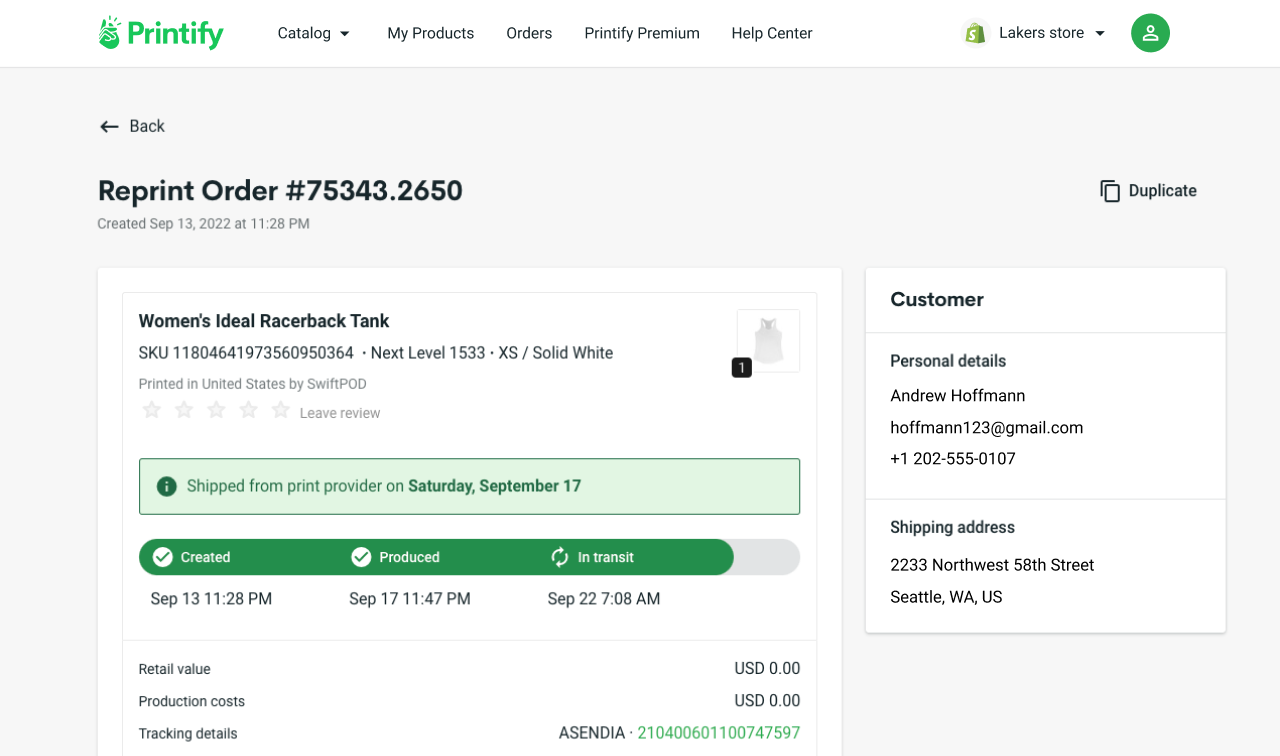 Why Do Printify Merchants Love Printify Connect
"It makes it much easier and faster, compared to contacting Customer Support, then copy/pasting the order number, then explaining what is going on." 
How to Set Up Printify Connect
Enable Printify Connect with a couple of clicks on your Printify Account.
If you have multiple stores, you must enable this feature for each store separately.
Open your

Store Setup

Click on

Printify Connect 
Check

the box to

Enable Printify Connect
Click Save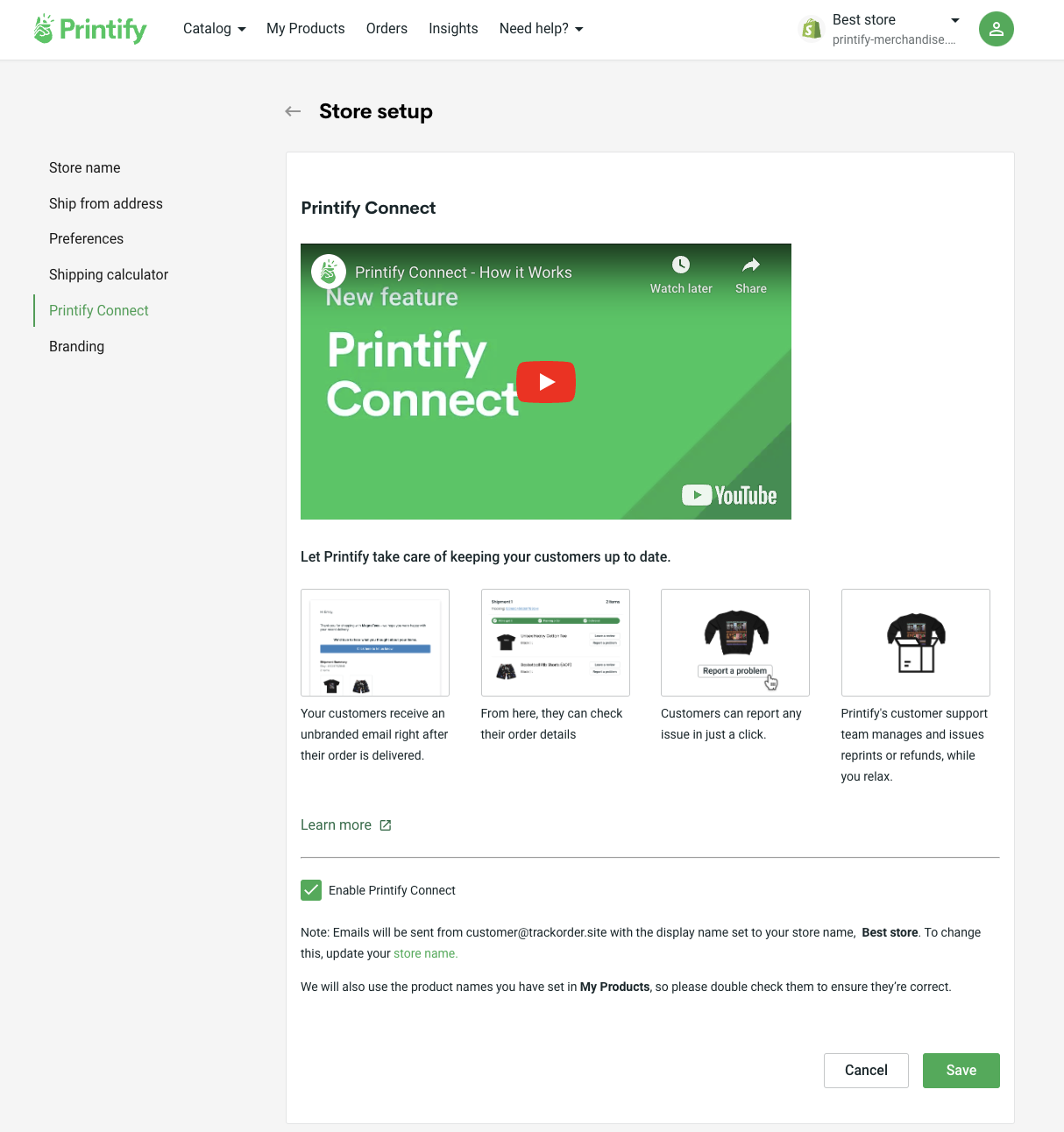 Emails will display your Printify store name. Make sure that the store name set on Printify matches the one on your sales channel to avoid confusion.
Give Your Customers a Heads-Up
It's important that your customers are informed about upcoming Printify Connect emails with their order delivery. This way, they'll know about them in advance and won't mistake them for spam or something else.
We've put together a couple of notification templates that you can use on the checkout page or in confirmation emails.
Thank you for shopping with us. Please check your inbox after you receive your order. We'll send an email from

[email protected] where you can submit feedback or report a problem.

Thank you for shopping with

[enter store name].

Once you receive your order, look for an email from

[email protected]. You can use this link to submit feedback or report an issue to our customer support.

We've received your order. Once it arrives, check your inbox for an email from

[email protected]. You can submit feedback or report an issue to our customer support.
Feel free to modify them to fit your brand narrative and let customers know where and how to submit feedback or report issues.
This is only the beginning of Printify Connect. We plan to improve order management and feedback processes by giving more power to your customers and less work for you. 
Here's a short insight into future developments of Printify Connect:
Download Product Reviews.

You will be able to download your product reviews and upload them to your eCommerce store. 

Automatic Emails.

We'll send emails to you and the end customer when a reprint is generated.

Branding.

It will be possible to customize your Printify Connect page to fit your brand.

Order Status.

The end customers will be able to track orders in detailed updates.

Order Information.

Customers will be able to edit info themselves (address, etc.).

Cancellation. The end customer will be able to cancel orders from the platform.
And there you have it. Yet another amazing Printify feature created to help you make the most of your print-on-demand experience. Now you can dedicate all your time and energy to promotions, product listings, and brand development, while we handle the customers. Awesome, right?
If you have more ideas and suggestions on how we can improve your experience with us – we're all ears. Printify always listens and goes the extra mile for our merchants' benefit. Join our Premium plan and reap the fruits of Printify Connect. 
Earn more by managing less with Printify.
Share the article
Topics