Introducing: Personalized Wine Tumbler for Fun in the Sun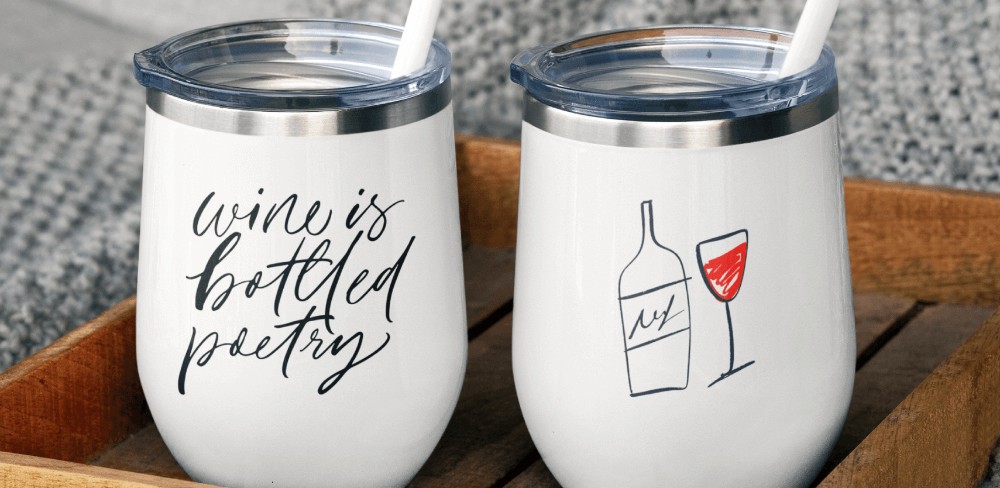 This summer, take outings or relaxing evenings to the next level with our personalized stainless steel wine tumbler. 
Forget about drinking wine out of paper cups, unsightly plastic glasses, or regular wine glasses that easily break and spill. These BPA and lead-free custom wine tumblers keep drinks cool and your mind at ease since they are virtually indestructible. 
The personalized wine tumbler with a lid will be your customer's best friend at home or on the go, safekeeping beverages in the right temperature for hours. Enjoy summer picnics, concerts, beach days, and more with a spill-proof companion with custom designs.
Why Sell Personalized Wine Tumblers?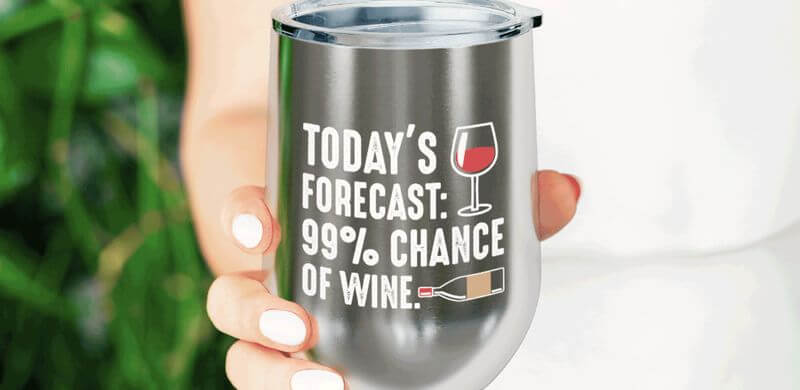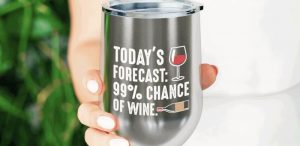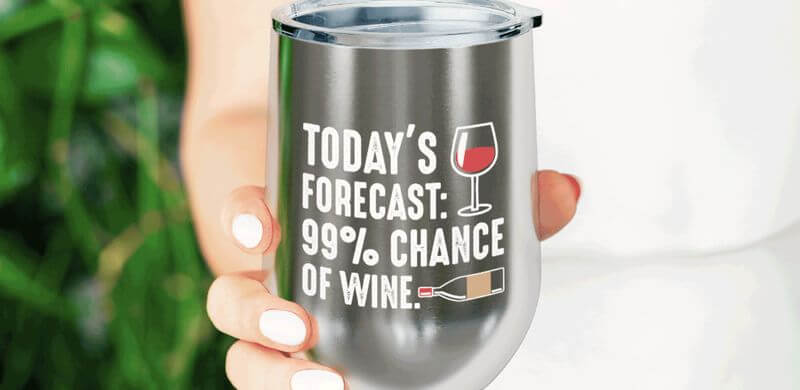 The popularity of wine has grown steadily over the last decade. The wine industry has generated a revenue of $58.1 million in the United States alone in 2022. This can be explained by many factors, some of which are cultural, while others have to do with health and demand for variety. It emphasizes wine as a drink that can boost our overall well-being. 
Fact: In 2014, the U.S. became the largest wine consuming nation in the world and still holds the position surpassing France. Online wine sales have made wine more affordable and accessible, thus further increasing its demand. 
Personalized wine tumblers are a great way to bring the wine to outdoor events and picnics without worrying about shattered glassware or stains on your favorite summer outfit. There's nothing like a white wine spritzer on a hot summer day.
And, of course, personalization is the key. Personalized stainless steel wine tumblers are appealing for many: company-organized parties where everyone gets a tumbler with a company logo, bachelorette parties, or simply people who wish to create their own custom drinkware.
Custom Wine Tumbler Design Ideas – Let Your Customers Sip in Style
Personalized wine tumblers will make the perfect gift for friends, colleagues, and loved ones on many occasions and celebrations. Whether it's a birthday, wedding, bachelorette party, Valentine's Day, anniversary, or any other special time of the year.
A personalized insulated wine tumbler is a lasting gift with a personal touch. Sip in style with these great conversation starters and enjoy the profits sealed within.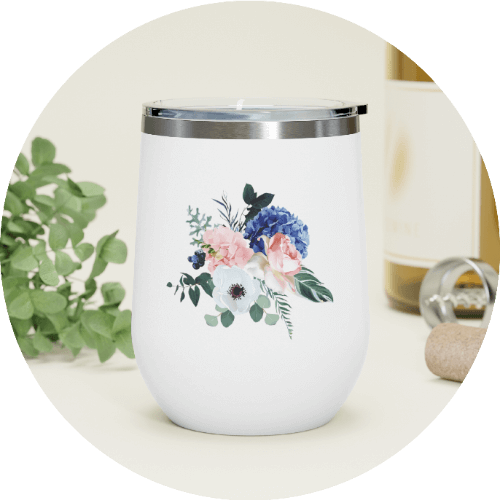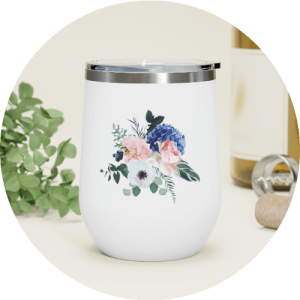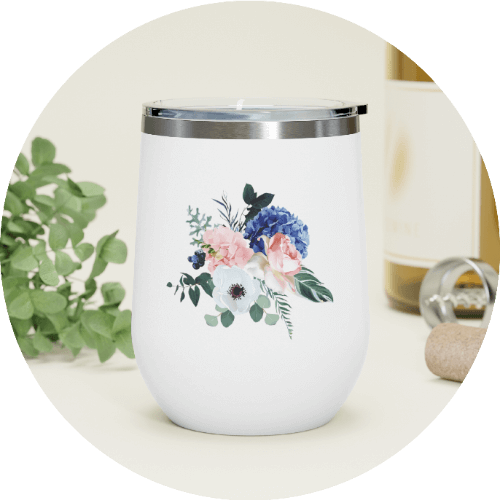 Chilled rosé from a flower-covered personalized wine tumbler. Name a more perfect combo. The truth is, you can never go wrong with a classy floral pattern. Photorealistic or abstract – the choice is yours. A floral wine tumbler with flower patterns will give the vintage summer vibe everyone is craving these days.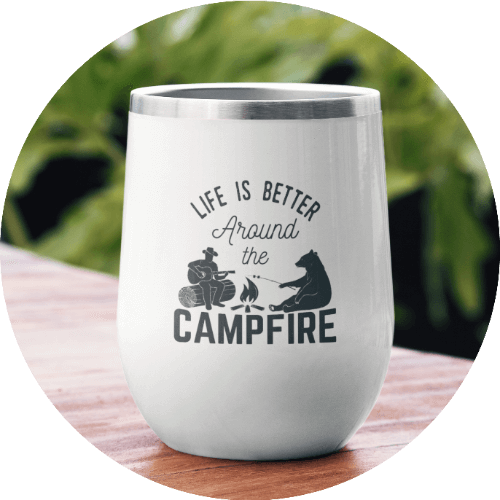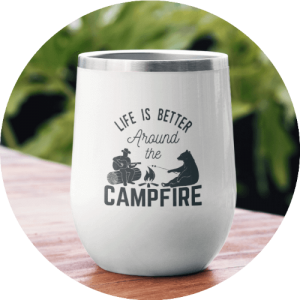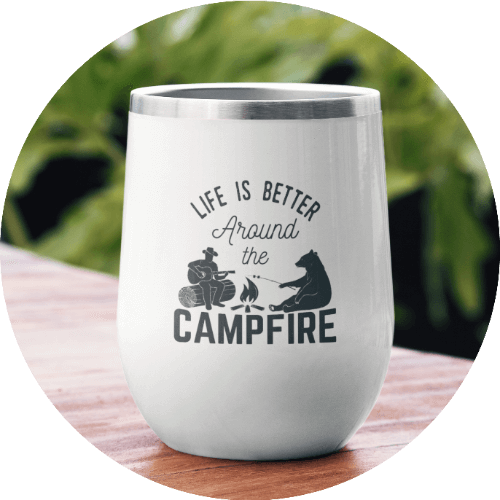 Who said camping and wine don't mix well? Camping wine tumbler will let your customers enjoy their favorite Bordeaux in a classy, camping-themed wine glass, that plays around outdoorsy elements. This will always be a hit with campers and glampers who know what the good life is all about.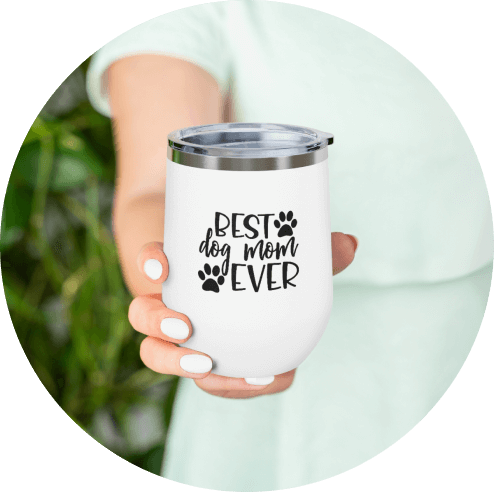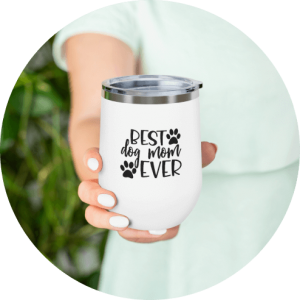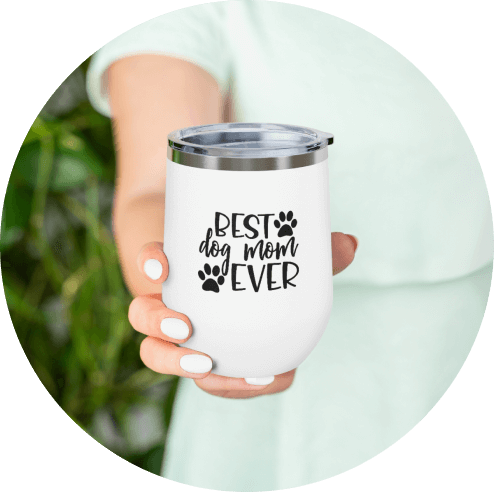 Personalize a cute wine tumbler for everyone's taste. Add a touch or personality with elements from different hobbies, patterns, colors, themes, and more to create a one-of-a-kind wine tumbler.
From "Dog mom" and other cute sayings to cute animal themes, fruits, or personalized symbolic designs for celebrations, such as hearts for Valentine's Day and weddings and more. Grab inspiration from your surroundings and come up with unique cute wine tumbler designs.
Wine Tumblers With Sayings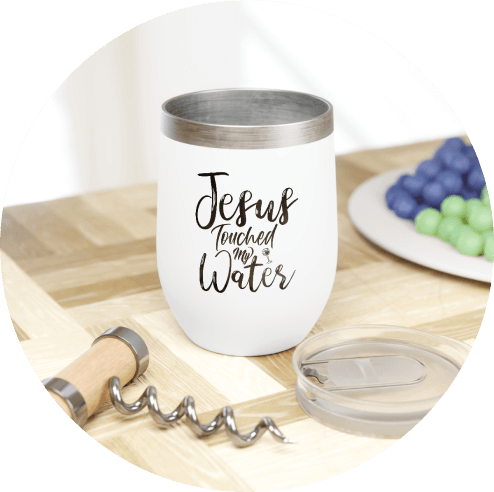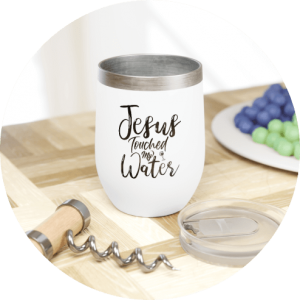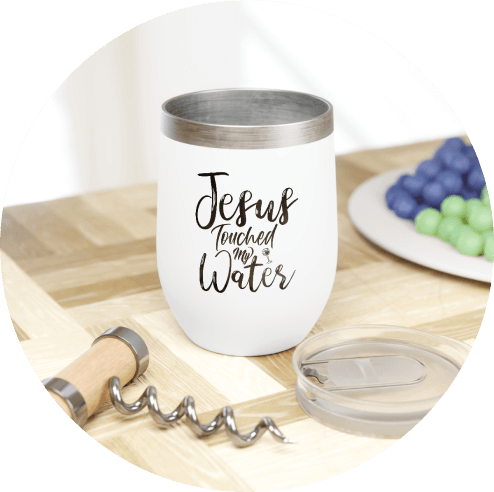 "I make pour decisions"
"Jesus touched my water"
"Could be coffee, could be wine"
When it comes to wine tumbler design ideas, you can't go wrong with quotes and sayings. The witty, sweet, clever, or simply lovely messages add a personal touch to the product and are a great addition to anyone's inventory.
From "Best Mom" or "Best Hubby" to "Me time" and more. Personalized wine tumblers with sayings, wishes, and quotes will put a smile on anyone's face and spark a conversation everywhere you go.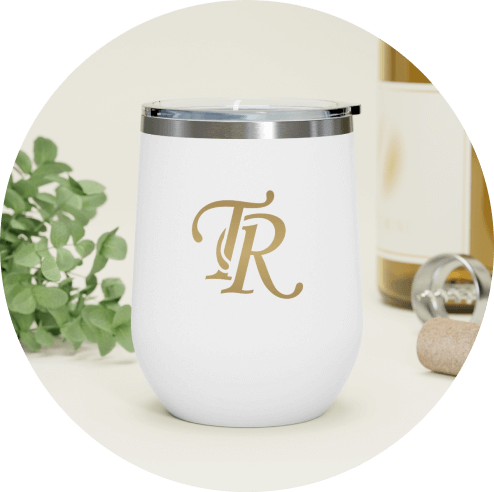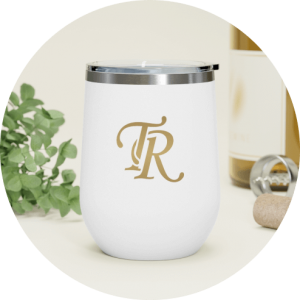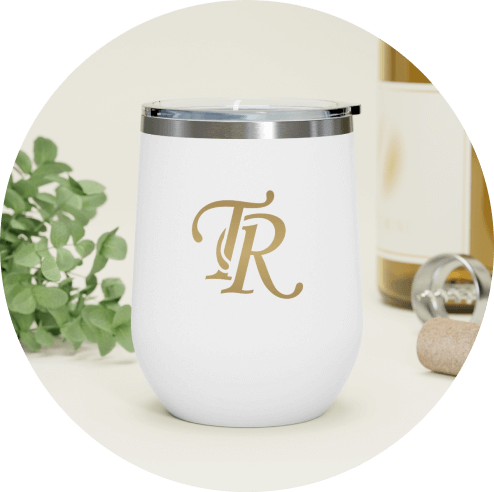 Stamping your own logo, business name, or monogram is an excellent way of promoting your brand, business, or company. And what better way to advertise than putting your initials on a product that directly meets the eye?
A monogrammed wine tumbler is a perfect gift for company outings, gatherings, or celebrations. They make good centerpieces at fairs, presentations, open-houses, or any other place where it might catch the attention of potential customers. Spread brand awareness in style with monogrammed wine tumblers.
What Is Print on Demand, and Why Choose This Business Model?
Print on demand is the process of producing goods and sending them directly to your customers immediately after you make a sale. 
In traditional businesses, entrepreneurs are forced to make significant upfront investments, buy equipment, hire staff, and hold inventory. With the POD dropshipping which we here at Printify offer, you have the huge advantage of not needing to buy, store, or manage your stock. 
Our printing partners produce the exact quantity of products your customer has bought and then ship the items directly to them. The only thing you need to take care of is the designing and marketing aspects. Yes, it's that convenient. 
POD dropshipping eliminates most of the key risks and jumbles associated with the traditional merchandise business model, letting you focus on building your brand and expanding the product range you offer in your eCommerce store.
Why Choose Printify as Your Trusted Drop Shipper?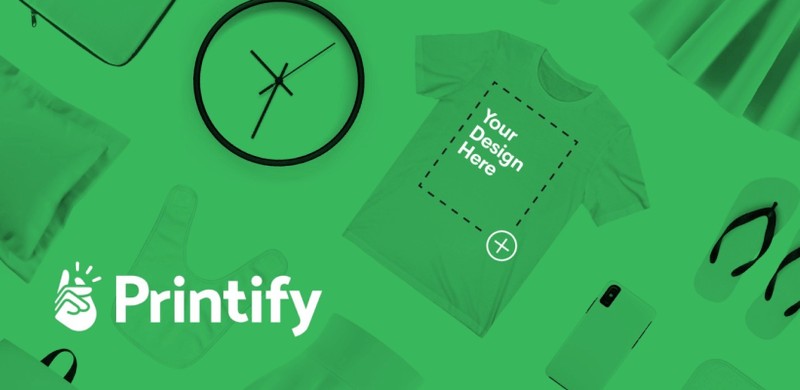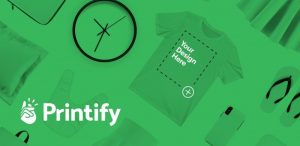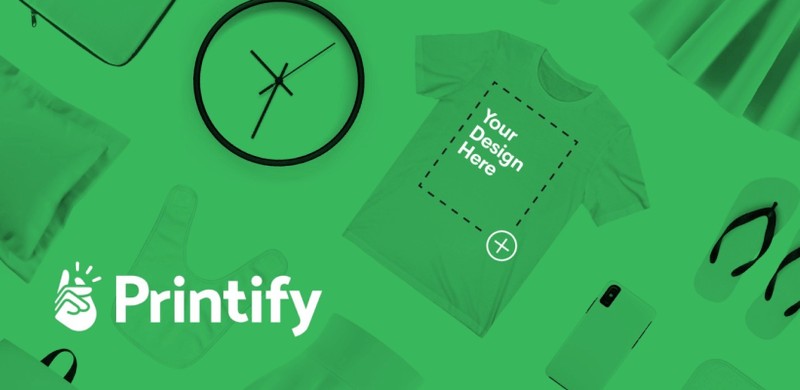 Create Your Own Personalized Wine Tumblers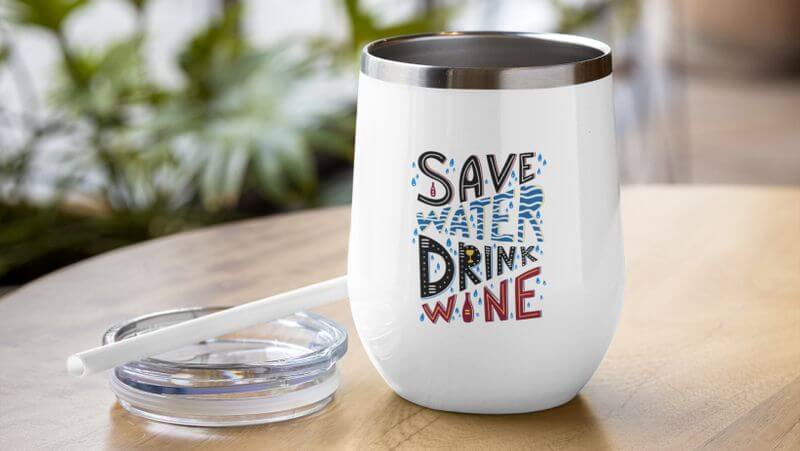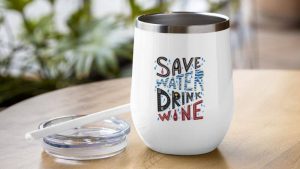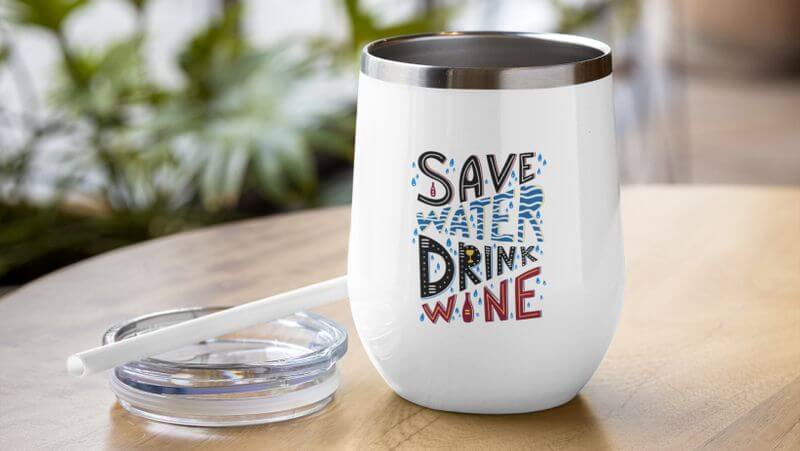 Printify allows you to easily customize these high-quality, double-insulated, stainless steel wine tumblers with no inventory and no massive starting capital. All you need to do is create a product, sell it, and we will take care of everything: printing, packaging, and even shipping to your customers' doorstep. Here's how it works.
1. Create a Printify Account
To start your journey with Printify, all you need is an email address. Connect with your Google Account or simply sign up using any other email and password and you're good to go. Add a store name, browse our products for inspiration, and get started.
Pro tip. For merchants with growing sales, we suggest signing up to Printify Premium.  Get up to 20% discount on all products, unlimited designs, and other benefits.
Our catalog currently holds two options for all the wine enthusiasts out there. The chill wine tumbler and the insulated wine tumbler. Both products are high-quality, practical, and perfect for your designs.
The stainless steel, double-wall, vacuum insulation is durable and resistant to rust, staining and corrosion, creating a product that will last for years to come. The lid prevents spills and an unwanted mess. This truly is the must-have product for your online store.
Printify has gone the extra mile to make the design process as simple and easy for our merchants as possible. Use our free Mockup Generator for uploading pictures, adding layers, texts in different colors, fonts and sizes, and do just about anything with the design. Preview products and make adjustments accordingly. 
For the non-designers out there, we even provide the opportunity to use free images from Shutterstock with our one-of-a-kind integration. Pay for the design only after making a sale with the pay-as-you-sell mechanism.
Pro tip. Browse our blog for comparisons of the top platforms to help you decide on which one to choose for your business.
5. Start Selling and Promoting
Now that your personalized wine tumbler is picked, designed, and listed on your online store, it's time to tell the world about it and send traffic to your store page. Use social media channels like TikTok, Instagram, Facebook, Google Ads, and more to spread awareness about your brand and product, while our print providers take care of product fulfillment.
Now that we've introduced you to our beautiful matte stainless steel personalized wine tumbler that's made to last for years, it's time to start designing some for your online store.  
What will it be – flowers, names, or nature-inspired personalized wine tumblers? No matter what you choose, Printify is here for you. We'll help you earn more by doing less. 
Use this article as a guide for inspiration and Printify will stay with you every step of the way. Simple, easy, quick. That's how we work. Focus on growing your business and brand while print providers take care of order fulfillment. Get creative, start selling, and strive for success with Printify.
Share the article
Topics