Introducing: Personalized Wine Tumbler for Fun in the Sun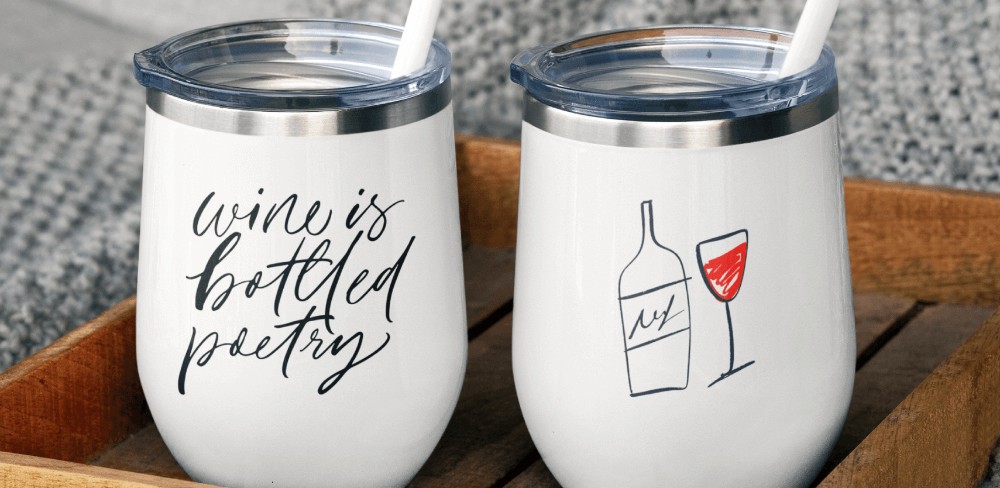 This summer, take your outings to the next level with the latest addition to the Printify Catalog – the stainless steel personalized wine tumbler. Forget about drinking wine out of paper cups or unsightly plastic glasses! These BPA and lead-free custom wine tumblers keep your drinks cool and your mind at peace since they're virtually indestructible. These babies let you show off your creativity and make a splash!
Why Add the Personalized Wine Tumbler to Your Store
Over the last decade, wine popularity has grown steadily every year in the U.S. This can be explained by many factors, some of which are cultural, while others have to do with health and demand for variety. What it emphasizes is the quality of wine as a drink that can boost our overall well-being.
Fact: In 2014, the U.S. became the largest wine consuming nation in the world. In the last decade, consumption in America has risen steadily every year. Online wine sales have made wine more affordable and accessible, thus further increasing its demand.
Custom wine tumblers are a great way to bring the wine to open-air outings and picnics without worrying about shattered glassware. There's nothing like a white wine spritzer on a hot summer day! And, of course, personalization is the word here. Personalized wine tumblers would be appealing for many: for company-organized parties where everyone gets a tumbler with a company logo, bachelorette parties, or simply people who wish to create their own drinkware.
Create Your Own Wine Tumbler!
Create Your Own Personalized Wine Tumbler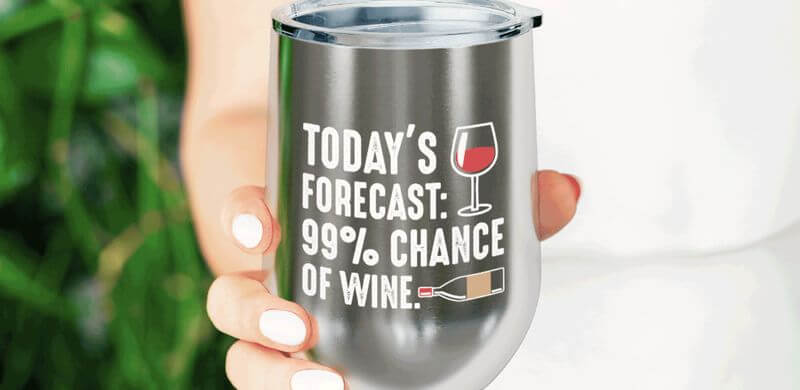 Printify allows you to easily customize these high-quality, double-insulated, stainless steel tumblers with no inventory and no massive starting capital. All you need to do is create a product, sell it, and we will take care of everything; printing, packaging, and even shipping to your customers' doorstep. Use the Printify app to sell it on Etsy, Shopify, Woocommerce, Wix, and other hugely popular online marketplaces.
About the Printify Personalized Wine Tumbler
Built from double-insulated stainless steel, this BPA and lead-free personalized wine tumbler is capable of withstanding a beating while protecting that precious Chardonnay, and the snap-on lid will prevent the wine from pouring anywhere else but your mouth. This sturdy custom tumbler holds up to 12 oz when full and supports full-color printing. Regarding caring for the tumbler, we suggest handwashing with mild detergent and avoiding machine washing to protect the print from fading away.
Our double insulation technology allows our stemless wine tumbler to keep the beverage cold for up to a whopping 24 hours, and hot for up to 6 hours. Its unbreakable construction makes it perfect for enjoying chilled wine or cocktails by the pool, keeping your morning cup of coffee hot for longer, and even for keeping your ice cream sundaes refreshingly frosty.
What Is Print on Demand, and Why Choose This Business Model?
Print on demand is the process of producing goods and then sending them directly to your customers immediately after you make a sale.
In traditional businesses, entrepreneurs are forced to make significant upfront investments and hold inventory. With the POD drop shipping that we here at Printify offer, you have the huge advantage of not needing to buy, store, or manage your stock. Our printing partner produces the exact quantity of product your customer has bought and then ships it directly to your customers. The only thing you need to take care of is the designing and marketing aspects. Yup, it's that convenient.
POD drop shipping eliminates most of the key risks and jumbles associated with the traditional merchandise business model, letting you focus on building your brand and expanding the product range you offer in your eCommerce store.
Create Your Own Wine Tumbler!
Why Choose Printify as Your Trusted Drop Shipper?
Printify offers an exceptional price-performance ratio – the blank product prices in the Printify Catalog are highly competitive. For example, the custom wine cup starts from $12.91 (this is what you pay us after you've made a sale), and you sell it for, say, $20 or even $25 dollars. This means you keep every cent except the initial amount you paid for the blank cup. 
What else? Here at Printify, we have exceptional customer support that bends over backwards to help you when needed. Also, we work with over 90 print providers worldwide to deliver goods to your customers no matter where they live – this means reasonable shipping costs and speedy production time. There's more good news: using Printify is always free. Of course, you can choose our Premium subscription, but only if you want to receive up to 20% off of all blank items and get free samples – we're here to help you earn more money with less effort!
Let Your Customers Sip in Style – Custom Wine Tumbler Design Ideas
Printify's personalized wine tumbler is built to last for years and makes for a great gift. Personalized tumblers make for a great wedding gift and a perfect addition to your bachelorette party. Customize the tumbler for your entire bridal squad with their name or initials, and with multiple colors and finishes to choose from, you're sure to design a tumbler all your girls will love. Wine tumblers are also super cool corporate gifts as they cater to any wine-loving audience –  so, go ahead and make their summer outings even more special and personal!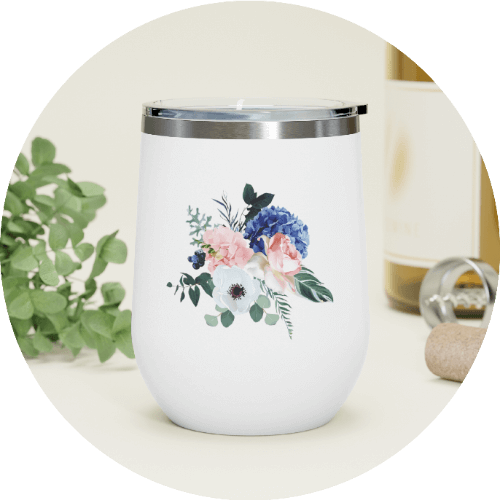 Chilled rosé from a flower-covered steel tumbler. Name a more perfect combo. I'll wait. The truth is, you can never go wrong with a classy floral pattern. Photorealistic or abstract – the choice is yours.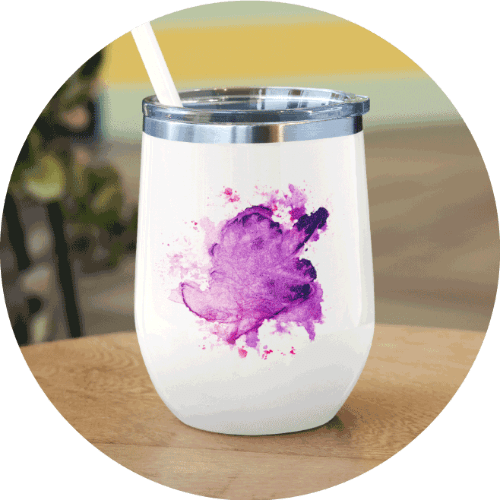 Create beautiful watercolor designs that cover our stainless steel matte wine tumbler edge to edge, for a simple yet elegant look. Go for the abstract and let your imagination run, whether putting watercolors on paper or on a steel wine tumbler, the magic lies in letting your strokes run wild.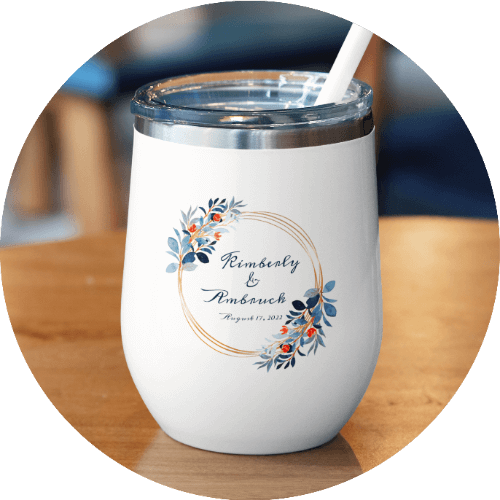 For a more personal touch, you can offer personalized wine cups with people's names in a beautiful and unique font. This is a very popular option for bachelorette parties and bridal parties that the group can keep and remember their fun times for years to come.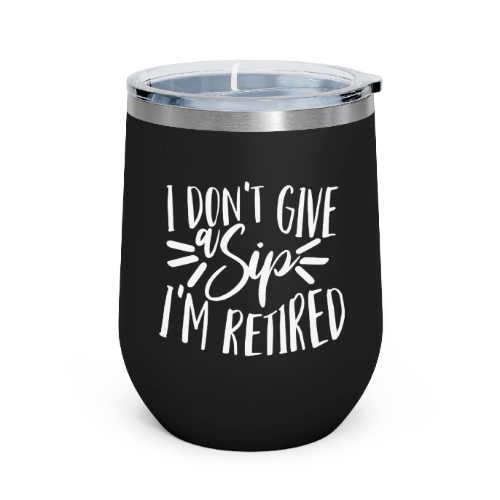 Parental Advisory
Tumblers
If you're all out of ideas or you know your customer base can't be bothered with prints, you can always create a line of wine tumblers with slogans that appeal to momas and papas. Witty declarative statements like "World's Best Mom" or "I Don't Give a Sip, I'm Retired" work perfectly for that refined audience.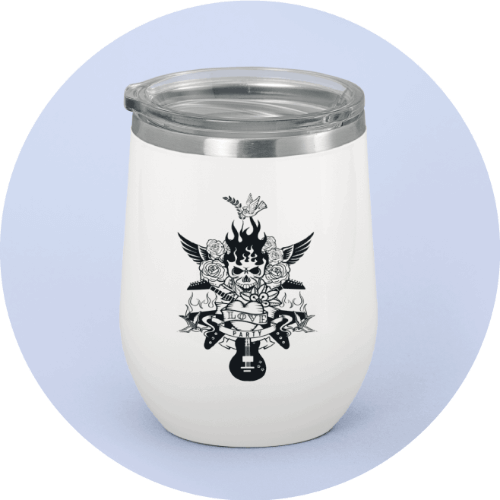 You know, metalheads also love wine. Create a line of goth or metal-friendly wine tumblers, so the heavy metal music lovers can enjoy their Chablis in style. Black inks with roaring designs, and aggressive overall tones are sure to be loved by a passionate community.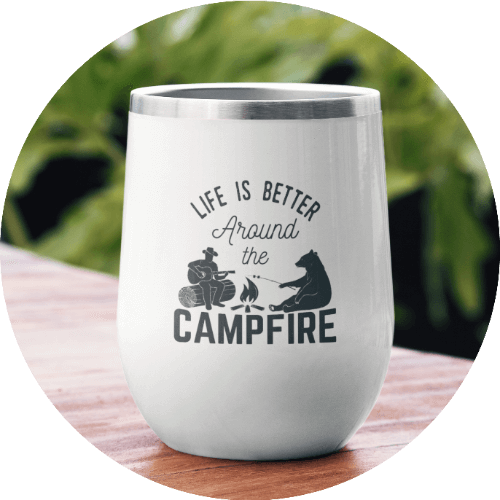 Who doesn't love a nice sip of chilled wine with an idyllic view generously provided by Mother Nature. Camping-inspired themes and designs that play around outdoorsy themes will always be a hit with campers and glampers who know what the good life is all about.
Start Designing Your Personalized Wine Tumbler
Now that we've introduced you to our latest addition to our catalog, the beautiful matte stainless steel personalized wine tumbler that's made to last for years, it's time you started designing some for your online store. 
What will it be – watercolors, names, or metalhead-friendly inspired cups? No matter what you choose, we here at Printify are here for you. We're here to help you earn more by doing less. Come up with appealing designs, use the Printify Mockup Generator to create stunning product mockups, add to your online store, and start selling!
Share the article
Topics