How to Create Your Own Fitness Merch Using Print on Demand?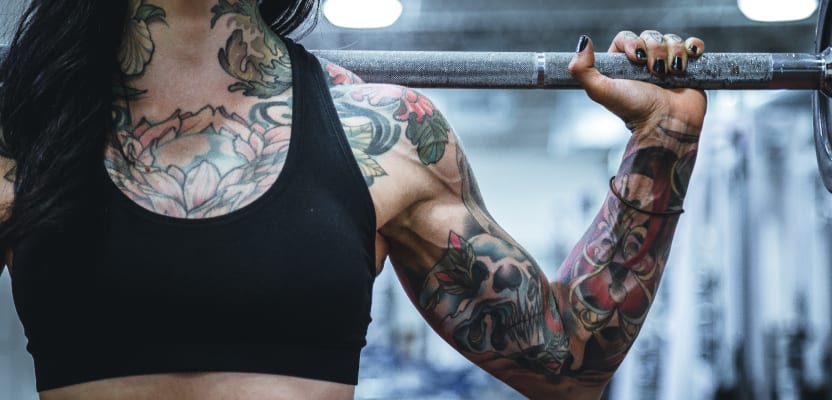 According to Global Industry Analysts Inc., sports and fitness apparel clothing will reach $221.3 billion worldwide by 2026.
Whether brunching on a Sunday or jogging on a Tuesday, millennials are much more likely to be in sneakers and athleisure attire than in your regular jeans-and-tee ensemble. 
The momentous global shift to activewear has left many big brands scrambling and, at the same time, presented huge opportunities to the forward-thinking independent online merchants.
If you've been sitting on the idea of kicking off a fitness merch brand, then 2023 will be your best chance to make that happen.
Where and How to Find Fitness Merch Ideas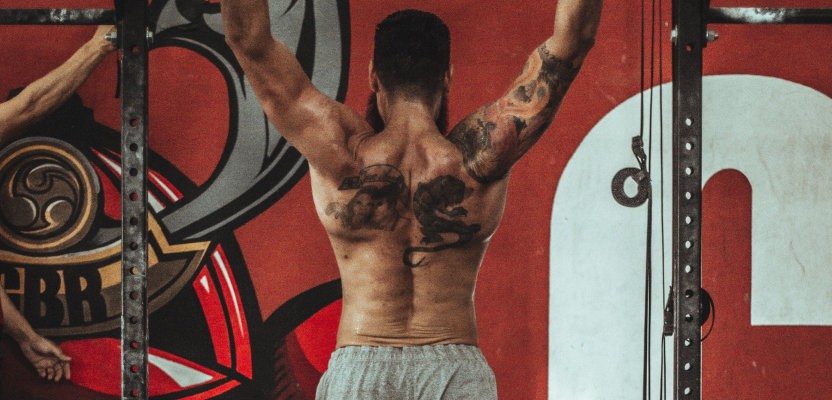 Launching a sportswear brand follows the same process as any other print-on-demand business – find an idea that fills a market gap, and then reach out to your ideal customers. Sounds simple, right? And it is, if you adopt the right research method. 
Unfortunately, for many shop owners, the ideation stage is draining – finding a winning idea in a crowded market often requires wicked creativity. But if you haven't got a clear concept in mind just yet, don't worry – we know where you can go looking for it. 
To come up with a lucrative idea for your fitness merch, try focusing on the reasons why people work out in the first place.
Current trends in the industry can help shape your fitness merch ideas and design your own workout clothes adjusted to the customer needs. Use tools like Google Trends to explore what all the current rage is about or grab some ideas from our suggestions.
Researching the competition and your buyer personas will help gather more information about the target market and their inner drivers to exercise. As soon as you uncover these motivations and know what matters most to the potential customers, you can create products that align with their personal values and aspirations.
Only by doing the research thoroughly and taking the time to analyze and understand customer profiles, you'll have an actual chance at creating fitness merchandise that generates sales. 
Whether it's yoga pants, custom sweatpants, socks, or a gym bag, it needs to be authentic and 'speak' to your customer.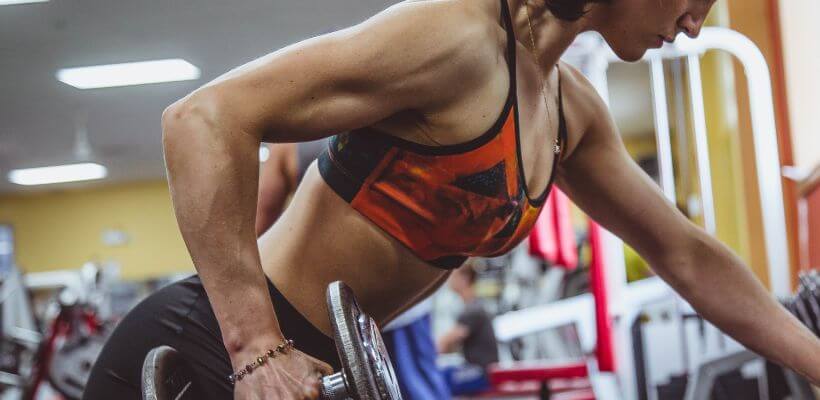 Another important factor to consider is the shopper's mindset. Staying fit and leading a healthy lifestyle is an aspiration for many, but it's one that's pretty difficult to achieve.
Tailoring your product designs and marketing messages to the various mental stages people go through before joining the gym (or the active life) could be a money-making strategy.
Millennials and Gen X are particularly susceptible to the idea of "getting ready" to hit the gym in style. They consider the shopping for gym gear and apparel as an experience and something not to be missed.
Helping newly committed gym-goers to buy their way into the exercise is good for you and good for them – everyone wins. 
So, when planning your merchandise, make sure to include the key basic accessories and items people might want to buy before joining a gym, such as water bottles, leggings, towels, custom sneakers, t-shirts, gym bags, and more.
Trends and Spending Habits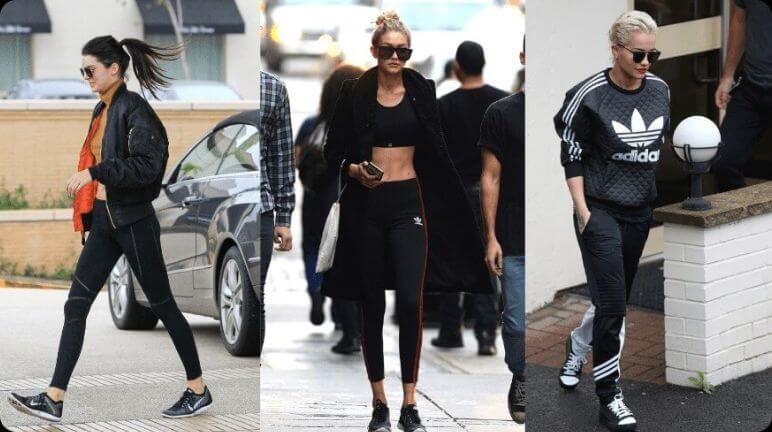 Somehow, the workout clothes have spilled out from the gyms and onto the streets – immediately becoming the "trend de jour". 
Due to changes in the fashion world and the urge to get more comfortable while working from home, the fitness apparel industry has become a goldmine. In the past two years, sustainable activewear in the US and UK has grown 45-65%.
And just like that, this has become the year of athleisure and the golden age for unique fitness merch.
Since the market's shift to activewear, trend-spotting and behavioural marketing in the print-on-demand industry has also grown in popularity. Knowing your target customers' spending habits and keeping tabs on the latest fitness trends is now a crucial part of running a successful POD business.
When creating your own fitness merch line, consider the following recent trends in the apparel industry and the key changes in consumer spending habits:
Athleisure orders have increased by

84%

since the start of the pandemic, which only goes to highlight the tremendous opportunity for activewear brands.  

The global activewear market size is projected to reach USD

567 billion

by 2024.
What trends you need to follow and how to interpret them will largely depend on the type of fitness merch you want to sell.
However, it's important to keep a close eye on the emerging industry trends to catch the opportunities before they go mainstream – whether it's men's leggings or activewear dresses, you need to keep your store stocked with potential bestsellers.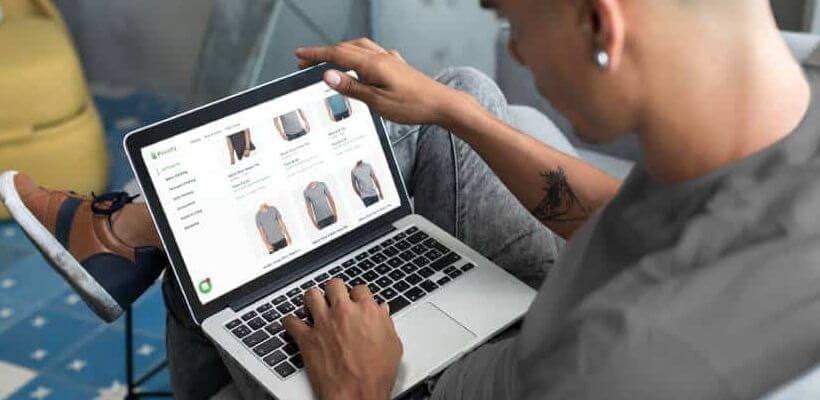 Asia-Pacific region is expected to be the fastest-growing region in terms of sportswear sales, while Europe and the Americas aren't far behind either. This means scores of new players from all continents are flocking to join and explore the booming market, and the competition is getting heated. 
Those merchants that succeed in building a strong brand and a diverse offering will eventually make themselves seen and earn a place at the table. So, how can you be one of them?
One of the key prerequisites for success in the POD business is crafting best-in-class designs. 
Creative and compelling designs can help new brands build their tribe much faster and attract the best type of shoppers – people who know what they want and are ready to pay for it.
To help you get the designs and creative process on point, we've gathered some useful design tips and guidelines.
How to Pick Out the Right Colors?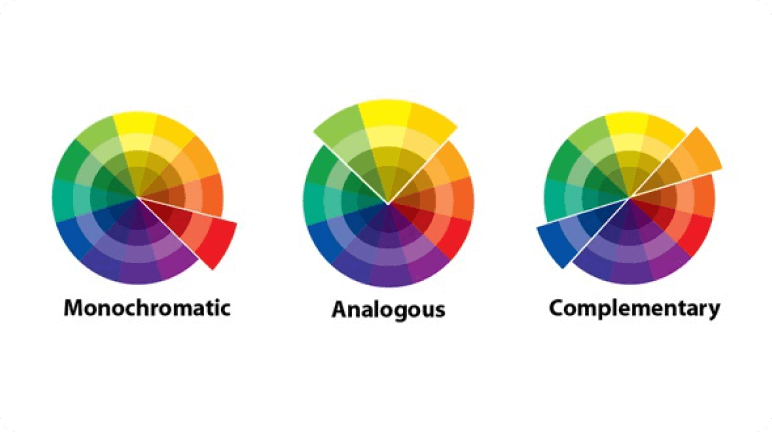 Some color combinations are more vibrant than others, so you should approach this process with some care. 
It's always a good idea to stock up on the main basic colors, such as white, black, and grey, for many gym-goers simply want to avoid any unnecessary attention where they can. 
Next, study the color wheel and pick out the color combinations that you think will appeal to your customers as well as your brand.
Consider Adding Extra Design Elements
Since the dawn of text-led apparel designs, shoppers have fallen in love with the idea of wearing clothes that align with their personalities and values. 
This trend is very much alive in the sportswear market, too. To make your products stand out, try playing around with graphic elements, such as icons and fonts. You'll be surprised how a tiny tweak can totally change a design.
Choose Easy-To-Work-With Products
While capitalizing on trends is critical, you shouldn't neglect the base of your product offering. 
Men's leggings will come and go but the demand for great-looking gym t-shirts will always remain strong. Here are a few bestselling items from our own product catalog that might give you some extra ideas: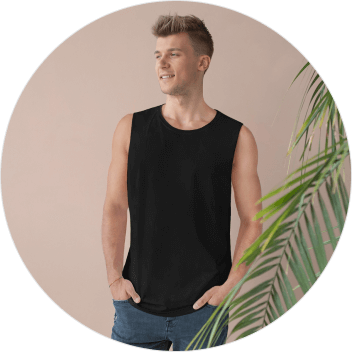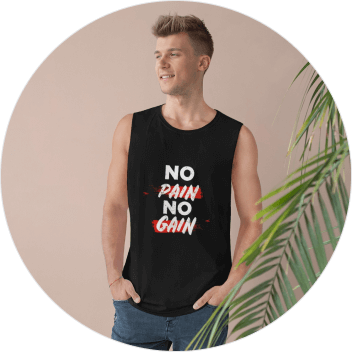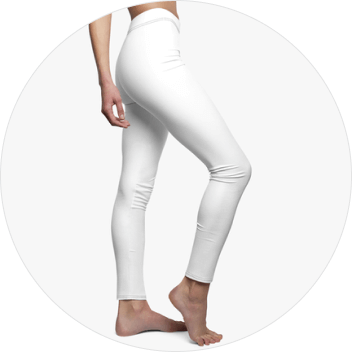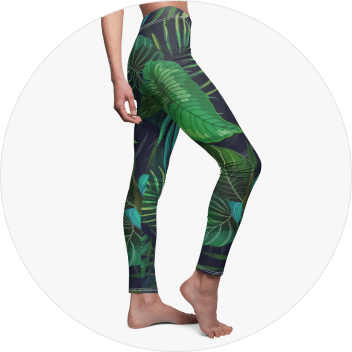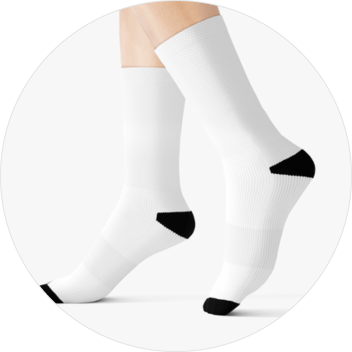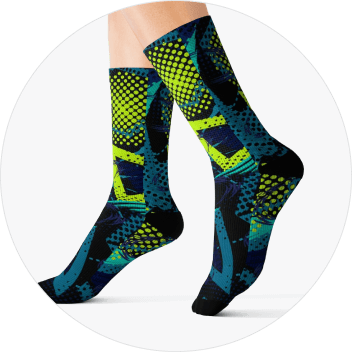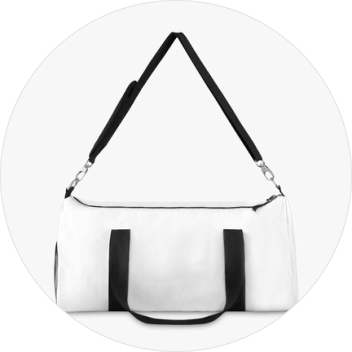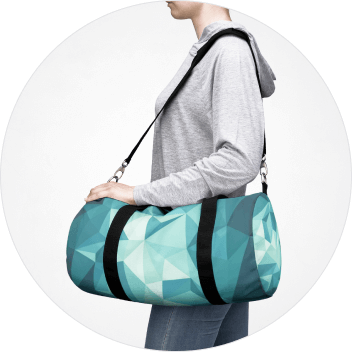 In the world of print on demand, the only limit is your own imagination. So take some time to create standout designs and build a brand that outlasts all trends.
How to Start Your Own Fitness Clothing Line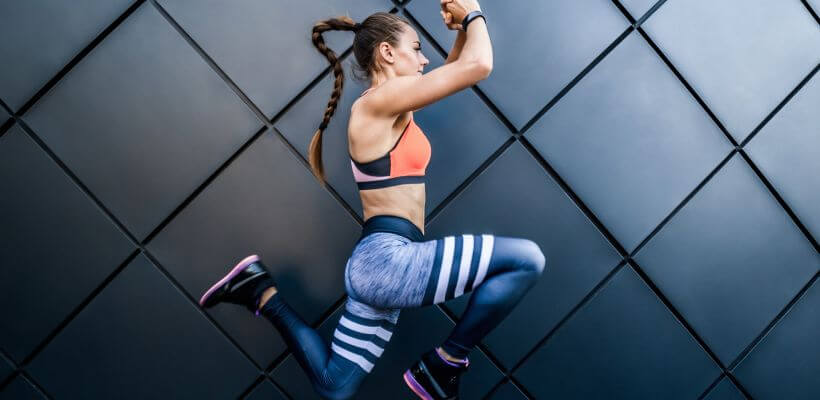 1. Conduct Market Research
Market research is an important component of not only developing your products, brand and business, but marketing strategy as well. It provides important insight and information about the current statistics, trends, competitors, and potential customers you want to reach. 
Analyzing the market and buyer personas, a merchant can estimate their sales and profitability based on facts. Get insight into customer needs, shopping habits, and expectations to plan your next steps. 
Market research can make or break the success of your business, so be wise and gather all the information to lead your brand to greatness.
Come up with product ideas and choose the ones that best fit your brand and target customers. Whether it's fitness apparel, such as leggings, t-shirts, socks, and more, or accessories. From water bottles with built-in speakers to personalized yoga mats and hats. The options are endless.
The bigger the product scope you add to your online store, the wider audience will be attracted to the brand. Choose fitness merch for the current trends and stay on top of the competition. Products for different age groups, workout types, and routines will be in demand all year round.
Design fitness apparel either with your own ideas or by outsourcing. Create personalized designs or buy already-made patterns and images from artists on such marketplaces as Fiverr. 
Designing merchandise is easy and simple with our user-friendly Mockup Generator. Upload an image, add layers or text, choose between fonts, sizes, and color. Or use free images from Shutterstock to create the perfect design. Pay for it only after making a sale. Now even the non-designers can explore the world of arts and crafts.
Deciding where to sell is an important step for anyone entering the world of eCommerce.

Create your own website or browse through our list of the best sites to sell online. List merchandise on any of the biggest marketplaces and platforms and use their popularity to boost traffic and sales.
Printify offers simple integration with all the biggest eCommerce players, such as Squarespace, Shopify, eBay, Etsy, WooCommerce, and more. To cover more ground when it comes to targeting audiences, pick multiple spaces at once and thrive amongst competitors worldwide.
Every merchant needs to know how to price a product for ultimate success. Price too high and no one will buy it. 
Price it too low and you won't make a profit. It is important to set the right price for a product to earn your place amongst the competition and rank your products high.
Pick the right pricing strategy for your fitness merch and keep in mind all the metrics concerning product development. Competitor prices, fixed costs, and variable costs should all be taken into consideration when setting a price for the final product.
Simply listing your products online isn't going to be enough. Start marketing and promoting the merchandise online and on social media platforms to boost traffic and brand awareness. Let the people know why your products are the best and why they need them.
It's important to monitor your performance on a regular basis. Follow the trends and statistics of your sales. 
What sells? What doesn't? And why? What are the competitors doing and how can you do it better? And for the products that already sell well, think of how to maintain the sales or improve them.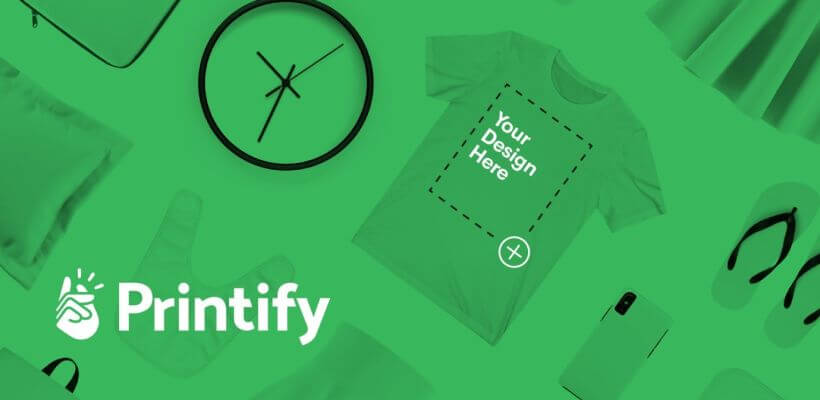 Printify is the go-to partner for those who want to sell workout clothes from home. It is a leading print-on-demand company with the best prices in the market, quality partnerships around the world, and a team that always has your back.
As more and more people switch to a healthier and more active lifestyle, it's the perfect opportunity for merchants to enter the world of eCommerce with custom fitness merch. Design and sell activewear and accessories, and boost your sales by following the current trends.
POD is the perfect business model for start-ups and side-hustles. No inventory, no risk, and no up-front investment for products, equipment, premises, and more. Enjoy the freedom and simplicity. Sell workout clothes from home with Printify.
Sell Custom Fitness Merch With Printify!
Share the article
Topics