30 Greatest Father's Day Card Ideas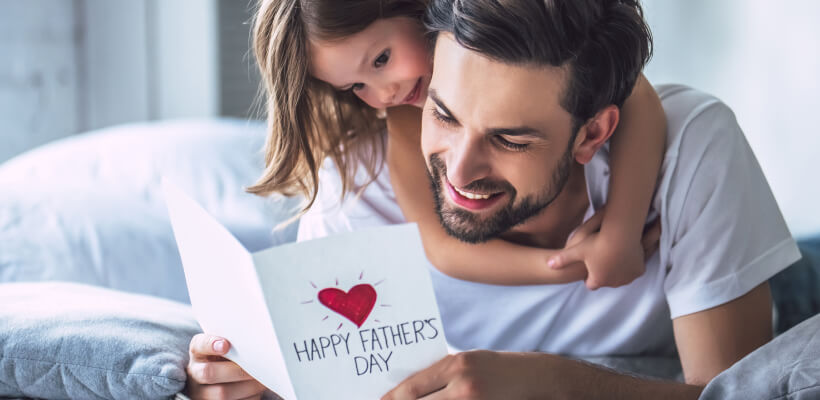 If you're looking for something perfect to add to your Father's Day gift or your store, a use for the impressive number of dad jokes you've collected, or you happen to know a dad – any dad, we have a solution, and it comes inside of an envelope. Yes, it's the classic greeting card. Hand-written cards are the dearest and most personal gifts you can give someone. In this case, this someone should be a dad. Otherwise, it can get a bit awkward.
To inspire you to first appreciate at least one dad in your life and then create your line of beautiful, funny, or otherwise visually engaging cards, it's time to share a list of our favorite Father's Day greeting card ideas.
Happy Father's Day Card Ideas
This category check marks all of the basic requirements for a good greeting card. Does it express appreciation? Does it convey emotion that many of us have difficulty saying aloud? Will it make a dad happy? We can say for sure that if a dad cries when receiving one of these cards, those will be tears of joy.
Happy Father's Day to the Best Dad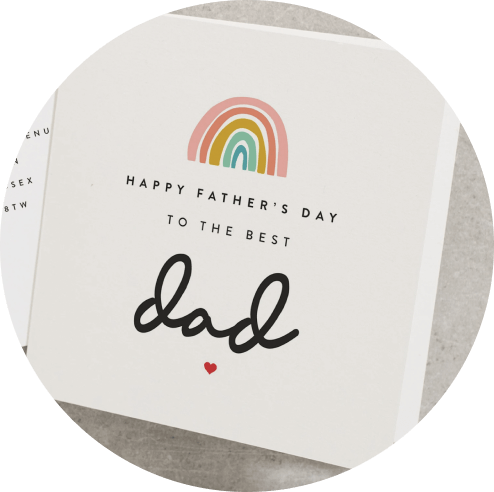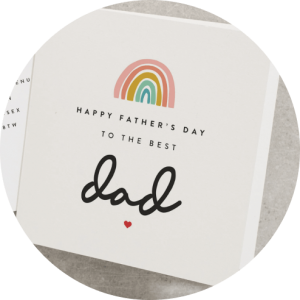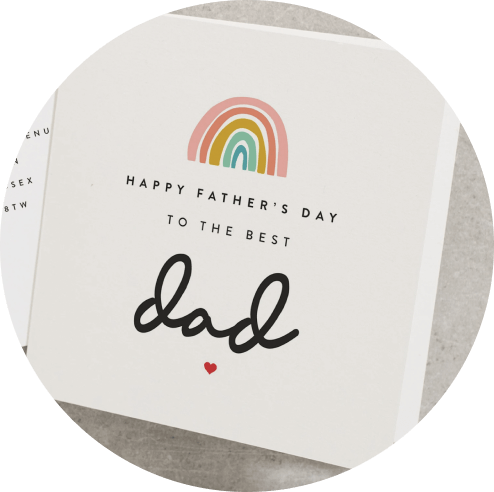 Bad dads don't get cards, so this one might come across as a bit redundant. Nevertheless, this minimalistic card design is light, sweet, and hits the spot. Show your best dad some appreciation by giving him a card that verifies his unmatched bestness.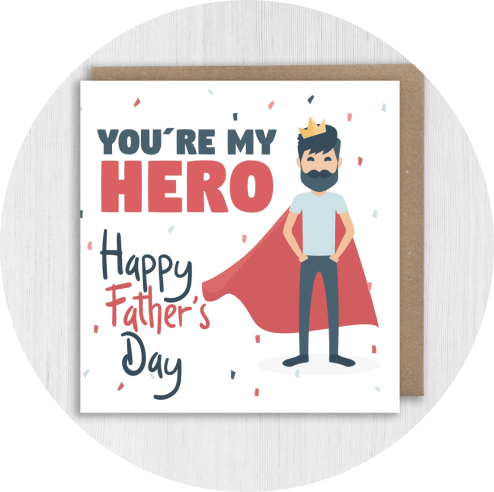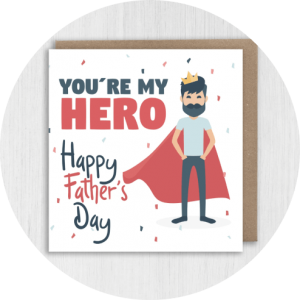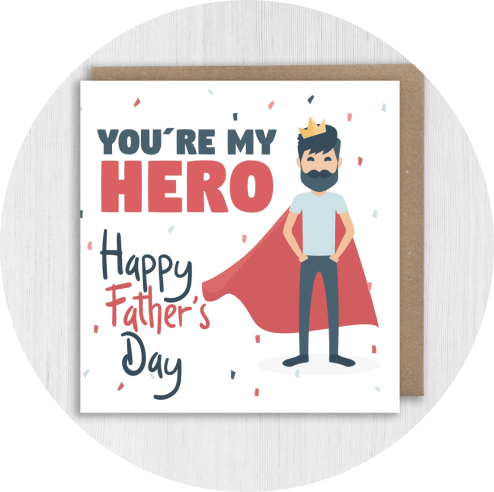 This is the perfect Father's Day card for one hero of a dad or even a non-hero dad that enjoys cosplaying as Superman. Let your dad know that you appreciate all the times he's come to your rescue, whether it be math homework, fixing your broken refrigerator, or offering a warm hug.
Personalized Father's Day Card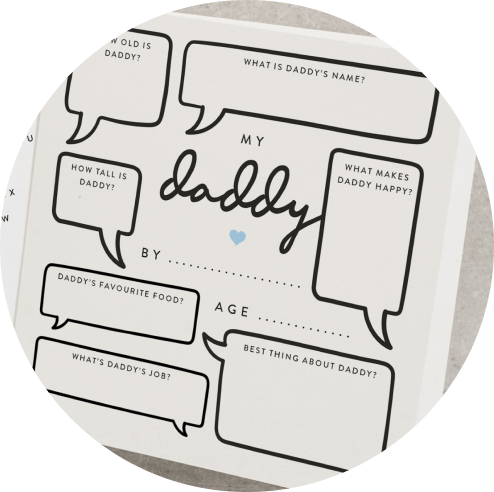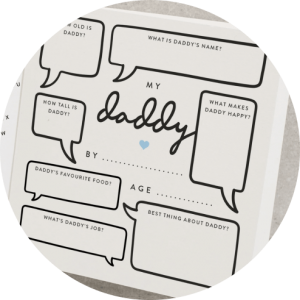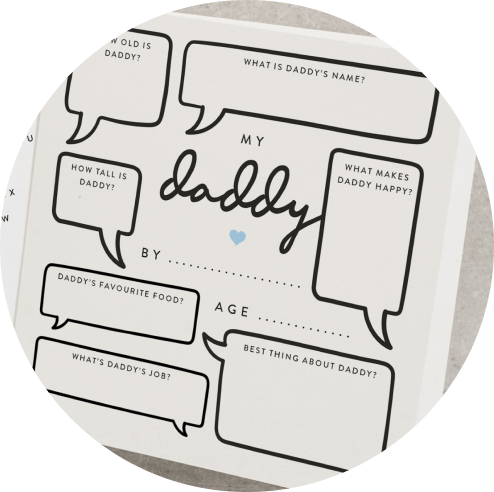 This card is not only for a dad that enjoys family trivia nights but also just about any other dad. It's useful to have a card listing your height and age with you at all times in case you've left your driver's license at home. Test yourself and show your dad that you remember things about him by gifting him a card that proves it.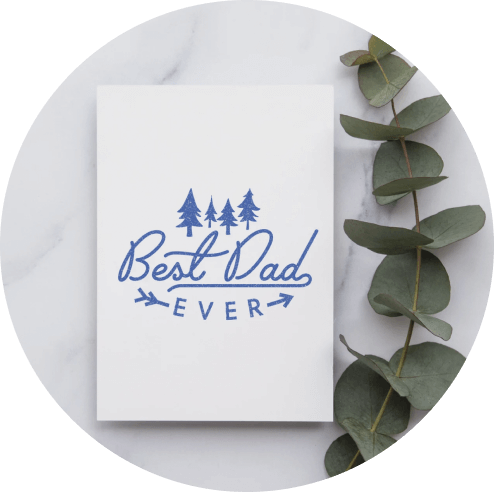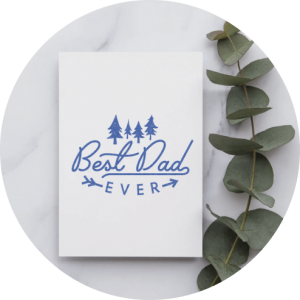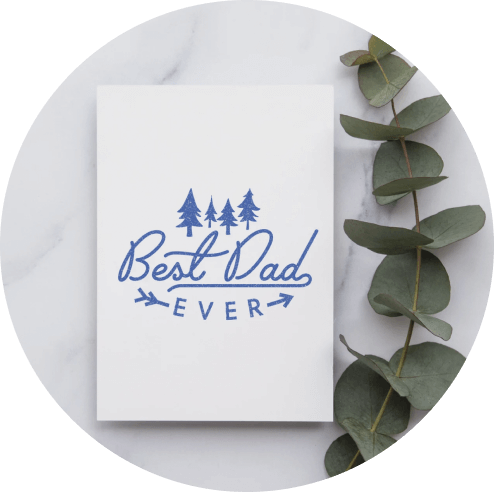 When complimenting a dad, you can use words like "best" or "greatest", but why stop there? Let a dad know that he's better than all other dads in his category of dads by adding superlatives like "of all time" or "ever". If hyperbole has a place, it's definitely on a Father's Day card like this one.
Happy Father's Day BBQ King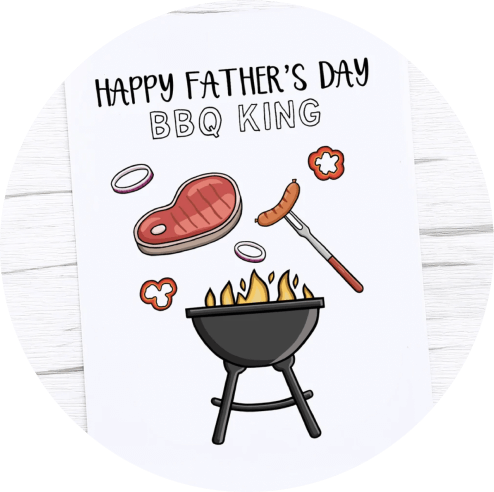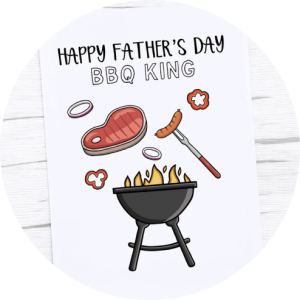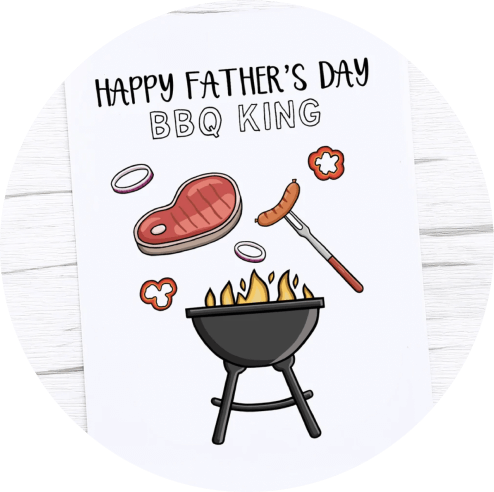 Do some dads pride themselves in knowing how to cook a real mean steak? Of course! Letting a dad know he's the best BBQ dad out there or the best at whatever other thing he likes doing will give much-needed affirmation.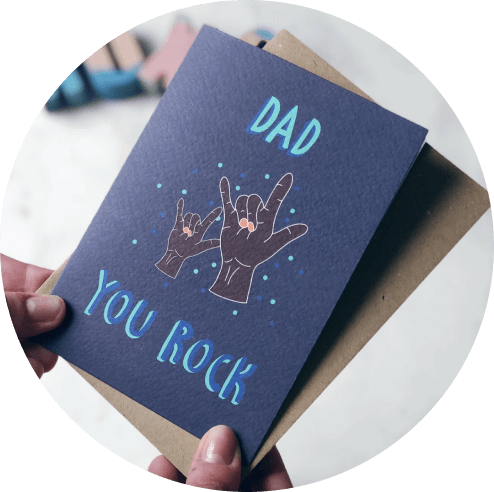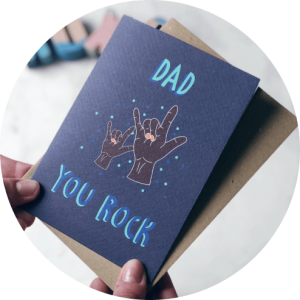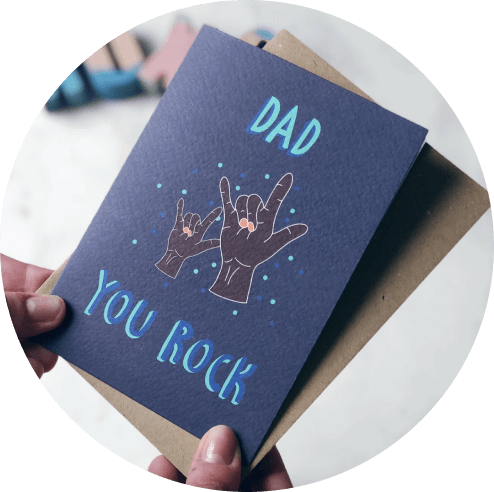 Nothing even comes close in importance than knowing that your kid thinks you're cool. That's what makes this card one of the best Father's Day gifts you could give. There's no need for a lengthy explanation when you can brighten up your dad's day by simply letting him know he rocks!
Funny Father's Day Card Ideas
Oh, yes, there are funny Father's Day greeting cards ahead, and this time they're funny on purpose. It's common knowledge that many dads are best known for their jolly sense of humor, so why not quench the thirst for a good laugh with the help of a funny card?
If at First You Don't Succeed, Call DAD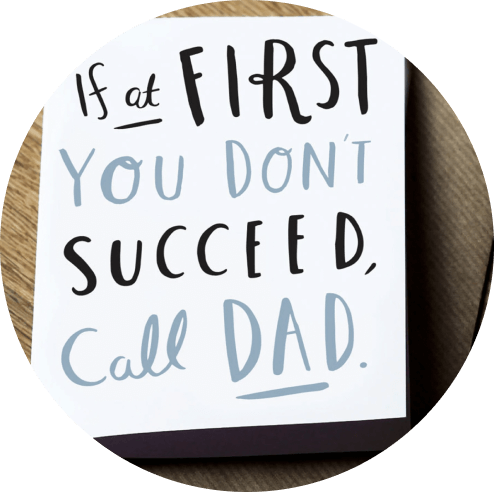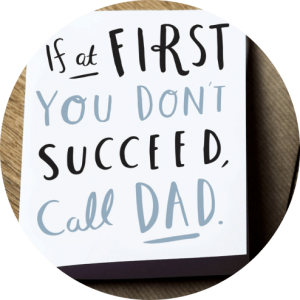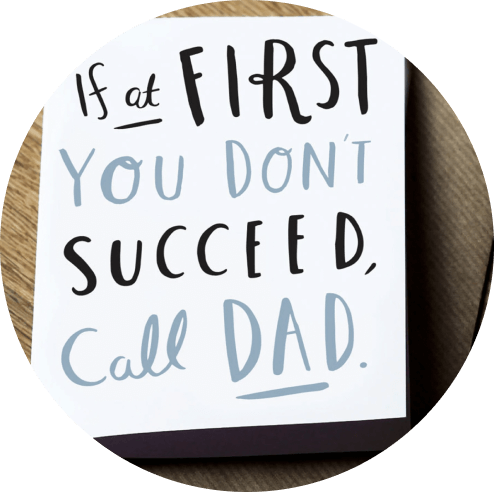 What else could be as reliable as a dad? Like a real-life cheat code, he will always provide you with a solution to whatever problem you've encountered. Let him know that you appreciate him being someone you can count on by choosing a card that spells that out for you.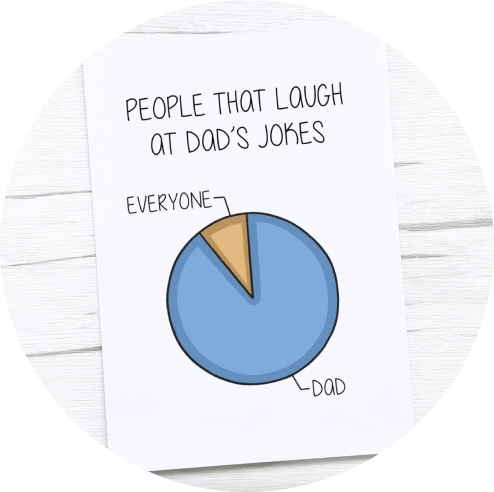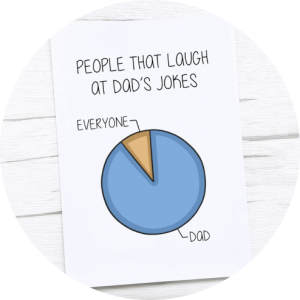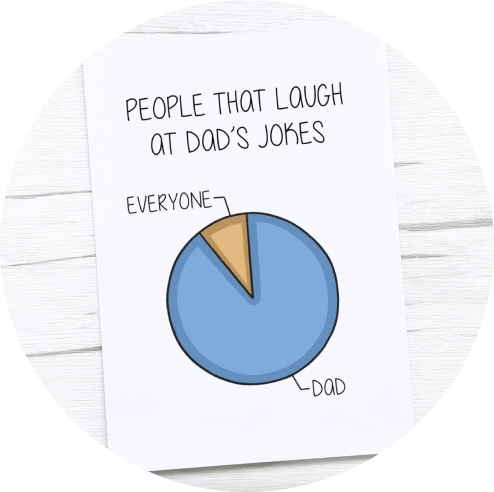 Dad jokes are an essential character aspect for many dads, both individually and collectively. These jokes aren't only light and fun puns but also universally reviled. We mean loved – it's fun to hate them. Don't forget to remind your dad that his sense of humor is an acquired taste with the help of this informative pie chart.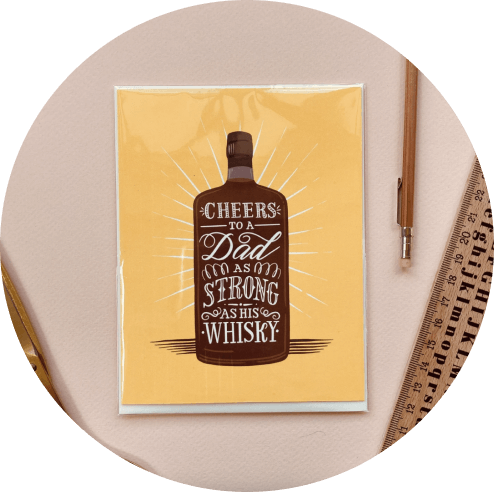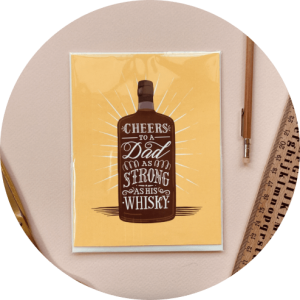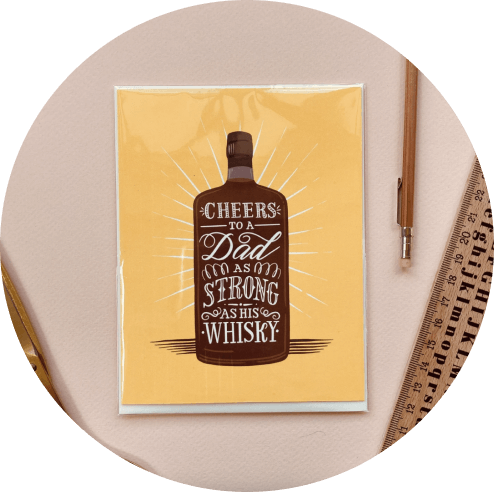 A dad is often seen as the leader, the head of the family, and we agree that holding this position can be very stressful. A greeting card like this one acknowledges that it can sometimes definitely be challenging, but you, as a dad, are strong enough to handle whatever challenges come your way.
Happy Father's Day From Your Greatest Ever Mistake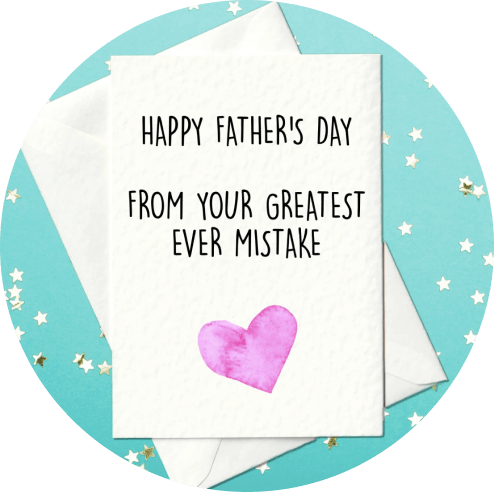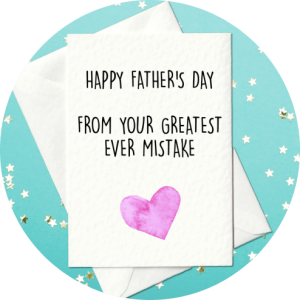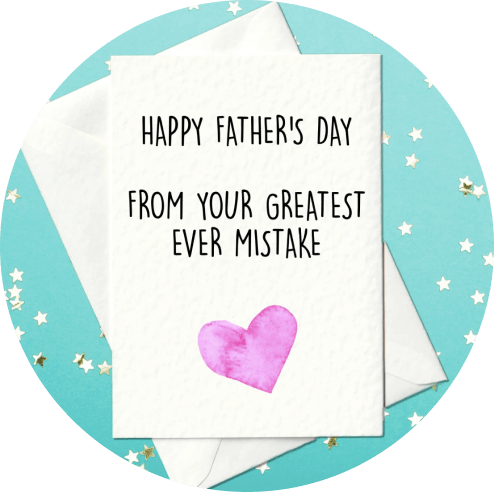 You can compliment a dad's exceptional patience with a card that criticizes something about your character. In addition to stating his importance, it will also let him know that you're painfully aware of your shortcomings, but in a fun way! In an ideal scenario, accompany this card with a hug.
You're Non-Fungible to Me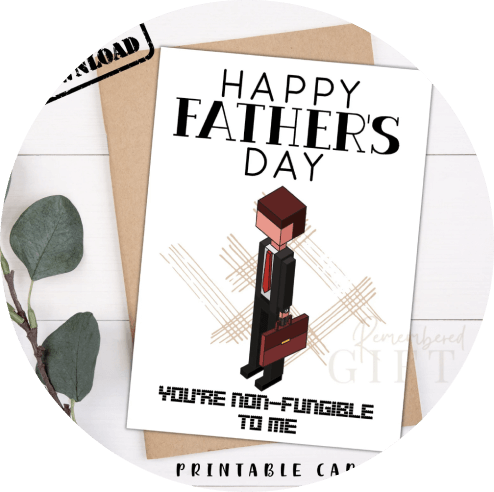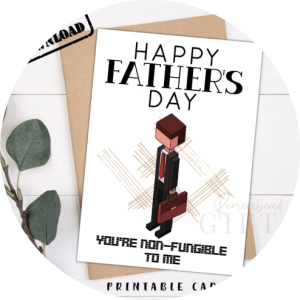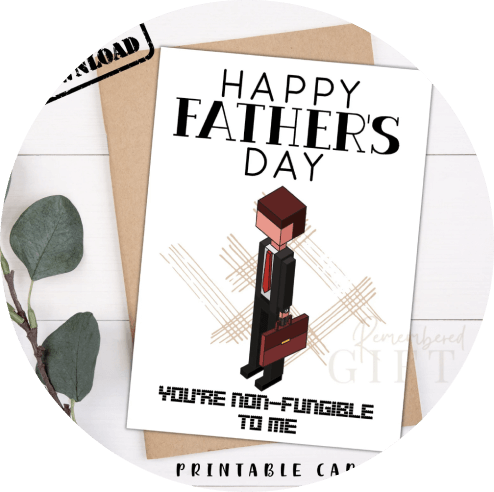 We're at the final two funny card suggestions, so you can expect this list to reach absurd levels of corniness. Instead of an NFT, this one's for an NFD – that's right, it's for a non-fungible dad. At least this is an acronym everyone can understand.
Freddie Mercury Inspired Father's Day Card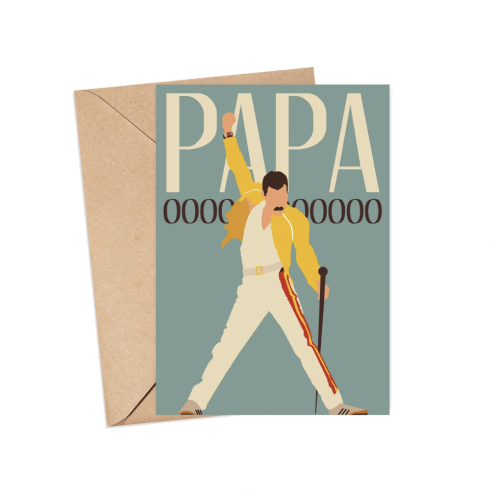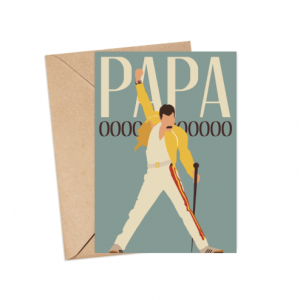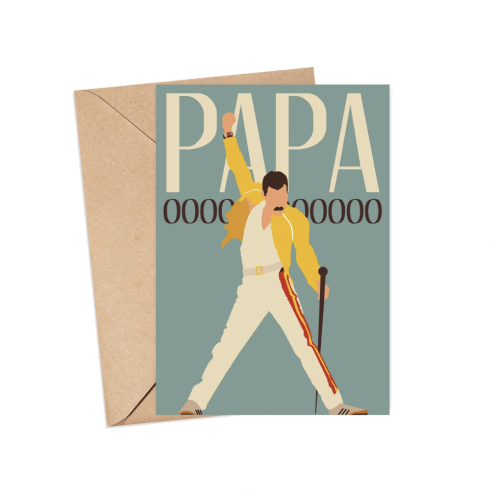 Do you want to hear your dad sing, even if he's never sung before? Well, if you go with this card, your chances of hearing some acapella Bohemian Rhapsody have increased by a significant margin. Let's be real here – it'll be hard for you to find a dad who isn't a Queen fan. That's what makes this card such a solid choice.
Cute Father's Day Card Ideas
Although dads can be cute – we have nothing against dads – this category is more about the cuteness of his children. Your task, as the cute child, or the parent of a cute child, is to find the most adorable thing you can imagine on a greeting card.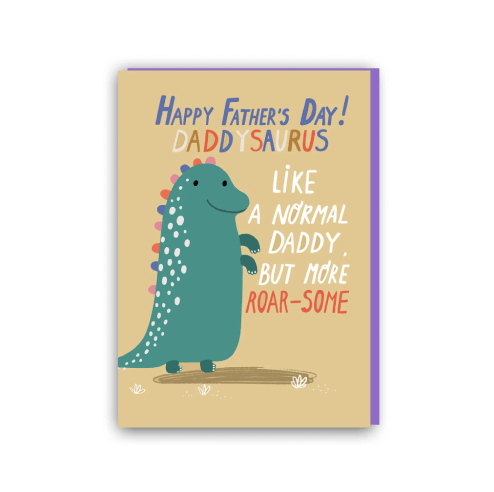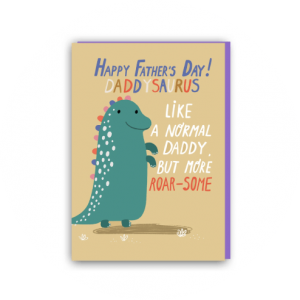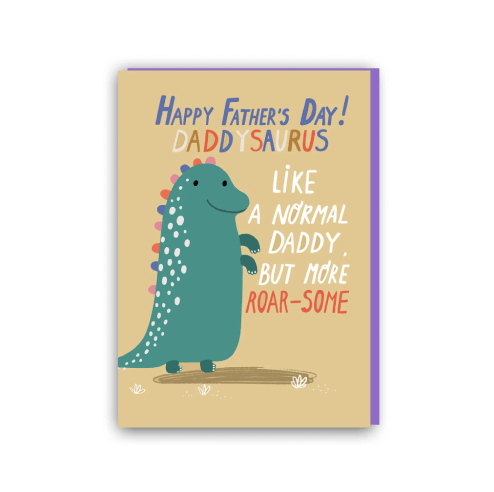 It's well documented that dads have a lot in common with dinosaurs, and it's not only the fact that they are both ancient. Think about how you could let your dad know that he's about as awesome as a dinosaur. This daddysaurus card is just one of the ways you can do that!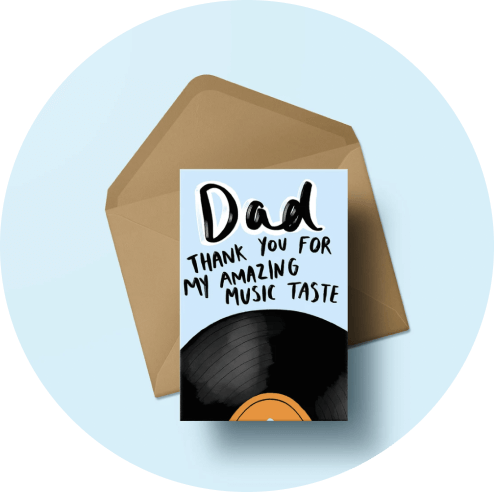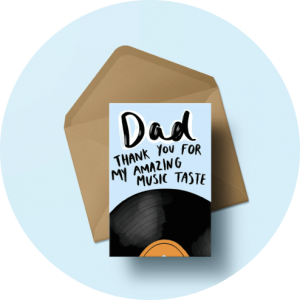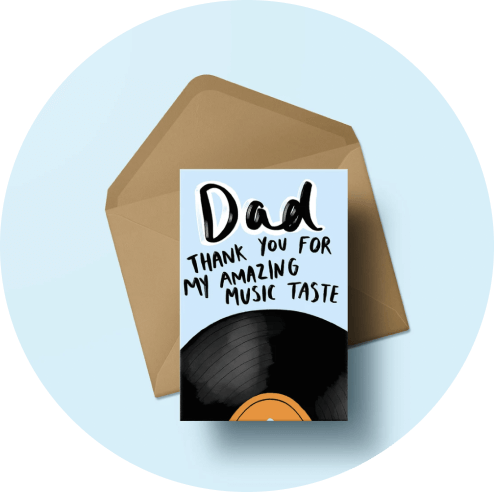 When you come into existence, your parents are your first friends. They'll show you their interests and hobbies. Some of those things will stick with you throughout your life, and you can use this Father's Day to thank your dad for sharing that with you. You can do that with a card like this.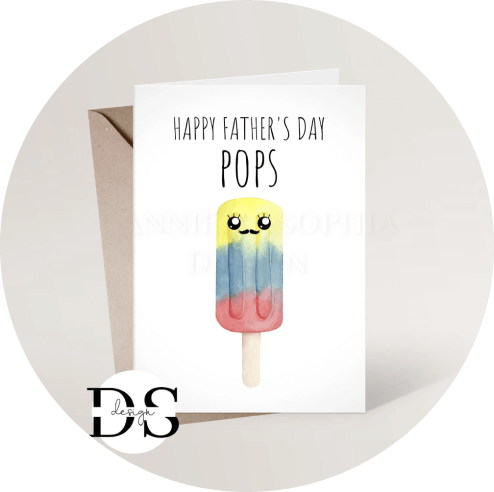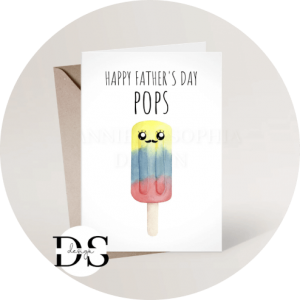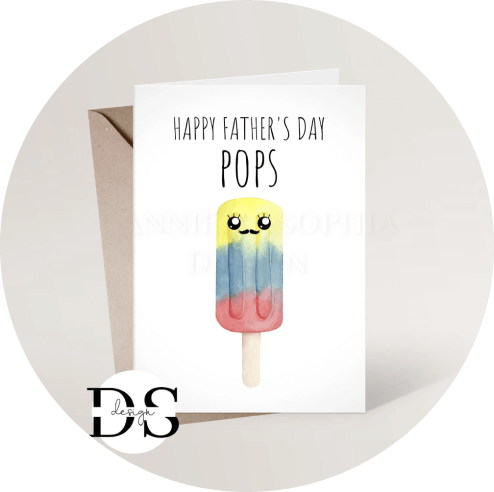 "Pop" sounds like it's short for something – a POPsicle! Surprise your old man with the appropriate card to let him know how cool, chill, and sometimes even sweet he is. Maybe this one is more for you to enjoy, similar to how you enjoy your dad's company.
You're One in a Bee-llion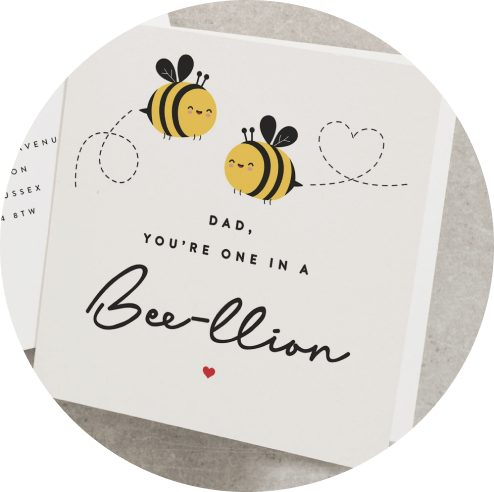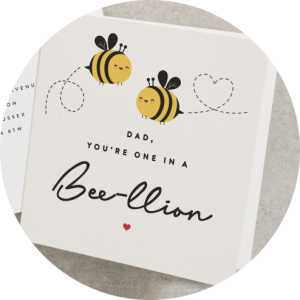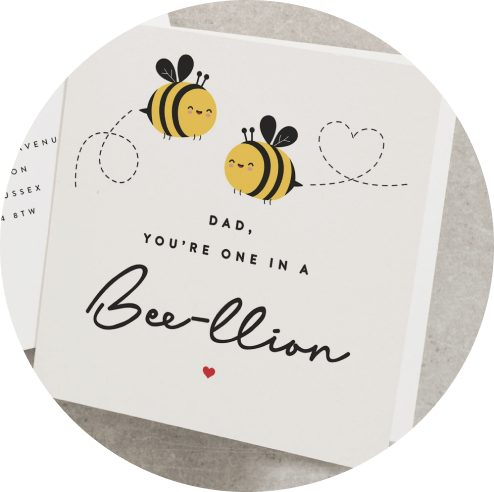 Is this wordplay, or is it bad spelling? With kids, you never know! But you can surely let your dad know that he's unique and just about as essential as bees are to the ecosystem's survival. This card is precious, though it could also excuse adding a lion on it.
You're Making the World a Happier Place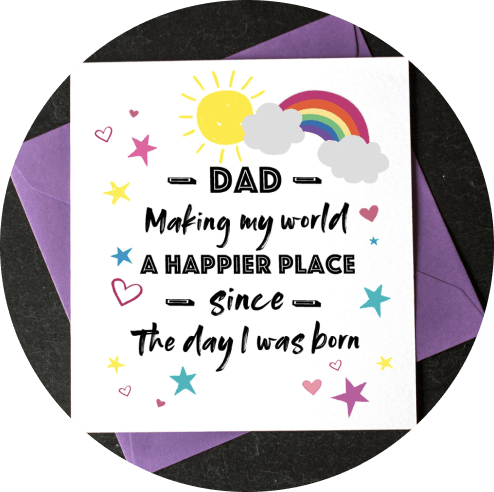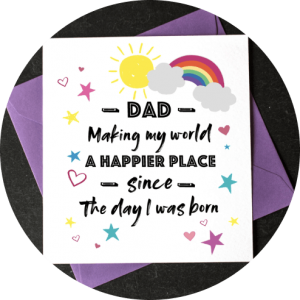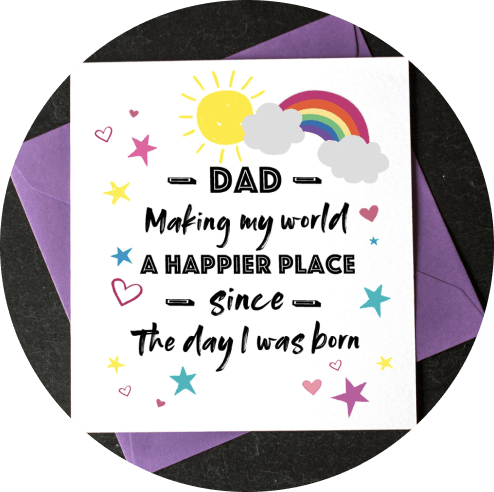 You can't overstate the influence of a quality dad in your life. It's a great feeling to know that your dad's doing all he can to make the world a happier place for his family. Don't you think he's earned an award of excellence in the form of a greeting card?
Happy Father's Day From Your Little Monster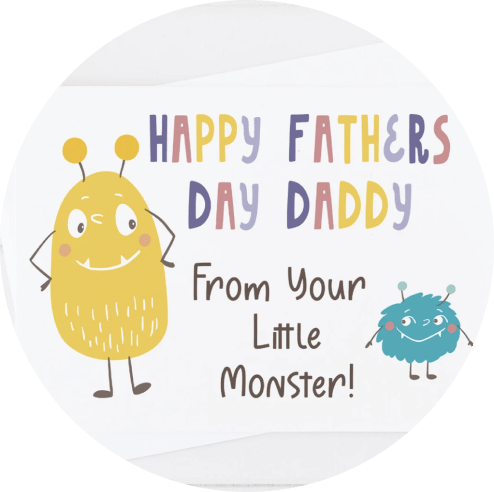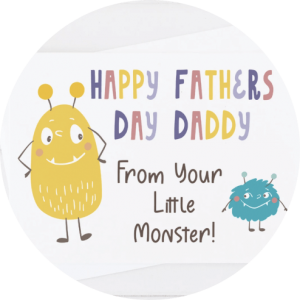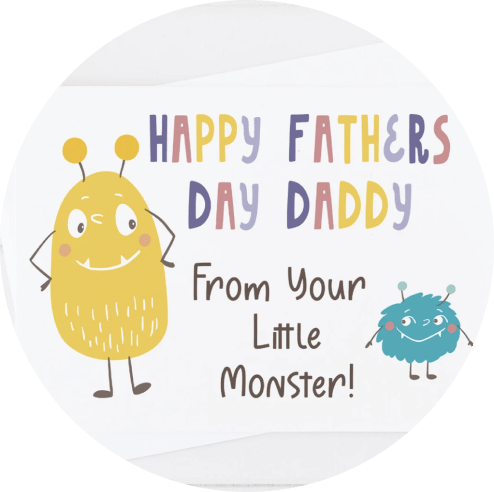 We opened the cute card list with a dinosaur, and it is only appropriate to close it off with these two monster individuals. Keeping the colors warm will ensure that these creatures don't scare any dads away. If you have a sibling, add an 's' at the end of the message, and it's gained double the power in cuteness.
Father's Day Card Ideas from Wife
As a wife, a lot, if not all, of the time, you'll be in charge of finding the perfect Father's Day card for your husband. This can certainly be a challenging task for your already packed schedule. But don't worry, this is where our card suggestions take the stage to make your life easier and the whole process more fun.
Happy Father's Day to My Husband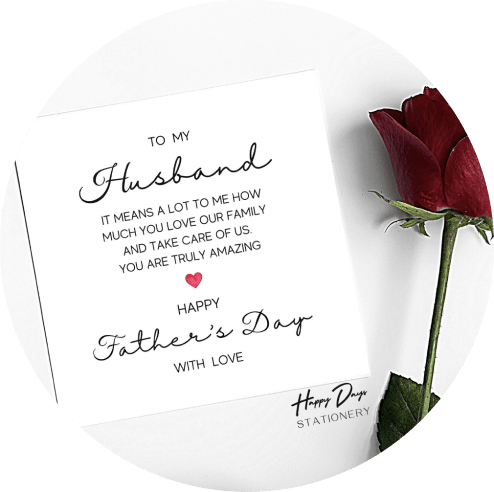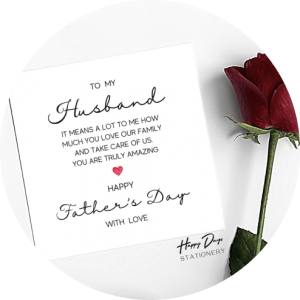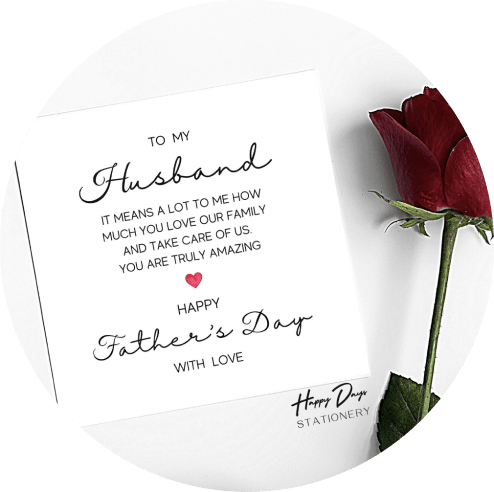 It's time to stick to the basics and let your husband know just how much you love that he loves your family. It's also essential to clarify that you appreciate everything he does for you. There's no shame in simply expressing your appreciation in plain words. You can take a look at this minimalistic card for inspiration.
You're Doing Such an Incredible Job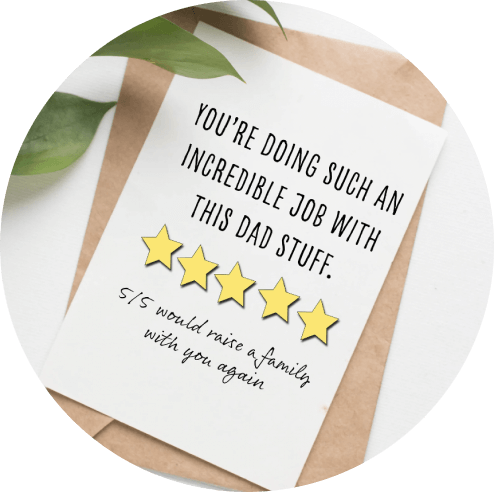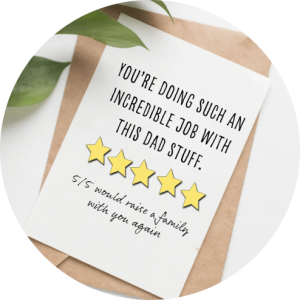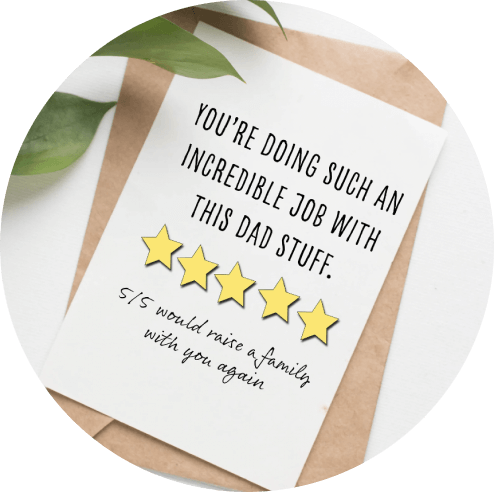 Here's another way to tell your husband that you appreciate everything he does for the family, especially if you haven't found the time to do it in your day-to-day life. Submit a 5-star review of your husband's services with the help of a card like this one to bump up his dad rank.
Best Husband in the World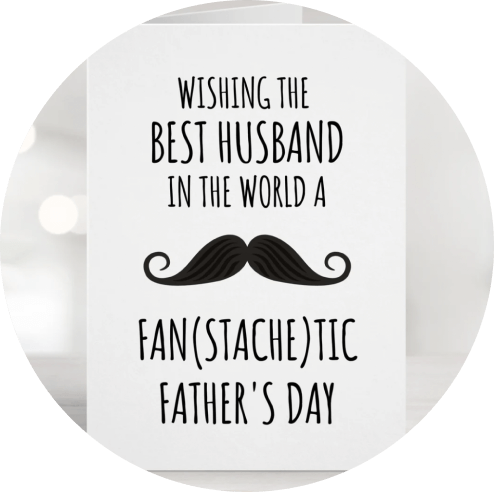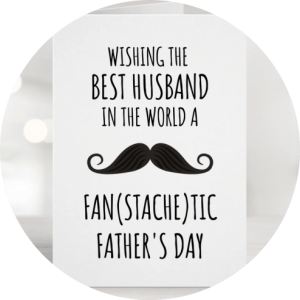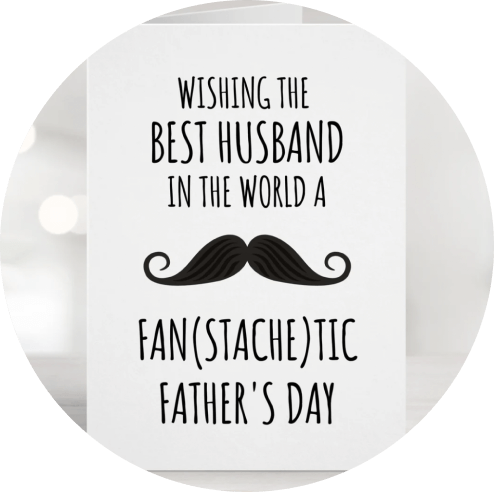 There's certainly an abundance of husbands on this planet, so it's truly exceptional to be singled out as the best. Plus points if your target dad has a mustache because that's where you hide all the puns. This one is not the only "best husband" card out there, but it's truly spec-stache-ular.
To a Guy That Never Goes Out of Style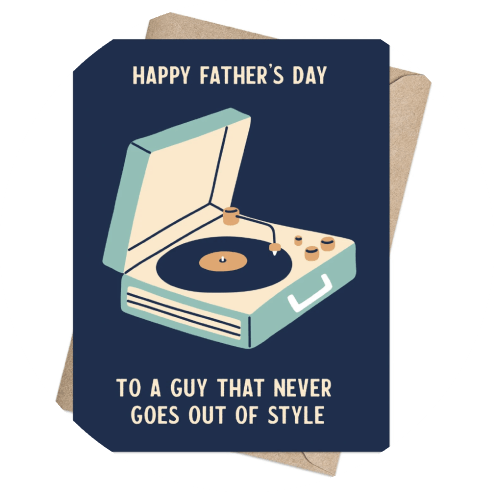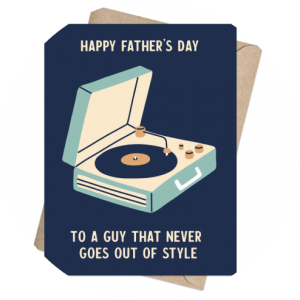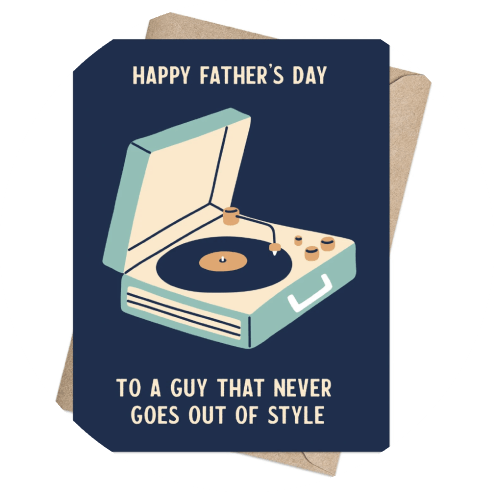 Give your dad a confirmation that he is, and will always remain, relevant in your life. That is, essentially, the main thing the average dad wants to hear on Father's Day. Presenting this card is just one of the ways you can ensure that he receives that message loud and clear.
Father's Day Card Ideas from Son
Sometimes you'll feel a need to prepare a separate greeting card for your dad, especially if you don't like what your mom has picked out. As a dad's son, you'll generally be expected to deliver a friendly, funny, and maybe even a low-effort greeting card, but don't box yourself up. Choose whatever speaks to you.
The Real Father's Day Gift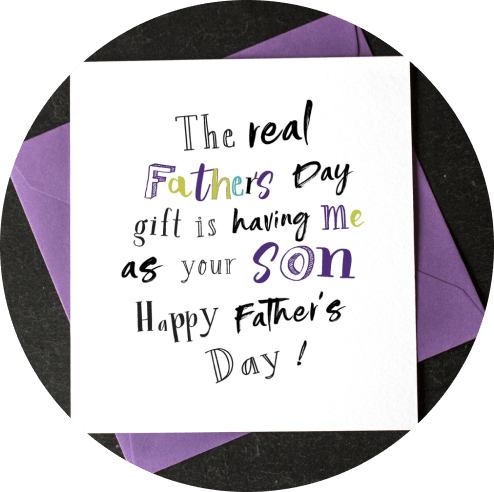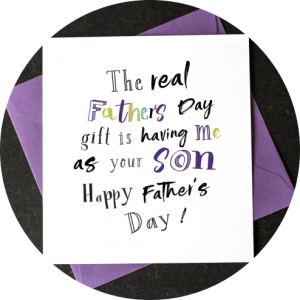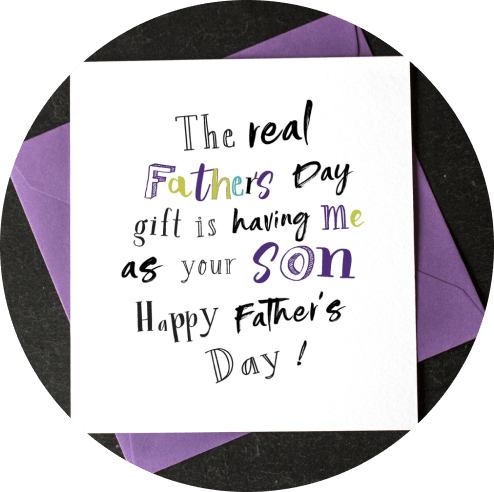 Celebrate your father's greatest achievement – of course, we mean you. It's clear that not all fathers are capable of having you as their son, and you are, indeed, truly exceptional. A card that states that you're the gift is a budget-friendly way to congratulate your dad on this festive day.
Congrats on Raising Such an Amazing Son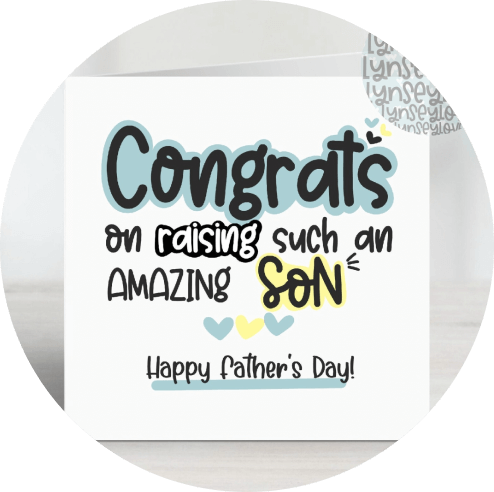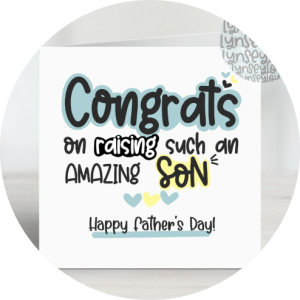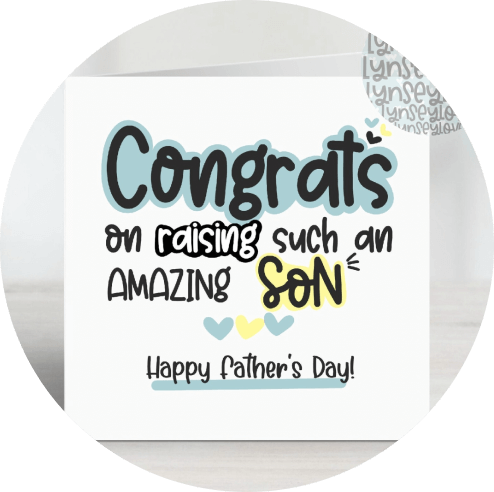 Kill two birds with one stone and complement yourself with this Father's Day card. Congratulate your father on a job well done raising such a fantastic person. This card may be more hyperbolic than the first one, but you'll know if your dad is the kind of dad who'd take these comments in jest.
Happy Father's Day From Your Little Man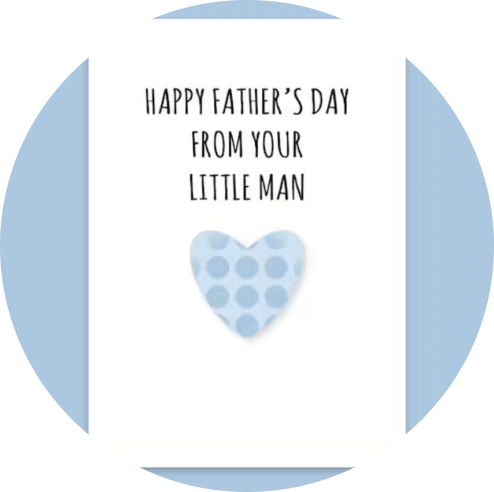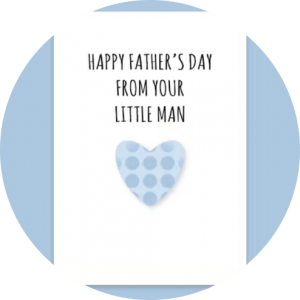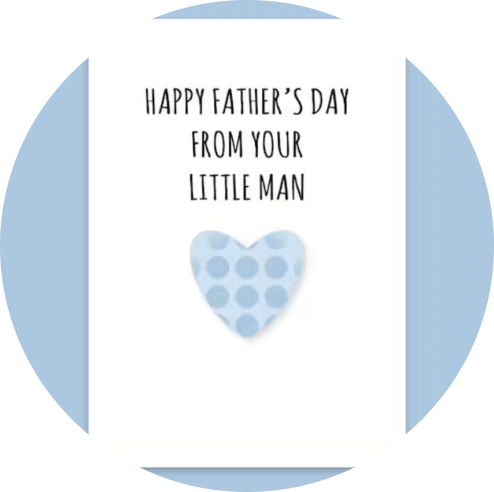 If you're small enough to get picked up, you're probably not reading this blog, but you're definitely the primary target audience for this card suggestion. Maybe this one is more for a mom or a bigger sister to get, or perhaps you're okay with your dad jokingly calling you "little man" for the rest of your life.
Father and Son, Best Friends for Life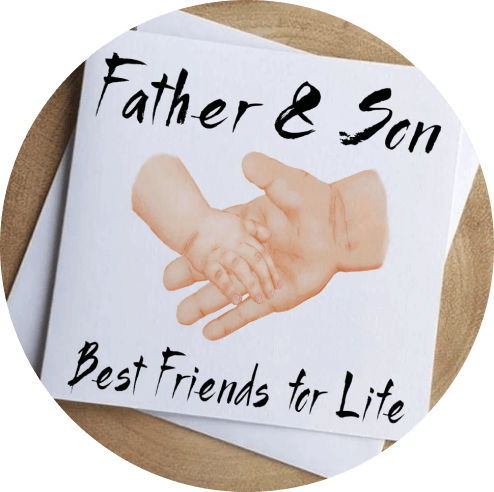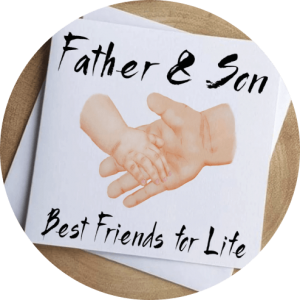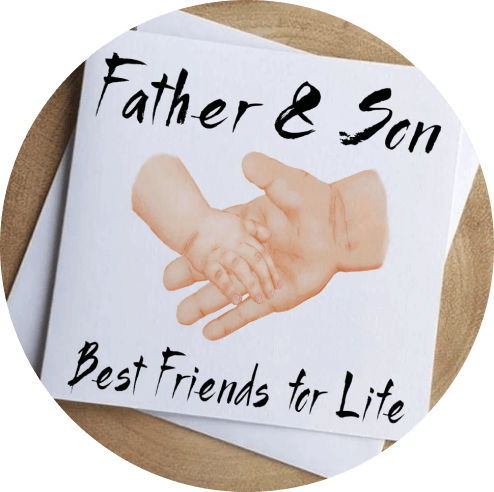 Your father is one of your first friends, and it's possible to grow apart, but at the same time, it's truly inspirational to see a father and son that end up being lifelong friends. This is something very special that should be celebrated. Fortunately, you can do just that with this card.
Father's Day Card Ideas From Daughter
You're expected to cover the more emotional side of a Father's Day greeting as a daughter because boys presumably don't cry. All of this comes easy, as you're both used to it and great at it. You already know the right words your dad needs to hear, but here are a few suggestions that might be just the thing you're looking for. 
Dad, I Will Always Be Your Financial Burden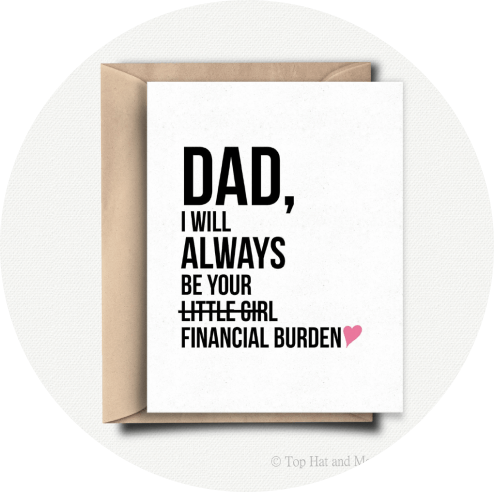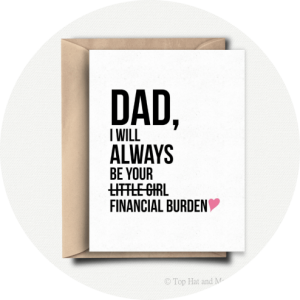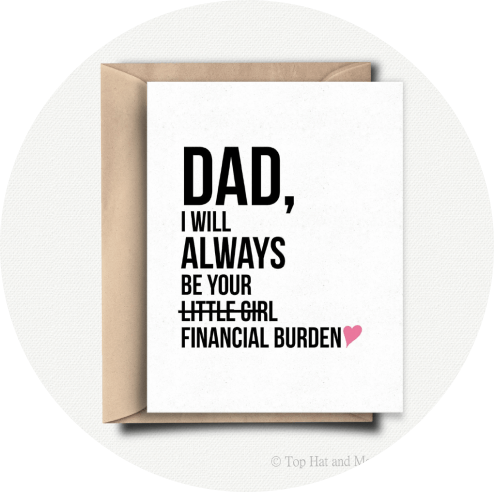 It's well-documented that all daughters are little princesses and treated that way by dads, sometimes to an excess. It's time to remind your dad that you'll still be living at his house for a while with a simple greeting card like this one. The main takeaway is not that you're a burden but that you'll always stay close.
Happy Father's Day From Your Little Princess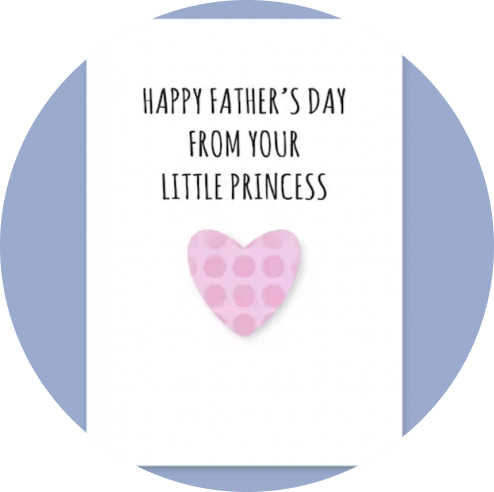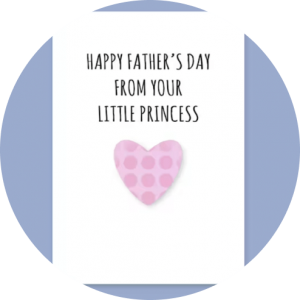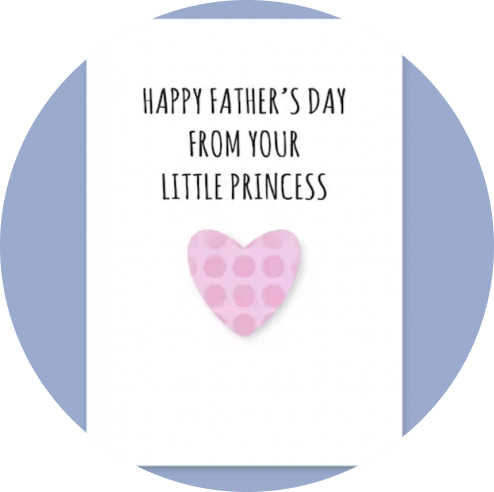 This card is one of the cutest cards we'll share here, and it has a visually matching card for a brother mentioned earlier. That's relevant if you want to collaborate, as sisters tend to do. But back to your dad – share some love, there's just one of him.
The Love Between Father and Daughter Lasts Forever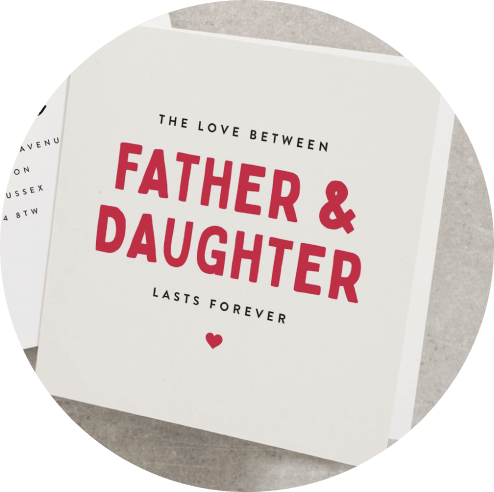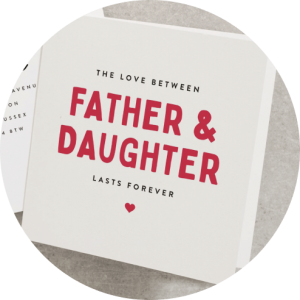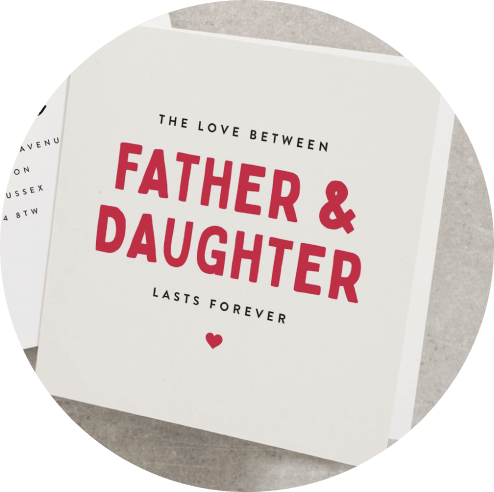 If your dad enjoys a good fact, this one is the best it gets because what's better than knowing that your daughter loves you? It might be irrelevant if you don't have a daughter or an eCommerce store that plans to sell Father's Day cards. Otherwise, this is the best it gets – an excellent design with an even greater message.
The Love Between Father and Daughter Lasts Forever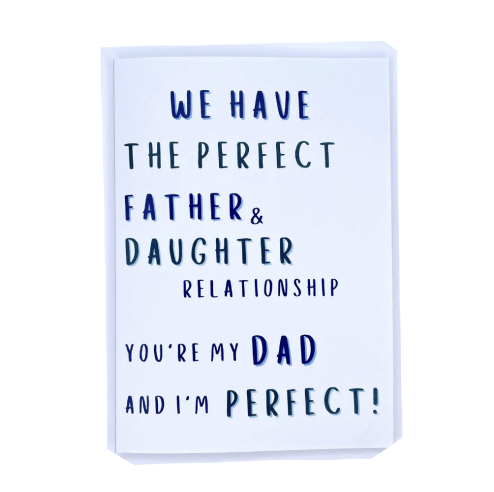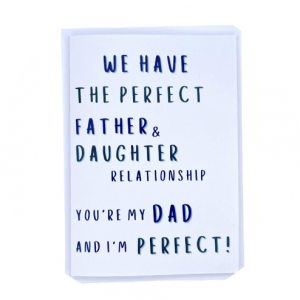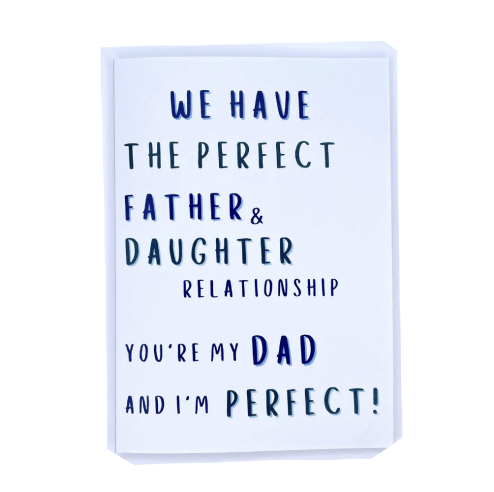 If you strive for excellence in your life and relationships, it'll be hard to find a card more perfect than this one. It acknowledges the importance of your relationship in a fun and self-appraising way. Take a crack at making a dad joke and brighten your dad's mood!
How to Make Father's Day Cards with Printify
Printify is a service that simplifies sourcing and creating print on demand product orders. We offer a selection of quality products and print providers that will fulfill and ship out orders directly to your customers. Setting up an eCommerce store doesn't take up a lot of time, and we're happy to share a few quick steps to guide you through the process.
Dads are great, cards are great, but showing appreciation is the best. We share sweet, cute, and funny ideas that dads worldwide are sure to appreciate.
If this list of card ideas isn't exactly what you're looking for, we at least hope that it will set you on the right path to find those ideas, the best card for your dad, and inspire you to create a wonderful set of cards for your store.
Share the article
Topics