45 Father's Day Card Ideas – Cute, Funny, and Epic Designs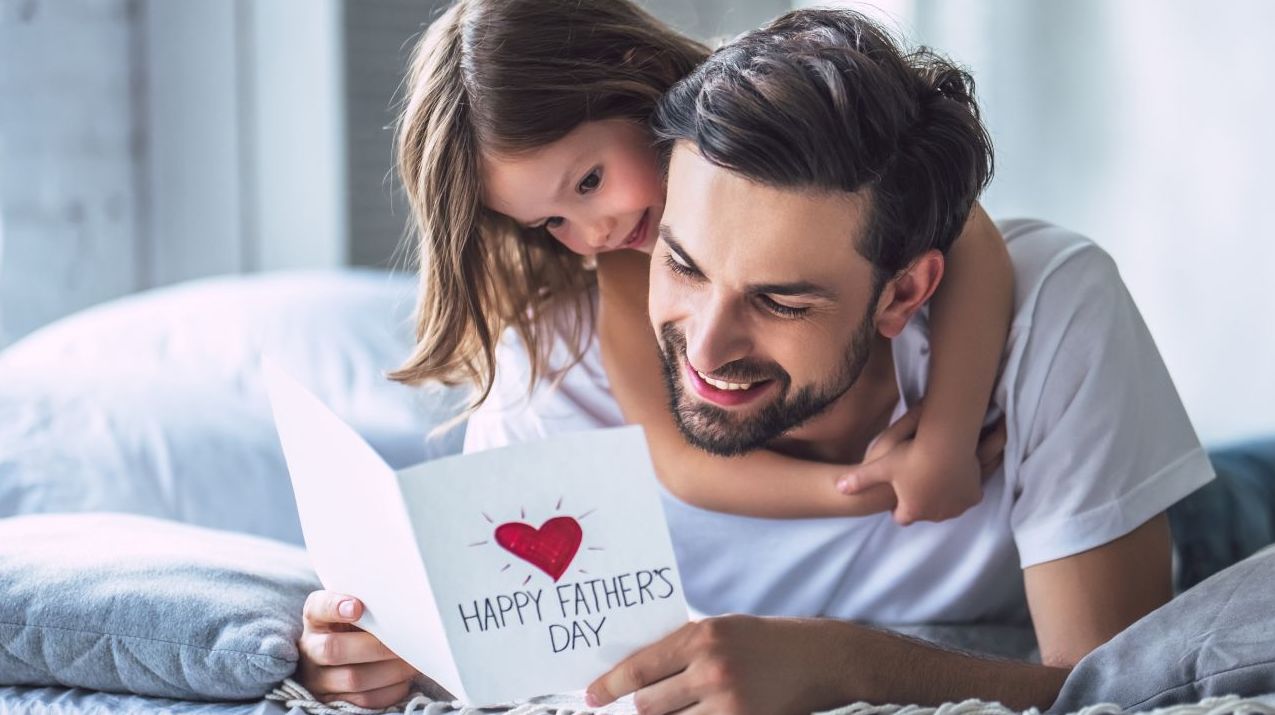 Whether you're looking for Father's Day gift ideas for yourself or your online store, we have the solution – and it comes inside an envelope. 
Forget the boring old socks or mugs that every father has a collection of. This year, surprise father figures with greeting cards on Father's Day. They combine appreciation and humor in one gift – something dads, grandfathers, uncles, stepdads, brothers, husbands – and even a friend will love and cherish.
So let's look at the best ideas for dad card designs – fun, adorable, and from the heart.
Happy Father's Day Card Ideas
This category check marks all the basics. It expresses appreciation and conveys emotions that we have difficulty saying out loud.
Happy Father's Day to the Best Dad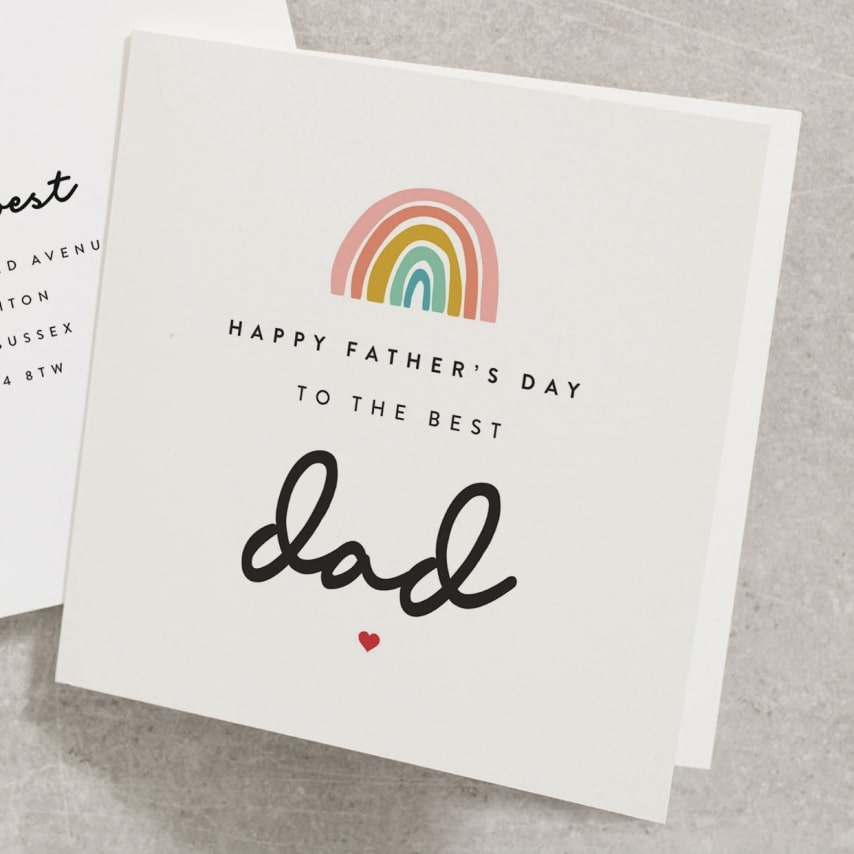 This minimalistic card design is light, sweet, and hits the spot. Show your best dad some appreciation by giving him a card that verifies his unmatched bestness.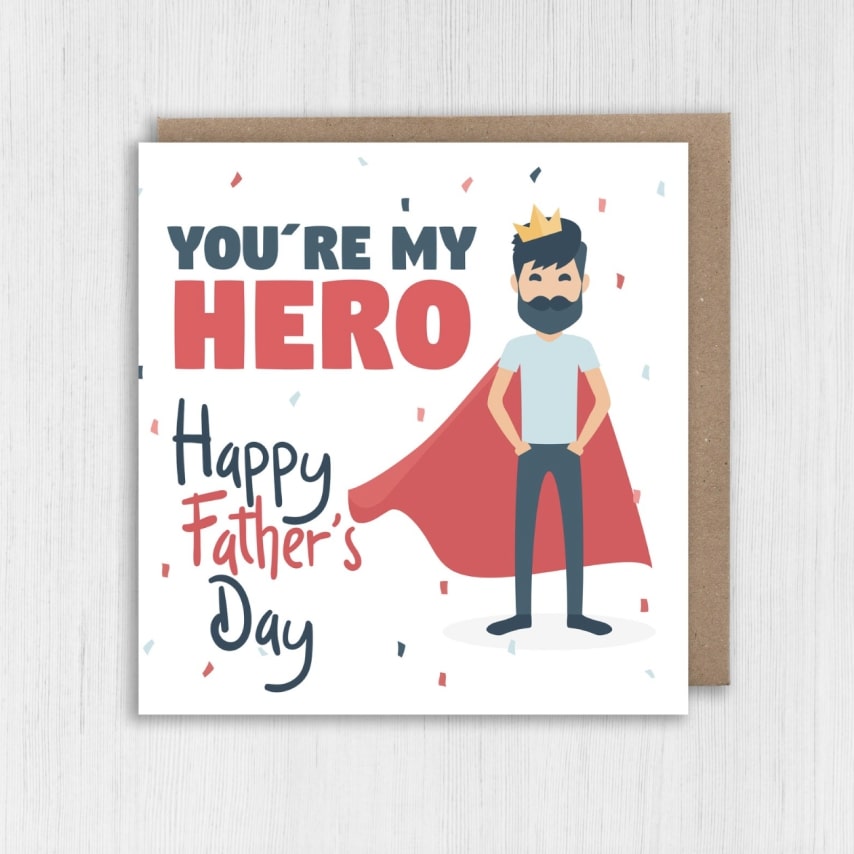 Let your dad know you appreciate all the times he's come to your rescue with a superhero card.
Personalized Father's Day Card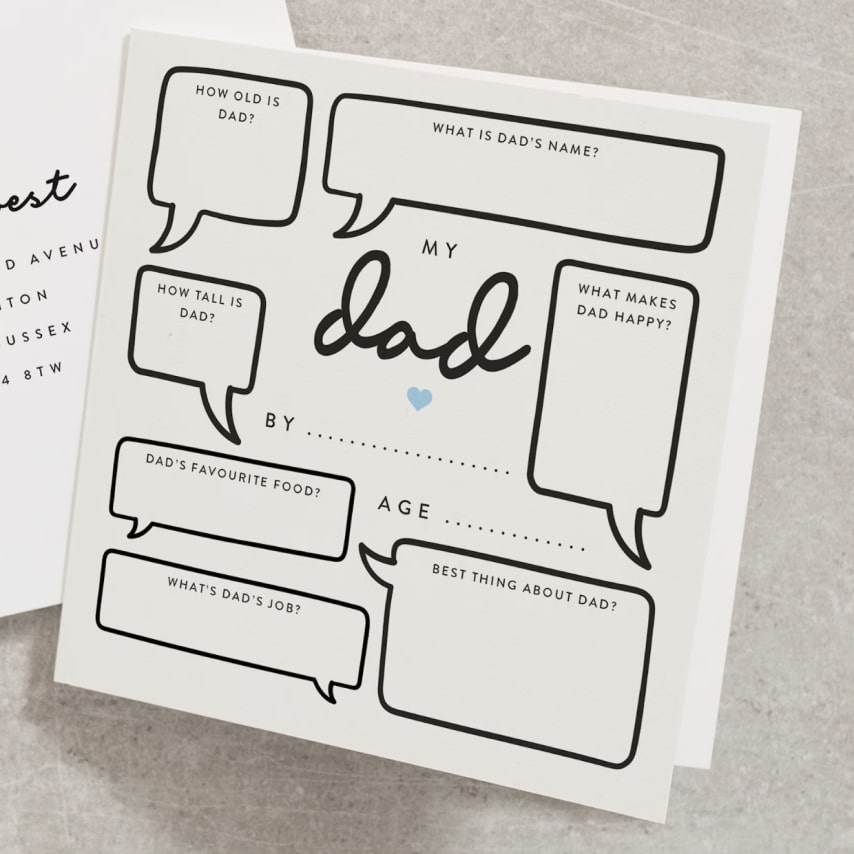 Test yourself and show your dad that you remember things about him by gifting him a card that proves it. Plus, kids love crafty things, so this is a win-win for both.
Happy Father's Day BBQ King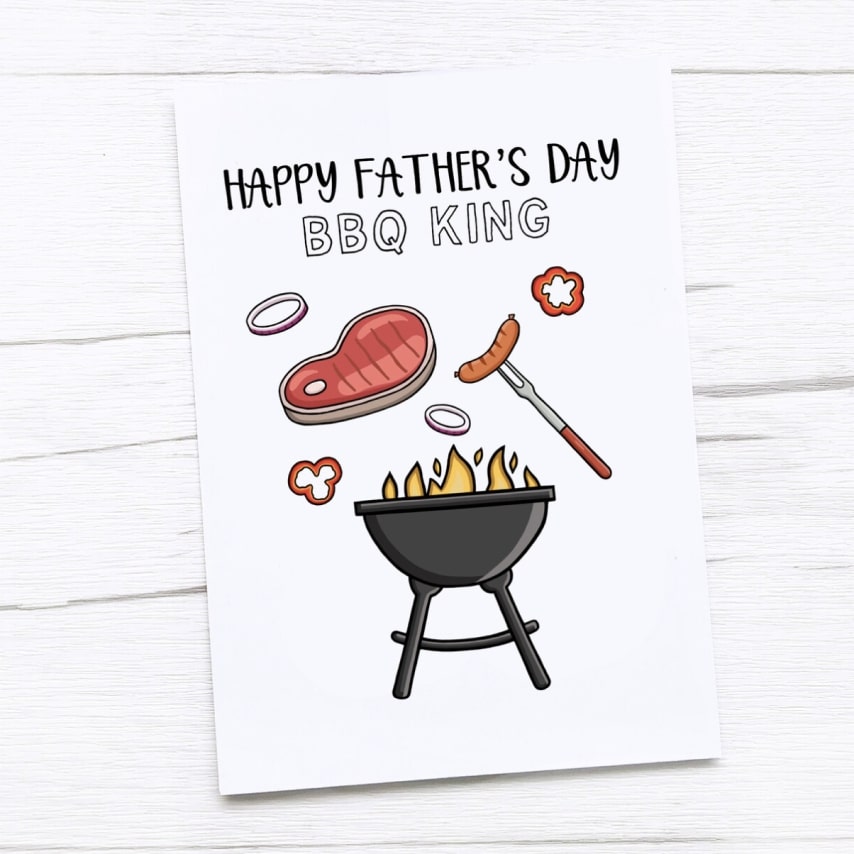 Some fathers pride themselves in knowing how to cook a real mean steak. Letting a dad know he's the best BBQ dad out there will give much-needed affirmation.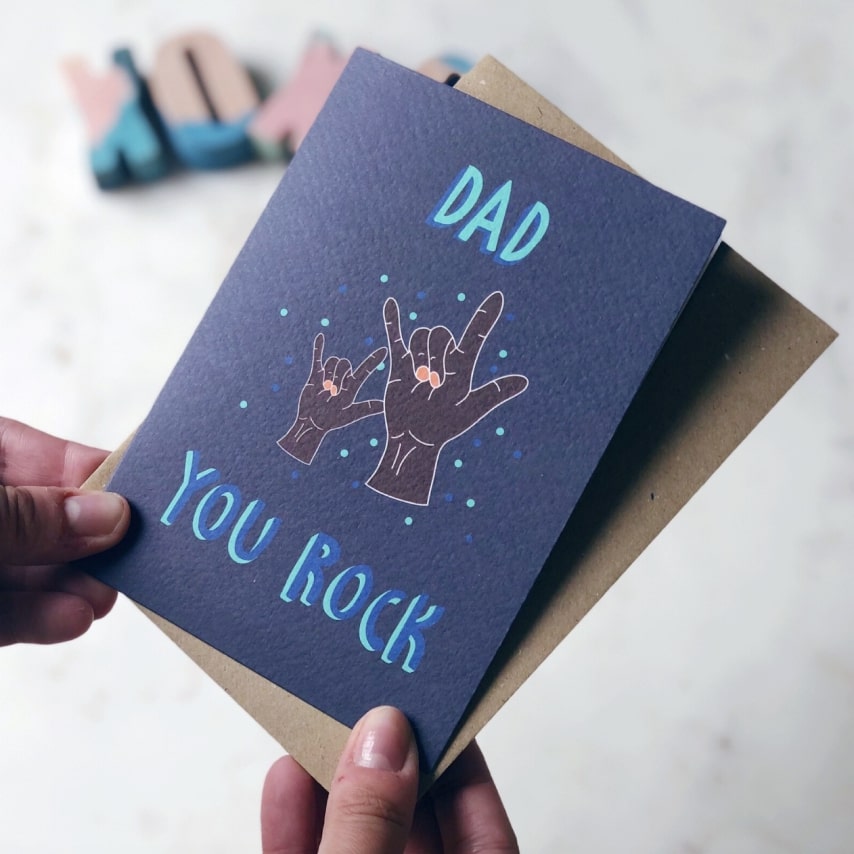 Nothing even comes close in importance than knowing that your kid thinks you're cool.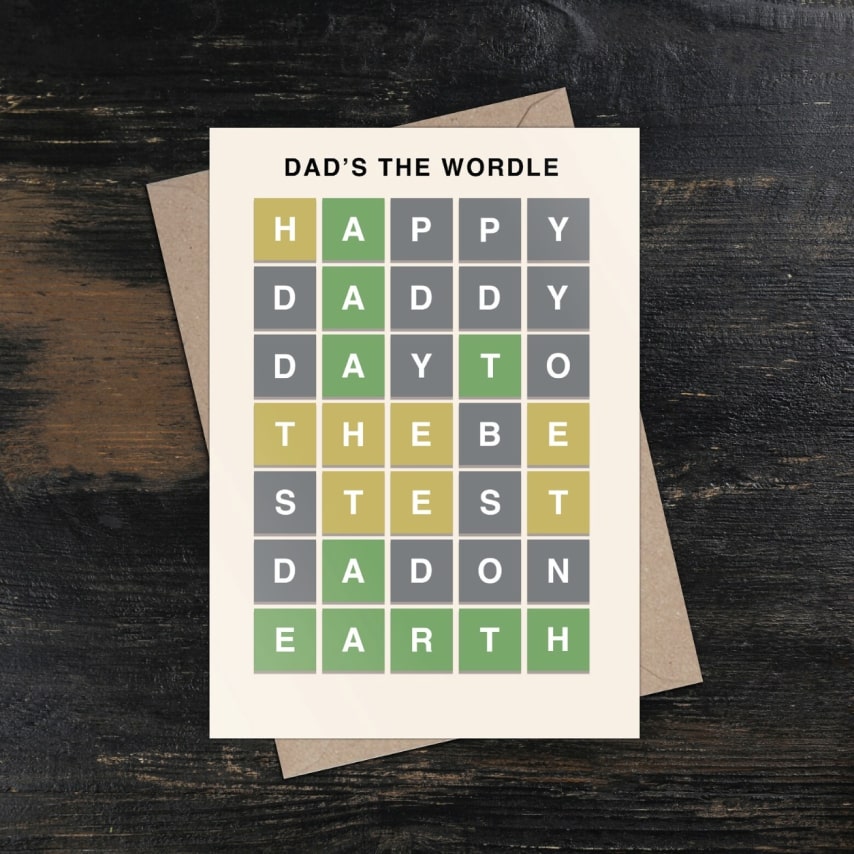 Let dads twist their brains a little with crossword-themed Father's Day cards. Check free templates or design your own "word salad" for dads, kids, and the whole family to enjoy.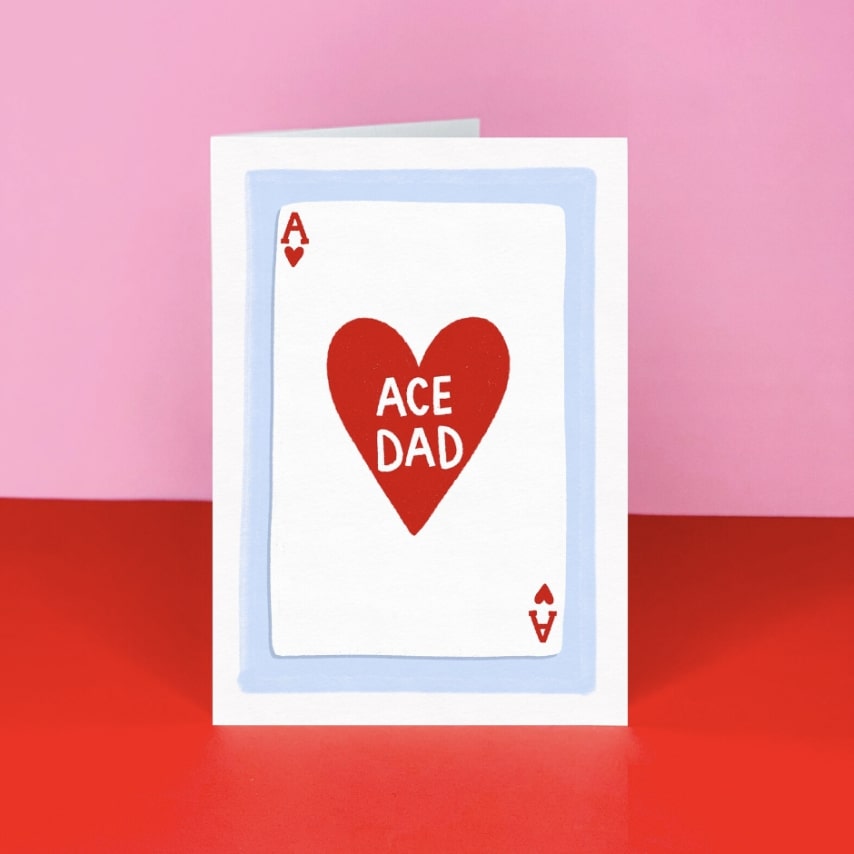 This dad card is above royalty – the ignorant and lazy kings. Ace dads for the win!
Dad, the Magnificent Beast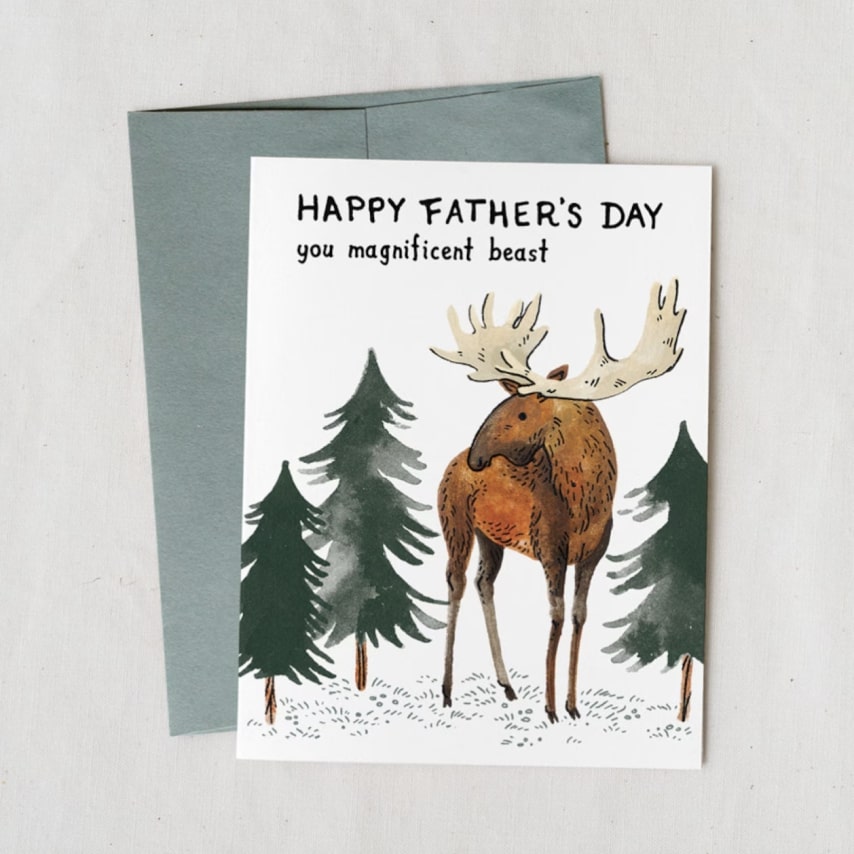 This is a message every old man will appreciate – combining humor and appreciation on paper.
What Dad Brings to the Table?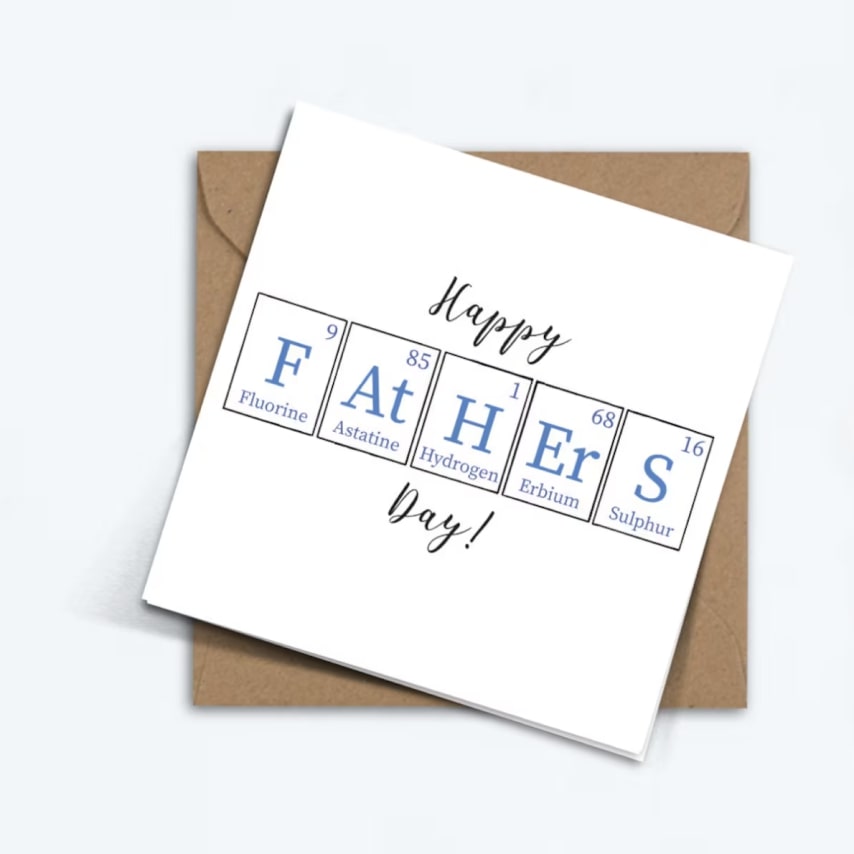 Not the table you have in mind. We're talking chemistry, sparks, and a splash of radioactive humor. If that's not a dad in a nutshell, what is?
Funny Father's Day Card Ideas
It's common knowledge that many dads are best known for their jolly sense of humor, so why not quench the thirst for a good laugh with the help of a funny card? Plus, funny cards for Father's Day will be a hit in your store – an easy Father's Day item to profit from.
If at First You Don't Succeed, Call DAD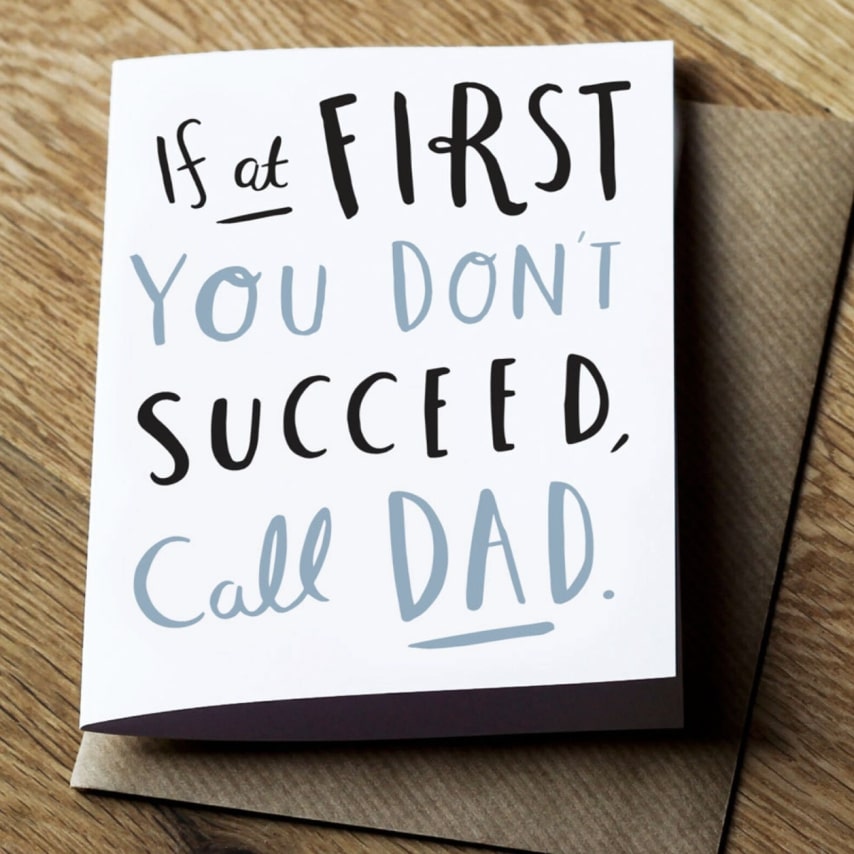 He will always provide a solution to whatever problem you've encountered.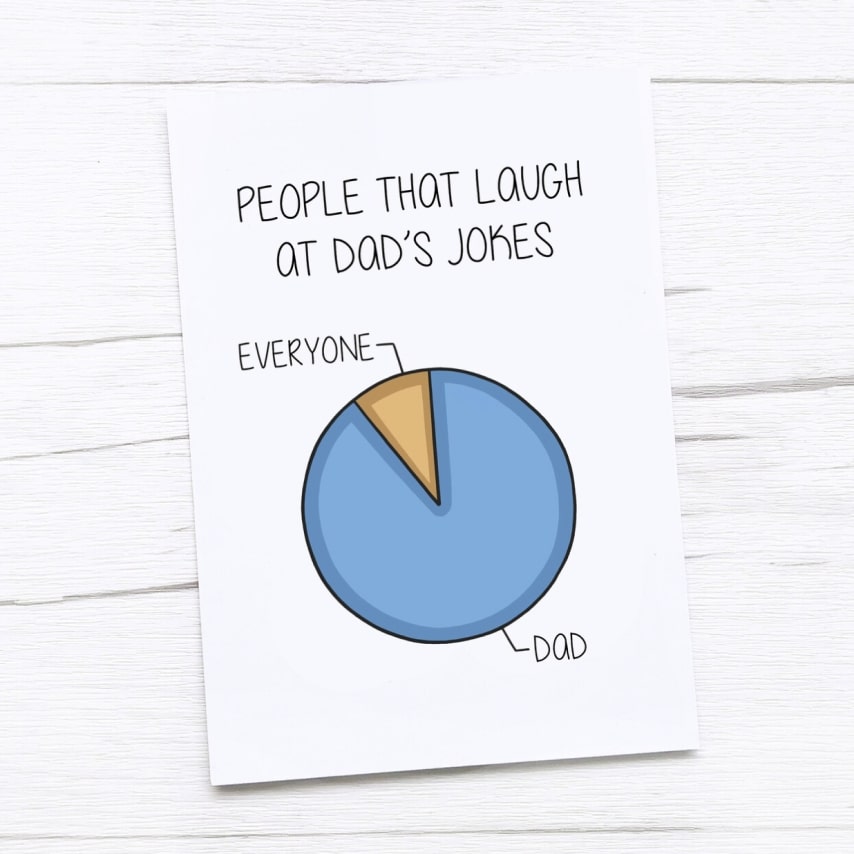 Dad jokes are an essential character aspect for fathers. These jokes aren't only light and fun but also universally reviled. We mean loved – it's fun to hate them.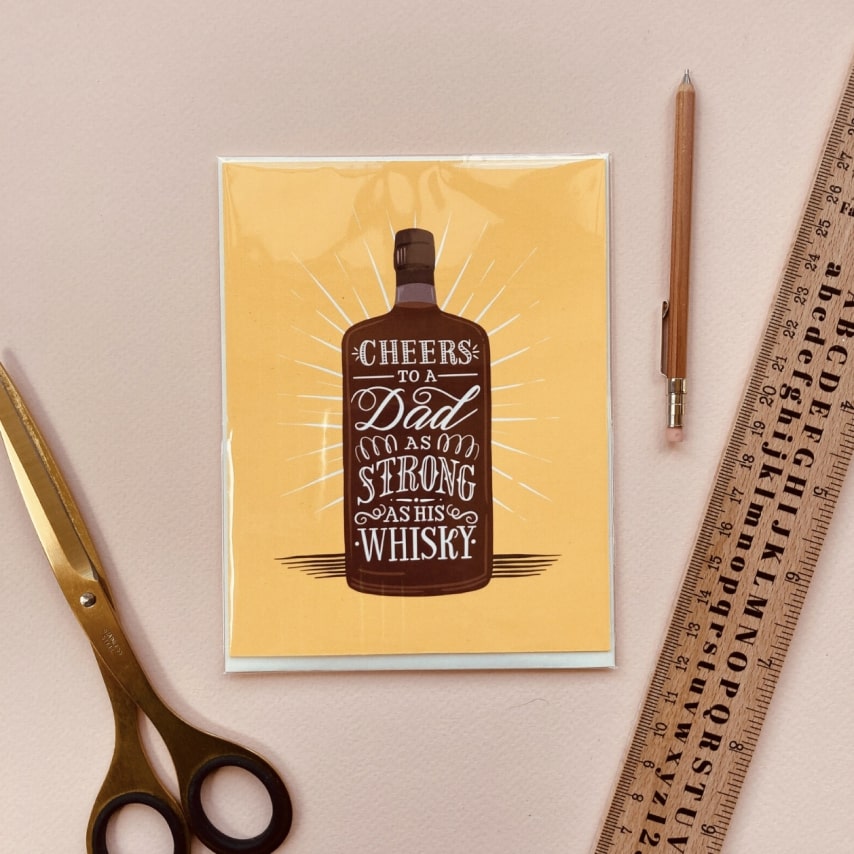 Being a dad can definitely be challenging, but you – dad – are strong enough to handle whatever comes your way.
I'm Not Sleeping – Just Resting My Eyes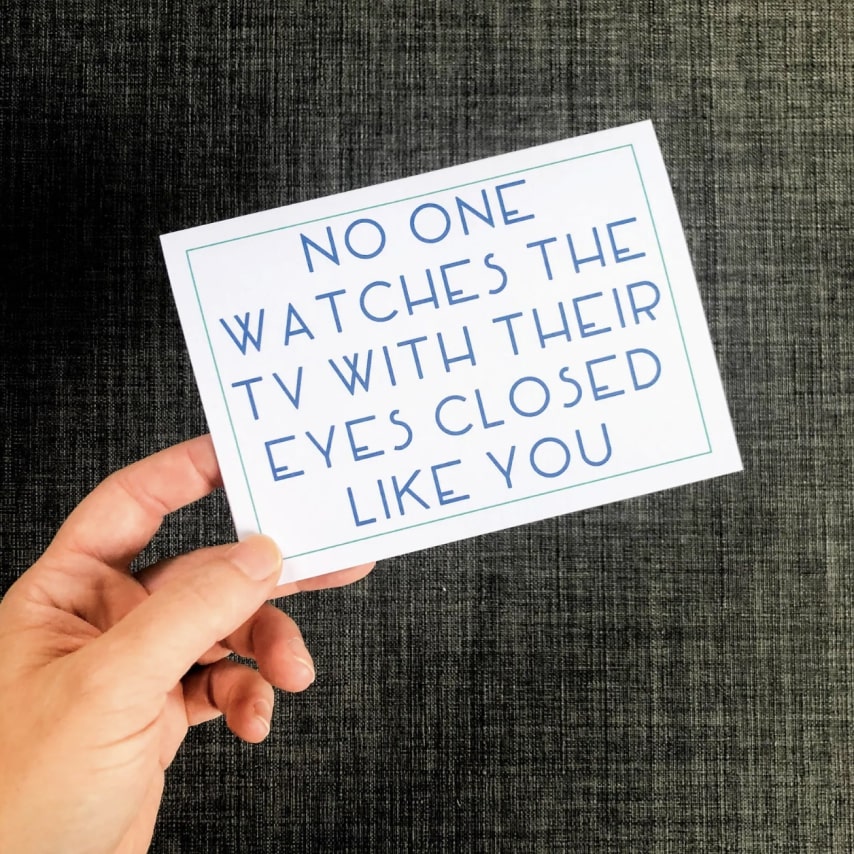 Snoring, drooling, sometimes even talking in their sleep – dads will still notice you turning the TV off. They might not be watching, but they're always listening.
Happy Father's Day From Your Greatest Ever Mistake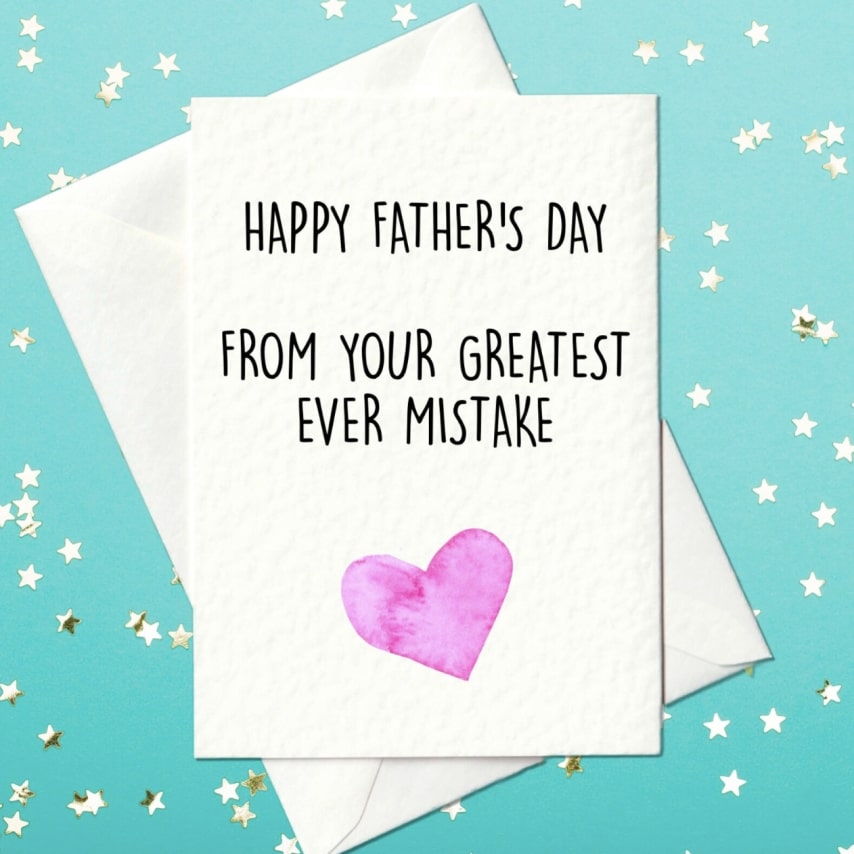 Compliment his exceptional patience and let him know that you're painfully aware of your shortcomings – but in a fun way!
You're Non-Fungible to Me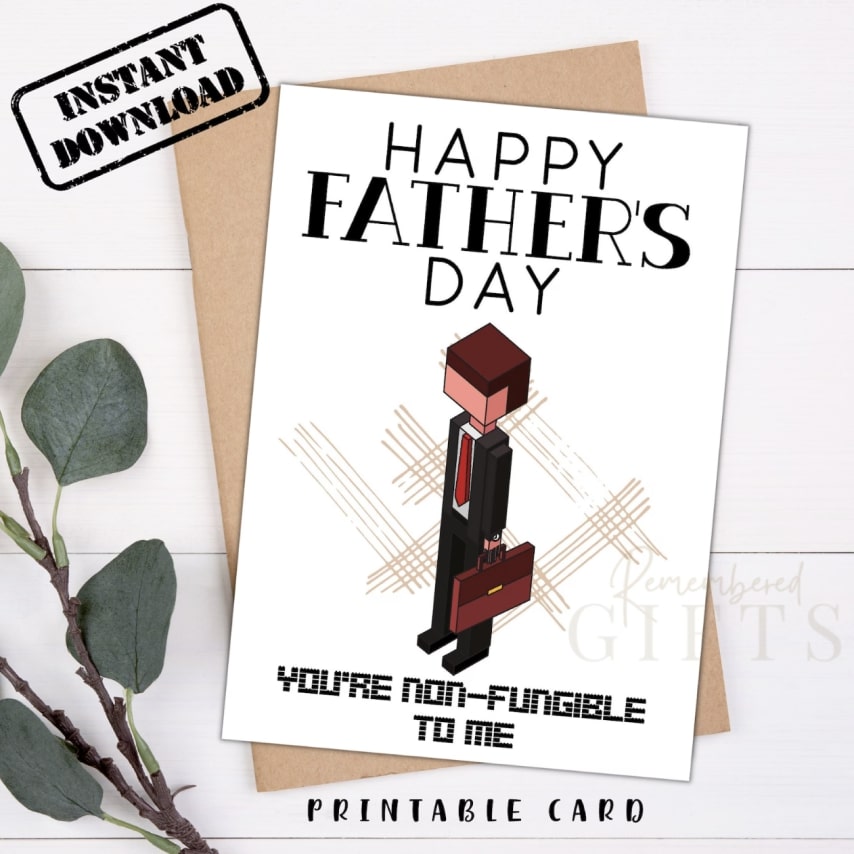 Instead of an NFT, this one's for an NFD – that's right, it's for a non-fungible dad.
Freddie Mercury Inspired Father's Day Card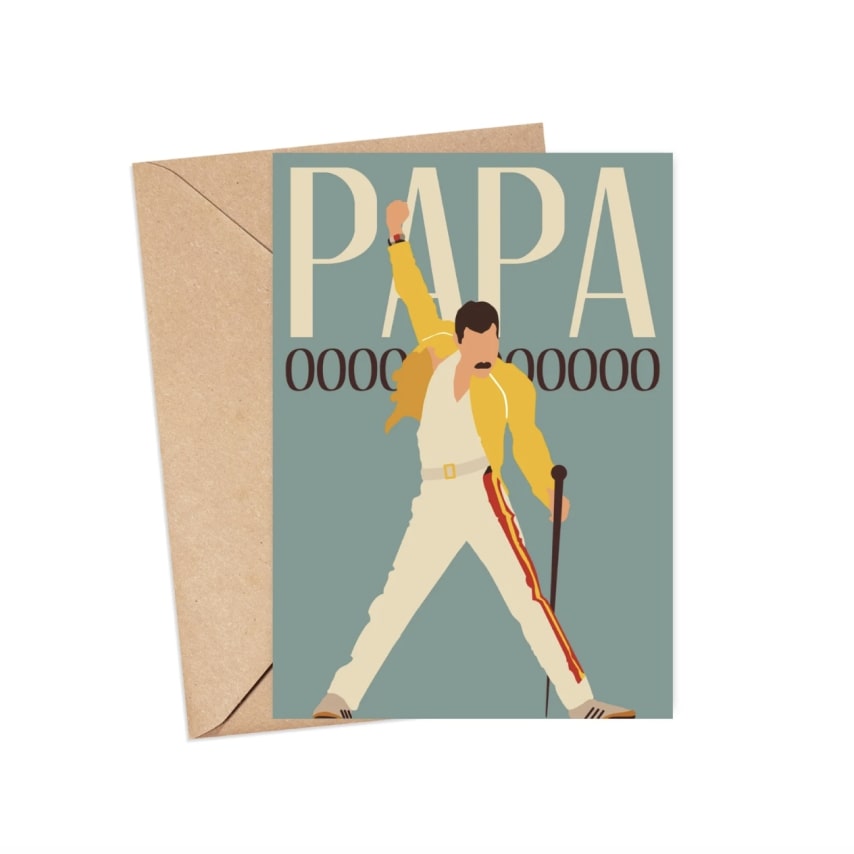 Let's be real here – it'll be hard to find a dad who isn't a Queen fan.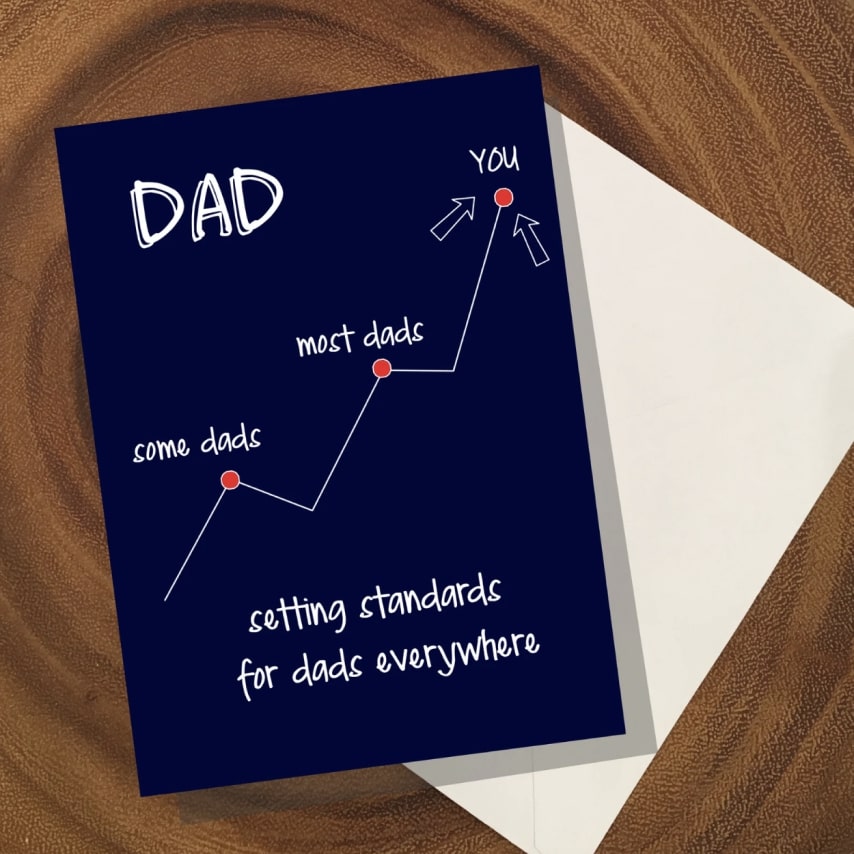 When in doubt – graph it out. Note the importance and superiority your dad has over others by showing he's above the average standard dad.
Picking Sides on a Father's Day Card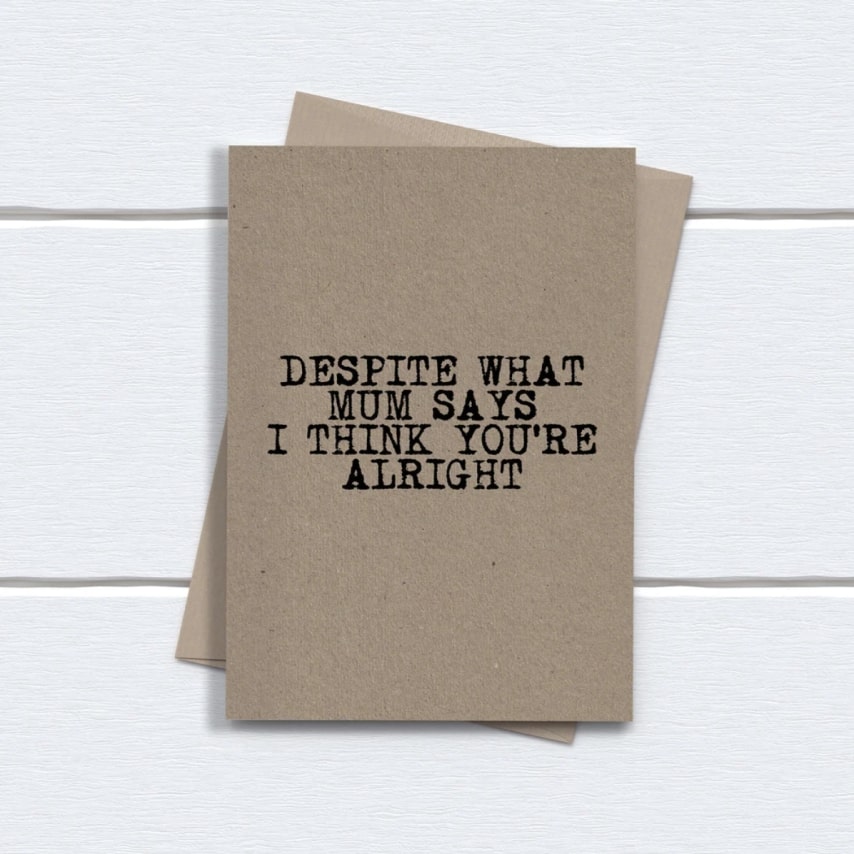 Will this start a fight? Perhaps. But how good will you look in dad's eyes with this card? A great idea to use among kids as well. Note: Use with caution.
Happy Father's Day to the King of Multitasking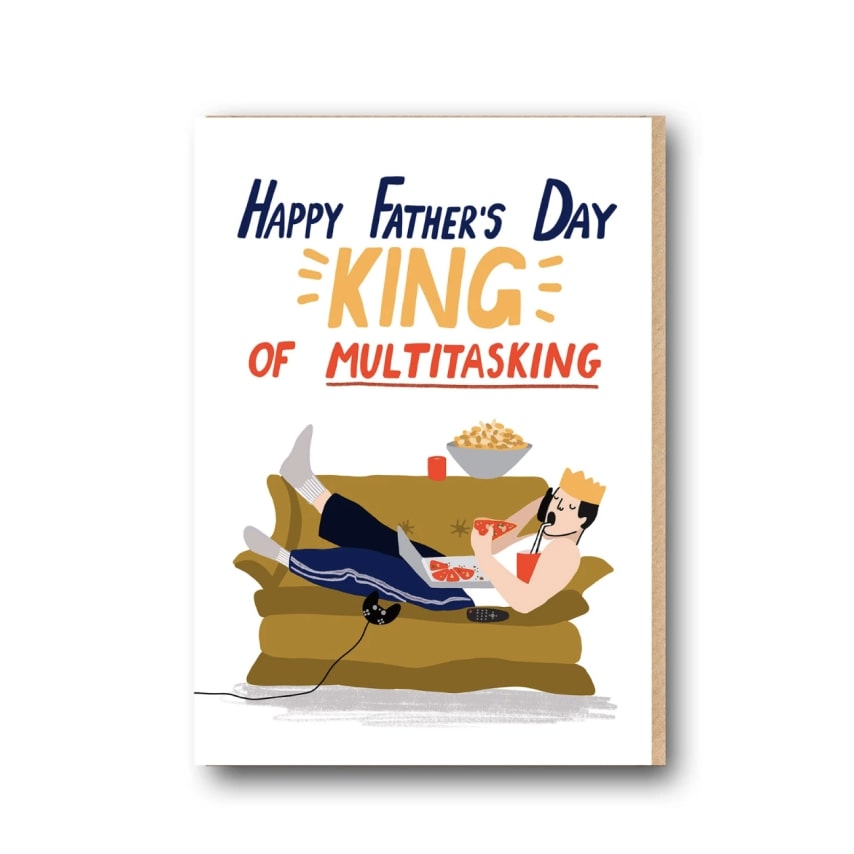 Some fathers can do it all – eat, play video games, be on the phone, and still pretend to listen. The complete package, right?
Straight to the Point Card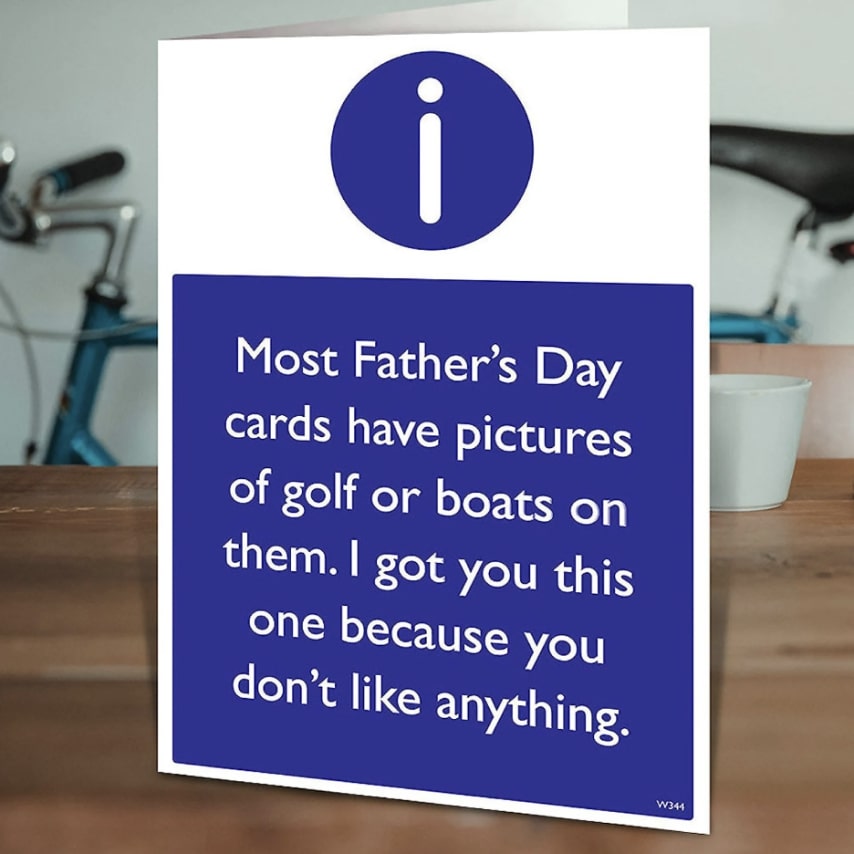 For a straight-to-the-point father. Use his personality for inspiration when designing your cards. And watch him chuckle with a straight-to-the-point message.
Cute Father's Day Card Ideas
Although dads can be cute, too – this category is more about the cuteness of their children. From a special message to a child's handprint, drawing, and more – if it's cute, put it on a card.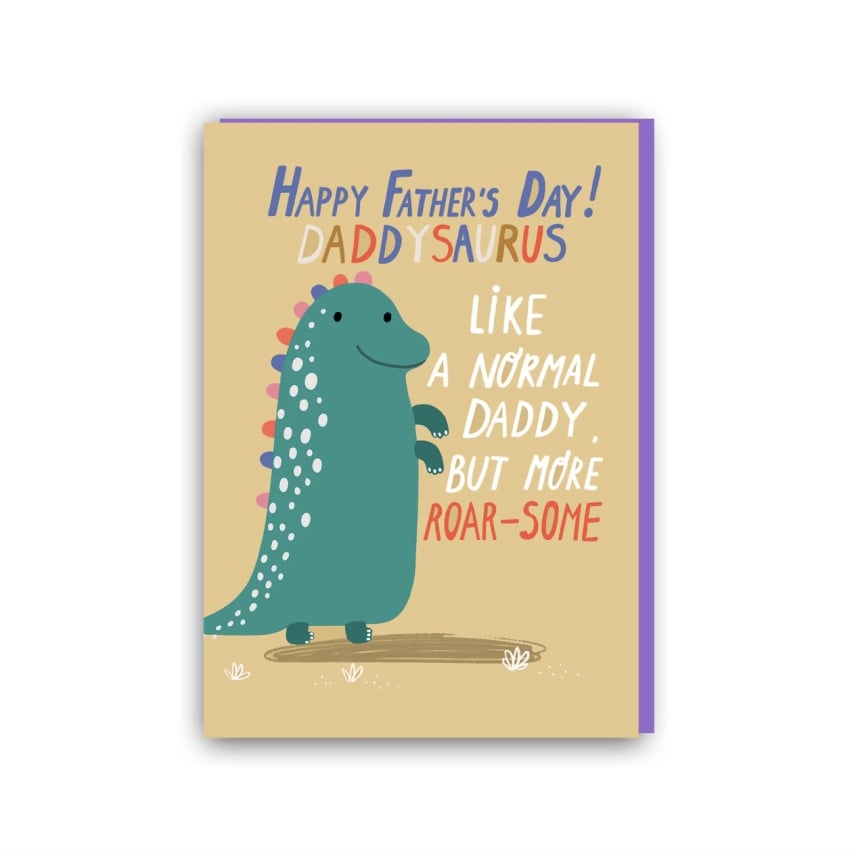 It's well documented that fathers have a lot in common with dinosaurs, and it's not only the fact that they are both ancient.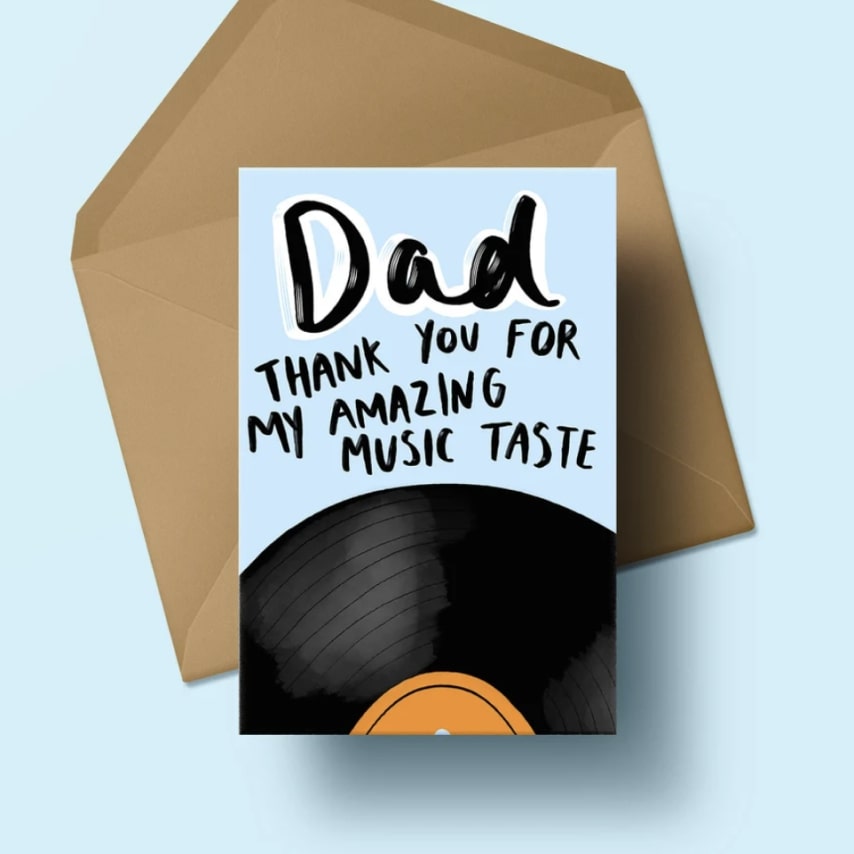 Use this dad card to thank him for sharing his wisdom, skills, values, and experiences throughout your life.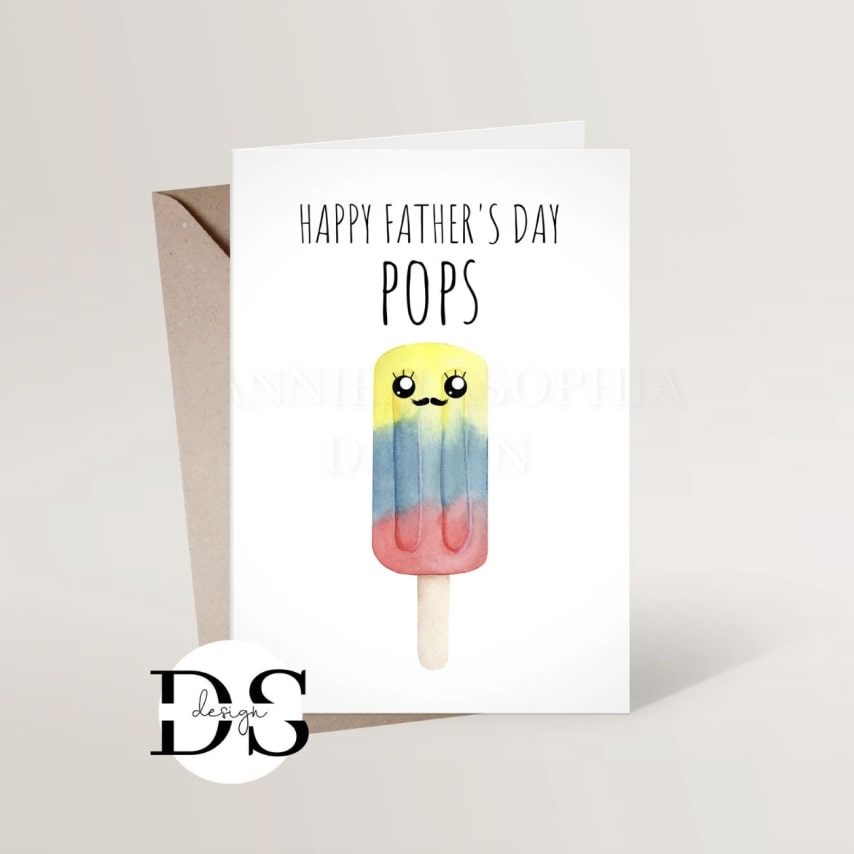 Surprise your old man with an appropriate card to let him know how cool, chill, and sometimes even sweet he is.
You're One in a Bee-llion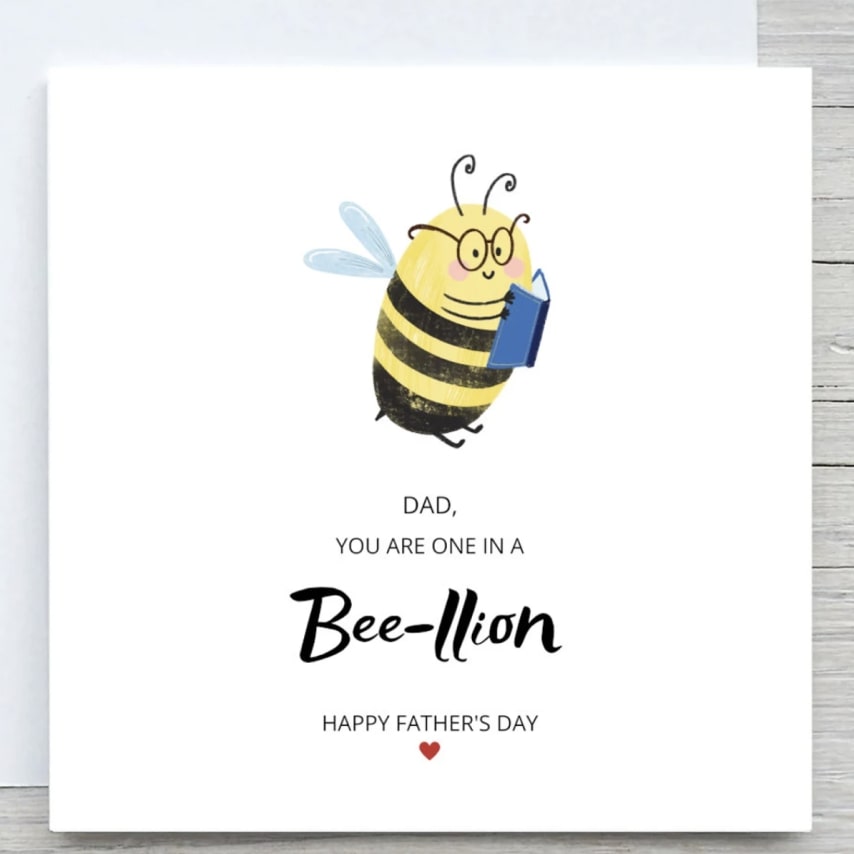 Is this wordplay, or is it bad spelling? With kids, you never know! But you can surely let your dad know that he's unique and as essential as bees to the ecosystem.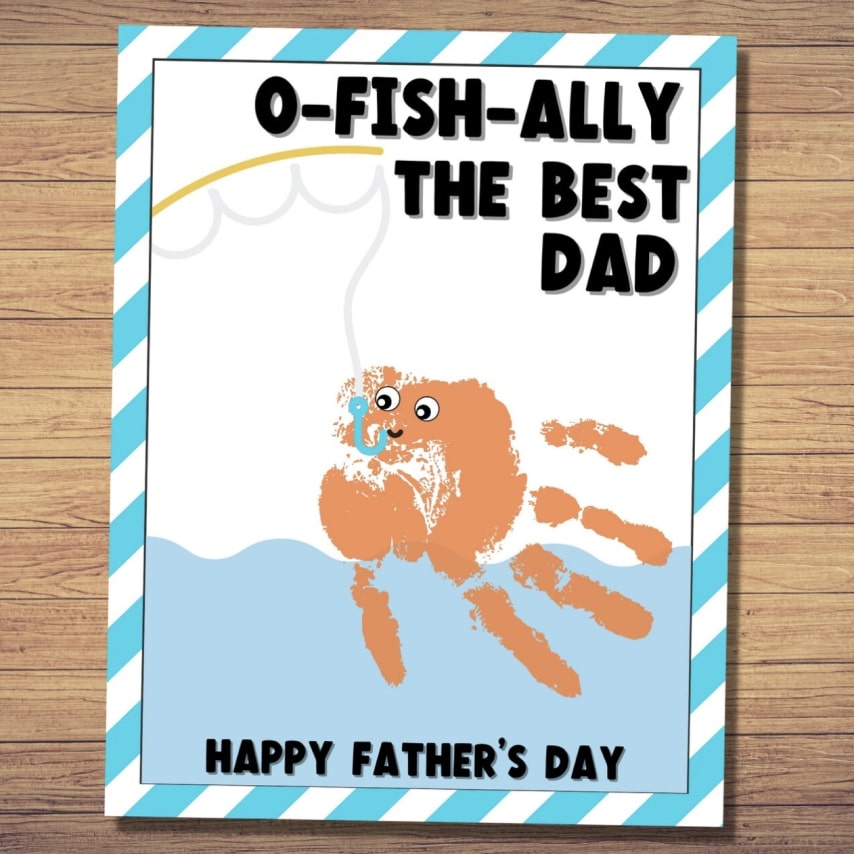 Metaphorically. Younger kids utilize craft supplies to make homemade card designs with their handprints. Older kids can do it, too, taking it to the next level – with a little help from digitalization.
You're Making the World a Happier Place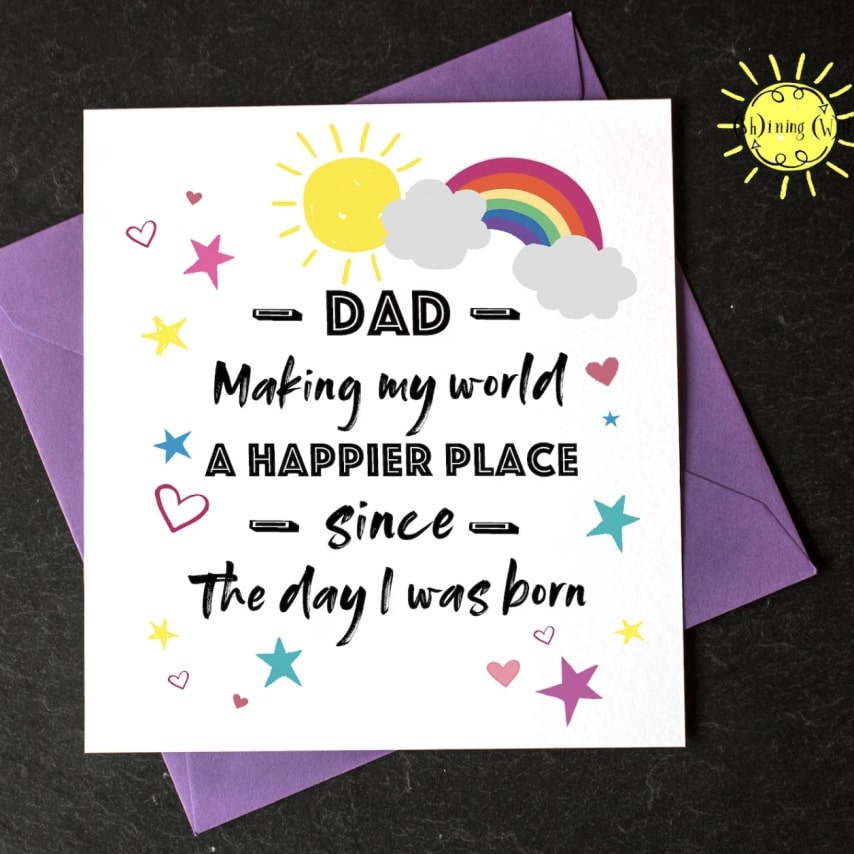 You can't overstate the influence of a quality dad in your life.
Happy Father's Day From Your Little Monster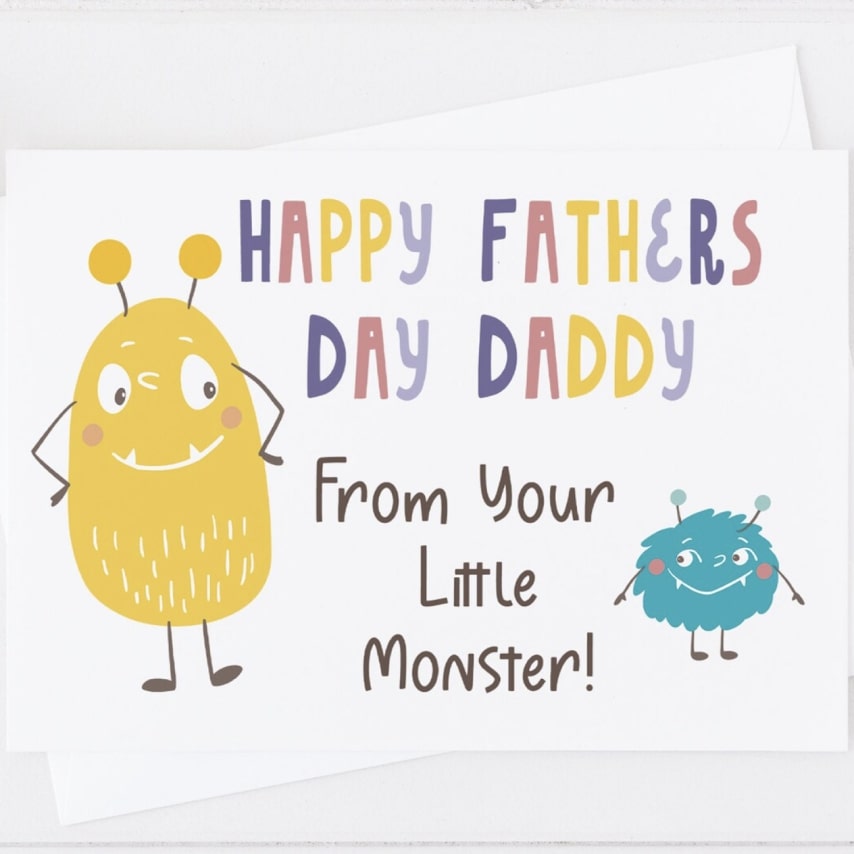 Let's be real – kids are monsters. But the cute kind. Rawr!
Papa Bear Card for Father's Day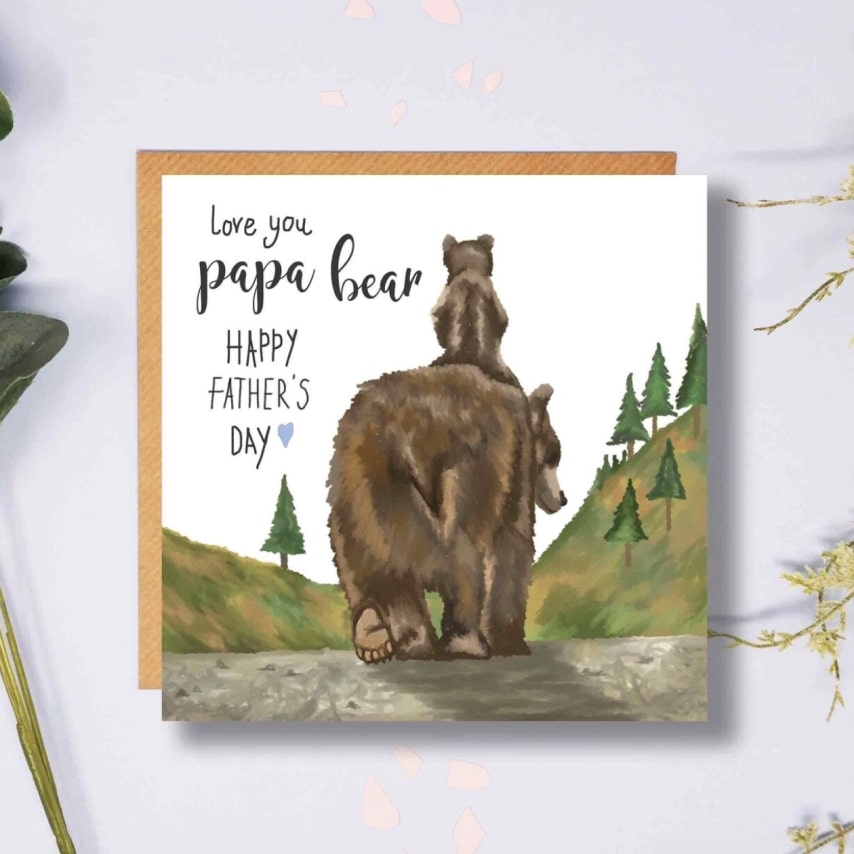 Papa Bear – protecting his cubs forever.
You Taught Me Many Things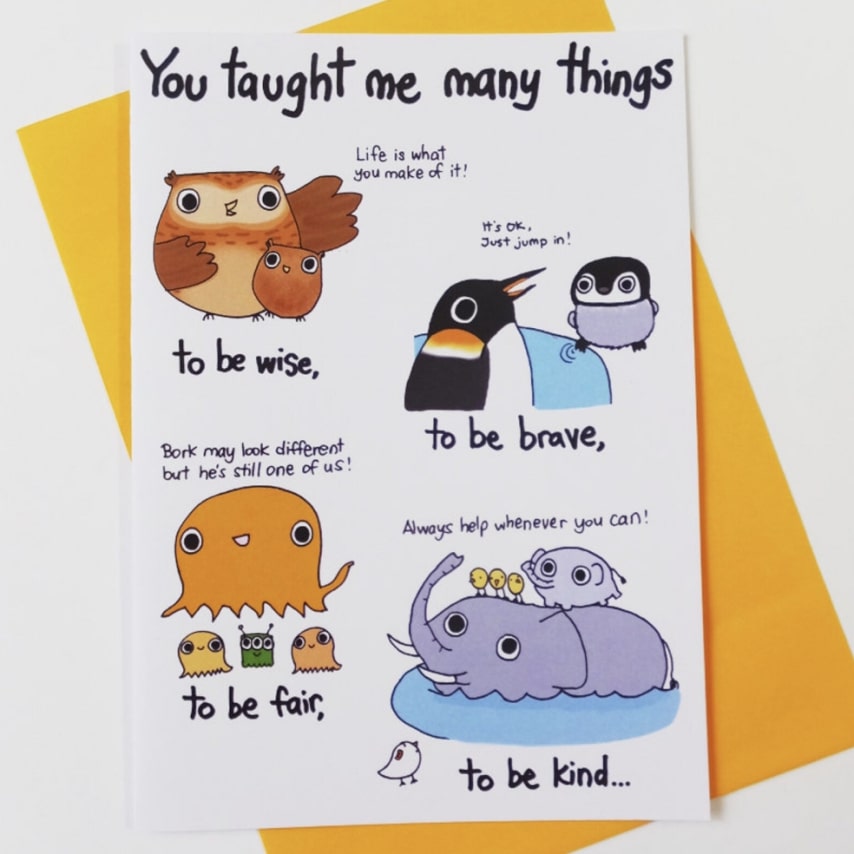 Some things that I probably shouldn't know, but thanks anyways.
Don't Forget Your Grandpa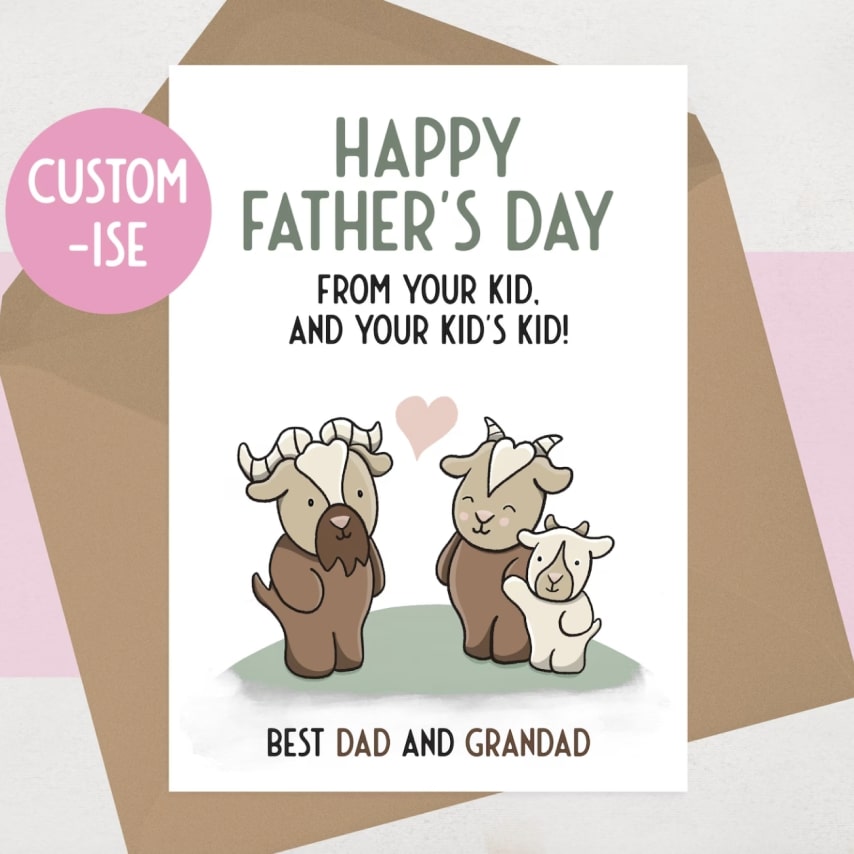 Design a grandpa card for Father's Day to appreciate the older generation who has taught us many things – and spoiled us more than fathers ever will.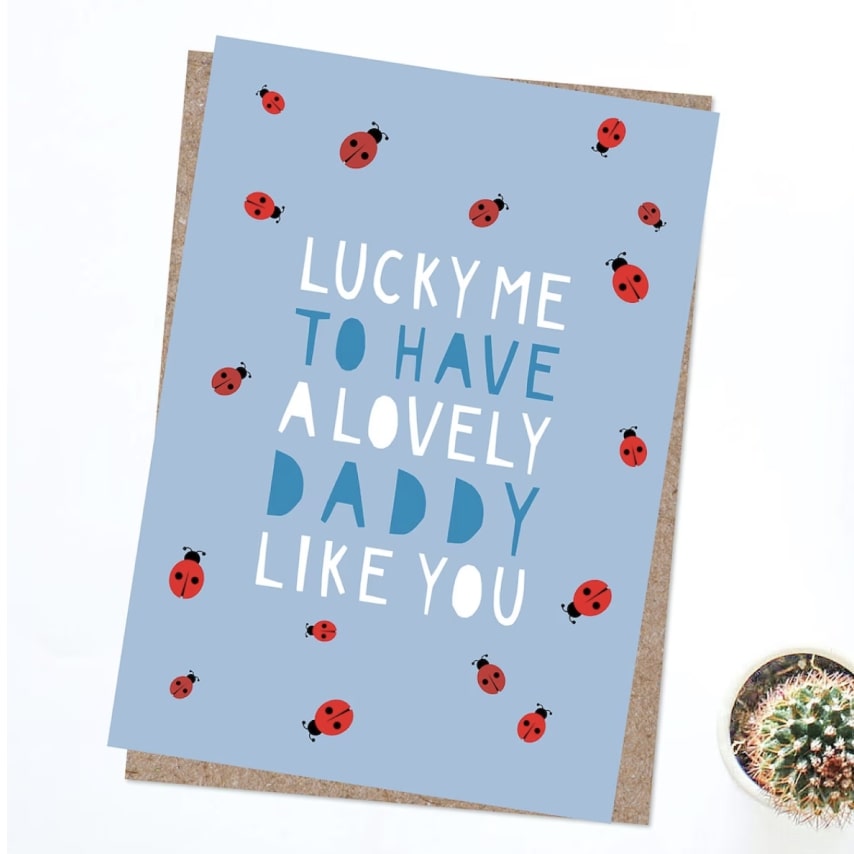 Card ideas like this fit every occasion, from Father's Day to dad's birthday. A fun and adorable way to tell your dad how lucky you are to have him.
Father's Day Card Ideas From Wife
If the kids are too young to use crafts and paper, every loving wife will take over to show how much the entire family appreciates a fun, caring, and loving dad.
Happy Father's Day to My Husband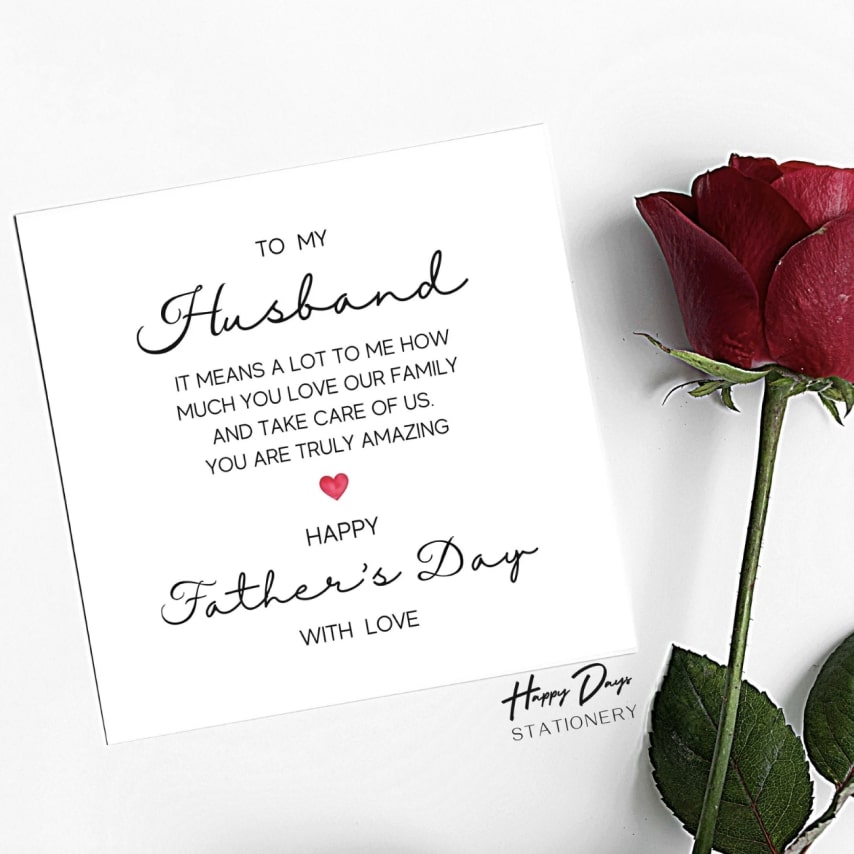 It's time to stick to the basics and let your husband know just how much you love that he loves your family.
You're Doing Such an Incredible Job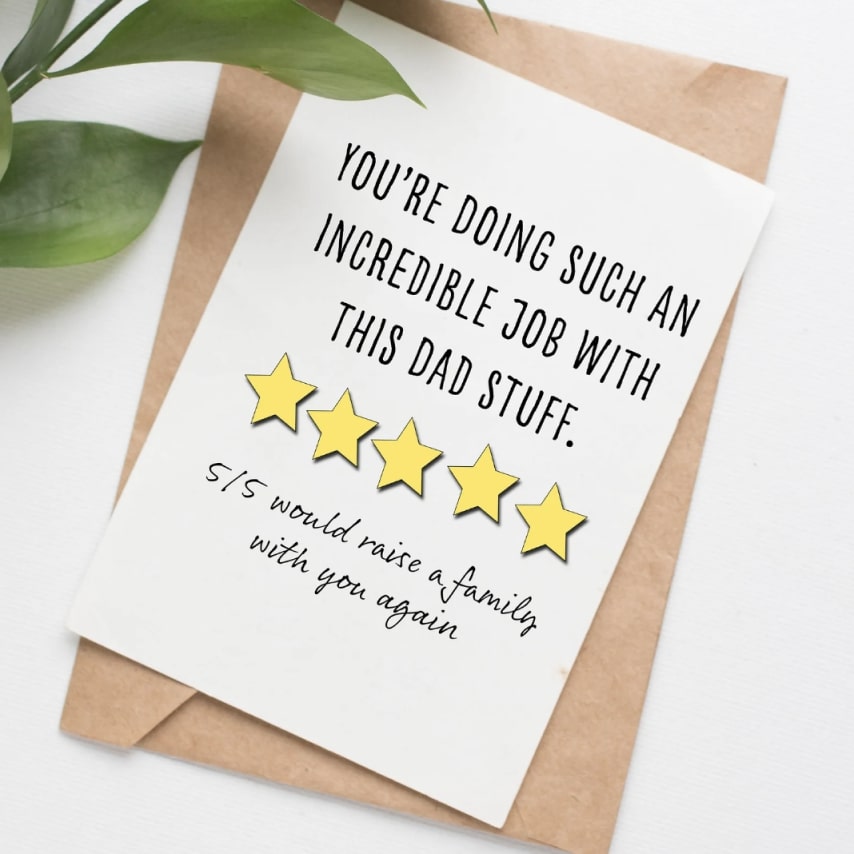 Submit a 5-star review of your husband's services with the help of a dad card like this one to bump up his dad rank.
Best Husband in the World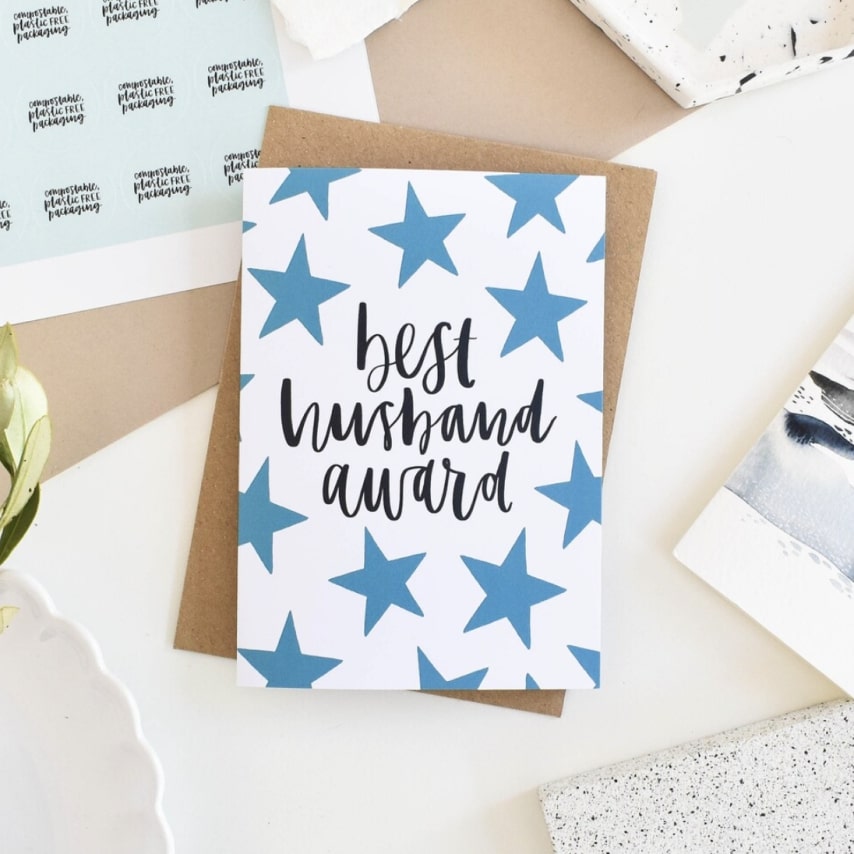 There's certainly an abundance of husbands on this planet, so it's truly exceptional to be singled out as the best.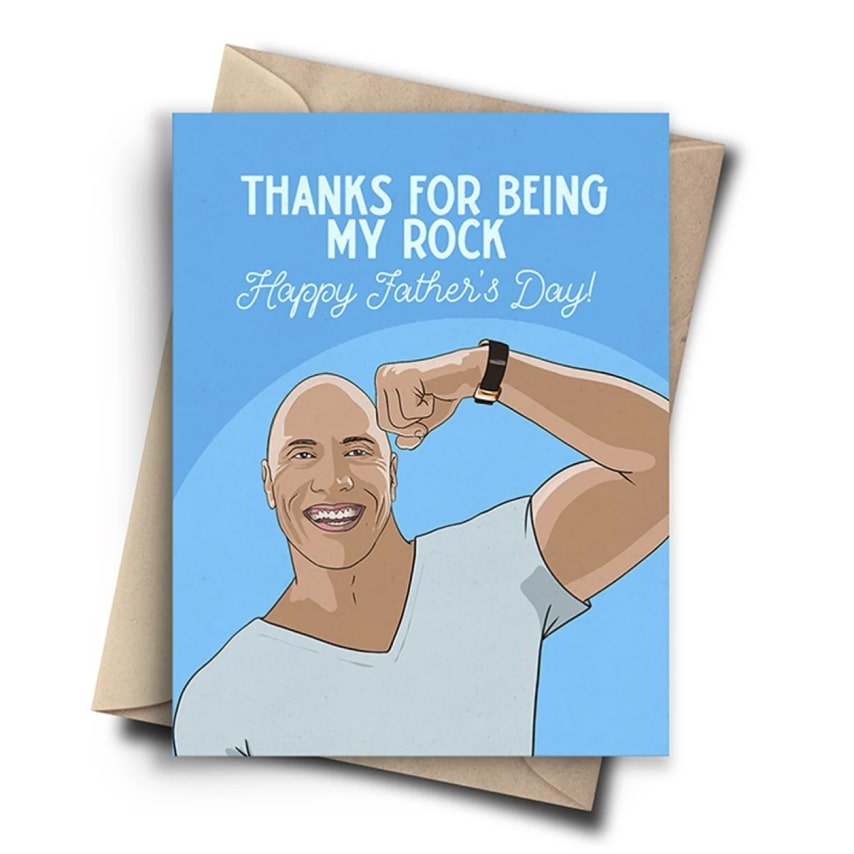 That is, essentially, the main thing the average dad – and husband – wants to hear on Father's Day.
The Best Father's Day Card for Every Iron Man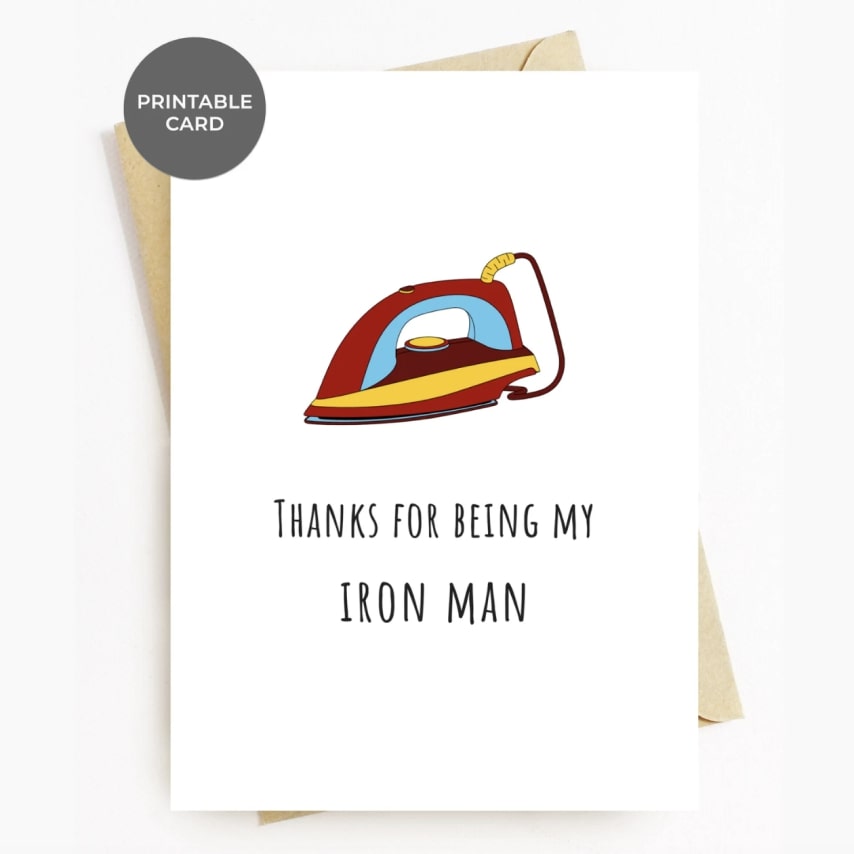 Every husband – and dad – who helps out around the house is a bigger superhero than any cape and tights-wearing one.
Father's Day Card Ideas From Son
Sometimes, sons feel a need to prepare a separate greeting card for their dad, especially if they don't like what their mom has picked out.
The Real Father's Day Gift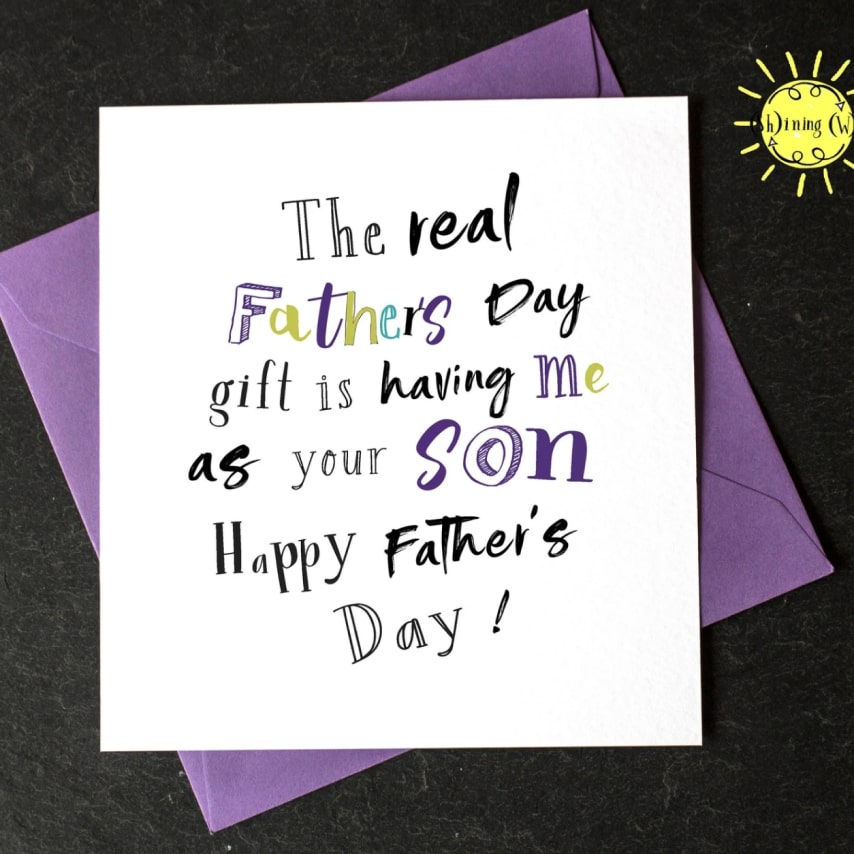 Celebrate your father's greatest achievement – you. A card that states that you're the gift is a budget-friendly way to congratulate your dad on this festive day.
Congrats on Raising Such an Amazing Son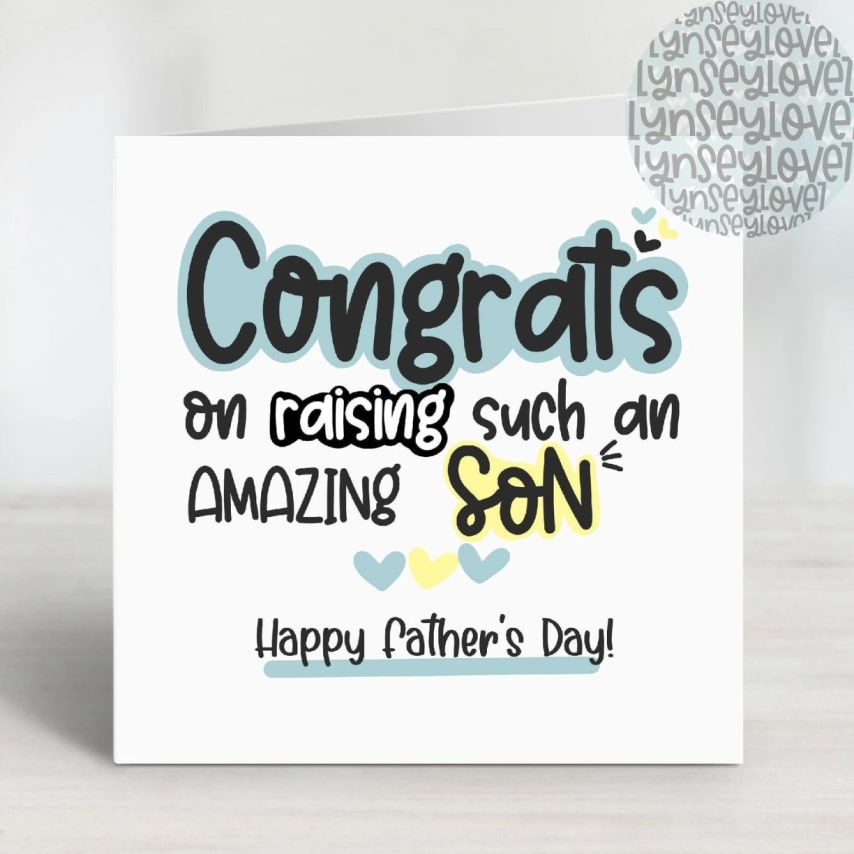 Kill two birds with one stone and complement your father – and yourself with this dad card.
Happy Father's Day From Your Little Man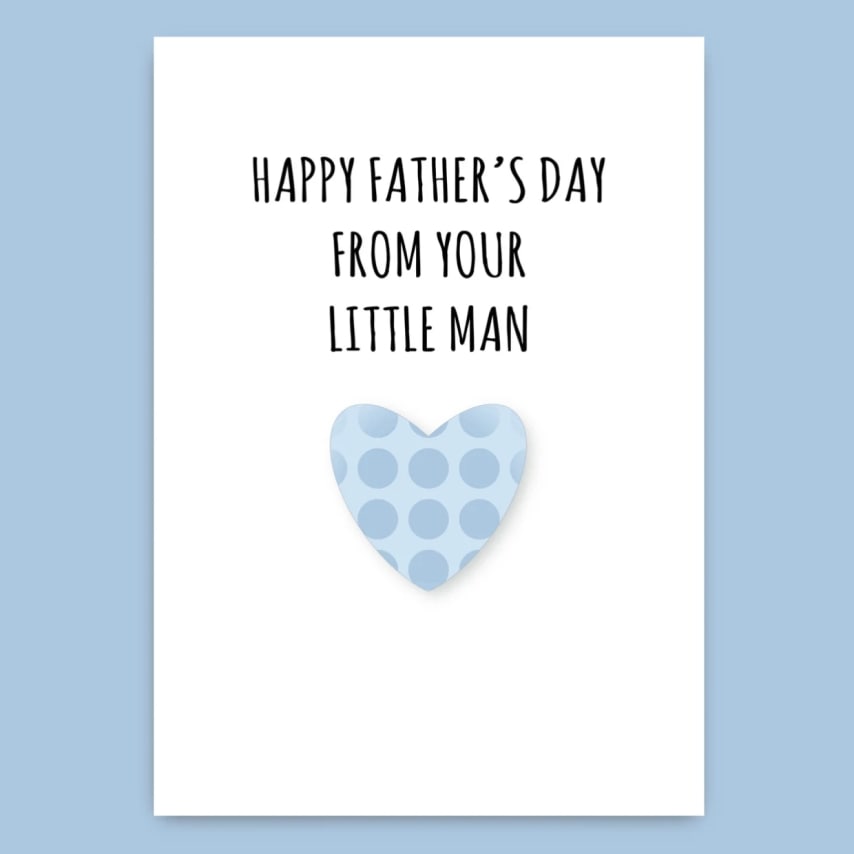 Maybe this one is more for a mom or a bigger sister to get, or perhaps you're okay with your dad jokingly calling you "little man" for the rest of your life. Either way – it's a cute Father's Day card.
Father and Son, Best Friends for Life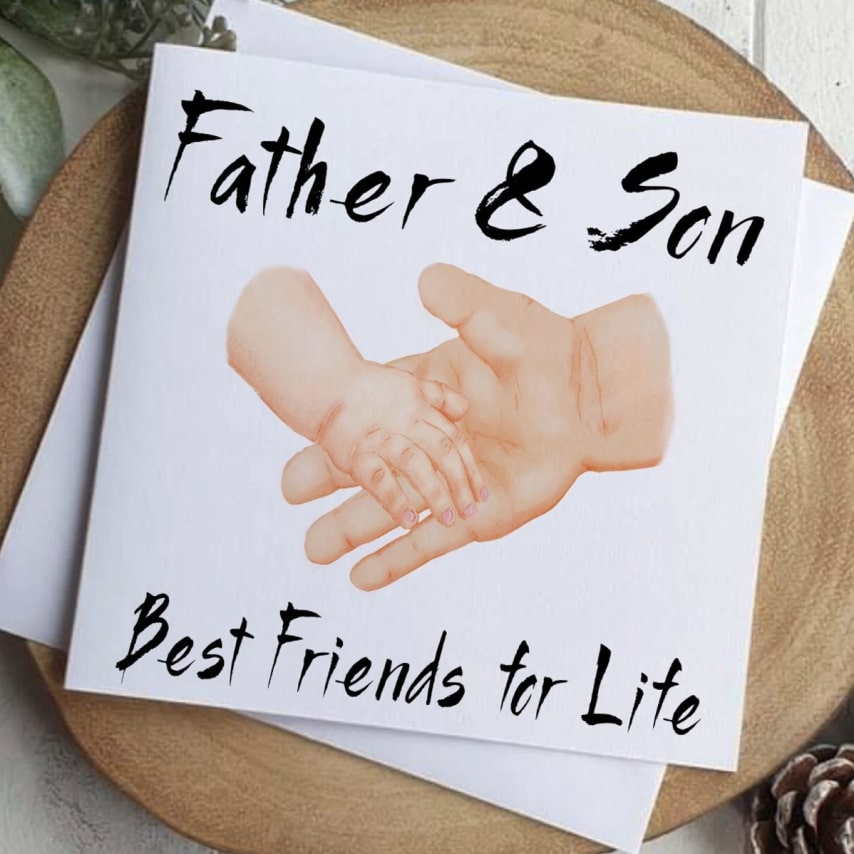 A dad is one of your first – and best – friends for life. And Father's Day cards like this one let you appreciate that special bond.
This One's for All the Cool Dads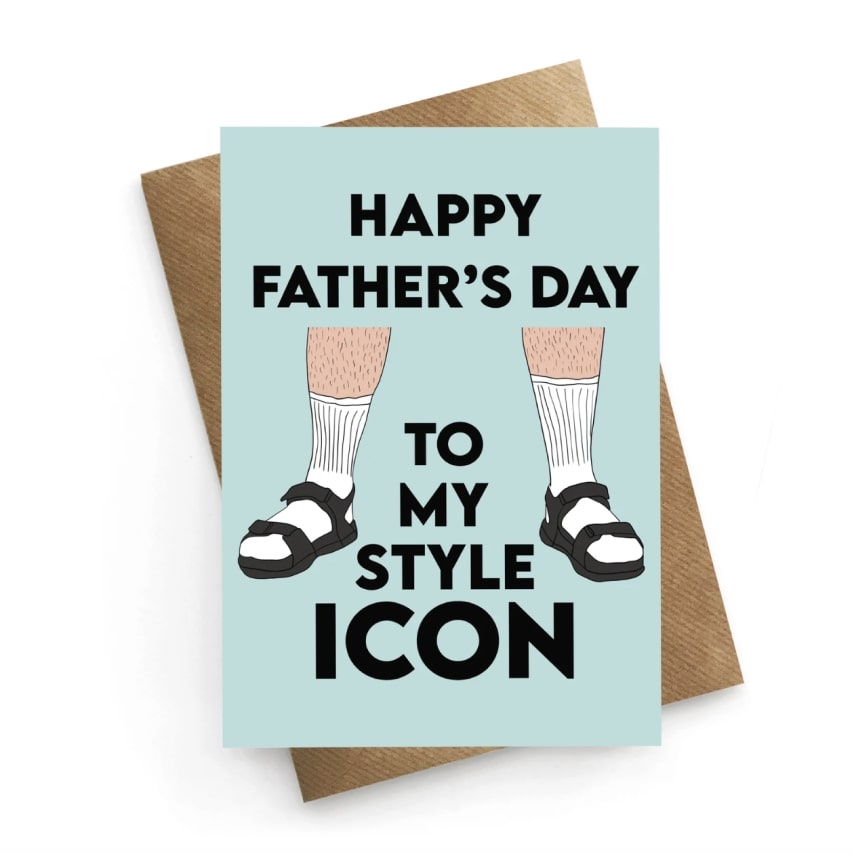 Nobody rocks socks in sandals like dads do. And these Father's Day cards show that the best ideas for epic designs come from fathers themselves.
Father's Day Card Ideas From Daughter
As a daughter, you're expected to cover the more emotional side of a Father's Day card – and we're here to help. From funny to heartwarming messages, let's list them all.
Dad, I Will Always Be Your Financial Burden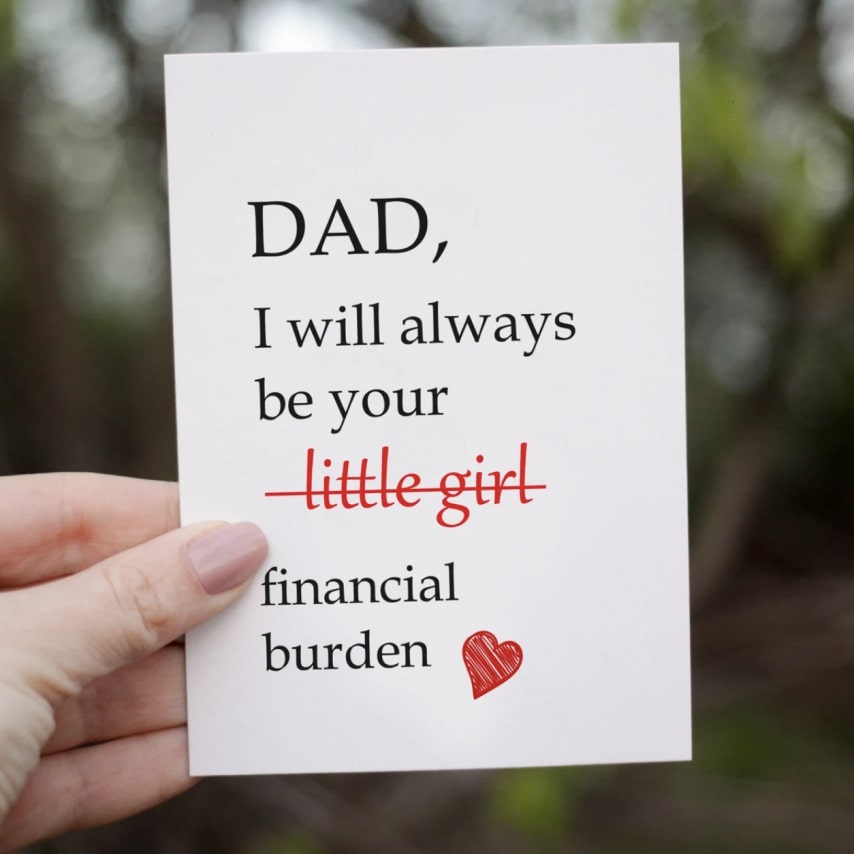 It's time to remind your dad that you'll still live at his house for a while. The main takeaway is not that you're a burden but that you'll always stay close.
Happy Father's Day From Your Little Princess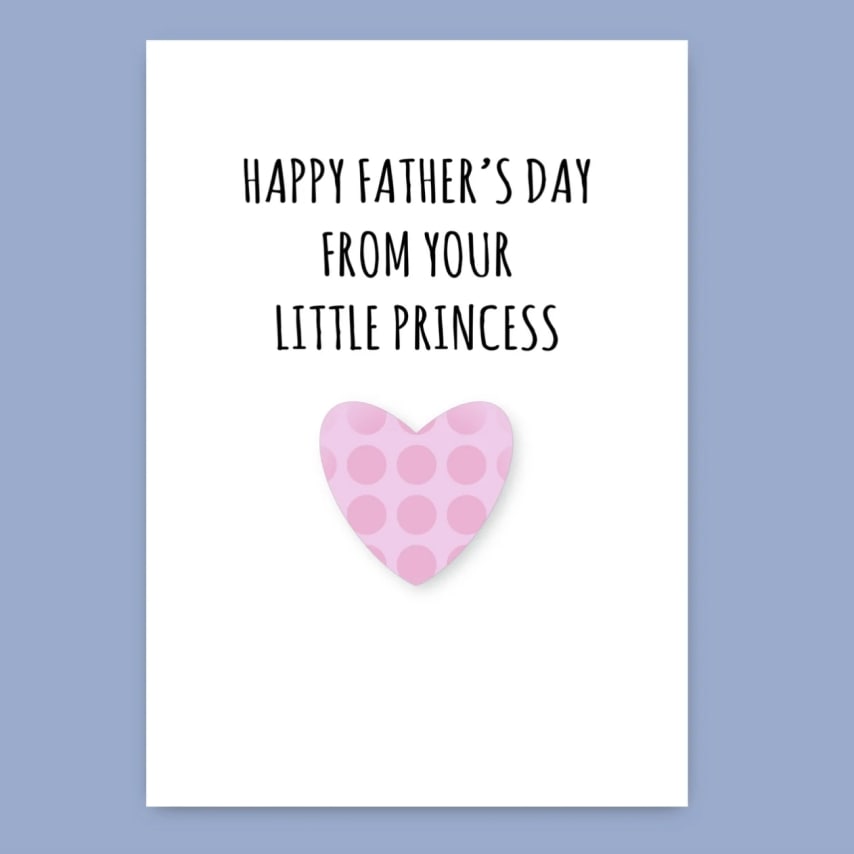 It's well-documented that all daughters are little princesses and treated that way by dads, sometimes to an excessive degree. And rightfully so. It's a bond like no other.
The Love Between Father and Daughter Lasts Forever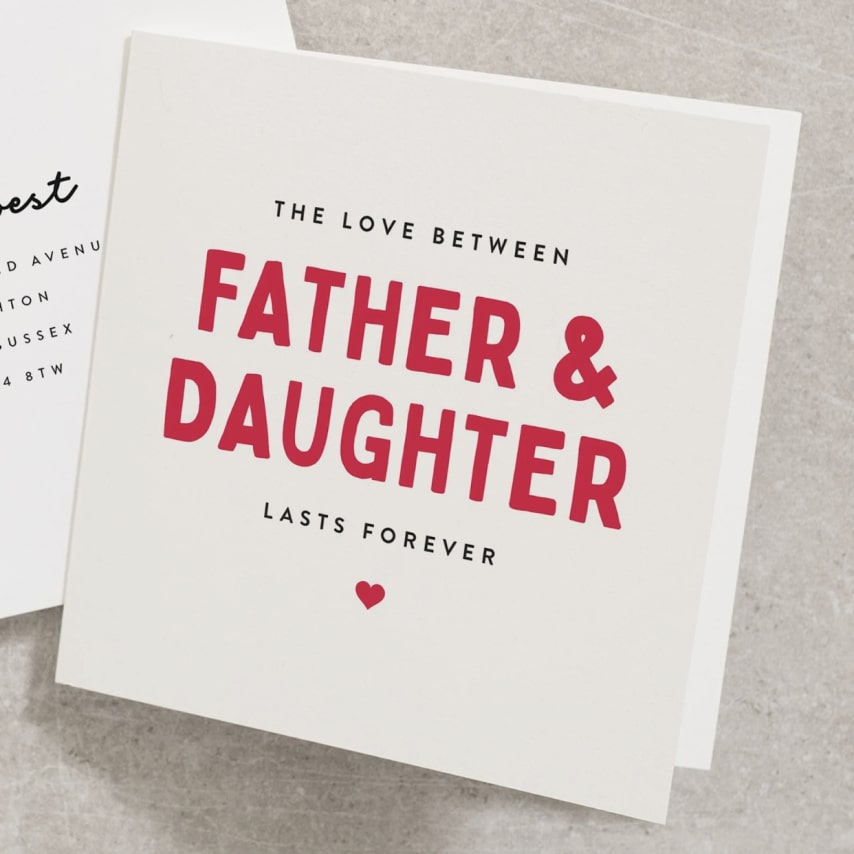 If your dad enjoys a good fact, this one is the best it gets – because what's better than knowing that your daughter loves you?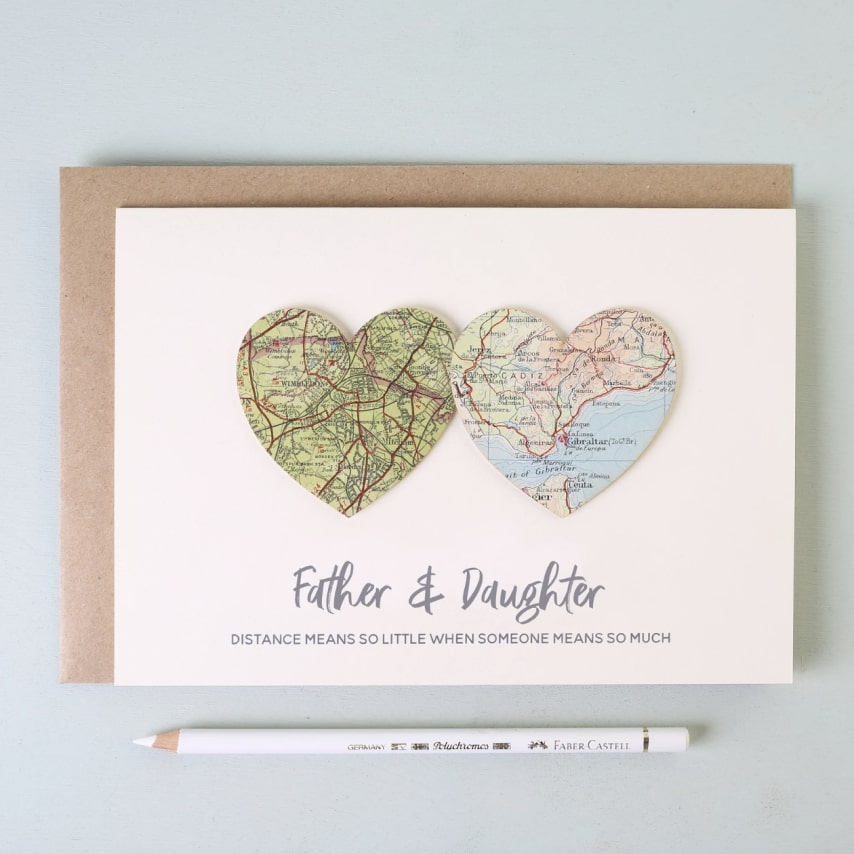 "Distance means so little when someone means so much." Kids and parents can be worlds apart – but nothing breaks that bond. Tell your dad he means the world to you.
How to Make Father's Day Cards with Printify
Kids used to have fun making Father's Day cards with paper, crafts, and an idea or two. But they would spend a lot of time and resources. Now, it's possible to put an epic idea on paper – by spending less than five minutes on Father's Day cards.
Register on Printify and create an account – all you need is an email address and a password that's safe and easy to remember.
Browse our Catalog and pick your favorite Father's Day card to customize. Click Start designing and bring your idea to life by creating Father's Day printable card designs.
Spend a while on our free Mockup Generator to craft the perfect dad card. Write a message, upload an image, and customize it to your liking.
Sell Your Own Father's Day Cards
Kids search for unique Father's Day card designs year after year – tired of the evergreen and outdated options in their local stores. Utilize this by selling custom greeting cards.
Choose the best sales channel, integrate with Printify, and have your Father's Day card designs listed in minutes. Printify integrates with all the leading sales platforms and marketplaces – and ships worldwide. So craft the perfect card and enjoy the profits.
While it's always easy to write a message on a basic card or piece of paper, some personalization and creativity always go a long way. Show appreciation this year with unique and epic greeting card ideas. Something kids – and dads – will truly enjoy giving and receiving.
Share the article
Topics