Gildan Hoodies: An In-Depth Product Review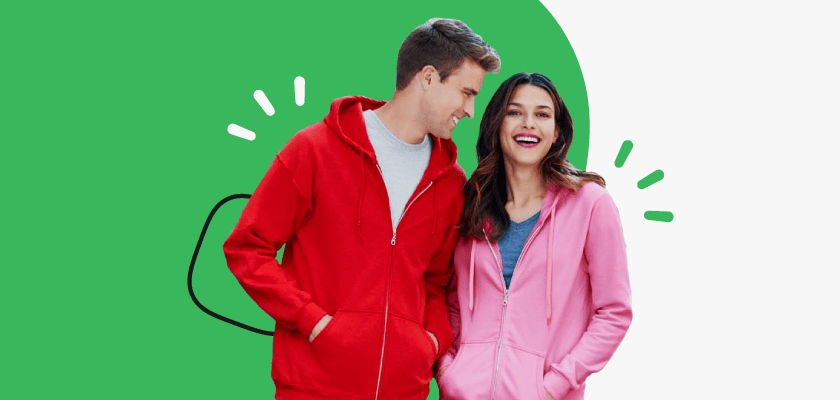 Hoodies are a staple in almost every casual closet these days, worn by startup techies and streetwear enthusiasts alike. According to Market Watch, we can expect to see huge growth in hoodies sales over the next 6 years.
This growth is big news for any clothing store out there. Whether you run a print-on-demand store or are thinking about starting one, Gildan hoodies are a great products to customize and start selling.
Gildan Hoodies Are Market Leaders
Gildan is one of the largest wholesale apparel brands, generating almost $3 billion in worldwide revenue in 2019. They focus on selling blank apparel, which other companies and online merchants  can customize themselves.
Today we will do an in-depth review of both the Gildan 18500 and the Gildan 18600 hoodies. We will look at their features, material, size, price, and more to help you decide whether these are the best gildan hoodies for you.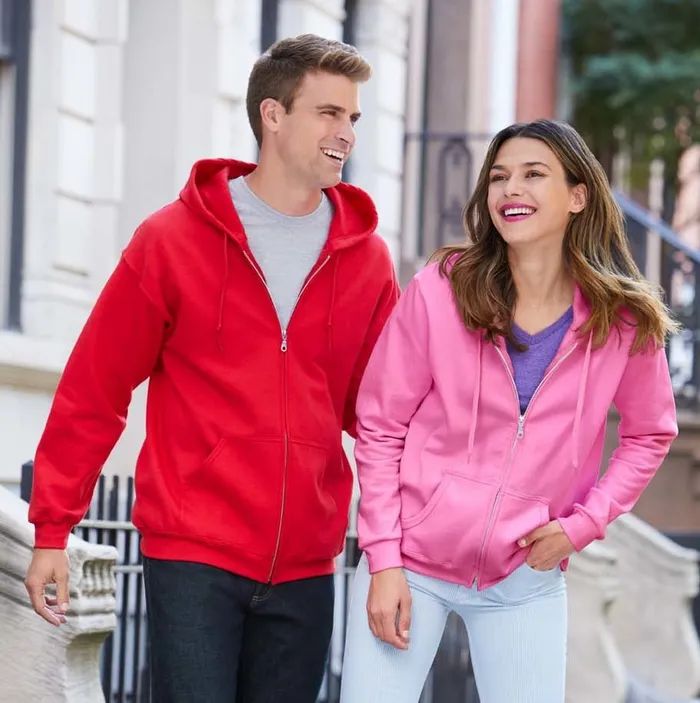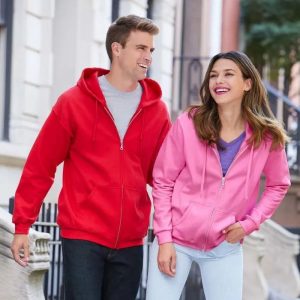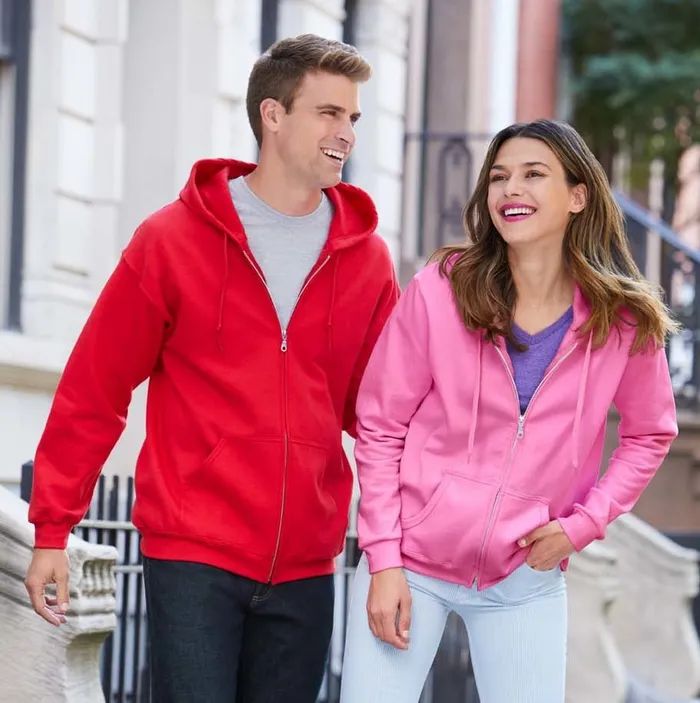 Gildan hoodies are extremely popular among dropshipping e-commerce stores. By using a print-on-demand platform like Printify, store owners are able to create their own designs to make custom Gildan hoodies for their website.
When a customer orders a hoodie, print providers will handle order fulfillment and shipping, letting store owners focus only on designing and advertising.
What Is the Gildan 18500 Hoodie?
The Gildan 18500 hoodie is a pullover made of a polyester-cotton blend. The blend is made with air-jetted yarn, which gives the hoodie a softer feel. It also reduces pilling, those little balls of material you find after washing most cotton shirts.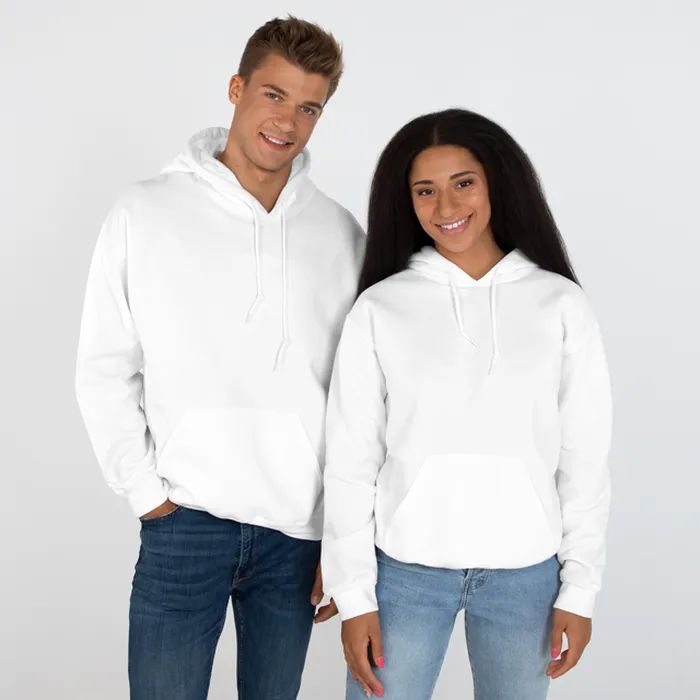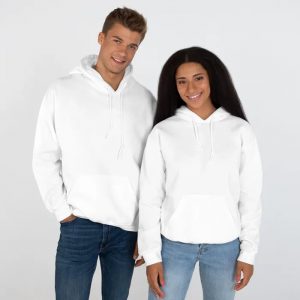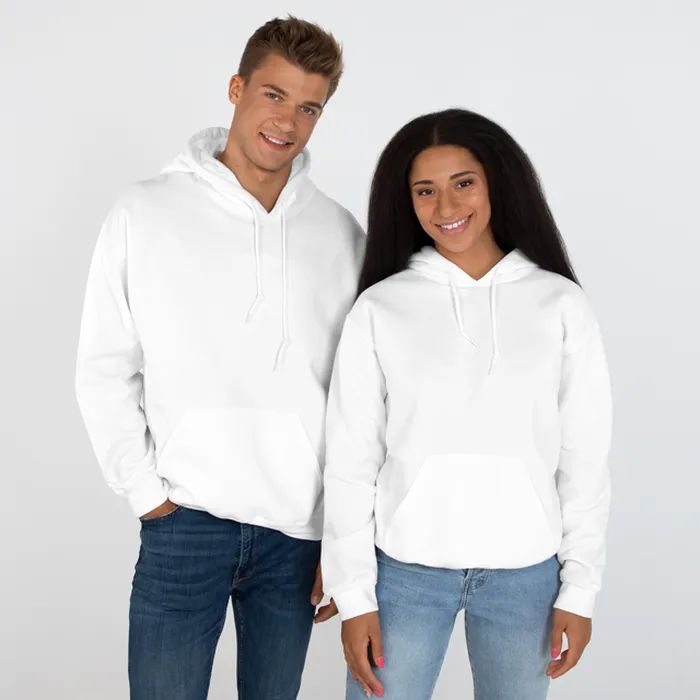 At 8 ounces, it is a bit heavier than other Gildan hoodies, but means it is also warmer. That makes it great for cold-early morning workouts.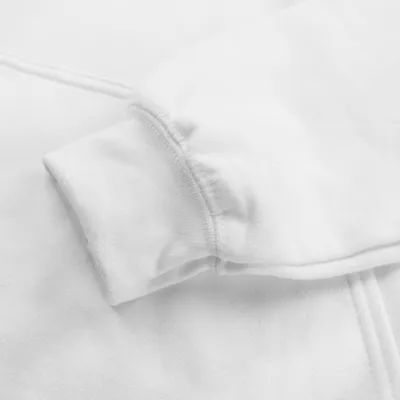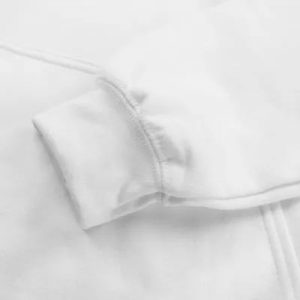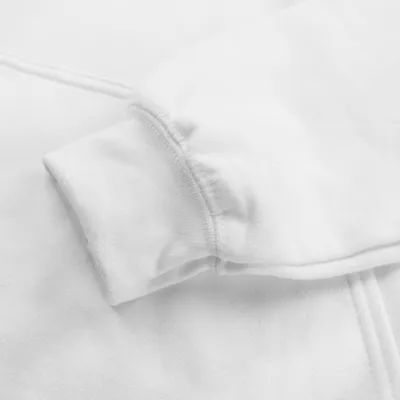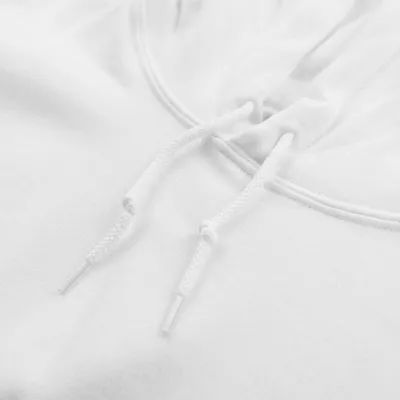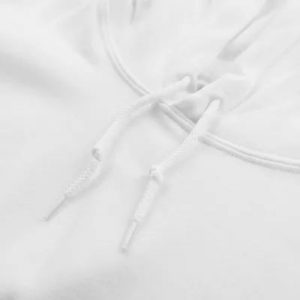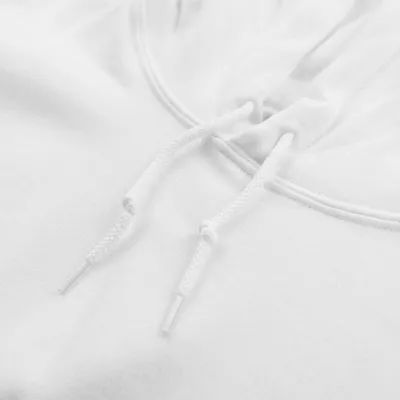 It has a double-lined hood for added warmth with a matching drawstring as well as a pouch pocket to keep your hands warm and carry whatever you need. All the stitching is doubled up, making the hoodie much more durable.
At Printify, we give you the option to have your designs printed on the front and the back of this hoodie using the DTG (direct to garment) method. Direct to garment is a method of putting the designs onto garments similar to an ink jet printer. In much the same way a document is printed, DTG garments have designs or graphics printed directly onto them.
Gildan 18600 Zip Up Hoodie
The Gildan's 18600 zip-up hoodie is extremely similar to the 18500, weighing the same and made of the same material. It has a similar, soft feel, the same double stitching for durability, and is air-jetted to reduced pilling.
The key differences are that it has a metal zipper, resulting in the pocket being split. Furthermore, the hood is unlined compared to the double-lined 18500. The drawstring still matches the color of the hoodie.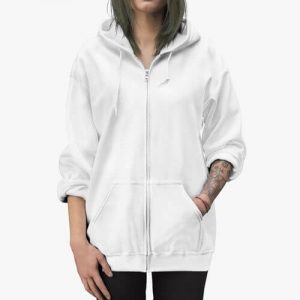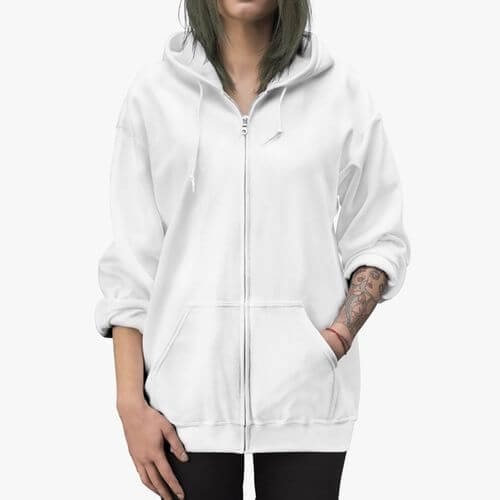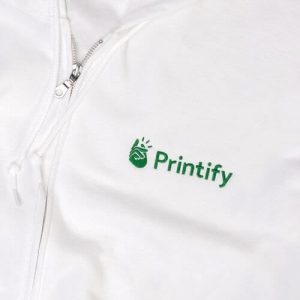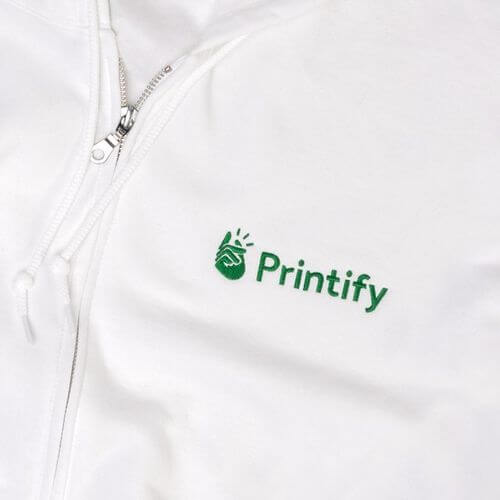 Create Your Own Merch for Free!
Material: The Polyester-Cotton Blend
The material of a hoodie is extremely important, as it affects everything from the comfiness to the durability of your hoodie.
Gildan hoodies (18500 and 18600) are Heavy Blend™ and are made of a blend of 50% cotton and 50% polyester. This type of blend is extremely versatile and is used to make everything from hoodies and shirts to bedsheets and tablecloths. Let's take a look at the pros and cons of this material.
Why Use a Polyester-Cotton Blend?
The cotton-polyester blend combines the benefits of both materials, while generally covering the downsides of both. While cotton alone often shrinks after washing and drying, the polyester allows the blend to hold its shape. 
100% polyester can be a little bit uncomfortable, however, cotton makes the blend more breathable, soft, and comfortable.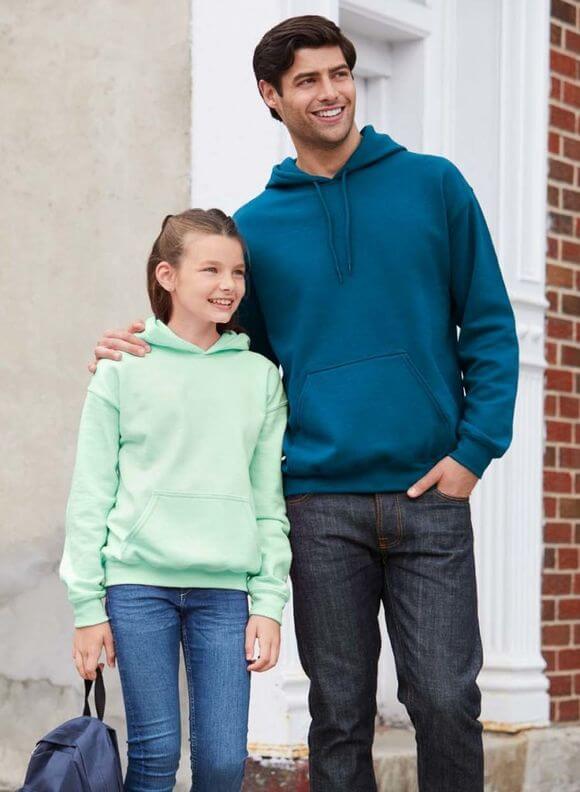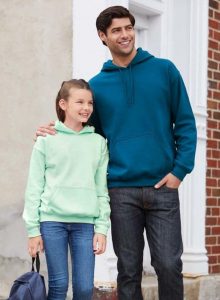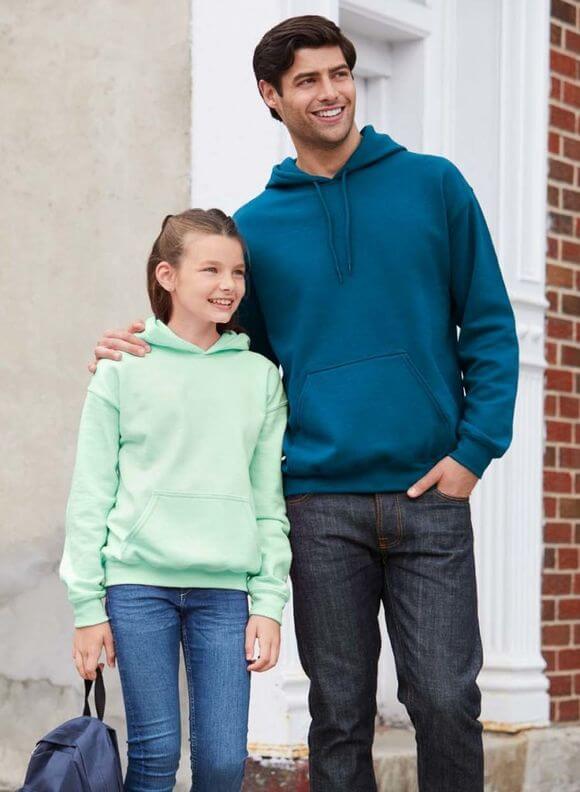 The biggest downside when using a polyester-cotton blend is caused by how the fabric is weaved. While pure materials can be weaved very tightly, blended fabrics are generally a bit looser.
Most print-on-demand methods are designed to work best on tightly woven cotton. Blended materials are looser, meaning that prints can be a bit faded. This is barely noticeable on the polyester-cotton blend but is very noticeable on other blends, such as the tri-blend.
The Gildan hoodies come in a wide range of colors. Our suppliers offer the pullover in 20+ different colors, and the zip-up hoodie in 15 colors. The colors are vibrant and give your amazing designs the opportunity to pop and stand out in the crowd.
Pro-Tip: Don't offer too many colors
It can be extremely tempting to add every single color of the hoodie to your store so that your customers can choose whatever color they want and be as happy with their purchase as possible. However, counter-intuitively, offering too many colors can actually decrease sales, as well as customer happiness.
A popular study conducted in 2000 showed that people are more likely to buy when offered a limited number of 6 choices rather than 24 or 30 choices. Additionally, participants were also reported being happier when their original set of options had been limited.
Keep this study in mind, and think about offering a limited array of Gildan hoodies colors.
It's not fun when you go online and buy a hoodie, or any apparel for that matter, only for it to turn up on your doorstep and have it not fit. To make sure that doesn't happen to you, check the sizing for anything you buy or offer to your customers.
There are two major things to keep in mind about the Gildan hoodie size.  Firstly, the Gildan custom hoodies can be a bit too short at the waist for some, meaning it rides up if you reach up too much, depending on the person. Secondly, Gildan hoodies generally run smaller, so it could be wise to choose the larger size when choosing between two.
Gildan Hoodies – Size Charts
Better than just reading anecdotes about the fit of a hoodie is actually measuring yourself and taking a look at the size charts. To make this simple for you, here are the size charts for both the 18500 and the 18600.




To make sure that your customers are happy with their purchase, you should add a size chart to your store, and potentially warn them that the hoodies are a bit small. That way they won't get any nasty surprises and receive a hoodie that doesn't fit. That will also help to keep those pesky negative reviews away and your customers ordering the proper size for their needs.
Prices Starting From $12 With Printify Premium
Gildan hoodies are one of the cheapest you will find on the market, especially if you plan to use it for your print-on-demand store. 
Gildan has huge economies of scale, they can produce a lot of products for a fraction of the cost. Secondly, Gildan offers hoodies at low prices to stay competitive in their price-sensitive market.
On the Printify platform, we allow you to choose between a number of different providers, each with their own price and color selection.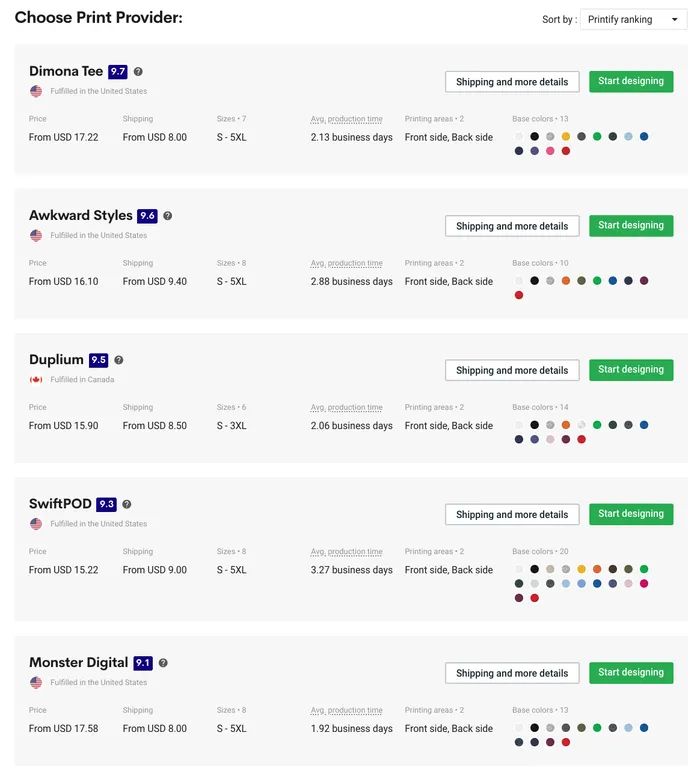 Prices for these hoodies start at $15, but you can get an even lower price of $12 with Printify Premium, our subscription service. We offer an extra 20% discount for all Printify premium members.
Remember, you get to choose how much to sell your Gildan hoodies for. Although you can charge whatever you want, we recommend to have a profit margin of around 30%. That way, you can attract many customers, while still making money on each sale.
On the Printify platform, we allow you to choose between a number of different providers, each with their own price and color selection.
Overall, Gildan Hoodies Are Great Value for Money
It doesn't just matter what we think of the Gildan hoodies. It also matters what other people, the general public, think of the hoodie. It seems that people generally agree with us, as the Gildan 18500 hoodie has a rating of 4.5/5 on Amazon with over 5000 reviews.
It's no surprise that Gildan's products consistently make the bestsellers list for our customers. If you're looking for other products to add to your print-on-demand store, try out these Gildan products.
The quality of the material and features combined with the low cost make Gildan hoodies a perfect addition to your print-on-demand store.
Customize and Sell Gildan Hoodies Online
It is obvious that there is a clear demand for custom hoodies in today's marketplace. Custom hoodies have huge sales potential for online stores, and nearly any design can be put onto a hoodie.
On the Printify platform, we allow you to choose between a number of different providers, each with their own price and color selection.
Printify has low prices on the Gildan 18500 – and you can get that price even lower if you're signed up for Printify Premium, starting at just $12. 
Printify sources high quality garments like the Gildan 18500 from several screened and reliable suppliers. You can choose which one works for you, based on price, location, or selection. That means more profits for you, or cheaper prices to your customer and more sales for your store.
You can also get started quickly with our mock-up generator, our easy to use, free design tool that will help you get products from your imagination to your store.
Create Your Own
Print on Demand Success!
Share the article
Topics