Gildan 18500 vs 18000 Comparison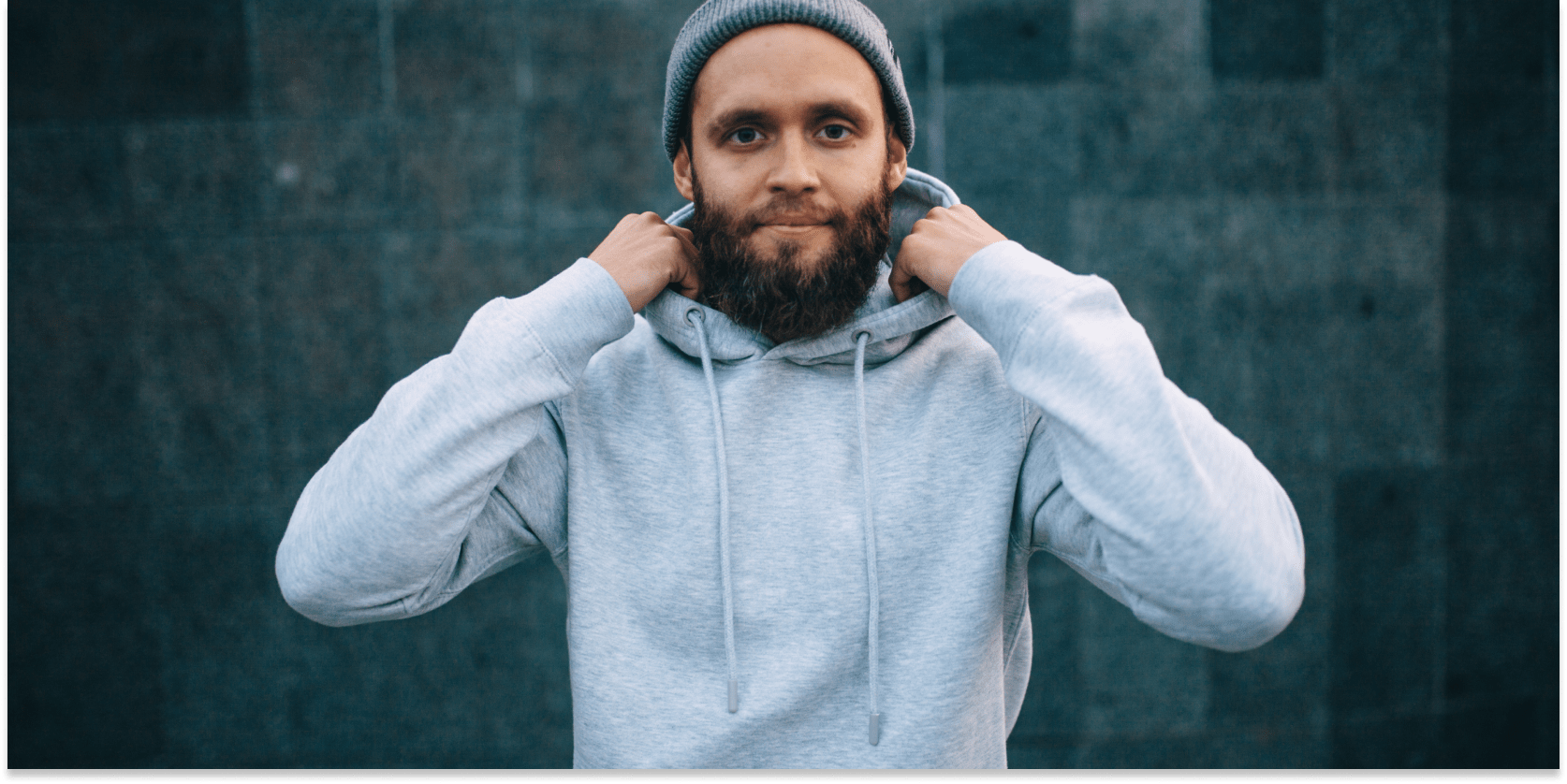 To hood or not to hood? That is the question. Today we review two products that are wildly popular among our merchants. Let's dive right in with a quick overview of what these two products look like.
We've already written extensively about the market for hooded sweatshirts and for hoodies so we won't bore you with that. But let's talk about the Gildan 18000 and Gildan 18500 in particular.
Here are the stats: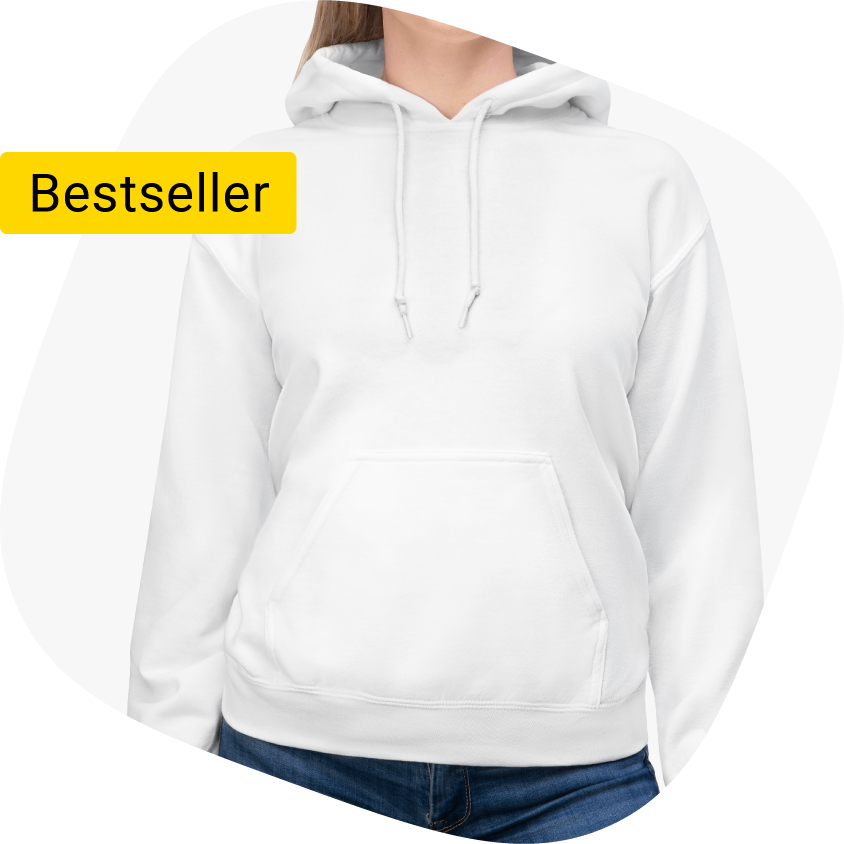 Loose fit
50% Cotton; 50% Polyester
Medium fabric (8.0 oz/yd² (271.25 g/m²))
Sewn in label
Runs true to size
Spacious pockets
Now let's look at its sister product, the crewneck sweatshirt Gildan 18000.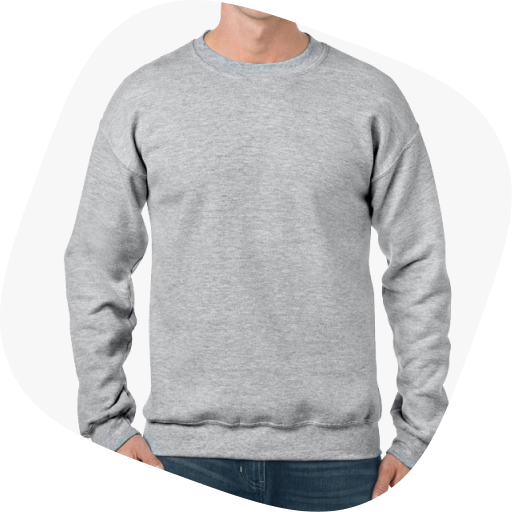 Classic fit
50% Cotton; 50% Polyester
Medium fabric (8.0 oz/yd² (271.25 g/m²))
Sewn in label
Runs true to size
No side seams
Ribbed neck collar with seams
The first thing that should grab you about these the Gildan 18500 and Gildan 18000 is that they're very similar in terms of their construction. Let's talk a bit about fit. A lot of customers who are buying a hooded sweatshirt or a sweatshirt to wear around want something a little longer and baggier.
While these two both are a little bit baggy too and allow for layering, they do not typically extend below the waist of the wearer.
What does that mean? Many store owners and shops in our network will not want to use these for their customers if they have products geared towards markets that prefer baggier clothing. This could be anything from moms who are expecting to hip hop or dance stores. The baggier nature is also a product of a cotton-polyester blend of the Gildan 18500 and Gildan 18000, as blends tend to be a bit baggier.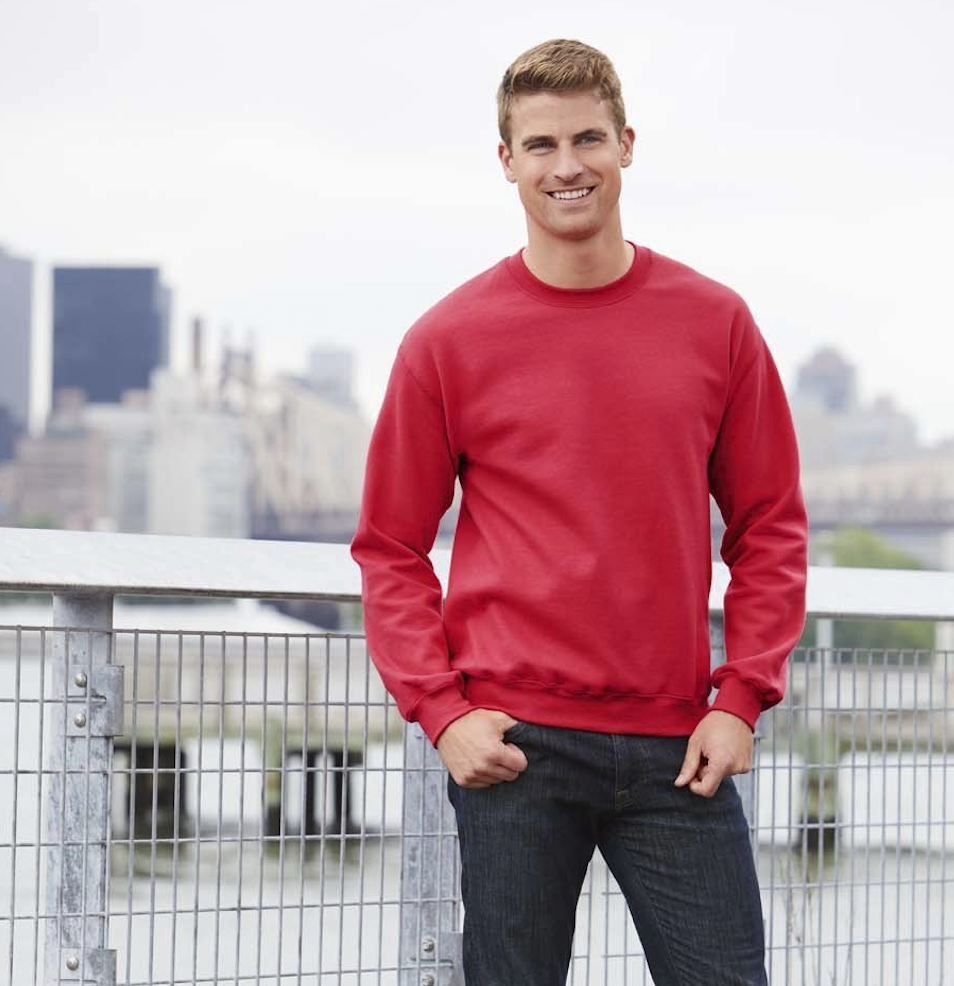 This can be seen as a big disadvantage for a lot of store owners, as long and very lose styles have been popular for many years now. While slim and normal fit products are making a comeback in recent years, the trends remain long and loose.
However, consider the market for athleisure products. Athleisure products are a multi-billion dollar a year industry and this type of product, and it's fit, is perfect for outdoor activity. It's also good for layering for customers who are working out outdoors in colder weather.
Paint the Picture for Them
Imagine this: your customer wakes up on a misty fall morning, ready for their morning run before they set out to conquer the day. The leaves are falling and slightly wet underneath them as they open their door stretch a little and begin to run Down their sidewalk. What's better than a nice crisp fall run with your favorite fall accessory? If you can find yourself in that picture, then maybe your customers will too with these products from your store.
Comparison
Let's take a look at some of the similarities between the Gildan 18500 and Gildan 18000.

Blend
Let's start with the obvious. They're made of the exact same blend of fabric a 50% polyester and 50% cotton blend. This makes for a durable fabric that will serve it, wearer, well for years to come. This makes it durability and comfort that's seen in many of these garments. They're both also made from air-jetted yarn for a softer feel that prevents piling. A cotton-polyester blend also means the fabric won't shrink it will hold its shape while allowing you have a breathable garment.

Side Seams
They also both lack side seams, and while you may want this in a T-shirt or shirt that will fit closely around the body and show off a figure, a hooded sweatshirt or sweatshirt is the layering garment. That means you want a little space so that you can wear a T-shirt for a long sleeve tee underneath. That's what not having side seams allows.
Speaking of seams, those are cross-stitched for a very you durable connection. The crew neck Gildan 18000 also has ribbed knitting for additional comfort around the sensitive throat area.

Fabric Weight
This garment is a medium weight fabric. That means for many it can be worn in the Spring, Summer, and Fall. Common uses include fall days, bumming around the house, and going to the grocery store. But these are versatile garments.
While many will use this as a top garment when they wear shorts on cooler summer nights, we often see many skaters wearing these garments. That's because it also provides some protection against falling for skaters, but not much (so still wear your pads!).

Color Options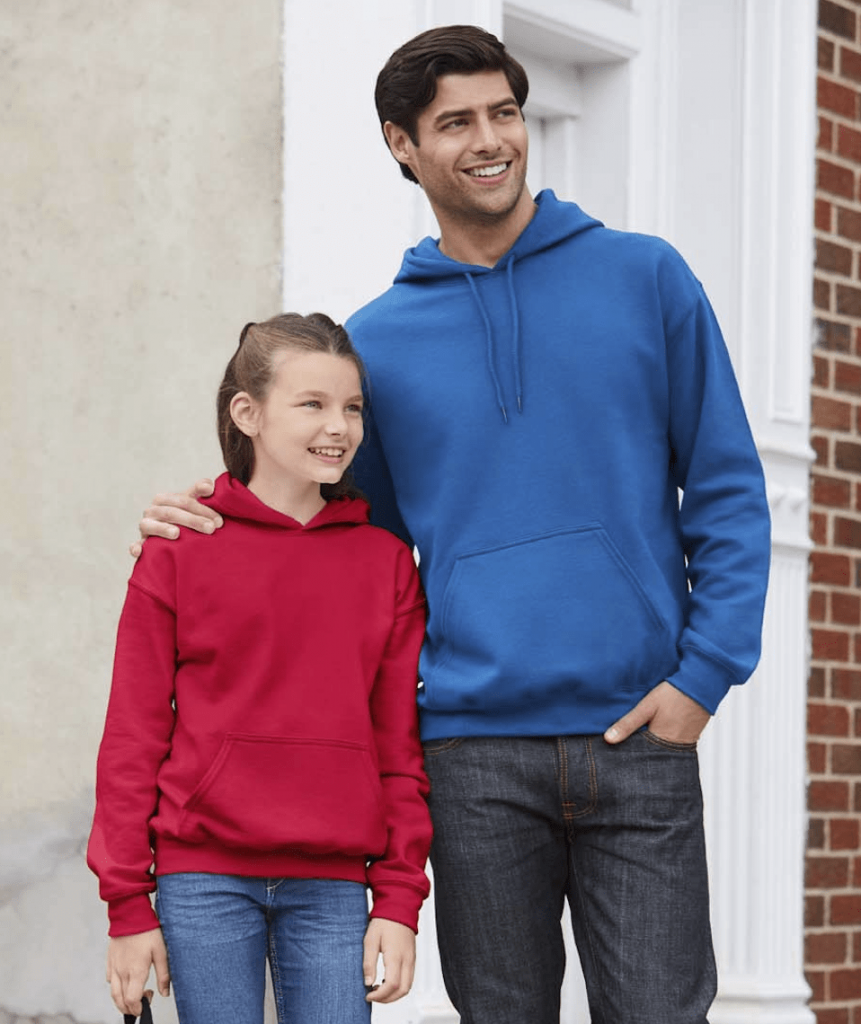 Because the Gildan 18500 and Gildan 18000 are so popular, they come in a huge variety of colors. Both garments come in over 25 different colors and they are very clearly one of the garments that offer the most variety for our store owners. That means you should be able to find something from Comic-Con to that Death Metal band you're starting!

Elastic Strength
Both the Gildan 18500 and Gildan 18000 feature strong elastic bands around the waist and wrists. These are comfortable and keep the wearer looking crisp and clean, and their garments do not become bunched up at the waist or around the wrists. It's a simple and effective way to keep the garment looking neat.
Contrast

They're Different Things
The first most obvious difference is that these are two different types of garments. One is a hoodie and one is a sweatshirt. ? Why is that important? While very similar, they're totally different things, have totally different uses, and totally different markets.

The Hood
Well, there's the hood. It's a double-lined hood, and it fits a little more snugly around your face then some hoodies do. If you or your customers are expecting their faces to become lost in a black empty space, then they will be mistaken. This hood fits quite snugly around the head of the wearer, leaving the face quite visible.

Popularity
Let's talk about money. What about the market for the Gildan 18500 vs the Gildan 18000? Well, the market for hoodies is much bigger. As we have already detailed, while there are no good figures on the number for sweatshirts, we know from casual observation that many more people wear hoodies on a daily basis then wear so it shoots. We also can tell you that hoodies sell better on our platform.

Outerwear
Apart from the dollar advantage, the selling hoodies offer you, you could also consider that many people use hoodies as a kind of outdoor jacket or outerwear. Sweatshirts, while very popular, don't have this widespread use as a jacket replacement. This might because of the clearest difference between the two products, hood. While not waterproof, it will protect you from light rain for a short amount of time. It also offers some protection from the wind.
How to Sell Gildan 18500 or Gildan 18000
All right so this is the real question many of you have. How can I sell either one of these garments in my store? What are the most popular types? Well, as always, we here at Printify strive to support our store owners and make their store ownership as profitable as possible.
Best-Selling Hooded Sweatshirts and Sweatshirts
The best-selling hoodie design on our platform is continuously the simple front-facing saying, quote or catchphrase, or even logo. It's not complex, many people can design it very easily, and in the case of catchphrases are an easy way to show off your fandom or support for a particular person, game or event, or cause.
This is truly great news for the store owner with limited design abilities. It means that you can create and design best-selling hooded sweatshirts and sweatshirts without a huge amount of design experience.
Best Selling Colors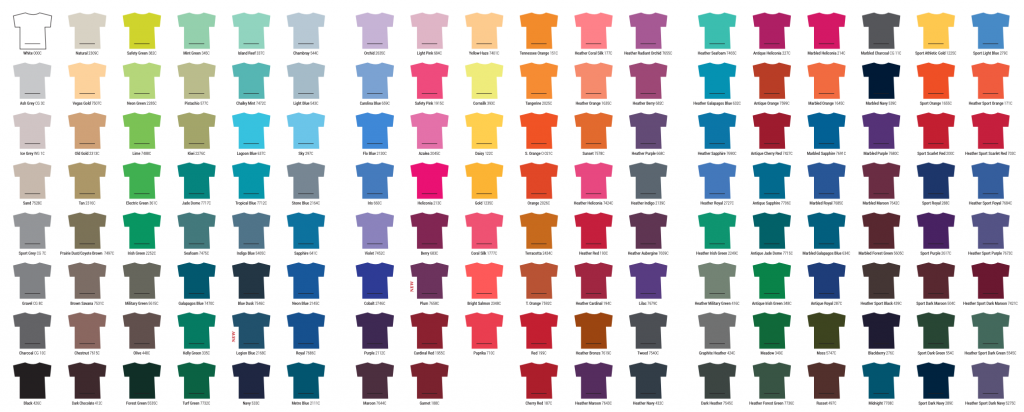 Try also for basic in dark-colored pudding sweatshirts if you're only offering a few color options. Black and white are still the most popular, and also don't overwhelm your customer with choices. Many studies have shown that when faced with too many options, customers will leave a store and not purchase anything in comparison to one they only have a few choices.
Athleisure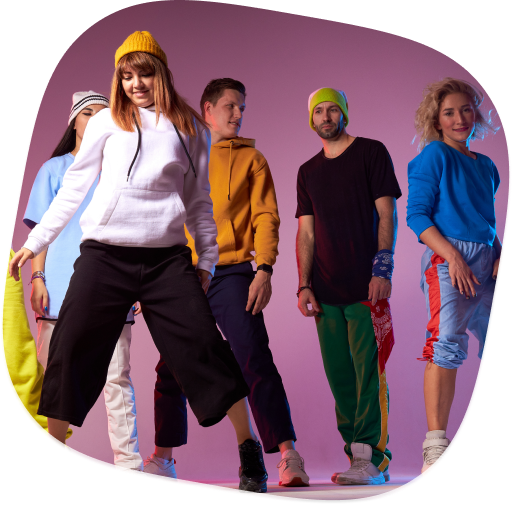 Athleisure is an $83bn market that is no longer a trend but a sales juggernaut. If you haven't decided to cash in on this trend yet, consider doing so now because you have the perfect products in front of you to do it.
These stories and sweatshirts have emerged from skating culture and athletic competition and now are worn as everyday apparel. That means that although the hood on a hoodie was originally thought of to help an athlete warm-up on a track or before a wrestling meet, they now have additional uses and have gained mainstream appeal.
Both the Gildan 18500 and Gildan 18000 have serious crossover appeal in the athleisure market that you should take advantage of as a store owner if you want to sell a lot of extremely popular products.

Price
OK, I may be accused of journalistic malpractice, but I did bury the lede. Gildan 18500 and Gildan 18000 are also incredibly popular because of their extremely affordable price point. For their mix of quality and durability, this is one of the best price points for a garment of this type.
Let's take a look. On our network, the Gildan 18000 Is going between $20 and $22 a piece, a price that includes shipping. While the more basic colors are more affordable, the variety of colors offered can increase the price a little bit. The basic black white and gray are the most popular and also the most profitable garments of this type on our network.
Gildan 18500 Legendary Affordability
Taking you through to the best selling products on our network. The Gildan 18000 and Gildan 18500 are exceptionally good choices for store owners who want to bring value and durability to their lineup, without costing their customer is an arm and a leg. The garments have a great mix of fabric blends, stitching, and fit that appeals to the broad middle section of the customer base that is not too particular or fussy about their style and athleisure wear, but is fussy about their budget!
Get started today designing and selling these two legendary garments on our platform. We provide an easy way to get started and up and running with your very own shop and designs today! We also helped to support our store owners with articles like this yet even more detailed pieces that will increase your profitability!
Make it happen right now.
Share the article
Topics