Etsy Views vs Visits: How to Use Etsy Stats to Increase Sales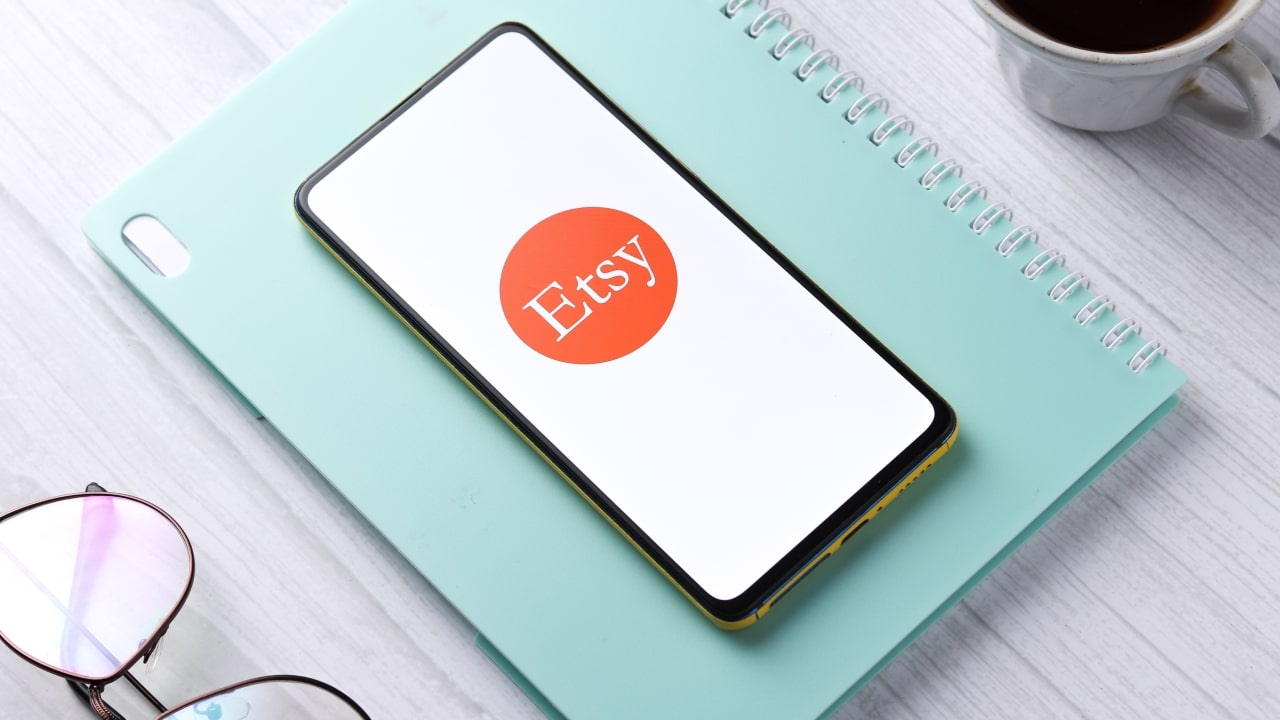 So, you're selling on Etsy, and the dashboard's showing various numbers. Among them, these two are making your head spin – total views and visits. They sound like the same thing. 
Let's say a shopper looked at your designs – is this counted as a view or a visit? 
If you're like me, you want to understand these stats once and for all. By knowing that Etsy views and visits are very different metrics and using them to your advantage, you can improve your Etsy shop's performance and generate more sales.
Etsy visits reflect those who have viewed your Etsy shop or listings. This gives you an idea of how many unique visitors are actually interested in your products.
If you have a lot of views but few Etsy visits, it means that people are looking at your listings but not sticking around to learn more about your Etsy page or products. Perhaps your listings aren't optimized for the Etsy search, your store could lack visual appeal, or your prices and shipping rates are too high.
Where to Find Your Visit Count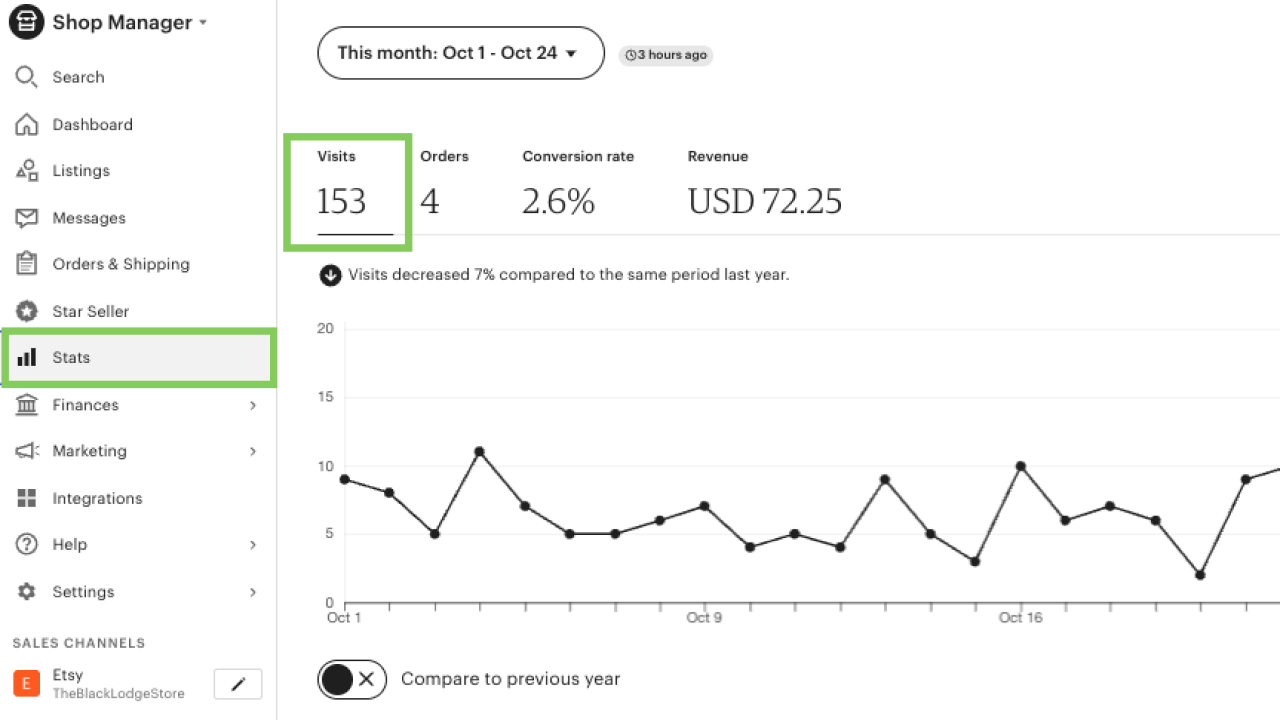 Find the count of your Etsy visits on both the dashboard and the stats page. Click on Shop Manager to access the dashboard and see the stats overview. 
Go to your Stats page for a more detailed breakdown of your data, including the number of visits you received from different sources. For example, visitors from search engines, direct traffic, or social media.
How Often Does Your Visit Data Update?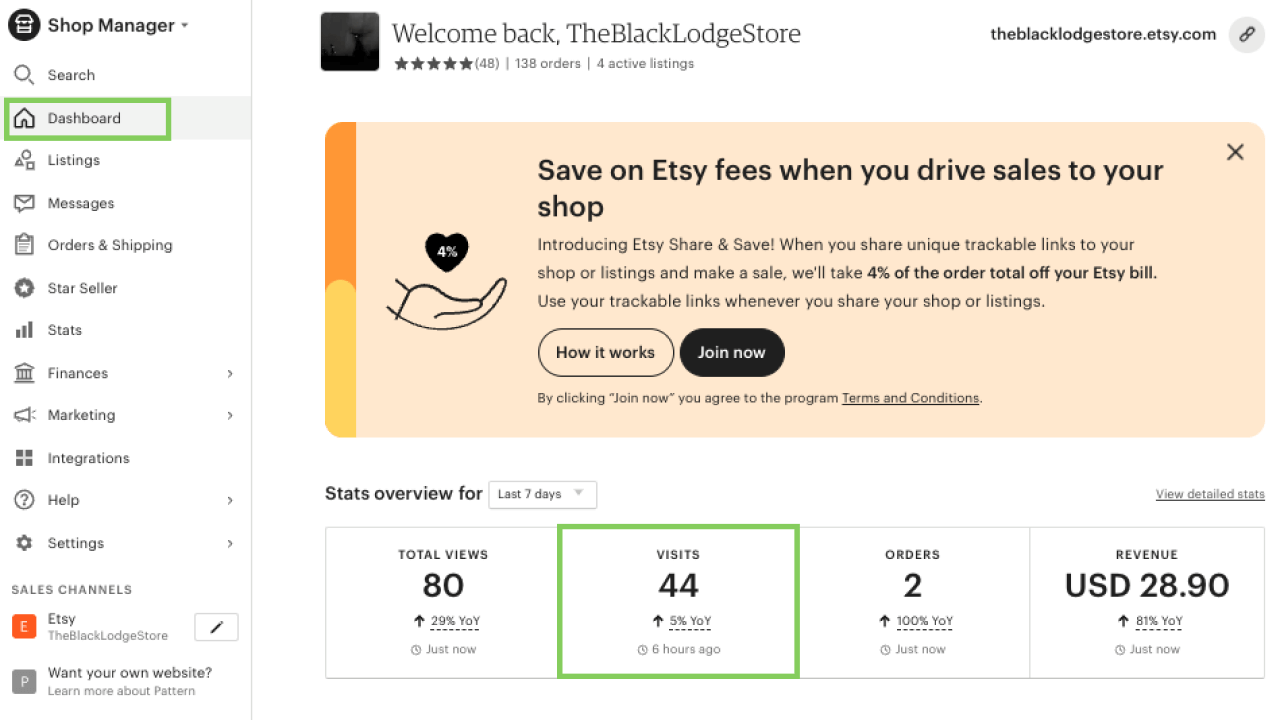 Etsy visits are updated a few times per day to filter out bot traffic. Bots are software programs that imitate human user behavior and often skew the stats by clicking on random listings without any intention of making a purchase.
Etsy filters out as much bot traffic as possible at the end of each day, which may cause your visit count to appear lower than it was earlier on. Note that this is due to Etsy removing irrelevant data.
Views are the total number of times your listings have been looked at, while Etsy visits are the number of unique people who have checked your listings or shop. By understanding the difference between Etsy views and visits, you can better track your shop's performance.
For example, you're searching for a custom tote bag on the Etsy app. You click on one listing and really like the design, so you visit the shop owner's store to see what else they have. You click through four more of the shop's listings. This would count as one visit but a total of five listing views.
Note that views don't always convert into Etsy sales.
Where to Find Your View Count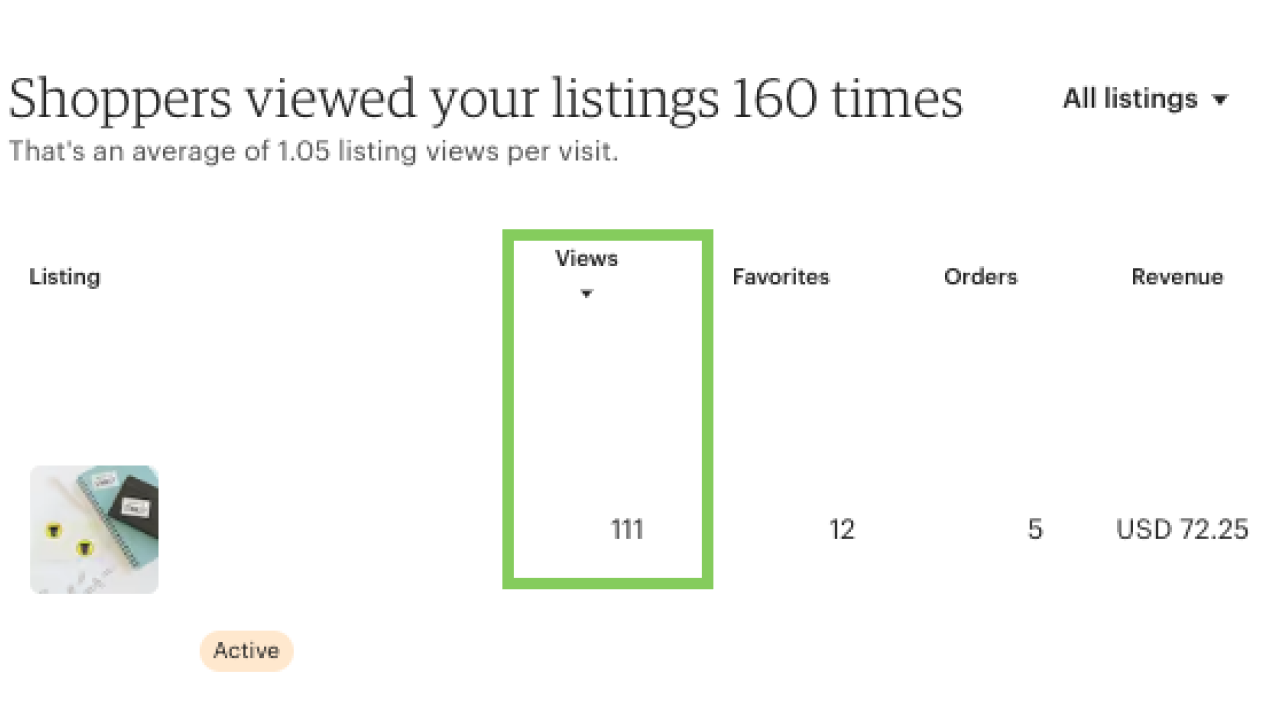 Similarly to Etsy visits, your view count is on both the Etsy dashboard and the Etsy stats section.
On the Etsy dashboard, your view count is displayed under the Stats Overview section.
Under your Etsy Stats, you can see a more detailed breakdown of your view data for each listing, including the number of views you received from different sources.
How Often Does View Data Update?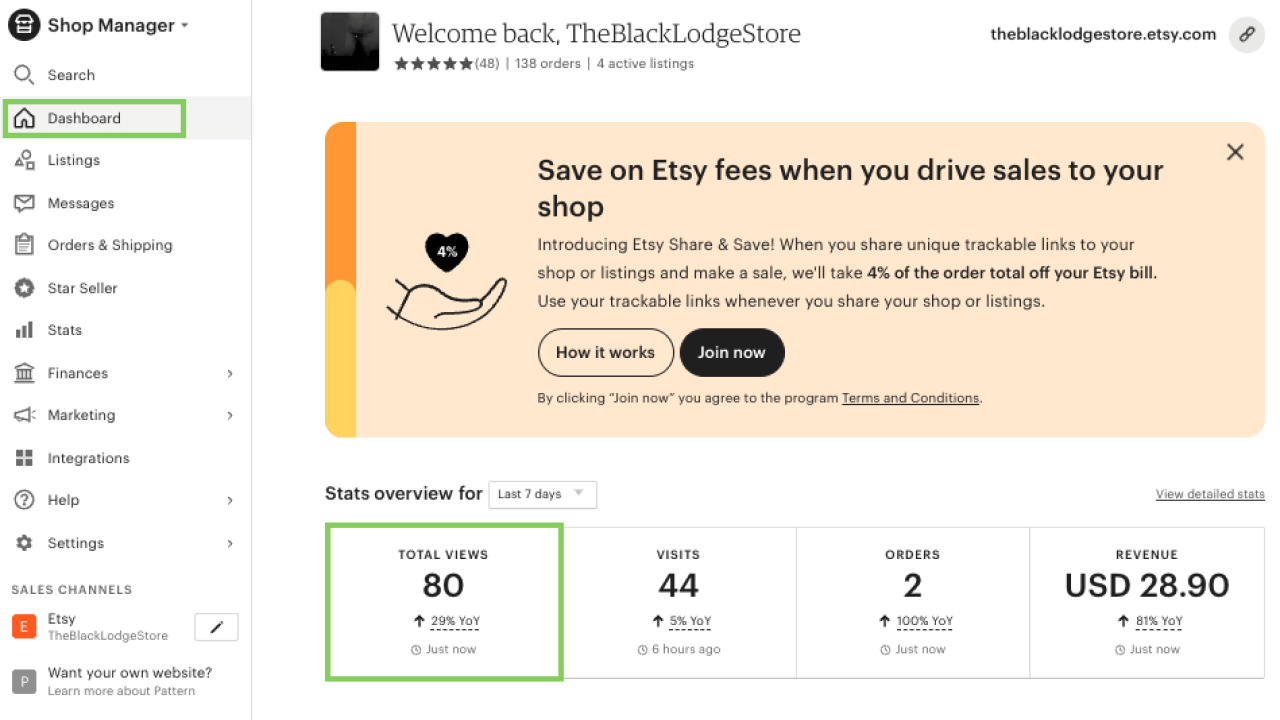 Listing views update in real-time, which means that Etsy sellers can see how many views their listings are getting as soon as they happen.
How Comparing Etsy Views vs Visits Can Help Increase Sales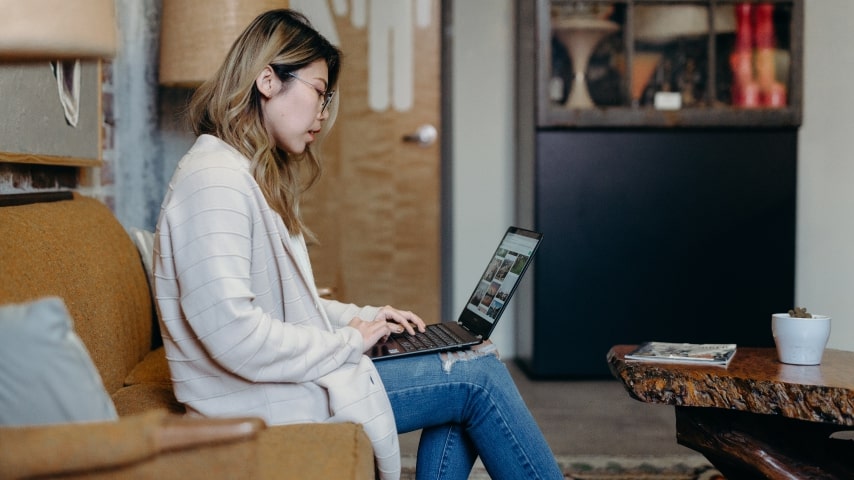 Compare your Etsy visit number with your average listing views to see if shoppers are sticking around to explore your shop. If they're only viewing one listing and then bouncing, it might be time to change your strategy.
On the other hand, if you have a lot of visits but few views, it means that people are interested in your products but are not finding them easily. This could be because your listings are not appearing in search results or lacking relevant keywords.
By comparing how many views and visits you have, you'll identify areas to improve your Etsy shop and listings, which can lead to more money and customers.
How to Improve Your Etsy Shop Views and Visits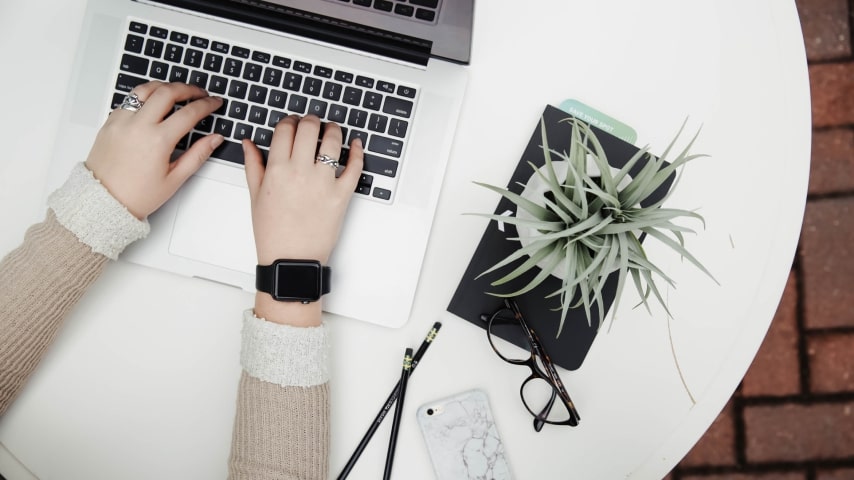 Your Etsy marketing strategy should be a combination of organic and paid efforts to attract visitors to your shop and convert them into customers.
In eCommerce, search engine optimization (SEO) is king as it strongly impacts your store's traffic. Optimize your listings using relevant keywords in their titles, tags, and product descriptions. Doing so gives them a higher chance of appearing in search results when people look up products using phrases that contain them.
Every king also needs their queen – the image. Be sure to use high-quality photos or mockups. Visuals are crucial on Etsy, so make sure your listings showcase your products in the best possible light.
To achieve this, be prepared with: 
Zoomed-in shots

that show details and patterns.

Multiple angles

that offer all-over views.

Texture close-ups

for highlighting material feel.

Consistent lighting

for true color representation.

Contextual mockups

that show your products in real-world settings.
Cross-Selling and Upselling
Cross-selling is another great tactic for Etsy shops. For example, if you sell custom-printed luggage, you could link to related accessories like luggage tags and passport covers in the description to make more sales. 
Make sure your links direct shoppers to the

correct product pages.

Use

clear and concise language

in your link text.

Place your links

in prominent locations within the listing descriptions. 

Use relevant keywords

in your links. 
Additionally, offer combo deals at a better price than if they were purchased separately by the same person.
Also, use photos to promote related products. For example, if you sell a set of printable wall art, you could include photo slots showing all the pieces as a set. Just be sure to make it clear in the listing description that the other pieces are sold separately.
Etsy ads are another way to get your listings seen by more people. Shoppers usually look for products on the first page instead of browsing through hundreds to find the perfect catch.
The Etsy marketplace is huge. By June 2023, there were 6.3 million active sellers, so even the most extraordinary products risk being lost in the crowd. Therefore, organic traffic might not be your best bet.
Allocate a monthly budget to promote your store and products either through Etsy ads or social media. However, it's important to set your budget carefully and track your results to see what's generating Etsy sales and what's not.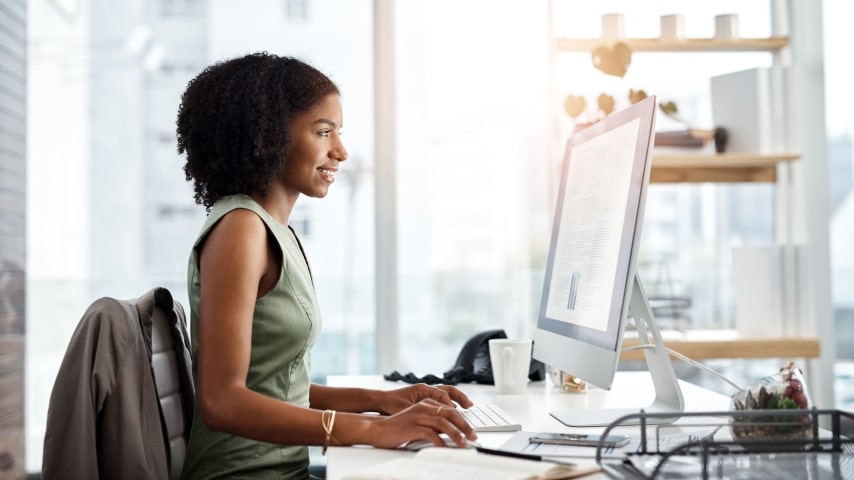 In addition to views and visits, several other Etsy shop stats are available in your Shop Manager. View them from the left-hand side of the Stats menu, and use them as references to improve your shop's performance.
This is the total number of orders you have received. Tracking them can help you understand how many sales you're making and how well your shop performs. 
Use this data to reflect on listing quality and identify trends in your sales, such as which products are selling well and those that are not.
This is the percentage of your shop's visitors who make a purchase. Your conversion rate measures how effectively your shop turns visitors into customers. A high conversion rate indicates that your shop is well-designed and your products are appealing.
If the conversion rate is lagging, try to boost it with these tips: 
Showcase

unique features

using top-notch visuals. 

Throw in

competitive pricing

and easy-to-grab deals.

Streamline your shop's layout for quick product finds.

Write

engaging

calls-to-action (CTAs).

Use the built-in analytics tools to

track your conversion rate

and

identify areas for improvement. 
Test different versions of product titles, descriptions, and photos to see what works best for your visitors.
Revenue displays the total amount of money you have earned from sales. Tracking this helps you understand how profitable your shop is. Use this data to set financial goals for your shop and track your progress over time.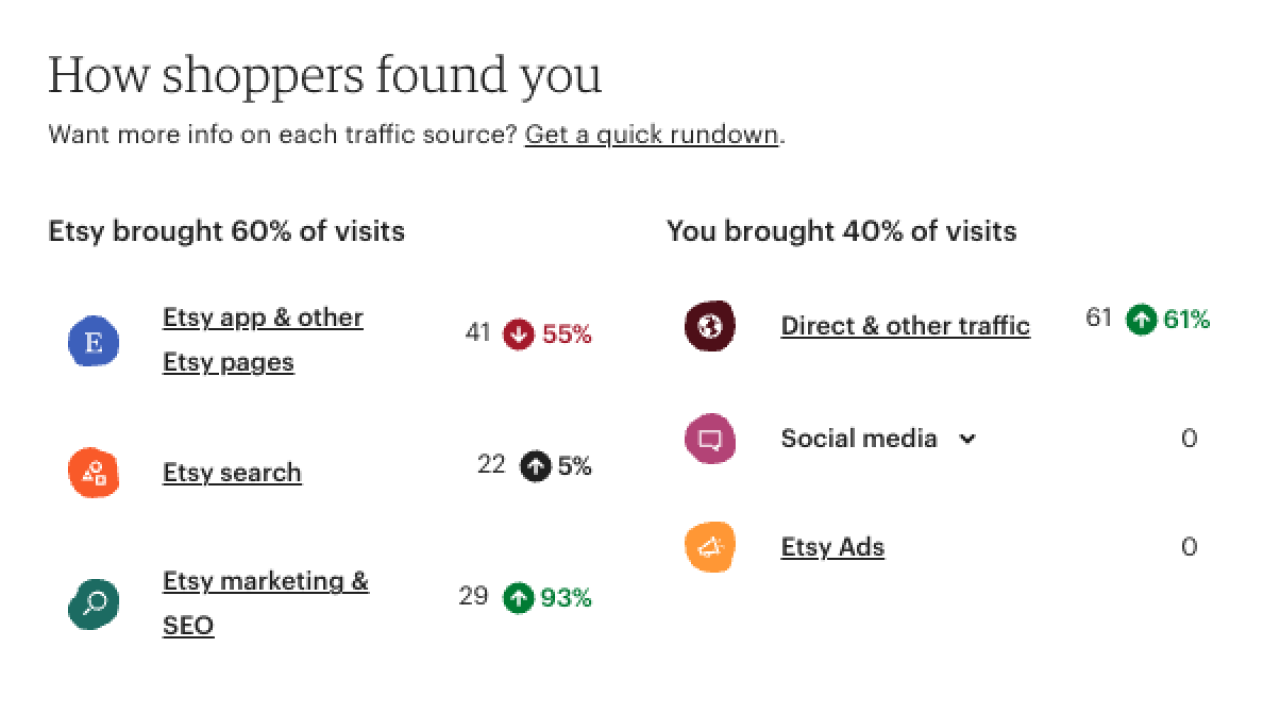 This section is split into two parts and is a breakdown of how people found your store, showing whether shoppers were:
Brought by Etsy. 

Brought by you. 
Tracking how shoppers have found your Etsy shop helps you understand which marketing channels are most effective. Focus your marketing efforts on the channels generating the most traffic and sales.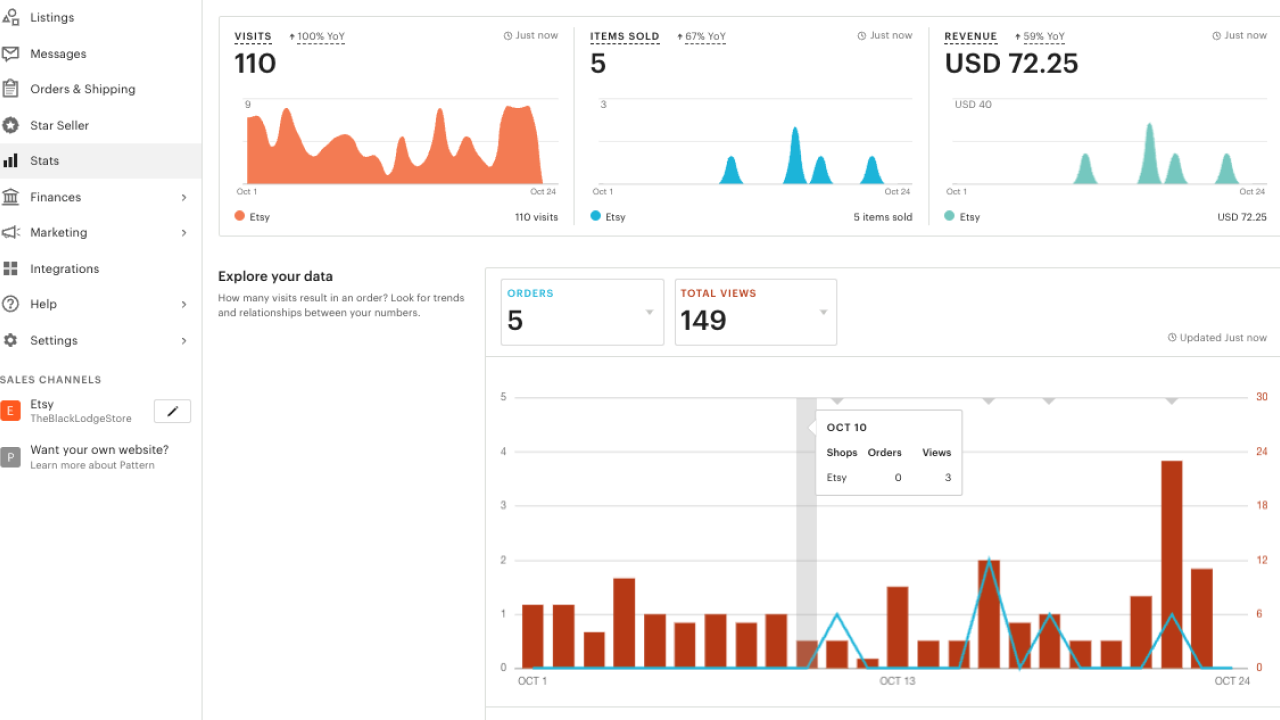 You can also track a number of stats for individual and all Etsy listings at a glance, such as:
Favorites.

Shows how many times shoppers have favorited your listing.

Orders.

The number of orders for each listing.

Revenue.

The total amount of money earned from sales of a listing.
Become an Etsy Seller With Print on Demand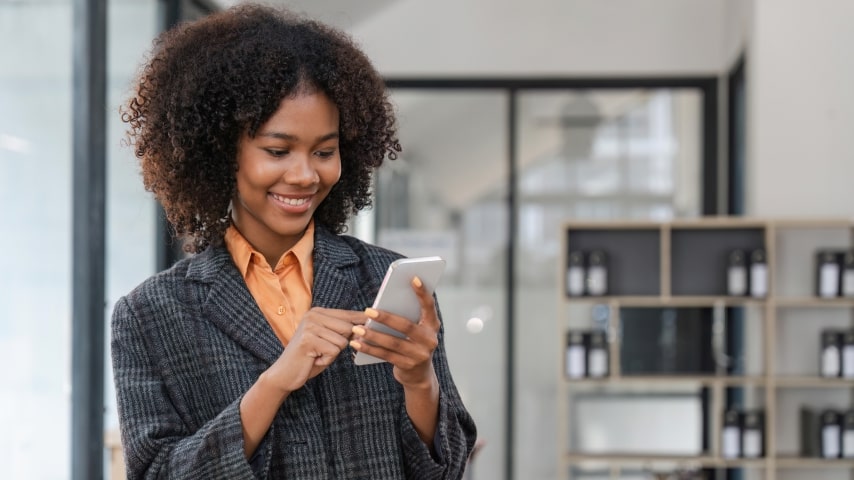 Now that you understand the importance of tracking your Etsy shop stats, you must be eager to become a star Etsy seller. Don't have the time or resources to produce and ship your own products? No worries, Print on Demand is your simple solution.
POD is a great way to boost your Etsy shop with low overhead costs and minimal risk. All you need to do is create and market your designs, and your POD partner – Printify, will take care of the rest.
Printify is home to over 900 high-quality products to design and sell. With our beginner-friendly design tool, the Mockup Generator, you can easily create beautiful products for your listings.
Low overhead costs.

With Print on Demand, you don't need to invest in upfront inventory, so you can start your shop with very little money.

Minimal risk.

If a product doesn't sell, you're not at a loss. 

Easy to use.

Printify's platform is straightforward, even if you're not tech-savvy. Sign up with your email address, and start designing using our intuitive design tools. 

Scalable.

As your shop grows, simply increase your production without having to worry about storage or shipping. Expand your collection by choosing from our extensive Product Catalog. 
Etsy Views vs Visits: A Summary
Now you understand Etsy stats, including views and visits, you can use the tips in this article to improve your shop's performance and see how much traffic it generates. 
Partner up with Printify and blow your Etsy shoppers away with your amazing designs without huge financial commitments.
Track your Etsy views and visits in the Etsy dashboard to see how many shoppers turn to your store and individual listings. Use the data to improve what's not working.

Optimize your listings, use high-quality photos, write clear descriptions, and price your products competitively.

Promote your shop on social media and use paid Etsy ads.

Start your shop with low overhead costs and minimal risk with POD and Printify.
Share the article
Topics