Mastering Etsy Tags: A Comprehensive Guide for Sellers (2024)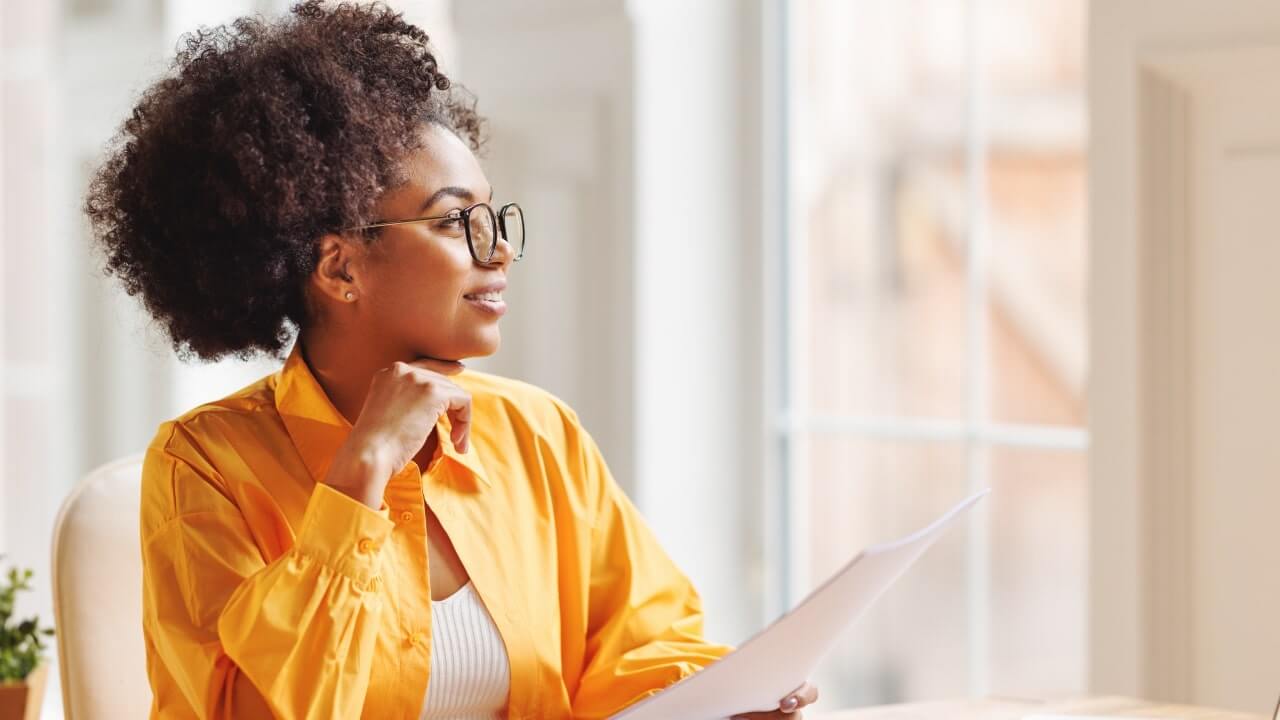 Beating the competition for a spot in Etsy search results requires optimizing your products efficiently. 
In this article, we'll show you how to optimize your Etsy tags to get your listings to the top search results and capture the attention of a market of nearly 100 million potential buyers.
You'll learn what they are, how to update them, how to get ideas for new keywords, and examples of the best Etsy tags.
Etsy tags are optional terms sellers use to inform the Etsy search engine what a product is. Tags describe a product, covering details from the target audience to the material, technique, and style. They offer extra information other than what is already specified in Categories and Attributes.
Note: Categories and Attributes are sections Etsy makes available when creating product listings. These sections contain pre-determined options that help customers understand what a product is, what it is made of, and so on.  
Tags are not directly meant for the customers but for the search engine, helping Etsy's algorithm in ranking a product higher in the search results.
As such, they differ from primary keywords – words or phrases that customers use to search for products. Still, some popular tags may include keywords.
Why Are Etsy Tags Important?
Tags add extra information, helping the Etsy search engine understand what your product is about and how it differs from similar merch. 
Good tags act almost as additional keywords and support the main listing title. Tag fields are also a space to add less relevant words that don't fit the title or description but that may help people find your product. 
While the Etsy algorithm uses main keywords to match products with customers' queries, tags will help products rank better, working jointly with the primary keywords. 
You can add up to 13 tags – using all of them will help your Etsy SEO. For example – if a customer is looking for a cute t-shirt made from sustainable cotton, Etsy may find several cute t-shirts without the word 'sustainable cotton' exactly in the title. 
In that case, Etsy will look at the tags to find which result will fit the search intent. The best Etsy tags for shirts will indicate the material 'sustainable cotton,' while others would show 'polyester' or other fabrics.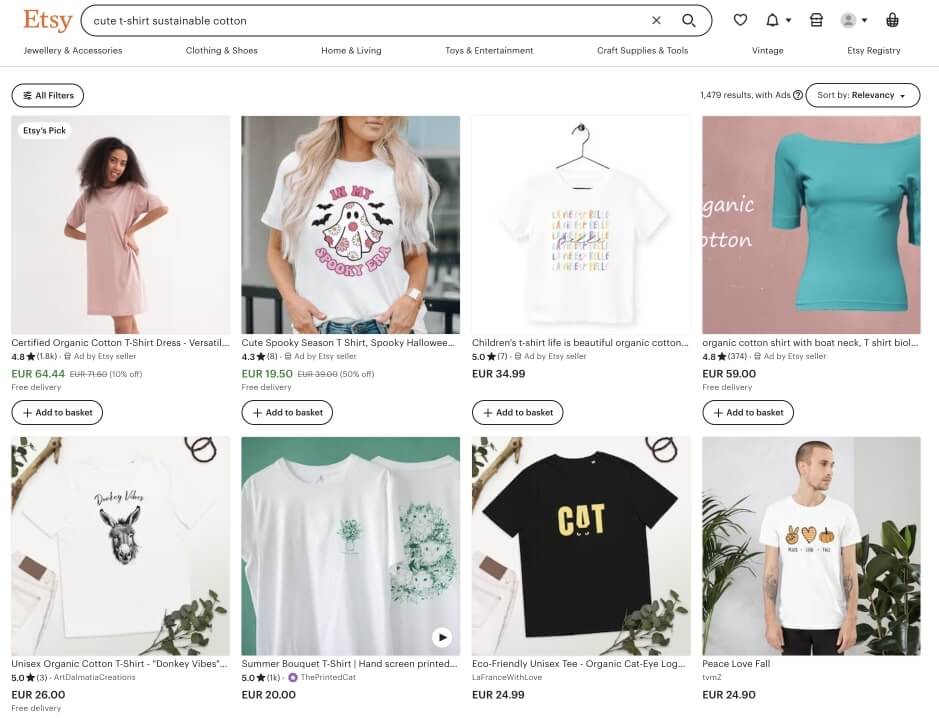 How to Add and Update Etsy Tags on Your Listings?
You can add and update tags in the Shop Manager in the Listings section. Click on the Etsy listing you want to edit. Then, scroll down or click the Details tab on the listing page.
Note: We're using the updated Etsy listing tool. You can switch back to the old version anytime by clicking the button on the upper-right corner. 

This section contains other fields where you can add keywords, such as Category, Attributes, and Materials – more on optimizing that and not repeating tags later. 
Add 13 tags. You can add them one by one by clicking Add after each tag. Alternatively, create a list in Word or Google Docs, separate them with commas, and then copy and paste them all at once. You can edit tags at any time after the listing is saved.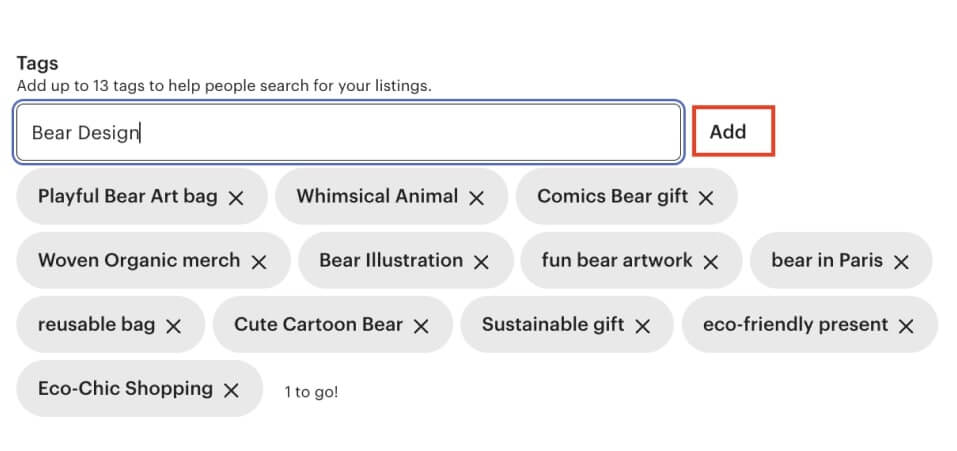 Best Practices for Using Etsy Tags
Take a look at the following strategies to make the most of all available 13 tags:
How to Research Tags for Etsy
If you run out of ideas for tag terms, there are tools and methods to assist you in finding the most suitable for the Etsy algorithm – from keyword generators to AI.
Use Etsy Keyword Research Tools
Use a keyword generator focused on Etsy to research not only the main keywords but also other terms related to your product that you can use as tags. 
Most tools, like Alura, eRank, or Sale Samurai, allow free keyword research and subscriptions with premium features.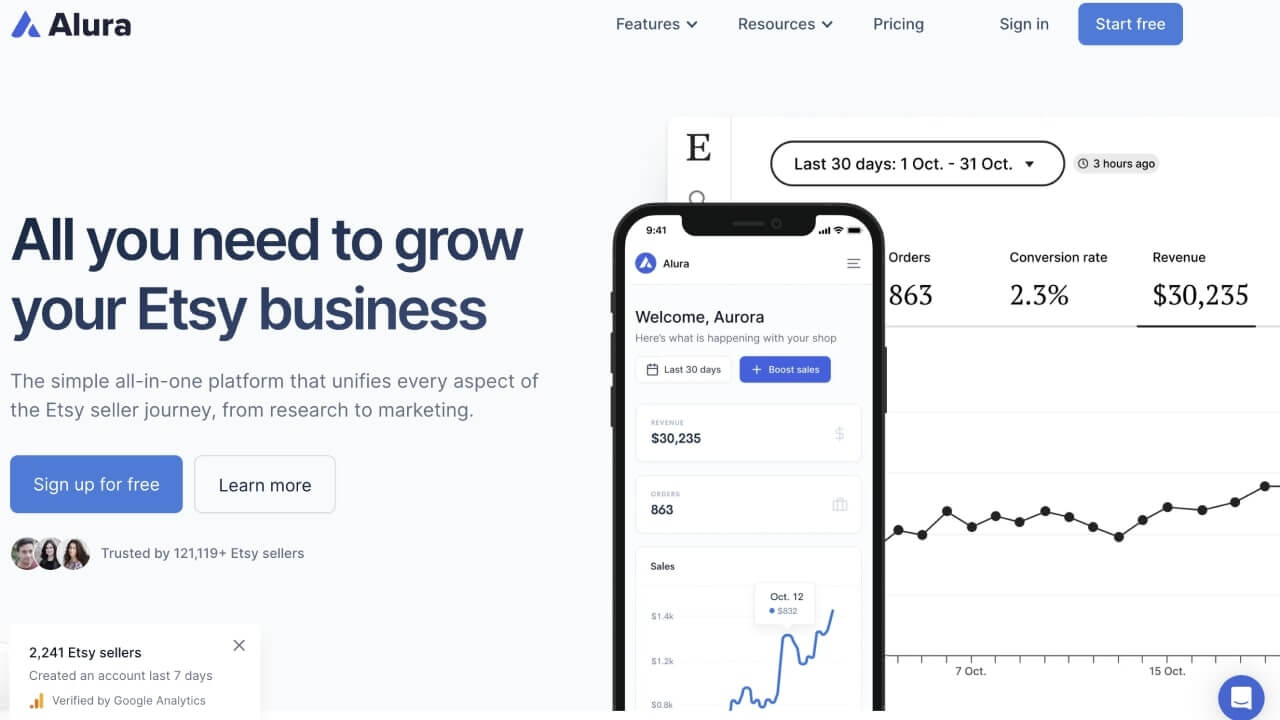 Check the Etsy Search Auto-Suggestions
Type your main keyword phrases and product names in the search bar and take note of the terms Etsy search suggests to complete the phrase.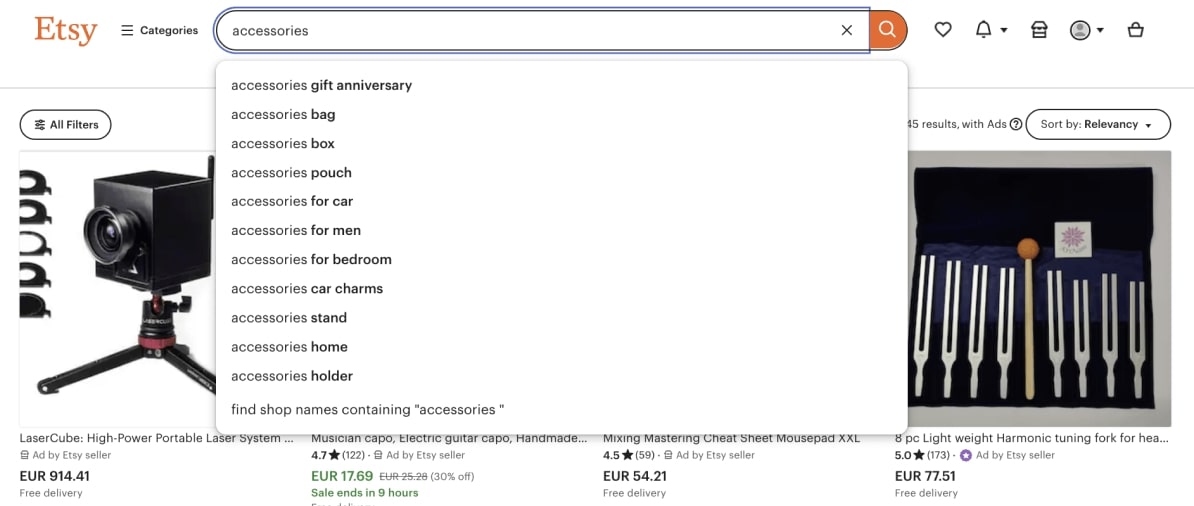 These suggestions are based on real searches people make on Etsy and can give you useful tags and additional keywords.
Use an Etsy Tag Generator
Use an Etsy tag generator tool like KeySearch. Depending on your main keyword phrase, the results can be a hit or miss, but the tools can be helpful when you're stuck and looking for ideas.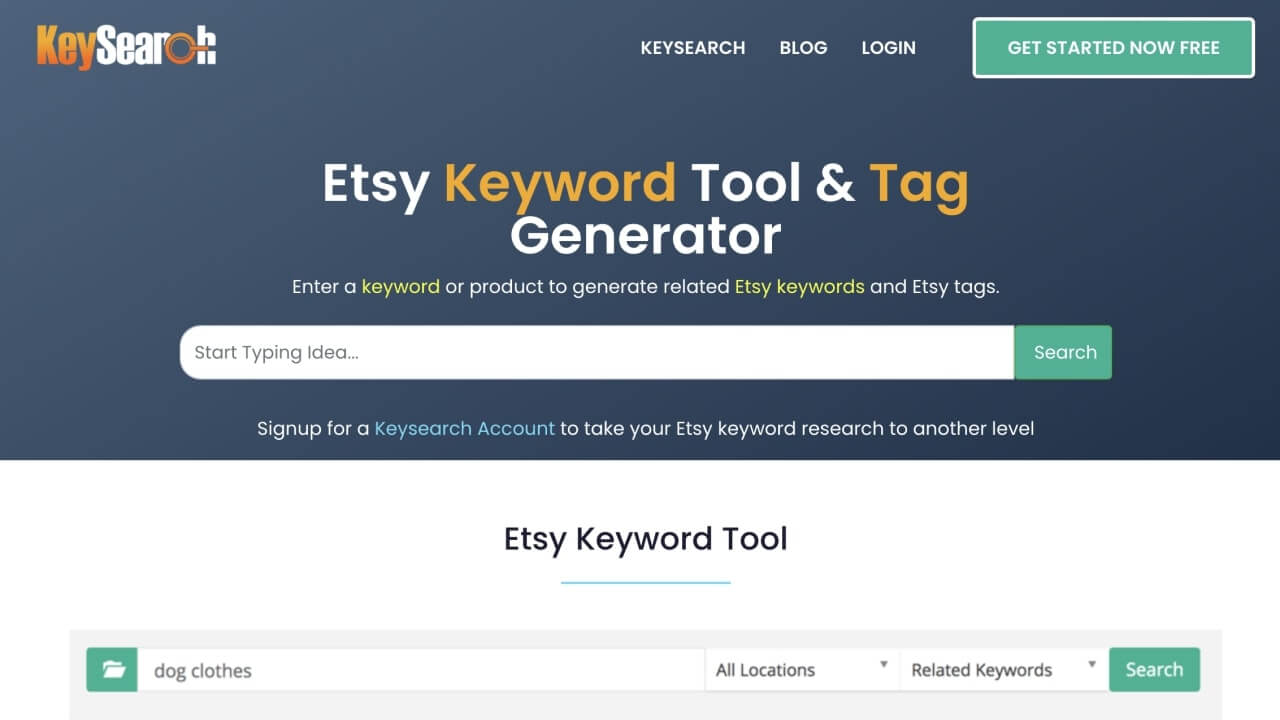 You can use ChatGPT as an Etsy tag generator. Simply type the prompt 'Generate Etsy tags for the keyword <Keyword>. Keep each tag within 20 characters.'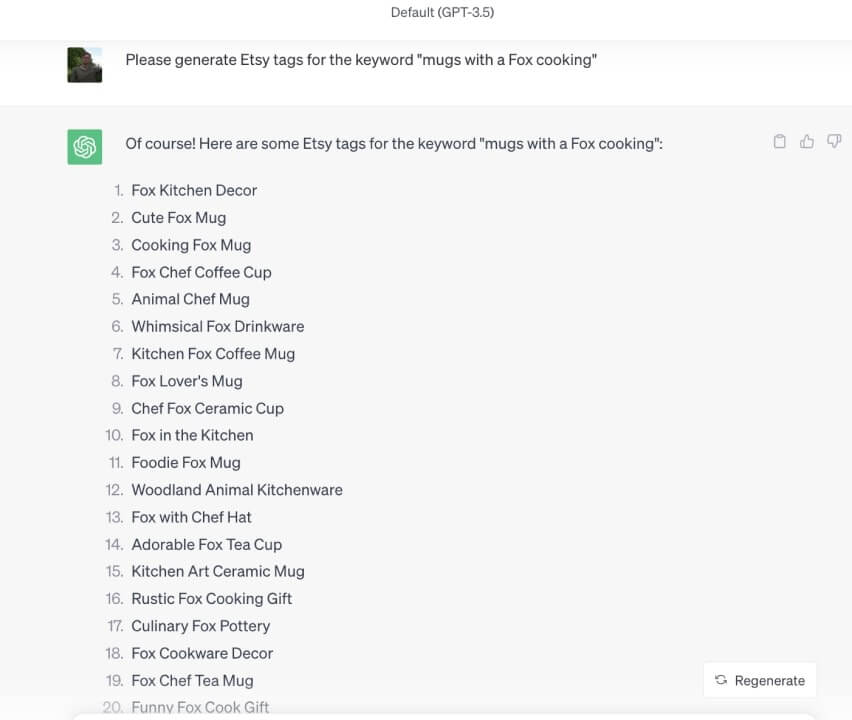 Examples of the Best Tags for Etsy
These popular Etsy tags can enhance the information in the categories with your own words and parameters, which may be unavailable in the drop-down menu or listing details. This is the perfect place to use multiple phrasal tags.
Incorporating occasion-based tags can help shoppers looking for gifts to commemorate special events or purchase seasonal items for decoration to get in the mood. 
You can use such tags for products explicitly created for the occasion or apply them to merch suitable for season promotions. 
Don't forget to replace the seasonal tags after the sales to keep your visibility high at all times.
Tags directed towards a target audience are especially helpful for people looking for gifts. 
In these cases, a potential buyer may not yet have a clear gift idea but may know something about the recipient. The tags will help the Etsy algorithm display relevant results.
Etsy offers dedicated fields to specify product materials and techniques. Still, you can use tags to display additional information, especially if your items are customized or you used a unique method in their production.
When shoppers search for products based on aesthetics and personal taste, tags are the primary source of information for the Etsy search results.
Use tags to convey characteristics that aren't available in the standard Etsy listings fields, such as artistic style, a time period, color palette, lifestyle, or philosophical school.  
The same applies to unusual shapes and sizes.
Use Cases and Problem Solutions
Use tags to show your customers how your products can solve problems or make their lives easier, from organizing your home and office to helping with workouts and nutrition.
Other Places to Optimize and Use Relevant Keywords
Getting your Etsy SEO right is fundamental to making your listings visible and resulting in purchases. However, only tags won't suffice if you don't also address other places that need optimization, including:
Etsy offers a detailed range of categories and sub-categories. You can't create your own categories, as they're pre-determined. 
Make the most of them and choose the one that represents your products the best, as they work as tags and increase the chance of Etsy search results matching your listings. 
If your product would be more appropriately placed in an unlisted category, use the tags to provide that additional information.
Find Categories in the Listings sections, Details tab.

Similarly, Etsy offers an ever-growing list of predetermined attributes to help your listings stand out and make it easier for customers to find exactly the merch they're looking for. 
The available attributes change according to the listing category. Products in apparel categories will have options like colors and sizes, while canvases will have framing or materials.   
Take your time to fill in as many attributes as possible, as doing so will free up more tags.
Find Attributes in the Listings sections, Details tab.
Your listing title should describe the product while including accurate and relevant terms. Place the most relevant keywords at the beginning, letting your customers know precisely what the product is about. 
However, differentiate your listing from competitors by mixing the necessary keywords with unique attributes.
Every Etsy seller should avoid piling up too many labels in the title – like 'Men's T-Shirts, Stylish T-Shirts, T-Shirts for gifts'. That makes the title difficult to read. It's better to be specific; also, remember that Etsy and Google will display only part of very long titles in the results.
Find Titles in the Listings sections, About tab.

Etsy search matches search results to keywords within listing descriptions to rank your products.
Place keywords at the start of your listing description, but avoid copying the exact phrasing used in the titles. Instead, use a more conversational tone to explain the product to your audience.
Conclude the description with relevant information, such as size charts and other technical information, in addition to the options provided by Etsy in categories and attributes.
Find Descriptions in the Listings sections, About tab.
Optimizing Etsy tags alongside titles, descriptions, categories, and attributes is fundamental to improving your Etsy shop SEO, making your listings visible, and returning profits from purchases. 
Use all 13 available tags, avoiding repeating information from other places, but add relevant keywords that match the shopper's search.  
Use external tools for finding suitable Etsy keywords when necessary, and keep tracking your listings' progress, changing tags in listings that aren't ranking well enough.
Share the article
Topics