The Best-Selling 4th of July T-Shirts for 2021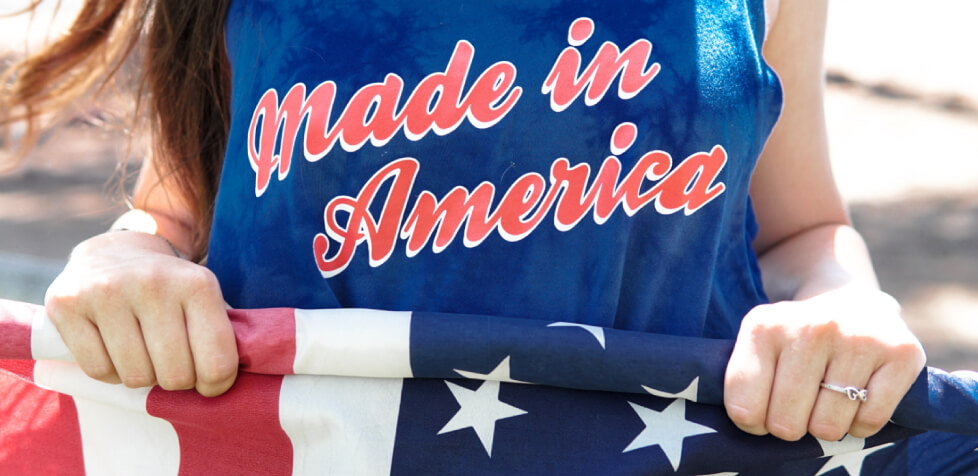 It's getting closer – the greatest holiday in the history of mankind. The crowing culmination of American tradition, steadfast determinism, and freedom itself. 
It's the ultimate moment of mouth-watering BBQs, the coldest of beers, and bombs bursting in air… It's also a perfect time to supercharge print-on-demand sales by capitalizing on that patriotism.
Get Started With These Free Designs!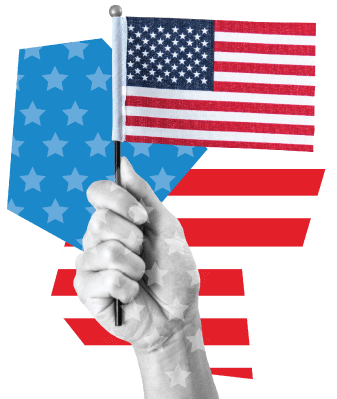 Barbeques, Picnics, Cookouts, and Other Food-Oriented Familial Gatherings Are the Most Popular Method of Celebrating Independence Day
Now, while there have been some restrictions placed on social gatherings in the recent past, things have begun to open up – and quickly. However, freedom is always a cause for celebration…even if the party is a bit smaller. Indeed, this is a special cause. It's somewhat intangible, but still a very real phenomenon coursing through every red-blooded American heart. 
The American colonies liberated themselves from the yoke of British imperialism on July 4, 1776. This birthing, a satellite freeing itself from arguably the greatest empire of all time was a truly remarkable accomplishment. 
Now, let's discuss how to best monetize this patriotism. Everyone wants to have some red, white, and blue gear on Independence day. Indeed, there's a certain pride taken by some in how many America-themed items they can wear on this special day. So, it's a great idea to include a few shirts with correlating aspects.
4th of July T-Shirts With the American Flag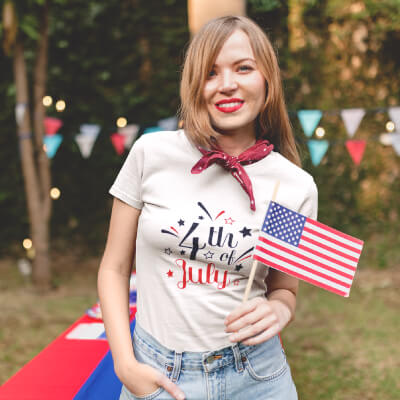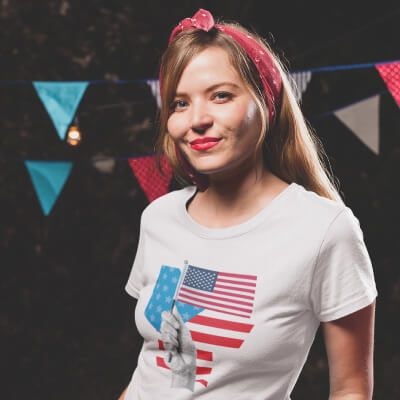 Designing a fresh 4th of July t-shirt with a bold American flag is arguably the first thing to add to your print-on-demand store. There's an incredibly diverse range of colors, symbols, backgrounds, messages, and other interesting additives to attract some customers.
Over four million American flags are produced for the 4th of July weekend – this doesn't including those already in circulation.
Red, White, & Blue 4th of July T-Shirts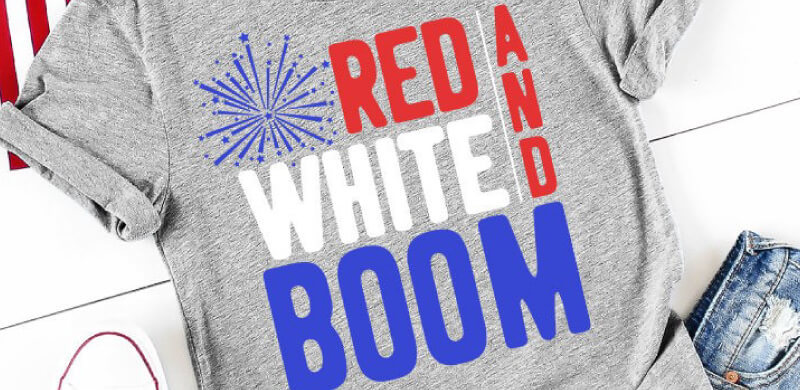 Colors that correlate to the essence of freedom, democracy, and everything America… well, as long as you forget about Russia, France, Serbia, the Netherlands, Paraguay, etc. The point is, these three visible segments of the light spectrum generate excitement for a large number of very spend-friendly individuals.
4th of July T-Shirts With Slogans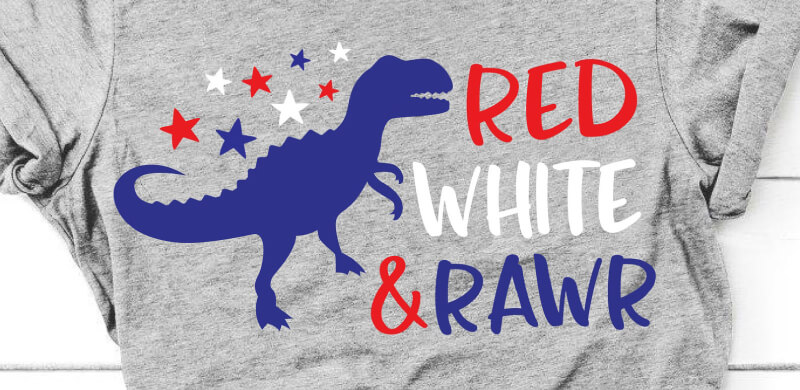 On Independence Day, it's tradition for many Americans to spend time with family, enjoy some adult beverages, and light off some (legally acquired) fireworks. However, it's always great to add a bit of excitement with a shirt fitting – or even modifying – the mood.
A nice way to elevate or modify the experience is with the right 4th of July -shirt quote. So whether it's "I'm so excited to finally be outside" or "At least there is always wine at home", your 4th of July t-shirts could take things to the next level. So, introduce your customers to a few 4th of July t-shirts with a slogan that perfectly captures the celebration of America's birthday. Even if someone stays in, they're more than capable of showing off a red, white, and blue feature with some peppy verbage.Give the people a chance to share how proud they are of their country – all thanks to your 4th of July t-shirt slogans. The right words could easily be your next bestseller due to patriotic undertones. 
Below are some exploratory 4th of July t-shirt slogans to try – or improve upon – for your store.
Red, wine, and blue. 

Star spangled and hammered. 

Red, white, and brew.

Party like it's 1776.

Benjamin Drankin'.

Tastes like freedom. 

Have a Yankee Doodle day. 

Home of the brave since 1776. 

Young, wild, and free. 

My favorite color is freedom. 

U.S. of Yay! 

If it involves fireworks, BBQ, and freedom — count me in. 

Rosé in the U.S.A.
Party-Themed 4th of July T-Shirts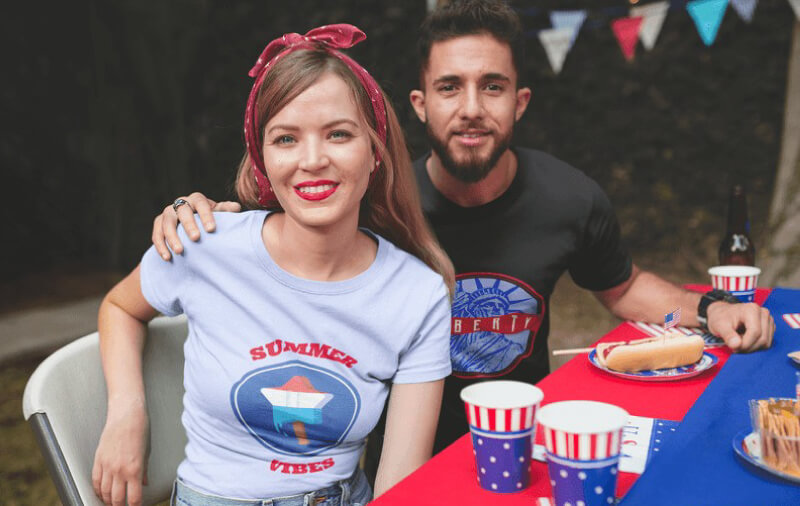 While it's a bit ironic that the celebration of freedom itself is restricted by governmental inhibitions, the home-grown heroes of America will always find a way to celebrate this special day. Maybe it's via zoom, socially distanced activities, or another innovative way of enjoying the day. However, there's always a certain flair to be added when everyone is bedecked in USA apparel. Indeed, every Independence Day calls for patriotic outfits and an all-American menu. Indeed, seeing a few friends wearing the proper colors is a big pull for people thinking about buying similar clothing, gear, or any of the other bread products available through POD.
Family-Themed 4th of July T-Shirts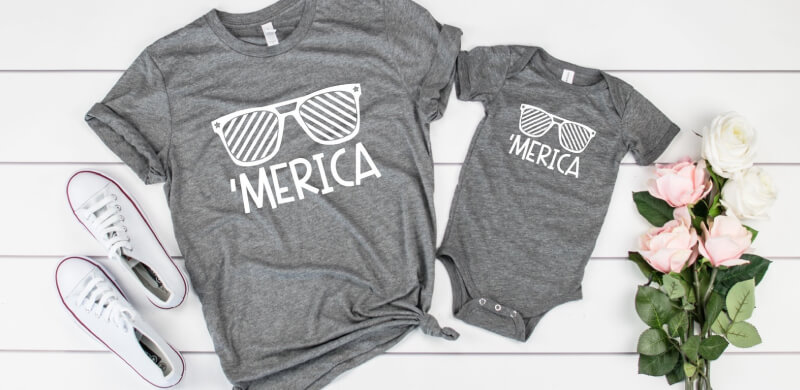 Relatives – maybe they're the best, or possibly just tolerated on certain occasions. Either way, there's always history there. And, with how easy it is to make products via the Printify Mockup Generator, any of those puns, inside jokes, or other noteworthy bits can be made in seconds. This is your moment to dish on Granny's failed pot roast, the time uncle Joe fell down the stairs, or cousin Jeffery's inability to chew with his mouth closed – this is all you. 
Create cool 4th of July t-shirts with family quotes or designs like blank name tags to be filled in (a wonderful idea for larger gatherings or games), so their guests can show up armed with nomenclature ammunition. Done right, this could even become an annual theme.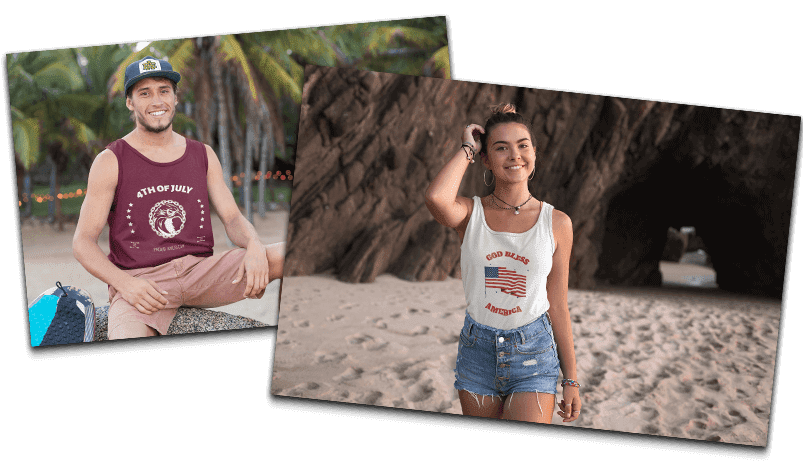 Things are heating up on freedom island, aka America. As such, people are going to be exposed to hotter temperatures. This is a wonderful excuse to bring out the big guns… via an array of customized tank tops or t-shirts made of breathable natural fibers, perhaps? Another phenomenal way of cooling off is with a frosty beverage… even if it's just the image on your shirt. 
It's easy and profitable to make some commemorative 4th of July t-shirts for the occasion. Combine a few elements together to create unique summer tees. Think ice cream, the sun,  beach locations, parks, baseball diamonds, the gridiron, and other iconic settings that conjure fond memories.
Socially Distanced Themed 4th of July T-Shirts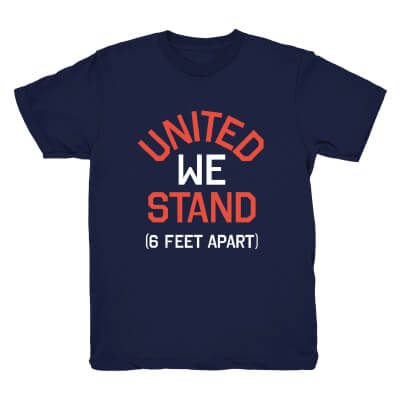 Things do seem to be returning to a degree of normalcy. However, there are still some lingering aftereffects from the recent pandemic. So, make some fun out of it. Just because you can't go around hugging strangers (was this even possible before?) doesn't mean that you can't have a wonderfully positive impact on those exposed to your line of socially distanced 4th of July t-shirts. 
You are free… to leave immediately.

If you're reading this, celebrate further way. 

Your freedom ends where my personal space begins. 

Shhhhh, the government is watching us.

I obey the law… unlike politicians.

Please express your freedom elsewhere.

How many beers is six feet?

The freedom to crack another beer.

If you're reading this, it's because you live in a country that values personal expression.

Red, white, and blue are the colors of freedom… unless it's the police.
Exercise Your Freedom to Prosper!
Share the Love With a 4th of July T-Shirt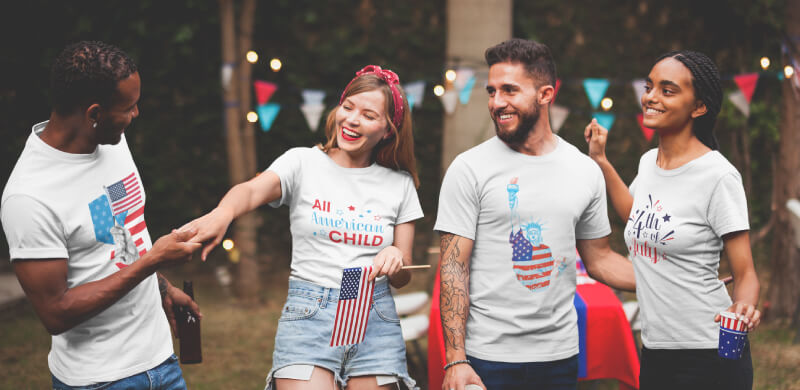 All in all, celebrations are about bringing out some good vibes for all involved. It's a reality that many people throughout the world are in need of a bit of fun. There've been a few events recently that we're all ready to move on from. Indeed, as governmental restrictions ease, people are able to get into contact – sometimes for the first time in months. 
With your print-on-demand store, you've got the power to produce quite a bit of happiness (and profits) here. Americans are an incredibly diverse people. So, there's a market for just about any niche you target. Get out there with some friendliness and crank up the love with some 4th of July t-shirts.
Bring Out the Heavy Artillery: Shutterstock
Printify recently made an integration with Shutterstock. This means that all Printify merchants now have access to a digital library of over 300 million high-resolution photos. In short, you can use these photos for your patriotic t-shirts. 
Then, there's an amazing editing tool. So, if you like one part of a photo, you can crop it out, steal a background, or many other cool functions within a certain photo. The possibilities are limitless. 
Now, if you do decide to use some of Shutterstock's material, there is a cost. But, this price only applies AFTER a customer has purchased the item. So, just like product creation and shipping, the use of these materials can be calculated into an item's selling price.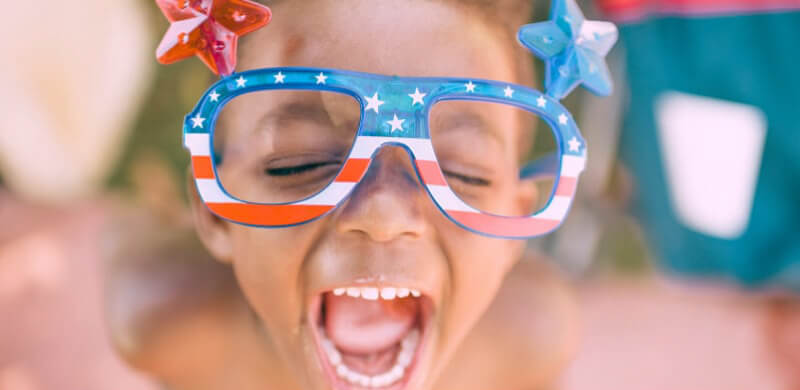 Pro Tip: Boost Sales With Specialized 4th of July T-Shirt Discounts, Promotions, and Offers.
Even if you make the greatest 4th of July t-shirt ever, it still has to sell. To make this happen, remember that people are incredibly susceptible to the fear of missing out (FOMO). This recently defined reality is a very effective method of increasing a store's attention and the likelihood of sales. 
So, by popping in a little special offer, discount, a buy-on-get-one-free (BOGO) deal, free gifts with a purchase above certain values, shipping services, or anything else you can think of. These measures work. It's worth doing a little research into the purchasing habits of your targetted audience, recent promotions that other stores have done in the past, moments when sales spike throughout the year, or any other useful information.
Get Started With These Free Designs!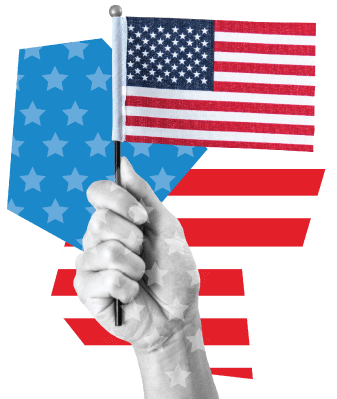 Start Selling 4th of July T-Shirts With Printify
Now, these designs may not be the 100% perfect thing. However, they all make for a great starting point. If you see a problem with the design, perfect. This means that you can identify aspects to improve upon. Do so, and prosper. 
Always remember, Printify is here to help make your eCommerce business succeed. We have everything you could ever want, from free design ideas, tips, tricks, support, our incredibly user-friendly mockup generator, Shutterstock integration, and much more. 
When it comes to supply and logistics, we have a huge, secure network of print providers. Currently, over 300000 sellers (just like you) trust us with their businesses. We'd love to be a part of your success story.
Exercise Your Freedom to Prosper!
Share the article
Topics