Bella Canvas 3001: Printify's Complete Guide
The Bella Canvas 3001 is not only a favorite on our platform but also a top seller everywhere else, making it a popular choice for eCommerce store owners. 
This retail fit t-shirt is the go-to choice for anyone looking to achieve that perfect casual look.
So, what are you waiting for? Dive into our complete guide and discover why the Bella Canvas 3001 is a must-have for your store.
Bella Canvas 3001 Key Features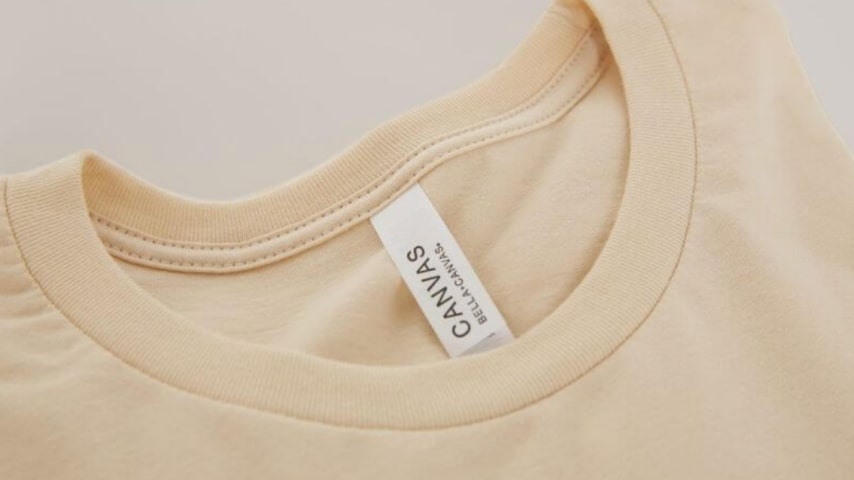 The Bella Canvas unisex jersey short-sleeve tee offers a smart but casual style. Take a look at what makes it the perfect shirt for printing and selling.
This tee has certain elements, like side seams, a ribbed collar, and twill shoulder taping, that help retain its shape even after multiple wears and wash cycles. 
The solid colors of the Bella Canvas 3001 are composed of 100% cotton. Blended and heather colors combine cotton and polyester, to increase the shirt's lifespan.
Durability goes beyond just time – it's also about maintaining the design's high print quality. The fabric used in making this unisex jersey tee holds ink perfectly, making it an excellent canvas for your unique designs.
What makes the Bella Canvas 3001 so soft to the touch? It's all about the type of cotton used in manufacturing. 
Bella Canvas uses 100% Airlume combed and ring-spun cotton, meaning that the material goes through a special process to achieve that smooth, perfect finish.
A comber machine takes raw cotton and combs it multiple times to remove any debris and select longer cotton fibers.

Then, a ring-spinning machine spins the cotton

into a long and strong strand of yarn.

Afterward, the manufacturers use the yarn to create a

smooth fabric.
Above all, the fabric is light and comfortable on the skin, making it pleasant to wear.
Even with its laid-back style, the Bella Canvas 3001 offers a more tailored and snug fit than most t-shirts available on the market. In short – it won't look baggy when worn.
Labeled unisex, this t-shirt is designed to flatter a variety of body types. It's offered in a wide selection of sizes starting from XS and in many different colors.
Always check the shirt size chart to guarantee the perfect fit for your customers.
Bella Canvas Supports Ethical Manufacturing
Bella Canvas takes a firm stance with its commitment to ethical and sustainable manufacturing. They ensure that they don't work with sweatshops when creating their products.
To reduce waste, they use an energy recycling system during the fabric dyeing and drying stages. This allows them to collect and recycle energy, which is then used to dye additional fabric.
Their operations are designed to use as little water as possible. The small amount of wastewater generated is sent to a cutting-edge water reclamation plant in Los Angeles for responsible processing.
Why Choose the Bella Canvas 3001?
Let's take a detailed look into why this unisex jersey tee is a fan favorite among merchants and their customers.
Check out our Bella Canvas 3001 review.
This unisex jersey tee comes in a multitude of colors. Explore timeless solid and heather colors, like white, black heather, and dark heather grey, and vibrant hues like peach, heather mint, and kelly green.
There's an art to finding the right t-shirt base color that complements your custom artwork, but with such a diverse palette, you'll have no trouble finding the perfect Bella Canvas 3001 shirt colors for you.
You'll find some of the most unique t-shirt colors in Bella Canvas t-shirts, like deep teal, sand dune, and poppy.
Add your designs on the front and back (or both) of the unisex jersey.
Some of our Print Providers also offer sleeve prints and an inner and outer neck label – all excellent locations for your brand logo.
Have you ever ordered clothes from the same brand twice? Your size hasn't changed, but somehow one fits better than the other. Weird, right?
To address this concern, Bella Canvas uses automated laser-guided cutting to ensure consistent sizing in every single t-shirt.
The Bella Canvas 3001 unisex sizing comes in a wide selection, ranging from XS to 5XL. Take a look at the size chart below to see the exact length and width measurements for each size.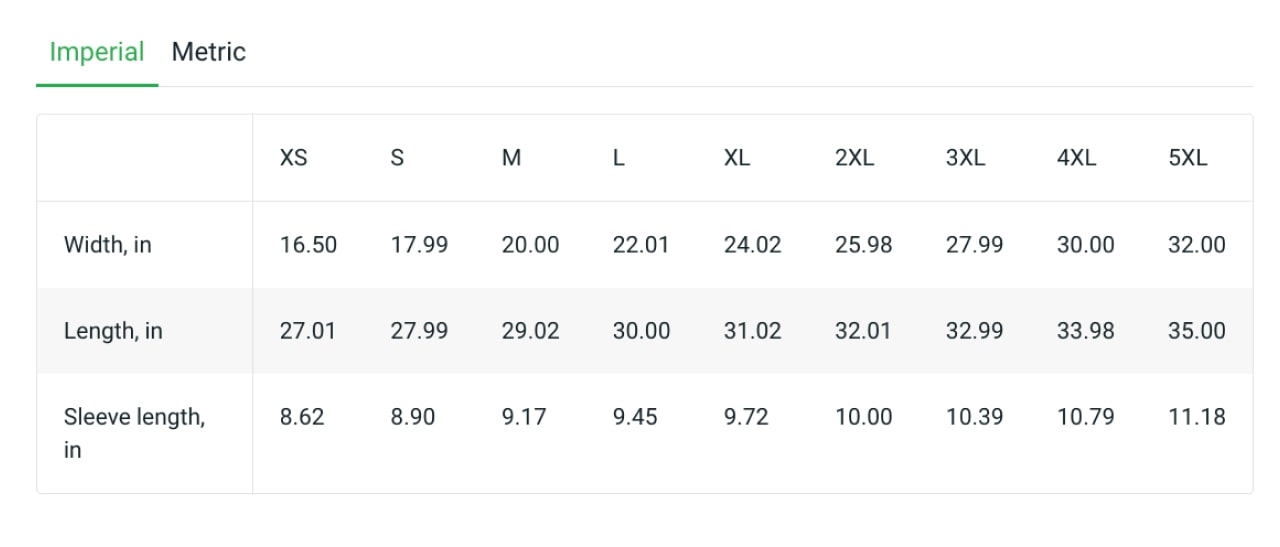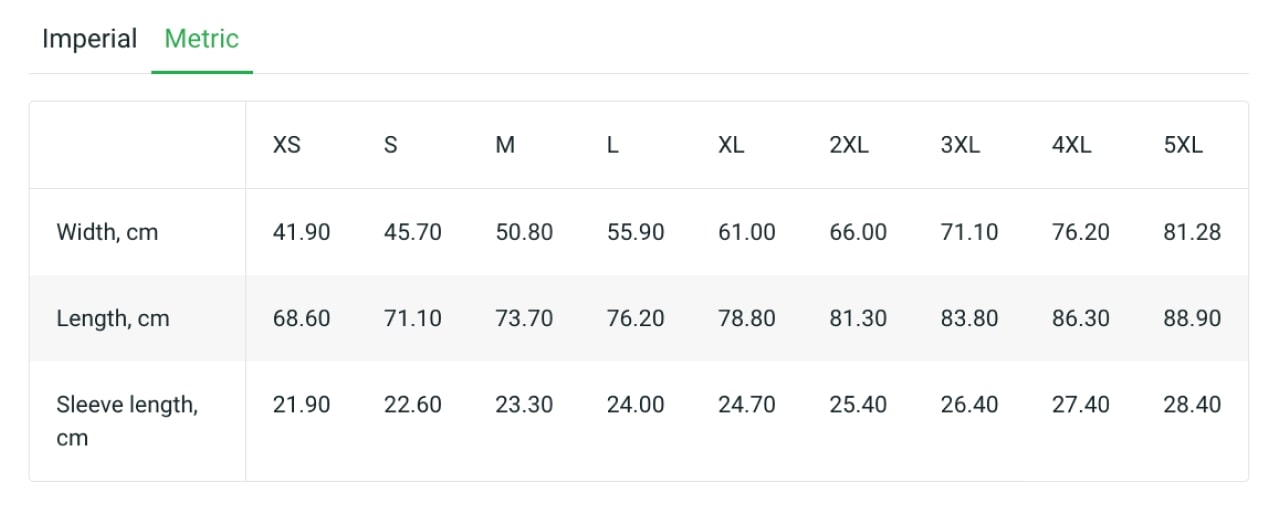 Precise shirt cuts reduce fabric waste, aligning with the sustainability goals Bella Canvas has set out to achieve.
Bella Canvas 100% Airlume and Ringspun Cotton
The type of cotton used in the manufacturing process determines the quality of the finished garments. Bella Canvas pays great attention to how cotton is refined and spun for these shirts.
Cotton goes through a process that removes 2.5x more impurities than standard ring-spun cotton. After that, the longest remaining strands are spun into yarn.
The 100% Airlume combed and ringspun cotton is extremely soft and smooth, making it ideal for printing.
Bella Canvas Shrink Prevention
Garments made from cotton are prone to shrinkage because natural fibers always want to go back to their original form after being placed under tension. 
Earlier, we covered that cotton goes through a spinning process. Therefore, when it's exposed to heat from hot water or a dryer, the tension is released, and the fibers shrink back to their natural state.
To address this concern, Bella Canvas subjects cotton to the shrinking process before cutting the garment.
They use the following three techniques to help limit shrinkage.
Special equipment stretches the ring-spun cotton fabric width-wise to help reduce the tension that arose from the length-wise spinning process.
In their drying facility, garments are arranged where air blowers can agitate the fabric. The heat prompts the cotton to return to its inherent state, causing the fabric to shrink and dry.
Compactors steam the ring-spun cotton fabric to reduce its length, shortening it prior to the cutting process.
Why Sell the Bella Canvas 3001 with Printify?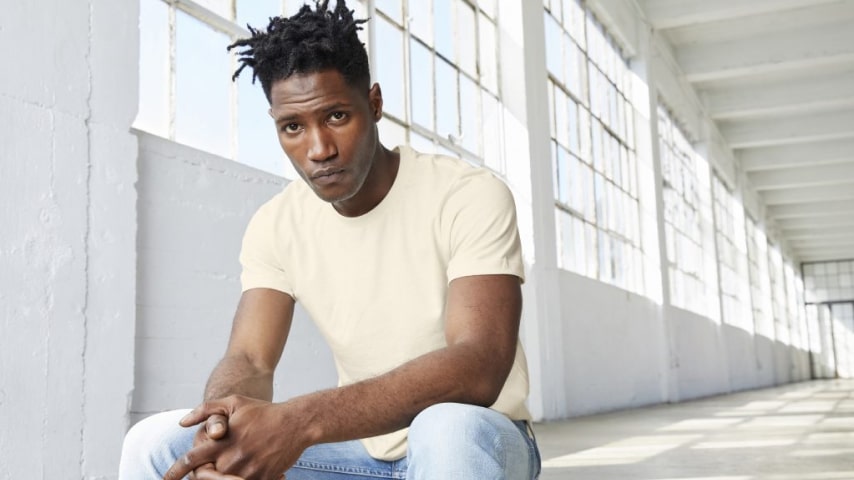 Known for its superior product quality, comfort, and durability, this 100% Airlume combed and ring-spun cotton shirt is bound to become a well-loved favorite among your customers.
Set your print-on-demand shop up with Printify to gain access to a growing list of Print Providers that offer all the Bella Canvas 3001 colors and sizes you're looking for.
Explore our list of quality Print Providers for the most competitive Bella Canvas 3001 price available on the market. Choose from a variety of options to meet your business budget.
There are no setup costs or hidden charges. You only pay for the products you or your customers order, making it a cost-effective solution for your business.
With Printify, you're welcome to place Bella Canvas 3001 bulk or single orders without any minimum quantity requirements. Sell single units to customers or order boxes of them.
Our Print Providers offer efficient shipping services to ensure speedy delivery across the entire globe. With reliable partners and streamlined processes, you can provide a seamless shopping experience to your customers.
Use our beginner-friendly Mockup Generator to create unique, eye-catching designs that resonate with your target audience. Showcase your products with our high-quality custom mockup images and start selling with ease.
Start Selling the Bella Canvas 3001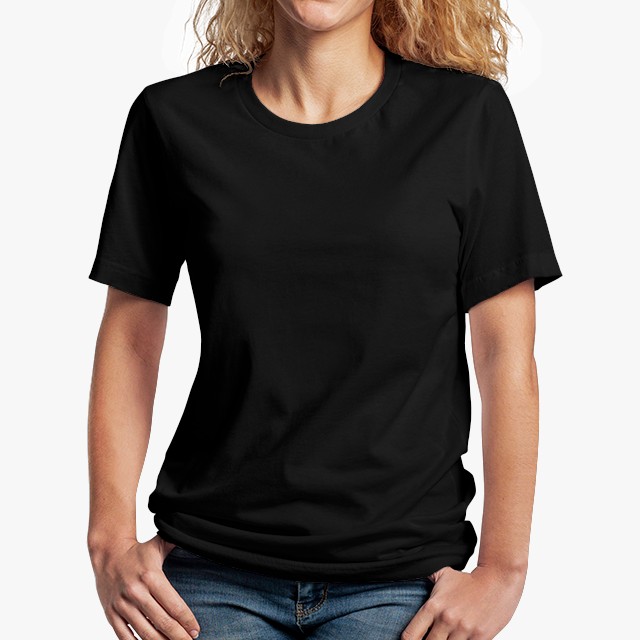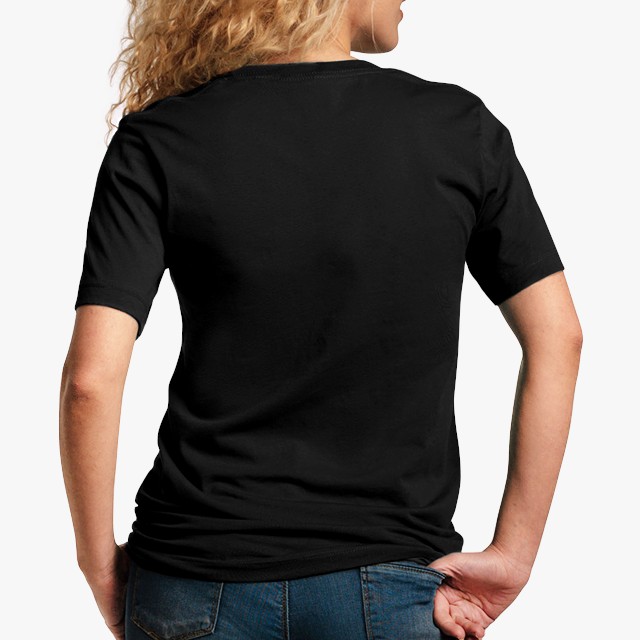 Join Printify and customize these unisex jersey shirts with beautiful DTG prints, and sell them to shoppers worldwide.
From setting up your first shop to scaling your business, we've got all the resources you need for eCommerce success.
Follow these steps to start selling in no time.
Create a free Printify account and gain access to over 900 customizable products and unique features to help maximize your print-on-demand journey.
You'll find it in our Product Catalog.
Scroll down to see our list of Print Providers and choose the one that fits your needs. Consider your customer's location, color options, price, production, and shipping times.
Add your existing designs or create ones from scratch in our Mockup Generator.
Experiment with different styles, colors, and graphics, and craft designs that truly stand out from the rest.
We recommend you order product samples before you start selling to be 100% confident your products match your expectations.
Follow these steps to order samples:
Go to your

Printify account

Navigate to

Orders

On the top-right side, click

Create order
Choose Sample
Connect your account with any of the most popular eCommerce sales by clicking on your store name in the top-left corner and choosing Add a new store.
Our automated integrations simplify product publishing on your eCommerce site, leaving you with more time to focus on growing your business.
Frequently Asked Questions
If you're looking for a high-quality unisex jersey tee to turn into a custom bestseller, the Bella Canvas 3001 is a clear choice. It's unisex and fits any style and body type, so sell it in nearly every niche and increase your profit opportunities.
With ethical production and its own signature cotton, your designs will be the icing on the cake for this already excellent product. 
Check out the different variants offered by our Print Partners and start selling these super comfortable shirts today!
Share the article
Topics