Bedeck Your Store With 4th of July Shirt Ideas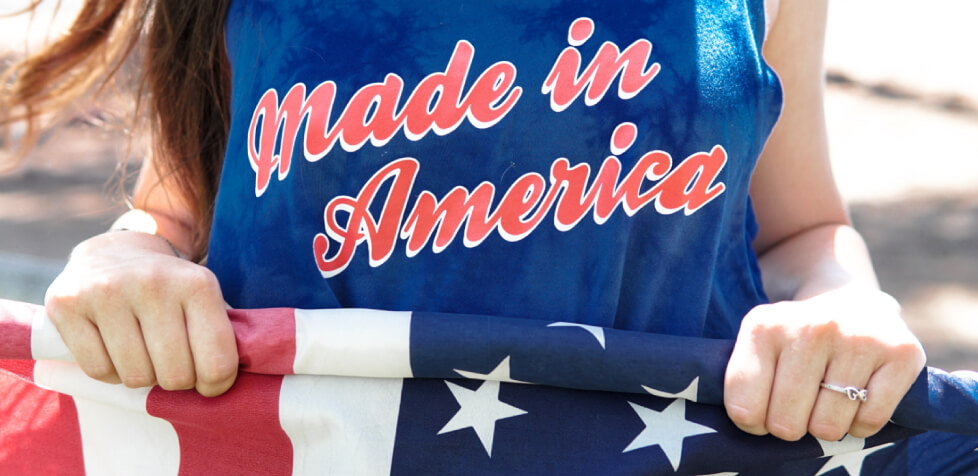 Once again, we're nearing the precipice of American tradition, the de-crowning of taxation without representation – the birth of true determinism and freedom itself.
If your store's lacking a star-spangled seasonal festival, there's nothing to fear but the fear of missing out on our 4th of July shirt ideas. Here's what we have in store:
Get Started With These Free Designs!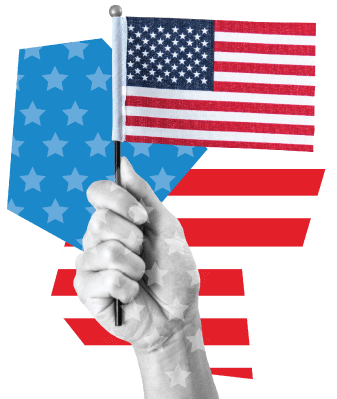 What Makes a Great 4th of July Shirt Design
Celebrate Independence Day with a pinnacle of symbolic themes. What else could be more symbolic and American than capitalizing on that proud capital patriotism – creating your market-made shirt designs with top-selling 4th of July shirt ideas. 
Let's take the three features of any good brand design, and you'll see them perfectly presented in the 4th of July seasonal canon:
You don't have to measure, match, and meticulously outline. There's no need to reinvent anything – 4th of July shirt ideas are ingrained with a specific look and feel that requires at least one of these three features to work for a recognizable design.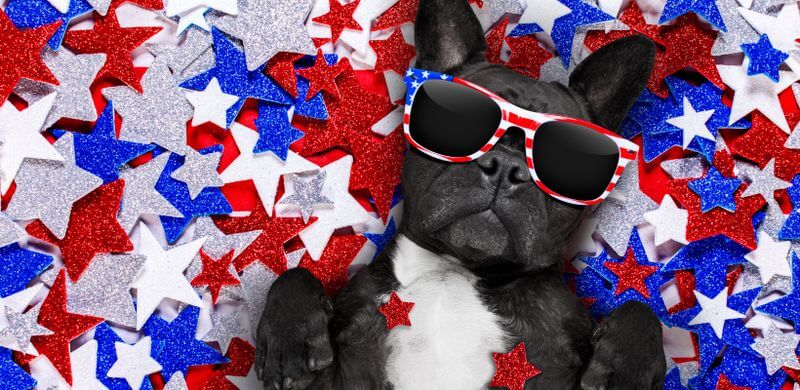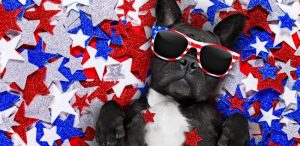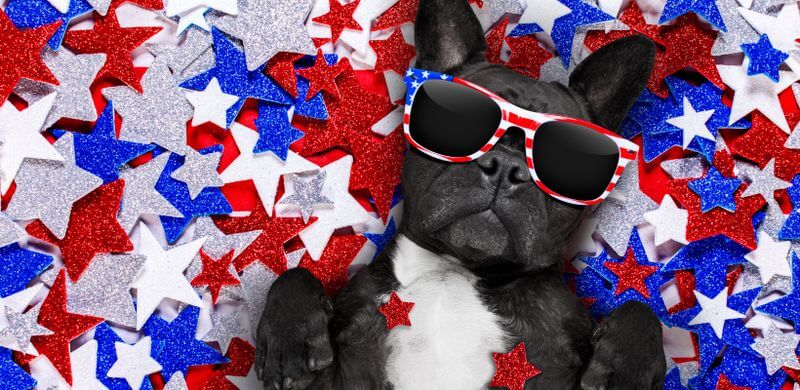 The red, white, and blue flag colors are the traditional palette of choice. The 4th of July is one of the few exceptions where clashing reds and blues give shirts a nod of approval.
When thinking of 4th of July shirt ideas, decide on the base and accent colors. It's best to choose a shirt where the fabric body is already in the base color and define the subject of the design with accent colors.
You can always go with a sleek black or white. Use your subject material for guidance, or use the shirt outline. Create patterns with tie-dyes that work with the color in unique ways, use embroidery for extra style points, or consider an all-over-print finish for larger designs.
These are seasonal shirts that draw attention. Your colors should reflect that – maintain large and distinct patterns noticeable in a crowd.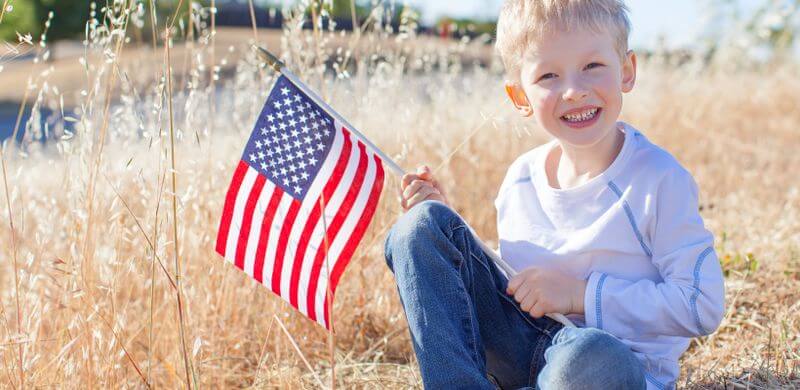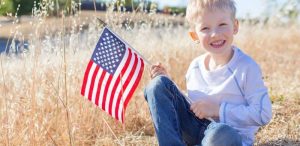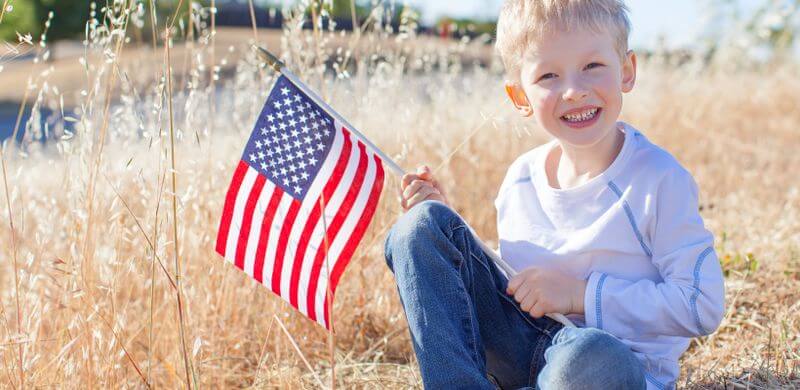 The colors are obvious, but you could also use a bit of substance for your 4th of July shirt ideas. How blessed are we as designers to have a treasure trove of memorable symbols. Put this nation into a grand collage of stars, stripes, bald eagles, liberties, and corn dogs.
The American devotion to the flag is an unparalleled phenomenon – it will and does stand for the 4th of July more than any other holiday. If you don't have an American flag shirt, make one. Respect the classic or make a twist: invert the colors, slant, distort, shade, and edge.
You can also look at physical features: landmarks, monuments, historical figures, and landscapes. You've got statues, presidents, maps, stereotypes, and state symbols. Create silhouettes, caricatures, or related associations.
Finally, think of the 4th of July events. BBQs, fireworks, parties, drinks, and family time. Bring a modern twist to an otherwise historic holiday from recent national events or celebrate July itself with July-themed t-shirts for the summer months.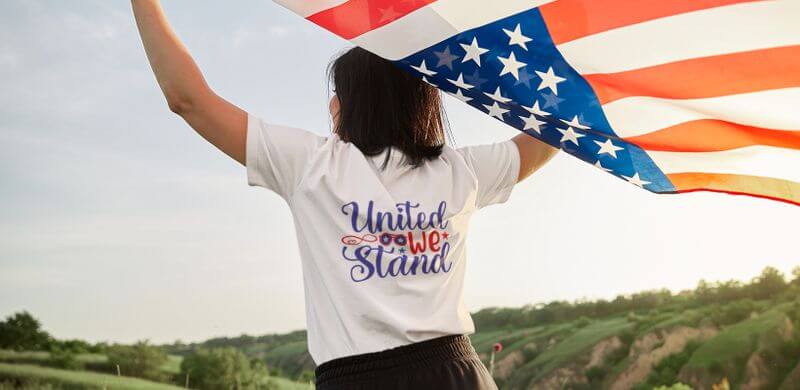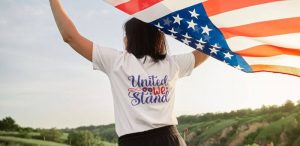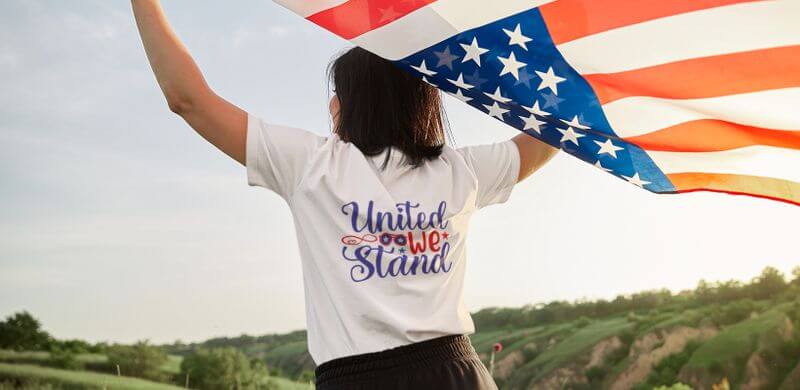 Elevate the mood and experience with a slogan. The 4th of July is a universal holiday – it can be inspiring and prideful, but everyone has the freedom to choose their way to celebrate. You can be patriotic, or you can be witty. 
The patriotic undertone is a tremendous emotional pull for many people. 4th of July shirt ideas with slogans like "United We Stand," "God Bless America," or "Land of The Free" are a selling point for a large segment of Americans.
Many parallels, puns, and principles humanize the holiday and give it more personality. Try drinking slogans like "Star-spangled and hammered", "The taste of Freedom", or "Party like it's 1776".
Take your inspiration from historical or modern quotes. List the records, speeches, and writings that make us stand up and salute good old American "War, Peace, and Commerce."
Where to Find Design Ideas That Sell
The market is full of good examples for inspiration. Do a bit of digging through competitor stores or shared marketplaces to see what gets the most views. You can start with the Etsy marketplace to find original designs for any niche among thousands of independent store owners. Look for featured bestselling items and find their common selling points.
For detailed 4th of July shirt ideas, you can search for stock photos on Adobe Stock or image boards like Pinterest. Develop a series of references or commission a designer if you have the budget.
Once your store meets the holiday traffic, you'll get the chance to receive repeated buyers in the long run. The initial revenue of holiday merch can boost your growth, so be sure to promote and create seasonal discounts.
84% of Americans were planning to celebrate the 4th of July in 2021 – a third of them were looking to spend the holiday buying new seasonal merchandise, making it an excellent niche for profit.
We'll highlight a few good 4th of July shirt ideas to get your gears turning. There are a couple of directions and vibes you can adorn your USA shirts in, and what you choose will determine the customers you'll get. Stick to a niche you're already familiar with and know how to sell to.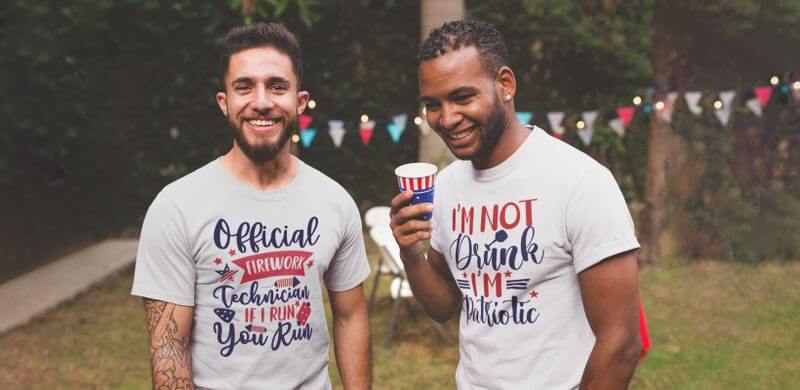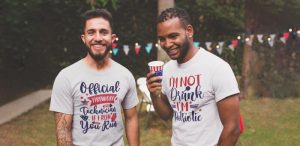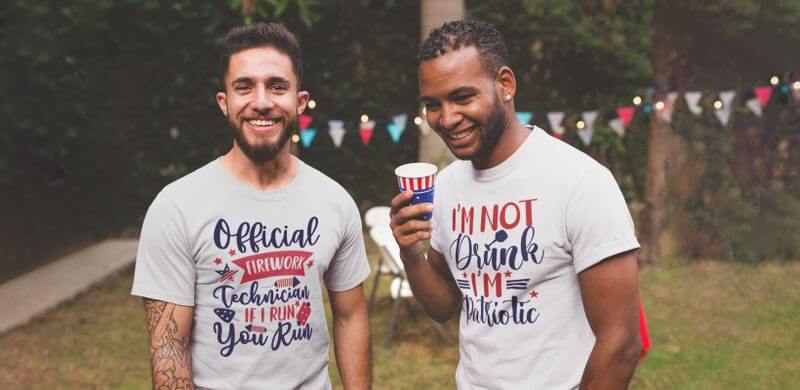 Funny designs are a great party ice-breaker. You can make ridiculous parodies that'll make people look twice. Mince quotes for puns, make fun of clichés – make robot Lincoln ride a t-rex.
If you're the dry humor type, you can sprinkle in a bit of social commentary. React to cultural differences and divergent views with a breath of irreverence and sincerity. Give the people something to smirk at.
Celebrations are about bringing out some good vibes for everyone involved – your 4th of July shirt ideas should reflect that. It's a reality that many people worldwide need a bit of fun.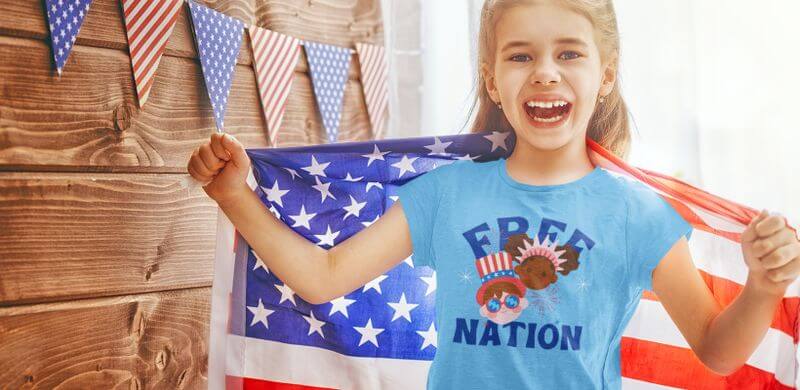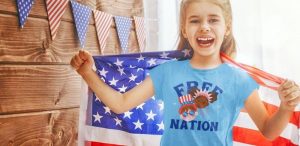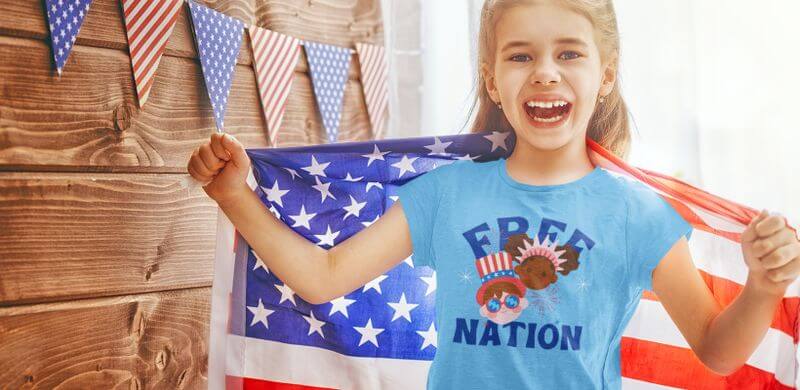 Funny and cute can go hand in hand, but adorable designs are a pleasure to look at. This is your opportunity to try out attractive, well-rounded designs that use colors and shapes that look good as an outfit accessory.
You can put a charming angle on your designs with beloved symbols, catchy slogans, and love-filled sentiments. If you're going for a cute design, try to be minimalistic and make your subjects stand out. Make use of animals, cartoon icons, sports, and dad jokes.
Strike your shirts with stars, hearts, fireworks, cups of beer, and a reminder to party with friends. Cute designs play with a quaint use of colors and characters that add to a wholesome mood.
Patriotic 4th of July shirts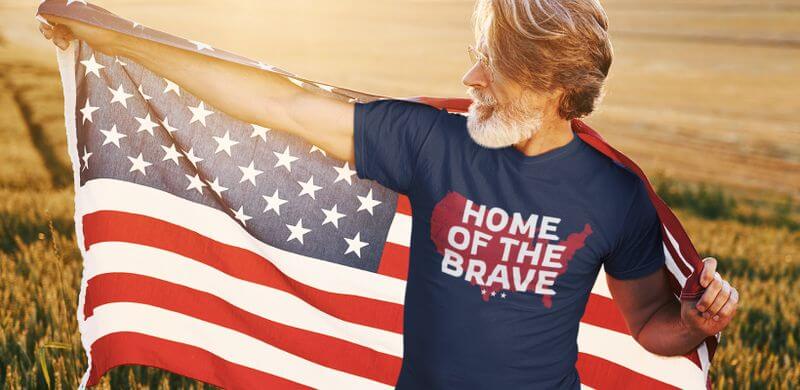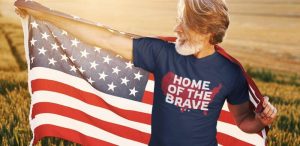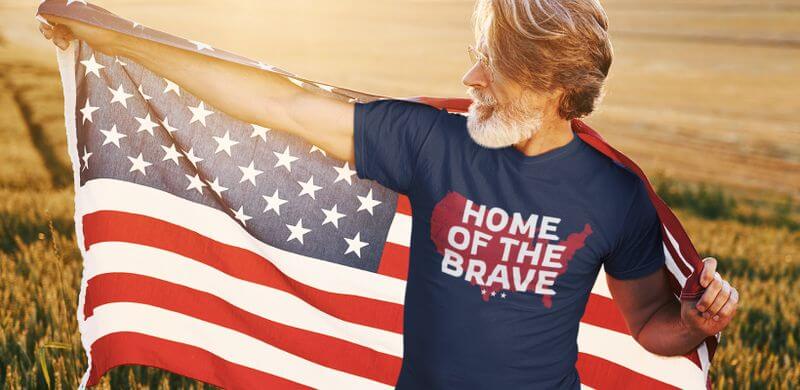 Patriotic shirts are the default merch direction. In a perfect world, the 4th of July makes the national discourse stop for a whole day, and celebrations praise Americans and the founding principles of democracy.
Patriotic shirts are your venue for all the best quotes we've held on to since the country was founded. Look for the golden nuggets that speak truth to power and power to truth. Celebrate the revolutionary struggle.
If you want to thank a group of Americans with your design, try celebrating the veterans, teachers, self-starters, and those who keep the US afloat daily.
Family 4th of July Shirts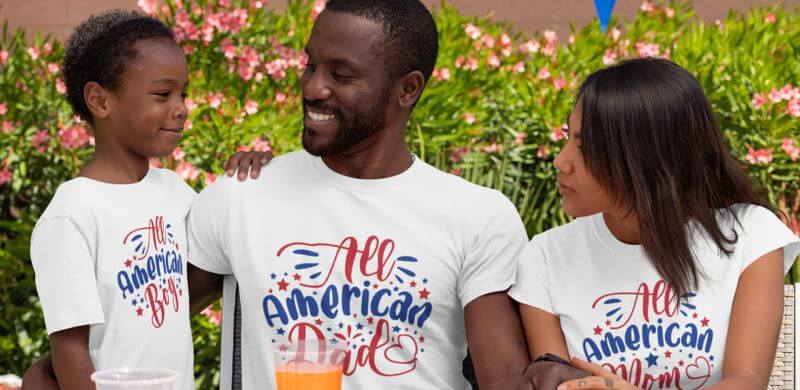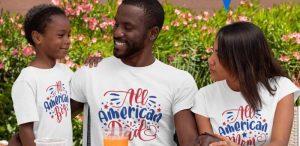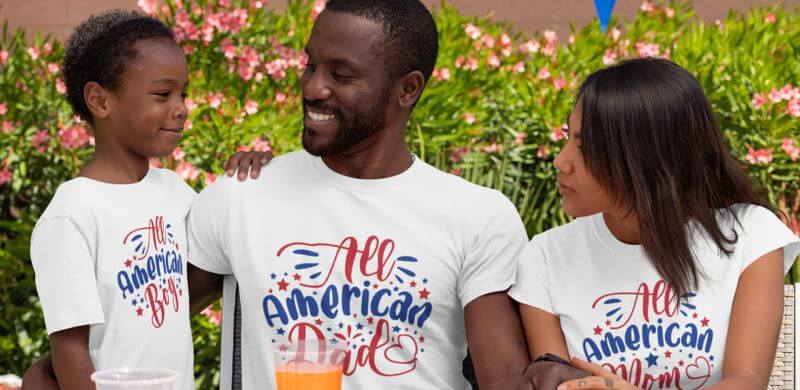 Barbeques, picnics, cookouts, and other food-oriented family gatherings are the most popular method of celebrating Independence Day. You've got the potential for cute and funny family shirt designs themed for every member.
Get out the barbeque shirt, the "Rather be inside" shirt, and adorable matching shirts for parents and kids. This is your moment to dish on Granny's failed pot roast, the time Uncle Joe fell down the stairs, or Cousin Jeffery's inability to chew with his mouth closed.
If done right, you can create an annual theme that'll get more families involved and competing.
Create 4th of July Shirts With Printify
Get to know the platform behind the advice. Printify's a free print on demand platform for eCommerce dropshipping services. We enable anyone with internet access and a dream to create their online store with no initial investment costs. Our list of pros includes:
With Printify, you take care of the designs, promote your brand, and communicate with your audience while we give you the tools needed to set everything up and running. Create stunning Independence day shirt ideas and put them into practice with a few clicks.
You get to pick where your apparel gets printed, so be sure to make your American shirts from US-based print providers.
As a Printifier, you get a head-start that'll get you in the eCommerce business with the knowledge and forethought of our dedicated team – interested in how we can help? Check out our growing list of success stories.
Take pride in your work and contribute to the massive increase in sales during the 4th of July. Hopefully, we inspired you with the 4th of July shirt ideas to keep your store fresh with a red, white, and blue catalog.
Check out Printify's growing list of shirts and local print providers to jump-start your seasonal success and put the most memorable and symbolic holiday to the test with your unique designs.
Bring cheer and a much-needed sense of togetherness with your custom 4th of July shirts, knowing it all came from a few pranksters, some spilled tea, and a dream of democracy.
Share the article
Topics