A New Way to Top-up Your Balance: Payoneer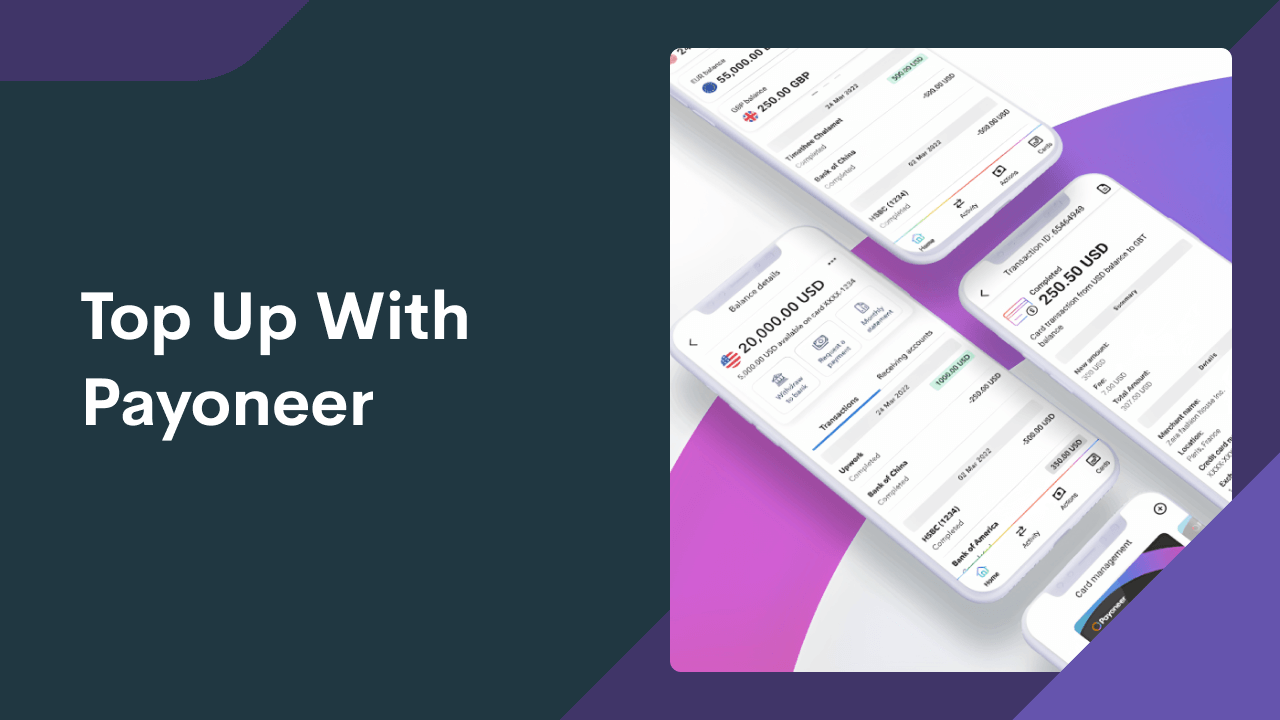 Printify is happy to announce that Payoneer is now available as a payment option for all our merchants. From security transactions to multicurrency, learn what possibilities this new payment method offers for your Printify business.
Payoneer provides secure, borderless payments to individual entrepreneurs and companies worldwide. 
With low fees, multiple currencies, 24 offices globally, and services in over 22 languages, Payoneer is an excellent choice for individual entrepreneurs looking to go global. 
Payoneer partners with world-class companies, including eBay, Booking.com, Wayfair, Sephora, Amazon, and Airbnb, to mention a few. 
Payoneer is committed to offering low and transparent fees with no surprises for customers. These are the costs of the payment processor:
Fees When Receiving Payments
Payments from

other Payoneer customers

(using their Payoneer balance) – free (EUR, USD, GBP, and more).

Payments from

clients

– payment requests can be paid with credit cards (

3%

of fee), ACH bank debit (US;

1%

of fee), or local bank transfer.  

Payment from

marketplaces and networks

– includes Fiverr, Wish, Upwork, and thousands more. Fees vary and must be checked on the platform you're using. They can include bank processing fees, landing fees, and intermediary fees. They may be discounted from the withdrawn amount by the third parties charging them.

Receiving accounts – a Payoneer account can be used as a local bank account. Fees may apply in EU and GBP only for payments below a minimum cap, while payments in USD receive 0-1% of fees based on eligibility criteria. A minimum cap may also apply to USD. 
Withdrawal fees depend on the currencies of your Payoneer and local bank accounts. 
When the currency is the same (

USD, EUR, or GBP

) – a flat fee of

$1.50, €1.50, or £1.50.
When the currency differs (for example, if your Payoneer balance is in USD, and the bank account is in GBP) – up to 2%

of the transaction amount, including a conversion fee. The exchange rate will vary according to the time of transaction and the financial institutions involved. Third parties may charge bank processing and other intermediary fees.
Payoneer charges multi-currency conversion fees of 0.5% of the transaction. See more below.
Fees for The Payoneer Commercial Mastercard®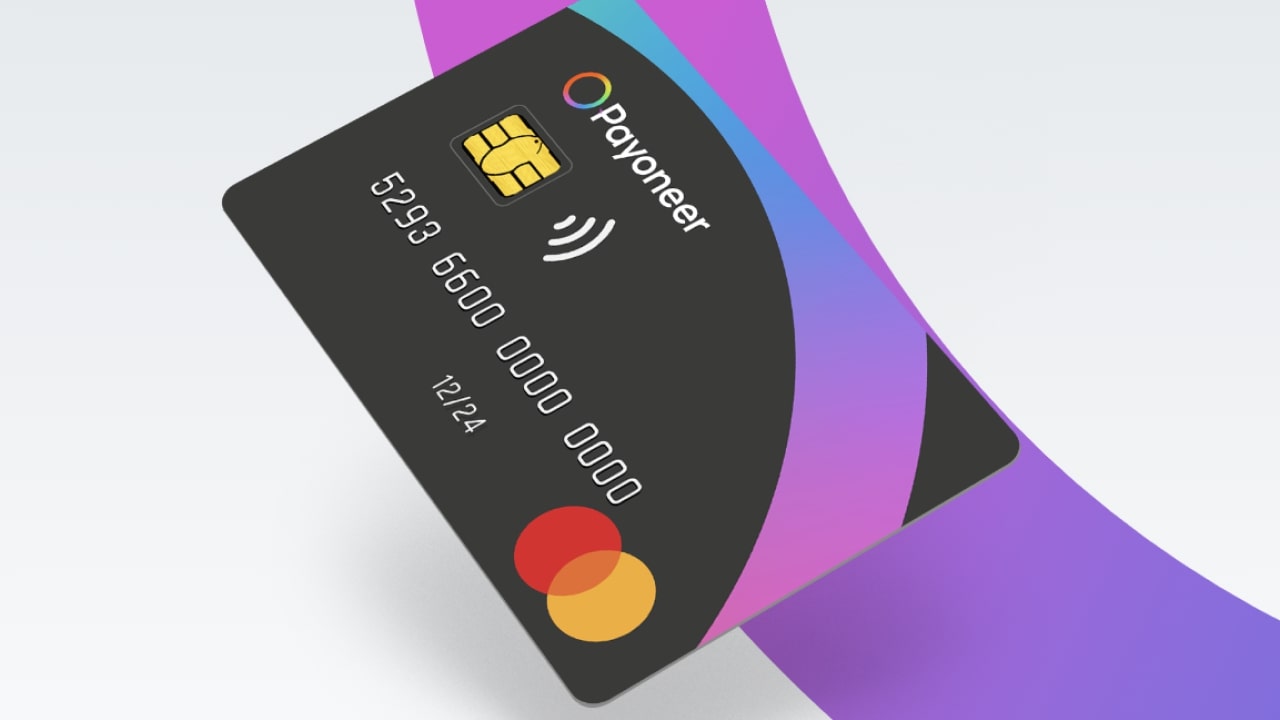 With Payoneer's card, customers can use their balance to make purchases both offline and online and withdraw money in ATMs worldwide.  
Your first card has an annual fee of $29.95 – additional cards in other currencies are free.
A card replacement costs $12.95 / €9.95 / £9.95.
Transactions in the

card's currency

are free of charge in supported countries. 

Transactions requiring

currency conversion

are charged up to

3.5%.
Cross-border fees

of up to

1.8%

apply to transactions in countries other than the card-issuing country. 

ATMs

– withdrawals cost

$3.15 / €2.50 / £1.95, and balance inquiries, $1.00 / €0.87 / £0.65.
Payoneer adopts a multi-layered approach to ensure its customer's security, which includes adopting the following:
2-step verification

responding to a notification on  a mobile device or via a phone call is required for certain activities. 

CAPTCHA

both during login and on other system pages to tackle bots.

Email notifications

after card usage.

Account takeover prevention

with bot-locating software, duplicate site-tracking, proactive user-account searches, and web application firewalls. 

RSA adaptive authentication

risk control systems check your location, IP, transaction volume, and suspicious behavior, trigger further identification and security steps. 

Risk model and behavior profiling

to analyze suspicious user transactions, predict malicious behavior, and prevent fraud, identity theft, phishing, and account takeover. 
Payoneer submits to external audits annually, and its compliance programs are carried out by world-class firms. The provider has the following certifications: 
PCI DSS level 1

SOC 2 Type II and SOC 1 Type II
Payoneer has 24 offices around the world and offers its services in 22 languages. 
Its multi-currency conversion service currently supports USD, EUR, GBP, CAD, AUD, JPY, and CNH, but this may occasionally change and differ depending on the region.
Conversion to CZK, PLN, RUB, and VND is available only for tax payment purposes and is subject to availability.
Payoneer applies conversion market rates plus a 0.5% fee of the total amount.
Join Printify and Use Payoneer Now
Sign up to Payoneer and choose your account type. Payoneer will ask you questions to define which kind of account you should open depending on your business type and goals. 
The following steps may vary depending on your account type. We'll show you how to open a Payoneer account specifically for those interested in creating an online store and selling with Printify and Print on Demand. 
It's possible to create an account for freelancers, online sellers, or service providers. Choose freelancer or online seller.
Next, specify if you want to use the account to 1)

send and receive

payments or 2) pay business partners, but

without needing to receive

payments. 

State your monthly income, then click

Register

.

Choose

Individual

or

Company

.

Fill in

personal or business data. 

Enter a

phone number

to receive a

notification code.

Create a

password, choose a security question, and provide your nationality

and

business category. 

Add your

ID, passport, or driver's license

number. 

Register a

bank account

for

withdrawals. You'll need to add your IBAN. If you don't know it, you can use an

IBAN calculator.

 
After that, your application is submitted and will be reviewed in up to three business days, but it usually takes less than that. 
Remember to check your inbox for a confirmation email. 
When your account is approved, you should enable two-step verification, strengthening your account security. 
After you receive a number code on your smartphone, you'll receive a recovery code. Copy and store it in a safe place, or use secure password-storage software.  
When you first log in, you'll need to set up additional security and add three security questions – don't worry, as Payoneer's questions are easy to remember and answer. These questions will help you recover your password if you forget it.
Set Up Payoneer With Printify
To use Payoneer with Printify, log in to your Printify account and follow these steps: 
Click on the green icon on the upper-right menu.

Choose

Payments.

Be sure your store's

Billing Currency

is set to USD to enable your

Printify Balance,

as the function doesn't work with other currencies.

Type a top-up amount and click on

Payoneer.
Click Continue to Payoneer

to authorize your account to connect.
Payoneer can help you conveniently manage your business and payments globally, securely, and with low fees. Let us know what you think of this new feature by posting a comment below or contacting us via social networks, email, or chat.
Make It Happen Today!
Don't have a Printify account yet? Don't waste any more time – sign up, create your online store, and profit with Print-on-Demand.
Share the article
Topics