30+ Tips & Tools on How to Sell On Instagram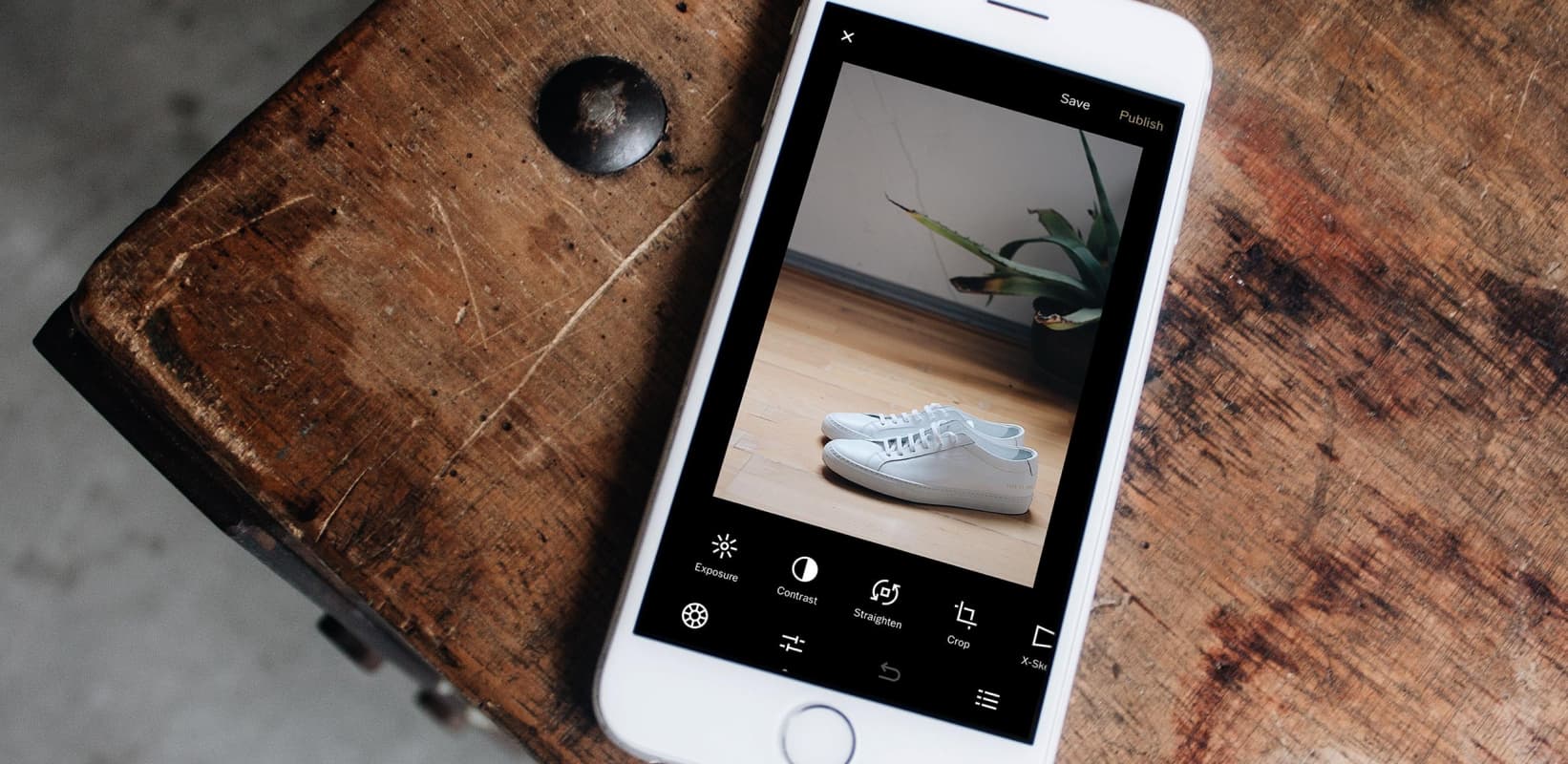 Instagram is far more than just a platform for sharing images and selfies. 83% of Instagrammers say that they have discovered new brands on the platform, this interaction is exactly the reason you should learn how to sell on Instagram.
In 2018 Instagram reached 1billion (yes billion) active users per month, with 500million using the platform every single day. The average time spent on the channel – 53minutes! From this number, 71% are aged 35 and under, with the most popular age range being 25-34.
OK, that's the boring stats out the way, you want to learn how to sell your products to all these eager buyers right? Well, there are some tips and tricks that will help you get started, if you follow these then you will be on the right path to a booming Instagram store. In addition our Instagram Calculator can help you work out what you could make from selling on your Instagram account.
#1 Create Your Profile Into a Business Profile
This is important later in your Instagram journey, it's very easy to do in your account settings. Just tap the icon in the top right of your account page, tap settings then account, at the bottom of the account page you will see the option to switch to a business account
#2 You Must Be On the Latest Version of the Instagram App on either iOS or Android
Instagram can update as much as two times a month depending on new features and security fixes, make sure you stay up to date.
#3 Try Instagram Insights
This is a great tool to measure how your content is being seen, engaged with and who is seeing it. Remember this is only a snapshot and for more detailed insights you should use a tool that will give you more in-depth analytics.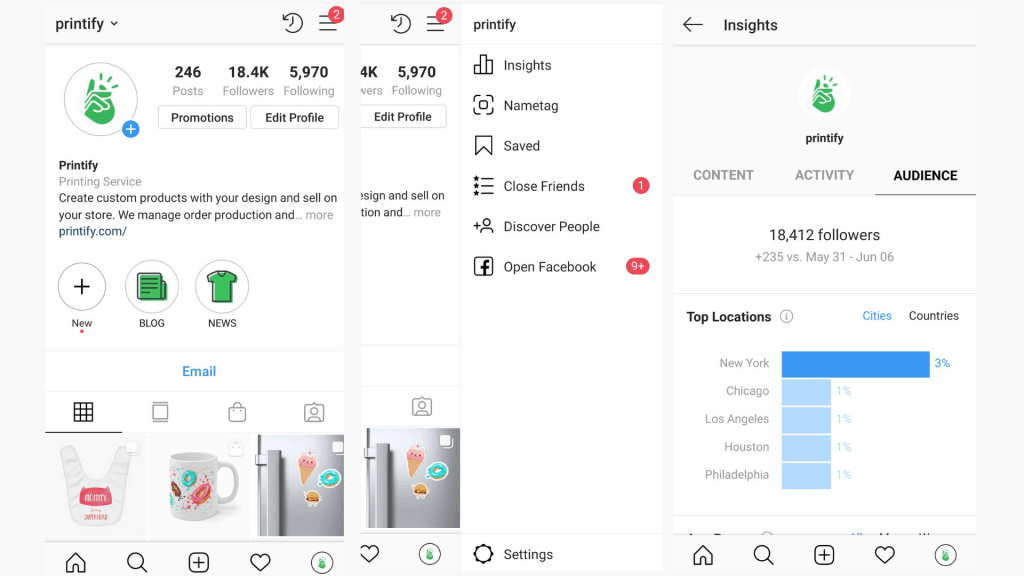 #4 Use a Listening Tool (Social Tracking Tools)
No, it's not the CIA, but there are free tools out there that will help you listen to what people are saying about your brand online. This is a great way to pick up on both happy and unhappy customers (who has them anyway?)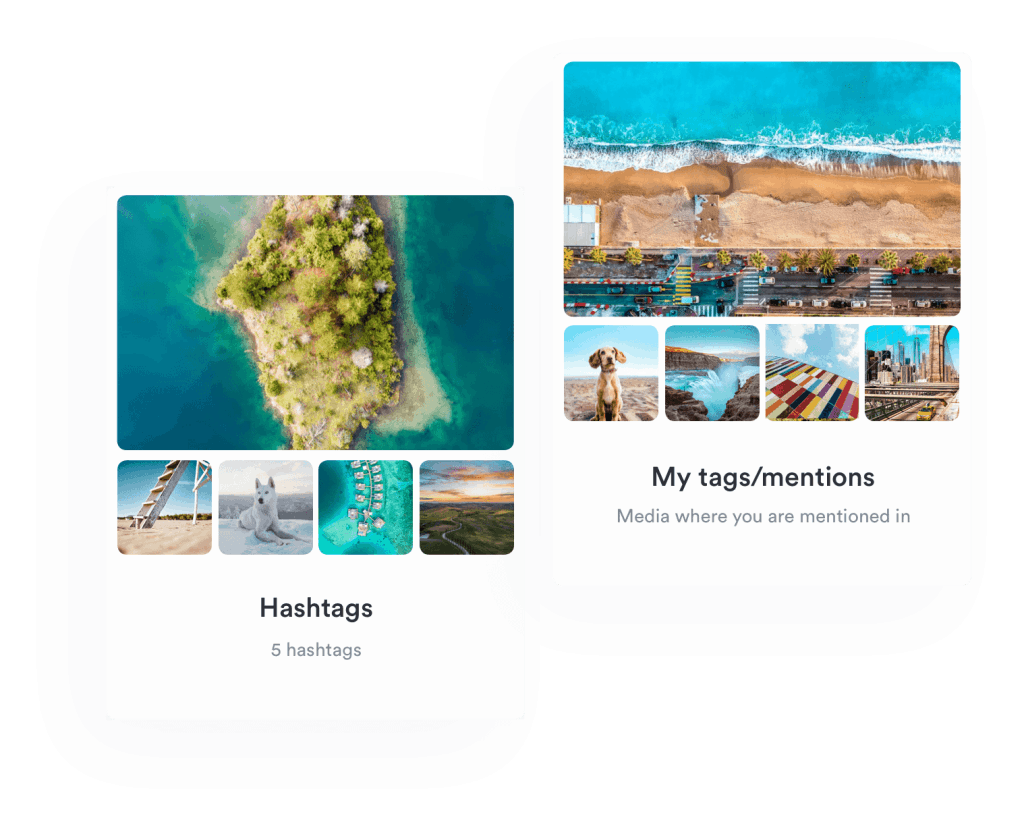 #5 Use Relevant Hashtags (Hashtag Tools) – https://toptager.com/
Although Instagram has but much less of an emphasis on the power of hashtags, they are still a great way to help your content be seen. Gone are the days of adding 30 #'s and watching the likes roll in, now you need to use relevant #'s that match the image.
#6 Create Beautiful Visuals (Tools for Merch As Placeit)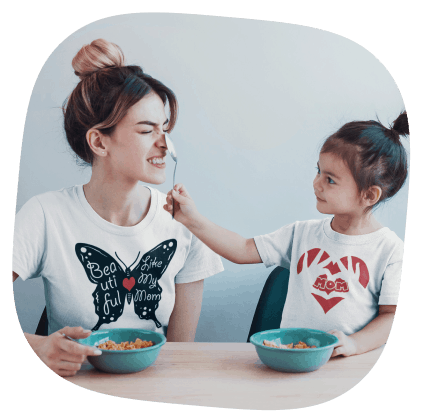 Instagram is a visual platform, don't forget that… As a store owner, you need to create visuals that will grab people, stop them scrolling in their tracks and get that double tap! Tools like Placeit and Canva are both great for this.
#7 Gather Feedback From Your Social Customers
( Here's a fun fact, Millennials trust UGC 50% more than other types of media, so it makes sense that these images would work well for selling your product as well.)
User-generated content (USG) is the currency of social media. Brands die for this kind of exposure. What's better than a customer showing off one of your custom t-shirts on their account. This is free marketing and something that you should encourage your followers to do by regramming them or writing a personal thank you in their comments.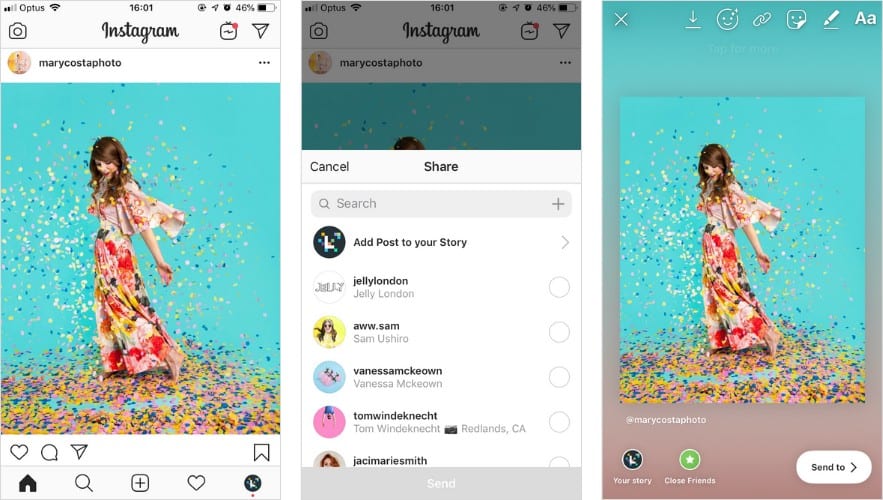 If someone is posting about your brand, share it. This USG is extremely powerful and will add authenticity to your account.
#9 Listen for Trends to Influence Your Product and Content Strategies
Trends come and go, so you need to be ready to ride the wave when it hits. By following accounts that are relevant to your store, you might be able to pick up on these trends before they become mainstream – It's never fun playing catch-up. Or you can try to compare Taylor Swift vs Kim Kardashian via Google Trends.
#10 Make Social Shopping as Seamless as Possible
Instagram has developed its customer shopping experience in the past few years. Now you can tag products in your posts (some limitations for new accounts). Link to specials in your account bio and definitely add your shop URL.
*Instagram also soon plans to introduce direct check-out, meaning your shoppers won't even need to leave the platform.
#11 Explore Different Content Types – Lives, Stories, Posts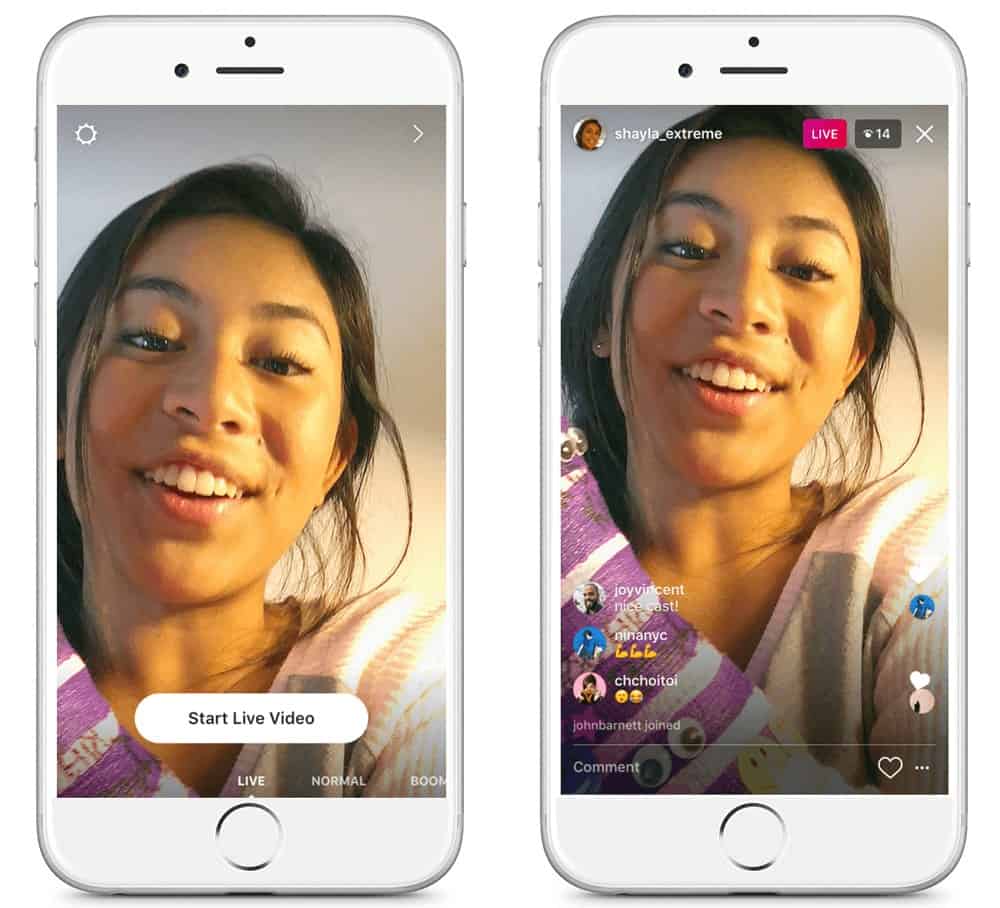 Instagram is not only profile posts, in fact, one of the most effective ways to get your brand seen by more people is by using stories, IGTV, and IG Live. Each type requires a slightly different type of content, allowing you to get really creative.
Live videos
IG Live is great for events, store openings or give-aways
Stories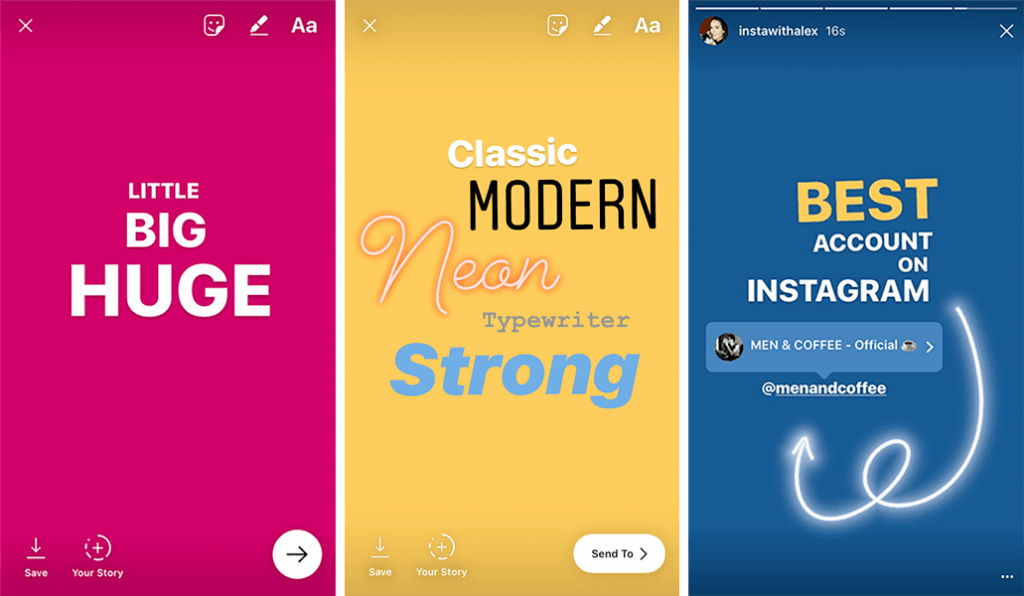 A great way to offer discounts, promo's and reach new audiences. Stories are also highlighted on followers accounts and can have links plus other engaging content on them.
IGTV
If you can master this you will have an advantage over many store owners. This is perhaps one area of IG that many people don't know how to use effectively. In short, think of this as your Instagram Youtube channel.  
A must have if you want to be consistent. The hardest thing about being successful on Instagram is posting consistently, use a scheduler to ease that burden.
#13 Update Your Story – And Update It Often
In order to stay in your followers feeds you will want to keep your stories active. They are around for 24hrs, so if you stagger it right you can get away with 1 story per day.
#14 Highlight New or Featured Products on Your Story
This is a great way to highlight a new collection, new product or customer reviews. Create a new highlights folder and add the relevant stories to it, they will stay there until you remove them (not just 24hrs).
#15 Comment on Relevant Photos
Seems like an obvious one, you will be surprised how many people forget to comment on other accounts. This is perhaps still the best way to pick up new followers and grow your account organically.
#16 Create a Branded Hashtag
Sounds easy right…Well, you really need to think about this. First of all, does it make sense? Secondly, when you type this hashtag into the IG search what comes up? If both these things come good, then you can use it to track who is talking about your brand but using the IG search feature.
#17 Respond to Comments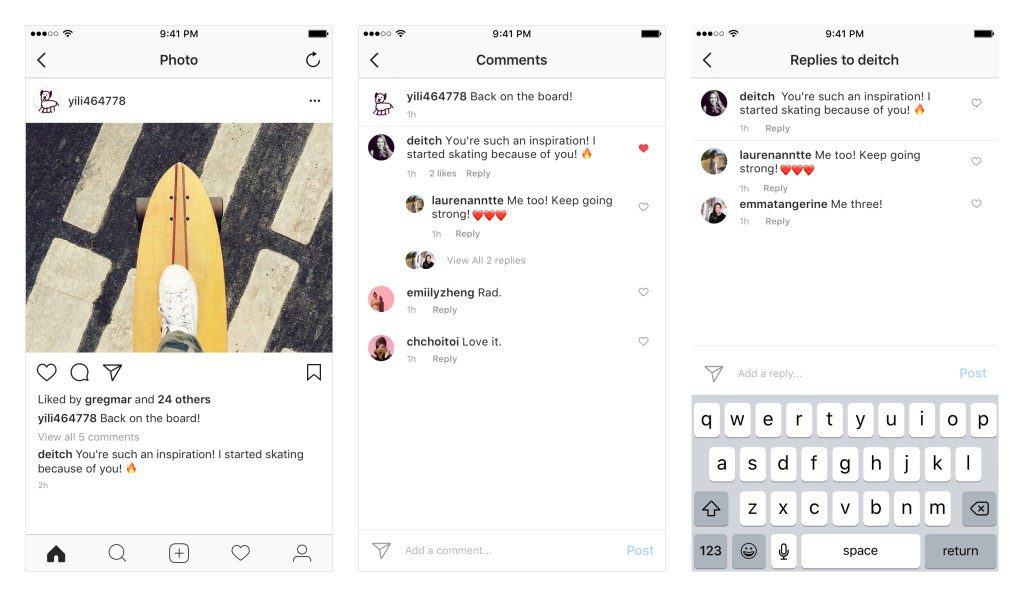 Noone likes a 1-way conversation, so if someone comments on your post – Write back! It's really important to show that you are active with your followers, engage with them and you might turn a question into a sale.
#18 Make Your Feed Shoppable – With Products.
Before you can do this you need to be approved by Instagram. If you have already done this, well done you are a huge chunk of the way to selling. Now you can tag your products directly in each post, this allows the customer to go to the product page on your store to purchase…You can also track this to see which of your items are selling like hot cakes through Instagram.
This is a clever hack, it allows you to create an Instagram inspired landing page using the link in your bio. Each post is then linked to a specific product on your website. Remember this is not a process that takes place on IG, rather off the platform.
This will give you a lot more options when it comes to audience targeting, creative, budgeting, and placements.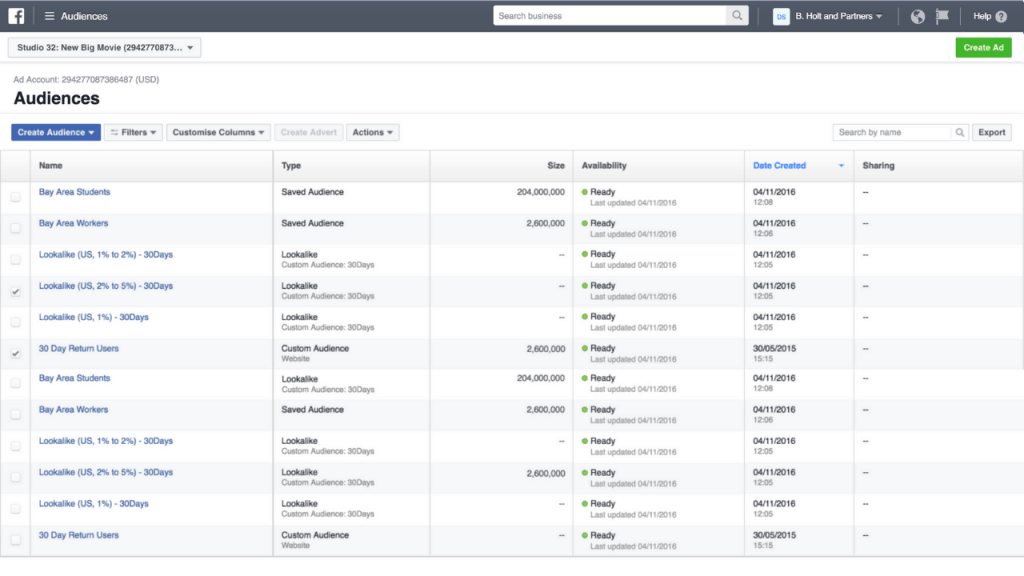 For those who didn't know, Instagram is owned by Facebook. So now we have the power of Facebook's advertising to target potential customers on Instagram. You have a whole host of targeting options, including city, age, interests, etc.
#21 Try Mobile First Marketing Focus
Add some major wow factor to your IG stories with some impressive graphics that most importantly have a clear CTA. This tool (although a bit pricey) allows you to put together some killer campaigns that when done well could launch your brand forwards. Or you can just add more stories, posts with hashtags on Instagram.
Just like school, you can get a report card for your social media accounts. This is basically a way of displaying your accounts insights in excel. What is useful about this is that you can easily add additional metrics yourself, share the file with partners or extract specific data that might be useful.
#23 Automate What You Can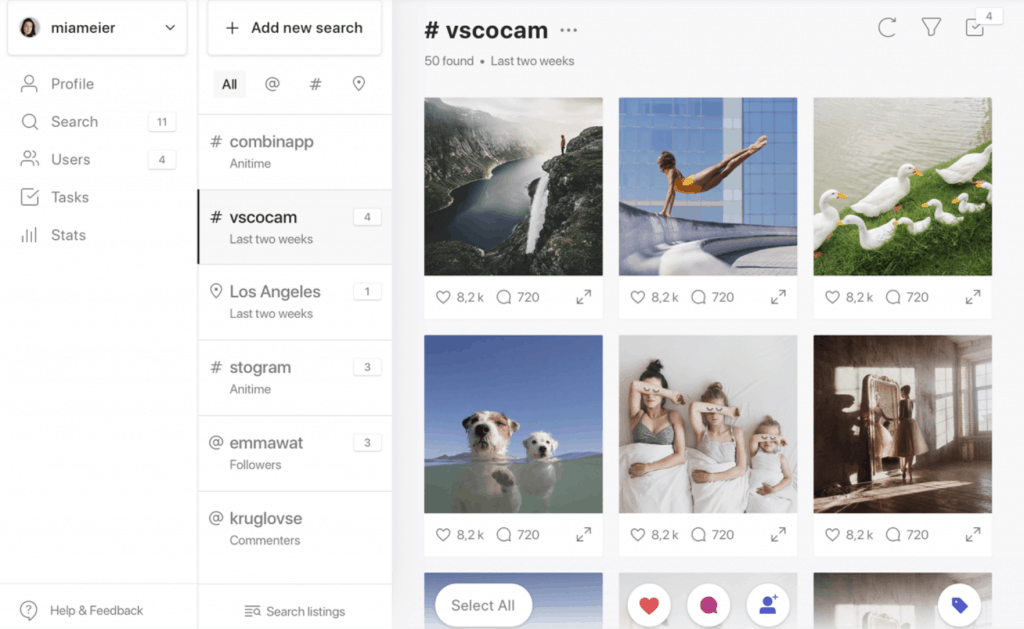 Some processes on Instagram can be managed by AI, effectively doing a lot of boring work for you. Combin will follow, unfollow and even comment on posts for you, all within the Instagram limits. Be careful though, while it's a useful tool, it's still best to manage these processes manually.
#24 Use Your Bio Link Effectively With linktree
You only have 1 link in your bio, so you should really make the most of it. This tool will allow you to link to almost any kind of content, from a website to a blog or event.
#25 Have Fun With Your Video Content Using Boomerang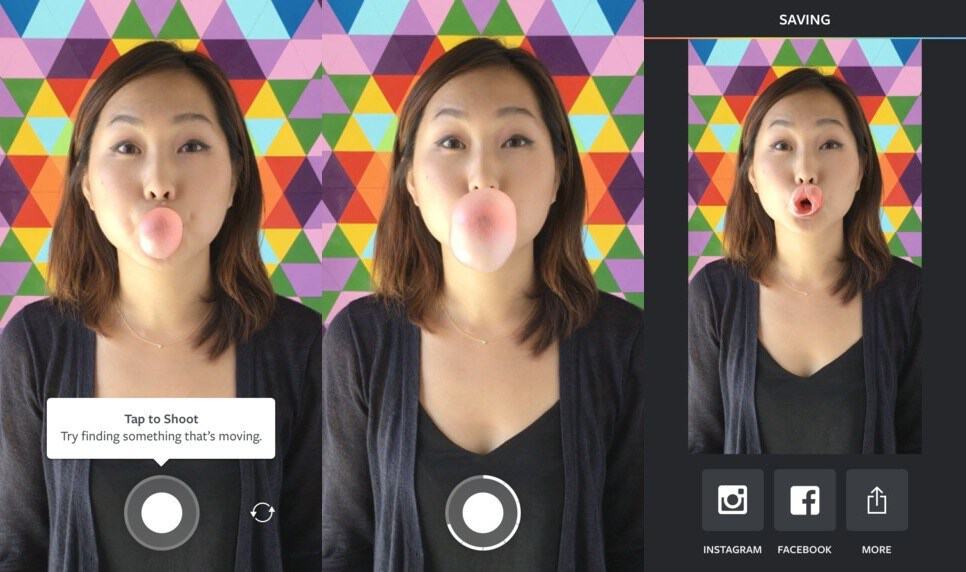 We have all seen the boomerang effect on videos. This a fun way to give your content something extra. Great to show off a new design without giving too much away.
#26 Get To Grips With Your Data With foursixty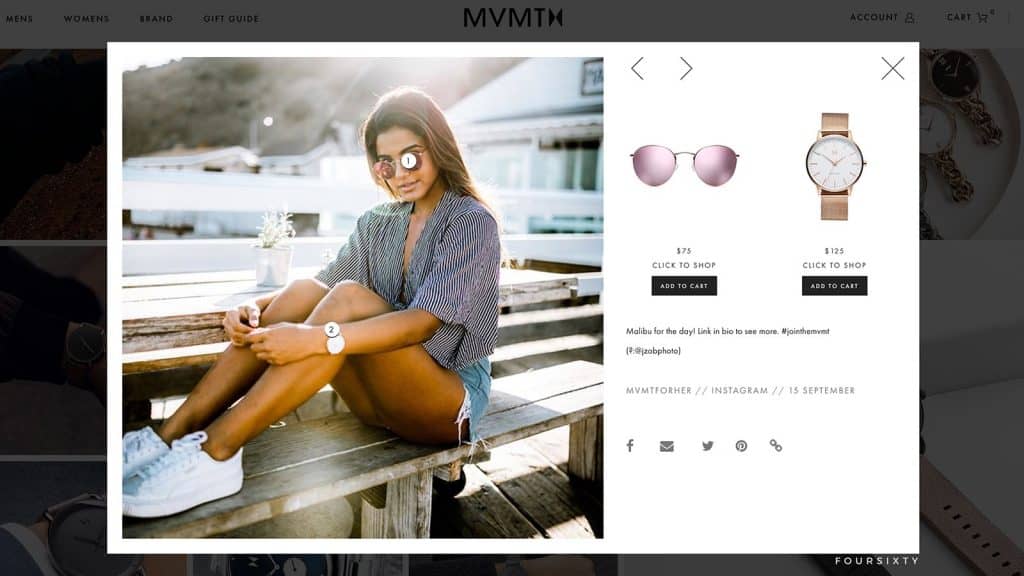 Once you have your content on point, you will want to dig deeper into the insights to see which content is performing the best. This tool allows you to get some great data from your stories.
#27 Save Time and Schedule Your Content With Social Insight
To really manage your social channels and in particular Instagram, you should consider using a scheduler…This tool does so much more than that, however, including detailed analytics, automatic posting and hashtag research.
#28 Make Your Images Stand Out From the Crowd With VSCO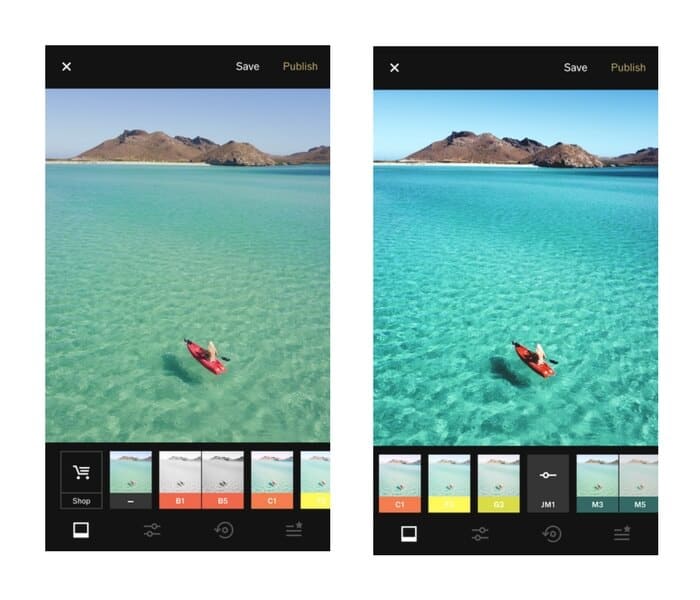 Paying out for expensive video and photo editing software can be painful. There are some great alternatives out there though. VSCO is perhaps one of the most popular with a whole host of features available on their free plan.
#29 Understand Your Audience & Potential Customers With Social Rank
The key to selling on Instagram is understanding your audience. Who engages, who is following and talking about your brand and which accounts are dead to you… SocialRank helps you get a grip on all this, after all, you need to understand your audience.
#30 Speed up Your Customers Checkout Process
Soldsie is a great way to speed up your customers check-out experience. They simply buy by commenting on your posts, this comment then triggers an alert for you to act on in their admin panel.
#31 Work With Influencers for Great Reach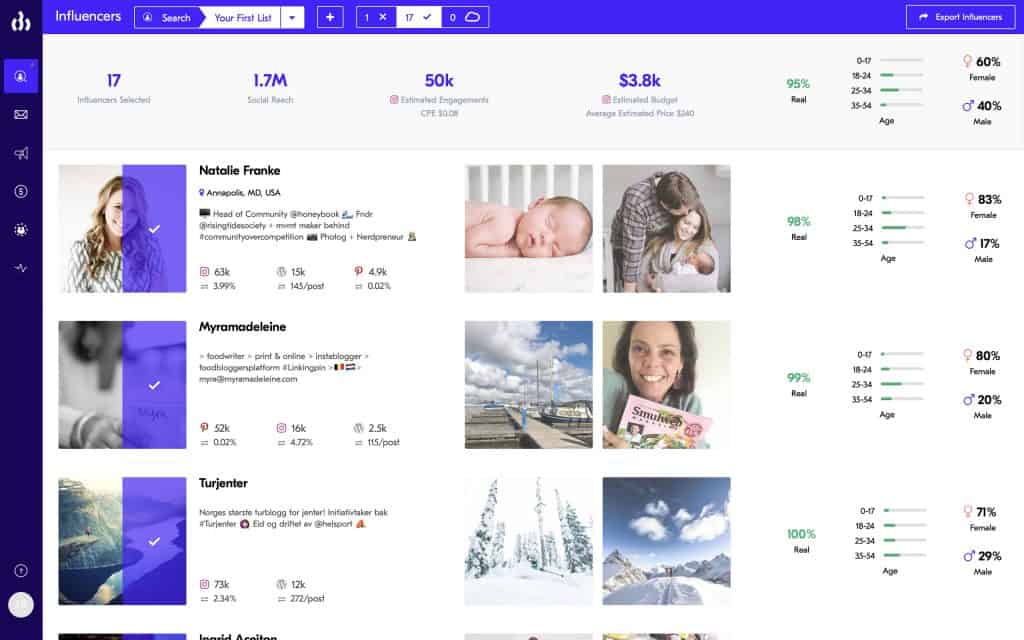 Chances are that if you want to be successful on Instagram you will need to work with influencers. This platform analyzes the best ones for your sector, just be wary as influencers can get expensive when not used effectively.
Share the article
Topics