10 Spooky Halloween Gifts to Stock Your Online Store With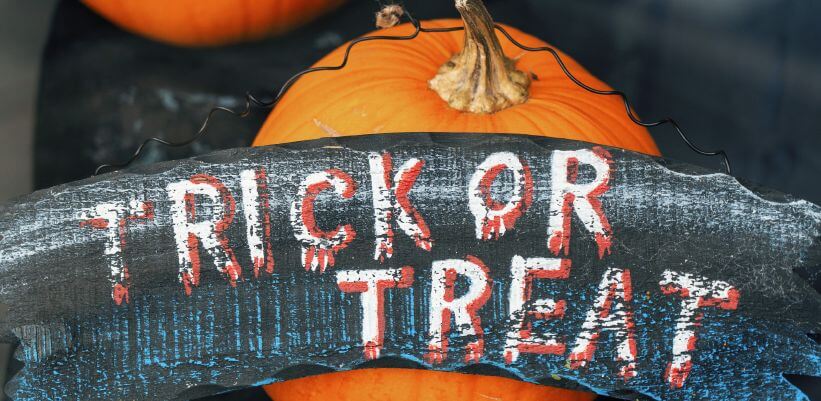 Halloween Countdown begins! This year's hobgoblins, fairies, and demons will be stalking the streets playing tricks and demanding sweets on Sunday, October 31, 2021.
Before you start working out how many days until Halloween, let's take a step back and look at how the holiday was born, to a time before the commercialization of mass-produced Halloween gifts that stock the shelves of every out-let – when Halloween was greeted by the community with a genuine sense of fear and dread!
The Birth of Costumes and Masks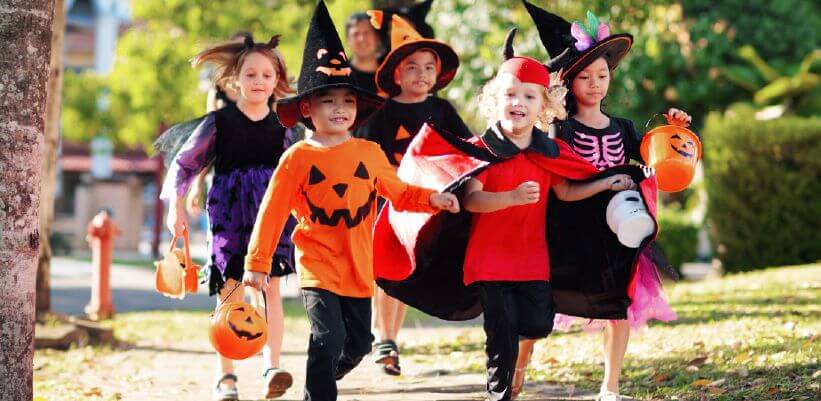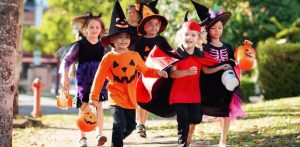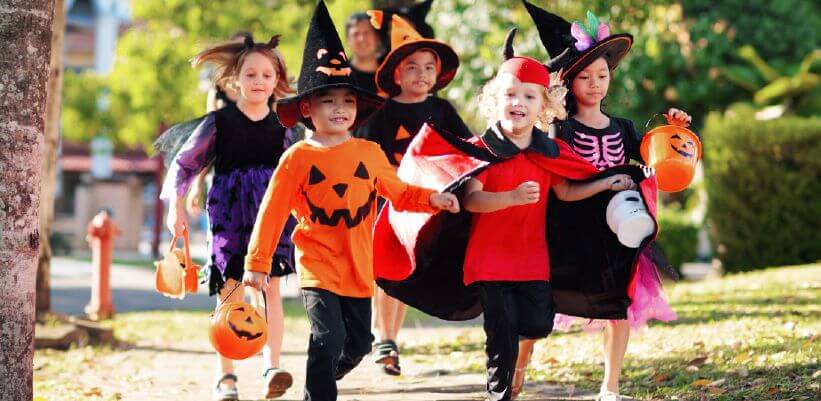 Bonfires and hearth fires become synonymous with winter to ward away evil, benighted spirits! The living would wear masks and other frightful disguises to avoid being recognized by meandering ghosts. 
While most of us will not be waiting for a herd of cattle to return to our gardens, the chances are we will be carrying on the tradition of dressing up in spooky disguises, carving pumpkins, and decorating our houses in Halloween themed paraphernalia. Which of course in contemporary terminology means big business!
Creating and Selling Halloween Gifts
The Halloween gift market is wide and varied and will be celebrated by all age groups and genders in all manner of ways, which means for designers and merchants you have a plethora of themes to explore, to stretch your imagination, and create an exclusive Halloween gift range.
As well as our collection of Halloween shirts we have a whole host of other Halloween gifts perfect for customizing with ghostly designs. Such as face masks, socks, leggings and to make sure the boat is really pushed across the river Styx, for the home we have pillowcases, shower curtains, stickers, wall prints, blankets, and more.
Whether you are a new merchant in eCommerce or a seasoned one, festive ranges, especially Halloween, inspired ones are always a dead cert when it comes to a spike in online searches for personalized products. 
The traditional stores are full of people hunting for a unique spooky twist and often find mainly generic mass-produced goods that leave very little to the imagination.
The one thing the traditional outlets do that we encourage is to get your designs and product range in your stores at the start of the Halloween countdown. Getting your range ready when the excitement begins to build will make sure those who like to pre-plan can purchase your exclusive Halloween gifts and have them delivered way ahead of time.
With that in mind, we have picked some designs for our product range that we think will inspire you to create your very own range of unique Halloween gifts.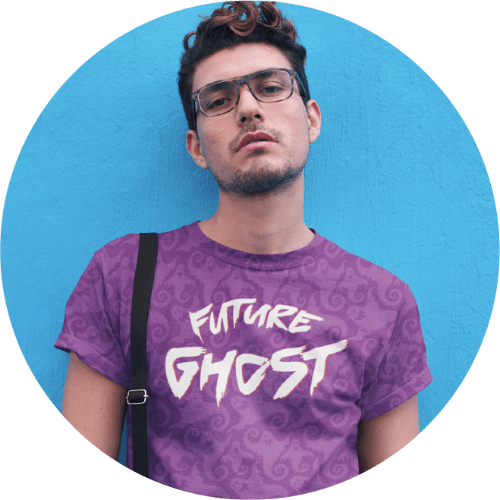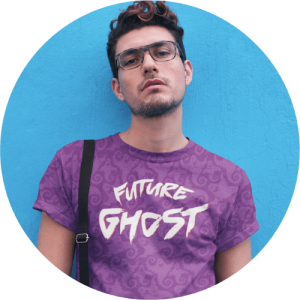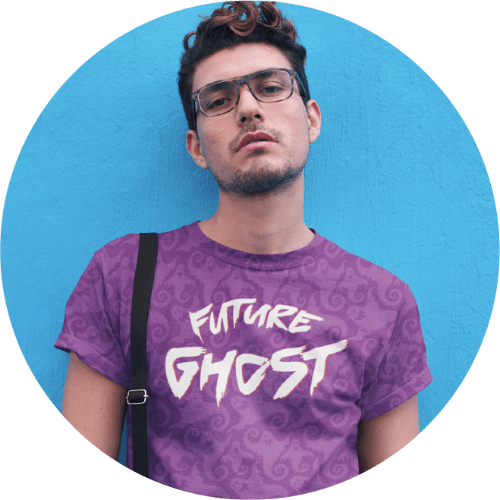 Customized shirts are always a big hit, especially at Halloween. We stock a wide range of shirts for men, women, and kids in a variety of different styles and sizes to cater for all tastes.
Our AOP unisex Cut & Sew tee is the perfect canvas for your spooky designs because AOP means 'All over printing' so the front, back and sleeves are all customizable. 
What is trending this Halloween is funny, quirky text slogans in creepy fonts. So why not pair our AOP unisex Cut & Sew tee with "Not a ghost, just dead inside'" or "Let's get spooky" or "Future ghost". With a whole host of base colors to choose from and all-over print available, customized shirts make great Halloween gifts.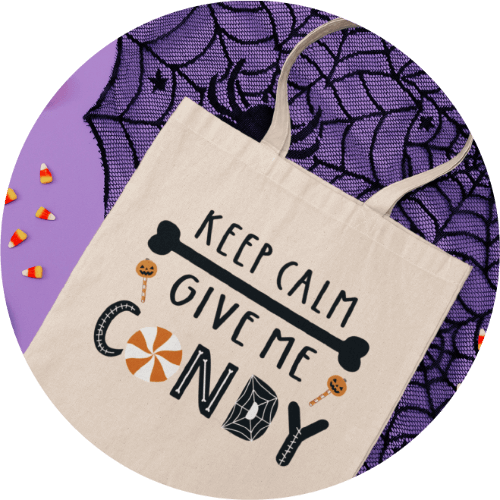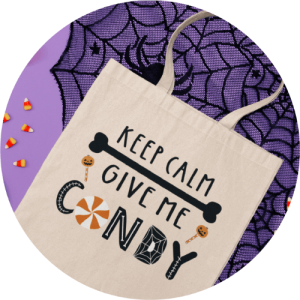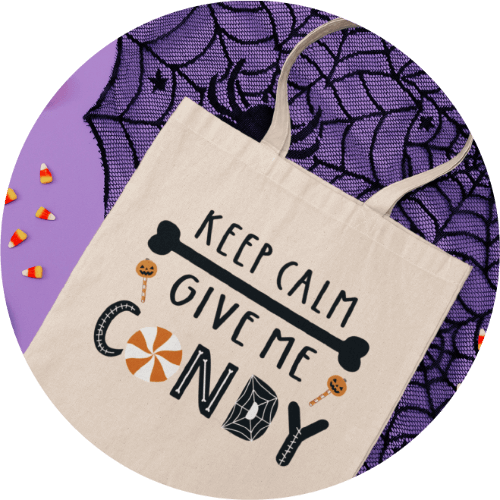 For most kids, Halloween means two things: dressing up and eating candy! A boring normal bag will only detract from their costume, so you can offer custom totes to help them collect their sweets. These are practical Halloween gifts that can be used year after year.

Children will love cheeky slogans like "keep calm and give me candy" or "put some candy in the bag and nobody needs to get haunted." Alternatively, you could design your bag to coordinate with certain costumes. Imagine a treat bag with a cauldron design – it'd be the perfect accessory for a wicked witch!

Where would a skeleton keep their candy? In a bag of bones, of course. These themed designs will delight your customers.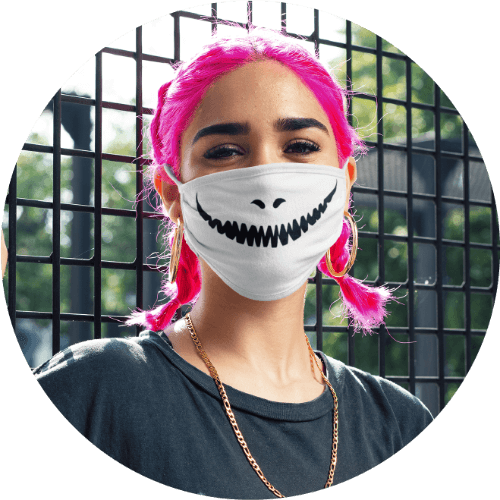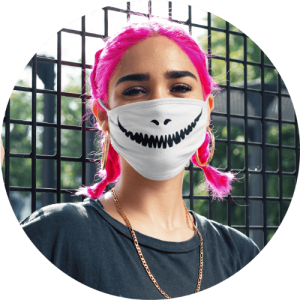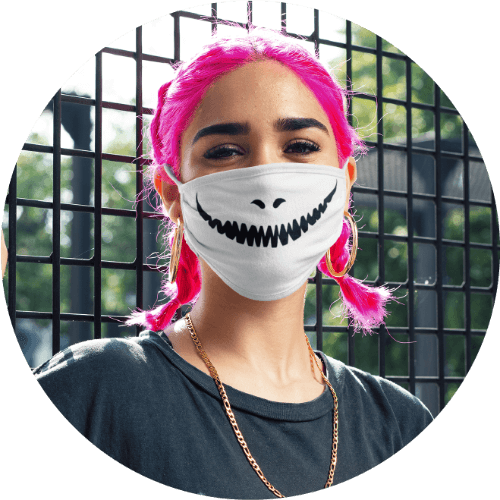 The face mask has become a necessity and wearing one to add a layer of protection is the new normal. Made of 100% Polyester and machine washable, our face masks can make the ideal Halloween gift.
For design ideas, every creepy composition will work! Whether you chose to use a pattern of skulls or skeletons or witches on broomsticks any design choice will look impressive.
If you want to design for the hardcore horror fan, creating a ghoulish pumpkin or clown mouth will add some seriously sinister vibes to your mask.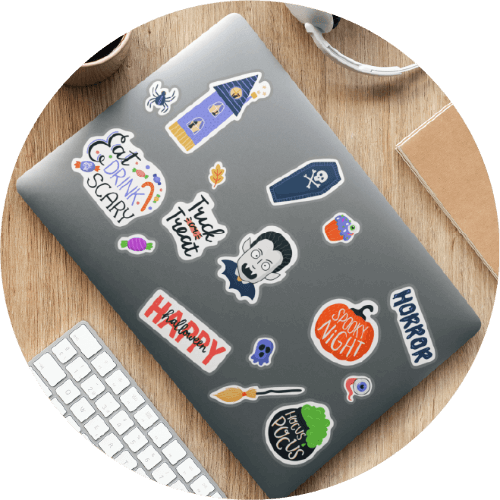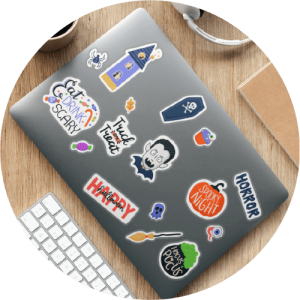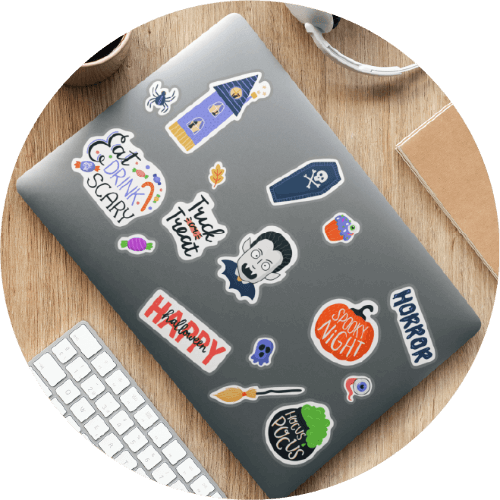 Everyone with some seasonal spirit gives out candy on Halloween. It's undeniably a great tradition, but wouldn't it be cool if other surprises were also on offer when kids came to the door? Stickers, for example, make for inexpensive Halloween gifts that are perfectly-sized to pop in a treat bag. Their dentist can thank you later.
Your customers will definitely be inspired to up their Halloween gifting game when they see your scary stickers. Why not add slogans like "I tricked and treated on Halloween 2021" or "I survived Halloween 2021 and all I got was this sticker." Children will love keeping these as special souvenirs.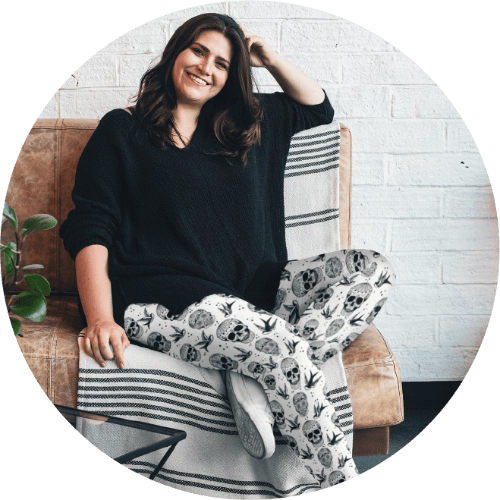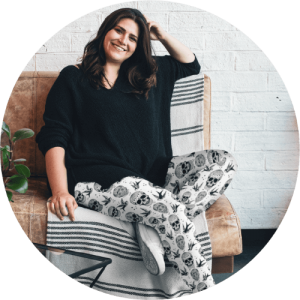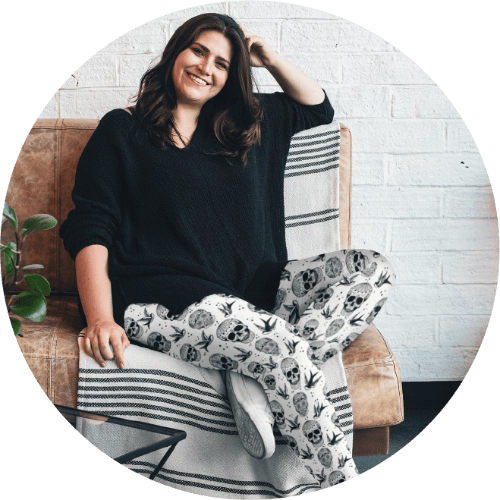 Our tagless, elastic skinny fit leggings can add a new dimension to your Halloween costume. With roll to roll all-over printing available there is no reason, your designs can't be the centerpiece of your outfit.
The black and white stripe or the circus stripe as it is known, adds a dramatic sense of gothic style, the skeleton x-ray is another design that can make sure your leggings are center stage.
Why not design a whole costume and pair our leggings with one of your tees, by creating the ultimate Halloween gift! A matching tee and legging combination of a zombie, skeleton, or Frankenstein design would be a great product to add to your range.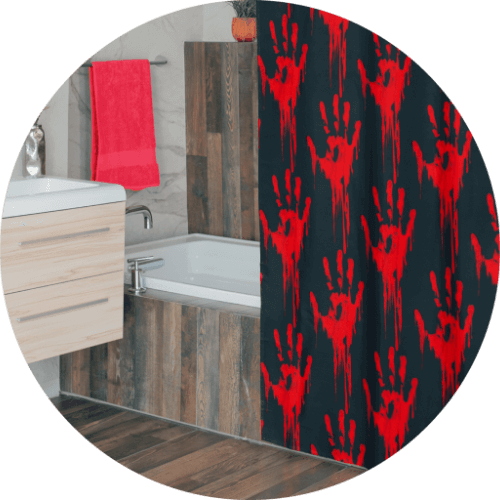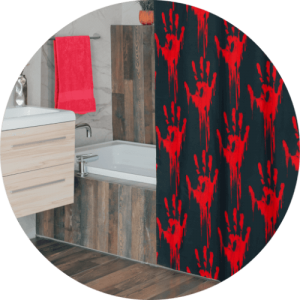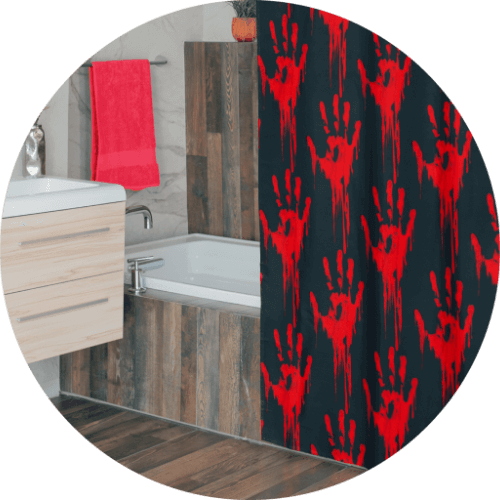 When Halloween comes around the decorations come out, don't be caught out without ghostly shower curtains ready to be hung up! Easy to wash and maintain due to curtains being coated with a water repellent, why shouldn't the bathroom have its own sense of mischief and fun?
With the right design, your shower curtain can turn your bathroom into a horror scene, it just takes a sinister silhouette and splashes of claret for dramatics, a giant spider web, or a screaming Medusa head on a shower curtain can set the tone when it comes to home decorations. 
Depending on what level of gruesomeness your target market celebrates Halloween on, you can tailor designs to suit everyone's tastes.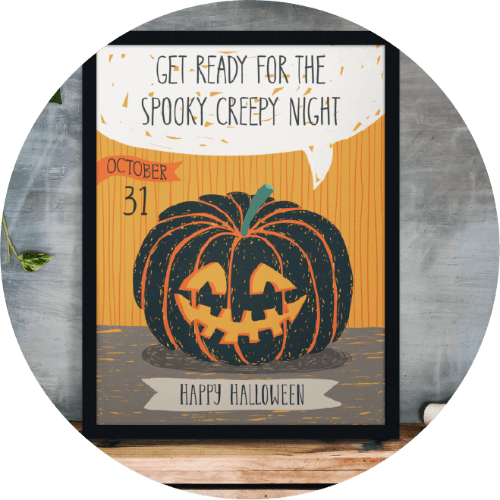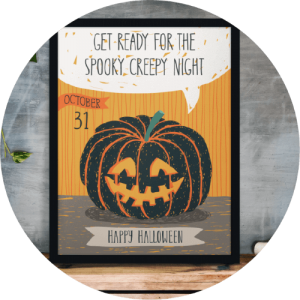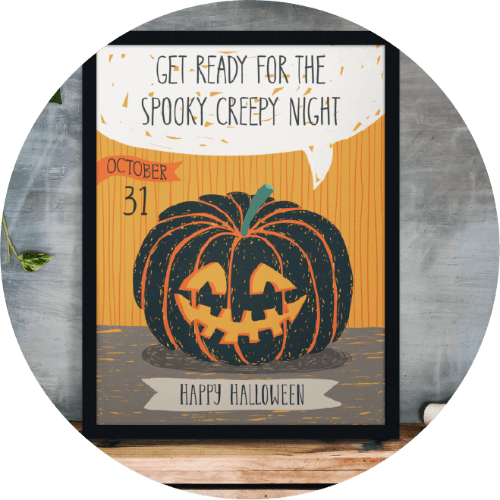 Lots of us like to decorate our houses on Halloween. Maybe we're preparing for young trick or treaters or maybe we're throwing a petrifying party of our own. Whatever the plan is, you can help your customers get in the spine-chilling spirit by selling a range of haunted Halloween posters.
For younger guests, a cute pumpkin design wishing them a happy Halloween is both age-appropriate and adorable. If you want to increase the fear factor, you could always make this a BEWARE sign, warning them to stay away! That way, only the bravest of kids will knock on your door… and win their candy prize, of course.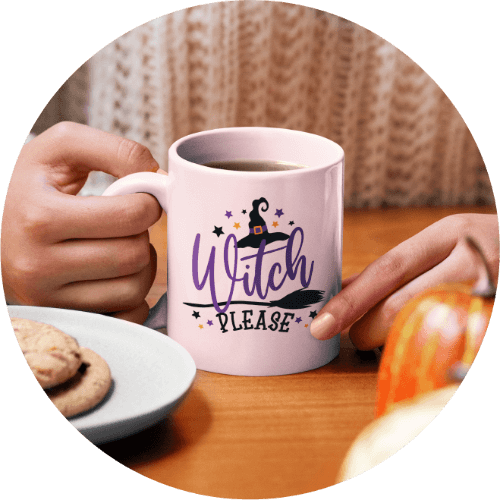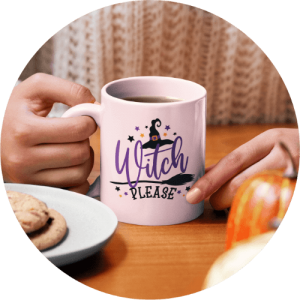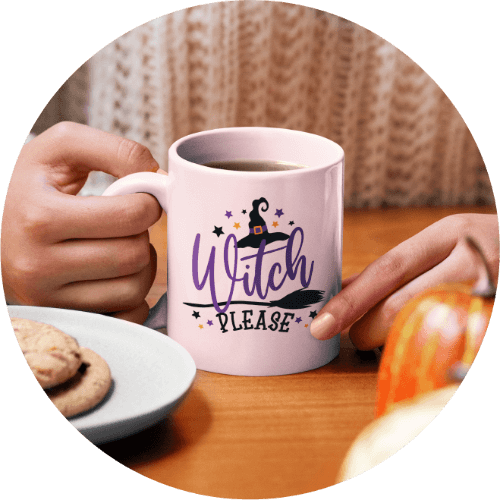 What is your favorite Halloween beverage? Is it witches' brew, vampire blood, or swamp potion? At this time of year, it's fun to get creative and make our own themed drinks. 
Now, you can design a Halloween mug to match them. Of course, you don't have to go gruesome. If you choose a cute but creepy pun, like "eat, drink, and be scary," "witch, please!" or "ok, boo-mer," you'll find that these Halloween gifts can be used by your customers all year round.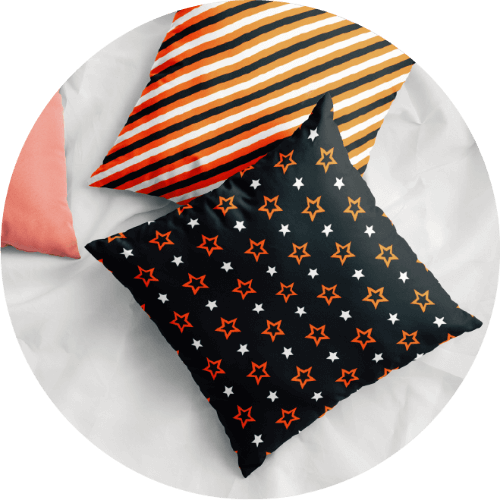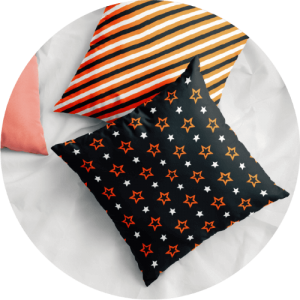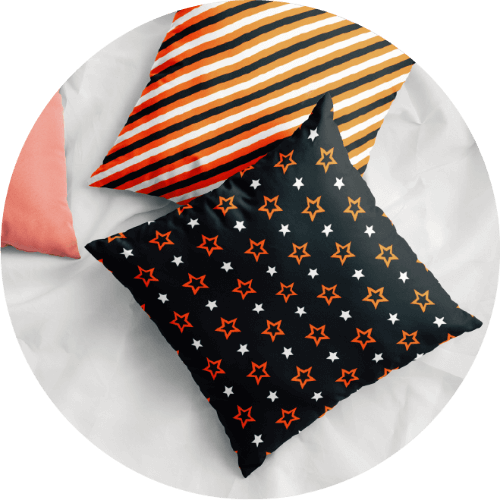 Are you afraid of the dark? Halloween has undeniable associations with the nighttime, so pillows could be perfect Halloween gifts. For that person that enjoys the holiday a little too much, a printed slogan like "don't wake me up before Halloween" could make an amazing and unique present.
You could make your pillow a fun, novelty product or you could go for something more aesthetic. Why not target the enchantress demographic with your online store? Witchy vibes are very much on-trend at the moment, so you could take advantage with a design that draws upon crystals, spellbooks, and the stars.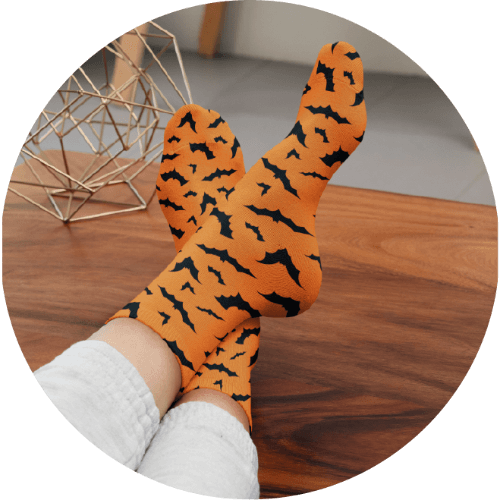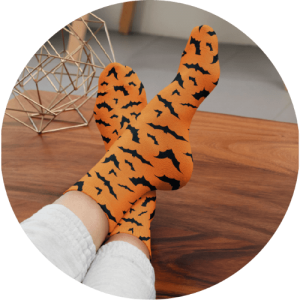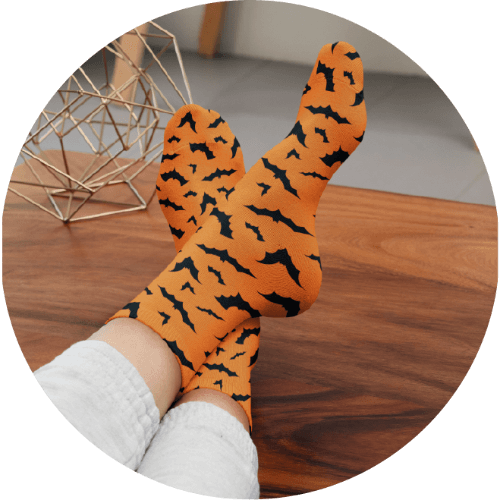 If you're looking for cute Halloween gift ideas, they don't get much cuter than Halloween socks. Your customers will love making their tootsies terrifying and their feet frightening!
These are a fun gift for all ages, so expect this product to be especially popular. Think about it: those people that "don't like to dress up in a costume" are often the ones that compromise by wearing a themed accessory like spooky socks.
Classic Halloween combinations always look eye-catching on socks, a black base and spindly silver spider web, or orange base with bats are never off-trend.
Halloween Gifts Printed on Demand
Our print on demand business model offers a low-risk, high-gain opportunity that needs creativity, time, and effort not cash to make it a success.
The way it works is simple. You create your Printify account and then add your designs to any one of our products in the catalog. With over 250 products available and more being updated regularly there is no short supply in choice. 
As we are a no money upfront business model you will not need to put forward any money of your own. Setting up and selling your products will not cost you a penny! Once an order has been confirmed only then will the item be sent to production, with our hassle-free fulfillment, we even take care of your orders too, leaving you sitting back, relaxing, and watching your designs take off!
So, when you partner with Printify, stockpiling and the cost of warehousing or staff will never be an issue! In fact, when you choose to partner with Printify you will get instant access to some of the best print suppliers out there!
When it comes to designing personalized gifts for festive seasons, we at Printify have learned the golden rule which is planning and preparation! Customers will be scouring eCommerce stores for gifts ideas months in advance.
So, by having your designs and your products ready in advance, means your products will be there first to be seen and your Halloween gifts will be the first to catch your customer's eye.
Through our gathered experience, we know choosing your target market is also very important, especially when it comes to Halloween. What makes the holiday so unique for both designers and customers is the different connections the age groups have to its themes. Your designs can be as cute as a pumpkin on a t-shirt or terrifying as an axe-wielding madman on a shower curtain.
We want you to be as creative and as innovative as possible with our product ranges to create exclusive gifts, traditional shops will not supply. 
That's why we created our technology platform that simplifies and automates print-on-demand services. It ensures our merchants can conceptualize and produce product ranges without any boundaries or restrictions!
Remember – setting up your Printify account is just 3 easy steps away! To get started you just need a valid email address to set up your Printify account. Then it's just the case of answering a few simple questions on what you will be using your account for, then you're free to name your store and start designing.
There is no money up-front required and none of the products that you will stock in your online store will be made until an order has been confirmed. Once the order has been confirmed our hassle-free fulfillment takes the stress out of that too!
So, start designing a collection of Halloween gifts today and put your store ahead of the pack by offering exclusive personalized products with Printify.
Share the article
Topics