A product mockup generator is an online tool that helps you create digital images of products without using complicated graphic design software.
What Is a Mockup Generator?
Put simply, a product mockup generator is an online tool that helps you create digital images of products without using complicated graphic design software. The process is simple: you upload a design, and the tool will give you a high-quality mockup that you can download in the size and the file format of your choice. 
Creating a mockup in a tool is quite easy. First, you need to select one of the available print providers. Compare their prices, location, sizes, and other metrics. 
Next, choose the product whose mockup you wish to use and then upload your design. You can tweak some details if you wish and then choose a format and a size for the final mockup image. That is all it takes. You will have a mockup within seconds. 
Now, let's take a look at what products you can design with a Printify's mockup generator.
T-shirts are the most popular product. Printify allows you to print not just on the front of a t-shirt, but also at the back and sleeves. For some t-shirt models, users can also add brand inner and outer neck labels. 
While working on a t-shirt in the mockup generator, try different colors and sizes to find a design that fits the best. There is a preview button  with up to 4 different angles and closeups.
Designing custom phone cases via the mockup generator allows you to choose from different smartphone models.
Printify has their own custom phone cases that are tailor-made for custom designs. Do not forget to use the Preview mode to find out how each case looks with the design.
Like with other available products for the mockup generator, you want to upload the best possible design quality so that it meets Printify's requirements.
For custom mug designs, you can select from stainless steel travel mugs, and coffee mugs in 11 and 15 ounces. The mockup generator offers 5 different preview angles for the former, whereas custom coffee mugs have 3 angles.
Printify offers a few tote bags for customization. The products are printed with the direct-to-garment technology and are all-over-print. 
The mockup generator lets users change the handle color, which is another customization feature in addition to adding your brand design on the bag.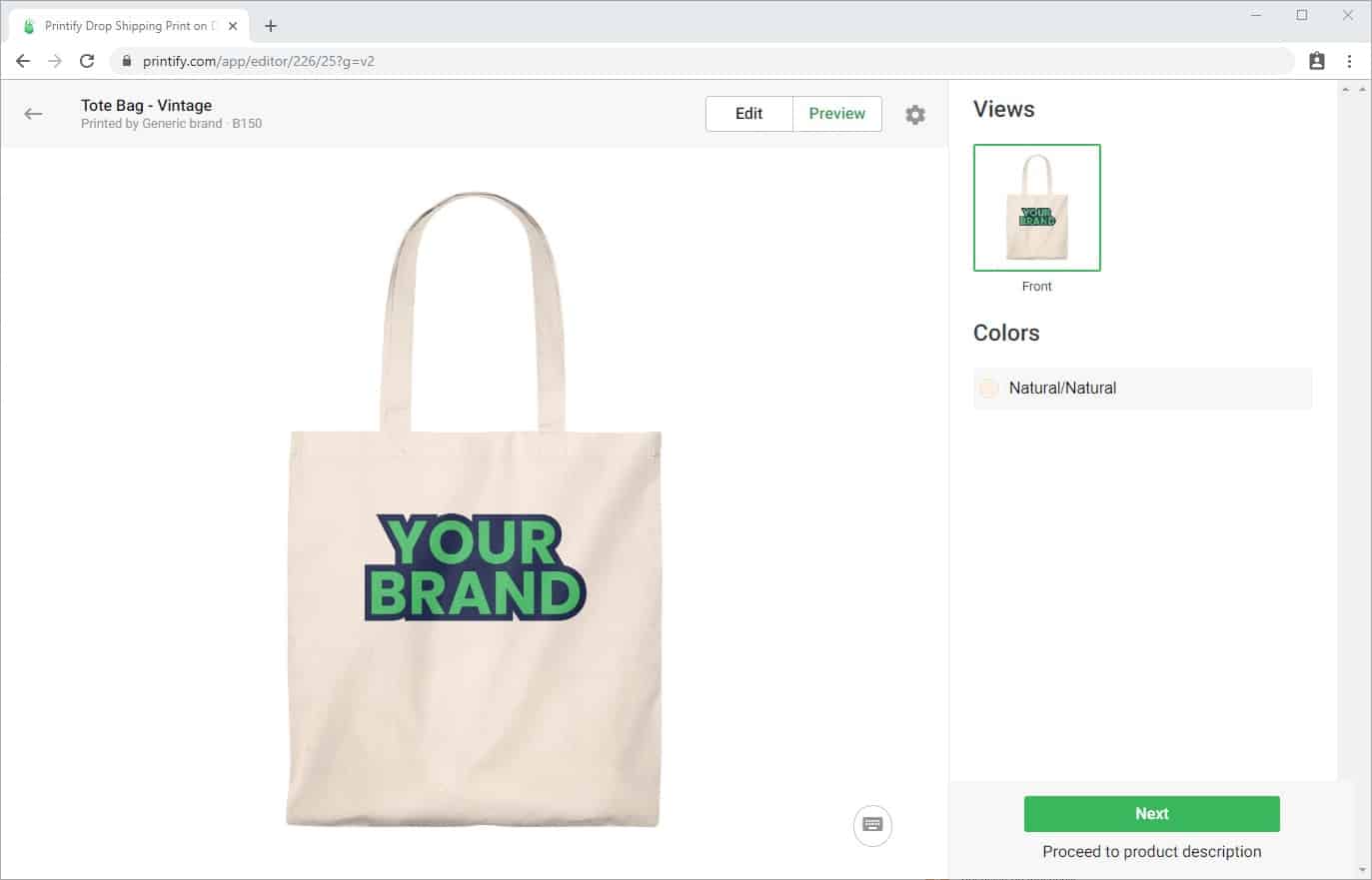 Wall decals, poster prints, canvas wraps, and other custom print wall art are also available on the mockup generator. 
It is important to note that adding design to canvas causes the "wrap" effect, and it is easy to misunderstand how the final product version will look because of the effect. 
Thankfully, Printify's mockup generator shows the final design results how they would look like in real life. 
As a rule of thumb, aim for 300 dpi when adding print to wall art to ensure that the end product is high enough quality. The mockup generator indicates this number so that you can know whether the design meets the requirements.
Besides the most popular mockup generator products that were mentioned below, there are other choices, such as laptop sleeves, shower curtains, towels, pillows, and more, so be sure to check what else is available on Printify's mockup generator.
You need a mockup to show your designs in a real setting to your customers. You have the ability to design a mockup that looks high quality and portrays your product in the best way possible. A mockup makes your ideas stand out. Plus, they help eliminate the ambiguity when it comes to quality-related expectations.
For instance, you can share product mockups with a focus group and see if they can identify gaps and suggest revisions to help improve the design. For print on demand stores businesses that want to improve their customer experience, a mockup generator can be a lifesaver.
Role of Mockup Generators in Creating Awesome Designs
With the help of a mockup generator, you can go from never using a mockup to using a mockup for every product you envision. You will enjoy using the tool, and it will be like a piece of cake to create a design in minutes as opposed to slaving away on Photoshop.
The speed and ease of these tools will dramatically increase your workflow. Increased workflow means increased productivity and more profit. This is not a battle of Photoshop vs. mockup generators but one of ease. You get the same (in some cases, even better) results but with lesser time and energy spent.