Custom pouches are the catch all, carry all for nearly every situation. Help your customer organize, travel, and keep safe all their treasures!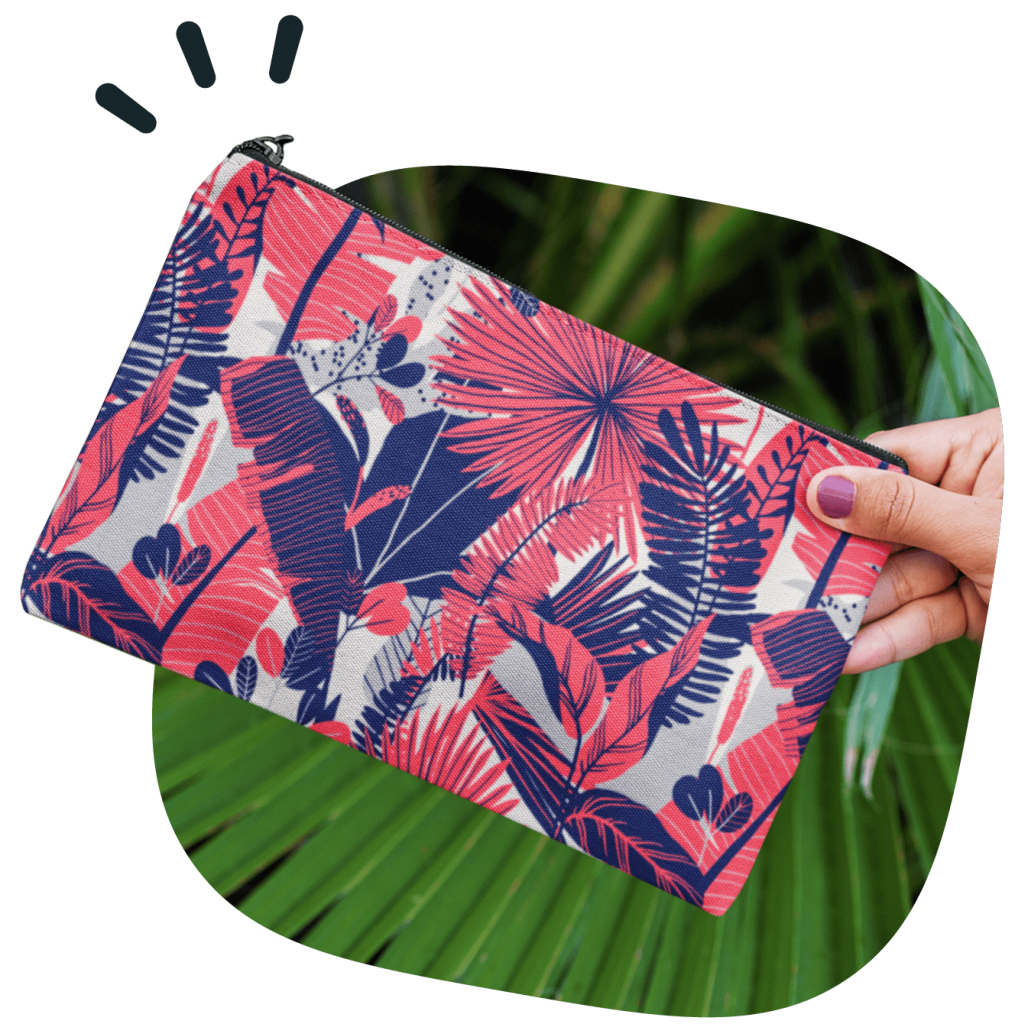 Here's what you get with our custom pouches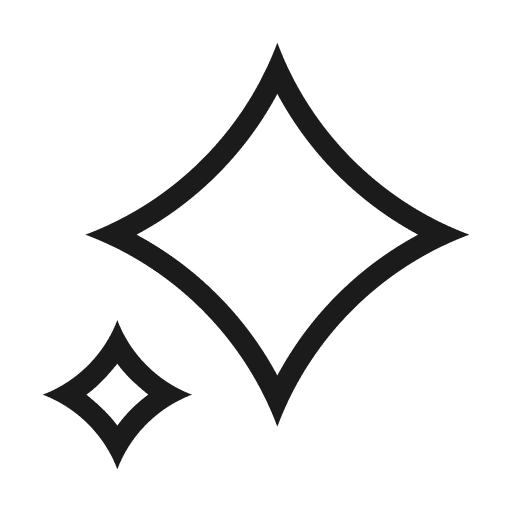 These custom pouches have a fully laminated interior! That's great if you're going to use it as a makeup bag, because it means easy cleanup!

One of the biggest differences about custom pouches? The size! Get a pouch for all occasions, from travel makeup back to art supplies.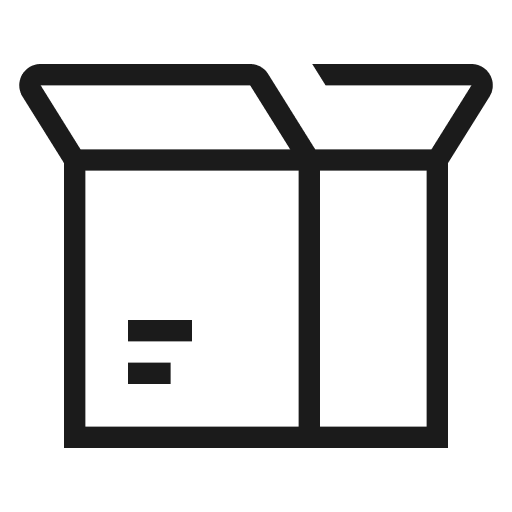 Create and sell how many socks you want, no minimum quantity required.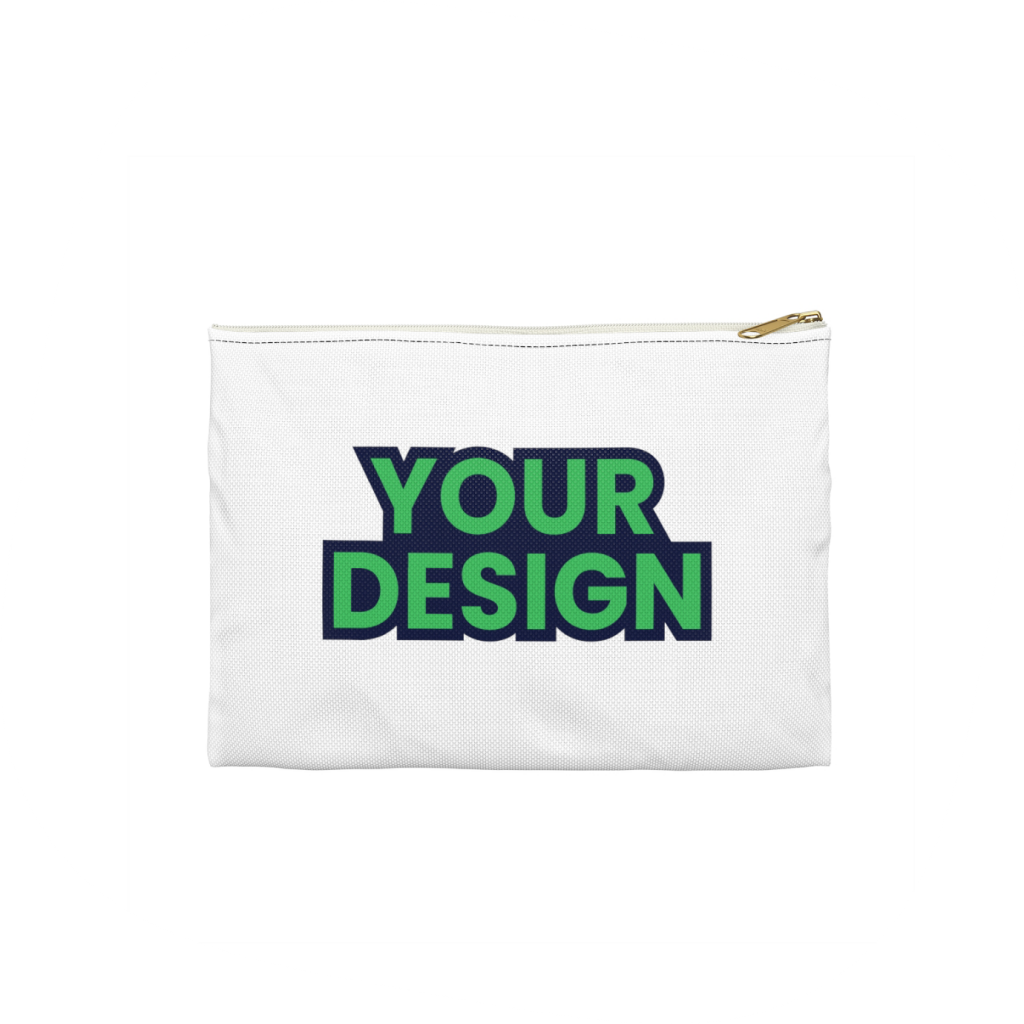 Custom pouches printed on demand
Accessory bags and custom pouches are popular but underrated product. Pouches can truly become your bestseller products, especially if customized and marketed to the right audience. 
These are high turnover items, that uses phase in and out with seasons, situations, and whims. Add unique, trending design in just few steps and start selling!
Custom pouches to sell in your store
Custom flat bottom pouch - soft corner accessory pouch
Our custom makeup bags come in soft corners for everyday use. Use them in a drawer, suitcase, purse or handbag, they're flexible enough to be put anywhere. The zipper top with generous opening also provides for easy access to the contents. 
Wipeable laminate interior

Black or white color options

100% lightweight polyester

Comes in two sizes
If you're going to use our custom pouches for custom makeup bags (great idea!), then you'll definitely love the wipeable interior. That way your powders and foundations can easy get removed, in case of the inevitable spill or mishap!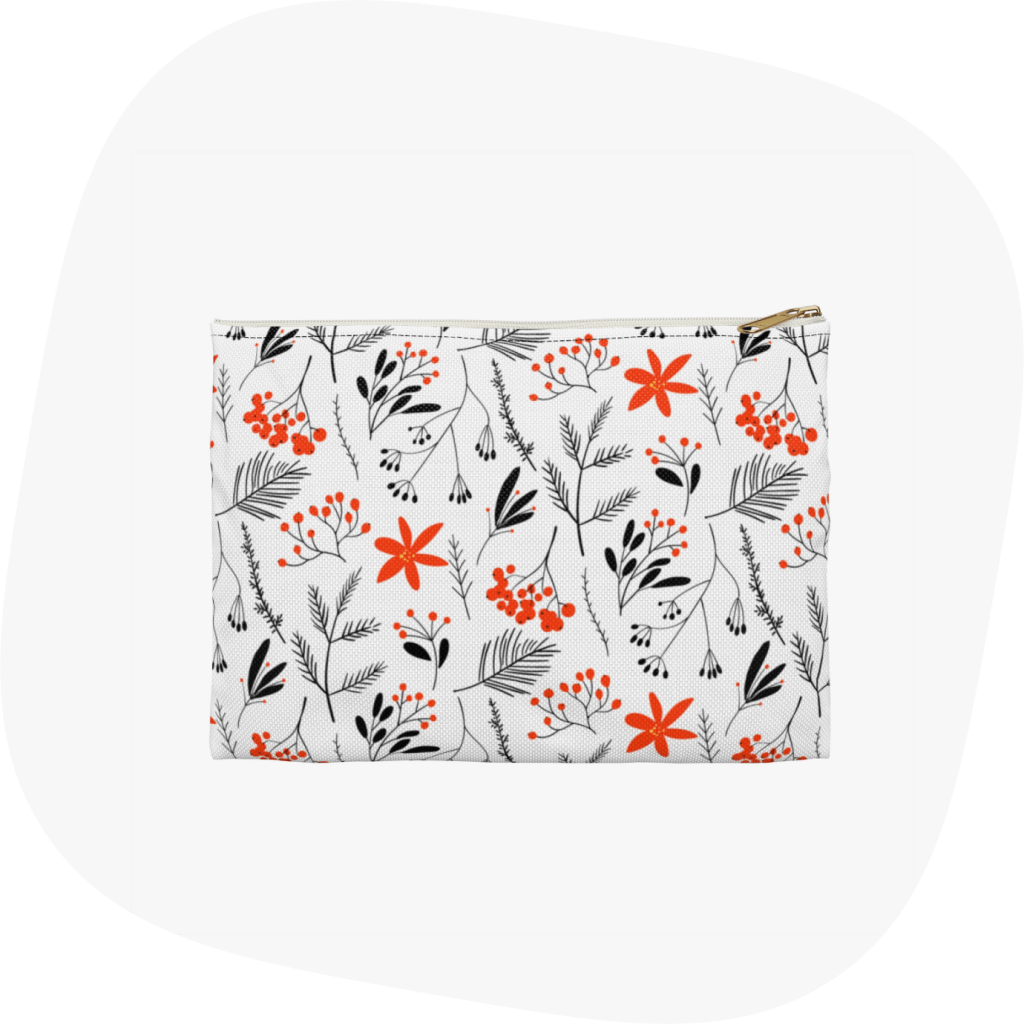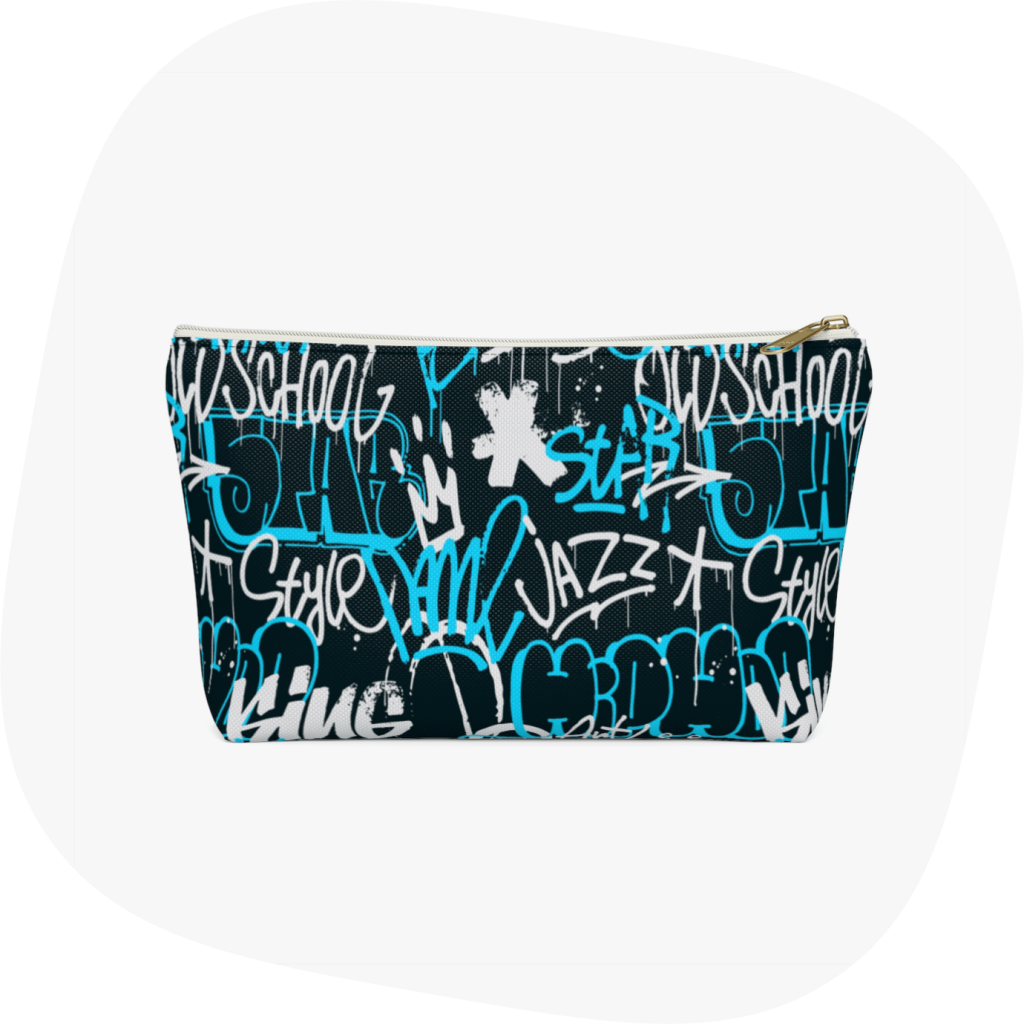 Custom T bottom pouch - reinforced corners
Need a bit more structure in your life, or at least your custom makeup bag? Check out our T-bottom pouches – perfect for holding a bit of shape and things in their place. This is a great option for vertical storage, even in a drawer!
2.5 inches wide

Comes in black or white base

Wipeable laminate interior

Comes in three sizes
There's no big debate between T-bottom, reinforced bags or flat bottomed bags – your customers will buy both, for different reasons!
Answering your questions about selling custom pouches and custom makeup bags
Flat bottom vs. T-bottom custom pouches: comparison & uses

Custom flat bottom pouches are used for makeup, pencils, small catchalls and really almost anything that needs to be put together and stored away!
Custom T-bottom pouches are more about access and vertical storage, and durability. Both can be used by nearly anyone, but let's take a look at some common uses!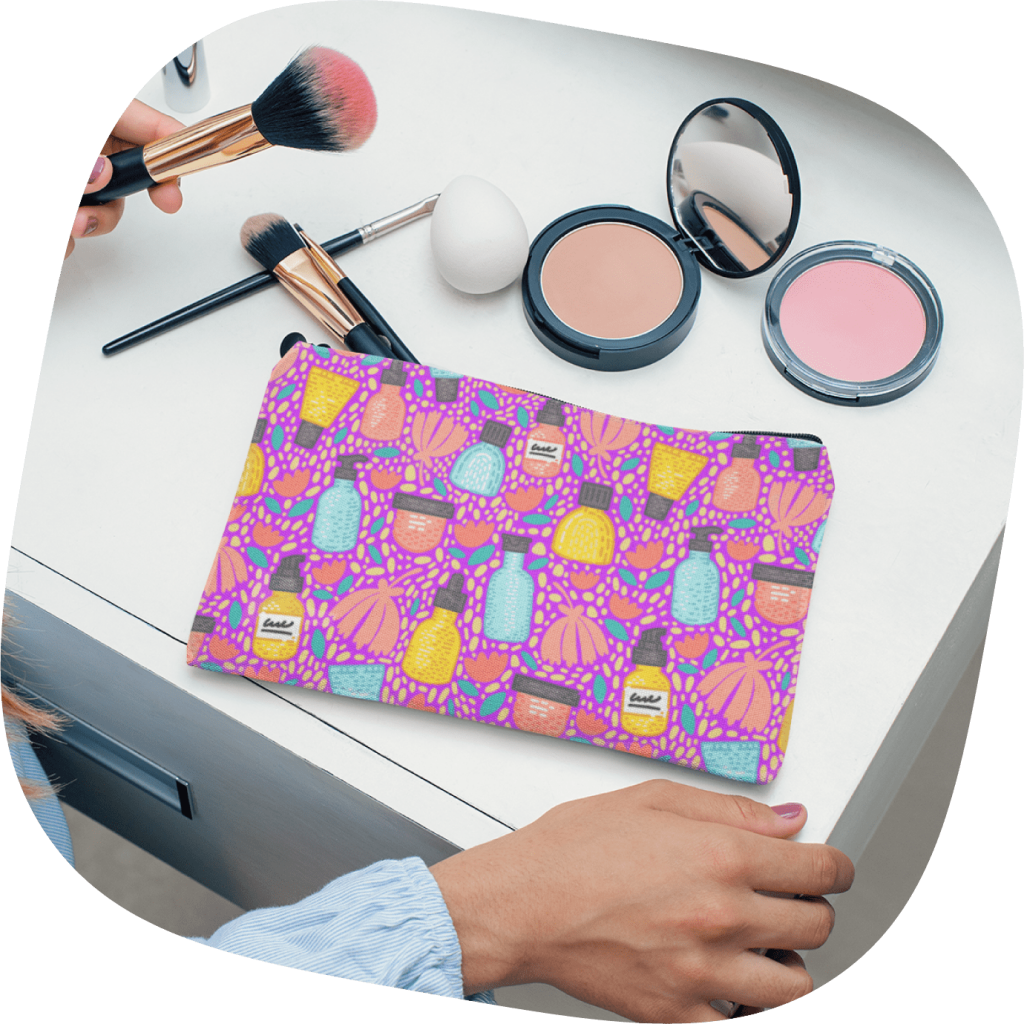 Custom makeup bags are the #1 use for these products of course. That's because you can use them as a travel bag to take a "full face" makeup collection with you, all in a small container. Of course, someone's day or travel makeup bag might be another person's entire makeup collection! That's why recognizing the variety of designs, sizes and uses that makeup pouches have will help you to sell custom makeup pouches.
Some makeup and creams are better stored vertically, or in drawers. This prevents makeup (hopefully!) from being misplaced, lost and forgotten for years. Imagine the savings if your customers could remember and use all of the makeup they have, because they have everything organized in amazingly designed pouches provided by you!
It's best to offer both flat and T-bottom pouches, as they are both used by these groups. An artist might store small paint bottles in a T-bottom in their pouch, and pencils in a flat bottom case. A student might want a flat bottom for their bag or a T-bottom for their desk, if it opens from the top as this will allow them easy access. Don't limit yourself – or your pouches!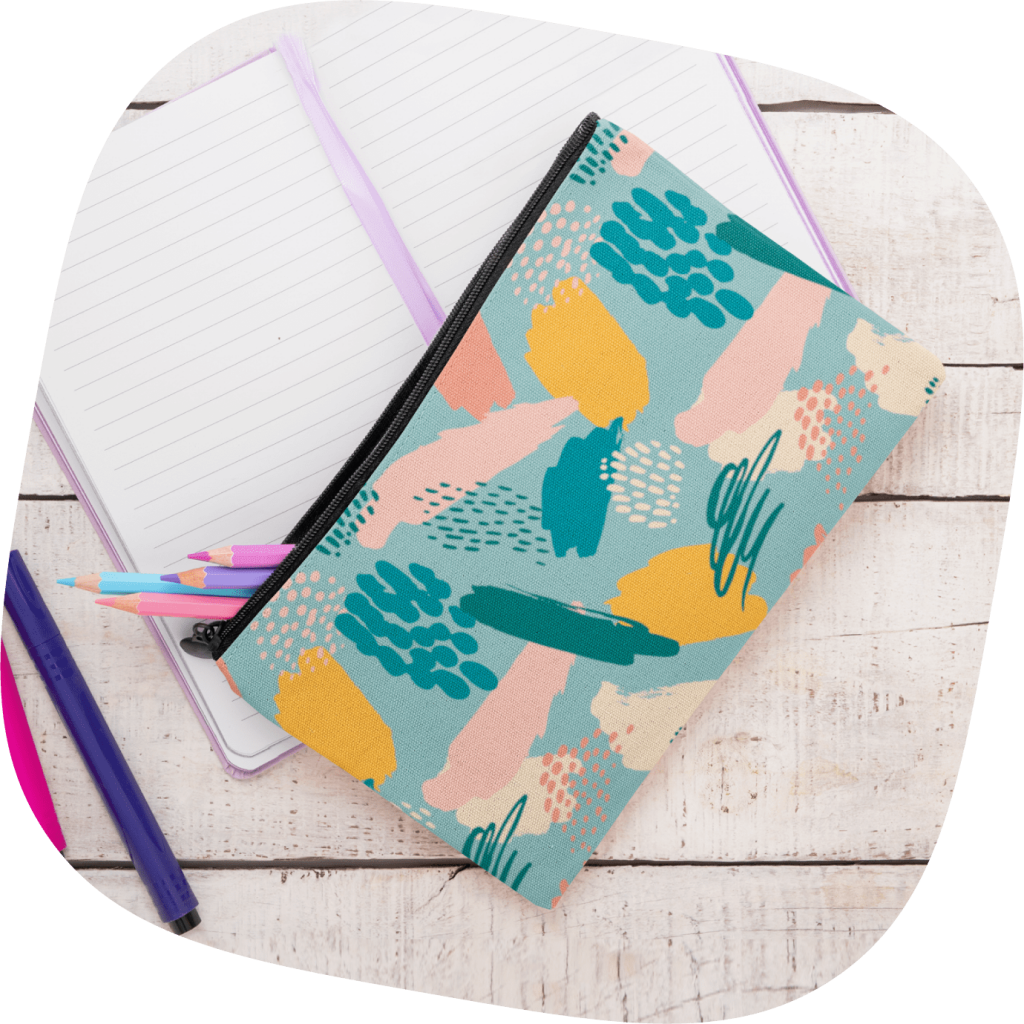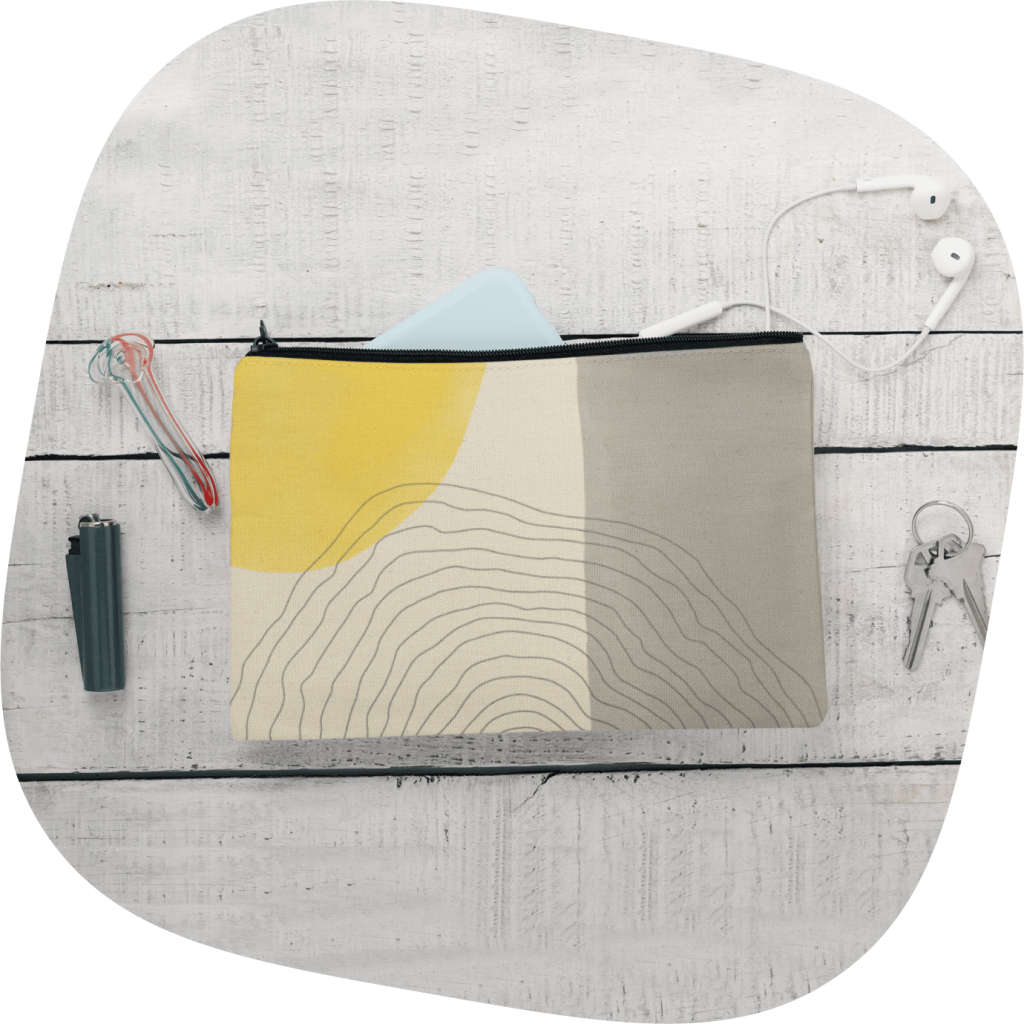 Custom printed accessory bags
Custom pouches are great as catch all organizers, especially for things that don't need to be readily seen or used frequently. These are the hand sanitizers, creams, travel shampoos and daily items that have no home in a cabinet but could have a nice snuggly bed in a custom pouch! Pouches frequently get rotated into these roles as they wear and tear, so don't underestimate where your pouch could end up!
How can Printify help you sell custom pouches?
Check this out. You want to sell custom pouches and other items, but think that you're going to have to find a factory, sit down with an industrial designer, and buy a container so you can sell them out of your own home. Wrong!
With Printify, you can sell custom pouches printed on demand – or as they are sold in your store! Use our products, with your designs and in your stores, and you'll be selling with no industrial designer, no container and no minimum, and no inventory! Learn more about how it works.
Get signed up for Printify and hope into the mockup generator. There, you can get your product designed and ready. You can see previews, make edits, and make product variations. The mockup generator is our amazingly simple product producer that generates millions of dollars in sales for our store owners. Design and sell products here to your heart's content!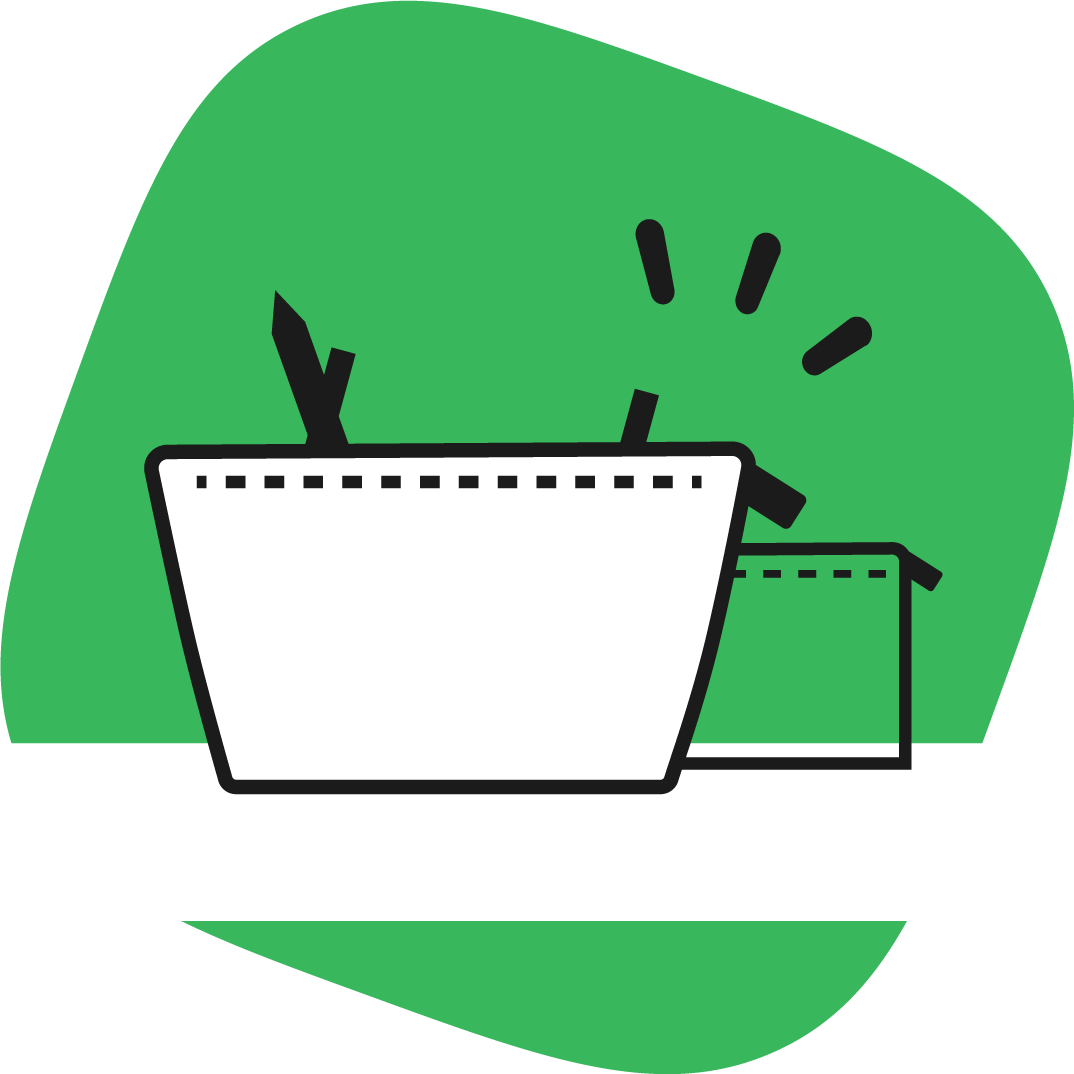 Choose your custom pouch type
Choose either flat bottom or T-bottom, or both!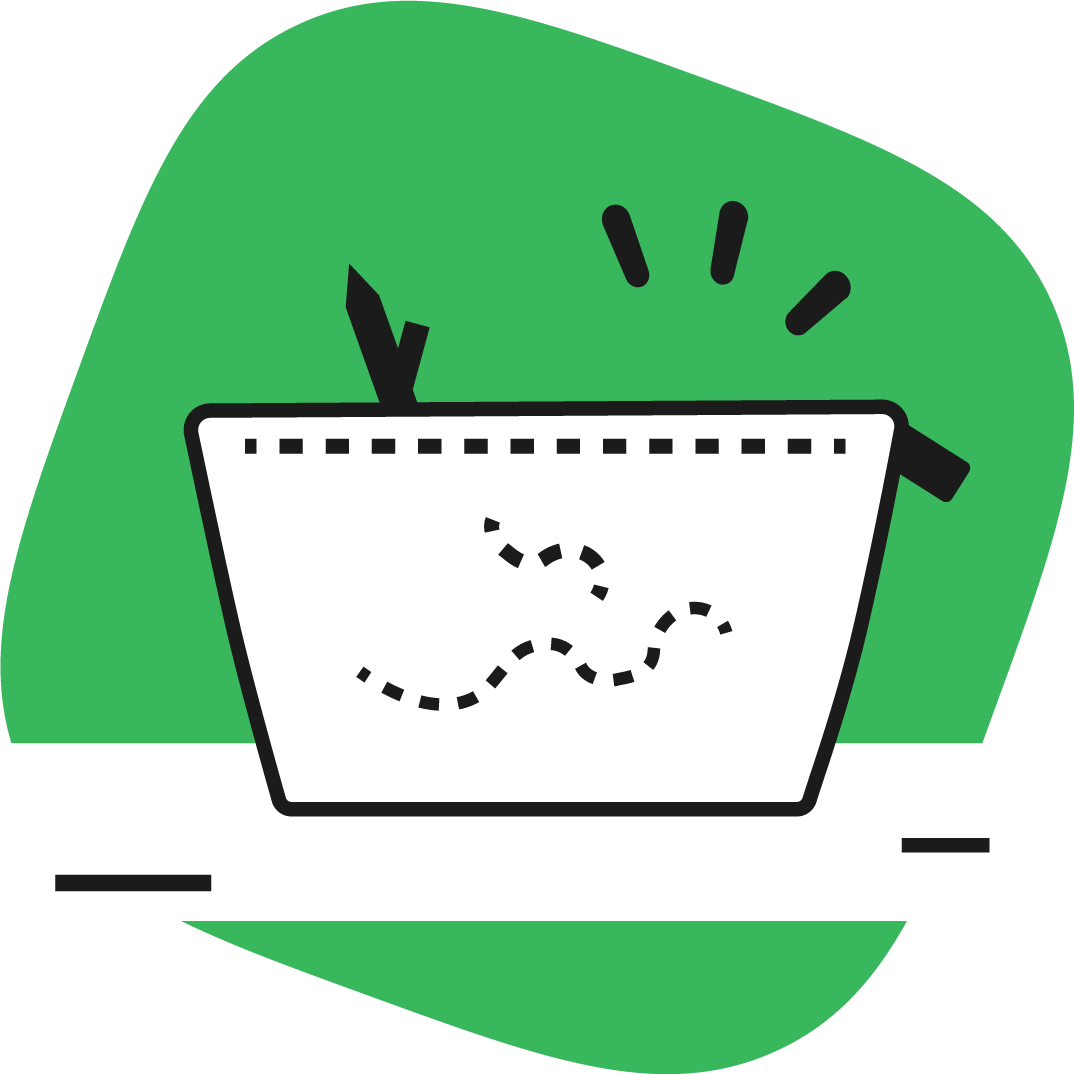 Get your design onto the bag and have a look at the product. Does it meet your standards? There's only one way to know for sure – order a sample! Then you can make sure that it is everything you want.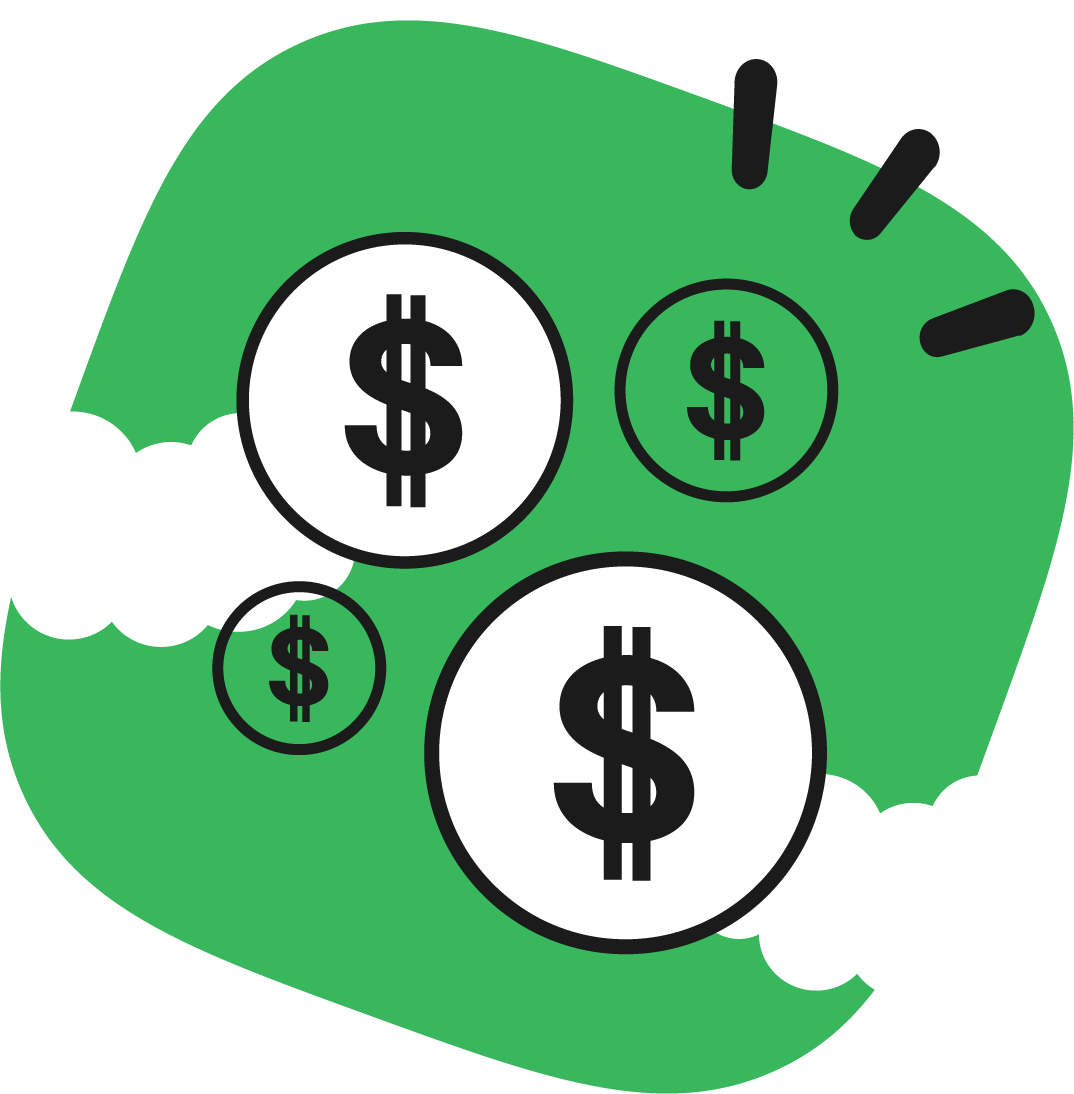 Once you've inspected your sample and it looks like everything you want it to – it's time to start selling! Put your new pouch into your store and get to selling!
Start selling custom puches