Custom License Plate Frame
They say that cars have personalities too. Some are quirky. Some are intimidating. Others look sweet and innocent until you put the pedal to the metal. Reflect the character of your car with a custom license plate frame. Design your own and sell it to car owners worldwide.
Create and Sell Custom License Plate Frames
Why Design and Sell Custom License Plate Frames?
More than half of today's consumers would choose to buy customized products instead of generic ones for themselves or as a gift to others. Personalization brings more meaning to purchases, cultivates customer satisfaction, and lets them stand out from the crowd. Yes, even with license plates.
People love showing their personality through their cars, starting from what model they buy to how they choose to customize it. Personalized car accessories can perfectly represent values, beliefs, individual style, and can even be a promotional medium for businesses.
Get creative and find your niche with an original license plate frame design. When you create something unique that people haven't seen before, you increase your chances of rolling in more profit. It can be anything—catchy phrases, cute patterns, crazy graphics. Don't hold back your imagination.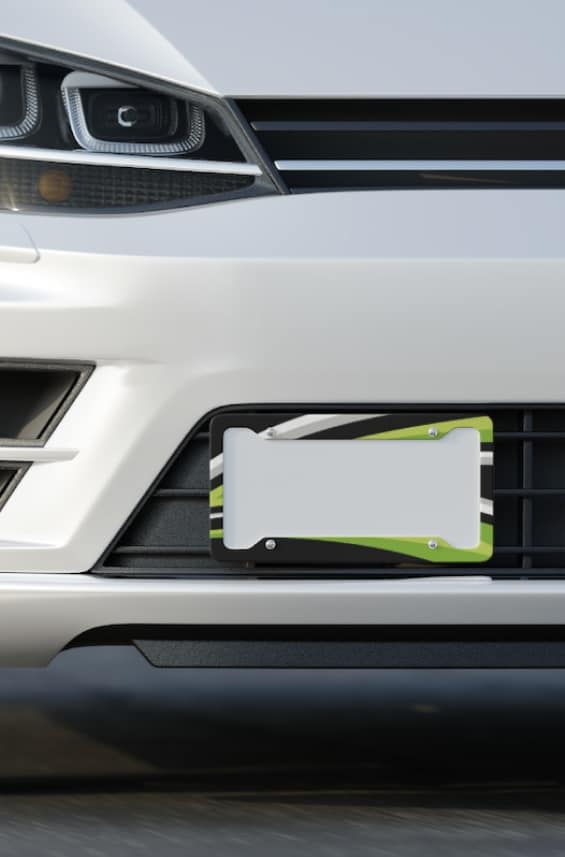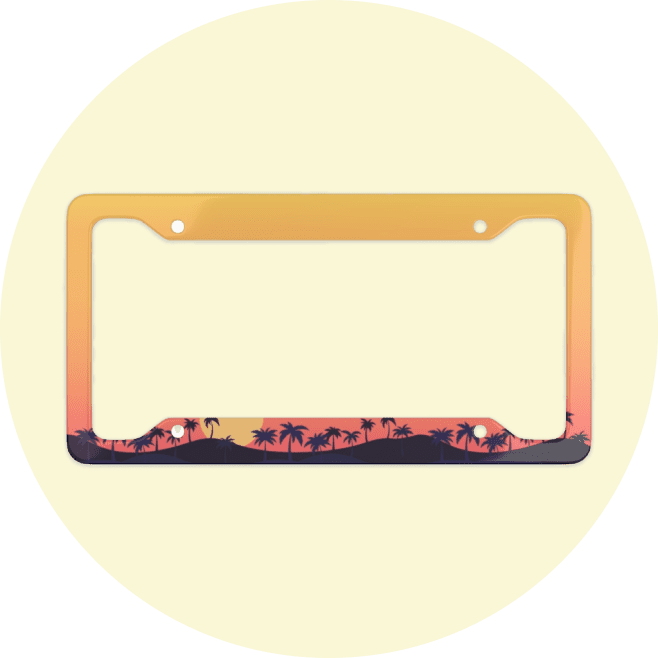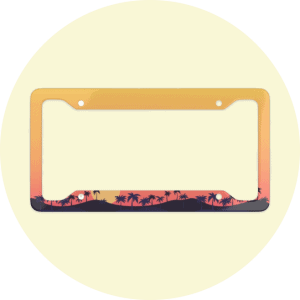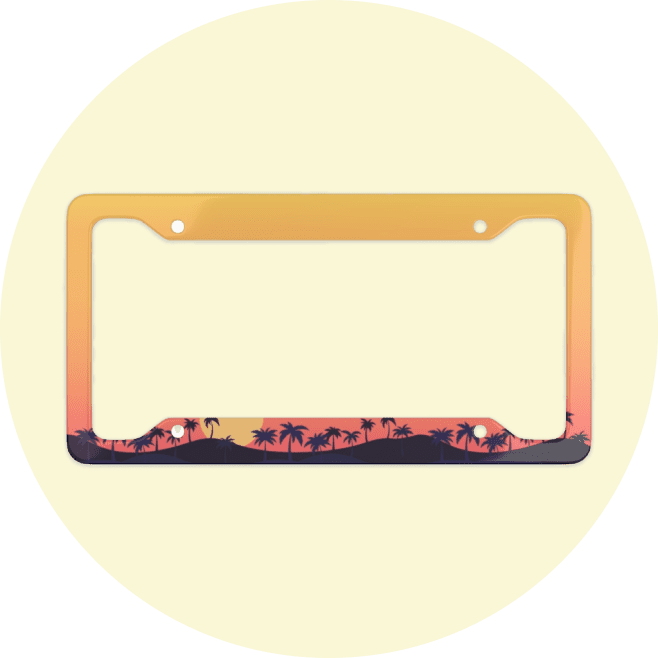 Our Custom License Plate Frame
This license plate frame adds a splash of personality to a beloved car and protects the license plate from getting bent or rattling. Installation is super easy–there's no need to go to a car shop and spend money. The frame comes with four pre-drilled holes so your customers can swiftly put it on themselves.
Designed to fit standard US license plates, this frame comes in one size (12.2″ x 6.3″), and is perfectly compatible with our custom front license plate that car owners can use to customize their vehicle like there's no tomorrow.
Unique, original designs combined with our competitive and transparent pricing give your online store a significant advantage over other license plate frame sellers.
Create Your Own Custom License Plate Frame!
Design and Sell Custom License Plate Frames With Printify
Printify lets you pave your own way to financial freedom by creating and selling custom products with no upfront costs. You get access to automated tools and educational materials that set you up for success even if you have no prior experience in eCommerce.
You bring the ideas. We handle manufacturing, shipping, and customer service.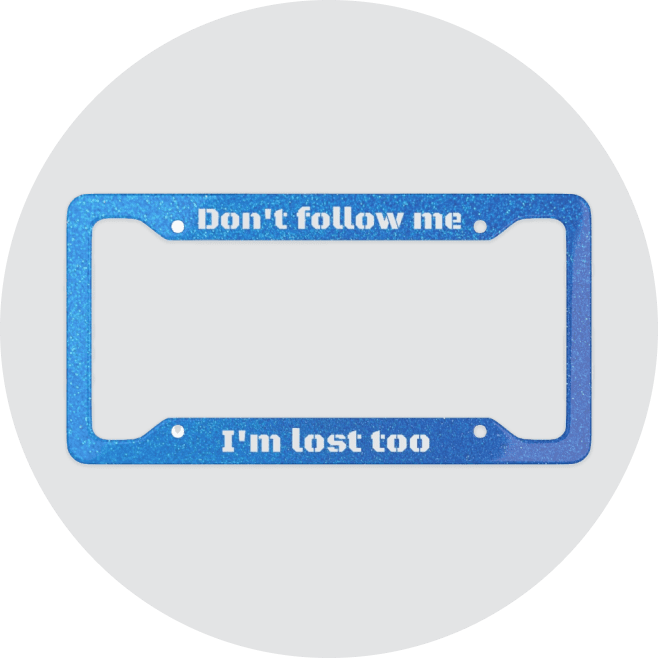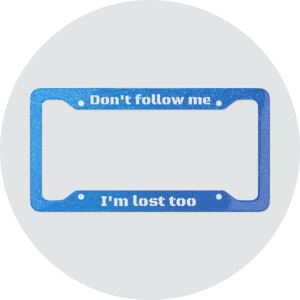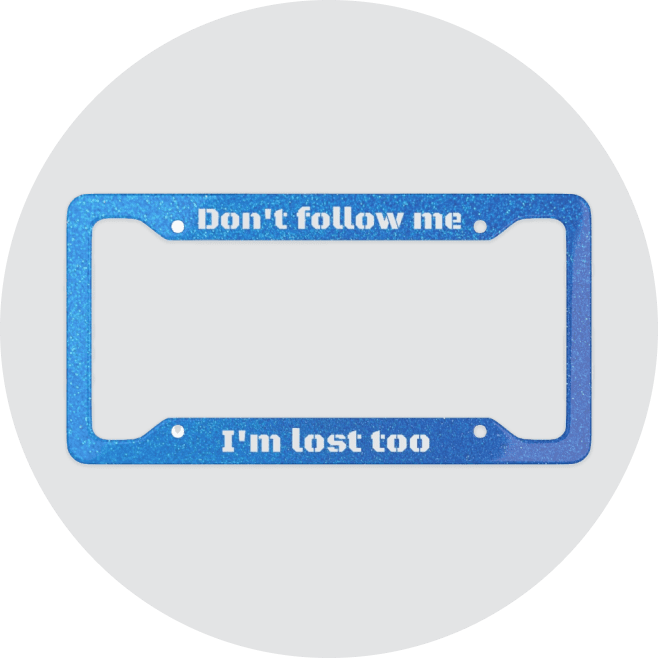 It's time to put on your creative cap and create a winning design idea. Make it by yourself or ask a professional to do it for you. The key is not to limit yourself. Think of all the elements you can work with—typography, art styles, color schemes, photographs, 3D graphics—the world is your oyster.
Upload the final design to our Mockup Generator to see exactly how it'll look once printed on the license plate frame.
Before you start selling custom license plate frames to customers worldwide, we suggest you order samples to make sure they fully match your expectations.
You can choose between multiple world-class Print Providers to see which one fits your needs based on location, average production time, shipping speed, and pricing.
Publish to Your Sales Channel
Once your designs are ready, people need to see them. How else can they buy your stunning license plate frames? Go ahead and publish the mockups to your online store. We suggest one of our merchant-beloved eCommerce platforms and website hosts if you're just starting out. Printify seamlessly integrates with all of them:
Shopify

Etsy

WooCommerce

Wix

Squarespace
If you have a website hosted by a company not featured on this list, Printify API will make sure your customers have the best and most intuitive shopping experience online.
When your products go live, don't forget to promote them on other marketing channels like social media, newsletters, and blog posts.
Enjoy While Printify Works
That's it. Your work here is done, and Printify takes care of the rest.
When a customer places an order on your online store, we automatically send it to the Print Provider for fulfillment. The order goes through a thorough quality check and is sent out for delivery. You can track the order status from your Printify profile 24/7.
Ready to glow up cars go from meh to wow? Design your own custom license plate frames and start selling them worldwide today.
Create Your Own Custom License Plate Frame!