With the baby apparel market on the rise, custom baby blankets are an ideal way to cater to the passionate audience of parents. Start selling custom baby apparel today with Printify with some of the most competitive prices available.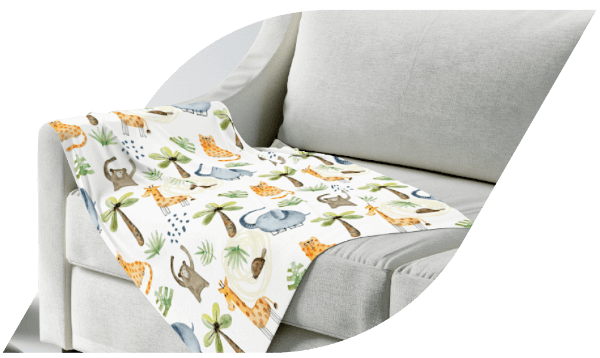 Why Sell Custom Baby Blankets
Make Your Own Custom Baby Blankets
These custom printed baby blankets are soft and smooth: they make an ideal canvas for sublimation printing! You can print any design you like all over one side of your baby blanket. It measures up to be 30 x 40 inches in total, providing plenty of space for even the most ambitious designs.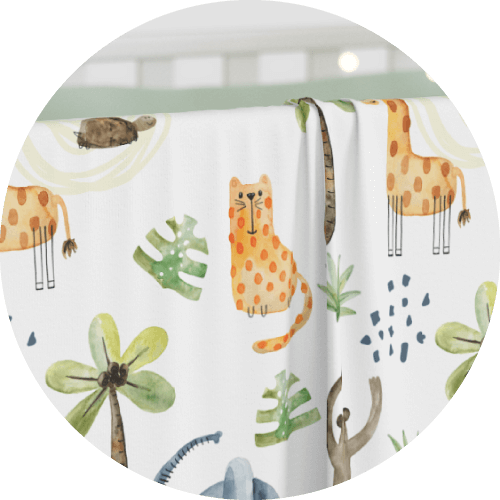 Design Ideas for Custom Baby Blankets
Custom Name Baby Blankets
Baby blankets with a name are always popular. This may be the most obvious way to customize a baby blanket, but it also has to be one of the most effective. People simply seem to love buying items with specific names on them.

This seems to apply even more when it comes to baby items. Perhaps it's because a baby's name is still such an exciting novelty! When you design custom baby blankets with name prints, you'll find that they're very in-demand as gifts.

If babies are taken to family events or parenting groups, having custom name baby blankets can also be very convenient. Everyone will know which blanket belongs to which baby!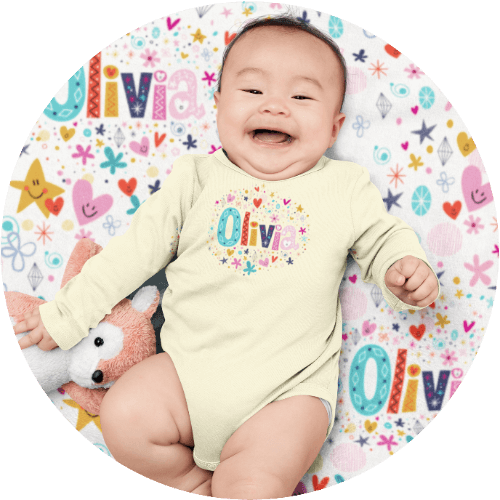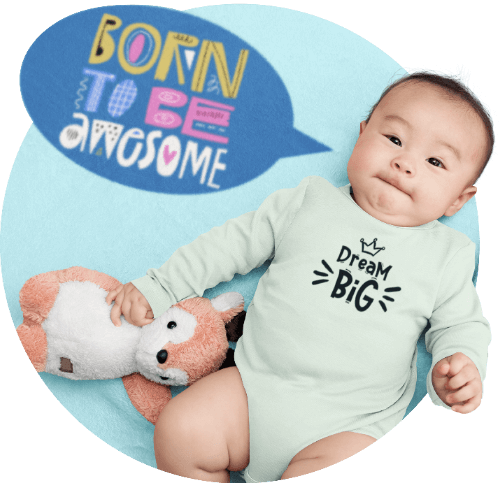 Funny Baby Swaddle Blankets
Babies are so sweet and innocent, which makes it even more adorable when they're adorned with silly custom items. There are many ways you could make funny custom baby blankets with pictures. Maybe you'd like to make food-based designs. A wrapped-up baby could resemble a burrito or a sushi roll, for example!

Custom baby blankets aren't just great for practical purposes like keeping babies cozy. They can also make excellent photo props! Maybe you could add a silly speech bubble to your blanket or a funny scene. When the baby is placed on it, they'll become part of their own cute comic strip.
Custom Baby Swaddle Blankets with Quotes
Custom baby blankets could also include different slogans. Think about incorporating humorous phrases such as "milk and naps and rock'n'roll" or "the snuggle is real." These are bound to give their parents a giggle, even during the noisiest night with their little one! It's easy to see how these blankets make very appealing gifts.

Slogans could also be more meaningful. You may choose to cater to religious parents by designing blankets that reflect their beliefs. You may also incorporate political ideas into your baby blankets. Parents will love that their child's accessories can reflect their values in unique, conversation-starting ways.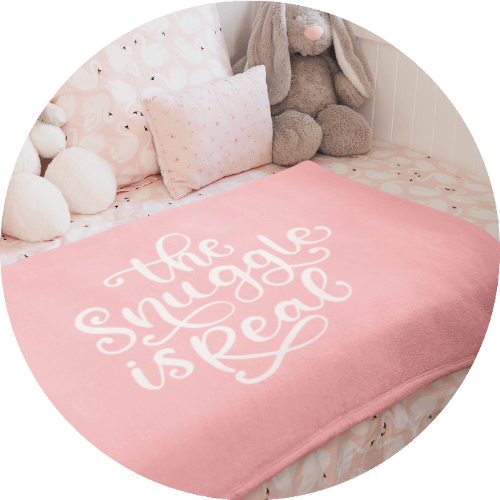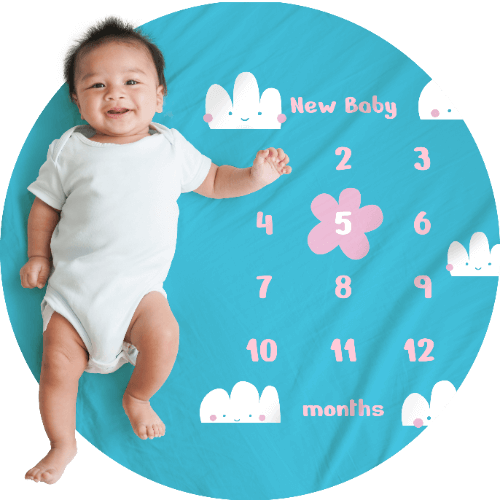 An emerging trend among custom baby blanket designs is the milestone baby blankets. Essentially, you create your custom design to resemble a calendar-like scheme, where you mark down the important dates of your baby.
This wholesome idea can later turn these baby blankets into cute keepsakes that take parents and kids down memory lane, in the prettiest of ways.
At a baby shower, gifts pile up and get confused with one another. What if custom made baby blankets could announce who gave the gift? A blanket saying "Grandma loves me," for example, will also make sure that Grandma is mentioned whenever it's used. Loved ones are so keen to be involved with a brand new baby, which explains why these family-themed baby blankets are such popular purchases.

Thanks to Printify's print-on-demand model, there's no financial reason not to design a full range of custom baby blankets with name prints that fit every family member. What's beautiful about this gift is that it has the potential to outlive its practical purpose and become a cherished possession throughout a child's life.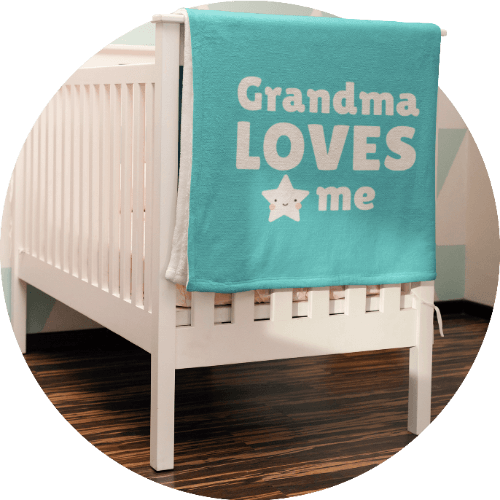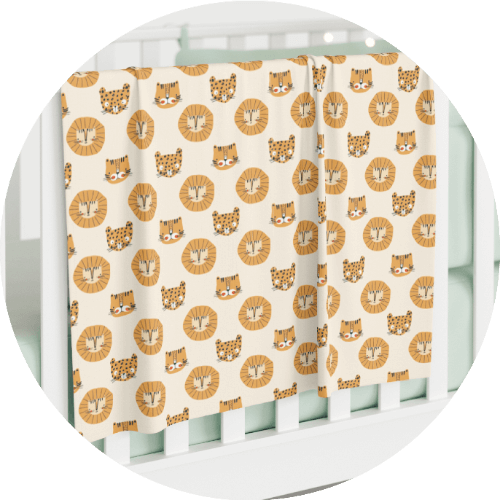 Of course, you can go with classic themes and design custom baby boy blankets in blue and custom baby girl blankets in pink. However, many families these days prefer designs that are gender-neutral.  Custom baby swaddle blankets that feature animal or nature-themed prints, for example, can be appreciated by everyone.

Animal or nature-themed blankets can be cutesy or contemporary in their aesthetic, depending on your client base. A simple design featuring plants looks modern and chic, and starry-sky designs can be breathtaking. A family that owns a specific breed of dog will undoubtedly love any blanket print that spotlights their furry friend! Your store could be the one to provide that.
How Do You Customize a Baby Blanket?
Now that you see the business potential of selling baby swaddle blankets, you're undoubtedly ready to seize this opportunity. So, what should be your first step? To begin, you should consider the designs that your customers most want to see. Research the competition by checking out the top sellers on Etsy and popular Pinterest designs. These will provide design inspiration.
Bring Your Custom Baby Blankets to Life With the Mockup Generator
Next, you should sign up for Printify services. Using our platform, designing custom baby blankets is incredibly easy. 
Once you've decided on the print you want to use, you can easily use our Mockup Generator to upload your images, add text, and preview how your design would look on a baby blanket. Don't feel you have to limit yourself to one design. All of this is free to do, so make as many as you want!
No idea where to start? Printify is also integrated with Shutterstock; one, if not *the* , biggest visual libraries with endless stock photos to get your imagination going.

If you already have an online business, don't worry. Printify is compatible with many major e-commerce platforms such as Shopify, Wix, eBay, Etsy, and more. That means you can add items that you design using our easy-to-navigate generator straight to your store's site. 
Again, there is no cost for this service! That means there's no risk in beginning your online business with Printify.

What's stopping you? You can start selling custom printed swaddle blankets today.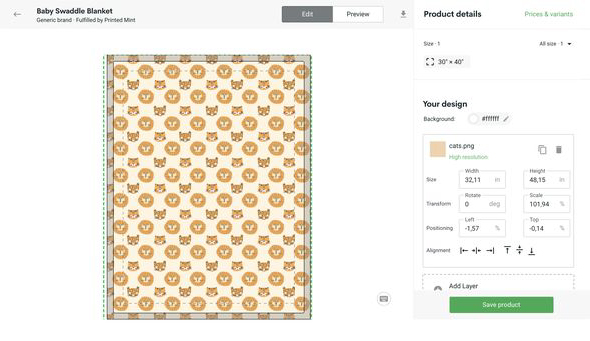 Print Custom Baby Blankets on Demand
One of the reasons that shop owners choose Printify is that we fulfill orders on their behalf, meaning they don't have to worry about production or shipping. They know that they're guaranteed to find quality products in our catalog, and they can choose their preferred printing service from our reputable partners all around the world.

No financial investment is required to begin a business using Printify. Because we print items on demand, we only charge a fee when you make a sale. This means you can add as many custom items to your online store as you want. There's zero risk involved for business owners who use Printify!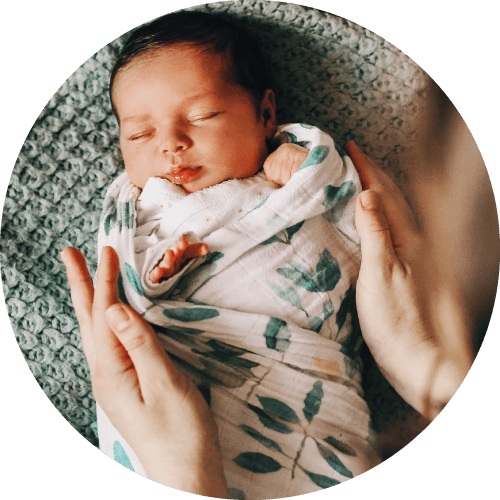 Frequently Asked Questions About Custom Baby Blankets
Printify's design tool wasn't made with experienced designers in mind, although they love it too! It's great for beginners who have a design idea that they're struggling to make a reality. You can upload pictures and text then use the intuitive arrow function to place each feature where you see fit.

Before you commit to a design, you're able to preview it and see how your finished product would look. At this stage, if you want to make last-minute alterations, that's no problem! Give it a try and see for yourself how simple the system is.
There are so many reasons to choose Printify when you want to sell custom products. Here are just five of them:
Printify has an extensive catalog of products to choose from.

The design tool is incredibly easy to use.

Printify is compatible with a range of e-commerce platforms.

It's free to design and add items to your online store.

All orders will be fulfilled by Printify partners.
The process of starting an online business couldn't be simpler when you choose Printify. Why don't you start making sales today?
Besides the obvious baby shower, a baby blanket makes an ideal birthday gift for a little one. That means you can enjoy sales all year round with this item – great news for shop-owners who want to depend on consistent profits.

You could also design a range of baby blankets with products to match each holiday. Christmas, Thanksgiving, and Halloween-themed blankets have the potential to be very popular with gift-givers and parents alike.

One of the major selling points of this product is that it has enduring appeal. There will always be a market for custom baby blankets cheap.
Ready to Start Selling Custom Baby Blankets Online?