Brittany Lewis Shares Pro Tips on How to Sell Print on Demand Successfully on Etsy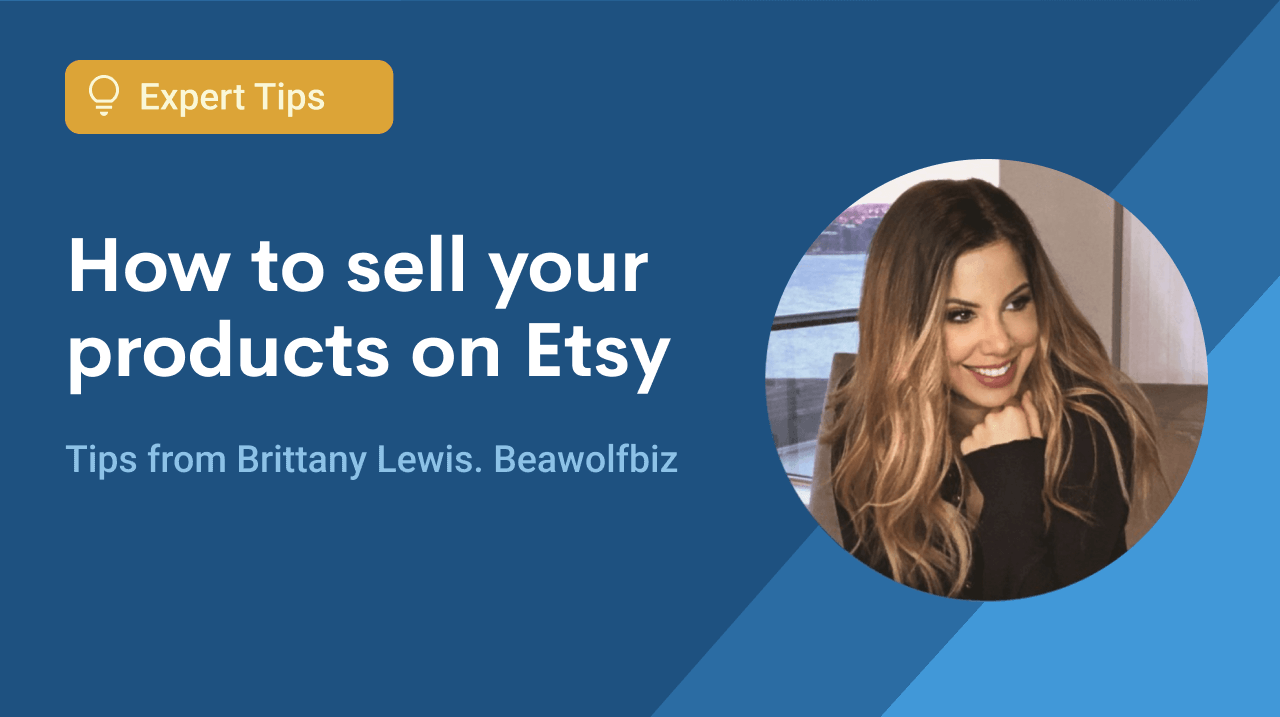 When it comes to learning the ropes and successfully selling online, there are literally hundreds of voices offering advice. Many self-proclaimed gurus will tell you to focus on driving traffic using paid ads, while others insist that you need to build a following on Instagram to earn big money.
Today, we're catching up with the very successful Etsy seller Brittany Lewis, who offers straightforward, beginner-friendly tips for getting started on Etsy leveraging the platform's enormous organic traffic volume to build stable and scalable businesses with potential to scale to six-figures per year. She told us all about how to sell POD products on Etsy.
Brittany's strategy has been perfected in her own Etsy business, netting her some serious sales figures along the way and leading this knowledgeable entrepreneur to eventually start her own mentoring program to help others replicate her results.
Hi Brittany, It's Great to Be Able to Sit Down and Chat About Selling Print-On-Demand Items on Etsy. Could We Start With an Introduction for Our Readers?
"Hi there, my name is Brittany Lewis. I'm a top 1% Etsy seller. I also operate beawolfbiz.com, which teaches new sellers how to leverage the organic Etsy algorithm in the same way I have been doing using print-on-demand products for eight years."
Let's Dive Right in and Explain to New Sellers What The Most Important Things Are to Keep In Mind When It Comes to Successfully Selling On Etsy:
"I'd say that the biggest thing that holds people back when they're first starting out on Etsy, or when selling online in general, is feeling the need to plan everything to the minutest detail before they open their first store."
"I work with tons of brand new Etsy sellers, and they all seem to feel the need to plan out all of their designs and come up with a roadmap to launch the perfect Etsy business in three months. I teach them that it's better to get started as quickly as possible, even if it's messy and chaotic initially, because this type of business requires lots of data collection to see positive results."
So You Think That Over-Planning Can Be a Real Problem for Beginners?
"I get a lot of messages from people who have put in a lot of work into their stores, but they're wondering why nobody is visiting or making purchases. I tell them that they really should be treating the first three months of selling online as a testing period to find out what the customers actually want — otherwise, the whole process is simply guessing, and that doesn't tend to get sellers very far in the long run."
So You're Heavily Into Testing and Research When It Comes to Choosing a Niche?
"It's important to remember that we, as sellers, don't know what's best or what will work. We can't rely on our preferences or hunches. We need to gather information by testing out different products and seeing how well they do. Even if you try something and it doesn't work, you've still gained a bunch of valuable data about where to go next.
"All of the mega-successful shops start out in this way. They never plan what they're going to sell, they simply test out lots of different ideas to see what sticks. All of the six-figure sellers I've coached are dedicated to the process of testing and adapting their offerings to appeal more to customers."
What Are the Best Practices for Finding People Who Will Like Your Products or Engage Best With Your Brand?
"There are 80 to 100 million shoppers per year searching for products on Etsy. They're using organic search results to find the things they're looking for, so the best way to connect with those people is to find out what they're looking for and supply it to them. You need to be the supply to their demand, understand the emotional appeal of certain items, tap into current trends, and then create designs based on your findings. Meet the people where they are, and offer them what they're looking for."
So You Don't Suggest Spending Money on Ads or Leveraging Social Media When Starting Out?
"I definitely don't suggest that new sellers try to drive traffic from social media when they're first starting out. I think leveraging the organic Etsy traffic is enough to sustain a full-time business without needing to get extra from social media or advertising. I've found 90% of my own sales through organic traffic, and many of my six-figure students have also tapped into organic traffic from inside of Etsy."
Do You Have Any Inside Tips for Conducting Product Research?
"Erank.com is a fantastic resource that provides a rich database of Etsy sales stats that can be leveraged to find low competition products and hot trends. Knowing how to use data to your advantage makes the whole business of selling online much less of an uphill battle, and you're less likely to get stuck trying to create demand for something that people aren't actually looking for."
What Would You Say Is the Biggest Challenge When It Comes to Creating Products That Sell Successfully?
"The biggest challenge is research and correctly optimizing for search queries. I'm constantly banging into people's minds the importance of trend spotting and knowing the data and what it's revealing. At a foundational level, most people fail when they neglect the research and fail to interpret the demand for their products. There's no point turning on Facebook Ads or trying to drive traffic and eyeballs to a product that nobody wants to begin with." 
What About Traffic Sources Other Than Etsy? What's the Best External Platform When It Comes to Promoting Your Products and Finding Fresh Traffic?
"My first recommendation is to ignore Etsy ads initially, as they will be a waste of time until you have more hard data about what you're going to sell successfully. I'd also say that platforms like Instagram are very tough places for newcomers to build a following from scratch. It takes a very long time, and expectations are high." 
"On the other hand, Pinterest is a great place to get traffic and promote your products. However, I need to add a caveat that you should only be using Pinterest once you're making sales from organic traffic inside of Etsy, as that means you've validated your products organically and you know that any outside traffic that you send to the store has a real chance of buying what you're offering."
What Makes Pinterest Such a Good Traffic Choice for Etsy Sellers?
"With Pinterest, you can actually link directly to your Etsy shop, and people these days are browsing Pinterest for items to buy directly. They're effectively using the Pinterest search algorithm to shop, whereas, on Instagram, they're maybe arriving there first with the intention of being entertained. So I'd say that's why Pinterest gets my biggest recommendation if you're going down the external traffic route."
As a Successful Etsy Seller and Business Coach, How Do You Think Newcomers Should Go About Setting Goals and Objectives?
"I'd say in the beginning, it's best not to set any goals. Just focus on doing the best you can in the first six months. Typically, successful Etsy shops are the ones where their owners keep constantly rolling out new listings. That's not to say you should go for quantity over quality, but you should definitely be researching and looking out for new trends and uploading as many new listings as possible."
How Many Items Should Newcomers Be Adding to Their Stores to Make a Positive Impact?
"There's no fixed amount of listings that you should be adding to a store. It depends on your creativity and the individual niche you're working with. However, you need to be consistently active on the Etsy platform, as the organic search results are partially based on seller activity. 
For me personally, I don't like to put fixed objectives in place. I feel like it's more a case of 'the sky's the limit' when it comes to selling online. I just do the best I can and try to focus on immersing myself in the research and seeing where it takes me."
Do You Think There Are Still Some Common Misconceptions About Selling Successfully on Etsy?
"I feel like it's my personal mission to convince people that the organic traffic inside of Etsy is big enough to sustain a shop full time. I'm 100% convinced that it's possible, and I've seen plenty of six-figure shops that have been based on organic traffic alone. People are leaving vast amounts of money on the table because they simply don't understand how to leverage the potential of what's going on organically inside of the Etsy platform. 
"When you think about it, the common perspective of opening a shop and then attempting to drive traffic to it is a very backward mentality. Everything has to be centered around research, trendspotting, and focusing on the market. For most people, it's just a matter of flipping their perspective on its head. Once they understand this concept and begin to get more customer-centric, they can inch closer and closer to their goals every day."
And Finally, Do You Think There Are Misconceptions About Print on Demand as a Business Model?
"The main misconception with print on demand is that people think it's impossible for this business model to be viable because the profit margins are too low. They don't believe it could ever be a full-time career proposition.
"I have seen hundreds of people do it, and many of them have quit their jobs, and they're either working from beside the pool or living a freer lifestyle thanks to print on demand and leveraging Etsy successfully. I think if people understood just how incorrect their assumptions were, there would be a lot more sellers out there doing so much better for themselves."
Has Brittany Inspired You to Start Selling Print on Demand Through Etsy?
If you're considering a side hustle to earn some extra cash, or you're motivated to become a full-time online entrepreneur, Printify can help you achieve your goals. Sign up for free today and start using our Mockup Generator to design your next bestseller, or take things slowly by browsing our extensive product catalog. 
Meanwhile, to follow Brittany Lewis and get valuable tips and tricks for launching a successful Etsy store, you can head over to her Instagram Profile or go straight to her training program at beawolfbiz.com, where Brittany helps you get started with print on demand and Etsy, without having to spend hours trawling Google for information. 
Also, make sure to check out our blog. We are constantly publishing articles on how to sell on Etsy or even how to take pictures for Etsy that will definitely help you on your POD journey. 
In the meantime, we wish you the best of success and hope that our interview has inspired you.
Start Your Own Print-On-Demand Business Today!
Share the article
Topics