Printify Express Delivery – The Fastest Way to Delight Customers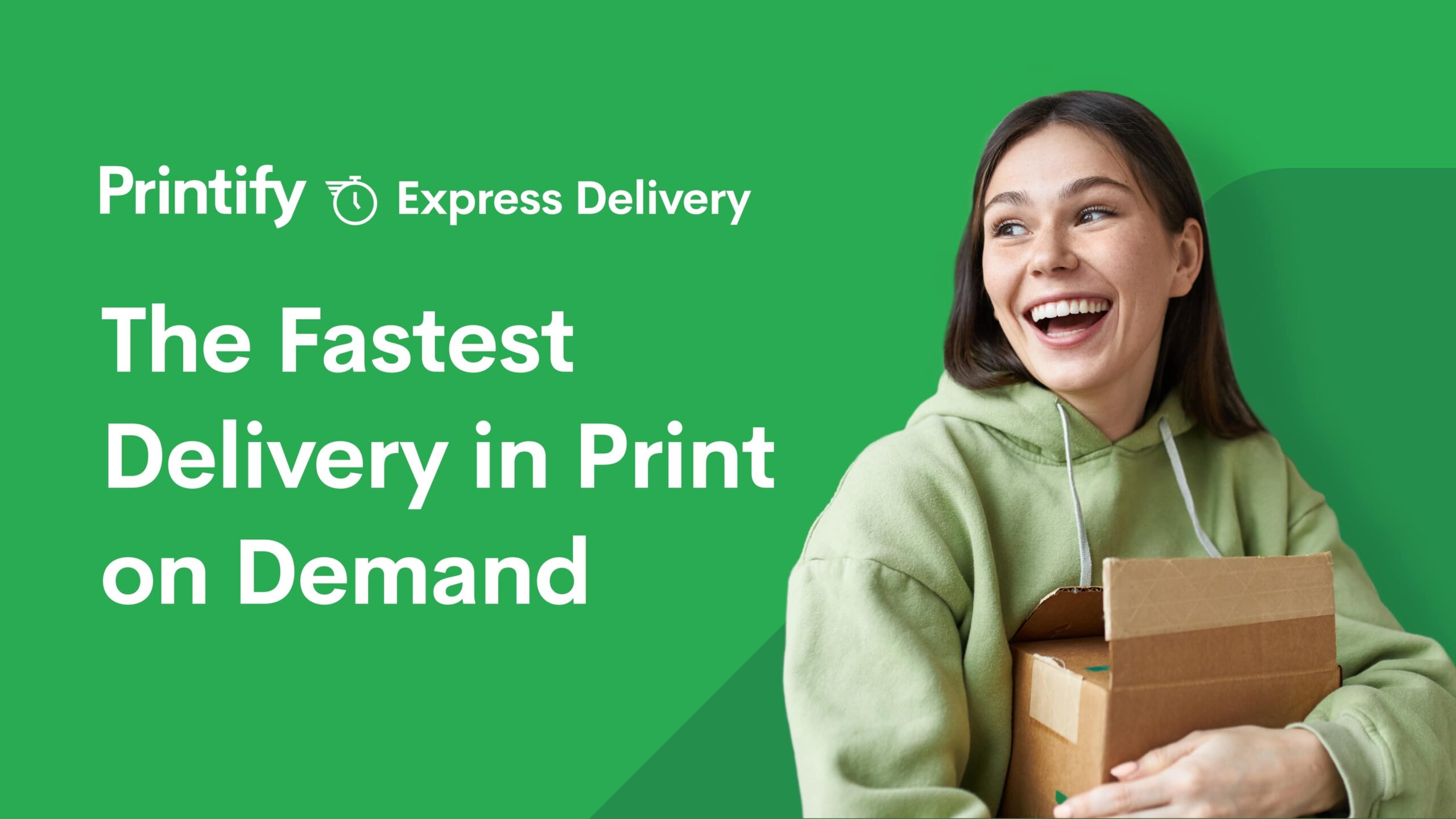 Timing is everything when it comes to customer satisfaction. The faster shoppers can enjoy your unique print-on-demand products, the better their overall experience and feedback. 
Brace yourselves, because for the very first time in POD, we're delivering a service never seen before, one that gives your customers what they want, faster:  Printify Express Delivery – now your US customers can get their items in two working days.
What does this mean for merchants, and how do you set it up? Keep reading and find out. We'll list all the steps and benefits you can expect from this game-changing release.
Get your products delivered in a flash with Printify!
What Is Printify Express Delivery and How Does It Work?
It's all about making the lives of every POD store owner easier and more profitable – delivering your customers a customer experience that's only possible with Printify.
Printify Express Delivery is a fulfillment option that – for a small additional cost – offers production and delivery within just two business days. 
When activated, this delivery option is automatically displayed for US buyers, giving them the option to purchase your products with the possibility of receiving them exceptionally fast. From that moment on, your chosen Print Provider will print, package, and deliver the goods within two days.
*Note: On Express Delivery orders, Printify selects the best possible provider to reach customers within two business days, as a result production prices may rise if lower-cost providers are not able to deliver in two days.
Which Products Are Eligible for Printify Express Delivery?
For your convenience, the Printify Catalog has a filter option that – when checked – will showcase all the products eligible for Express Delivery.
Our team is working hard to expand the list of items eligible for this feature, but in the meantime, check out the product variant bestsellers available for lightning quick delivery.
How Are Express Delivery Times Calculated
First, it's important to note that the cut-off time for Express orders is 1 PM. What does that mean for your customers?
It's simple. The day of the order is not included in the calculation unless submitted before 1:00 PM (time zone of the order destination). If the order is placed before 1 PM, it will be printed and delivered within two business days.
Example.
Jenny orders your epic Gildan 5000 t-shirt

Monday

morning at

9:30 AM

. Thanks to Printify, she will be wearing that tee to dinner on

Wednesday.

However, Sarah placed that same order

Monday

afternoon at

1:30 PM

. She'll be wearing your fabulous tee to dinner on

Thursday

since she missed the cut-off time.

How Much Does Printify Express Delivery Cost?
Less than you'd expect. Printify offers Express Delivery for a very competitive price – only $3.24 more than standard shipping. A price this wallet-friendly will appeal to all your shopping enthusiasts who want their goods fast.
*Note: On Express Delivery orders, Printify selects the best possible provider to reach customers within two business days, as a result production prices may rise if lower-cost providers are not able to deliver in two days.
How to Enable Express Delivery for Your Products
You can either enable this feature on your existing listings – or create brand-new ones in a few simple steps. Let's take a look.
Step 1: Pick a Product and Print Provider
Head to our Catalog and utilize the wonderful filter feature on the left side to check all the important boxes that matter for your business and design – in this case, Express Delivery. This will filter out all the products eligible for speedy fulfillment. 
Once you pick a product, click the Offers Express Delivery toggle under All Print Providers to filter out the MVP Printing Partners that offer this feature for their products.
Now you can choose from all the options available, select your Print Provider, and Start designing.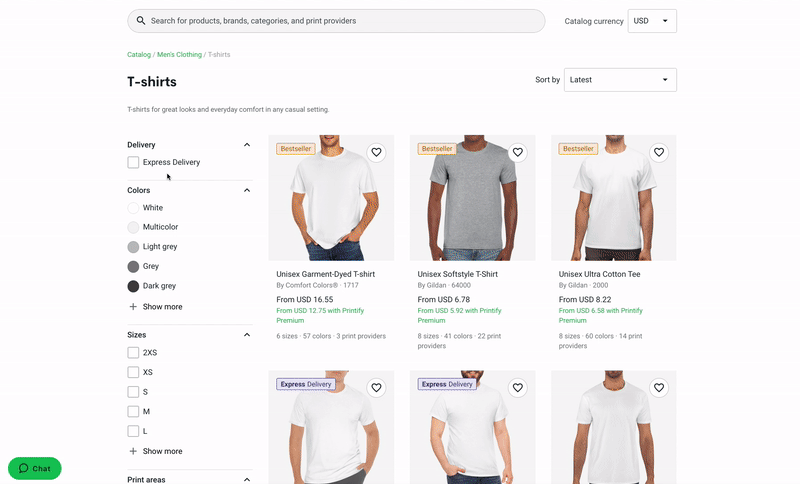 Step 2: Design Your Products
Once in our Mockup Generator, create your designs as usual. Upload images, play with text, colors, and fonts, make patterns, and have fun. The important stuff is in the following step, so click Save product and brace yourself for greatness.
Step 3: Enable the Feature and Adjust Your Pricing
After designing your products, you'll be automatically sent to the product details page, where you can set up your listings, mockups, variants, and pricing. This is also where you can find the Express Delivery feature under Shipping for each product variant.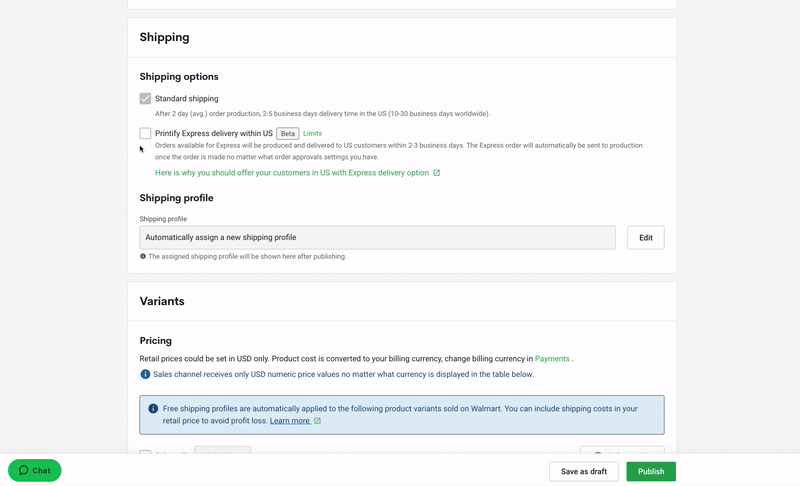 Once you check the Printify Express delivery box – a "Free shipping" profile is automatically applied to all product variants. That means you'll need to include the shipping cost in the product's retail price. So don't forget to adjust your profit margins.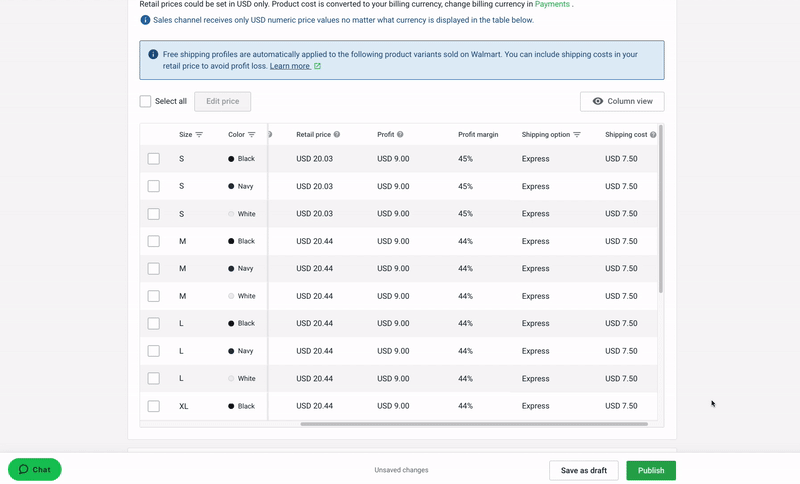 Publish your products and wait for the orders to start coming in. Express Delivery will be automatically displayed for your customers.
How Is Printify Express Delivery Different from Priority Shipping?
Priority shipping only speeds up the shipping part of order fulfillment and is provided by the shipping carriers. It does not affect order processing time or production flow.
Express Delivery, on the other hand, affects the entire order fulfillment process. Everything will be done within two business days, from prioritized order processing and production to delivery.
Why Offer Express Delivery: Trends and Statistics?
Well, there's a whole bunch of very good reasons:
22%

of consumers

abandon their carts

due to slow delivery.

When deciding between two sellers,

35%

of customers

lean toward

the one offering faster delivery.

And

40%

of those consumers consider

fast shipping

to be anything within

two days

.

Due to the gap between the number of consumers wanting express delivery and the number of sellers offering it, this is an excellent opportunity for retailers to exceed customer expectations and thrive among the competition.
Why Are We Introducing Express Delivery to Printify?
Merchants ask – Printify delivers. Literally. 
Competitive Advantage.

Surpass your competition by offering speedy order delivery at a reasonable price. Printify Express Delivery gives you a competitive edge over other merchants with nothing but standard shipping times.
Attractive Pricing. 40%

of consumers

admit

to choosing in-store shopping instead of online due to expensive deliveries. With our competitive pricing, you can offer convenience in terms of both – delivery times and costs.

Streamlined Fulfillment.

From efficient order processing to shipping – Printify Express Delivery ensures smooth order execution and enhanced customer satisfaction – all within one feature.
Offer Printify Express Delivery to your most eager shoppers at a great price and get their goods delivered within two business days. Enhance your order fulfillment process and gain a competitive edge with Printify Express Delivery.
Share the article
Topics