How Dope Custom Designs Power This 4/20-Inspired Brand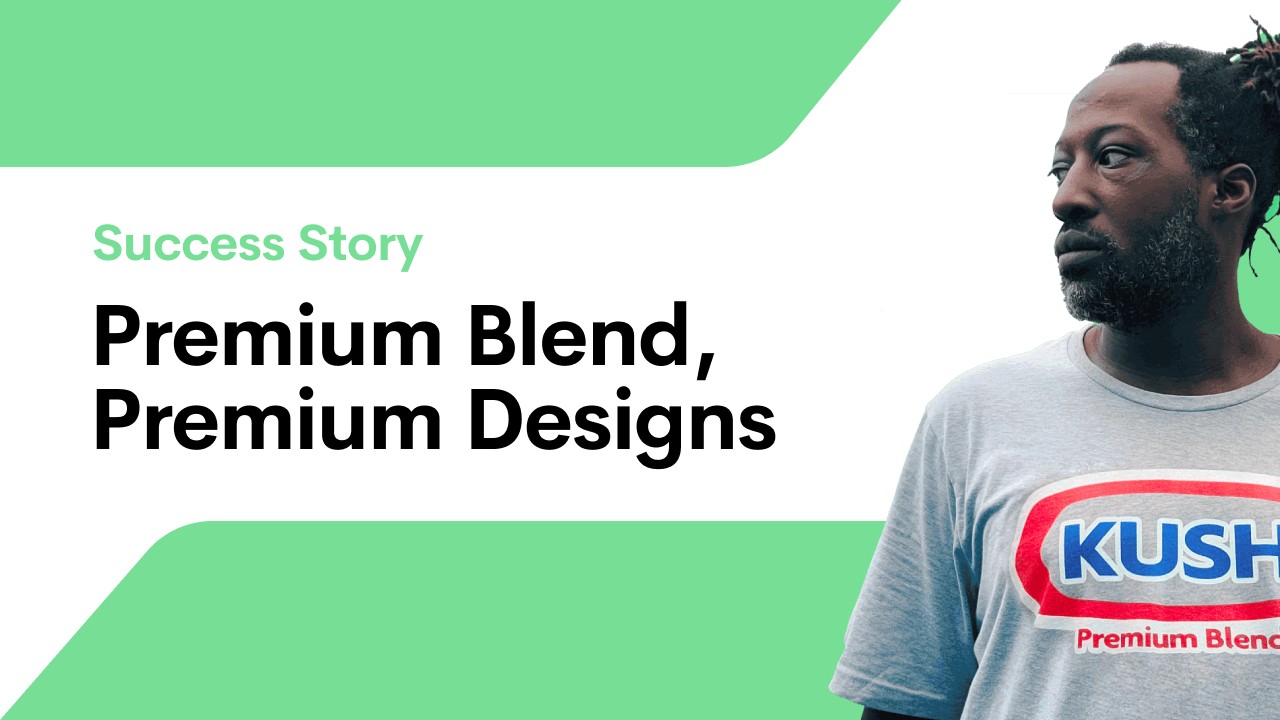 It's no secret that turning a hobby or passion into a serious business requires a lot of hard work and dedication. If you're a creative type like an artist or graphic designer, it can be tough to turn a profit from the styles and subcultures that you draw your inspiration from.
So when we heard about Michael Scott Peterson, a Florida designer turning his passion into a full-blown clothing label, we were keen to find out how he got started with his custom designs, and what makes him tick.
Michael's roots are firmly planted in stoner, video game, and pop culture, and his unique eye for turning ordinary corporate logos into 4/20 themed designs for print on demand has evolved into a fully-fledged lifestyle brand. In this article, we sit down for an in-depth chat with Michael about how he started his apparel company, and why he's so passionate not only about good design but on-ground marketing and honest customer service too.
Michael uses lots of famous logos and brand slogans in his clothing designs but is careful to rework them so as not to infringe on copyright.
He pointed us to the DMCA "Fair Use" Law, which gives parody logos legal protection if they are clearly different from the original design, or they critically mock the original logo, company, or products in a humorous way.
However, there is still the risk of a trademark lawsuit with this kind of business idea, especially if your "parody" logo is not mocking or criticizing the original company or its products.
If there's any consumer confusion about whether you have some sort of official connection or licensing deal with the company, then you are certainly putting yourself at risk of a lawsuit.
Now that we've warned you about the risks involved, let's meet Michael and find out what Premium Blend is all about.
Tell Us About the Origins of Your Premium Blend Brand?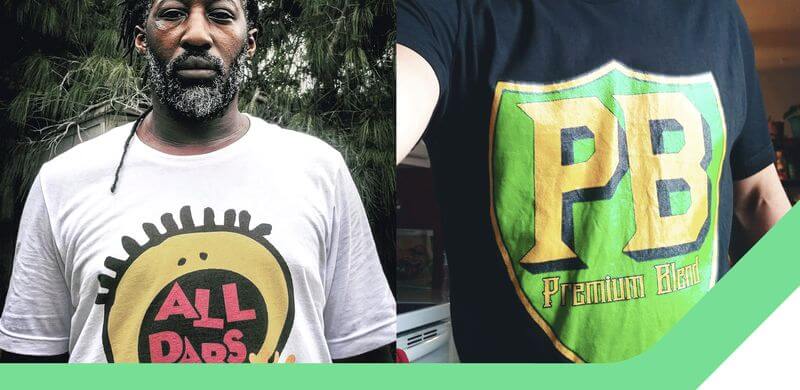 I've always been interested in graphic design and art. When I was younger, my friends and I would do design work for inline skate magazines and things like that, and eventually, I ended up selling up-cycled glass pieces. I'd take old alcohol bottles and turn them into smoking paraphernalia and make bowls out of old Hennessy bottles. I hadn't considered designing clothing at that point.
When I started the glass upcycling, I didn't have any technology at all other than a cell phone. One day, a friend of mine donated an old Mac computer so that I could experiment with printed logos on t-shirts, initially just to promote my glass business. Once I started playing around on the computer, I got hooked on graphic design again and everything else just snowballed from there.
My brand was born from remaking some of the classic logos like Nintendo and Taco Bell with eye-catching or funny slogans. There's no getting around the fact that I'm very into stoner culture. Like the rest of my generation, I enjoyed video games and hanging out with friends at restaurants when I was growing up. Premium Blend is basically the product of all of that.
Premium Blend's Premium Designs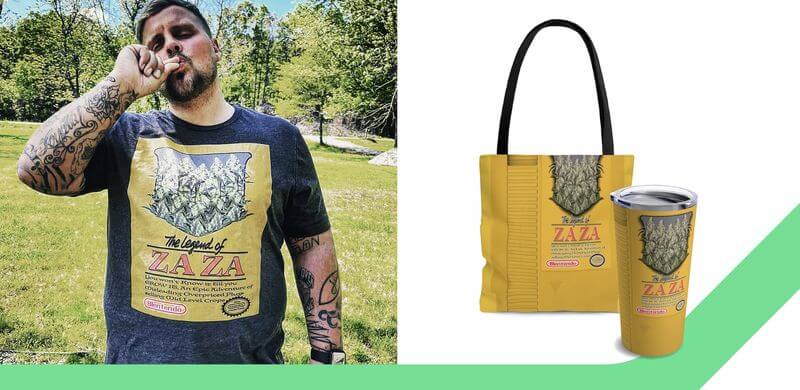 How do you come up with your custom designs?
It can be really hard. Everyone is in the same headspace, especially in the cannabis and parody niches. I get my inspiration from pretty much everything in everyday life. I look at random and mundane things like burger chains or coffee shop logos for example. I try to make a kind of "compare and contrast" type of design out of popular logos that makes people take a second glance or pokes fun at the company I'm parodying.
I'm all about breaking up the monotony of life and starting conversations that help us to not be at each other's throats. If I can remind someone about a part of their childhood, or make something funny or sexy, it can lead to a pair of strangers having a conversation. I feel like it's my job to get people talking and exchanging words and ideas.
How do you get around potential copyright issues?
As I understand it, the DMCA law says that anything that's in a public space is allowed to be used, so long as it's not a direct interpretation of it.
I try to find closely matching but alternative fonts and things like that. Sometimes I post my designs on Twitter and actually tag the companies in the post, as I'd rather be upfront about what I'm doing and find out if they object to my designs and the fact that I'm making fun out of them.
Most companies take it in their stride. Sometimes my posts can even help with marketing and add a little momentum to what I'm doing!
What software tools do you use most in your design process?
I'm a huge fan of Adobe products. I use Photoshop all the time. I've been using it since I graduated from high school, and now it's second nature to me.
With Photoshop, designing for beginners can come with a steep learning curve. However, there are so many influencers, Youtube channels, and tutorials out there that you can get started pretty easily compared to say, 5 or 10 years ago.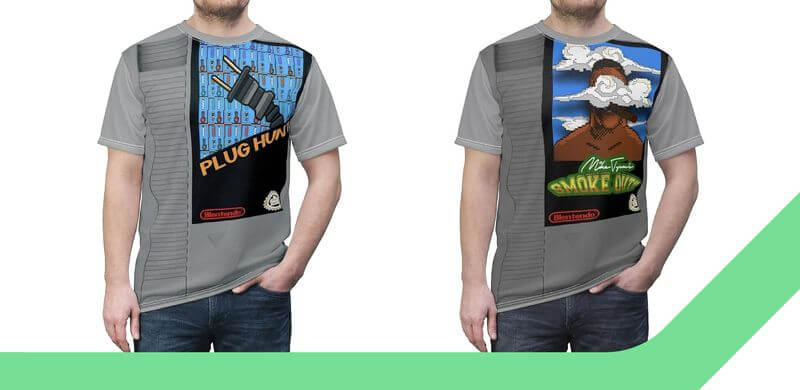 What do you think makes a good design?
For me, it has to instantly grab my attention. There has to be something different about it, whether it's the font or the coloring, or anything else for that matter.
I like researching logo trends too. I'm interested in how big brands rebuild their identity from time to time. Everything from Google to Nissan and Frank's Red Hot Sauce. I love paying attention to stuff like that and keeping on top of the latest design trends.
Why Michael's Approach to Design Works So Well
When we listen to Michael talking about the way that he comes up with fresh designs, and his genuine desire to create products that help people to connect, we're struck by how passionate and enthusiastic he is about every aspect of his business.
For newcomers, Michael proves that you don't need to reinvent the wheel when it comes to eye-catching designs. You simply need to put a new spin on an existing idea and believe strongly in your personal brand and message.
Printify's Impact on Premium Blend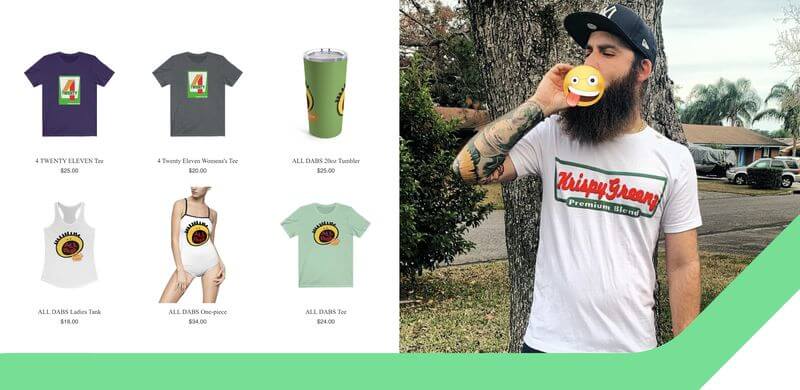 Why did you choose to Printify for your custom designs?
When I started out, people would approach me directly and ask if they could buy a shirt. I tried to figure out ways to print the shirts myself. A lot of things worried me about that approach though: I wondered how the shipping would work. I worried about what would happen if the shirt wasn't printed properly or if it got lost in the mail.
I researched all of this stuff for a long time because I didn't want to let people down. I knew a little bit about dropshipping and creating designs for print on demand, so when I saw a commercial for Printify I decided to go down that route, mostly so I could concentrate on the design process.
What Printify products are you enjoying the most so far?
I've really been pushing the shoes a bit more lately, as I think they're a fantastic product. I've been wearing a set for a month and a half to break them in. Honestly, I rarely buy regular clothes these days. I wear all my own products instead.
Marketing Premium Blend Designs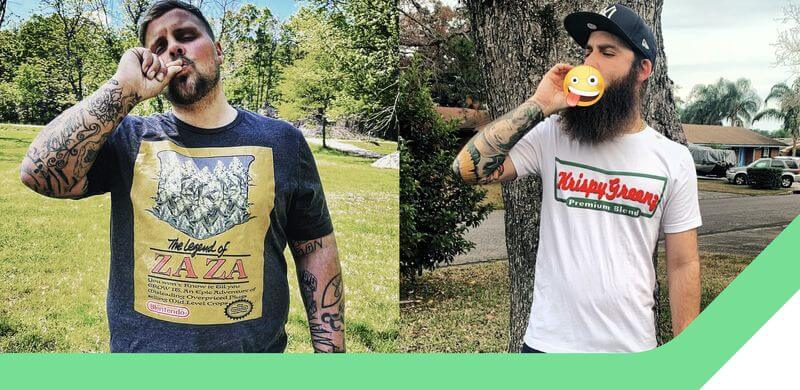 How do you market your custom designs?
I'm really into the idea of wearing my own designs. I think that designers should be creating things that they'd be happy to wear themselves.
I remember when some of my favorite musicians sold music from the trunks of their cars, so even though I'm heavily into Facebook and Instagram, I'm always keen to promote my designs in the real world. I often carry around a few samples when I'm out, as I've had people approach me and ask where I got my shirt from.
I use social media in a word-of-mouth kind of way. I'm lucky to have a few people with a much larger following than me wearing my brand online, which has really helped my business to grow.
What do you think makes your brand and products successful?
I'm heavily inspired by brands like Cookies. There's no real theme or reason behind the designs or the brand as a whole, but they're really good at curating top-notch, high-quality clothing.
I try to do exactly the same thing with my own designs for print on demand, but within the parameters available to me. I'm constantly asking myself if the quality is good enough to send out. That's why I always wear my own products so that I'm confident with how the items look, how they feel and whether they'll be durable.
I need to believe in my brand so that other people can have the confidence to believe in it too.
What do you love most about your business?
I love problem-solving. Moving shapes around and trying to figure out what fonts will work. When I'm finished designing a piece of clothing, it's a really humbling and exciting experience to see someone wearing it on social media or out in the real world.
What We Learn From Michael's Approach
In a world jam-packed with social media platforms, it's interesting to hear about a guy like Michael building his brand from the ground-up, the old school way.
When it comes to printing and design-based businesses, nothing beats a boots-on-the-ground approach when you're first starting out. Unsigned bands have been using this marketing method for decades, and word-of-mouth recommendations are probably the best kind of endorsement a brand can receive, because they instantly come with plenty of kudos and social cache, especially if you can get a local influencer to praise your work.
In addition, you can use the lessons you've learned in the offline world to build some powerful online connections too, sharing your products and brands with as many influencers as possible.
The takeaway? Don't just create an online clothing store, create a sub-culture of your own, then dominate it!
Want to see more designs from Premium Blend?
We Want to Hear Your Story:
We would like to thank Michael Scott Peterson for taking the time to share his story with us.
Do you have a story to share with us? Write to us on [email protected] with a summary of your experience and how it will help other merchants like you. If we pick your story, you get a one-year premium membership for free!
Create Your Own
Print on Demand Success!
Share the article
Topics