A New Take on the Classic – Make Your Own Christmas Cards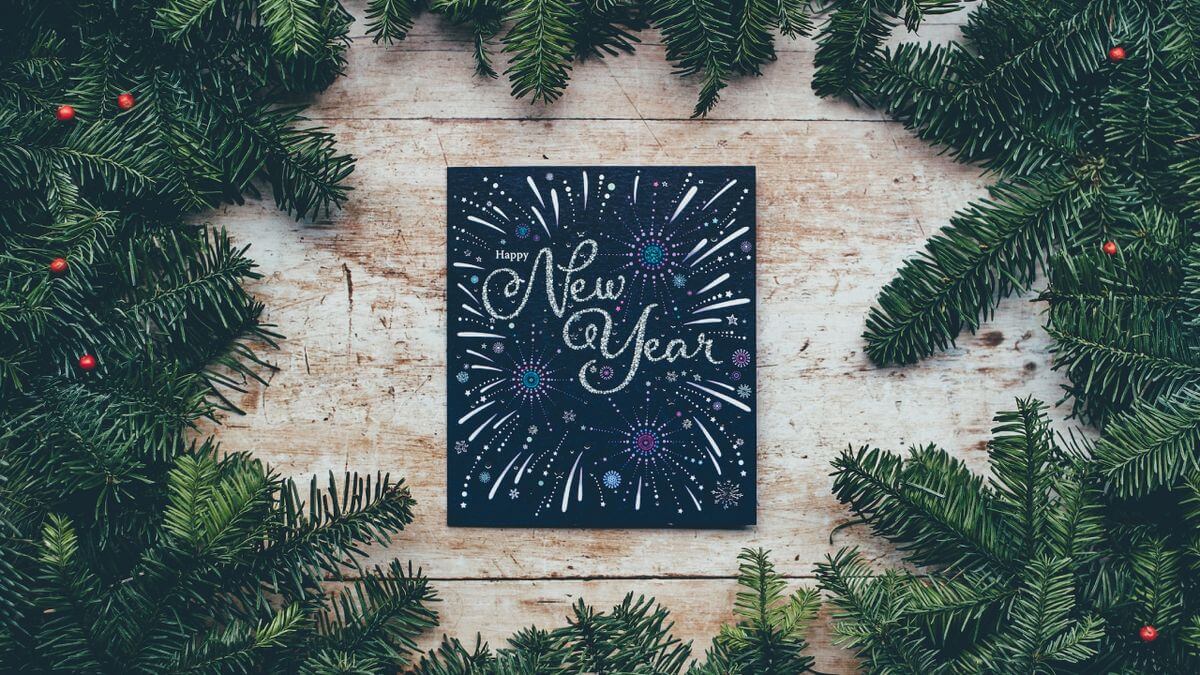 December is the month of genuine holiday cheer. With the smell of mulled wine and gingerbread in the air, it's the perfect time to make your own Christmas cards.
Although nothing really beats DIY greetings, we offer an easy alternative that saves time and generates profit.
Learn how to make your own Christmas cards for the upcoming holiday season with Printify!
Why Make Your Own Christmas Cards?
A personalized holiday card is not just a casual hello to your extended family and friends. It's also a very profitable niche that sells like hotcakes, with the global Greeting Cards market valued at $19.25 billion in 2022. 
It's your chance to use one of the most significant card-sending holidays to print gorgeous cards and family photos for yourself or start selling them for a profit.
Print Your Own Christmas Cards in Just a Few Clicks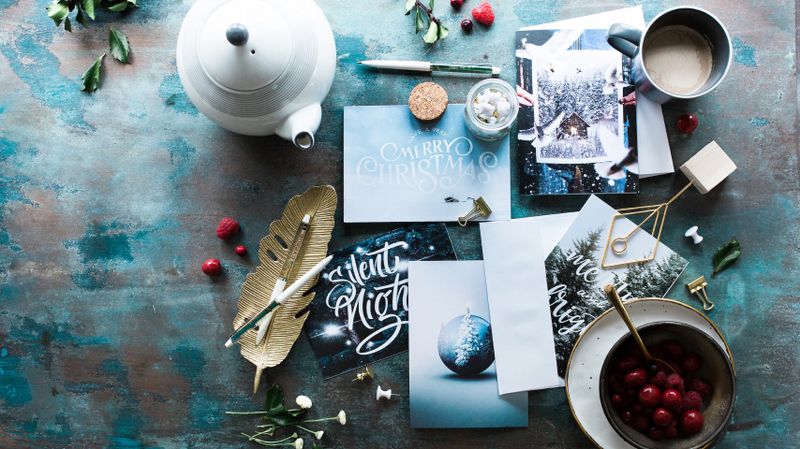 It's your chance to put all your holiday joy and cheer on a Christmas card.
To create Christmas cards for friends and family or online sales, you need to follow three simple steps.
Register on Printify.

Use a valid email address and create a password, or log in with your Gmail account.

Answer a few questions.

Tell us how you'll be using your account so we can customize your experience.

Connect your store. We've set up easy-to-use integrations with some of the most popular eCommerce platforms and marketplaces, like Shopify, Etsy, eBay, and Walmart.
Once you've set up your account, head to our Product Catalog to find the right holiday card for the occasion.
We offer more than 900 customizable items, and there's a variety of greeting cards to choose from. All our cards are high-quality and customizable.
Use our free Mockup Generator to upload or create your own Christmas card designs.
There's a variety of customization options at your disposal. Use our text editor, free graphics, and other design tools to combine, scale, and adjust your card design to look just the way you want.
Check out our free designs to create festive holiday card templates to combine with family photos, tree designs, fun one-liners, and more.
If you don't feel a creative spark just yet, browse through millions of images with our Shutterstock integration to find high-quality designs for under a dollar.
Order a finished card on your Printify Dashboard by going to Orders in the top bar and then selecting Create order.
From the drop-down menu, choose the type of order you want to place – manual, bulk, or sample.
It's a good idea to order holiday card samples before listing them in your store so you can check the quality of the product and card design.
The Best Christmas Card Ideas
Imagine the joy of sitting down by a Christmas tree to tear open envelopes containing beautiful, funny, and heartfelt holiday cards.
To make your own Christmas card, you'll need design ideas. Start with a dose of inspiration by looking at our guide on funny Christmas cards.
If you still feel stuck – don't worry. We have more ideas to share.
Religious Christmas, Hanukkah, and Yule Card Ideas
Create a custom holiday card with a spiritual theme to convey warm wishes during the festive season.
Design your own holiday cards online with themes like:
Religious photos.

Capture the essence of the season with relevant photos of buildings, traditions, and events, and don't forget to use forest scenes, the Yule log, and Christmas trees.

Religious symbols.

From stars and angels to tree spirits, the Green Man, and the Star of David, choose the imagery and motifs relevant to your audience.

Winter imagery.

Use images of snowy landscapes, candlelit and frosty windows, the starry night, and the overall peacefulness of this time of year.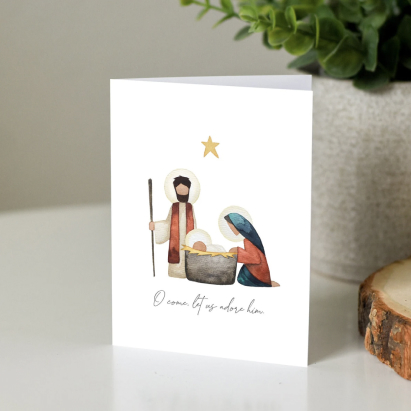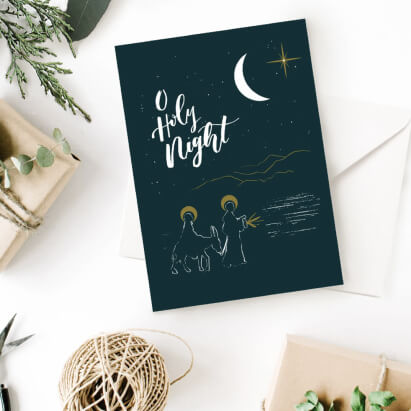 Picture-Perfect Christmas Photo Card
Channel your inner designer and photographer to make your very own Christmas photo card for loved ones or craft some for your eCommerce store.
Add your own design on a photo Christmas card by using:
Christmas Scenery.

Go for snow-covered trees, mountains, and meadows to create a true winter wonderland in your holiday card designs.

Really, who wouldn't like a Christmas tree card?
Cozy Photos.

It's photos of lights hanging from a Christmas tree.

Warm fireplaces wrapped in stockings, deliciously-scented candles, or a teddy bear wearing a fluffy festive sweater that reads "Season's Greetings!".
Christmas Symbols.

Decorate your photo Christmas cards with Christmas trees, decorations, lights, gingerbread hearts, Christmas hats, ugly sweaters, and a gift or two.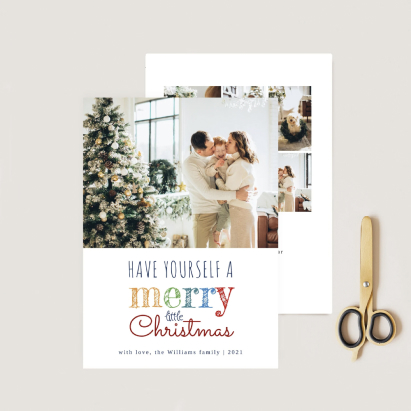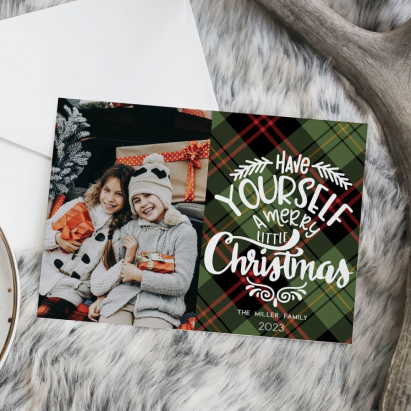 Spread Holiday Cheer With Words – Use Text Design Elements
If you don't have a collection of artsy Christmas photos at hand – that's okay because you really don't need it.
Use your imagination and creativity to craft simple, text-based, and reusable Christmas card templates, keeping in mind:
Patterns.

Add and tile festive patterns like snowflakes, reindeer, or holly leaves. Turn your template borders and backgrounds into a story.

Phrases.

Choose popular phrases like "Peace on Earth" and "Merry Christmas" and consider personalizing your messages.

Colors.

Create Christmas cards with engaging color patterns. From the classic Christmas color scheme of reds and greens to winter whites, warm blues, or bold and bright tones.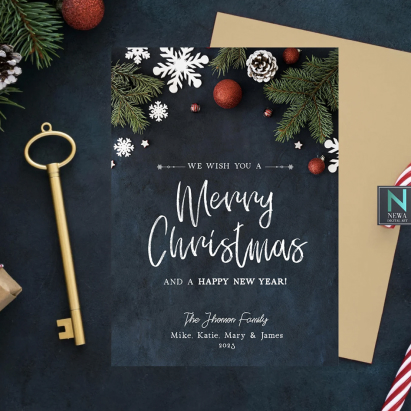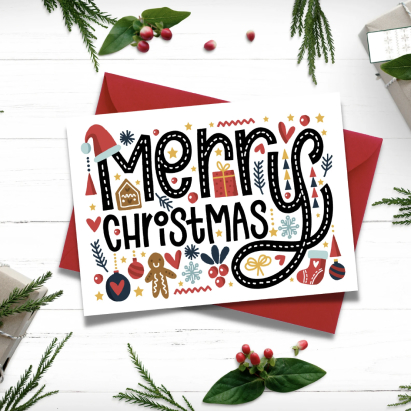 Spread Joy With a Cute and Fun Holiday Card
For more creative options – you can always design cute personalized Christmas cards that have little to do with Christmas.
Customize images of cute animals – bears, penguins, octopuses, and more, slap a Christmas hat on them, and you've got yourself a cute and quirky Christmas card.
This is your chance to create custom Christmas cards by combining adorable with your festive humor.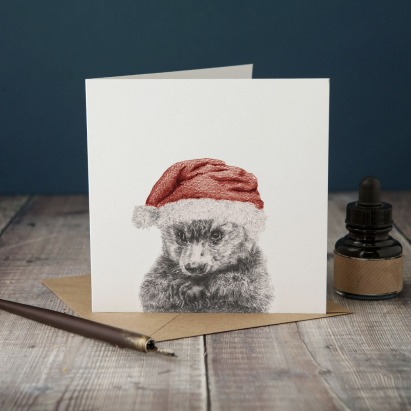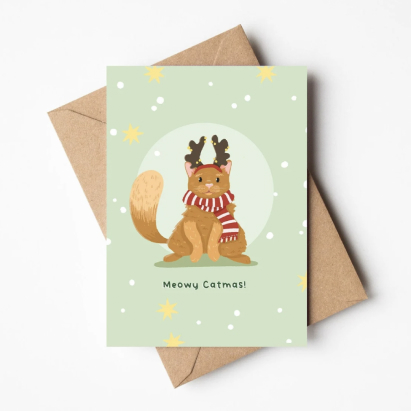 DIY Christmas Cards for Yourself or to Sell
Printify will help you spread joy and warm feelings during the festive season, no matter whether you're placing personal orders or adding cards to your store.
Team up with our free and convenient POD platform to create a one-of-a-kind Christmas card collection while we handle the fulfillment and delivery for you.
Join Printify to create a holiday card collection people will remember for years to come. Go through our advice and find what works best for you.
Tap into the holiday spirit and delight your friends, family, coworkers, and even strangers with one-of-a-kind Christmas greeting cards with fun, seasonal, and heartwarming designs.
Share the article
Topics