Make Your Own Christmas Cards for the Holiday Season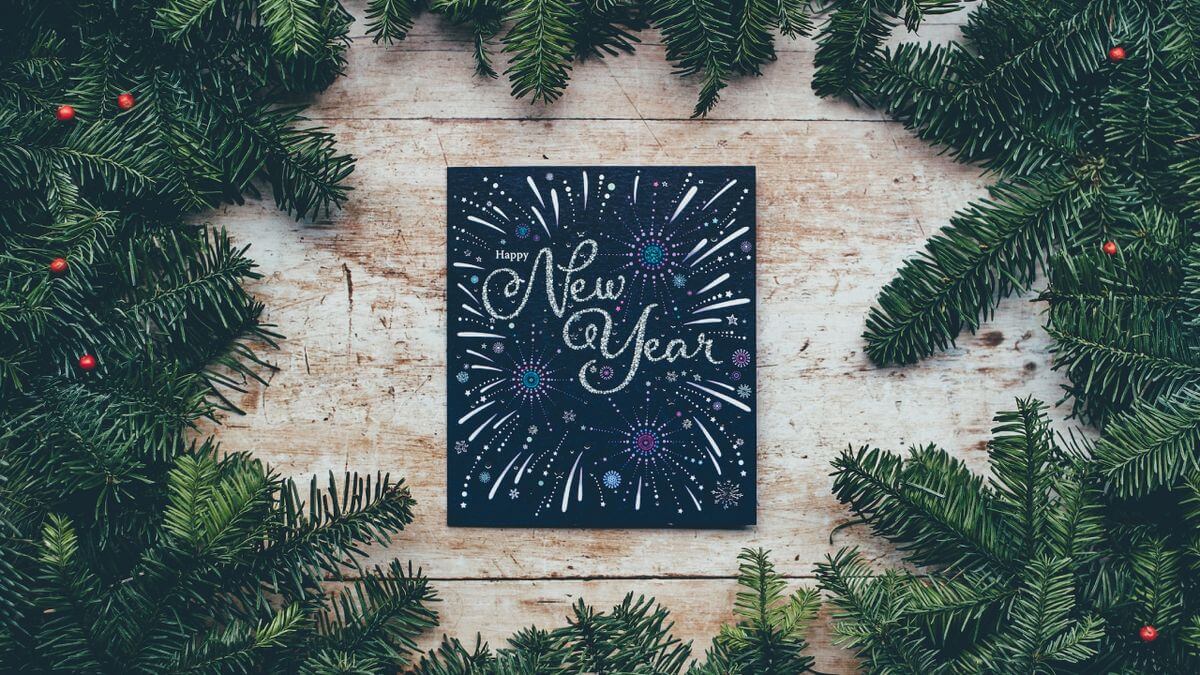 December marks the month of the much-awaited holiday season. With the smell of mulled wine and gingerbread in the air, it's the perfect time to make your Christmas cards to spread that holiday cheer. 
Sending a holiday card or adding it to a present is a great way to express love, affection, and appreciation. It shows how much you care about the person, putting extra thought and wishes into a Christmas card that can be cherished for years.
Keep reading to learn how to make your own Christmas cards for the upcoming holiday season to send to your loved ones or start a business selling them online!
Why Make Your Own Christmas Cards
Personalized greeting cards are the age-old medium for fond memories. These paper treasures are the easiest form of written affection. Personalized Christmas cards or "Season's Greeting cards" are on an entirely different level. They're not just casual hellos to the extended family and friends. With a bit of creativity – and the perfect partner – this precious keepsake can be the source of laughter, awe, appreciation, or even a family inside joke.
Make your Christmas cards to send to friends and family, or start selling online – it's a profitable niche.
Fact: The global greeting card market is expected to reach $13.4 billion by 2027. Of those, 1.6 billion are for Christmas, the largest card-sending holiday in the country. This year, make your own Christmas cards. It's the gift that keeps on giving.
Printify will help you spread joy and warm feelings during the holiday season and make your Christmas cards in minutes with our free Mockup Generator.
How to Make Your Own Christmas Cards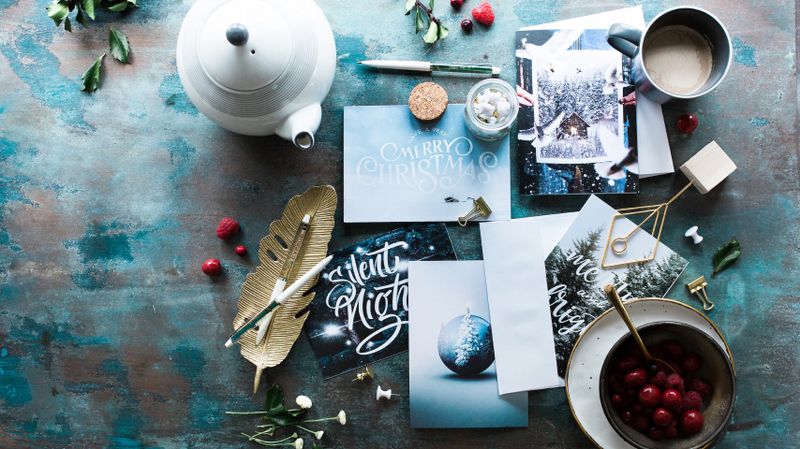 Wish a very merry Christmas to your friends and loved ones this holiday season by designing custom Christmas cards. Here's how to make your own holiday cards.
To make your own Christmas cards for friends and family, or to sell online, first, you need to create an account. Sign up here by using a valid email address and choosing a password. Then, answer a few quick questions, and you'll be ready to design custom holiday greeting cards or just a few pieces to order in bulk. Or connect a store and sell them to customers worldwide. With Printify, create your Christmas card in under ten minutes.
2. Choose a Greeting Card
Once you've set up your account, head to our catalog to find and make your greeting cards. We offer over 750 custom items, among them five types of greeting cards. 
Folded greeting cards.

Order a single piece to design and send to someone special, or save by selecting sets of multiple cards so everyone around you gets into the holiday spirit – endless customization options for Christmas and beyond.

Unfolded greeting cards.

A classic postcard that comes in sets of 10, 30, or 50 pieces for you to decorate with an original design, family photo, or sweet words that will make Christmas even warmer.

Holiday cards.

This card can be printed on both sides and comes in a white envelope. The elegant matte finish gives a luxurious feel.

Photo cards.

Print high-resolution photos and illustrations on this premium-quality card. Upload a family photo that'll put a smile on your loved ones' faces brighter than a Christmas tree! Envelope included.

Fine art postcards.

The glossy finish of this finished card will make your designs and photos truly pop. As the name suggests, these postcards turn greeting cards into small artworks to be loved long after the holidays are over.
With Printify, it's so easy to make your own Christmas cards. Our free Mockup Generator is straightforward and requires no background designing experience. Just upload your photos, graphics, and illustrations, or use the text editor to bring your ideas to life within minutes. Adjust the file on the virtual card, preview, and voila!
Go through our free designs to create a festive card template that you can supplement with your photos and ideas. Or browse through millions of images on our Shutterstock integration to find high-quality designs for under a dollar.
The holiday season is the perfect time for everyone to send a heartfelt message to their family members, colleagues, friends, adults, and kids. To make your own Christmas card, you need design ideas. Here's a dose of inspiration for funny Christmas cards. But if you still feel stuck, here's some more Holiday-themed inspiration.
Personalized Religious Christmas Cards
Create custom Christmas cards with a religious-themed design to wish someone a blessed and holy Christmas. Make your own Christmas cards online with designs like:
Religious photos.

Pictures of angels, churches, or other religious buildings, an image of the birth of Christ, religious settings, Mother Mary and Jesus, and many more.

Religious quotes.

"Hark! The herald angels sing, glory to the newborn King". From Christmas carols to quotes from the Bible and various religious texts, or create your own design.

Religious Christmas Symbols.

Create various Christmas greeting cards with stars, angels, crosses, and many more. Add a blessed and holy meaning to your season greetings.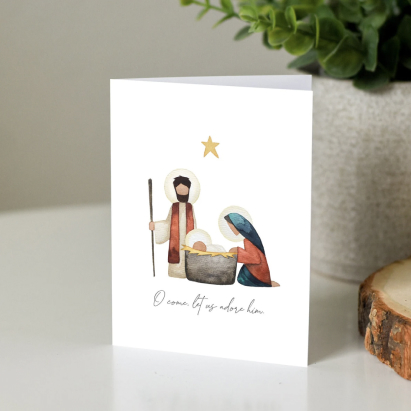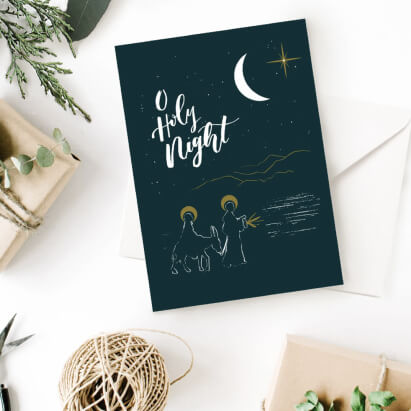 Personalized Christmas Cards With Photo
Become the ultimate designer and photographer and make your own Christmas cards with photos. Such as:
Christmas Scenery.

Add snowy trees, mountains, and snow-covered meadows to create photo Christmas cards with a winter wonderland on them.

Cozy Photos.

Shiny Christmas lights, glistening in the dark or warm fireplaces with stockings on them, crackling on cold winter nights. Deliciously-scented candles around some Christmas decorations or a teddy bear wrapped in a fluffy Christmas sweater. Create the perfect holiday card with designs of warmth and comfort.

Photos of Christmas Symbols.

Take tasteful pictures of Christmas trees, presents, decorations, lights, gingerbread hearts, Christmas hats, and other apparel. Create and sell art that symbolizes the holy and blessed time of the year.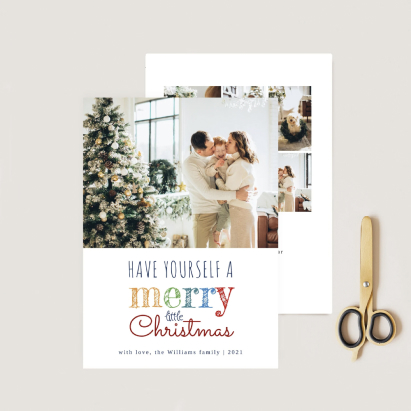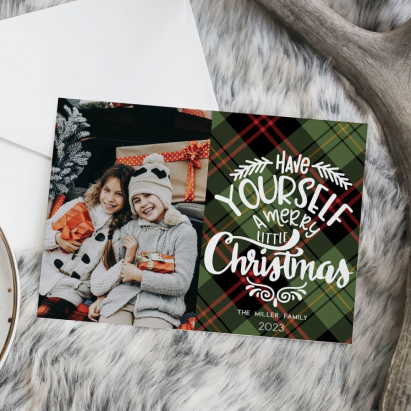 Personalized Christmas Cards With No Photo
If you don't have a collection of artsy Christmas photos, that's okay. Use your imagination and creativity to create various abstract and simple Christmas card ideas.
Patterns.

Create or choose a holiday-themed pattern with fruit, nuts, trees, squiggles, and whatever else comes to mind to make your own Christmas cards that are unique yet festive.

Sayings. From simple "Ho ho ho" and "Merry Christmas" to funny, clever, witty, or lovely quotes and sayings for the holiday season.
Colors.

Create Christmas cards with color patterns. From the classic Christmas color scheme of reds and greens to winter whites, warm blues, or bold and bright tones.

Symbols.

Add symbols like stars, berries, angels, trees, presents, snowmen, snowflakes, reindeer, and many more. Sometimes simplicity is best.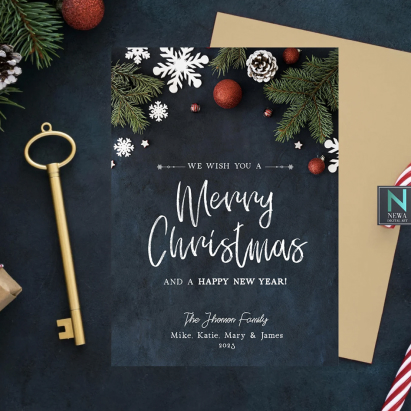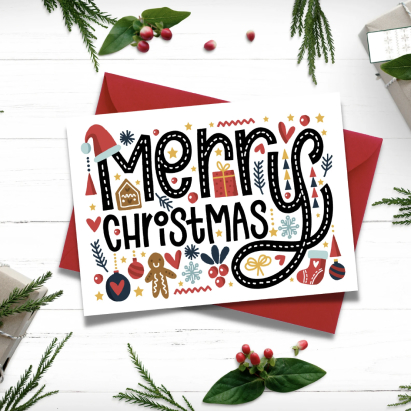 Cute Personalized Christmas Cards
For more creative options, you can always design cute personalized Christmas cards with little to do with Christmas itself. All you need to do is get into that holiday spirit and come up with creative ideas and things associated with winter.
Customize images of cute animals, such as bears, penguins, owls, and more, slap a Christmas hat on them, and you've got yourself a cute and quirky Christmas card. Combine winter-themed topics, places, and scenes with Christmas symbols and sell unique Christmas cards that will stand out from the competition.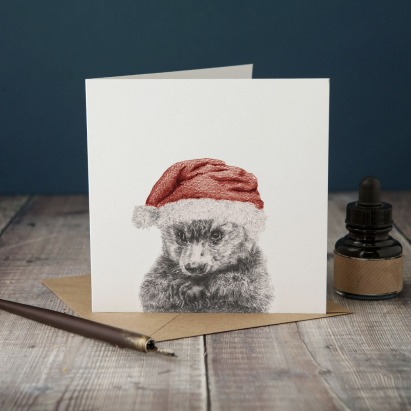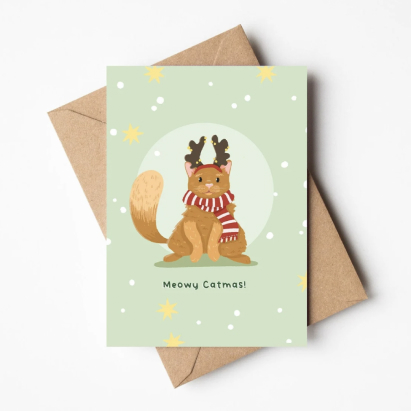 Make and Sell Your Christmas Cards With Printify
Custom Christmas cards are not only great ways to send warm wishes to people in your life. It's also a wonderful addition to your online store: Create unforgettable and cute designs that will spark joy for thousands of people online. Printify is your perfect partner – while you focus on designing and pushing the products to your audience, we do the rest. Printing, packaging, and shipping to your customers is entirely on us!
This year, make your Christmas cards online and spread that joy near and far. Why overpay for something you can create yourself? Suppose you design your own Christmas cards and order with Printify. In that case, there are no unsold items and no need to hold bulky stock – it's good for the soul and our planet. Tap into the holiday spirit and delight your friends, family, coworkers, and even strangers with a custom design Christmas card! 
Share the article
Topics