Make Your Own Christmas Cards for the Holiday Season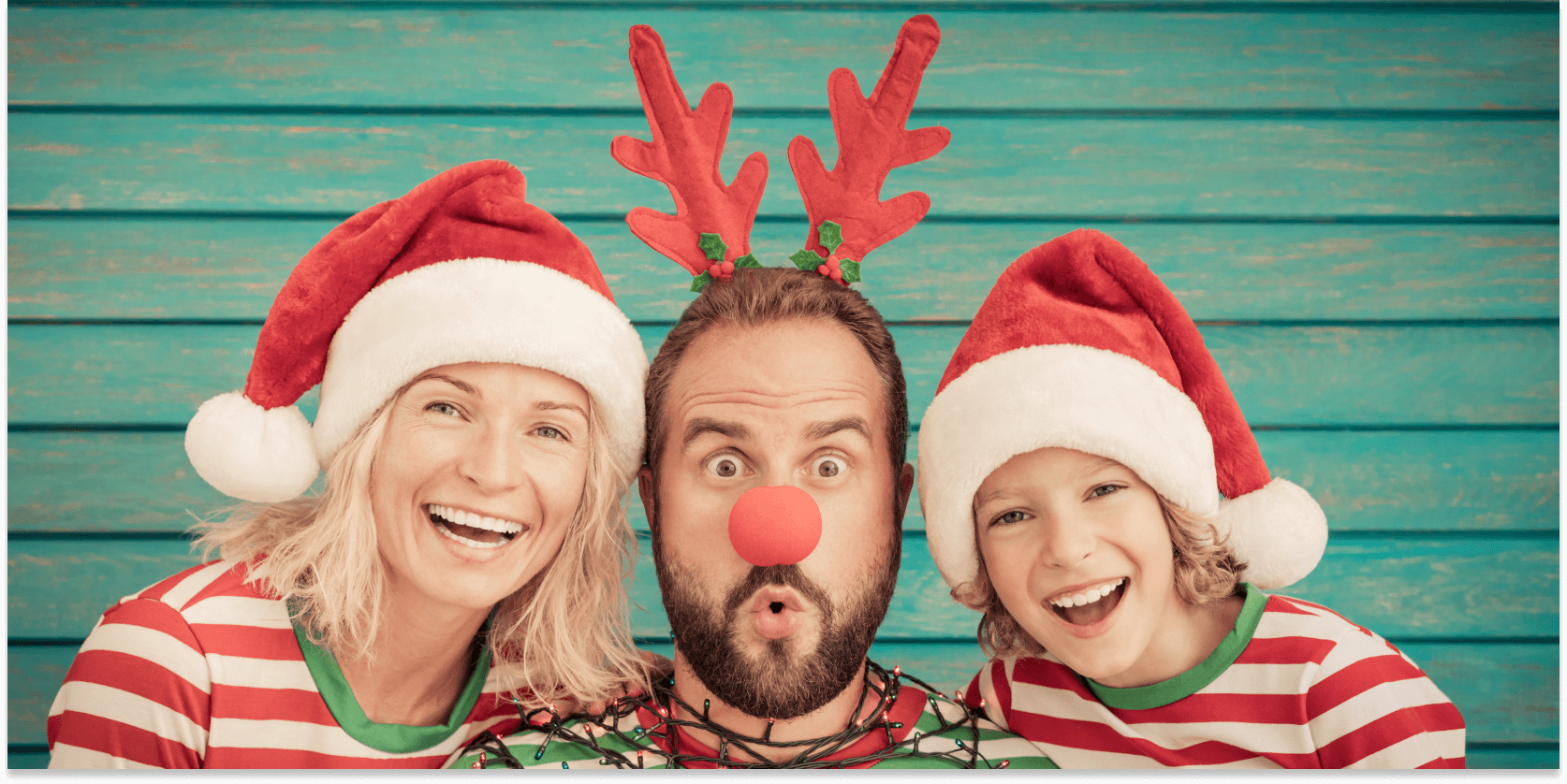 December, the month of the much-awaited holiday season. With the smell of gingerbread in the air, bells jingling and people spreading the Christmas spirit. It's the time of year when all of us take a moment to pause, reflect, celebrate, come together and reconnect with our loved ones. And what better way to do it than through custom Christmas cards?
Sending a greetings card or adding it to a present is a great way to express love, affection, and appreciation. It shows how much you care about the person, putting extra thought and wishes into a Christmas card.
Americans buy 6.5 billion greeting cards annually, according to data from the Greeting Card Association. Of those, 1.6 billion are for Christmas, the largest card-sending holiday in the country. Chime in on this seasonal income and design your own Christmas cards. It's the gift that keeps on giving.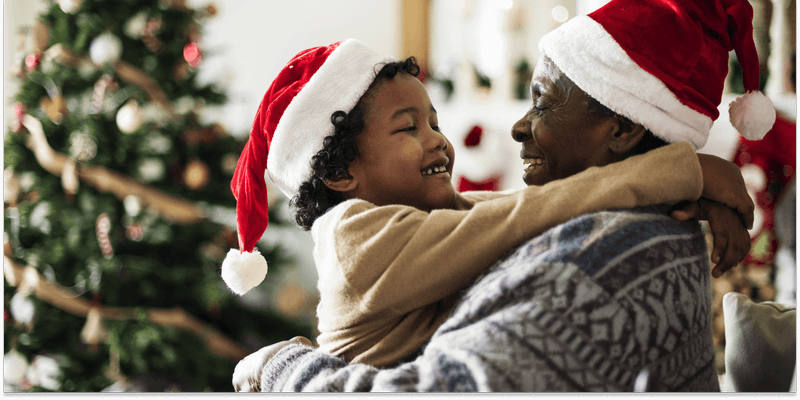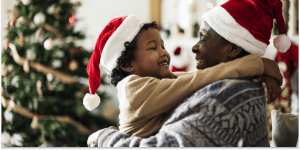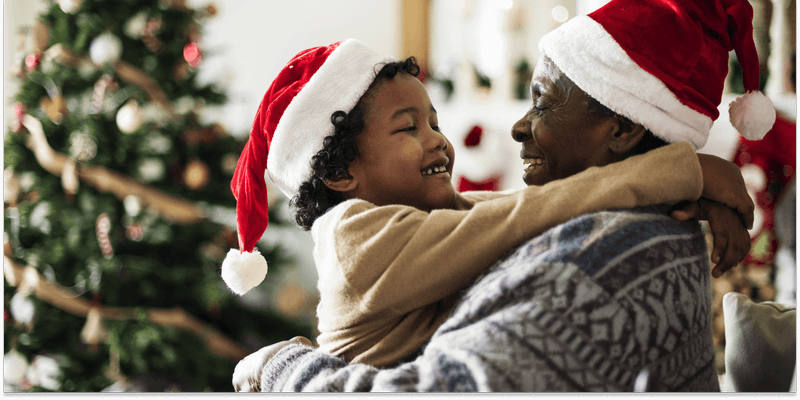 Personalized greeting cards are the age-old medium for fond memories. People send them on whatever occasion there is, from birthdays to graduation, feeling unwell, and to say thank you. They are simply the easiest form of written affection. Personalized Christmas cards or "Season's Greeting cards" are on an entirely different level. They are not just casual hellos to the extended family and friends. With a little creativity, they can be the source of laughter, awe, appreciation, or a family inside joke. 
Spread the joy and warm feelings during the holiday season by making your own custom Christmas cards.
Christmas Card Design Ideas
The holiday season is the perfect time for everyone to send a heartfelt message to their loved ones, colleagues, or friends. As an online seller, this is also the time to prepare and publish your personalized Christmas cards as they will be in demand very soon. Our cards are made of durable material and can be customized easily. Create your own, list them online and watch the seasonal income fall on your account like snowflakes.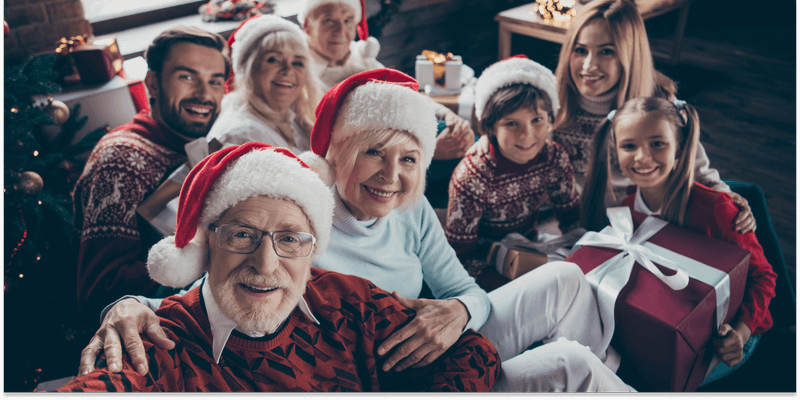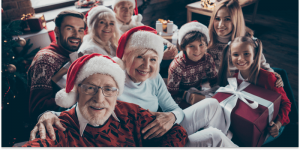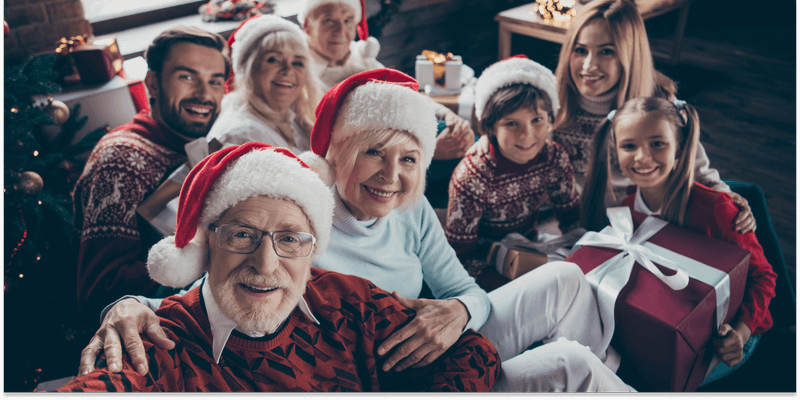 Every year the majority of the world celebrates Christmas. In some cultures, the day before Christmas, Christmas EVE is the day you have a large family gathering, exchange gifts, and reconnect. It's the day you profess your love to your crush. Christmas is not only a religious occasion, although the birth of Jesus is still a significant factor, it is one of those cannot-miss family holidays. Christmas Eve and Christmas day are the days of gift-giving. That includes a personalized Christmas card. 
Custom Christmas cards are the highest type of greeting card sold every year, ranging in the millions. Missing the season to sell the most greeting cards in the year would be a huge loss for any savvy entrepreneur. Below are 4 ideas to inspire you to get creative and make your own Christmas cards. Start designing now!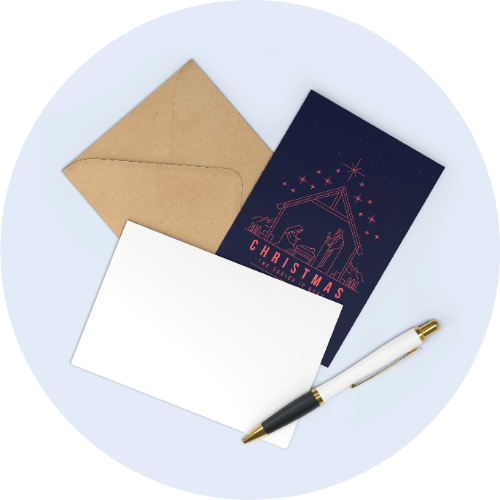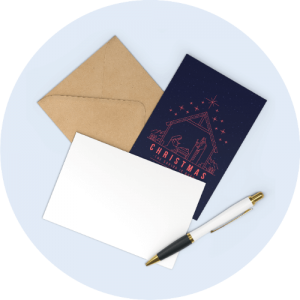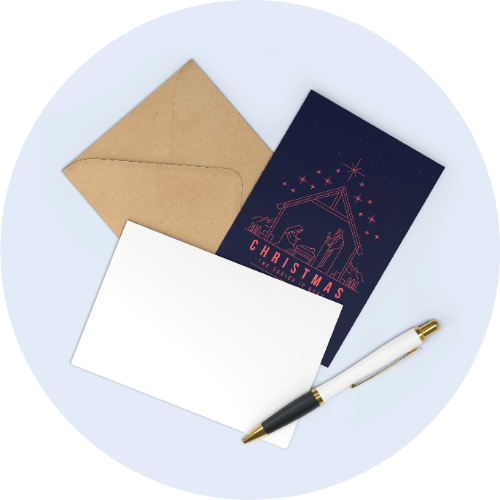 Personalized Religious Christmas Cards
Create Christmas cards with a religious-themed design to wish someone a truly blessed and holy Christmas. Religious Christmas cards might include: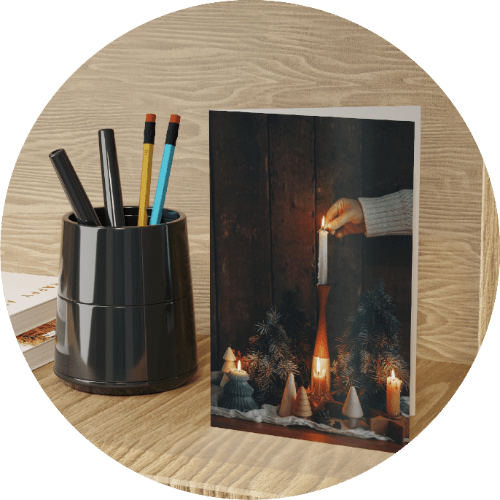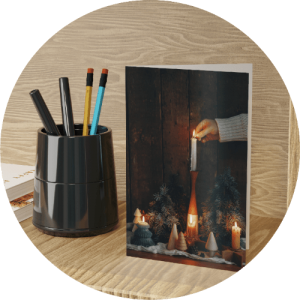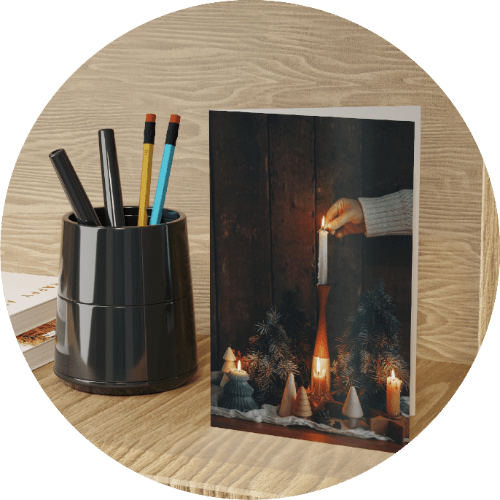 Personalized Christmas Cards With Photo
Become the ultimate designer and photographer and create Christmas cards with one-of-a-kind photos. Such as: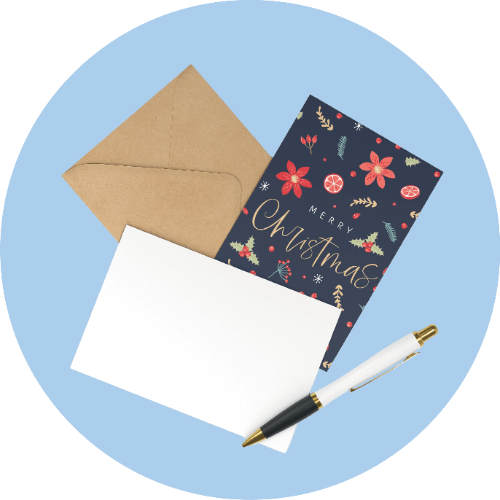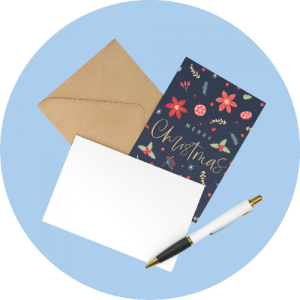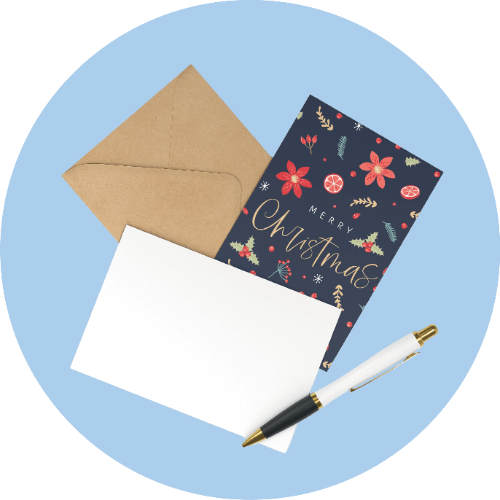 Personalized Christmas Cards No Photo
If you don't have a collection of artsy Christmas photos, that's ok. Use your imagination and creativity to come up with various abstract and simple Christmas-themed designs. Including: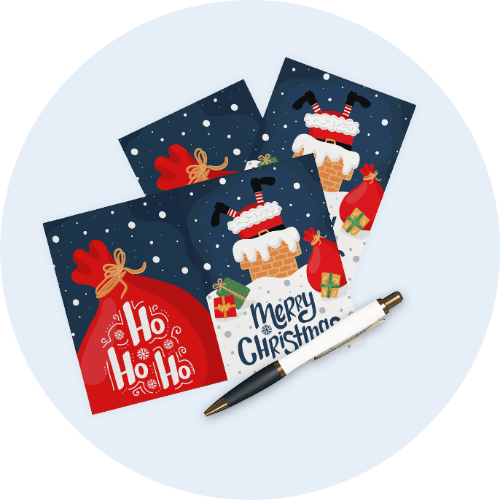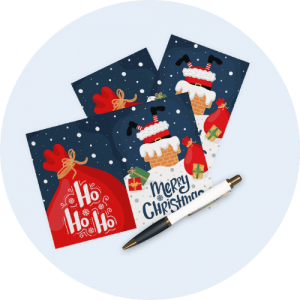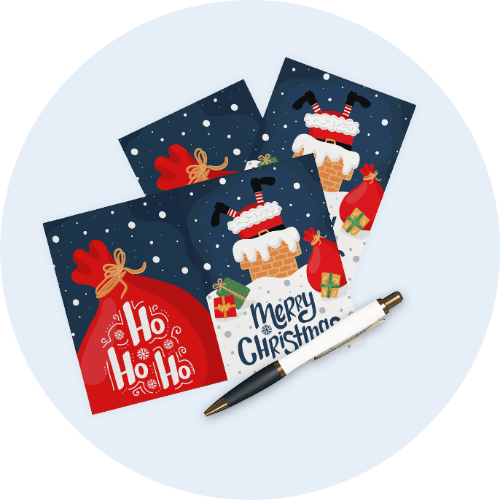 Cute Personalized Christmas Cards
For more creative options, you can always design cute personalized Christmas cards that have little to do with Christmas itself. All you need to do is just get into that holiday season spirit and come up with creative ideas and things that associate with winter in general.
Customize images of cute animals, such as bears, penguins, owls, and more, slap a Christmas hat on them and you've got yourself a cute and quirky Christmas card. Combine winter-themed topics, places, and scenes with Christmas symbols and sell unique Christmas cards that will stand out from the competition.
How to Make Your Own Christmas Cards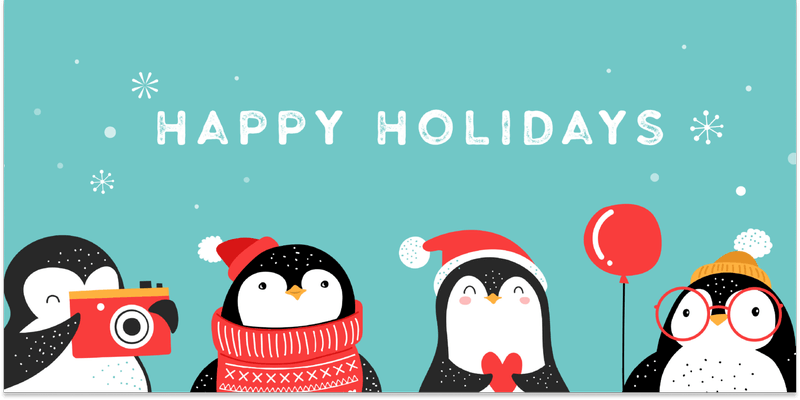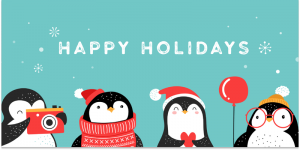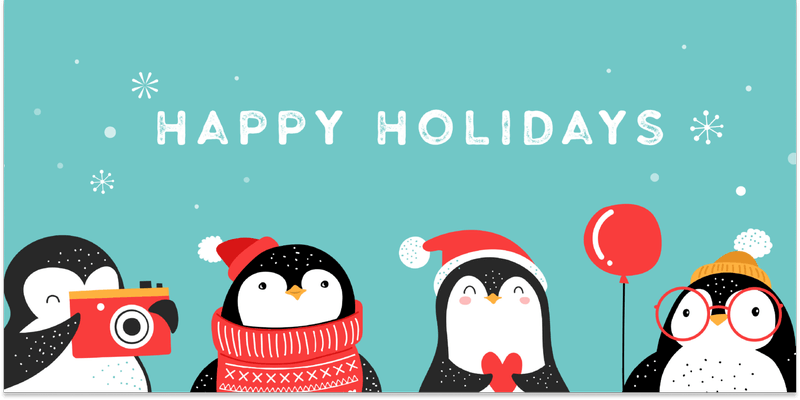 Inspired to make one or more of the season's greeting cards? Here are 5 simple steps to make that happen.
1. Research Your Target Market
What is your target audience? Who do you want to sell Christmas cards to? Who are they meant for? Take a look at the closest competitors and their ideas. What sells and what doesn't?
If our provided statistics aren't convincing enough, do or search for a thorough market analysis. Get to know all the niches of the Christmas card industry, combining all the pros and cons of your ideas to make the best of them. 
Think of your target audience in terms of interests, religion, location, hobbies, income, family status, and more, so you can adjust the designs accordingly. Make and sell your own Christmas cards that will appeal to a global customer base.
2. Search for Inspiration
The internet is your best friend when it comes to exploring new horizons, searching for creative ideas, examples, and inspiration in general. Search what is out there, to know what to create.
To come up with the best ideas for your custom Christmas cards, don't just search what your competitors have. Sure, it's nice to see what sells already and what designs are out there, but if you want your cards to differ and catch everyone's eyes, you need to look further than that.
Search various winter-themed images and ideas. What inspires people, what is the holiday season all about, what do people care about? How to put feelings, warmth, love, peace, affection, and appreciation into a design?
3. Decide on Your Concept and Start Designing
This is where our above-mentioned design ideas come in handy. What message do you want to send your customers? What direction will the design be? Will you focus on only one, many, or all of them?
Decide on whether to sell lovely Christmas cards, funny, cute, religious, abstract, or ones with photos on them. Or maybe you want to sell all of them. Whatever the choice, you need to make one, stick with it and create the designs accordingly.
Once you have decided on your niche, it's time to start the designing process. Search for various online design tools to create high-quality Christmas cards and impress the clientele with unique one-of-a-kind Christmas cards for every taste and preference.
4. Check Your Final Product
It's good to test and assess the quality of the final product yourself before offering it to the customers. Order various samples of different designs and make sure they fit your liking.
Ordering samples first is a great way to not just assess the final quality and design of the product, but the demand and reviews as well. Give out samples to family members, friends, neighbors, colleagues, or even random strangers to test their reaction and reception to your designs.
Check for feedback, suggestions, comments, and more to improve and adjust your custom Christmas cards to perfection. This way your customers will browse, purchase and receive a fully tested, reviewed, and flawless product at their doorsteps.
Product pricing is an important part of being a business owner. You have to set the right price for the merchandise in order to generate profit and compete amongst others.
Not too high and not too low. There has to be a perfect balance when it comes to product prices. A low price will attract more customers, but you will need a higher number of sales to gain income. So, be goal-oriented, include all costs, observe competitors and set the best price for your products.
Once the price is done, list the items on a private website or any of the existing top eCommerce marketplaces.
Print Your Own Christmas Cards With Printify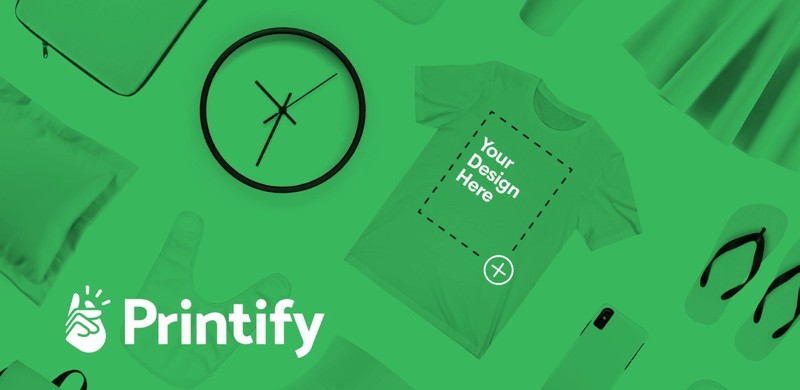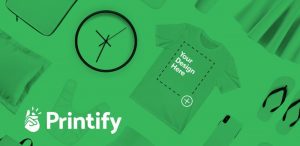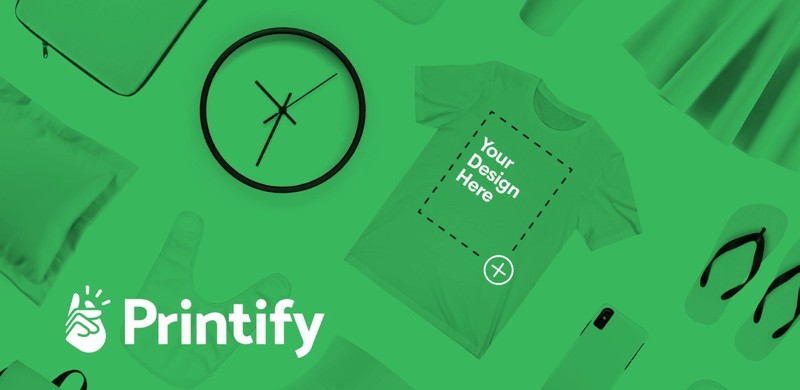 Printify, a leading print-on-demand platform, doesn't only hook you up with cool greeting cards to personalize, we also drop ship them directly to your customers. We have over 400 custom products in our catalog with a network of 60+ efficient print providers that produce and ship them worldwide. 
Create and Sell Your Own Christmas Cards With Printify in 5 Simple Steps:
Pick a product.

Go to our product

catalog

and choose between the existing greeting cards options. Read product descriptions and pick a style and print provider you like. From holiday-themed postcards to greeting cards with envelopes, choose whichever suits your needs and vision the most.

Here's

a full list of our print providers, their location, shipping rates, and times.

Add a design.

Our user-friendly and free

Mockup Generator

is the best design tool out there. Simply upload or drag and drop your design, add a text, move it around, switch between colors, and adjust the design to your preference to create your custom Christmas cards. If you don't have your own design, use a free image from

Shutterstock's

vast library. The pay-as-you-sell mechanism allows you to pay for the design only after making a sale.

Preview and order samples.

Using the "Preview Mode", you can see how your new personalized Christmas greeting cards look with the custom designs. View them from different angles in 3D high-quality lifestyle images that you can later post on your store. Order samples to ensure the quality of your end product and make adjustments accordingly, to provide customers with nothing but the best.

List products online.

Printify offers various integrations with all the top eCommerce websites. With one simple click, you can integrate your store and list the custom Christmas cards on WooCommerce, Etsy, Shopify, eBay, BigCommerce, and many more marketplaces. Or create your own website to sell unique Christmas cards.

Kick back and relax.

The beauty of dropshipping is the low-involvement approach. No need to bother with inventory, up-front investment, equipment, and more. Create designs, set up your online store, list the customized Christmas cards, and let us take care of the rest. All customer orders are processed, printed, packaged, and shipped from the print provider, directly to the buyer.
Design Personalized Christmas Cards Today to Not Miss the Biggest Sale Season of the Year.
Share the article
Topics