How to Use Placeit T-Shirt Design Tool to Create Your Merch: A Step-By-Step Guide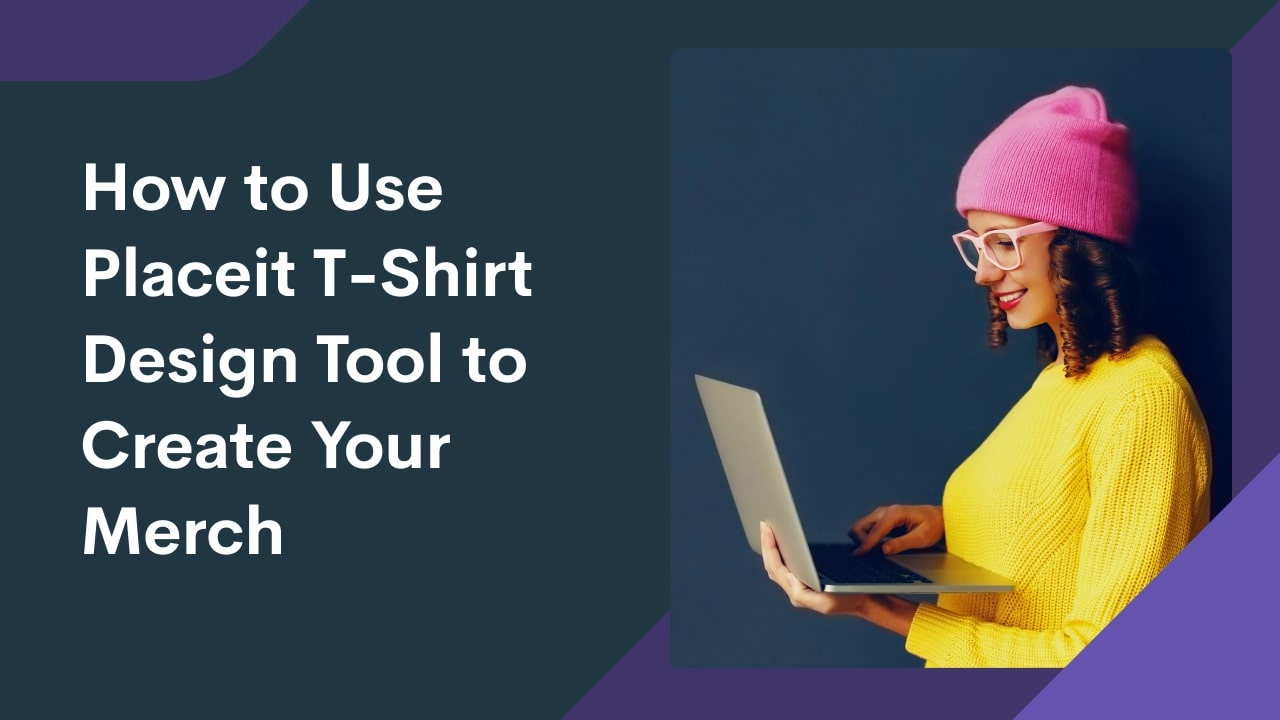 If you've always wanted to start your own t-shirt business but freeze at the idea of creating your own designs – you've come to the right place! No, we won't revel in your despair; we'll provide a solution to boost your business.
In this article, we'll show you how to use the handy Placeit t-shirt design tool to create awesome-looking merch and mockups for your business. We'll also give you a step-by-step guide on how to use Placeit t-shirt design templates and sell them with Printify. 
Grab a cup of coffee, and let's get started!
Placeit is an online design tool that allows you to create marketing materials and designs for your business. To make your life easier, no complicated software is necessary – design straight from your browser without any prior designing knowledge.
You know what they say – time is money. And Placeit is here to save you both, as it's so easy to use that even absolute beginners will end up having amazing-looking imagery.
Placeit – Your One-Stop Design Shop
They have it all, with gorgeous and unlimited mockups, templates, videos, and branding resources. Placeit is your solution for smart designs, mockups, logos, and more. Besides, commercial licenses are included with all your downloads.
Placeit is wallet-friendly, as their subscription starts from just $7.47/mo, and they also offer tons of free templates that you can easily use for your products. 
If you subscribe and then download any templates from Placeit, there will be a one-month minimum commitment — apart from that, you can cancel anytime.
How to Use Placeit T-Shirt Design Templates
When you sign up with Placeit and create a free account, you get access to thousands of various high-quality t-shirt design templates. You can use them as they are or tweak them up to match the vibe you wish to bring to your customers with your t-shirts. 
You'll find shirt design templates organized by tags in their template library. From animals to Mexican food to dogs and leisure to gaming and hip hop – if you can think of it, Placeit probably has design templates for it.
To better understand how to use Placeit templates in your shirt designs, here's a step-by-step breakdown of the whole process.
In the upper menu of the website:
Select

Designs

In the dropdown menu, select

T-shirt Designs.

On the left, you'll see the tags arranged alphabetically – you'll find almost any topic or niche. Alternatively, you can use the search bar to look up specific keywords.
Scroll through to find what you like. And remember – even though each template comes with a graphic or text, you can modify it to match your brand.
If you first wish to try out Placeit without subscribing, they offer some free templates you can alter to see if you enjoy using it.
2. Create Your T-Shirt Design
Once you select your template, you will be taken directly to the Placeit t-shirt designer. There, on the right side, you can change the text, font, and color, plus add more text. 
On the left side, you'll see various tools: background color, the main graphic menu, and buttons to remove the graphic altogether or upload your own graphics or photos.
The main graphics menu will show related images. If you don't see anything you like, try typing a keyword in the search bar to replace the image in the template with a new one. Or upload a PNG with a transparent background from your device.
Adjust the placement of the graphic and text, change the size, and add extra graphics – it's easy, and the snap guides allow centering and positioning of all elements with ease.
Here you can change the background color or remove it completely to use on your product mockups without the colored square behind the graphic.
3. Download Your New Design Template
Once you're happy with the design, download it to your device to use on product mockups for your brand. Free account owners can download one free hi-res design to use on Placeit apparel mockups or the Printify Mockup Generator to create custom t-shirts for your business.
But, as we mentioned earlier, the paid subscription is worth it, as it allows the creation of unlimited mockup templates for your t-shirt business.
4. Create and Download Product Mockup
In the website's top menu, select

Mockups

In the dropdown menu, find

Apparel → T-Shirts.

Like with the design templates, mockups for tees are categorized by tags.
Placeit has a huge library of high-quality images. Among thousands of photos and images, find lifestyle settings, flat lay images, and various occasions for your photo-realistic t-shirt mockup.
When you select the mockup you'd like to use on your social media channels and eCommerce store, you'll be taken to the mockup studio. There, on the left-hand side, you can upload the design you created previously and add some text to spice things up and make this mockup truly yours.
Crop and scale the design to adjust it on the image. On the right-hand side, you'll see a live preview, so you can see how large and where exactly on the product the artwork is positioned.
When you've placed the image the way you like it, click Crop, which will bring you back to the design space.
On the right side of the screen, you can see all the tools: change the color of each product, add, change or remove the overlay, and add texture.
You can download the image when you're happy with what you see. Just a one-off download costs more than a month's subscription. But if you want just one, who are we to judge? 
No matter your choice, you'll have a high-quality mockup photo to use on your social media channels and in your online store. Just be mindful that the t-shirt on the mockup should look the same as the shirt you're selling.
One more thing regarding Placeit's tools: they have a fabulous logo maker that you can not only use for creating your brand logo but also make t-shirt designs as well.
Placeit offers product mockups for popular t-shirts, like Bella Canvas 3001, 3001T, and more. When it comes to mockups, Placeit is indeed wonderful with its themes and setups. 
However, to create mockups that you'll use to sell t-shirts online, you can also use the Printify Mockup Generator. Continue reading to learn more about that.
How to Sell Your Placeit T-Shirt Designs With Printify
Printify is a print-on-demand dropshipping platform. Print-on-demand is a unique order fulfillment method. It consists of printing a product only after the customer pays for it, which is great for several reasons.
First, there's no waste, as the products are printed on demand. And second, sellers no longer need to keep bulky stock in the corner of their bedrooms or pay for storage space. 
Also, merchants don't need to worry about anything that happens after they make a sale. The whole process, from printing, fulfillment, and packaging to shipping and customer support, is entirely in the print-on-demand site's hands.
Print-on-demand sites like Printify also hook you up with online platforms and marketplaces like Etsy, Shopify, Wix, WooCommerce, and others via easy integrations, where you can open a store and sell your beautiful creations.
So, how to sell your Placeit t-shirt designs with Printify? Glad you asked! Here's how to do it in six simple steps.
Choose a Product From the Catalog
Head to Printify's catalog, which is currently home to over 820 products (and counting), and select the product you wish to design. Under each product, you'll see all available print providers. Choose the one that makes the most sense to you based on the price, location, rating, color variants, shipping times, and rates. 
Then click Start designing to get instantly taken to the free Mockup Generator we mentioned earlier.
Here, you can upload the designs you created on Placeit or elsewhere (by hiring a graphic designer or designing them yourself in software like Photoshop or its free alternatives).
Edit and Save the Product
Printify's Mockup Generator is super easy to use. Get creative and upload up to five layers to add to your t-shirt. Use the text edit tool and its many trendy fonts to add some words.
On the right-hand side, select all the shirt's base color variants you want to offer in your eCommerce store.
When you're happy with what you have, press Preview to see a realistic product mockup. You'll see multiple options – flat lay and on a person. If you see that some additional adjustments are needed, click Edit to resize or reposition your design.
Once you're done editing, press Save product to proceed. Then, you'll see all available mockup options. If you don't like any of them, click the long blue button that will take you to Placeit.
As mentioned earlier, Printify integrates easily with some of the most popular eCommerce platforms and marketplaces like Shopify, Etsy, eBay, Wix, WooCommerce, BigCommerce, Squarespace, and others. Choose the one that works best for your brand.
Publish and Start Selling
When all your product mockup images are nice and ready, your brand new store is connected with Printify, it's time to publish them to your online store. 
You can effortlessly do it straight from your Printify dashboard. Edit product descriptions and prices, and – voila! – your t-shirts are now up for grabs.
Name a more epic duo than Placeit and Printify. We'll wait. They go together so beautifully.
Placeit lets you create amazing product designs, mockups, and even your brand logo, promo videos, and social media images, while Printify provides a super low-cost opportunity to start an online business selling fabulous t-shirts and other apparel and accessories. 
Create products and mockups and start making money online with your beautiful designs powered by Placeit's t-shirt template magic.
Share the article
Topics