How to respond to negative reviews: A step-by-step guide to dealing with negative customer feedback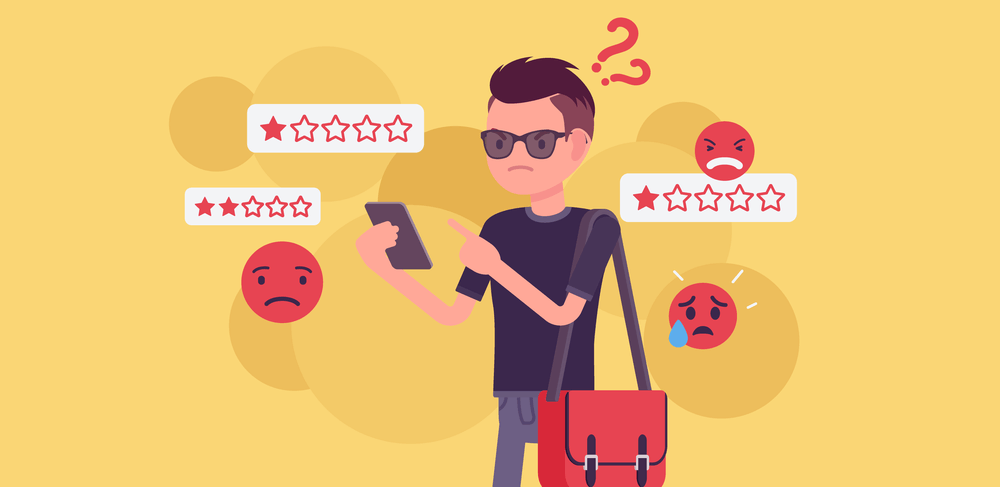 Most businesses don't prioritize responses to customer reviews. Like Harvey Specter from the popular American drama series Suits once said, "One client doesn't make a firm." But if you plan to grow your business, then every customer matters. 
Even more important is the customer's friends and family. That's because a satisfied customer tells at least three friends. However, an unhappy customer will go on to inform at least 15 people. 
So, naturally, you want to know how to respond to negative reviews. You'll learn how to do that in this article. But first, find out how negative reviews can impact your business.
Negative reviews and their impact on your business
Negative reviews have always been a problem for business owners. But now, with the rise of social media platforms, it's easier than ever to spread one bad review across various outlets. That can make the impact of a single bad review catastrophic for an entire company. 
For some, the idea of a single review destroying a company might seem like a pure exaggeration. But the statistics don't lie. One bad word can make 94% of consumers avoid your company without even giving your business a chance.
Online reviews are instrumental tools in driving consumer behavior, with 93% of consumers relying on them to make purchase decisions. From the look of things, it doesn't matter how many good reviews come in; one bad is enough to harm your overall reputation. 
Why should you reply to negative feedback?
It's always tough to read a bad review. However, the silver lining is that you can still turn things around if you know how to respond to negative reviews. Why? Well, most customers who post negative reviews don't do it because they enjoy it. Turns out most of them are disappointed and need an outlet where their words will be heard and addressed.
When you first read a customer's criticism, try not to take offense or get defensive. Instead, see it as an opportunity to make them happy – if not happier than before. Of all the customers that submit negative feedback and reviews, over half of them expect responses within days. 
But guess what? As much as 63% of companies never say anything back, losing them tons of potential customers and existing ones. However, when brands reply with something positive, at least 40% of buyers are likely to visit that brand again and do business with it.
So, given a choice between responding and silence, you should always lean toward openness and empathetic replies. Not only because this keeps the conversation about your brand going, but also for the following reasons: 
Giving prompt responses to any review, whether good or bad, is just the polite thing to do. Failure to do so is an obvious red flag. 

Prospects are always after the best service. If you don't reply to their feedback, you might make them reconsider their decision to purchase from you. 

Responding to customer complaints is a way of earning back customer trust. If you do it with class and honesty, your customers will be more willing to use or recommend your services in the future. 

The level of seriousness you attach to reviews also shows your customers your commitment to improvement.

As any top SEO agency will tell you, your Google reviews impact your search engine ranking.
In other words, your best option is to use negative feedback to your advantage. Know how to respond to negative reviews and you can do just that. 
7 steps to dealing with negative customer reviews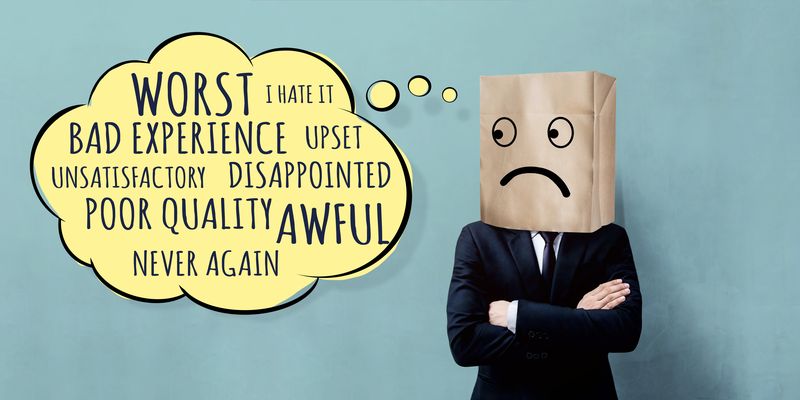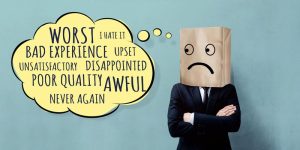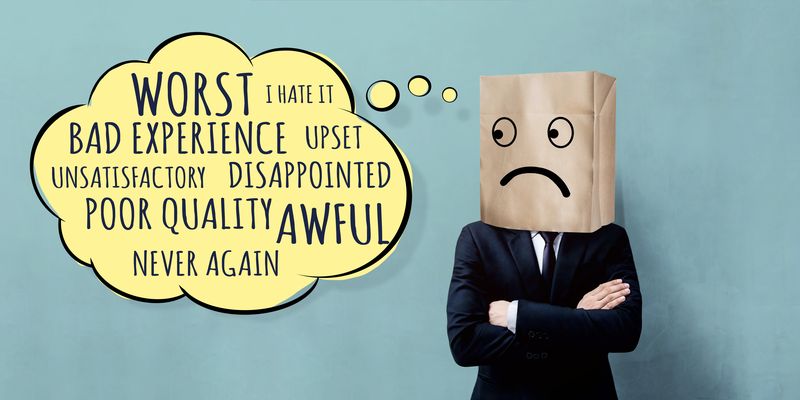 So, how exactly can you deal with negative customer reviews? Let's dive into the general framework that you can use to address negative feedback whenever a disgruntled customer leaves you a few words online. 
1. Make a plan for how you will respond
It's vital to have an action plan in place for negative reviews before launching your products. Such reviews will always be upsetting, but you don't need to panic. The key elements to consider if faced with a negative review include: 
When it comes to customer service, timeliness is crucial. You should know how to respond to negative reviews within a minimum of 24 hours. Failure to respond may escalate the situation, resulting in the customer badmouthing your company, both online and offline. Hence, you need to have an answer ready for different scenarios and reply ASAP.
As a small business owner, you can manage these issues on your own. However, once your company begins to expand, you will have to find that "special" somebody to take charge of replying to customer reviews. 
You must make sure you respond appropriately and effectively, even if you have different sites targeting separate audiences. Therefore, you need an established review policy to ensure consistency across all channels. Your review policy should outline the tone, choice of word (appropriate and inappropriate words/phrases), escalation paths, and timeliness.
The members of your team in charge of responding to feedback should be aware of this plan so everyone is on the same page and acts accordingly.
2. Develop response templates
Writing a response is much easier when you have templates to follow. These templates should contain all the elements such as issue acknowledgment, an apology, and an explanation for what happened. You should also offer help or compensation when necessary. 
However, customers know that many companies use reply templates, so it's essential to personalize your responses (but still maintain your brand identity). The goal is two-fold: 
To understand where customers are coming from 

To sound as human and relatable as possible with your words
With this in mind, you want to make their day a little better. Hence, it's vital for you and your team to remain present and committed to finding out where things went wrong. Then you need to follow up on promises made. 
Furthermore, when responding to your customers, always use their name and be transparent about who's making the reply to the disgruntled customer. That way, there's no confusion between company representatives during interactions.
You should have email templates for responding to negative feedback via email, too. Some customers prefer to send their complaints that way. Just use a good email marketing service to create those.
3. Acknowledge the problem
Although your business will not always be at fault, it still needs to acknowledge customers' concerns. The recommended way to begin your reply then is this:
"We appreciate you taking the time to contact us about this issue."
The sentence above might seem simple, but it's a compelling one. It sets your customers at ease, letting them know their voice is heard. Customers will assume you're working on resolving the issue because you took the time to acknowledge it. Therefore, you need to do just that and take the necessary steps to fix it. 
A classic example is from Wendy's Twitter account (@wendys). Wendy's is famous for its customer service. Just look at how it went beyond its usual pleasantries to help a Twitter user who expressed dissatisfaction with one of their locations. In this situation, Wendy stepped up by offering direct communication with the angry consumer. Not only that. Wendy's acknowledged there was indeed a problem.
Subsequently, the company also resolved the issue.
4. Express regret to the customer
Even if you feel there is nothing to apologize for, it's crucial that the customer feels heard. An apology shows you care and are concerned. It may help deescalate a situation before customers have profound negative feelings about your business. 
Besides, you may have something to apologize for. Your customer felt compelled to write a review, so, in a way, they were already inconvenienced. They used that precious little time they had to write a complaint about you.
So, state in clear terms how much you regret the customer had to go through whatever they went through. "We're sincerely sorry for the inconvenience" is short and straightforward. It gives the reassurance that something will change.
Pro Tip: Choose "sorry" over "apologize. "We're sorry" sounds more like you're really asking for forgiveness while empathizing with the customer at the same time. 
But, sometimes, an apology is not enough to make a situation better. In addition to providing an apology, you may also need more information that explains why your customer's experience was less than satisfactory. 
There are no laid down rules on when to explain. So, if you feel it's necessary for the sake of giving them some closure or understanding about what happened and the event affecting them, do it in a way that doesn't throw anyone else under the bus.
6. Provide an incentive to the reviewer
As I said earlier, your customer's bad experience is a potential opportunity. They are likely to forget about the product or service they wanted if something goes wrong and there's nothing you can do about it, right? 
Well, not really. Instead of despairing, offer an incentive such as a free replacement, discounts, coupons, among others. You can also offer store credit that expires if the customer doesn't come back again.
You'd be surprised at how those can make them feel better. When you make those offers, you also show empathy for their wasted time and the inconvenience caused. 
These gestures might seem small, but they go a long way in shaping customers' opinions. Remember, those 15 people your customer might have told their negative experience to? They'll also hear about the amazing way you handled the situation. It's a win-win for everyone.
7. Take the conversation offline
If the customer becomes satisfied with your initial response to negative feedback, then, good for you! If that's not what happens, just don't prolong the negative review thread. 
You wouldn't want your existing customers and prospects to see the thread and shy away from your business. Remember, nearly nine out of ten read reviews before making a purchase.
Instead, take the conversation offline. You have more time and space for discussions when you talk with customers that way, either through email or phone calls. 
Or another good way, you can attach a consulting proposal, which increases efficiency and encourages open dialogue with clients. Companies will be able to provide their customers better care by increasing access points for customer service.
Look at how this auto dealership handles a similar situation by giving out the number of customer service to take the discussion off Trustpilot.
Once a customer contacts you offline, you can't afford any delays. Do NOT offer to talk if it's inconvenient or unreasonable for either party. Your gesture will just come across as an empty one. 
When you finally talk offline, take a second to look at things from the customer's perspective and give a solution.
You might be tempted to ignore negative reviews, especially those that sting badly. However, you should take them seriously for your business's best interest. 
Instead of ignoring negative feedback, come up with a plan of action. The key is to empathize with the customer. Acknowledge the customer's issue and apologize for any inconvenience. Explain what went wrong and how you'll fix it going forward. Also, don't forget to offer incentives if applicable.
Remember, your customers are the reason your business even exists. If you listen to them and take care of them, they'll be more than happy to help you achieve greater success.
Share the article
Topics