$60,000 In 6 Months: How Terra Dime Of Puddin Threads Found Success On Etsy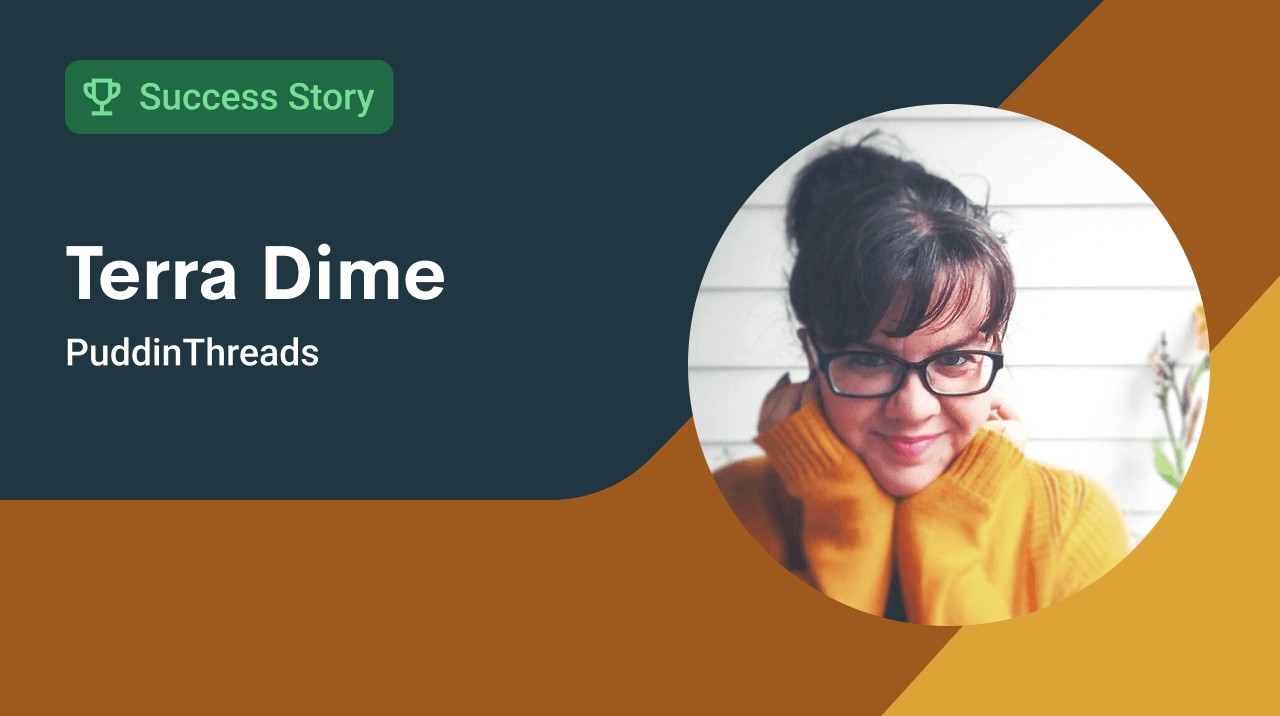 Etsy has grown to be one of the world's largest eCommerce platforms – it has over 80 million active users and 5 million sellers. But as competition on Etsy becomes increasingly fierce, as well as some recent changes on the site, many may wonder if it's still possible to make a decent income using the platform.
Etsy is one of the best places to get started with print-on-demand. A view shared with the subject of today's success story, Terra Dime.
Terra, with her husband Josh Dime, run a very successful Etsy store known as Puddin Threads. Terra tells us the story of how the couple found their design style after several trials and errors.
Plus plenty of tips and tricks to get the best from Etsy.
Gaining Traction After a Slow Start
Terra and Josh opened their first store in January 2021. In the beginning, business was slow, with the couple notching up just a single sale in the first month and only a handful more in the second. Terra worked on improving her SEO skills in the hope that more traffic will help, but she soon realized that her print-on-demand t-shirt designs simply weren't good enough.
"I had to figure out how to properly design a t-shirt. Although I'd had some success selling digital products in the past, I had never sold physical items before. At the start, I was putting out some really terrible designs. I mean, really, really terrible. I was born in the 80s, and I'm a child of the 90s, so most of my designs were neon – but not at all in a cool way. I guess my first tip to anyone starting out with print-on-demand would be to only sell products that you would be happy wearing yourself or giving to a friend as a gift."
After a trial and error process that Terra compares to "throwing spaghetti at a wall to see what would stick", the pair hit their first $1,000 month in the summer of 2021. Six whole months after the initial launch of their business.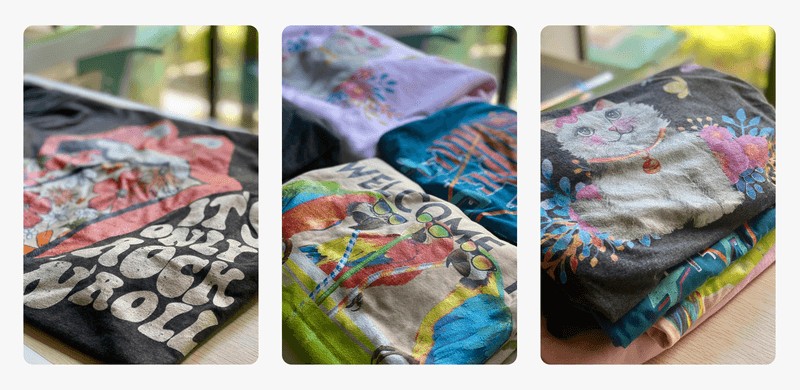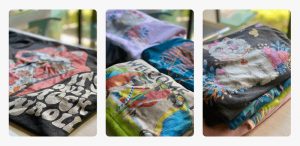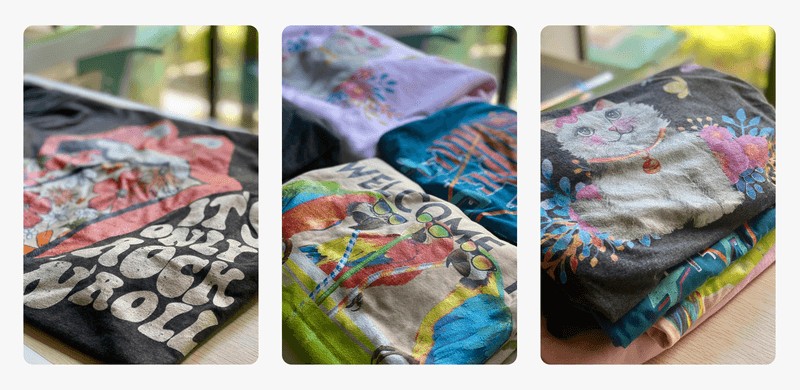 Growing a Small Business in a Pandemic
Terra had been a small business owner for years, six of which were spent as a wedding photographer. Despite her warm and outgoing personality, she describes herself as a "pretty antisocial person at heart", preferring to stay in her own bubble and be in complete control of what happens during her day.
"Although I was good at wedding photography, I began to panic that I'd be doing it every day forever. Even back when I was in college, I'd spend the summer trying to figure out ways to make money. But I have the kind of brain that just does whatever it wants to do, so a 9-5 was not an option. I hated the idea of such a huge chunk of my day being taken up by earning money and not having time to do anything else." 
In 2018, Terra began selling vintage items on Etsy. Her platform choice was primarily down to familiarity. She'd experimented with selling pendant glass necklaces as far back as 2008, so she knew that it was possible to make a decent profit there. 
"Etsy was the most affordable platform in terms of startup costs and fees, and I was comfortable using it. Etsy also has a great community, and it's still a really popular place to buy and sell items, despite its recent changes.
I started out by going to thrift stores and yard sales to look for vintage and antique items. I really fell in love with it, as I was able to connect with other people who were into the same things as me. Unfortunately, when the COVID-19 pandemic happened, the vintage industry took a really big hit. I ended up taking whatever small jobs I could find to make ends meet, even offering my services as a dog walker."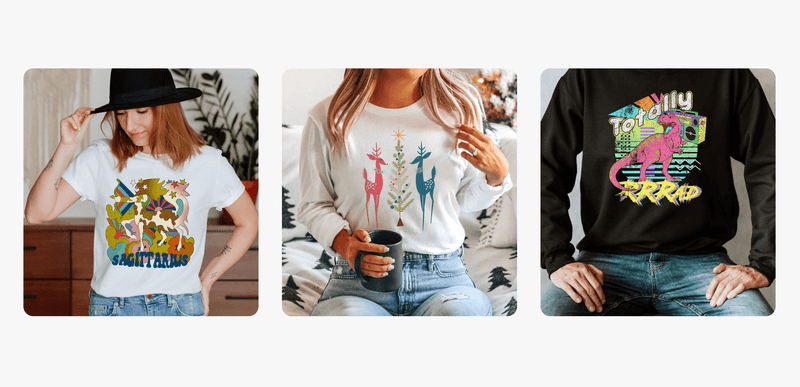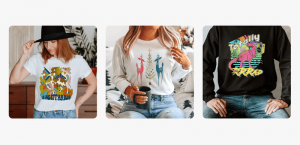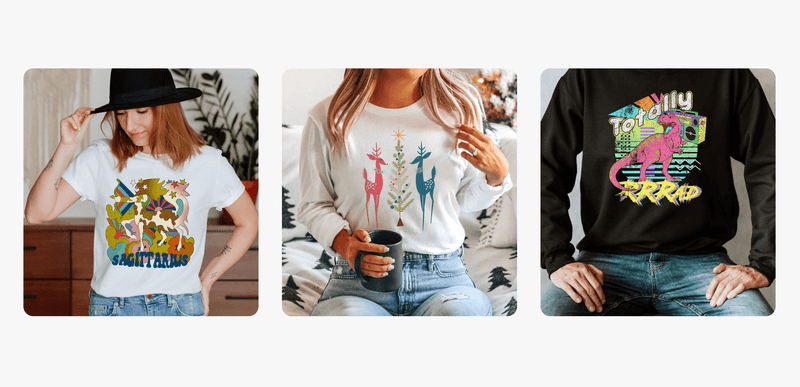 After searching for better ways to make a decent income online, Terra stumbled across someone on YouTube talking about print-on-demand. They explained that you only need very basic tools and skills to get a business up and running, and the cost of entry is essentially zero. Inspired, Terra sat down for a day and started learning how the process worked. She could finally see a light at the end of the tunnel.
"I finally felt like I would be able to start making money again with this idea, especially as COVID-19 had changed people's shopping habits. I've never been a Vogue or fashionista kind of person, so I had no idea what people were looking for. I started doing a little research and saw that the typical black or white shirt with simple, plain lettering was very popular. But I'm more of a weird, colorful kind of person, so those designs really didn't appeal to me.
Eventually, I came upon a few stores selling retro and vintage-inspired print-on-demand items and figured I could make that work due to my background in that scene. It wasn't a big jump for me to start designing retro items, and although it has been a slow learning process, once I found something that clicked with my own personal aesthetic, things began to work out well."
Retro-Inspired Clothing - The Puddin Threads Recipe for Success
Despite more than a few blips along the way, the last quarter of 2021 was a massive success for Terra and Josh. Once the pair settled into their chosen niche, they were able to sell around $60,000 worth of clothing in just 6 months, of which, $35,000 was pure profit! 
So what products did the couple sell to bring in these amazing sales figures in such a short time span?
"Although I've created a few posters, I want the store to have a cohesive feel. I like to stick to clothing items such as t-shirts and sweatshirts. I don't think that would be possible if I included mugs and bags for example. I've experimented with lots of different ideas and designs. Unicorns are very popular right now, perhaps because they were also big in the nineties. I have a collection of different unicorn designs – some are gloriously tacky, including one that stands gracefully in front of a big moon.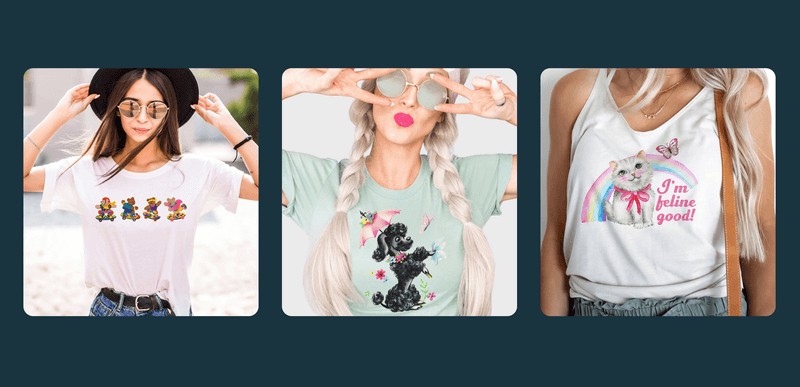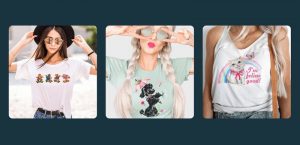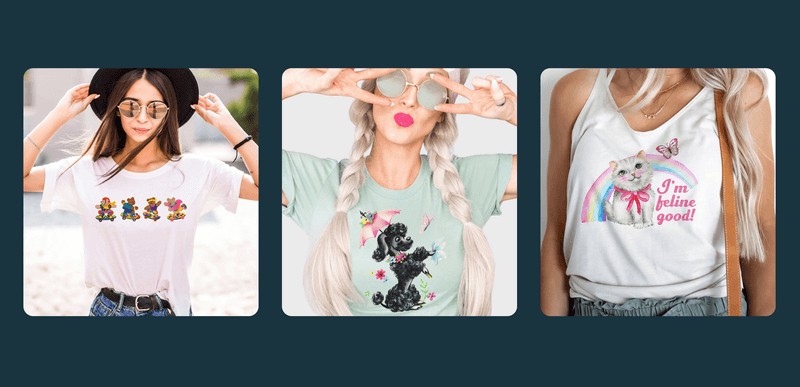 "My biggest success so far has probably been with Ziggy, who is a character from a 1970s comic strip. I was lucky enough to get copyright permission to use him in my designs. I think a lot of people remember him from their childhoods, so those designs have been really popular. Once I got into my stride with vintage designs, things really took off."
Keeping Tabs to Know Your Customer
Terra thinks that one of the biggest reasons she and her husband Josh have been so successful in such a short period of time is the detailed spreadsheets that she meticulously fills out every single day. 
"I always make lists of things that worked well, plus any mistakes that I've made or ideas that fail. Keeping track of experiments is really important. I recommend Airtable. They must know me by now as I send so many people their way.
I have multiple spreadsheets with different tabs, where I keep detailed notes of all of my customers' names and what they bought. This system has really helped me keep track of how well each of my designs is doing. Plus easily find out which colors are most popular by tagging entries with color codes.
I also keep a close eye on my outgoings and final profits after all the fees and shipping have been taken out. Honestly, it doesn't take too long now everything is set up. Everything works in dropdowns, and Airtable works out all of the calculations."
On a busy month with 200 customers to log, the process can take around an hour, but typically, with 50 or so customers per month, it will take just twenty minutes. It's my evening routine and isn't a big fuss, but the information I get is extremely valuable and really helps me spot the trends."
"Prepare Early, and Stay Consistent"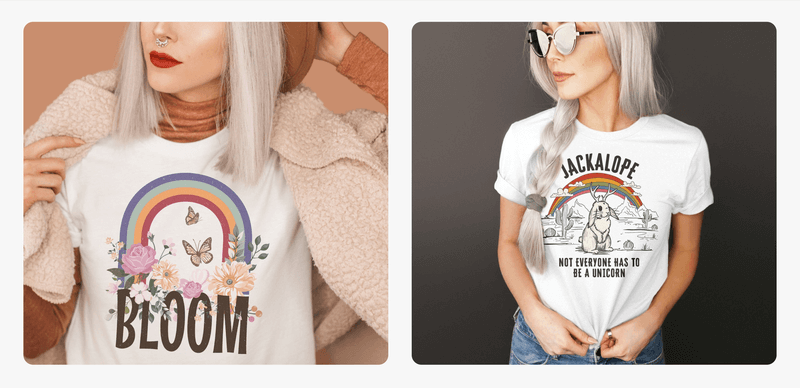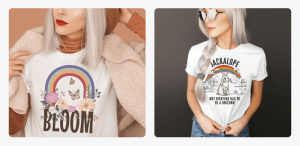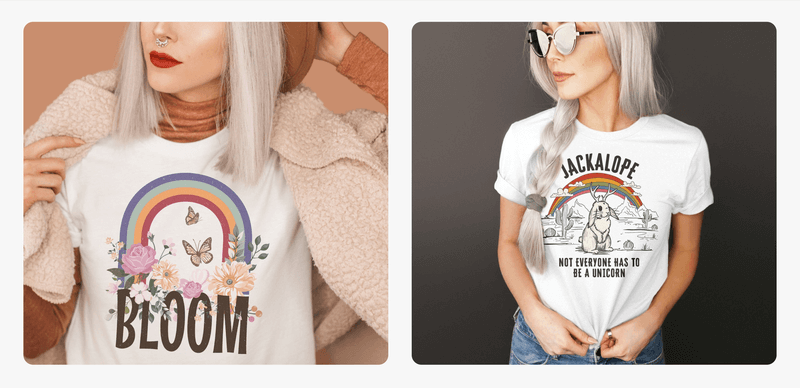 Many readers might be surprised to hear that despite their success, Terra and Josh haven't yet created a single ad campaign and weren't at all prepared for the busy holiday season at the end of 2021.
"I haven't run any ads, but it's definitely something I want to try this year. I also didn't have any Halloween or Christmas-themed items ready in the store. Evergreen designs are obviously really important, but I think we would have done even better at the end of last year if we'd been more prepared. 
This year, I already have a lot of Christmas, Halloween, and Independence Day items added, just so that the Etsy SEO algorithm has time to catch up with it."
"If your SEO is good, it can take as little as a couple of weeks to begin showing up in a decent position in search. Badly optimized listings can take as long as 30 days to 2 months."
As well as having a good understanding of SEO and ensuring that your product listings are correctly filled out, Terra is keen to point out the importance of hard work and consistency when running a successful online business.
"It's really important to design things that people have a strong emotional connection with. Even simple black t-shirts with white slogans can be funny. With the retro stuff, you can sell shirts that are copies of what someone might have bought their Dad for Father's Day in 1994.
I never stop designing or listing new items, which I think is a big reason we were able to be successful. I still try to list three to five items in each shop every single day. Rumor has it that if you continually tweak your store, changing titles and tags, the Etsy algorithm will favor you. You'll be even more popular if you keep adding fresh listings.
Another Etsy trick is to optimize your reach. I create my listings in the evening as drafts, then publish them each morning at 6:30.
I noticed that my biggest customer base was in Texas, which is in my timezone, whereas I was missing a lot of sales from the East Coast. That's why I post so early to ensure I have my listings ready so that the maximum number of people see them. I also post a couple more throughout the day, but I always prepare everything the night before, wake up groggily at 6:30, hit publish, then go back to sleep."
Start advertising your services to the neighbors and locals in need. This type of business can be super useful for seniors and people in rural areas. Aside from that, anyone who is too busy or simply unwilling to do things themselves would gladly use this service and pay good money for it.
The Move to a Standalone Online Store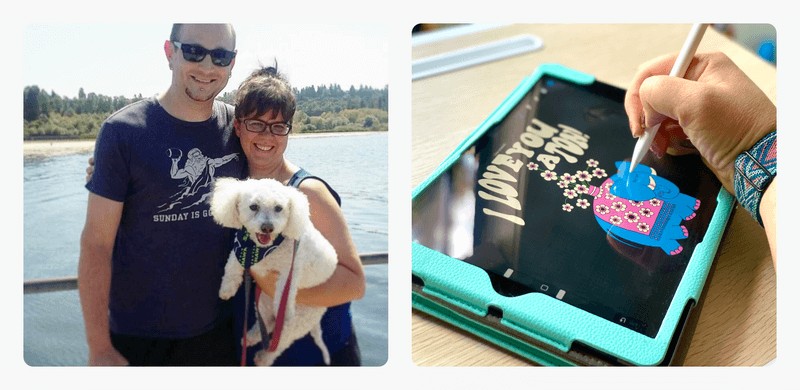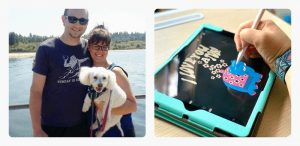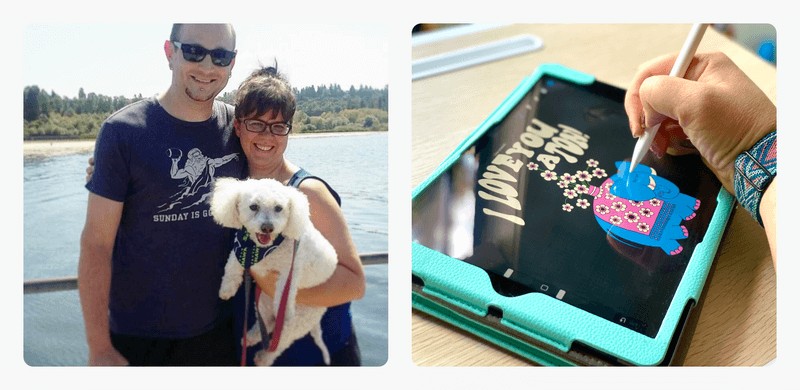 After her Etsy store took off, Terra began building a separate online store on Shopify but found it tough to run. Trying to balance learning about the intricacies of payment integrations whilst battling a deluge of spam and scammers just wasn't sustainable. Luckily, she discovered that Printify had an integration for Wix, and gladly switched. Terra and Josh have just launched their brand new Wix website – www.puddinthreads.com.  
"I'm trying not to put all of my eggs in one basket. Honestly, if I could be assured that my stores were safe on the Etsy platform, I wouldn't bother going anywhere else. I love Etsy but it works on IP addresses and if for some reason I have a user term issue in one store, Etsy could remove all of my stores and listings in one fell swoop. Obviously, that's unlikely to happen, but it shows how having all of your eggs in one basket can be dangerous. In theory, I could wake up tomorrow morning, and my entire business could have been wiped out, leaving me with no income to pay for rent or groceries." 
That's a pretty scary thought for someone whose Etsy business is their only source of income.
There are many advantages of running your business on Etsy. Etsy makes it really easy to experiment with your store's design and try out different niches.  Etsy also allows you to change the name of your business with little difficulty, something that, Terra points out, can be trickier if you're running a standalone website.
"With a website, you're going to need to change the entire color palette, the logos, and maybe even the domain name, which can be a royal pain in the butt. Those simply aren't issues on Etsy, so it's a much better place to be while you're finding your feet and settling on a niche."
"In an ideal world, my new website will be the primary source of income, with my Etsy stores acting as a safety net. Eventually, I'll only sell a curated selection of successful designs on my main website. The Etsy store will remain the experimental place where I can throw everything to see what works."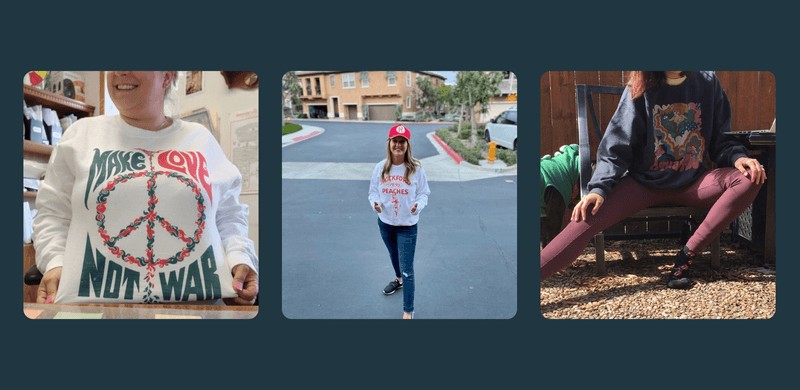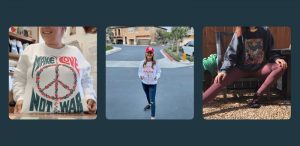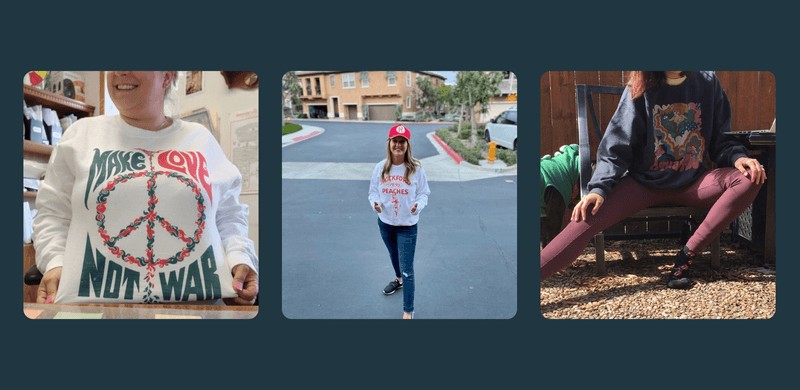 Now that Terra has successfully launched her website, she has discovered plenty of ways to drive traffic there without breaking any of Etsy's rules. 
"As far as growing your business and transitioning over to your main website, there are a couple of marketing tricks you can do on Etsy. For starters, you're allowed to have a link on your listings that encourages buyers to sign up to an email list for discounts and promotions, and then have a signup form on your external site. You may also add a link to your website or blog at the bottom of the "About Me" page. 
Adding your website links to a reputable site like Etsy can help your domain name rank on Google. Plus, customers like to support small businesses, so many will go to your website and buy from there to help you avoid Etsy's fees. Basically, so long as you play by Etsy's rules, it can be a great place to promote your main website while you're growing."
Are You Ready to Get Started?
If Terra's story has motivated you to finally take the step and open that Etsy store, check out our guide on how to sell on Etsy to make the most out of the popular online marketplace. Printify makes it simple to get started and grow on Etsy and other awesome sites like Wix and the newest marvel to the group, Squarespace.
We'd like to thank Terra Dime for taking the time to share her success with us, plus lots of valuable tips and tricks to help aspiring business owners.
Please support Terra and Josh Dime on Puddin Threads and their new online store, and check them out on Instagram and Pinterest.
If, like Terra, you have an inspiring success story and would like to be featured on our blog, write to us at [email protected] and we'll make it happen.
Share the article
Topics