Home Office Desk Decor Ideas That Will Make You Want to Hustle
Remote working has been on the rise for years with many organizations – from local authorities to long-established companies and start-ups – allowing and encouraging employees to work from home. And now, our work lives have been suspended, changing how and where we do our jobs. The challenge lies in how to adapt your living area to the new situation. Ergonomics, of course, is the number one priority. But right after that comes the visual enjoyment, so let's look into some home office desk decor ideas.

WFH and Home Office Trending On Google Search
Home Office Is the New Normal
Ever since I decided to say my farewell to the corporate life and become a free agent and switch from an office desk with chatty co-workers around to peace and quiet of my home, I've been working from my home office. It's been six years now, and boy has the things changed!
Initially, my 'home office' was but a mere dining table, a wobbly chair, left in the unit by the previous tenant, and the world's oldest MacBook. I used to sit there and type until I couldn't feel my butt from that uncomfortable chair and developed awful back pain. For me, though, it was still worth it. The only decorations I had were my clingy cat and a chipped vase with pencils for flowers. Two years went by until my first substantial paychecks started coming in, then I decided to splurge. I found a new place – my creative energy needed some space, and 100 sq ft wasn't nearly enough. By the way, kudos for all of you who love tiny living and/or roommates. But back to the point.

Now that I have my own space, I've dedicated a significant chunk of the living area to my office needs. But don't think mahogany desk and that green old-school table lamp. No, no. I went full-blown Pinterest in my home office area. Think motivational poster "Get Sh*t Done!" Think cute and girly mouse pad and even a mug for my pens and pencils with "World's Best Boss" (hi, y'all fellow "The Office" fans!) and other rad desk decor that oh so livens up space.
My bedroom used to be my sanctuary, but now that I spend 95 percent of my time indoors, my office is my temple, so I treat it like one: it's always organized, neat, and very, very pretty. Keep the desk free from visual clutter by removing extra items like files, office stationery, and extra papers. But don't shy away from decorating. When I was younger, I used to think Einstein was wrong when he said that "a cluttered desk is a sign of a cluttered mind." But now that I'm ALWAYS making my bed and ALWAYS tidying my desk at the end of the workday, my life has become so much more balanced and pleasant.

Fact: Our surroundings severely affect our wellbeing and productivity.
How to Set Up a Home Office?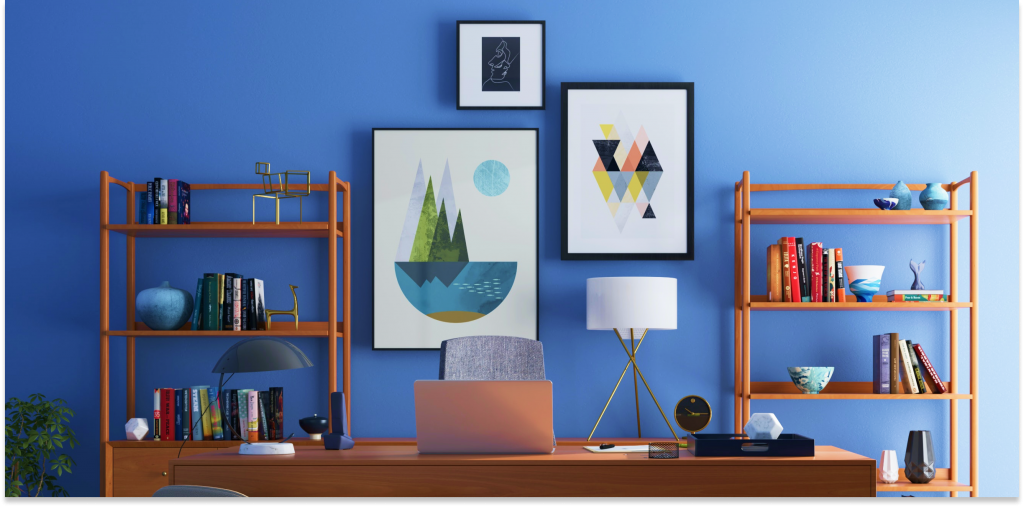 1. Find Your Space
If you don't have a designated home office space and furniture, you can work with what you have. First up, decide on space where you're going to study or work. Ideally, it's someplace nice and bright by a window. It will keep your eyes from straining. If you, however, have a spare room you can use as a home office, that's awesome! Go, decide on the colors, furniture and then scroll down to get some desk decor ideas!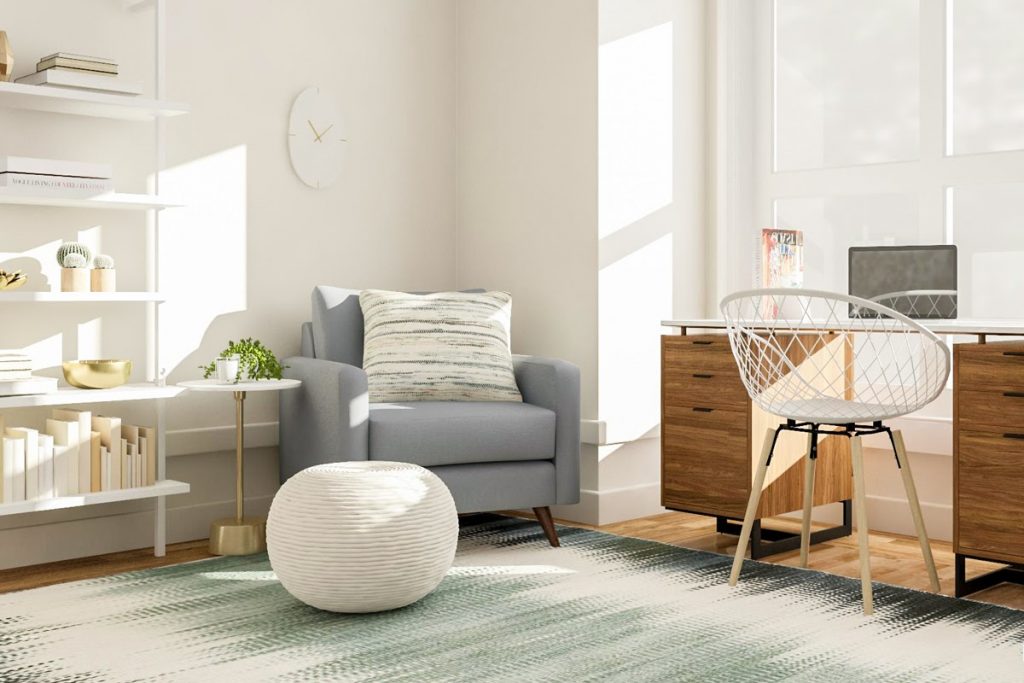 2. Ergonomics.
This is an important one. If you don't have an office chair that goes up and down at home (and only a few of us do), you can use a pillow and some books or a box under your feet. Make sure your back is straight, your elbows at 90 degrees to the table.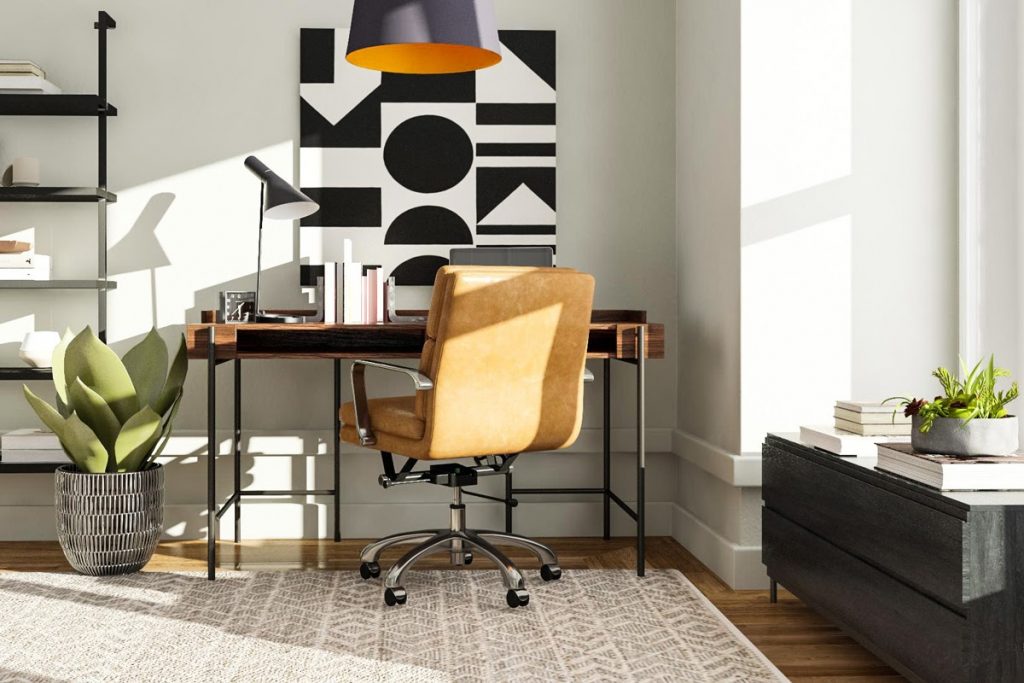 3. Screens
Try to keep your screen about an arm's length away, so your eyes aren't straining. The top of the screen should be at eye level, so your neck is not stuck in an awkward uncomfortable position. Avoid working from bed at all costs – it's bad for your back, neck and it promotes the development of a double chin. If you are using a laptop, treat it as if it is a monitor. Invest in a keyboard and mouse – you can order everything online, and trust me, you will feel a huge difference. Switching to a mouse from a trackpad was a game-changer.
4. Zoning
Arrange your home office into different functional zones so that you can ensure a good workflow and perform your daily tasks efficiently. The different zones include a desk, storage, stationery, and a separate area for the printer and paper. Avoid keeping the printer on your desktop as it will make your workspace look and feel bulky. Dedicate one of the desk drawers for chargers and other gadgets you need on a daily basis so that they can be easily accessed.

5. Color Psychology
Picking the right colors for your home office should stretch beyond individual preference. Color can impact productivity; thus blue and green are excellent choices. Beware of each color's negative attributes too—yellow, for example, can cause eye strain. But most importantly, choose calm, neutral tones, since that will help to keep the focus on the tasks you're doing. Scroll down for desk decor ideas that you can coordinate with your color scheme.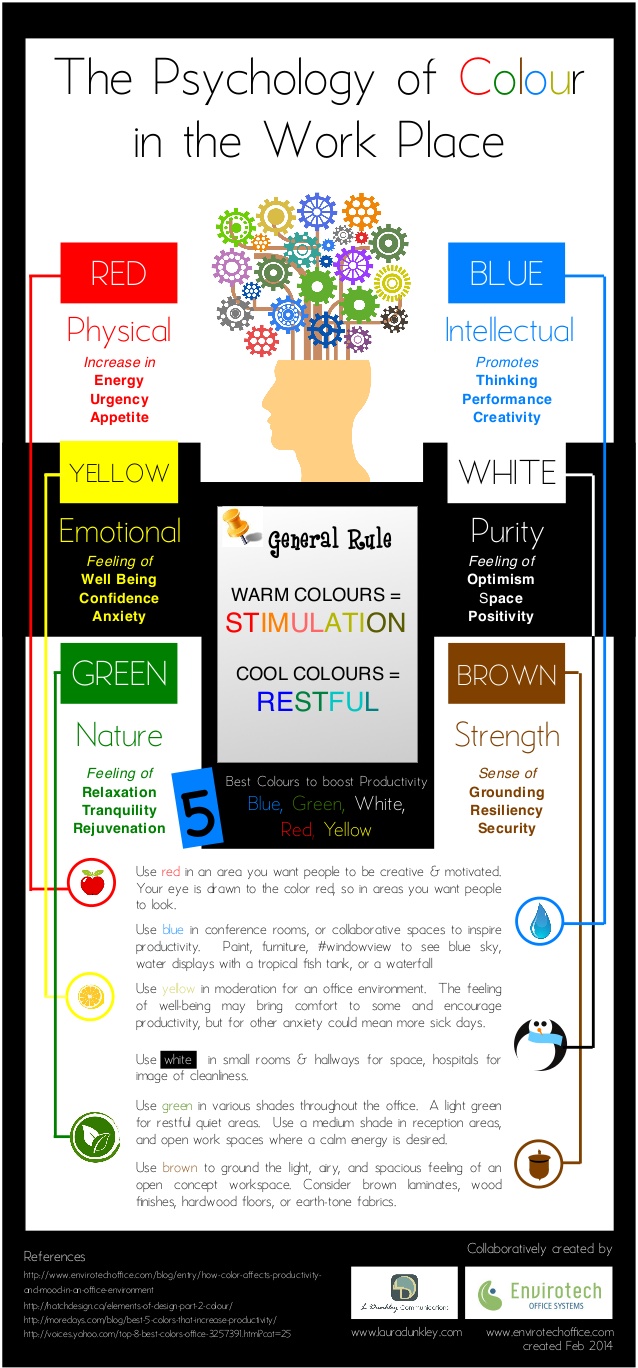 6. Productivity
While much of your workday is likely organized via different apps, there are several 'offline' options to keep to-dos top of mind and inspire you to stay on track:

Sticky note wall calendar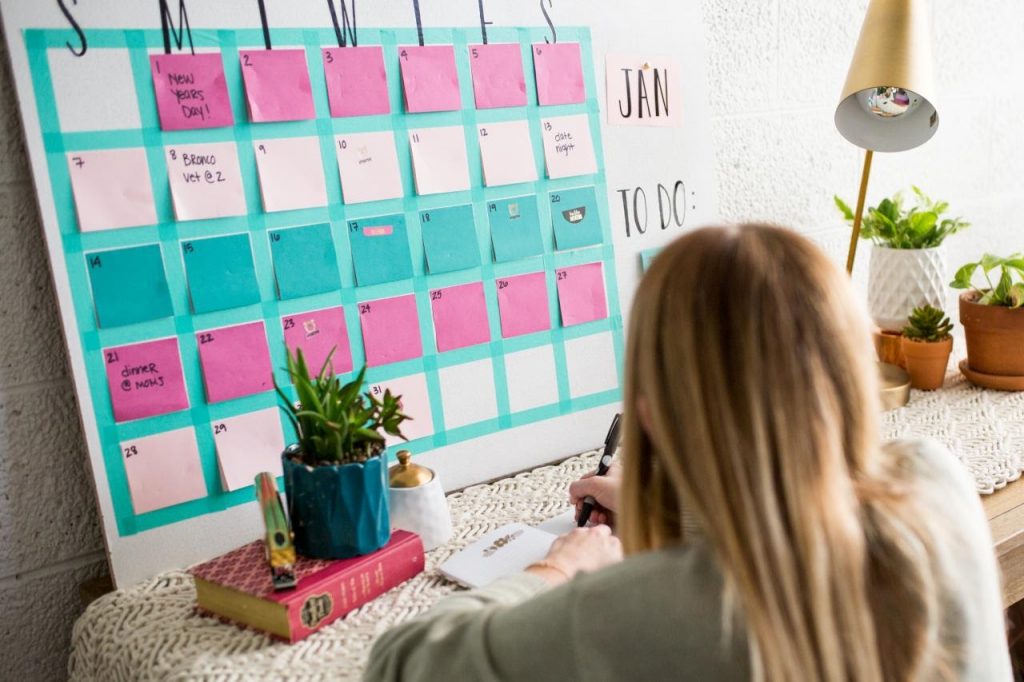 Eliminate yet another open tab in your browser by ordering a wall decal or custom canvas with a calendar grid for marking your sales, goals, etc.
7. Decorations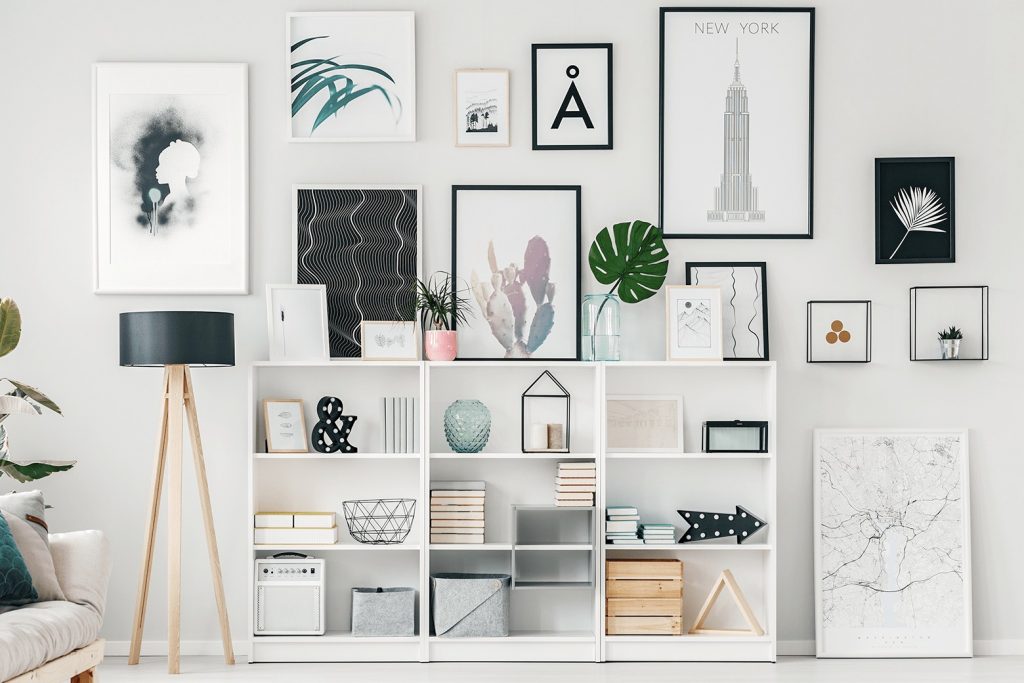 Finally, we've come to the fun part which is the part I love the most. With all the madness that's going on around, I want to help you guys out with some home office desk decor ideas to make your surroundings more suitable and pleasant for working from home.

Fact: Did you know that colors can affect your productivity? Check out this article to find out which are the best colors for a home office.
8 Home Office Desk Decor Ideas
In all of the beautiful photos you see in this article, there's one thing in common: attention to detail. A well-placed canvas, a mug placed in the just the right angle… details matter. If you're like me, you probably hate the cookie-cutter approach to life. You crave uniqueness. You need to not be like everybody else. And here's when customizable goodies come in. From mousepads to motivational posters, to cushions, to rugs.

Custom Rug
Yes, that's right, you can have your very own custom rug! Start it from the bottom, get it here. Express your style all over your home with a feature-worthy rug. If you've ever seen The Big Lebowski, you know that the rug can tie the whole room together, and I agree.

An area rug will surely make a style statement in any room. Add playful, colorful, or stylish graphics to effortlessly match your room's aesthetics.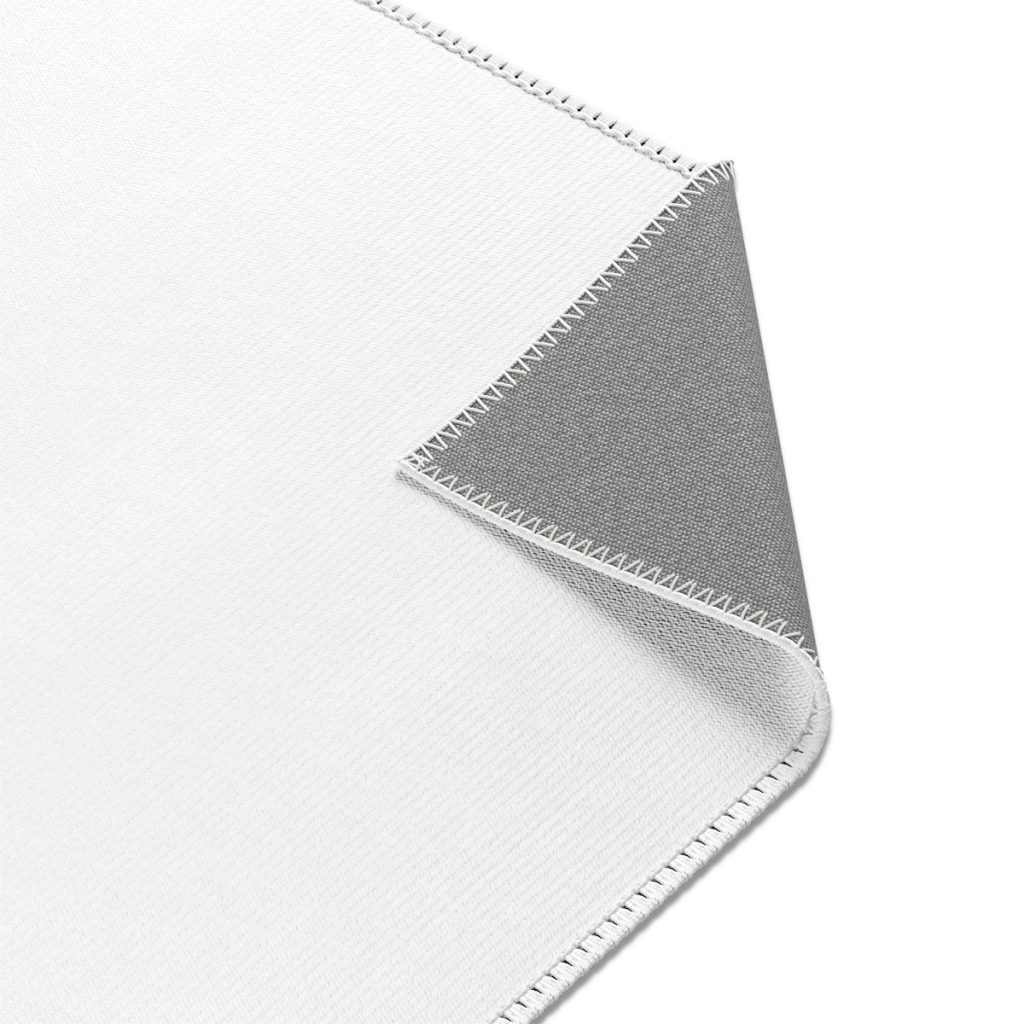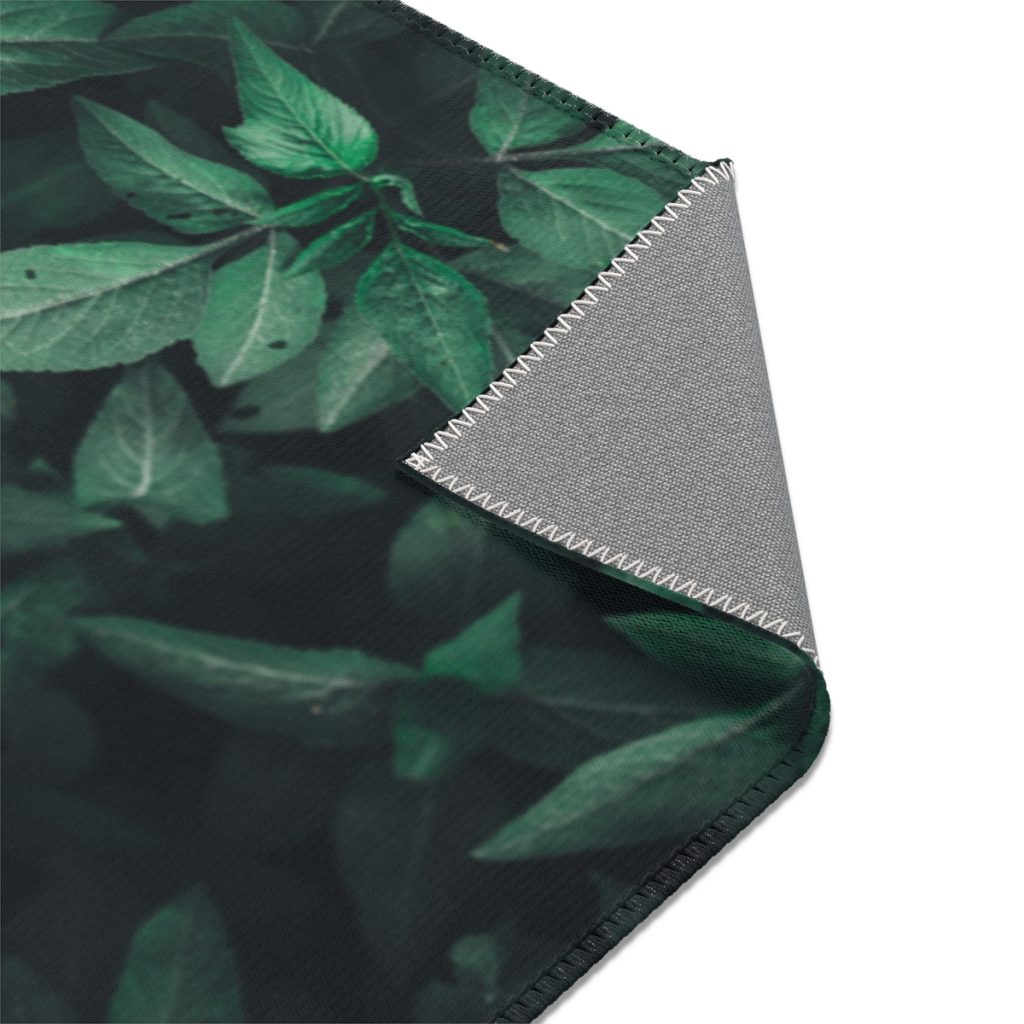 Custom Mousepad
Like I mentioned earlier, investing in a keyboard and mouse changed my professional life. I honestly hate the trackpad on my mac when I'm not working on the go. When it comes to mousepads, you want to make sure it not only looks good but is also non-slip. It's so annoying when your mousepad keeps sliding all over the place. This fully customizable mousepad is going to make for an appealing accent on any desk. It is high-quality, designed to provide a smooth, consistent, and durable surface. And when it comes to design – if you can't travel the world, your mouse sure can!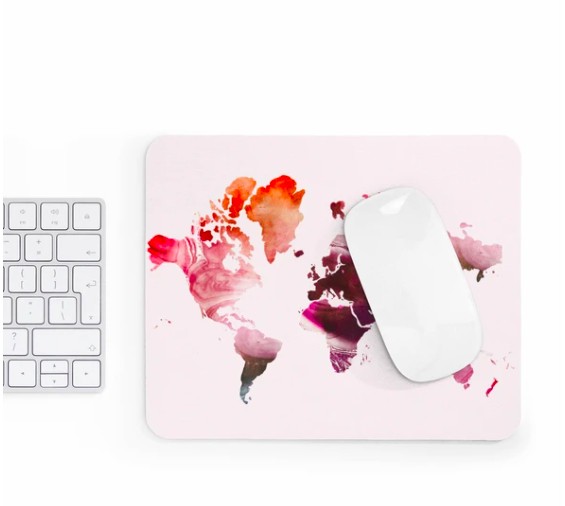 Custom Canvas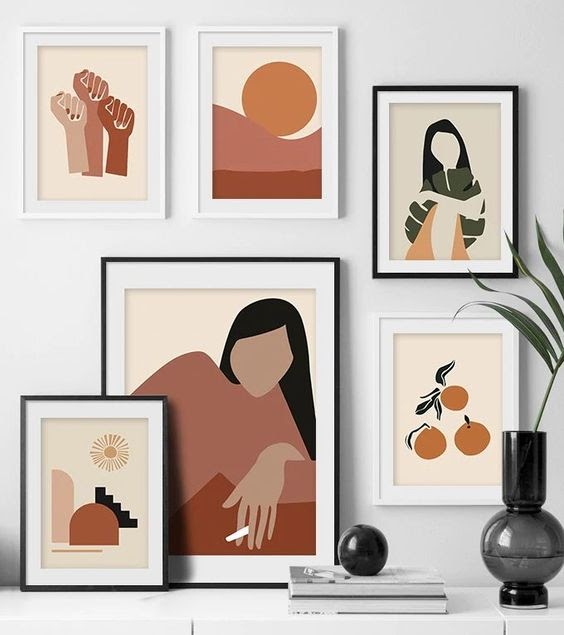 No desk decor ideas list would be complete without custom artwork. Decorate your home office walls with your artwork or your fave artist's art, or opt for motivational slogans that are displayed on high-quality canvas. Custom canvas prints provide a more versatile approach when decorating a wall. You can hang them with much less thought since they tend to adapt to any style. The vibrant pops of color create new focal points that liven up the room you're decorating.
In Printify catalog, you can find customizable canvas in 12 different sizes and 5 styles:
Stretched canvas that is gallery quality super durable wall decor, 
Gallery wrap canvas is designed to be displayed without a frame. They usually have thicker stretcher bars, and none of the fasteners are visible.
Framed gallery wrap canvas – available in different sizes, made for high-quality printing that will always look as tight and flat as the day they were made. Every frame is built with a solid face to support the canvas and prevent deforming.
Custom Posters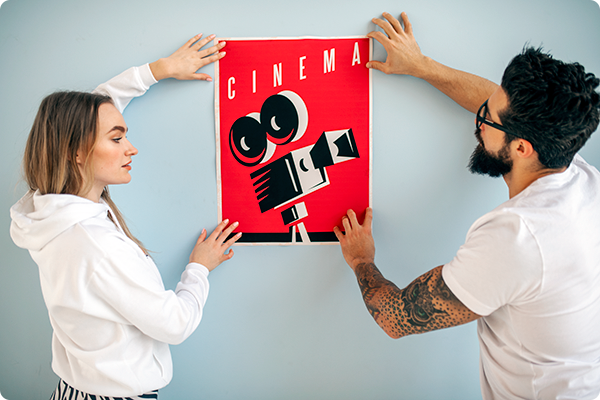 Every room deserves to be special and why should your home office be any different? Custom print posters in various sizes serve as statement pieces, creating a personalized environment. Motivational quotes, quotes by your favorite TV show characters, or even artsy photos, posters are a fun and easy way to change your home office mood. Frame 'em or hang 'em to give your shiny new office a personality!

Custom Wall Decals
If you don't feel like drilling holes in your walls, opt for reusable wall decals. They're fun to design and are a cheap alternative to framed posters and canvas. Plus, you can actually turn it into an offline Trello board, where you can track your tasks.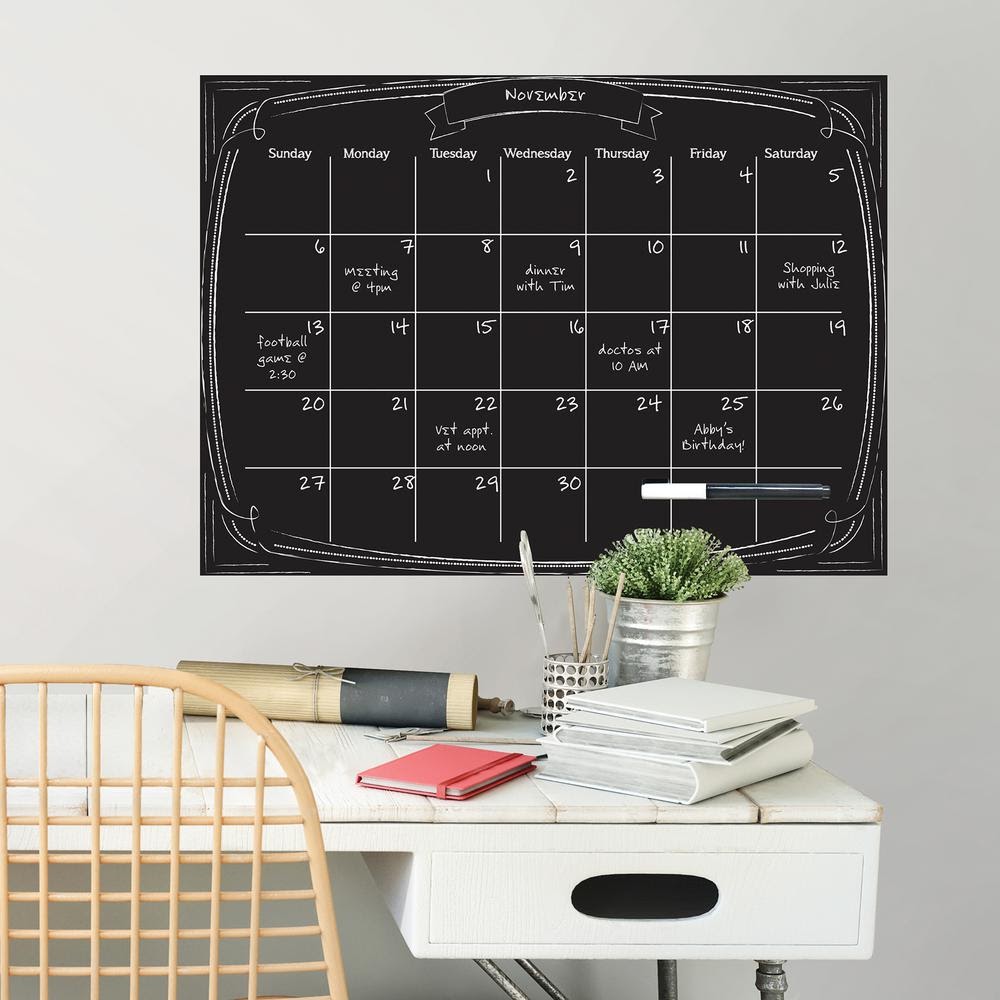 Personalized Blanket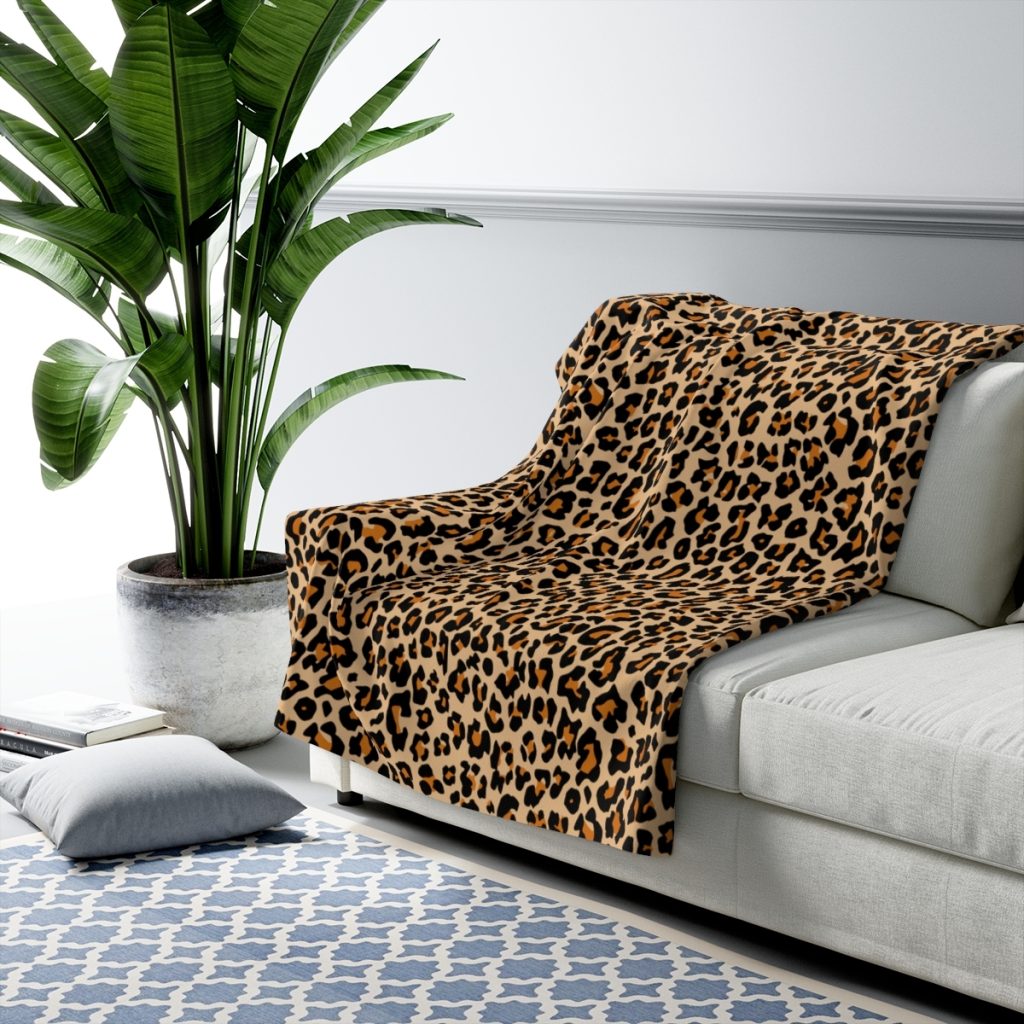 You can never have too many blankets, and you know it. Especially, when you can have one that's made for you by you! This customizable sherpa fleece blanket is unbelievably fluffy and warm. And it's the perfect size for snuggling in your shiny new home office chair in a chilly afternoon. And later take it to your coach to binge Rick & Morty.

If you're stuck home and miss your SO, why not wrap yourself in their photos? No, it's not crazy, it's sweet!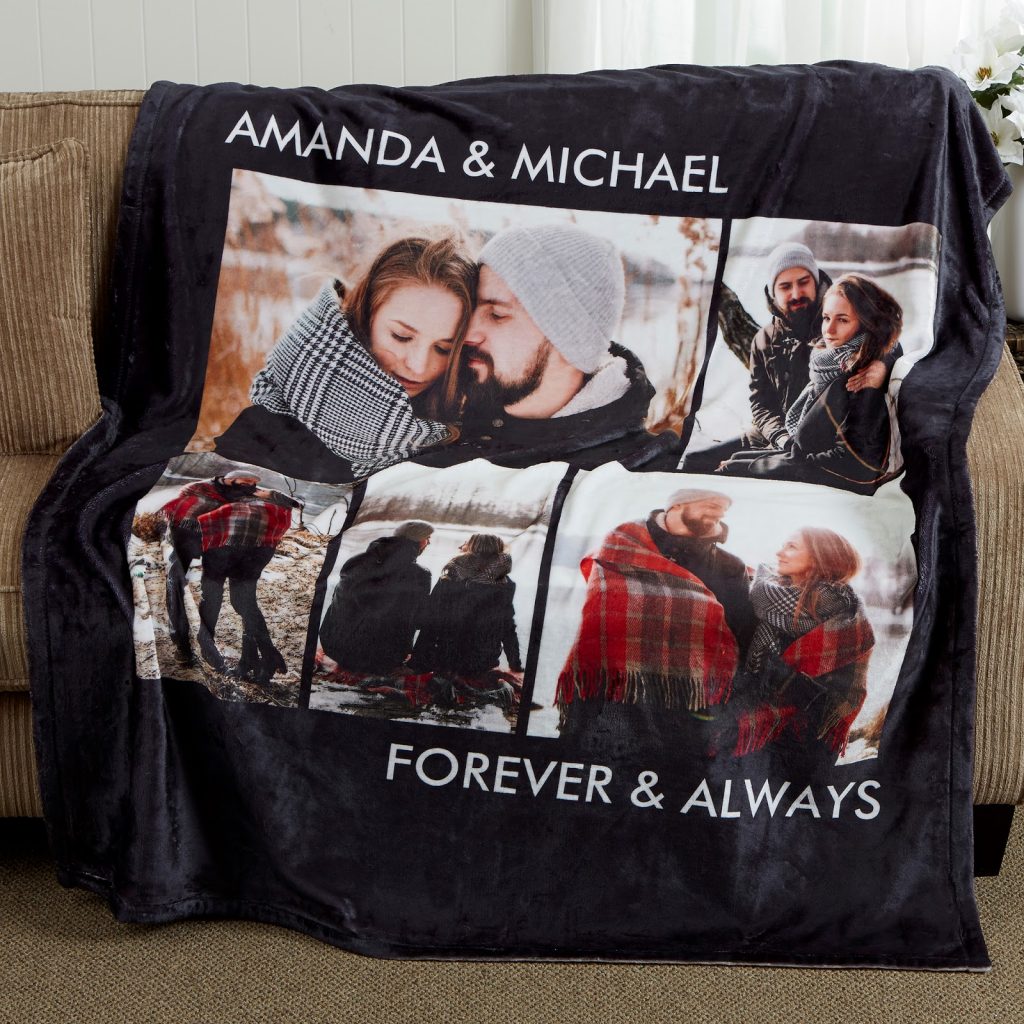 Hooded Blanket
Blanket, cape, or perfect fashion statement? Get yourself a hooded blanket! It's lightweight, durable, and very easy to clean and it will keep you nice and cozy in your home office. When this involuntary house arrest situation ends, you can take this hooded beauty with you anywhere!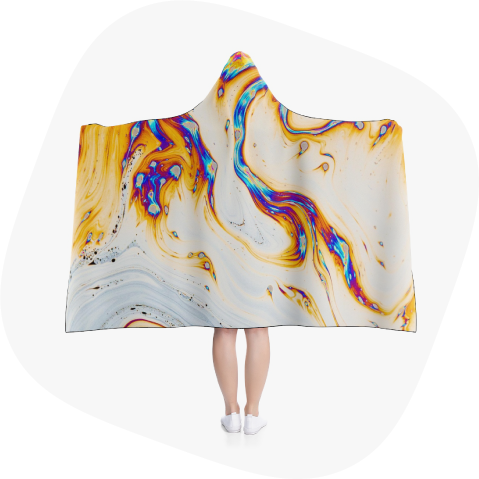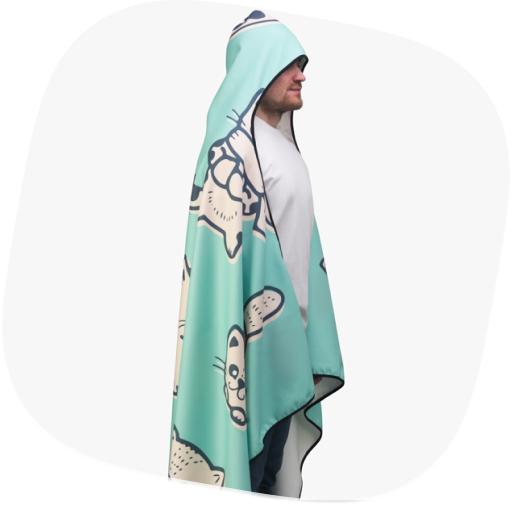 Custom Mug
Mugs are so versatile! Have your daily cup of joe or use it as a pen holder! Why buy an ugly plastic pen holder when you can design your own that's high quality and durable? That's right! I have my "World's best boss" mug where I keep all my pens and pencils, and I love it! Create your own mug, go snarky, or sweet, the choice is yours.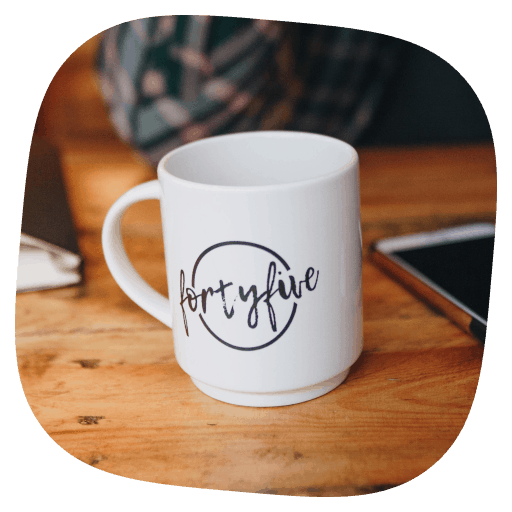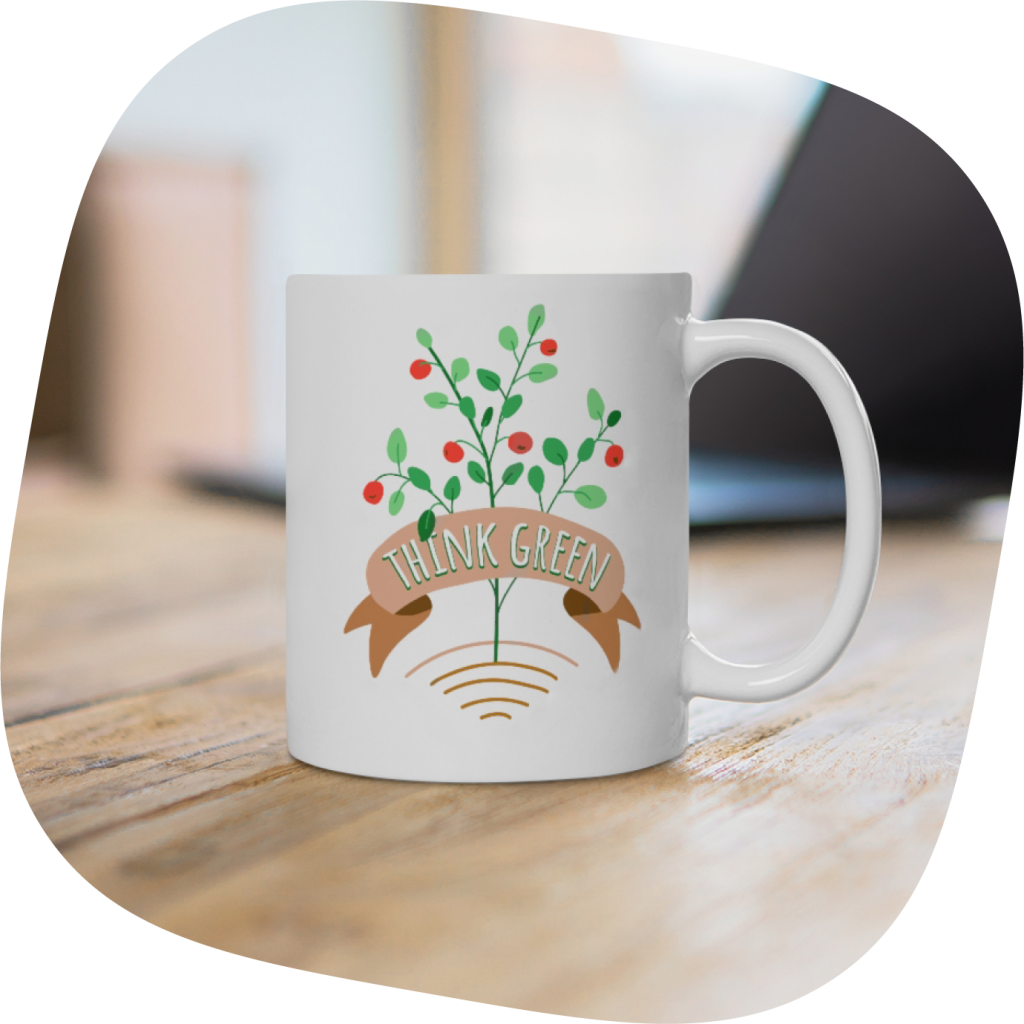 Desk Decor Ideas to Keep It Green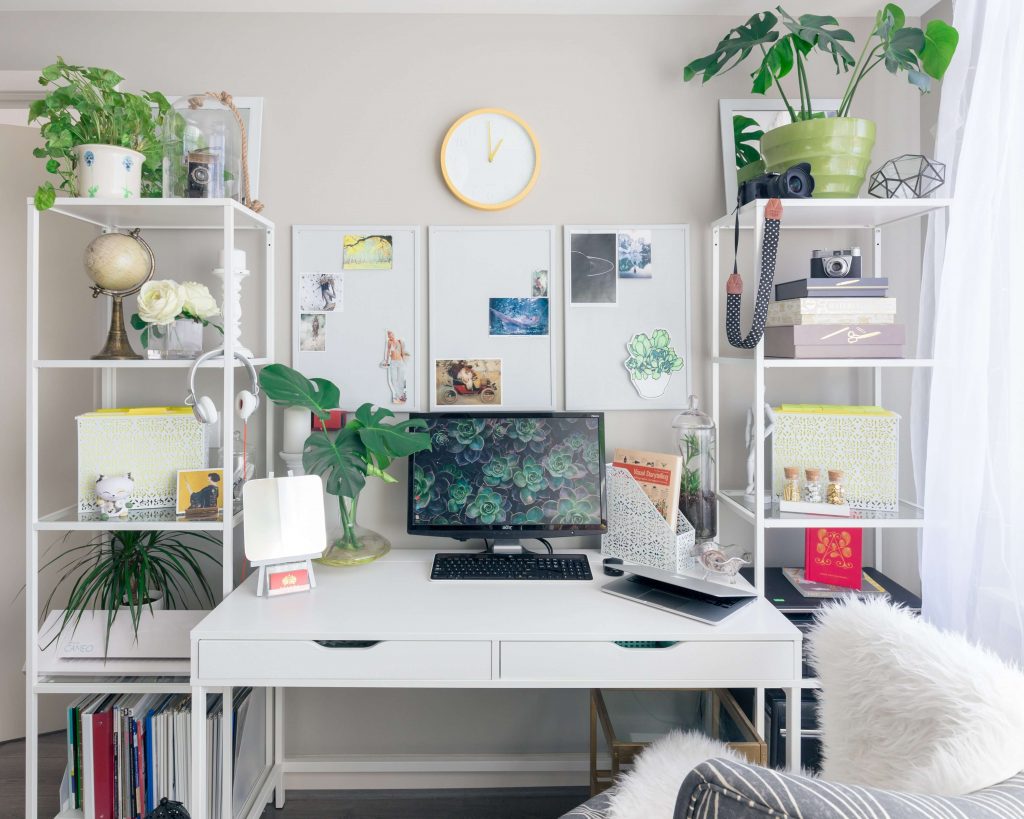 Greenery is often forgotten when it comes to home office desk decor ideas. Study shows that plants are vital when it comes to focusing; The American Psychological Association discovered that people working in spaces with plants showed 15% higher productivity than those with no greenery. Aside from refreshing your home office, plants add visual enhancement to the area while also promoting a healthy, calm environment. The best plants to include in your home office space are Peace Lily, for it doesn't need much light, plus, it helps to purify the air; Devils Ivy can adapt quickly to a variety of conditions; Chinese Evergreen is visually very pleasing and requires little maintenance.

Motivational Stickers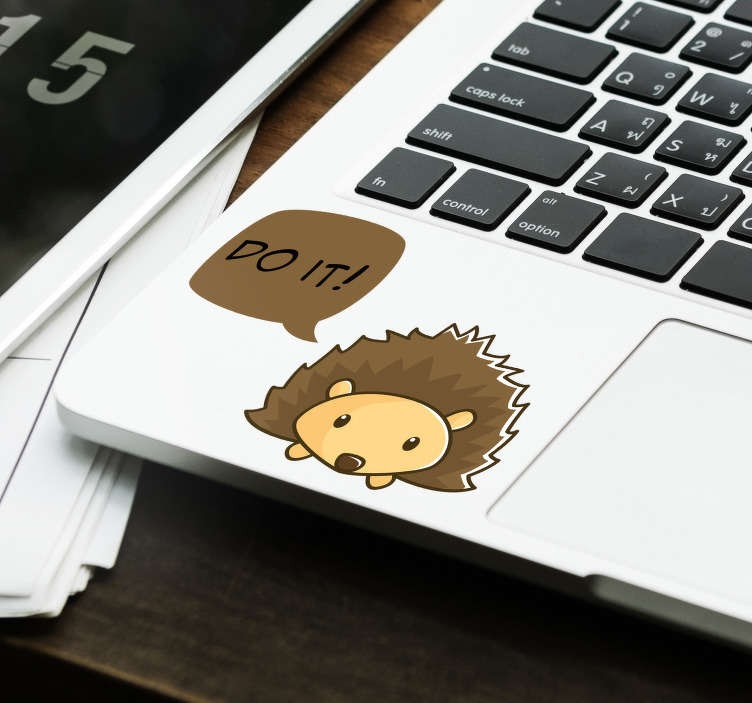 Show me one person who doesn't like stickers. Oh, okay, look away then, you snob! But the rest of us can't help but smile when we get our hands onto cute stickers and the gears in the brain are turning trying to figure out where oh where that precious little thing is going to go. For me, it's my laptop. Even though I'm well over thirty, I still enjoy a good sticker here and there. You can even order some with motivational slogans and place them all over your home to always stay motivated.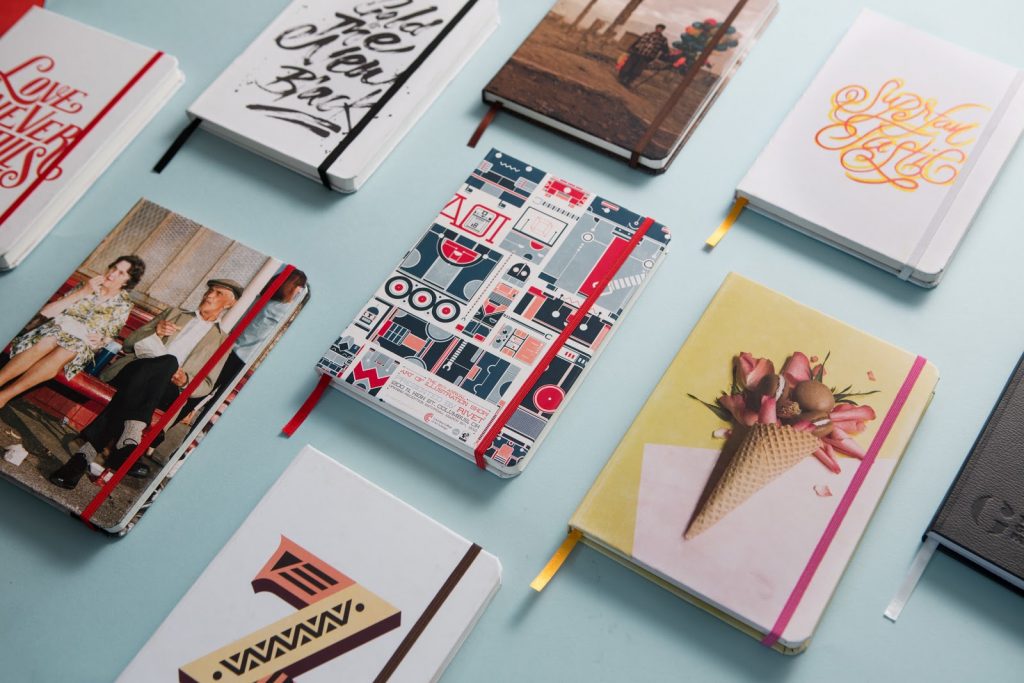 Design your own custom notebooks and journals, they're perfect for those home office to-do lists!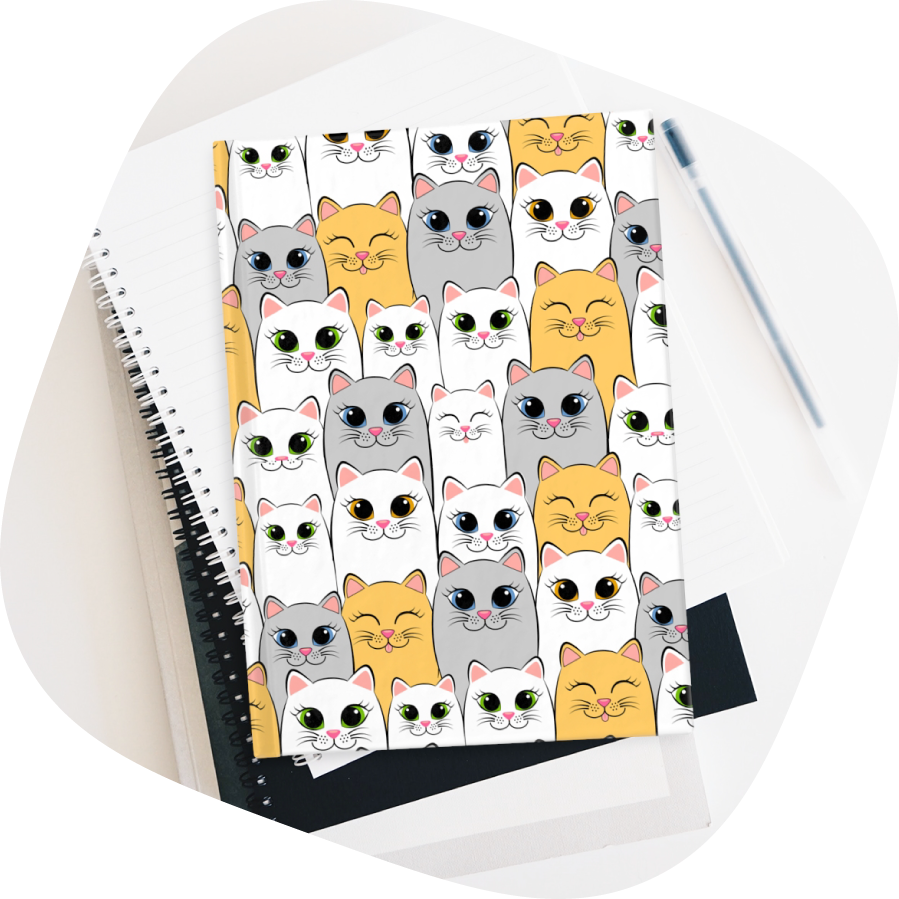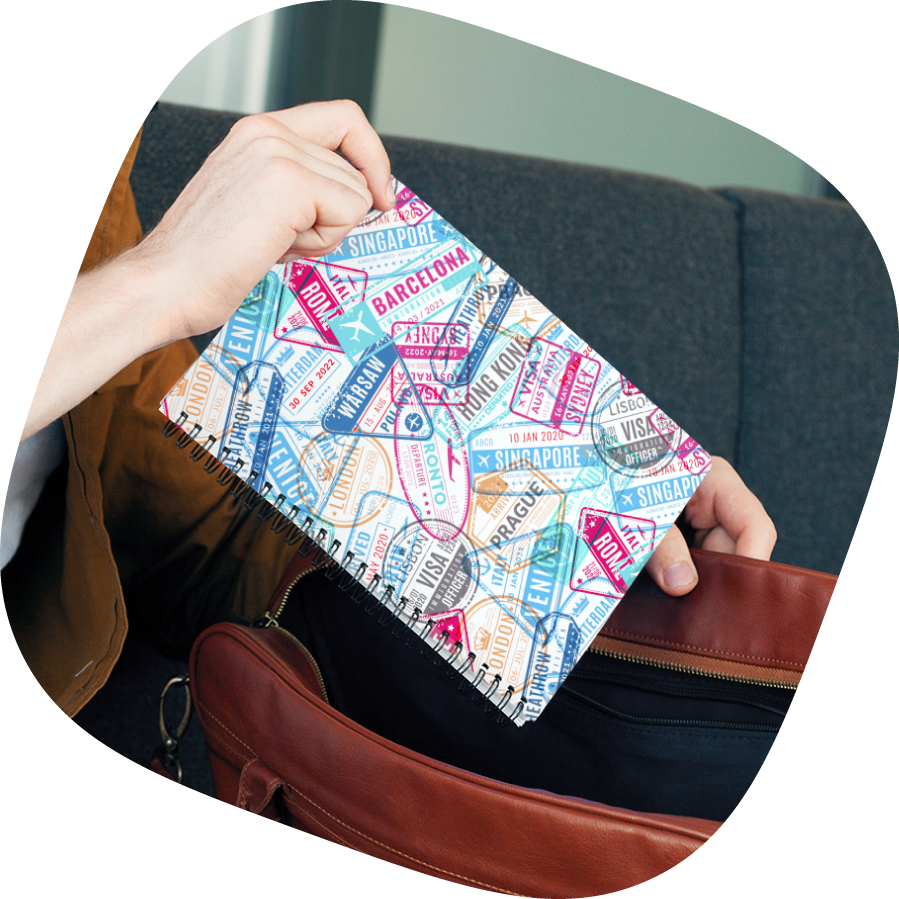 Custom Pillows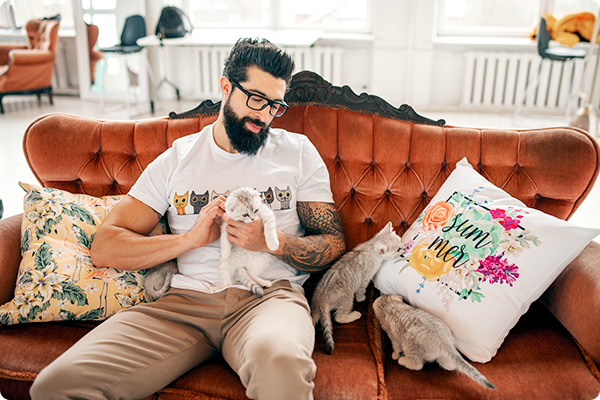 Before I said one can never have too many blankets. Scrap that. Pillows and cushions. One can never have too many pillows and cushions! Create unique custom pillows that will add a cozy touch to any space. Design your pillow to match the rest of your home office decor!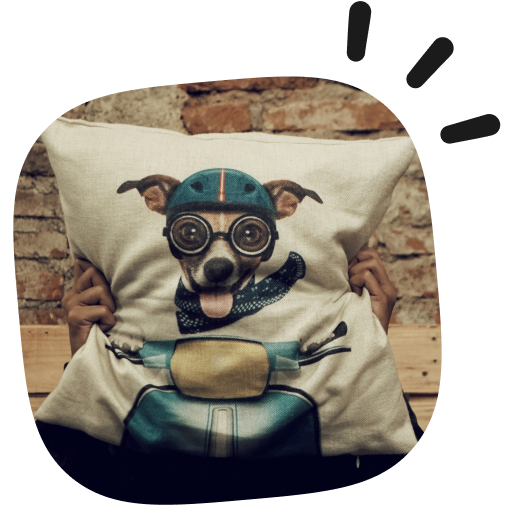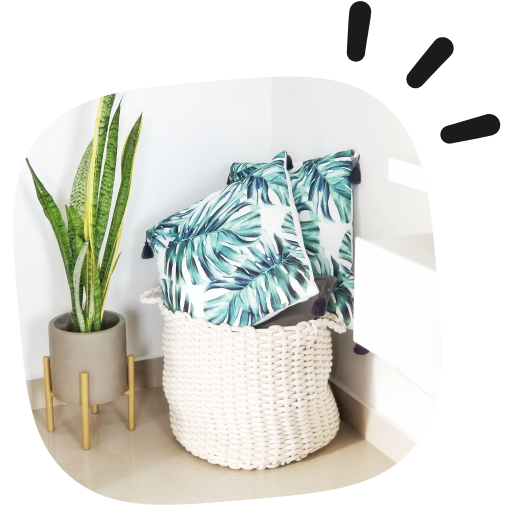 Laptop Sleeve
Protect your laptop in style! Design a unique laptop sleeve to match your mouse pad, cushions, or even your favorite loungewear (admit it, you haven't worn a piece of real clothing for weeks. I know I haven't).
AhavtiLifestyle Success Story ?
Now that you see, how easy it is to personalize your home office space, you can put your designs to good use and earn some side money. Connect your Printify account to Etsy, WooCommerce, Shopify, or Wix store and start selling.
Make it happen right now.
Share the article
Topics