40 Best Father's Day Gift Ideas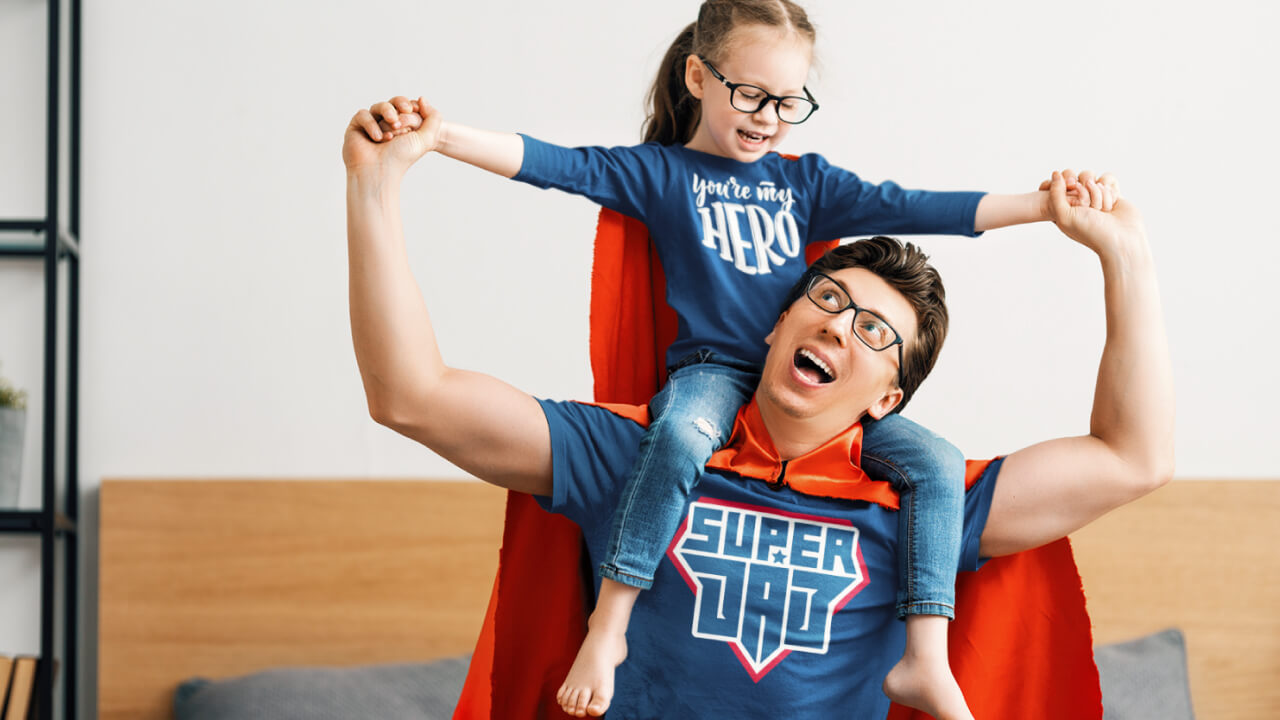 Most dads, when asked, will dismiss the idea of receiving something for Father's Day. Seeing themselves as heroes, they believe they don't need anything, but a thoughtful gift will touch their sensitive side under the big-man mask. 
To help you tackle choosing unique gifts for dad, we've gathered a list of the 40 best Father's Day gift ideas.
The Best Father's Day Gift Ideas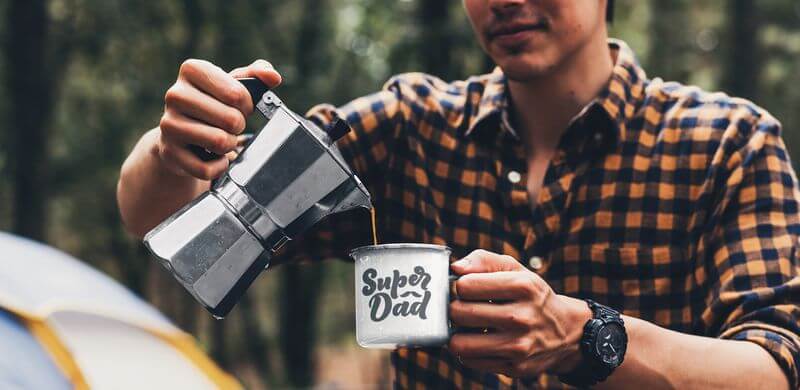 Picking the best Father's Day gift takes work. 
Identify the kind of dad, husband, or brother you're shopping for. New dads on their first Father's Day, tech-savvy, pet-lovers, sports enthusiasts, weekend woodworkers – the range seems limitless. But with a bit of effort, partners and kids can figure out the perfect gift for their beloved father.
Personalized Father's Day Greeting Cards
Before jumping to Father's Day gift ideas, take some time to prepare some personalized cards. That adds an even more personal touch and makes any present – as simple as it may be – richer and more meaningful. 
Get the greatest Father's Day card ideas on our blog, then select the best one for your dad or for selling on your online store:
Fragrances can enhance one's confidence, leave a lasting impression, and create new memories associated with the scent. 
Giving perfume as a Father's Day gift requires careful consideration of the father's personality, taste, and preferences. It's a personal and potentially meaningful gift for your dad or father figure.
2. Custom Father's Day Shirts & Hoodies
T-shirts and hoodies as personalized Father's Day gifts can show a father how much he is appreciated if done right. These garments can provide a comfortable rest after a long day. 
They allow for a unique and memorable message to be printed – for instance, commemorating a new dad's first Father's Day with a newborn would make a thoughtful gift. 
The best part is – these gifts can be tailored to his interests and style, like hobbies, music, or whatever you know your dad would love to wear.
Kitchen accessories are the perfect Father's Day gift ideas for parents with culinary skills.
Also, consider grilling tools or a meat thermometer for dads who love to barbecue. You can also give other grill and food-related tools like aprons and cutting boards to encourage your dad to develop a cooking hobby.
Hats and caps can go from practical functions like protecting from the sun or keeping the head warm to meeting fashion demands, like adding a touch of personality to any outfit, or simply being the most appropriate apparel for watching the big game.
Phone accessories and other similar tech gifts are practical and functional. They can provide, for example, device protection or hands-free convenience. 
Items like phone cases or a wireless charging station will meet your dad's daily needs.
Socks and belts are essential accessories in any wardrobe. Dads use them regularly and may not think to buy them for themselves, making them practical and much-needed gifts.
Most dads would appreciate receiving car accessories as Father's Day gifts. They are functional presents for dads who spend a lot of time in their vehicles or even those with hobbies like car detailing. 
Give that extra touch by customizing mats or smartphone holders with funny or meaningful designs. He'll love it.
Presenting skincare as Father's Day gifts show you care about your dad's health and well-being. 
Many men may not prioritize skincare, making it a thoughtful and helpful gift. It's also a chance to introduce your dad to new products and help him establish a skincare routine.
Kits containing beard oil, balms, and a comb help dads maintain a well-groomed beard. Besides that, they also moisturize the skin and keep it fresh. 
Show your dad you care about his grooming routine and overall appearance by giving him a beard grooming kit.
Gaming accessories make great Father's Day gifts as they enhance dads' gaming experiences and improve enjoyment. These accessories range from mice, mouse pads, headphones, controllers, and keyboards, to chairs and VR accessories.
Stickers are cheap Father's Day gifts that add personality to otherwise boring daily objects such as cars and laptops. They allow dads to express individuality and share their sense of humor or personal beliefs.  
Give stickers as gifts on their own, or preferably pair them to complement other items. 
Board games provide quality family time and bonding. They are a fun way for fathers to relax and unwind from the stresses of daily life while engaging in some friendly competition with their loved ones. 
Besides that, board games offer a break from screen time and provide face-to-face interactions.
13. Personalized Poker Cards
Personalized poker cards can be unique gifts for dads who enjoy playing cards. Some sets can be personalized with a message or design that is funny, cool, or meaningful to him and can add that personal touch to game night.
Choosing a gift can be difficult depending on the type of dad. Sometimes it doesn't matter how many great Father's Day gift ideas you can gather – your dad may need something specific that only he knows about. 
In these cases, gift cards come in handy.  
You can pair a card with another gift to show that you know your dad deeply enough to present something significant and add some flexibility.
15. Wallets & Card Holders
Wallets and card holders are practical gifts for every dad, as everybody needs to store and carry money, cards, and IDs.
Give your dad a gift that attends to his daily needs and allows him to display his personal style.
Slippers are the perfect gift for relaxation and comfort after a hard day at work. Dads working from home will enjoy comfortable slippers for carrying on their tasks at home.
Personalized keyrings with family photos and other mementos are sentimental and especially significant gifts for fathers who cherish memories and family. 
Photo keyrings come in various shapes and sizes. They are fantastic Father's Day gift ideas for showing appreciation to a loving and devoted dad.
18. Water Bottles & Tumblers
Water bottles and tumblers are incredibly convenient for dads used to working out or running. Or, they can motivate your dad to start exercising.  
These Father's Day gift ideas please any dad, providing hydration while commuting, driving, working, or relaxing at home. Add extra value by customizing them and reflecting your dad's style.
Some dads are loving and caring towards their family and their furry companions. If that's your case, pet accessories may be a fantastic choice for a Father's Day gift.
These gifts range from dog hoodies and bandanas to pet tags and leashes.
Computer accessories are a no-brainer – up to 93% of households in the US had at least one computer at home in 2022. 
If you give your dad a computer accessory, he'll use it. Make working or playing more enjoyable by giving your dad the gear he's looking for.
Give your dad sportswear on Father's Day to promote a healthy lifestyle.
Sportswear gifts are useful for dads who enjoy an active life, and you don't have to break the bank with the most expensive luxury brands. Order quality sportswear with Printify, from running shorts to training shoes.
Everyone has a favorite mug, making Father's Day mugs popular, affordable, and likable gifts. 
Give one to your dad, or create custom mugs to sell. They are sure to be in demand and have the potential to be used daily.
23. Watches & Accessories
Watches are a classic Father's Day gift. In the age of smartphones, wearing a watch can be symbolic or a fashion statement. 
If purchasing a quality watch is beyond your budget, consider affordable options, such as watch bands.
Bluetooth speakers allow dads to enjoy their favorite songs or podcasts anywhere without the hassle of cords or wires. Some options are water-proof, making them suitable for outdoor use.
A Bluetooth speaker comes in various colors, shapes, and sizes. Pick the one best suited to your dad and consider where he'll most probably use it.
Tea and coffee sets are classy Father's Day gifts. They offer a chance to show how much you know your dad, his tastes, and preferences.
Snack boxes are popular custom Father's Day gift ideas for offering a variety of tasty treats or uncommon goods in one convenient package. 
You can order these boxes from popular brands like Man Crates or create your own with personalized items.
Books are the best present for many occasions and make meaningful Father's Day presents. They let dads relax and unwind while learning new things or simply enjoying a good read. 
Bookmarks are practical accessories to keep track of their progress.
Books are the best present for many occasions and make meaningful Father's Day presents. They let dads relax and unwind while learning new things or simply enjoying a good read. 
Bookmarks are practical accessories to keep track of their progress.
Travel accessories are a broad category of gifts useful for dads who love to travel. It includes backpacks and fanny packs to passport covers and accessory pouches.
Wireless headphones can make some of the best Father's Day gifts for dads who enjoy listening to music or podcasts on the go. Additional functionality, such as noise-canceling, makes them appealing for broader niches, including for those business-minded. 
You don't need to break the bank by purchasing the most expensive items, as affordable options exist.
Massagers help relieve physical strain and tension. They can improve physical and mental health, making them some of the best Father's Day gifts. 
Use them to show that you care for your dad's well-being.
Classic and elegant dads will appreciate ties and cufflinks as Father's Day gifts. 
They add sophistication to one's wardrobe, elevating any outfit and making them suitable for formal occasions. 
These gifts will come in handy for dads often engaging in business affairs or for those who only occasionally need some formal attire – for the last ones, this present can become a lifesaver.
Alternatively, ties with cartoons and other funny designs may subvert expectations and be highly appreciated. 
If you want to surprise your dad with a personalized and sentimental present showcasing your shared cherished life memories, go for photo books.  
They are tangible ways in an online world to express love and appreciation, which will be enjoyed for years.
A new repair kit may be exactly what your father needs, even if he owns various for different functions.
Repair toolkits are useful gifts, even for fathers who don't necessarily enjoy fixing things around the house but have their DIY projects. It shows appreciation for their skills and gives them the tools to keep things in order.
Workout accessories encourage dads to stay healthy and active and can make workouts more enjoyable. Give kits with different accessories, or create your own with items your dad would like, from yoga mats to fitness handbags.
Bartender kits are cool gift ideas for dads who love experimenting and creating cocktails at home or entertaining a friend. Consider also giving craft beer kits or even beer club subscriptions for those dads who share the idea but prefer other kinds of drinks. 
Cozy items make some of the best Father's Day gifts, providing comfort and relaxation during a break from their busy schedules. They include from sherpa blankets and slippers to pillows and candles.
These elegant Father's Day gifts allow dads to enjoy their favorite spirits in a curated way. Liquor gift sets may include different beverages, spices, glasses, and accessories. Pair them with a gift card and cooking items.
39. Custom Posters With Dad Jokes
Custom posters with dad jokes are funny Father's Day gifts – at least for them. Combine humor and personalization, use inside jokes or references that only you and your dad share, and show that you value your relationship.
Robes and pajama sets are great personalized gifts for dads as they give comfort after a lengthy workday – they can be both practical and stylish.
Why Sell Father's Day Gifts
Last year alone, consumers planned to spend $20 billion on Father's Day gifts in the US. Take your time and set up an eCommerce store. With planning and the right partners, you can have a chunk of that.
For online store owners, the key is offering a range broad enough to attend to many types of dads. Many products can please more than one niche, having higher potential sales. Increase profits by pairing products and creating kits, sets, or bundles.
Create Father's Day Gifts With Printify
There are many benefits to creating Father's Day gifts with Printify, both for you and for selling in an online store: 
Customization

– Printify allows you to create personalized Father's Day gifts unique and tailored to your dad's or customer's taste.

Products

– Printify offers over 850 products, from t-shirts and mugs to phone cases and tech accessories.

Printify Quality Promise

–  Printify constantly monitors their Print Providers, which receive a rating score based on control data and customer feedback, including quality, production speed, and stock reliability.

Inventory

– Forget the hassle. Printify handles inventory management, production, and shipping.

Best Prices

– Printify offers the most competitive prices among POD services.
Whether you're looking for Father's Day gift ideas for your dad or items to sell on an online store, don't waste any time. Start designing today and stay ahead of the curve for an explosive start to the summer season.
Share the article
Topics