Design Your Own Laptop Sleeve: Amazon & Etsy Bestsellers for Inspiration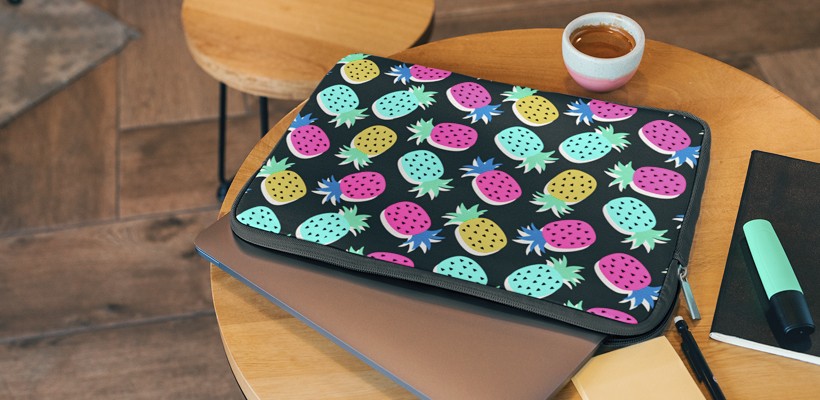 Want to get in on a $245 billion global market? Then let's talk about how to design your own laptop sleeve! The market for computer accessories and peripherals is huge and expected to grow by another 4 to 6 billion dollars in the next five years. This means huge profit potential if you can take advantage of this gigantic marketplace.
Today we're going to analyze all of the sales data, types of laptop sleeves, and just how and why you should begin designing and selling your own laptop sleeves.
We'll look over:
Best selling laptop sleeves
Marketplaces (Amazon and Etsy) selling laptop sleeves
How to design your own laptop sleeves
Laptop sleeve trends
Now is the time to refresh your store and get some new products in the pipeline, so let's dive into laptop sleeves.
Work From Home – New Realities for Laptops
With current work from home trends and extended learning programs now more popular and available than ever, the use of a more functional machine like a laptop over a tablet for more moderate to heavy computer use at home seems likely to continue.
With sales like these and growth in the industry expected to continue for laptops, knowing how to design your own laptop sleeves is a no brainer, as laptop sleeves should be in more demand than at any point in the last 10 years.
Design Ideas From Amazon
Amazon.com is a huge market for laptop sleeves, let's take a look at what they have an offer and what the most popular products look like. This should help you narrow down your options when you go to design your own laptop sleeve.
Exact Match
The exact match result for Amazon.com shows over 5000 search results for the term laptop sleeve. The first page results appeared to be actual laptop sleeves, some have side pockets and some are handled, but there is a varied amount of products in terms of design and form.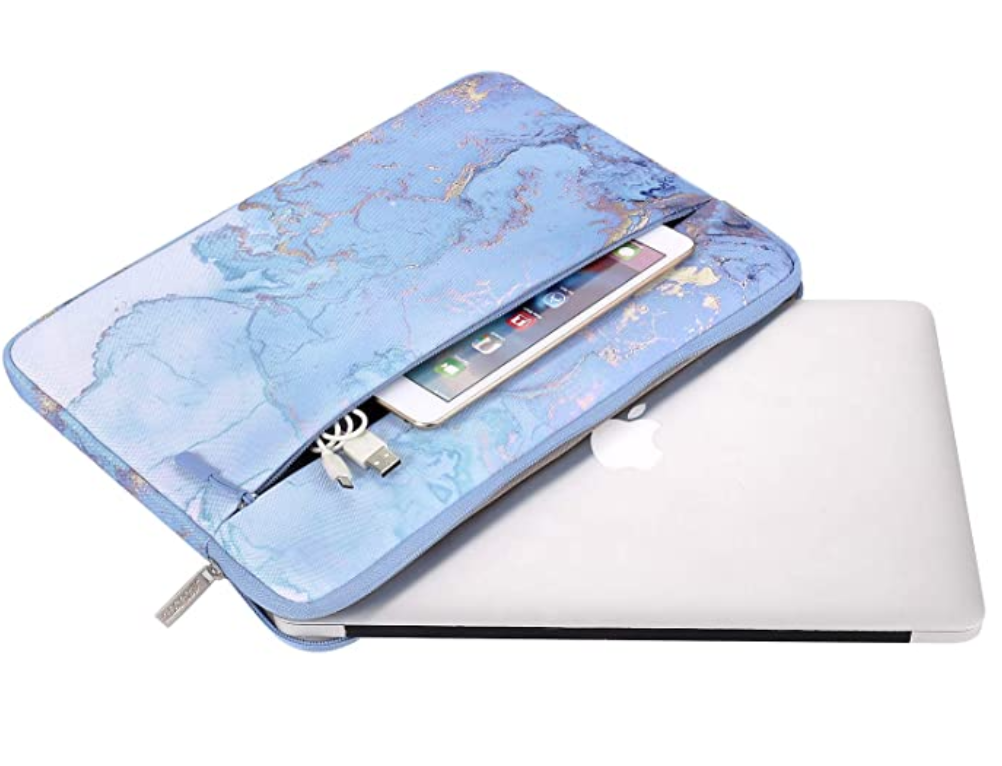 The Amazon basic 15.6-inch laptop sleeve will set you back about $12.00 and this is available in five different colors. It also comes in six different size options.
Wide Variety
It's good to note that the Amazon results show a wide variety of styles, materials, and even form factors. The best-selling laptops leaves appear to be the most basic, which is not surprising because these are also the most affordable and readily available laptop sleeves.
The best-selling laptop sleeve is the 15.6-inch laptop sleeve in basic black, and across its five color variants, this product has over 41,000 reviews on Amazon.com. If you are an IT manager or distributing laptops to your work or sales force, then this is a perfect option for your business ready needs. However, although large, this is not the market for custom laptop sleeves.
Sleeves Not Only Mono-Colored
Amazon sells mainly monochromatic bags however you can see that there are some creative designs coming through the search results, in particular, floral and natural patterns are popular. Other popular designs are funky, multi-colored sleeves and psychedelic patterns.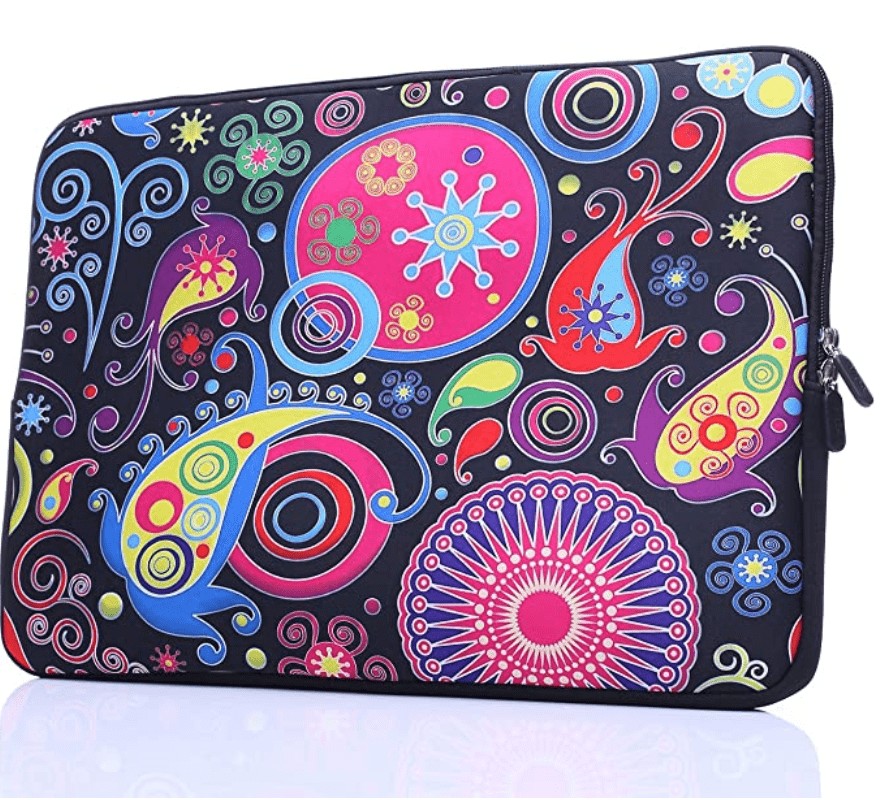 Similar Search Terms
Let's check out how our similar search terms are working on Amazon.
Design Your Own Laptop Sleeves for Women
This search term is the number one search variant and has a lot of floral patterns and pastel-colored options. Additionally, the design on the laptop sleeves mimics purse and clutch looks from higher-end designers.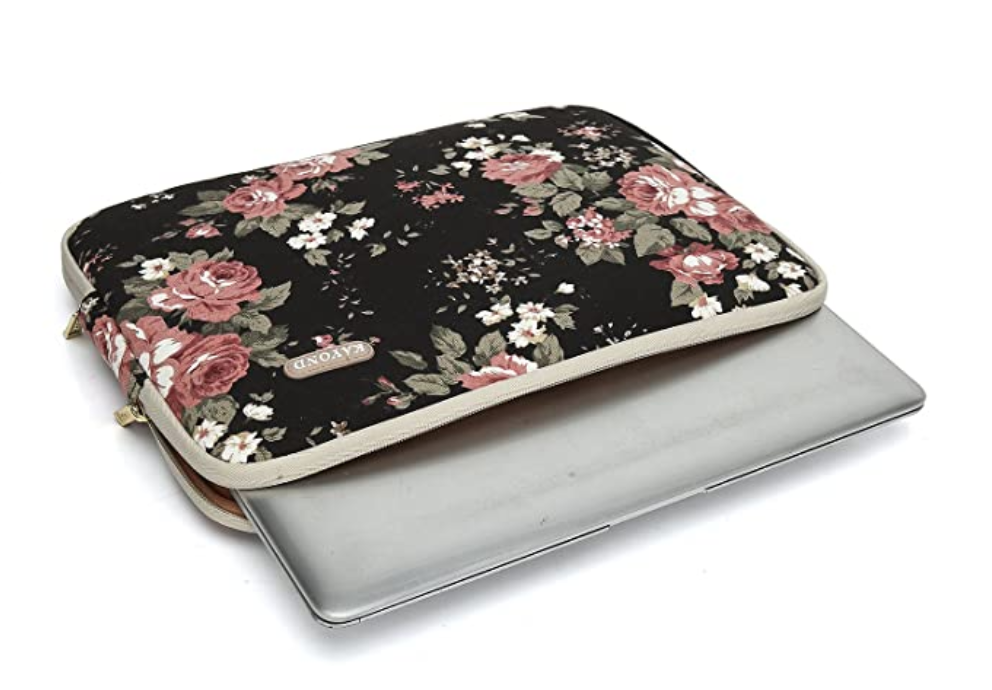 Animal print designs are also very popular here, especially leopard print. If you want to sell to this segment, this gives you some great insight into how to do it!
Laptop Sleeve for Kids
The "laptop sleeve for kids" search term has a lot of variation in its products. You can see that these products are primarily designed for school use and to show off some fun personalities of the kids. Designs include unicorns, dogs, cats, multi-colored rainbows, and sports and video game themed laptops. Look out also for animal print designs, these are popular for children as well!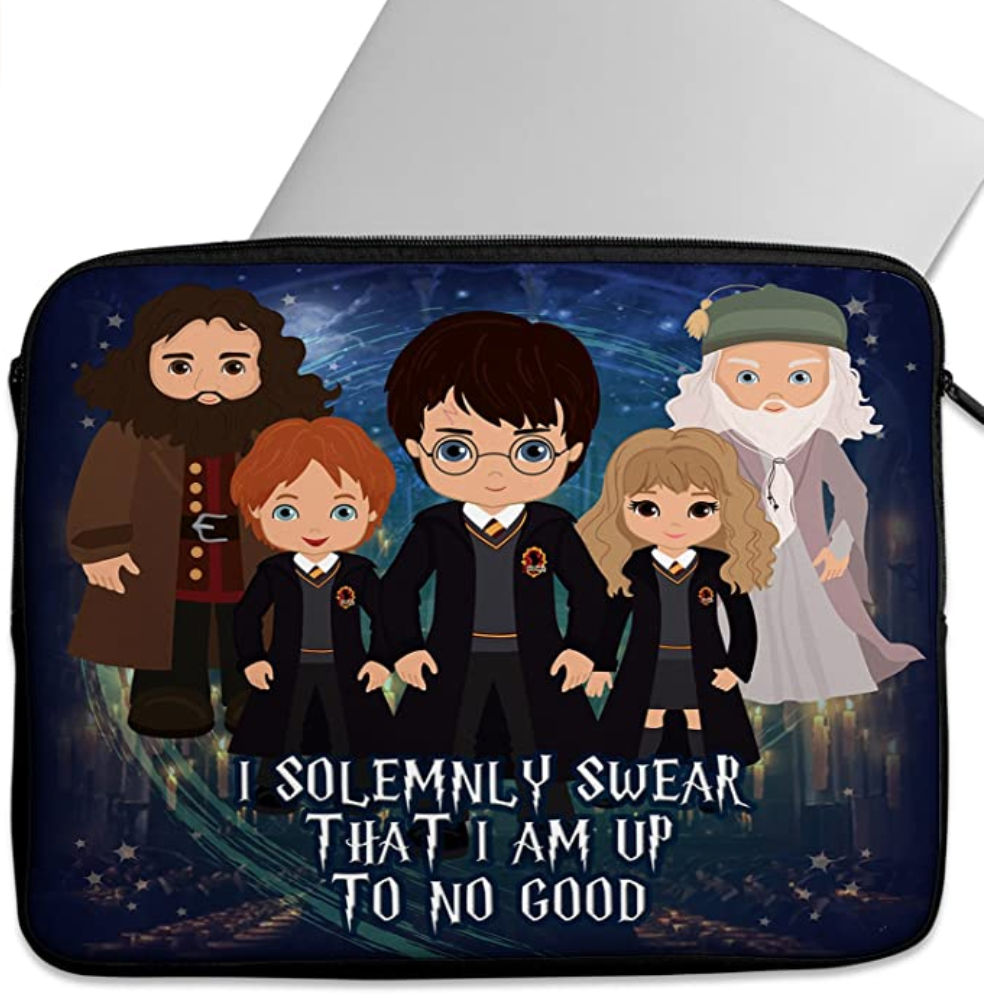 Also, anime and cartoon style designs are incredibly popular. If you have a store for gaming, online culture, or animated films, laptop sleeves could be a great addition to your store!
Laptop Sleeve by Size
Unsurprisingly, most of the search terms related to the size of the laptop. This is the number one prerequisite for buying a sleeve, that fits the laptop that you own. make sure you're offering the most common variants when you so laptop sleeves, we have all the popular styles in our catalog.
Design Your Own Laptop Sleeve to Sell On Etsy
Etsy.com is the marketplace for handmade, alternative, and unique products. This is a great place to see creative design work in action, and what types of designs are selling to people that really value creativity and expression in the products that they use and carry. If you're a creative type, it will definitely give you some ideas for designing your own laptop sleeves.
Exact Match
The exact match search term on Etsy produces over 32,000 results for laptop sleeves. Most are similar to the ones we've seen on Amazon.com, and others are extremely different from one another.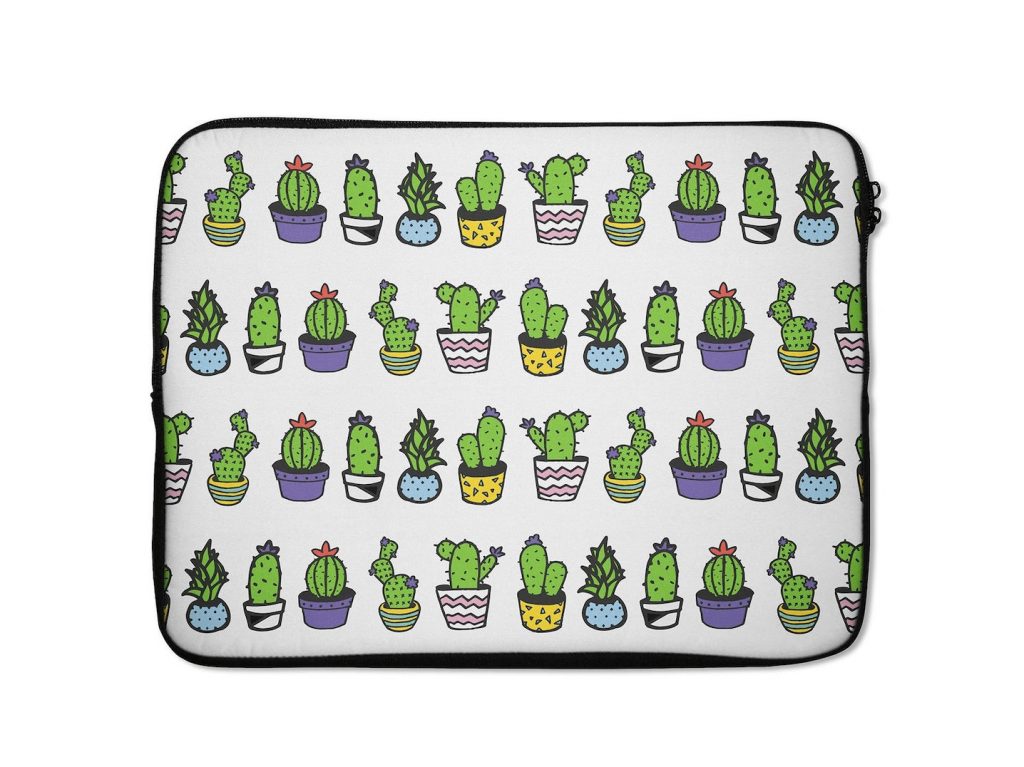 Some laptop sleeves mimic old leather-bound books, others handwoven and knit sleeves. It's safe to say that there is a wider variety of products and designs on Etsy. There's a lot of inspiration, so it's a good place to learn what people like before you know how to design your own laptop sleeve!
Tons of Options
Etsy is a marketplace where you go to find a different and extremely creative product sold by extremely creative people that may not be able to sell their goods in any other way. It's a good place to get the design inspiration, to see what people are looking for beyond the normal monochromatic black laptop sleeve.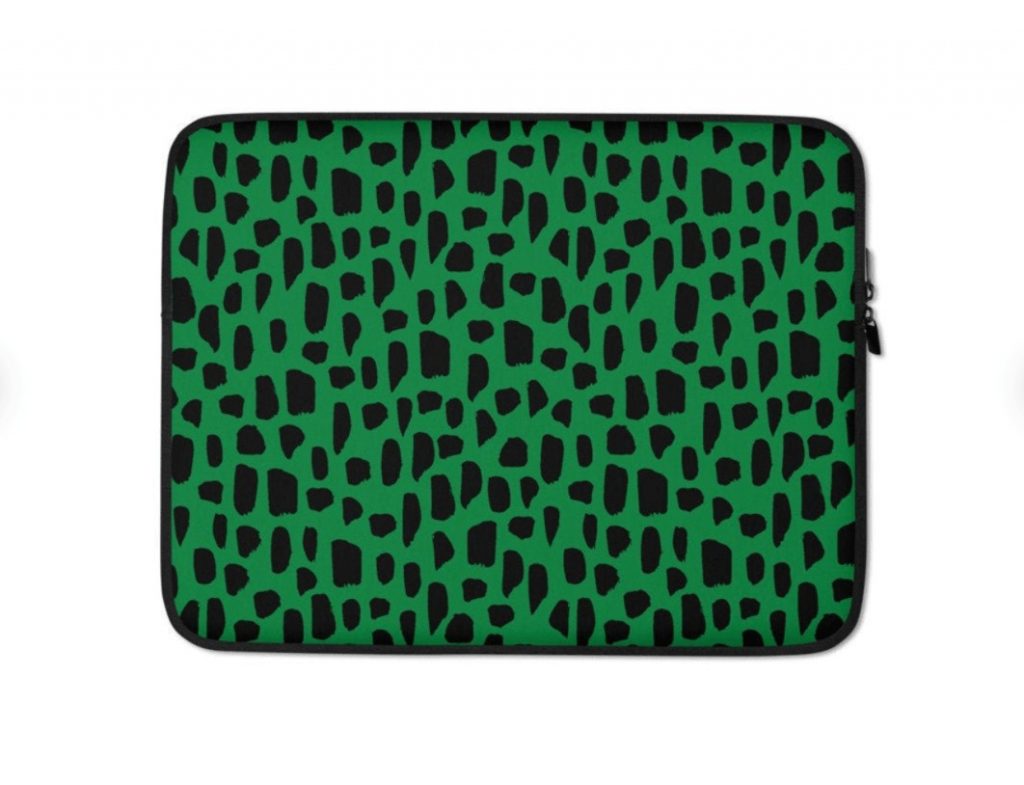 The patterns here are as varied as the stars in the sky, some are earth tone, some are natural, some retro striped, and some mimic bamboo floors.
Best Efforts Only
If you want to differentiate yourself on Etsy, you have to bring you're a game. These designs are from highly creative people, artists, and talented graphic designers.
In some cases, they've even developed their own line of products, not just the designs on products. Get on it to see if you have unique and original designs that you think people looking to express themselves would like!
Interested? Check out how to sell on Etsy with Printify.
Laptop Market
According to Statista, laptops have once again returned to the number one selling product type for computers since 2018. Since the rise of the iPad, tablet sales have largely outpaced sales of laptops which similarly outpace the sales of desktop computers.
However, since 2018, laptops are once again the largest selling segment for these three computer machine types, with 162 .3 million laptops being sold in 2018, in 166 being sold in 2019. This is about 25 million more units then tablets sold at the same time.
Google Trends
Let's take a look now at what Google is telling us about designing your own laptop sleeves, laptop cases, and the market for peripherals in general.
Laptop Sleeve Search Results
In the last five years, searches for laptop sleeves peaked in August of 2015 when it reached their highest individual search volume.
The laptop sleeve search term is seasonal and is built around two peaks, the first being when students are attending college or University in August or late summer, in the second being The Christmas shopping season.
This makes sense, as new purchases of new laptops are often for students in the summer, who are leaving home for the first time and attending a college or university with a new, expensive laptop that is mission-critical for their studies. The other time is when the normal Christmas seasonal buying pattern emerges in late fall and early December.
Laptop Cases Search Results
The laptop case search term is much more popular than the laptop sleeve. One reason might be because it includes a wider range of products. For example, camera people searching for laptop shells might first search for laptop cases. This term comes as a crossover from mobile and cellular phone terms for protective covers.
The laptop case search volume is about two times higher than the search for a laptop sleeve. It also peaked at the same time in 2015 but the highest volume in the last five years was in December of 2015.
Search trends more or less conform with laptop sleeve results however, more of an emphasis is on the Christmas season rather than on the sales University season that we see with laptop sleeves. The search volume for laptop cases is the highest across any search variant for this or similar products. This is all the more reason to design your own laptop sleeve!
Laptop Cover and Shell
Laptop cover and laptop shell both are searched for fewer times than laptop sleeve. However, they follow the same basic seasonal patterns, with peaks and valleys around Christmas and college and University time.
Laptop shell is perhaps the most specific search term, however, its search volume is the lowest of the four terms surveyed, perhaps because it is a smaller market and has less popularity than the other products.
Additionally, as discussed earlier, people searching for laptop covers might in fact be looking for laptop shells, and find the result faster anyway due to their ignorance of the exact name of the product they're looking for.
These search trends capture the whole market for this segment of accessories and should give you a good idea of how people said about finding these products.
If you, as the aspiring laptop sleeve salesperson, use these results to help you generate some page views on your products coming you could realize potentially thousands of dollars worth of sales or more by just understanding the difference between these products. ?
Today, we showed you the market for laptop sleeves, where they're sold, and how to sell them! That leads us to our last point: designing your own laptop sleeves is a great way to expand your own store's offerings. Design your own laptop sleeve today!
Make it happen right now.
Share the article
Topics