6 Reasons Why Fanny Packs Are the Best Bags Ever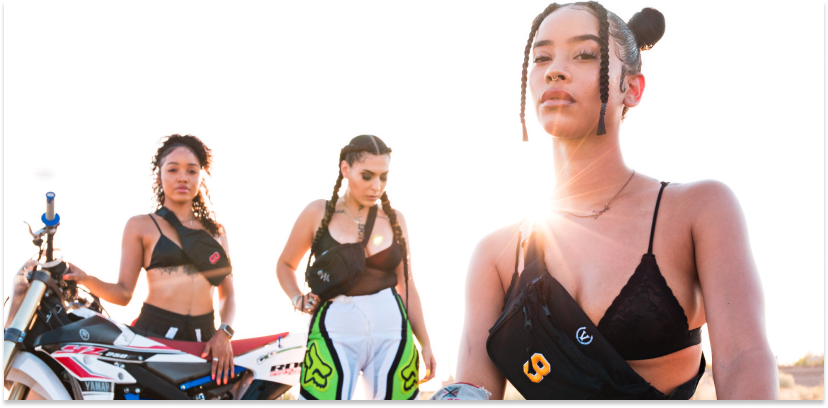 Fashion is cyclical. By looking at what's going on in the street style scene, one would think 'what year is it?' Especially because we just got a Lion King remake, Mulan is coming in a couple of weeks. Tom & Jerry are getting a reboot for crying out loud. In fashion, the nineties have been back since 2017 with the bumbag, waist pack, hip bag… whatever you call it, it's back. Fanny packs and I go way back.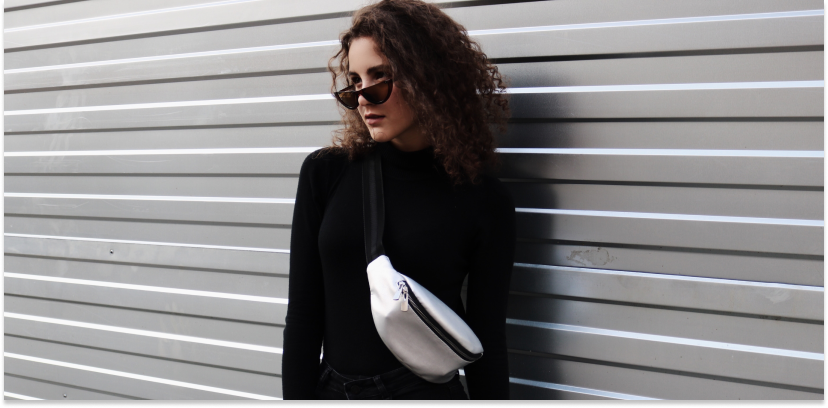 I remember times when I adored it and then came times when it lost its appeal and only middle-aged trucker men or moms in mom jeans would wear them.
In the mid-'90s my grandma sent my family a care package from Chicago and I got myself my first fanny pack – it was pink and green neon, and I wore it to shreds. It was the coolest and most convenient accessory that could carry all my treasures and coins, and gum wrappers that were so naughty, we, children, carried them around in our pockets, obscured from our parents' sight. My fanny pack was so well-worn, it had holes that I tried sewing shut, but the cheap material was unforgiving: it was time for us to part.
Wholesale Fanny Packs for Your Store – Using Printify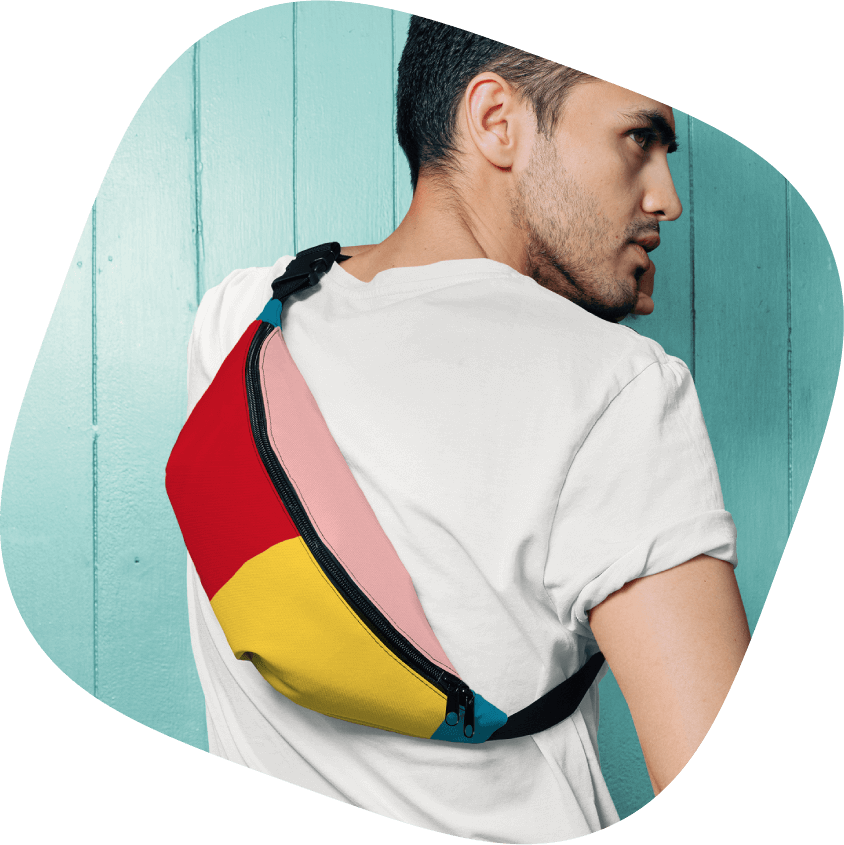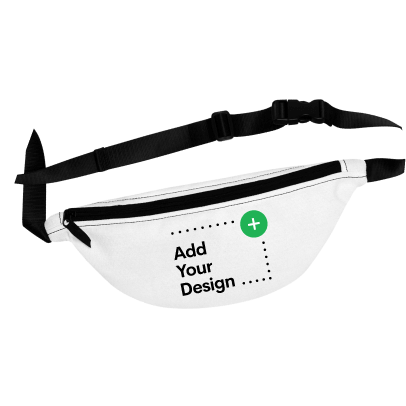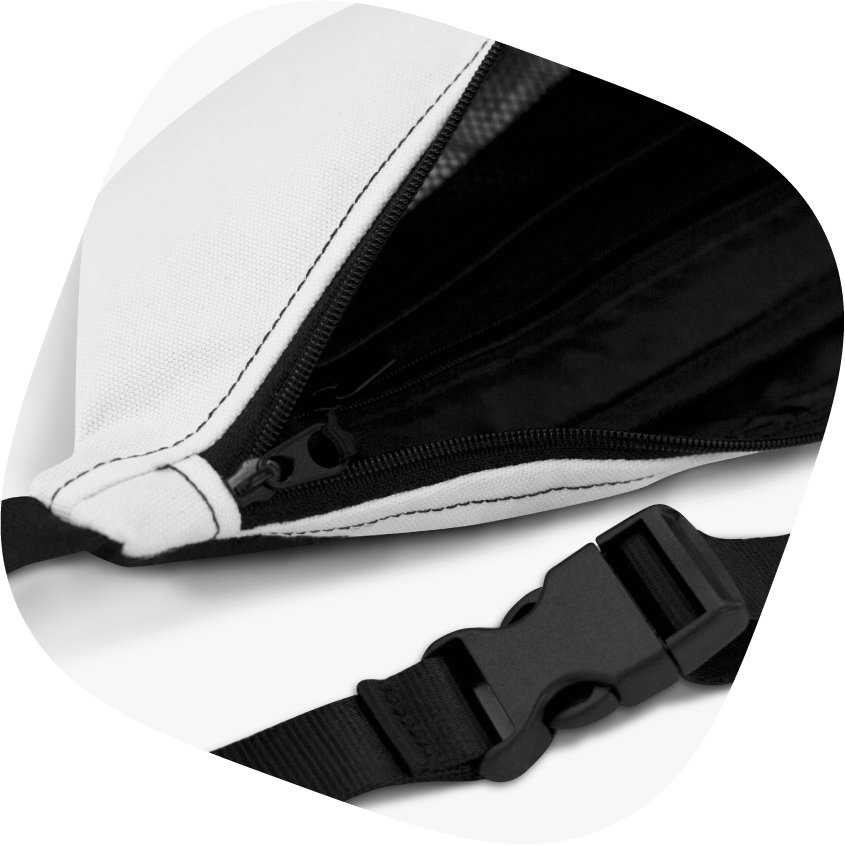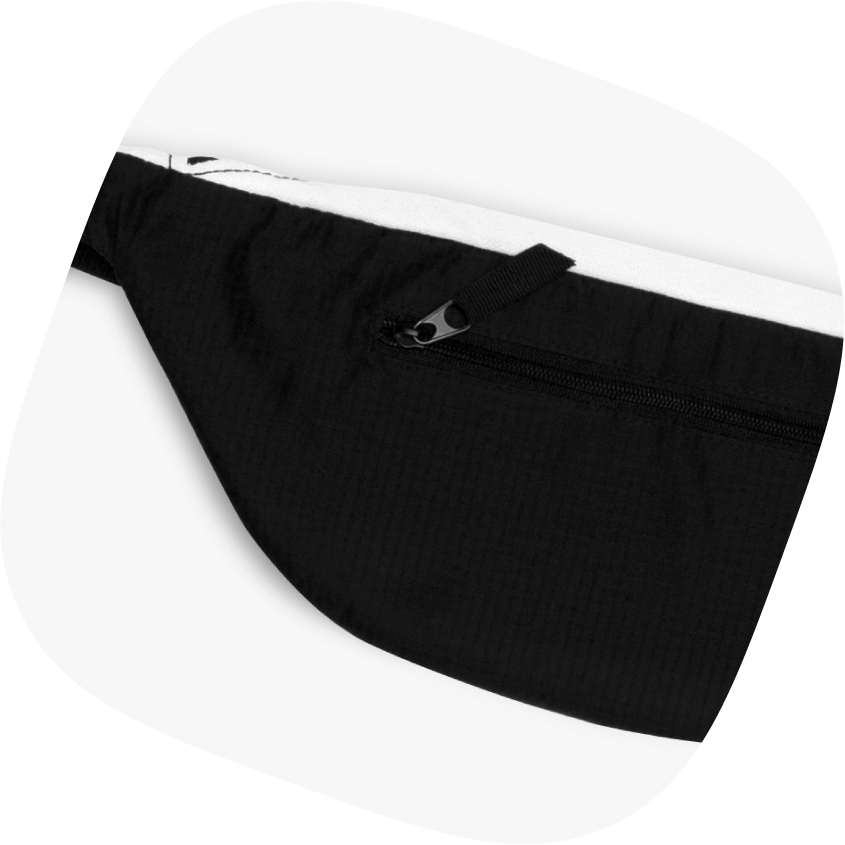 How Did We Get Here?
For years, fannies were only popular among tourists to store their cash and passports, and city maps in. But then came the 2017 and suddenly we saw fanny packs everywhere. Every store seemed to sell them. From cheap & wonky to luxe logo-covered spectacular giving it the high-fashion nerd treatment. Like Steven King wrote in Pet Sematary, "They come back but they don't come back the same," as is the case with fanny packs. We no longer are obliged to carry them around our waists, instead, street style trendsetters have decided that it would be cooler to wear them as cross-body bags. Nevertheless, it's a piece of accessory so universal and practical, here are 6 reasons why a custom fanny pack is the best bag out there.

1. Music Festival Survival Kit Holder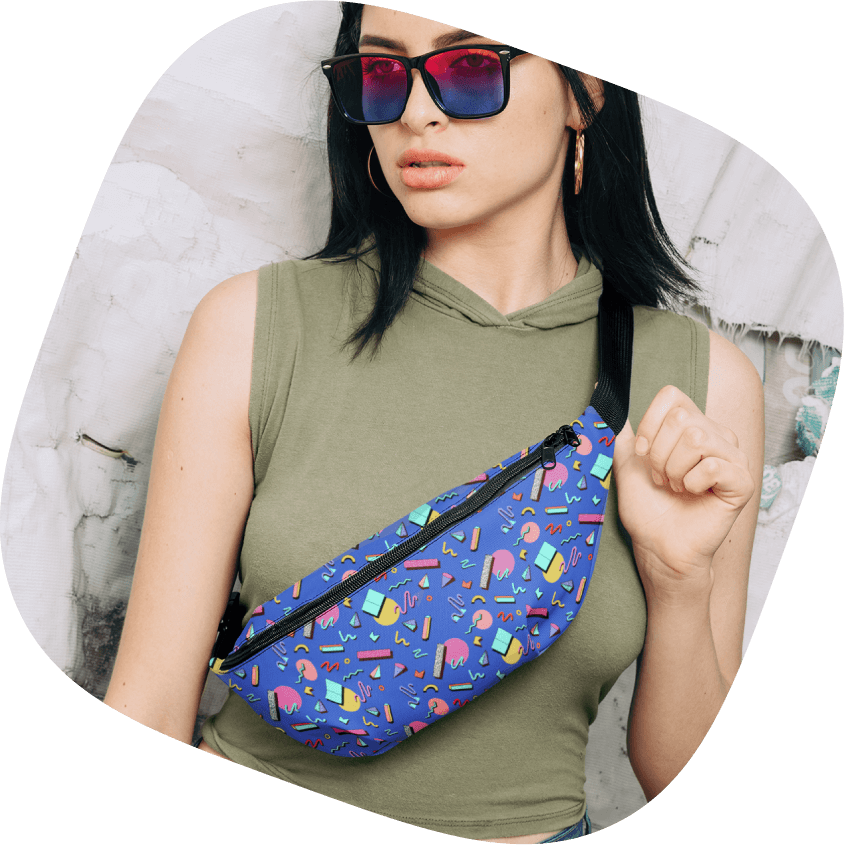 Summer is upon us, so are all the music festivals. For years, fanny packs have been hugely under-appreciated because of their nerdy looks, but they are finally receiving their well-deserved respect and admiration. Especially, if you can have complete artistic freedom and customize your brand new fanny pack to match your outfit! If you're an entrepreneur wholesale fanny packs are the way to go! Create and sell custom print-on-demand fanny packs before the festival season begins. Think about the '80s and '90s graphics, emoji, rainbows. Whatever you choose, we got you.

Fanny packs have an advantage unknown to any other bag or pouch on the earth, but standing in line at a music festival is when their convenience really shines. Usually, whether or not you can quickly grab your wallet is mostly negligible. Still, when you're wanting to get the amazing merch for your favorite band at the hottest music festival, you want to be able to have quick access to your cash or card without delay. Not only that. You can also store emergency makeup, sanitary products, face wipes, power banks, and other festival-goer essentials without having to carry around a heavy backpack or keep up with an uncomfortable tote bag.
Fanny pack is also great for keeping festival-goers' treasures safe. No matter what music festival we're talking about, people need to be cautious and stay alert, which is why having all of your personal belongings fastened securely to your waist is super helpful. You won't have to leave your backpack lying on the ground for people to spill drinks on, and no one will have you as an easy target for good old-fashioned thieving.
PRO TIP: Complete the look by playing your fanny pack design off an equally dope all-over-print t-shirt or custom hoodie.
2. Summer 2021 Print Trends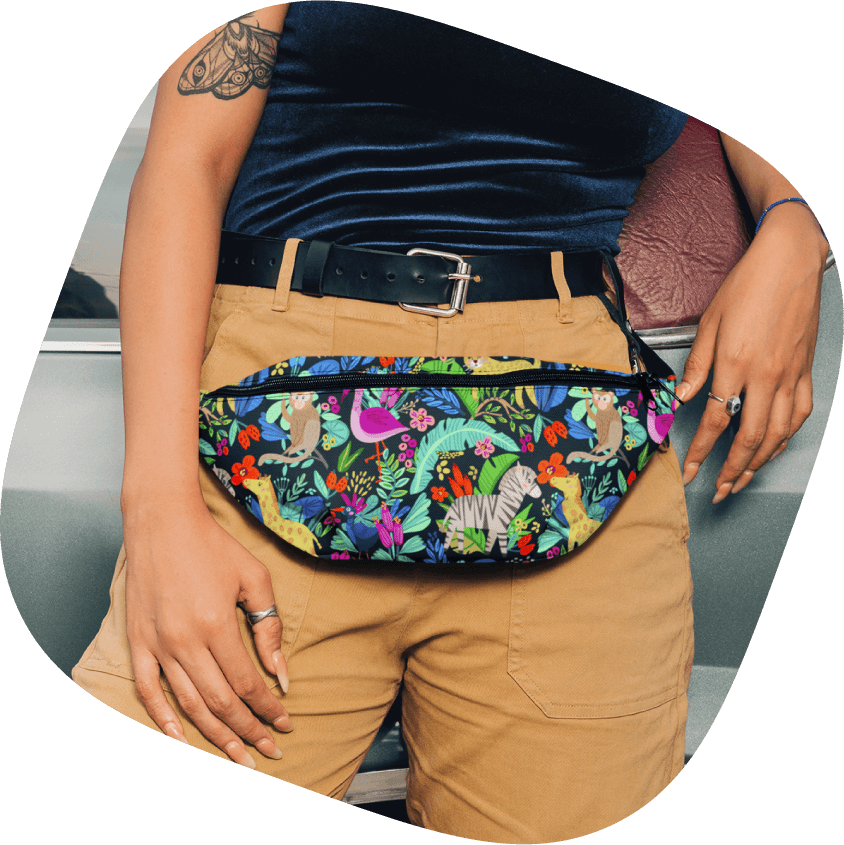 If you're considering fanny pack wholesale, but feel a bit lost in designs, here's what's good. Many of the spring/summer 2021 runway patterns featured a ton of color – from polka dots to rainbows. Flower motifs and '60s-inspired psychedelic patterns are huge right now. So is tie-dye. In fall, all of the tie-dye prints looked a little out of place, but for the summer print trends, it makes perfect and total sense.

Geometry. This summer, you can't go wrong with geometric prints – from check prints to mind-boggling architectural shapes that give a particular futuristic feel to the designs.
3. Fanny Pack Is the Centerpiece of Any Outfit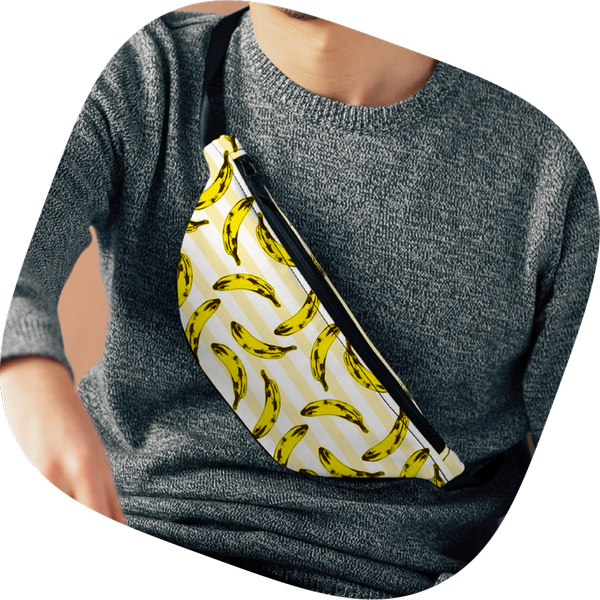 Let's be honest. It's hard to convince anyone that something useful is as appealing as something that matches their aesthetic. No matter what gender you are, you probably have a certain style or image that you actively try to portray. Maybe you embrace a fitness aesthetic, or perhaps you love the trendy look with phrases and iconography from pop culture. Regardless, because of the rising popularity of fanny packs, there are significantly more options that legitimately adhere to your personal interests and standards. Create custom all-over-print fanny packs with amazing graphics that make a bold fashion statement. Print on your face so nobody would ever steal it. Wear it like a true fashionista – like a crossover bag to look like one of them trendy people.

Besides being practical and comfortable, a well-designed fanny pack is also stylish. Why settle for style or comfort when you can have both?
RELATED: Printify's new and improved mockup generator
3. Perfect Travel Buddy? You Guessed It — Fanny Pack!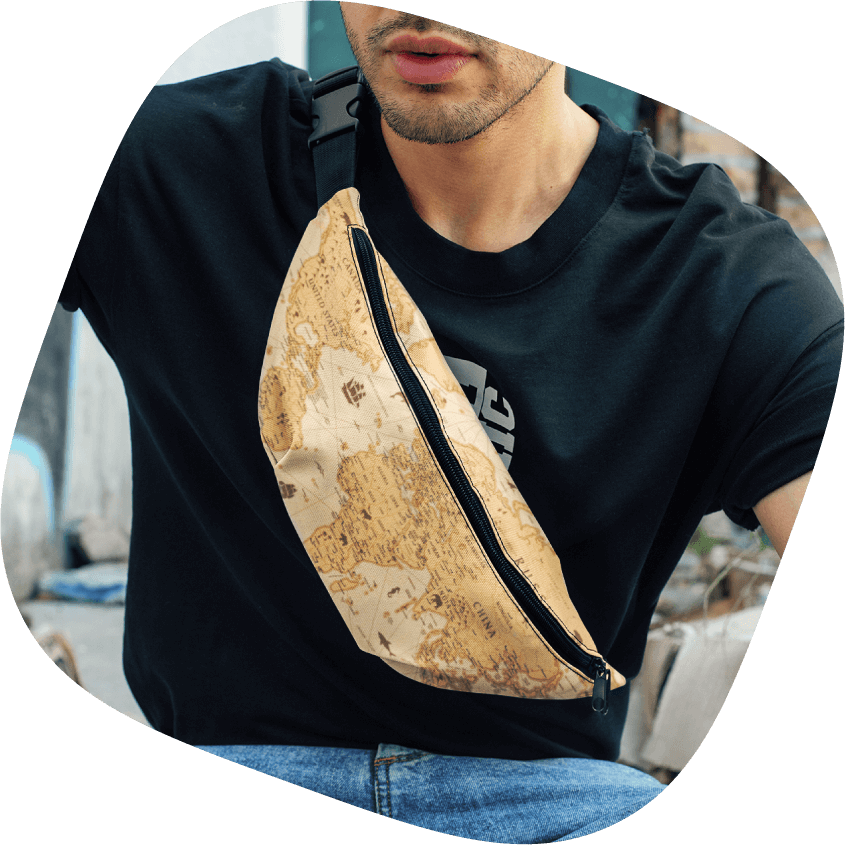 Fanny pack is the perfect accessory for people in the go. Why? Because a fanny pack is not considered as hand luggage on the plane! Fanny packs are TSA friendly and do not count as one of your carry on bags. It also has an advantage over other bags of being spacious but completely handsfree. You do not have to hold it in your hands, and it does not drop down off your shoulder. Your travel necessities are securely fastened to your body while giving you easy access. Plus, you got yourself a free extra piece of hand luggage! Fanny pack is the perfect size to hold your phone, a passport, a boarding pass and a pen for filling out customs forms, with plenty of room to spare. So, put all your essentials in your fanny pack, wear it on board and pack your larger belongings in your carry on.

PRO TIP: Create your fanny packs with matching personalized shoes or backpacks to make your journey even more stylish and comfortable! 
What about designs? If you've decided to add print on demand fanny packs to your eCommerce store, put your attention to the summer 2021 trends. The modern fashionista is a globetrotter. So think city maps, earth, and space motifs to catch your customers' eye.
4. Fanny Pack Is Way More Comfortable Than You Think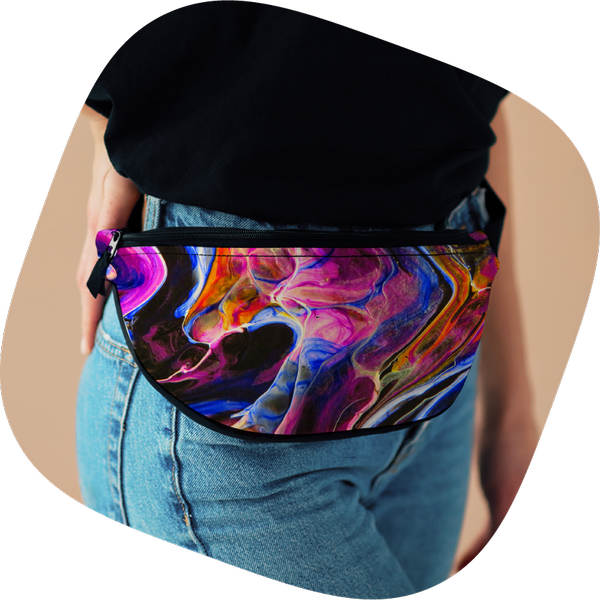 Unless you're somebody who's used to wearing cargo pants with all the pockets stuffed – with your phone, wallet, keys, gum, and a spare t-shirt (yeah, I've seen it), and find it comfy, a fanny pack, is a way better choice. The same goes for ladies carrying around giant totes filled with every possible thing in the world but can never find your keys or phone in the depths of the dark abyss. Darling. You know you don't need all that stuff. Do yourself a favor and choose a bag in which you can actually find what you're looking for. So again – strut those streets wearing a fanny pack – it's a perfect hands-free device that allows you to take selfies and not worry about your bag dangling awkwardly. As an added bonus, its central location on your body alleviates the back or shoulder strain that can come from carrying a more traditional purse or messenger bag.
5. Don't Forget About the Kids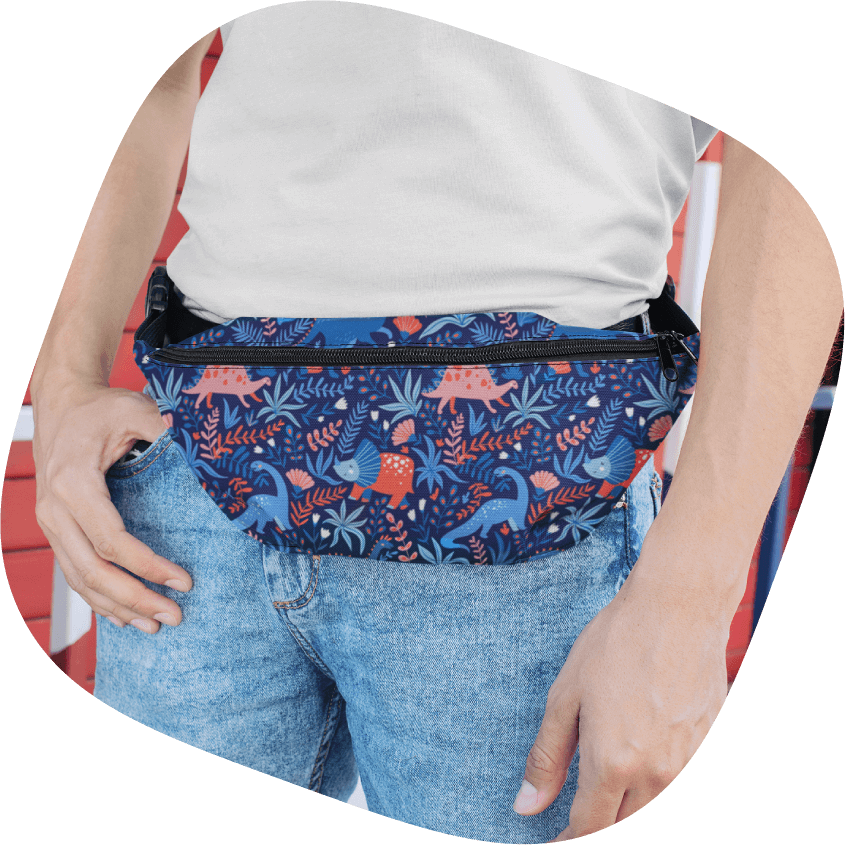 Kids always seem to have their hands full but somehow, it's us, parents, who end up carrying all their stuff. So why not create a line of wholesale fanny packs with sweet, kid-friendly designs for little adventurers as well! The lightweight fanny pack in the Printify catalog comes with an adjustable strap to fit any waist. The black back panel is made to protect from wear and tear and is easy to clean! Besides, for bigger kids, it's safer to store their phone and wallet ina fanny pack rather than a pocket. It's great for storing snacks for a Sunday walk in a park or keep a bottle of sunscreen and some tissues handy for the family trip to a theme park. Print on demand fanny packs is a great way to keep all of the kids' essentials within reach.

6. The Animal Instinct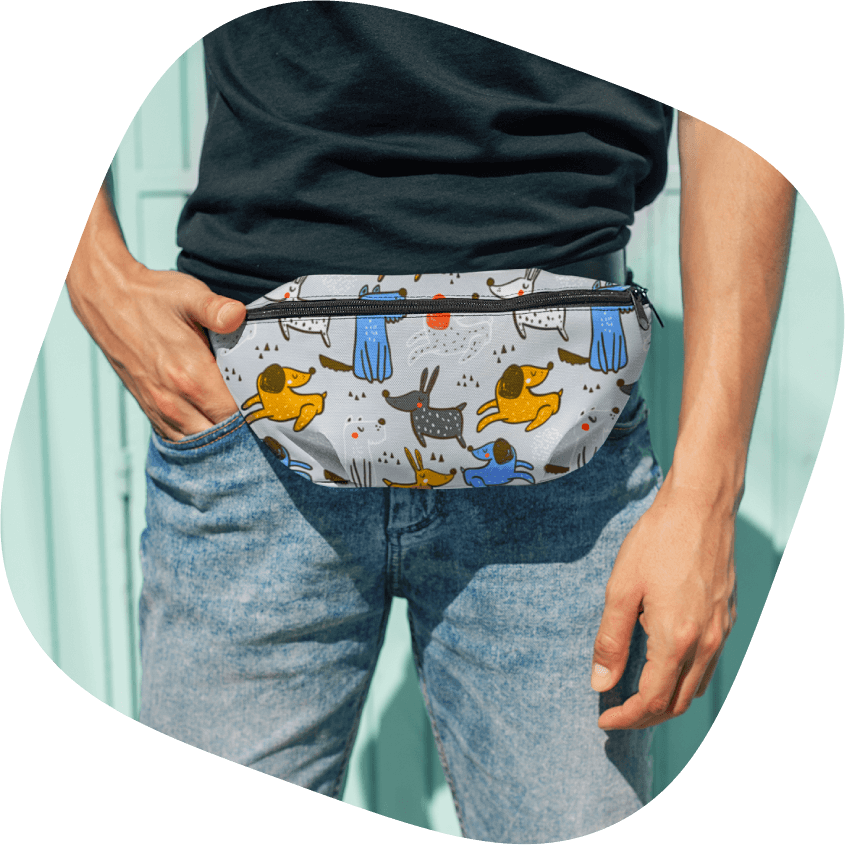 With our affordable blank fanny packs, you can create one for yourself for every single occasion, including dog walks! Customize your waist bag with your dog's photos, or create a custom cute dog-related print – whatever your heart desires for a place to keep doggy snacks and poo bags in!

Pet-themed packs are actually a lucrative business niche since people love their pets and are always looking for ways to display their love. Dog bone prints, cute kitten faces, relatable wording ('Dog mom,' 'Cat mom') – there is so much room for creativity!
Now that you know all the ways the fanny pack can be useful, it's time to add this versatile accessory to your eCommerce store. Let the summer fun begin! The time is now!
Make it happen right now.
Share the article
Topics