When it comes to on-demand profits, custom swim trunks make a convincing case. They're practical, follow predictable sales cycles, and enjoy high margins.
Having a few custom trunks on your side means that every heatwave, hot day, and water-proximate location becomes an opportunity to attract customers.
Why Design and Sell Custom Swim Trunks?
Because now is a very good time to sell swimwear. Recently, significant disruptions in the global logistical chain resulted in worldwide reductions in production. This diminishment contributed to retail swimwear sellouts increasing by up to 34%  through the first half of 2021. 
But, aren't sellouts a bad thing? Actually, quite the opposite – due to the scarcity principle. Remember when everyone was panic buying toilet paper? Marketing psychology explains that, during moments that feel like emergencies, people change their behavior. So, if a product is perceived to be scarce (like when a product sells out), customers buy faster, tolerate higher prices, and may even trample those in front of them.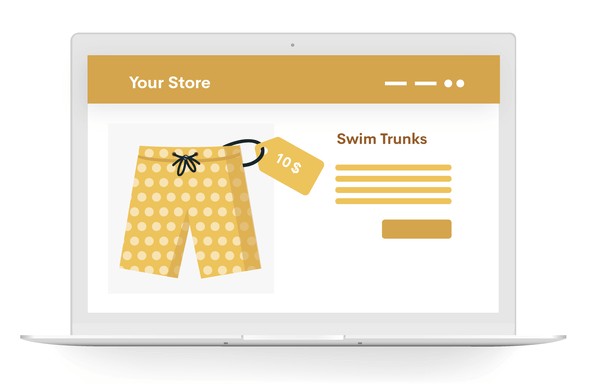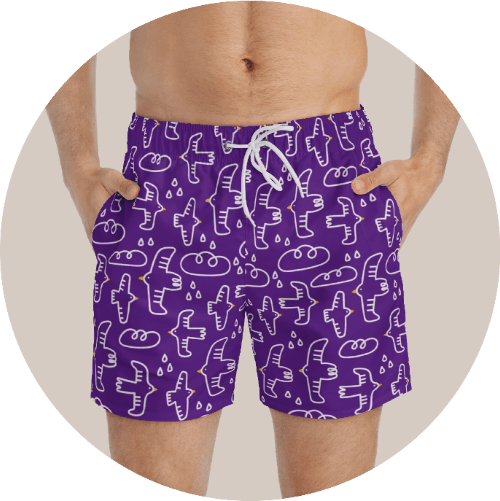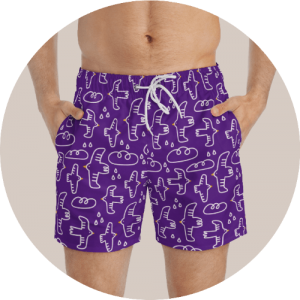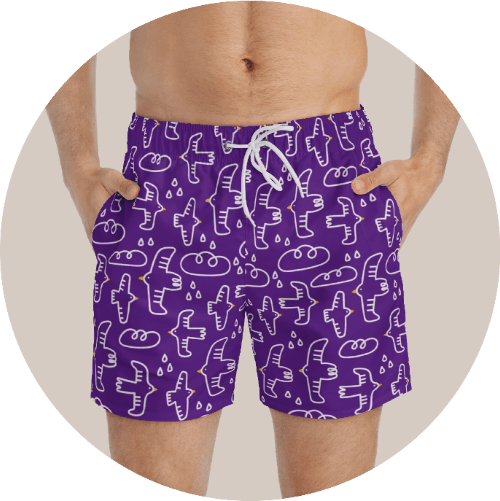 Start a Custom Swim Trunk Business with No Money Down
This is the beauty of print-on-demand dropshipping: there's no up-front investment required. Because the biggest problem in starting a business is the cost. There's no worry about that in POD.
Here's how it works: whenever you design a pair of custom swim trunks, those items are 100% digital… until a customer purchases them. Then, the money that the customer puts up is used to create and ship the product. You're the one in charge of prices, so all residual profits (after production and shipping) go into your bank account.
Selling Custom Swim Trunks
When the goal is running a successful online store, the key is to differentiate yourself from the competition. To do so, you can offer exciting new products (like swim trunks), designs, themes, or any other inclusion that sets you apart. 
Consider the audience you're targeting; the niche. Are these individuals more likely to gravitate toward a vibrantly colored beach scene, with neon palm trees arching over phosphorescent waves? Or, will your fans prefer to flaunt some furred or feathered faces – kittens, doggies, or any other cuddly creature under the sun?
The point is, your brand is just that – yours. The method by which you connect with the customer base is as much an art form as a science. Remember, we want you to succeed. There are resources, blogs, guides, tutorials, and a 24/7 support staff standing by to assist with any of your POD needs.
Unisex Custom Swim Trunks
Yes, it's true that trunks tend to be a traditionally male-inclined garment. However, within these more progressive times, the application of trunk technology is becoming more commonplace amongst any and all demographics. As modern style is more loosely defined than before, it's a solid idea to include a few more options.
 Whether it's a barbeque, company picnic, casual gathering,  beach day, or whatever, there's something to be said for the person that shows up in the coolest custom shorts. If the goal is attracting attention, a bit of customization goes a long way. This drive continues to fuel the rapid adoption of swimwear by large-scale apparel lines that we can't mention here for fear of IP infringement.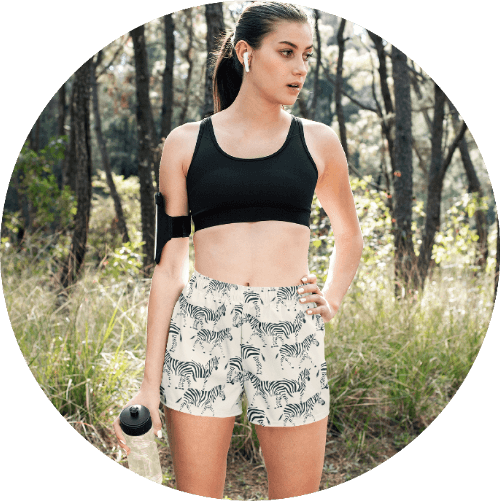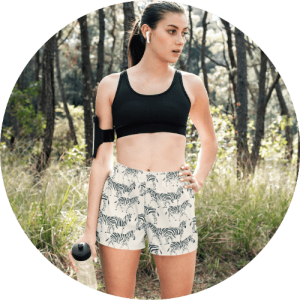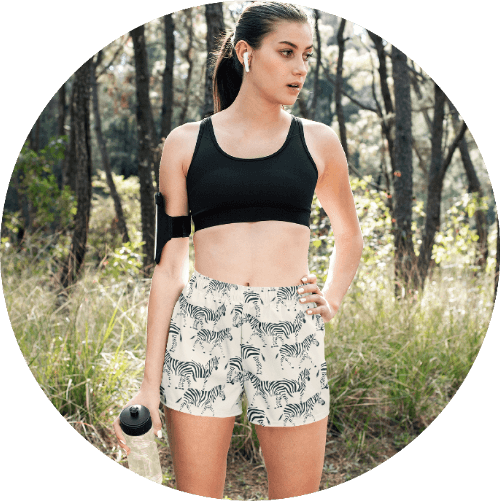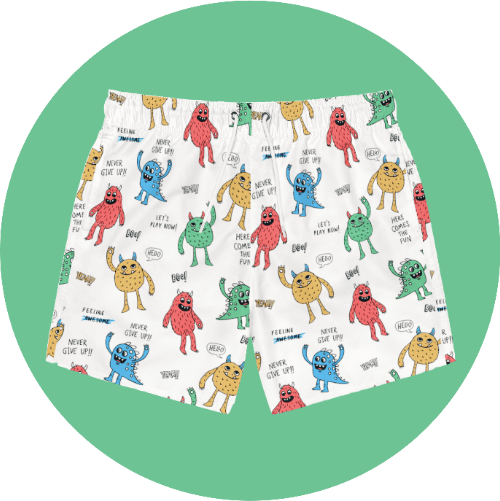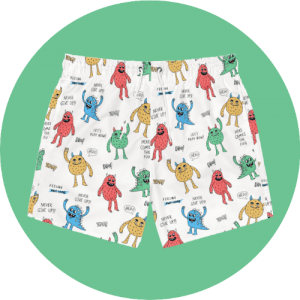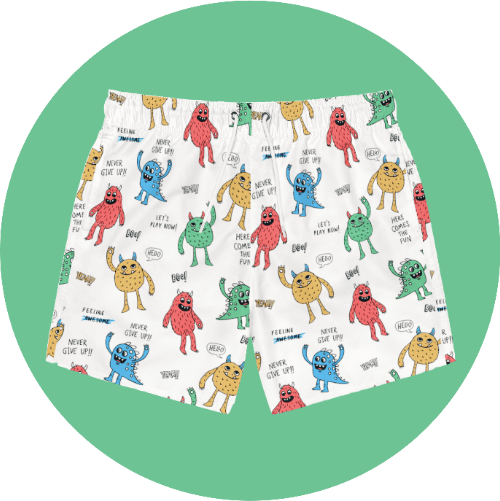 Don't you want to improve the lives of children with your profits while getting rich? For the uninitiated, it can be easy to forget just how useful younglings can be. However, this is a lesson mass marketers learned long ago: Whenever a product resonates within little heads, there's money to be made. 
Comfort is arguably the foremost argument with kids. These things are made of 100% polyester. That means there's a silky smoothness to the feel, rather than the wet bunching that natural fabrics (cotton, wool, etc.) crumple into. Then, sizing ranges all the way from XS through 3XL, odds are there's a perfect fit somewhere in there. Last, the all-over-print support provides unsurpassed range and freedom of expression for designs, colors, messages, or any other legal inclusion.
Create Your Custom Swim Trunks!
Popular Custom Swim Trunks
Nowadays, it seems like influencers wear nothing but funky swimwear. The idea of personalized attire is well-entrenched as a contemporary norm.
Then, there's the sheer comfort factor that these garments bring to the table. Regardless of one's creed, ethnicity, orientation, etc., just about everyone loves hitting the beach, relaxing, or just pooling around in a pair of comfortable trunks.
Custom Swim Trunk Designs
If you've got a few ideas for how to decorate some custom swim trunks, great. If not, check out a few of these ideas to spark some ideas. Remember, it's important to stand out from (or even stand above) the rest of the competition.

Surf's up, dude. And it always will be. Even if the people wearing them are landlocked pool-dwellers, you'll see shorts with palm trees, neon colors, waves, and other beachy themes. Capitalize on this prominent phenomenon and ride those predictable sales waves.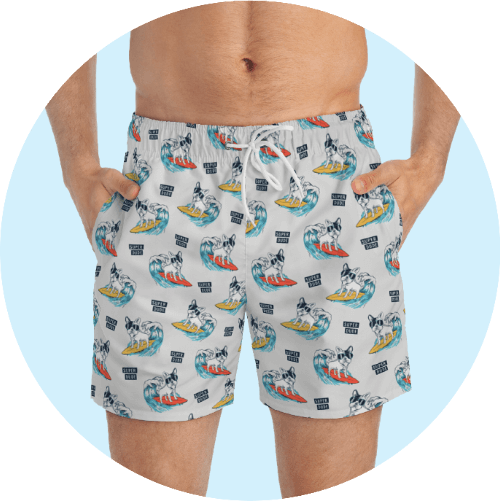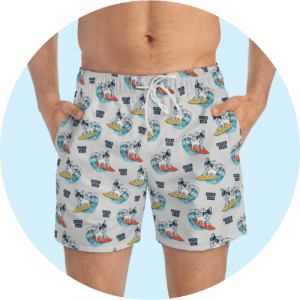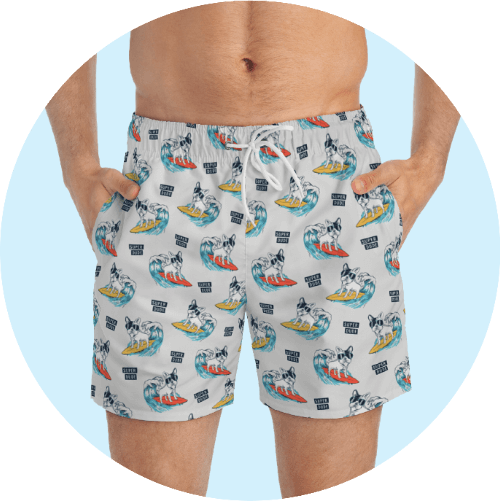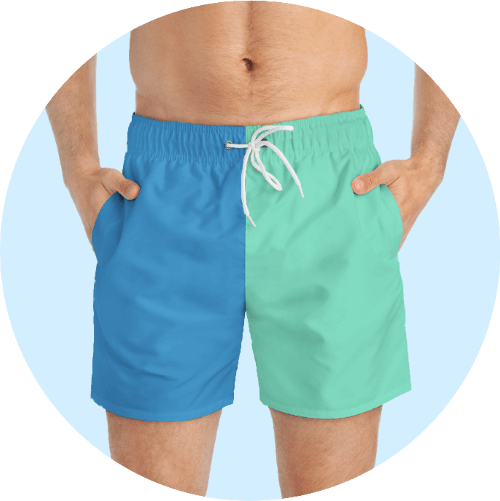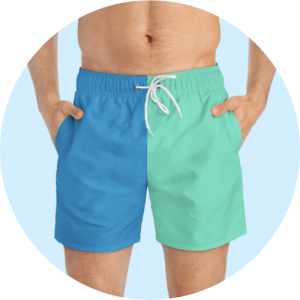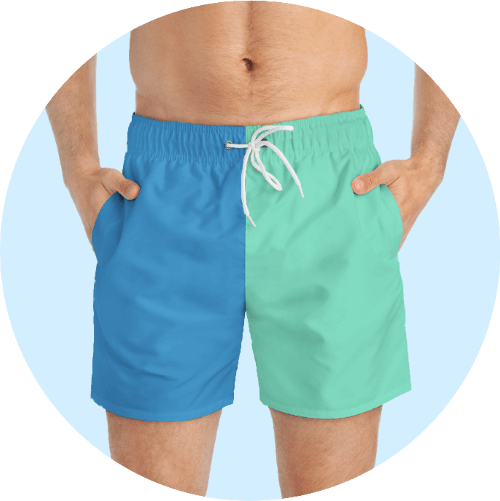 Interestingly, simple color schemes are very popular when it comes to getting wet. While it can be easy to fall into a too-consistent boring, mix up your trunk game with some easy color pairings: black and white, red and black, red and green, or grey on brown. 
Now, while it is a bit ethnically bankrupt to push a theme on behalf of its monetary value, many virtue-signaling businesspersons have profited by pushing popular slogans. After all, there are some things that no one can disagree with. As such, they are likely to cash in with the emotionally fickle modern audience. And, if you do believe in the message – even better.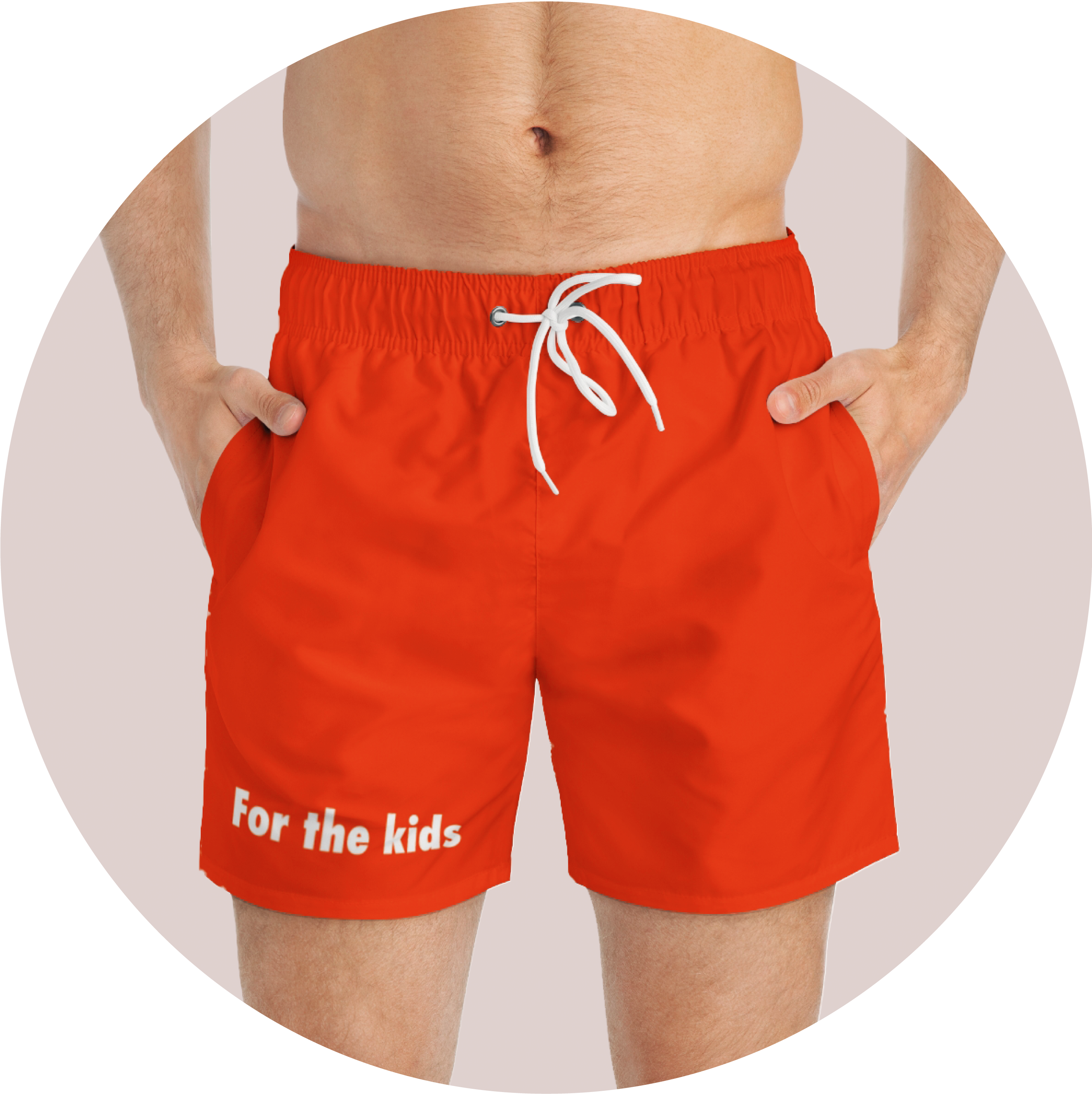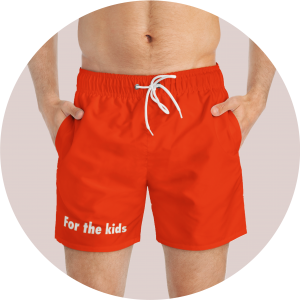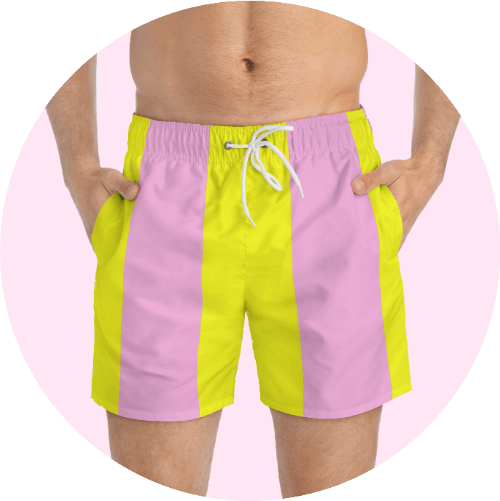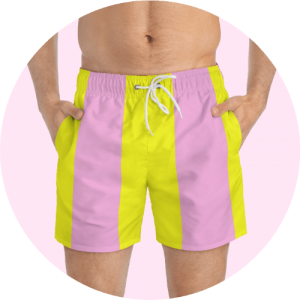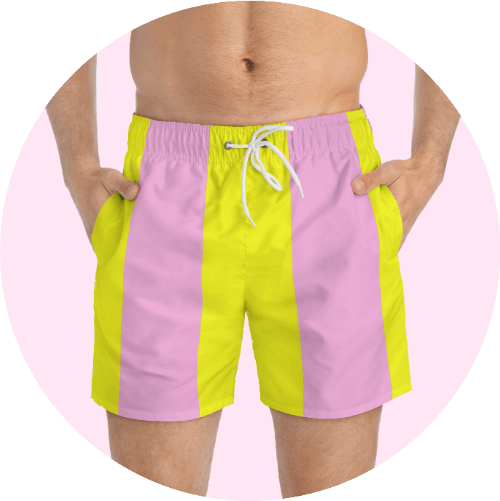 These shorts ride a bit lower than some other fittings. As such, there's a bohemian vibe that accompanies a viewing of the skin above the knee. Take advantage of this reaction by accentuating the curvature of the custom swim trunks with off-blue flamingoes, bright green dogs, and other eye-catching inclusions. 
Step-By-Step Instructions to Custom Swim Trunk Printing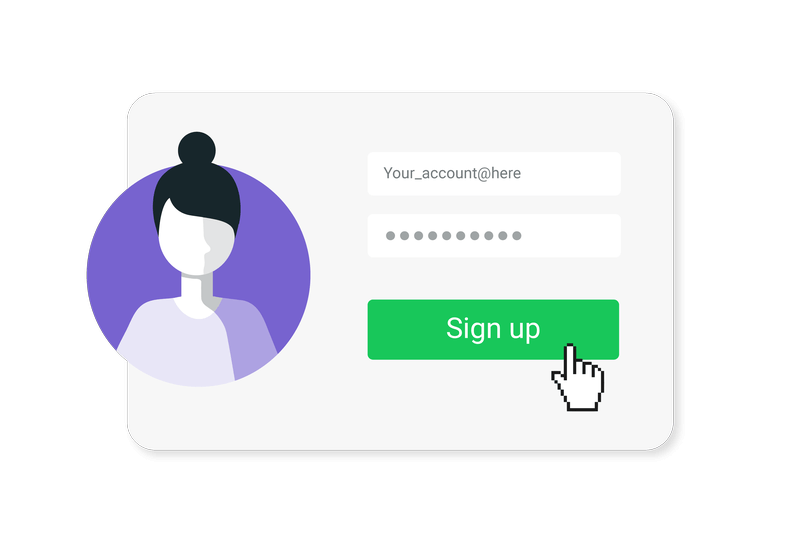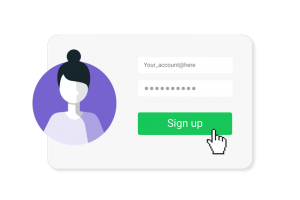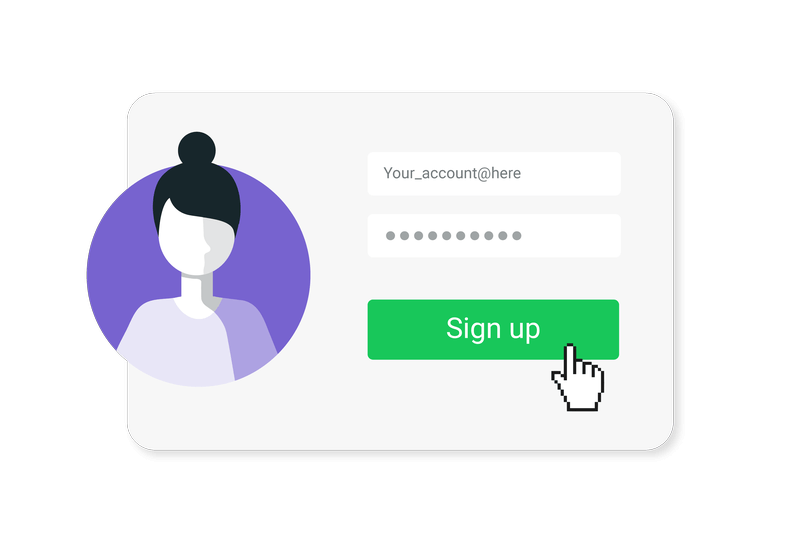 1. Create a Printify Account
This is the easiest part by far. With the submission of some simple information, you'll have access to a fully functional store. However, those digital shelves are still empty…
As soon as you're in the mockup generator, it's as easy as drag and dropping a design onto the product. However, it's worth looking over placement, coloring, and other design elements to make sure your product looks as good in real life as it does on the screen.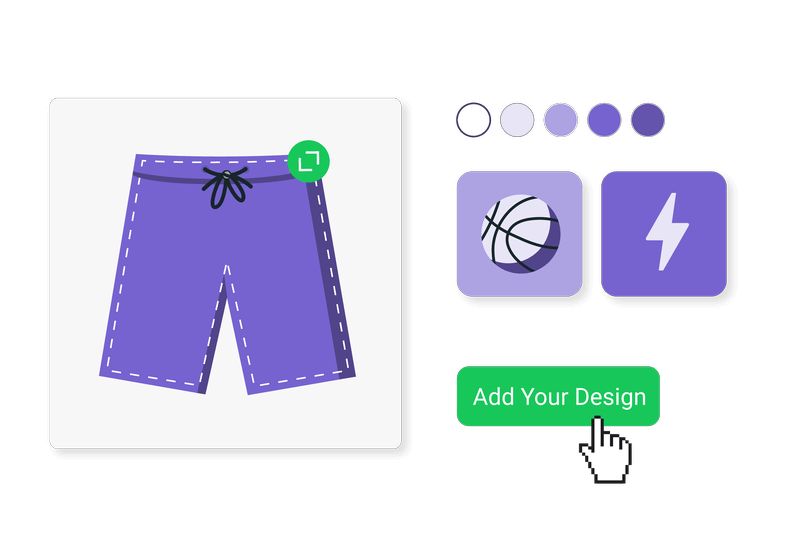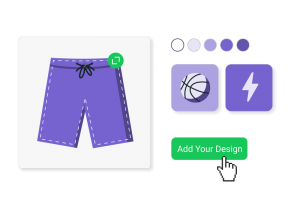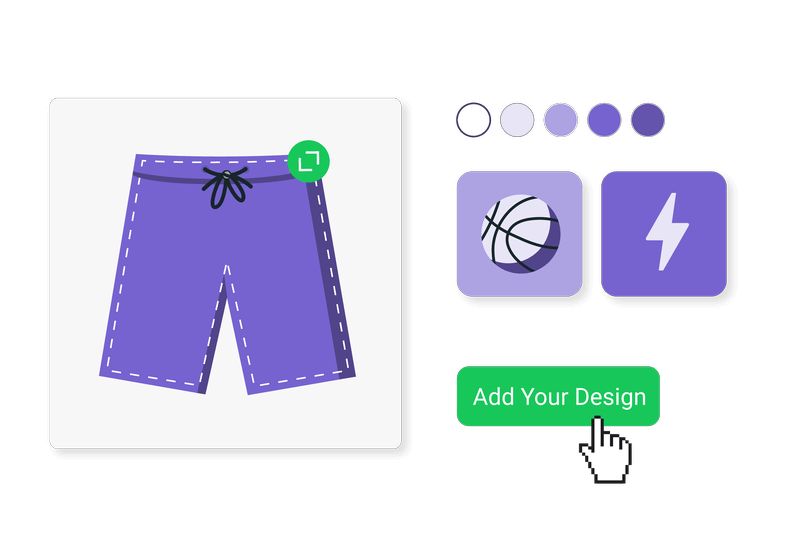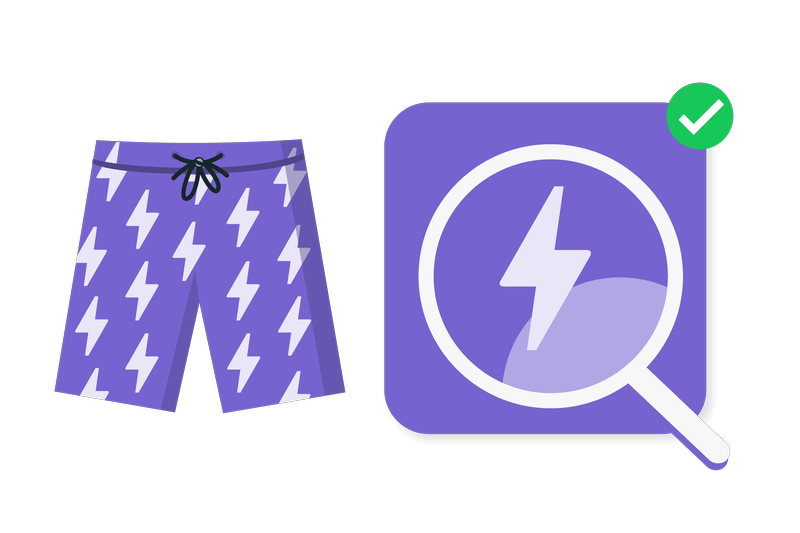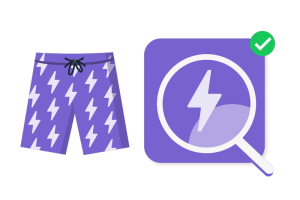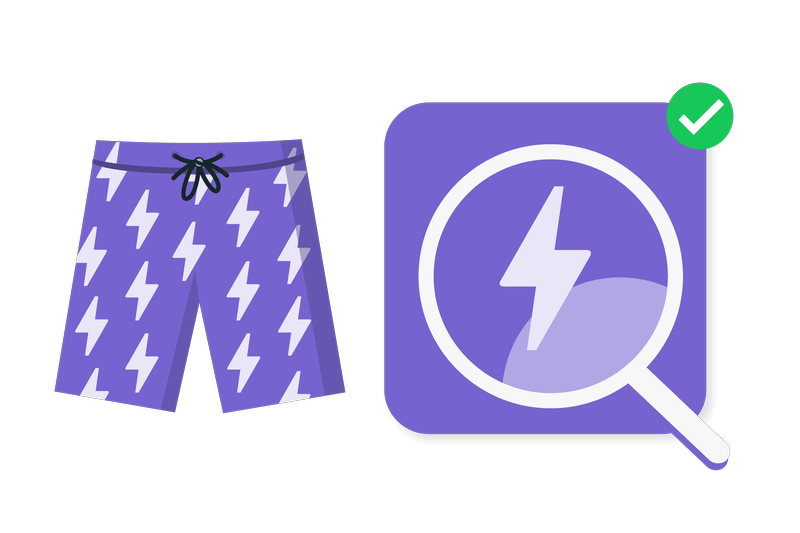 While we do have an in-house quality check, please try to make sure the images you use meet our printing standards. This means having a dpi of 300 – the best quality for printing. The quality will suffer if you stretch an image from smaller to larger design sizes.
There's nothing better than holding the physical product when it comes to quality checking. Once you've seen the finished garment firsthand, there should be no questions left regarding sizing, texture, appearance, fitting, etc. If you're satisfied, your customers will be, too.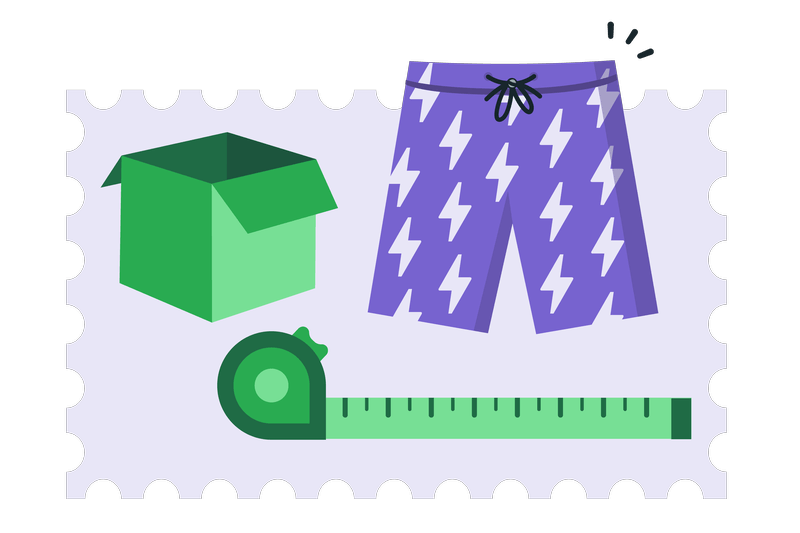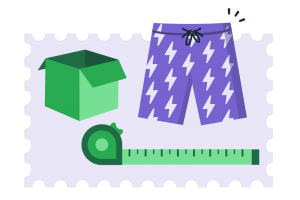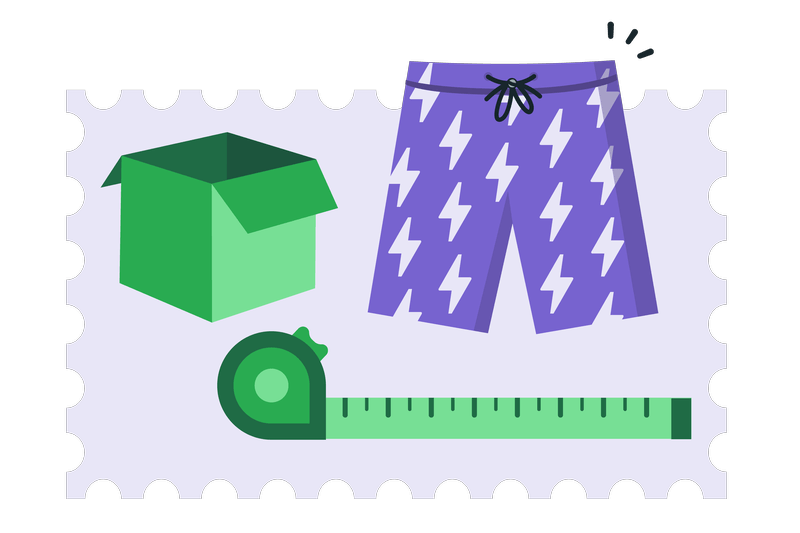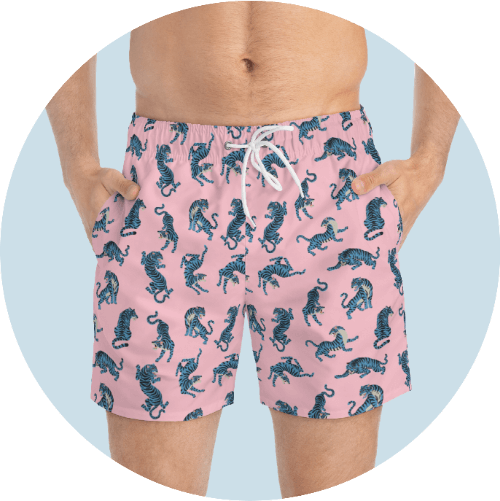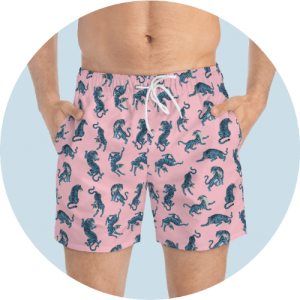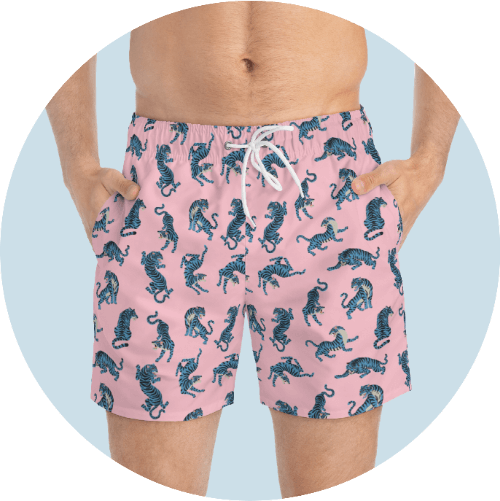 While the title may seem ominous, this section isn't scary at all. This is because Printify makes it easy to see the breakdown for any and all production and shipping costs. These are the only factors you need to worry about – and they're clearly presented.
There's never any worry about costs associated with platform upkeep, network expansion, sourcing, printing, packing, inventory management, etc. To be as profitable as possible, stay current with what other merchants are selling similar items for. Then, consider sales spikes that pop up throughout the year – like the winter holidays, for example.
Swim trunks have huge margins. The modern customer is well-used to spending significant amounts on these relatively small pieces of fabric. Think about it, when was the last time you bought a sweet new pair for under $50? Just add a branded design to one of these blanks for an attractive aesthetic, and you've got a selling formula whenever there's warm or wet weather.
Frequently Asked Questions about Custom Swim Trunks
Get Started with Custom Swim Trunk Printing
Selling custom swim trunks is one of the most popular ways you can monetize your content or your brand online. 
Start Selling Custom Swim Trunks Today!