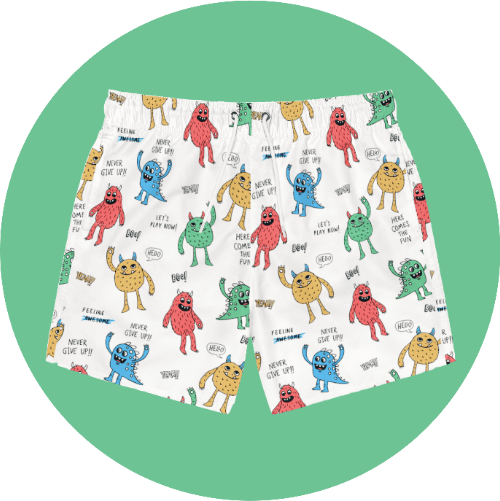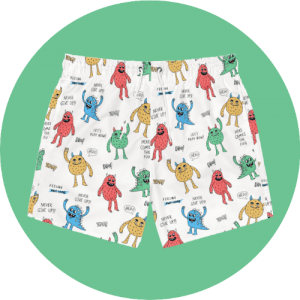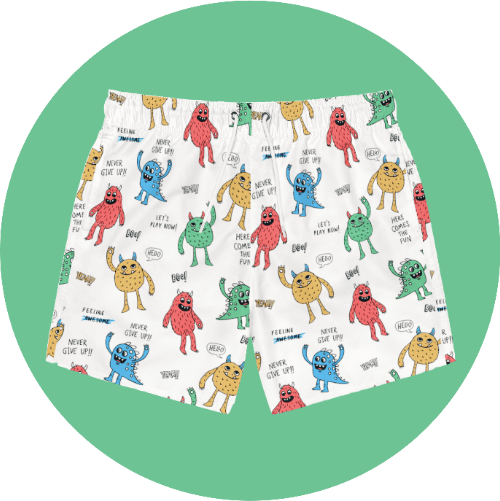 Don't you want to improve the lives of children with your profits while getting rich? For the uninitiated, it can be easy to forget just how useful younglings can be. However, this is a lesson mass marketers learned long ago: Whenever a product resonates within little heads, there's money to be made. 
Comfort is arguably the foremost argument with kids. These things are made of 100% polyester. That means there's a silky smoothness to the feel, rather than the wet bunching that natural fabrics (cotton, wool, etc.) crumple into. Then, sizing ranges all the way from XS through 3XL, odds are there's a perfect fit somewhere in there. Last, the all-over-print support provides unsurpassed range and freedom of expression for designs, colors, messages, or any other legal inclusion.
Start Selling Custom Swim Trunks
Get ready to ride the wave of profits with custom swim trunks. They're a practical and versatile option that offers predictable sales cycles and high margins. Create custom designs for selling and personal use.
With a few personalized swim trunks on your side, you can turn every heatwave, hot day, and water-proximate location into an opportunity to attract customers. Get your swimwear brand noticed and make a splash in the market.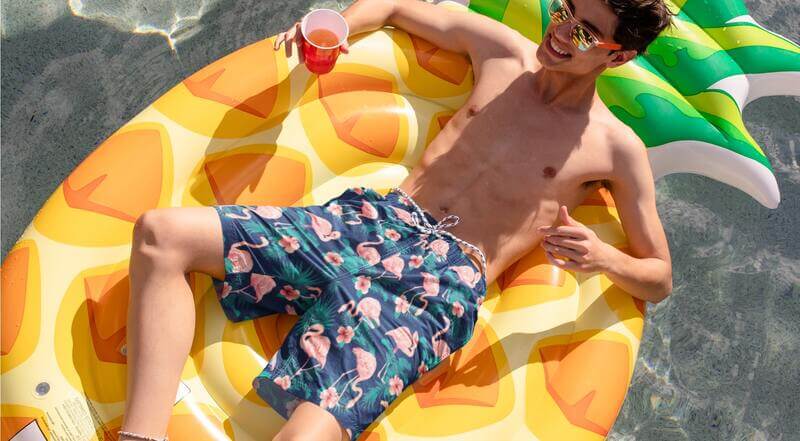 Start Your Business With Printify
Why Sell Custom Swim Trunks
in revenue in 2023 – that's how the swimwear industry is projected to look this year, so the custom swim trunks market can be highly profitable.
Entrepreneurs entering the fashion industry can seize this opportunity, as the market experiences a 4.64% annual growth rate, making selling personalized swim trunks a profitable and growing business venture.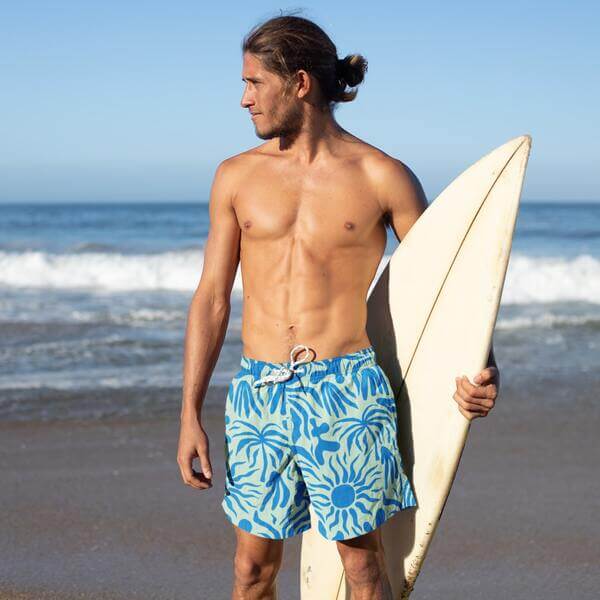 Design Custom Swimming Trunks With Printify
Find over 850 amazing custom products in the Printify Catalog, including swim trunks and other swimwear. By adding unique designs tailored to individual preferences in our Mockup Generator, you'll create timeless products customers adore. Plus, our no-minimum-order policy makes starting and scaling your fashion business a breeze.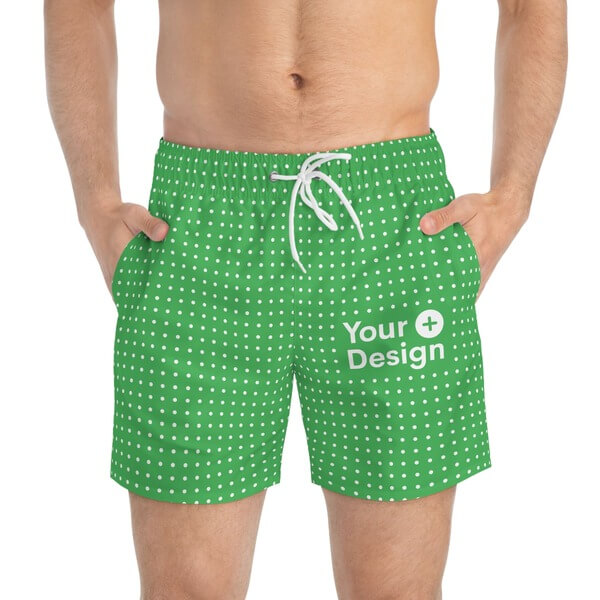 Made from durable, quick-drying 100% polyester, these personalized swim trunks are ideal for beach relaxation or pool fun. A drawstring waist guarantees a snug fit, while vibrant all-over prints showcase your unique designs.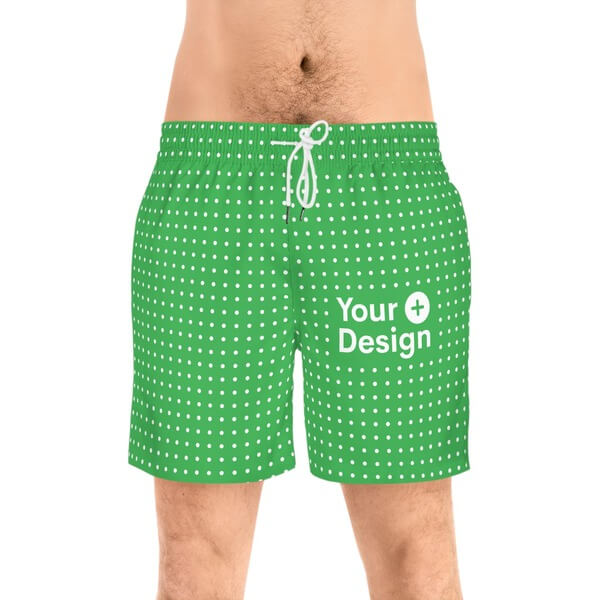 These custom swim trunks blend functionality and comfort, perfect for water sports or relaxation in the sun. Personalize with all-over-print for long-lasting, eye-catching patterns that will complement any summer wardrobe, whether swimming or enjoying a weekend getaway.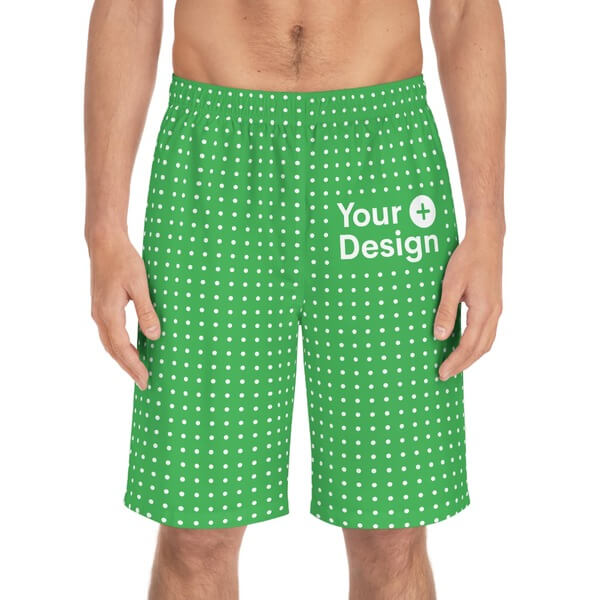 Upgrade your beachwear line with swim shorts crafted from lightweight, breathable polyester. These quality shorts feature side pockets, an elastic waistband, and a black drawstring for convenience and comfort. Personalize with an all-over-print showcasing vivid, long-lasting colors.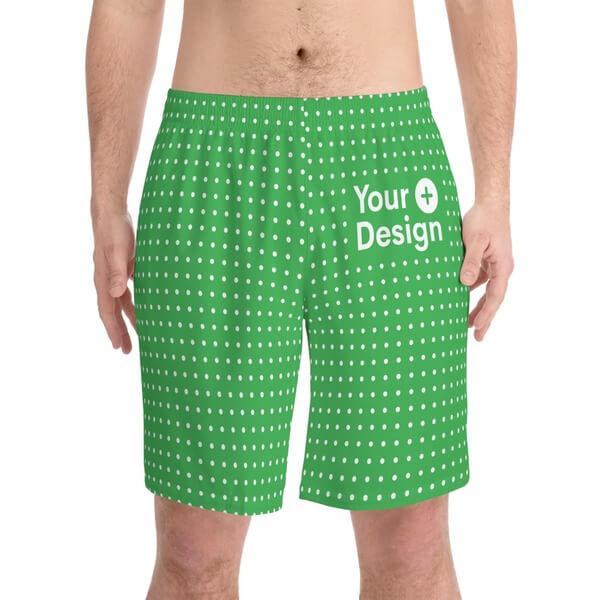 Offer style and comfort for swimming or sunbathing with this pair right here. The added spandex allows free movement, while the relaxed fit and inner mesh brief ensures coverage and comfort. Customize with striking AOP graphics to uniquely showcase your brand.
Over 2 Million Merchants Choose Printify
Discover why over two million merchants worldwide trust Printify for their custom product needs.
I don't have to invest the money I can't lose into my business. With Printify, I only pay the fulfillment fees, and the rest is all profit.
I really appreciate working with Printify on my brand. Afro Unicorn was only supposed to be my design on a white shirt. It is so much more. Printify allows me the time to run the business and not work in the business.
Printify helped me start a completely hands-off revenue stream. When you spot a niche that you want to enter quickly, you don't have to worry about buying stock or equipment.
Printify Premium has helped my profit margins tremendously, and spending $20 a month has probably saved me over $200 a month.
Using Printify saved our struggling business of 6 years and gave us more time with our family.
I like Printify products because they tie in with our organisation's message.
I love the Printify Mockup Generator. It keeps everything consistent and allows me to keep my brand looking sharp and professional.
How to Make Personalized Swim Trunks in Just a Few Minutes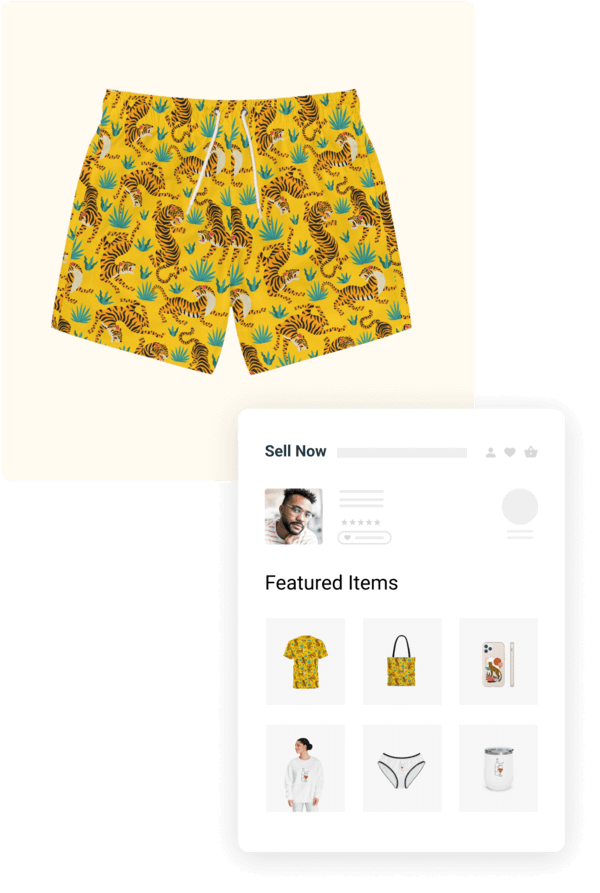 Before designing swim trunks, create a free Printify account. Enter a valid email address and a password. After registering, provide your contact details, business info, and payment method. Don't worry, you won't be charged a dime.
Head to our Catalog to browse over 850 custom blank products, including swimming trunks and other swimsuit models. Select the style you want to design and sell and tap Start Designing.
In the easy-to-use Mockup Generator, upload your design files or photos, play around with up to ten layers, and add custom texts right in the design interface to create unforgettable and selling personalized swim trunks.
Before selling your amazing creations online, it's wise to test the product. Sample orders let you check the material and see if the prints meet or exceed your expectations, plus use the samples for taking marketing photos.
Publish and Start Selling
Now it's time to get down to business. Create descriptions, add a price, and list the products in your favorite platform or marketplace. Advertise your merch to your desired audience and let the sales begin!
Design Ideas for Personalized Swim Trunks
Stuck on what to design? Get inspired by these cool and creative ideas for personalized swimming trunks, perfect for making a statement at the beach, swimming pool, or weekend garden party.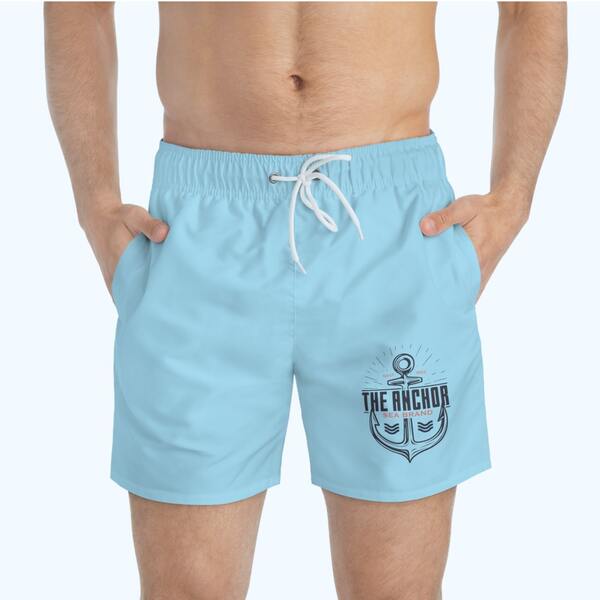 Add a touch of professionalism to your swimwear and design them with your brand logo. Whether it's a simple placement on the leg or an all-over print extravaganza, logo swim shorts are a great way to promote your brand while enjoying the water.
Show off your personality with custom swim trunks featuring a face of a loved one, yourself, or a celebrity. Printing fun pictures will surely make a splash at the beach or pool, letting you express your style and grab attention.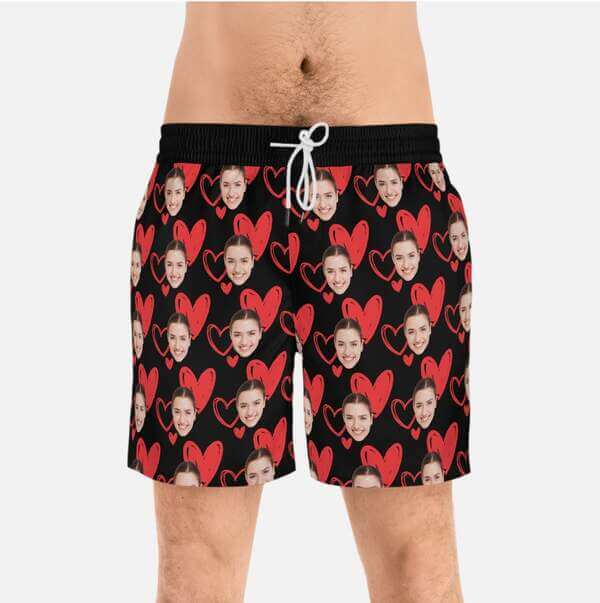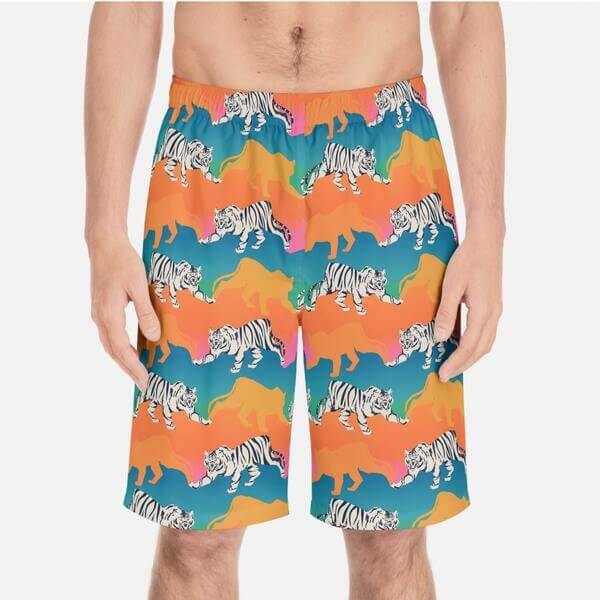 Custom Swim Shorts With Abstract Graphics & Illustrations
Infuse creativity into your swim trunks with geometric shapes or artistic illustrations. Opt for bold colors to make a statement or muted tones for elegance. Unique, high-quality printed trunks suit everyone's style, and AOP will last wear after wear, wash after wash.
Personalized Swimming Trunks With Plain Colors
Keep the swim trunks simple yet stylish. Design in classic hues like black, navy, or white, or go for brighter shades like neon pink or electric blue. In our design interface, add some custom text or a small logo placement to make truly sophisticated custom swim trunks.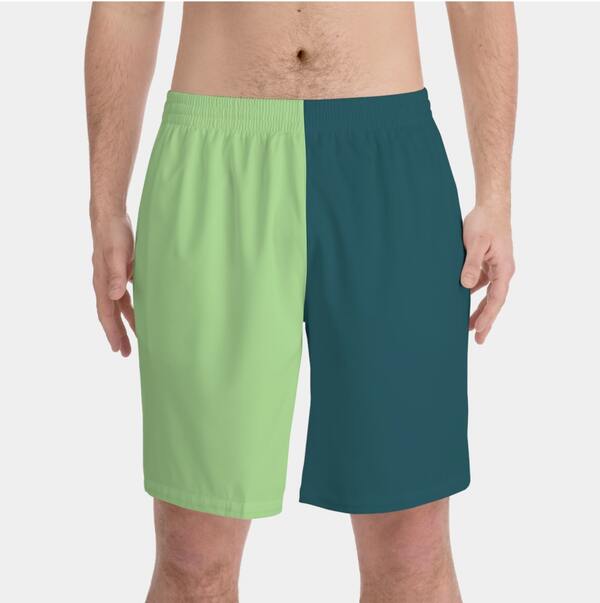 Frequently Asked Questions
Check Out Other Product Ideas
Fun in the Sun does not end with cool trunks. Check out other custom items that will complement your line of products and generate sales.