Christmas Puzzles for Jigsawers Worldwide
Surprise your customers, colleagues, or loved ones with unique Christmas jigsaw puzzles – designed by you. Bring the holiday spirit in the form of entertainment with the best Christmas puzzles during the holiday season.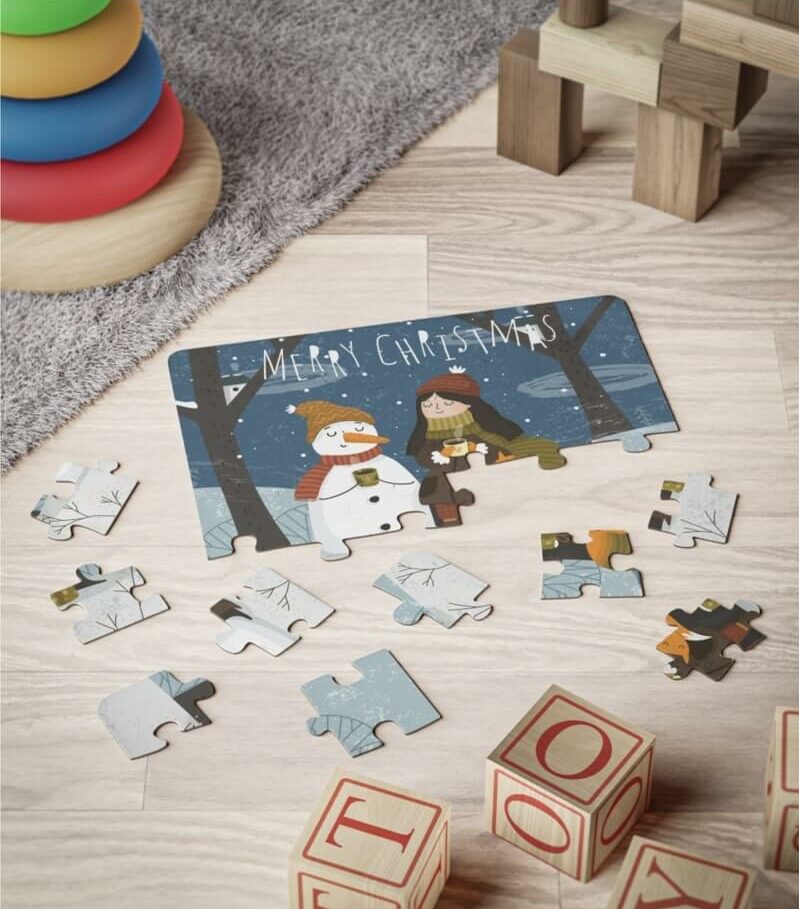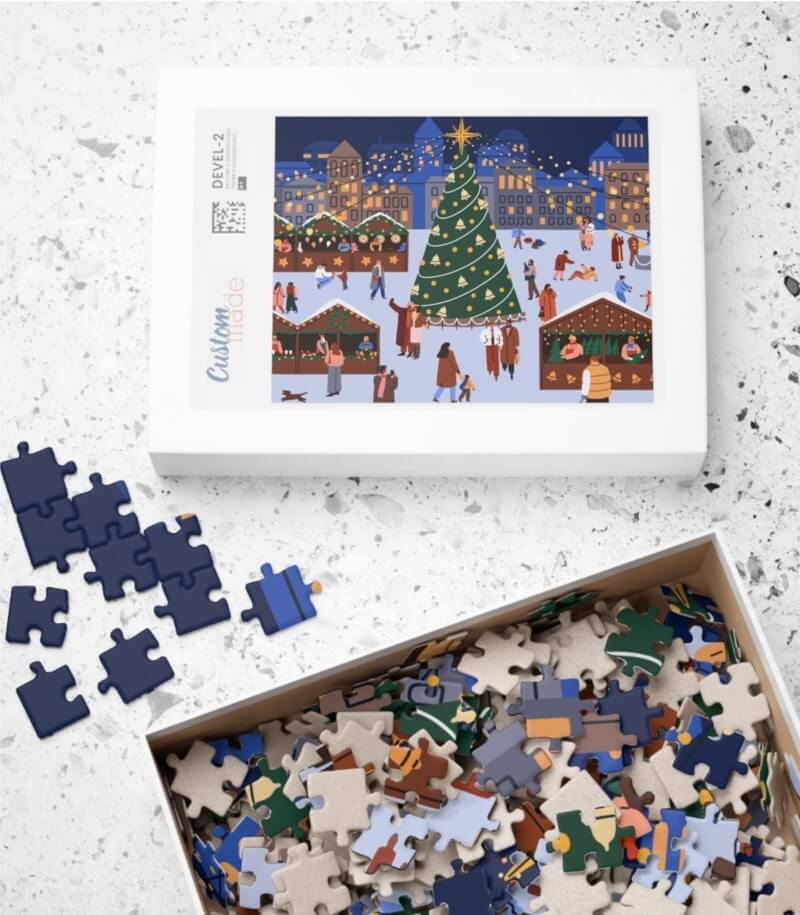 Design Christmas Puzzles Without Limitations
Create Christmas Puzzles With Printify
How to Make Custom Christmas Puzzles in Three Easy Steps
Make the most unique Christmas jigsaw puzzle in minutes with our user-friendly platform and free design tools. All you need to do is sign up for Printify, pick a puzzle from our vast selection of products, and create a jolly design for the festive season.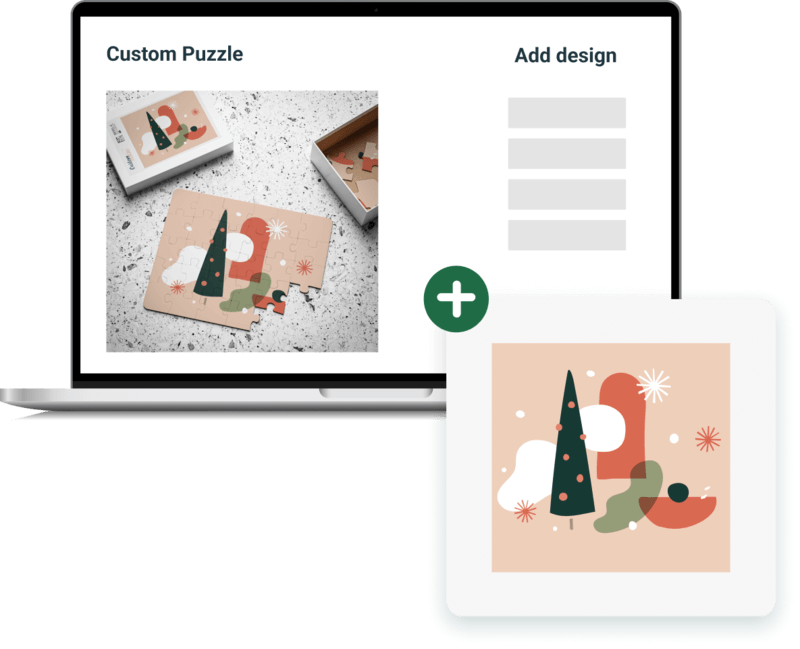 The signup process is so quick and easy that your hot cocoa will still be steaming by the time you're done. All you need is an email address to get your Printify account up and running.
Browse our Catalog for jigsaw puzzles and find the perfect one to customize for your favorite puzzler. Choose a style, packaging, and difficulty level to customize holiday fun for the whole family.
Click Start designing and unleash your Christmas creativity with winter, reindeer, and other heartwarming elements from the holiday season. Our Mockup Generator is simple, free, and equipped with all the features you need.
Design Christmas Jigsaw Puzzles With Printify
Let's dive into the sleigh-load of jigsaws on the Printify Catalog, from different sizes to types, packaging, and number of pieces – we have it all. Design your own collection of Christmas puzzles to bring hours of fun to your or many other families during the winter holidays.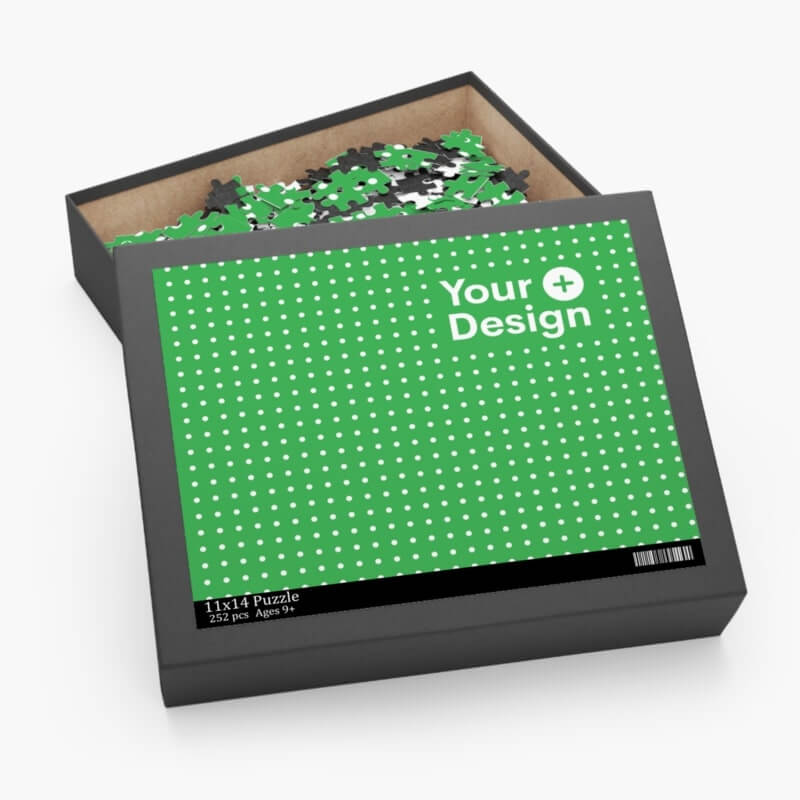 Let's start our list with beautiful, natural, classic-looking Christmas jigsaws in smooth paper boxes. Families enjoy spending time together, and that's what these puzzles are all about. Bedazzle them in Christmas magic, choose a difficulty level, and create something unique and fun for the holidays.
Sizes: This jigsaw puzzle comes in three sizes (120, 252, and 500 pieces).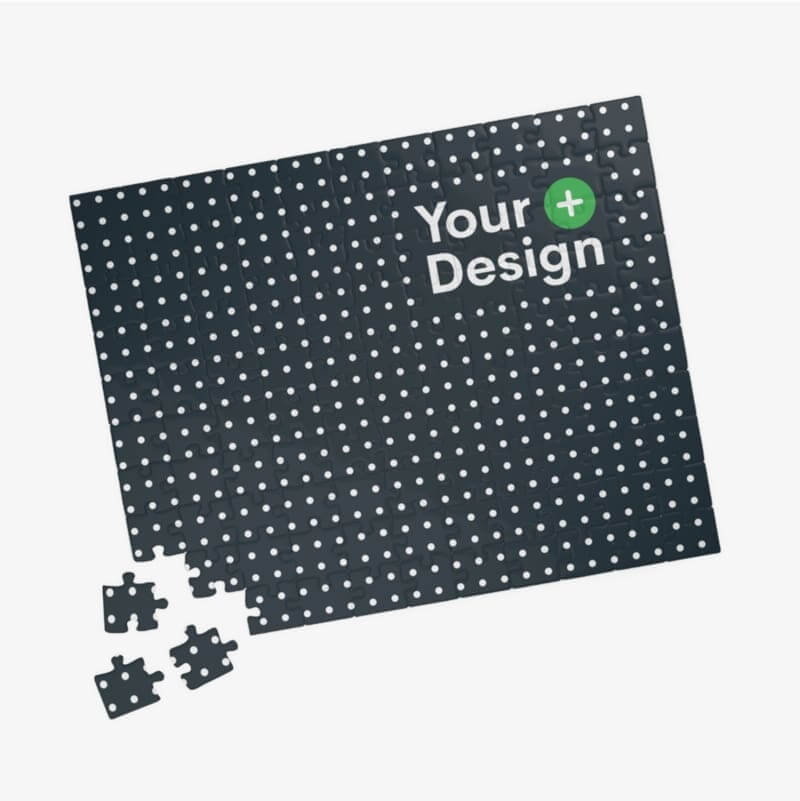 From kids and beginners to jigsaw connoisseurs, these Christmas puzzles will bring hours of fun to every home and board game enthusiast. Spend the holidays putting together beautiful scenery, well wishes, or jolly Christmas elements every kid and adult can enjoy.
Sizes: This jigsaw puzzle is available in four sizes (110, 252, 500, and 1014 pieces).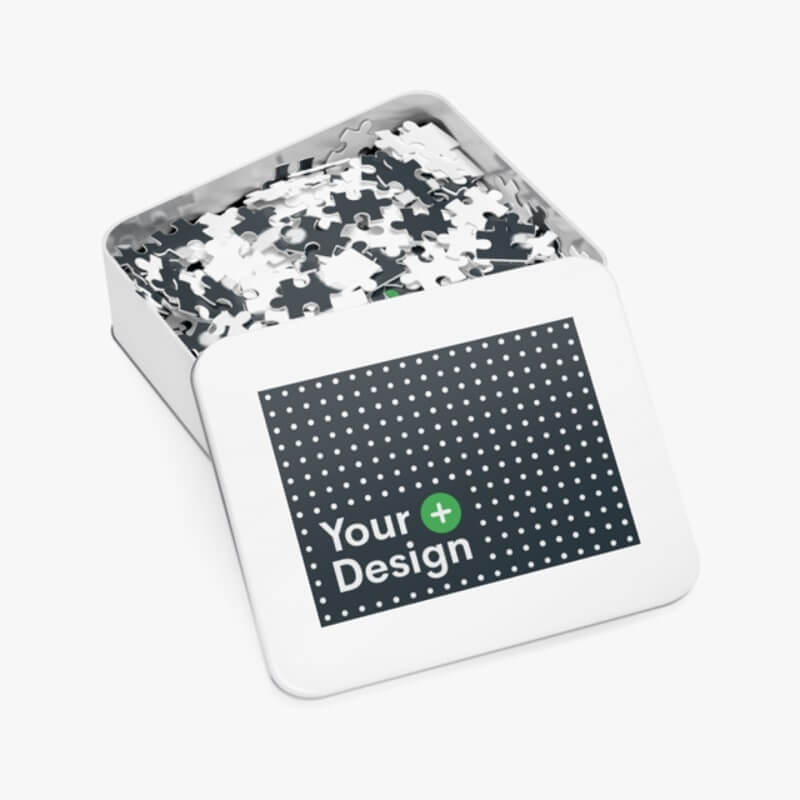 Let's up this time-honored tradition with a bigger size variety and better storage options. Design a snowman puzzle for kids with only 30 pieces or a huge Christmas puzzle (1000 pieces) for seasoned enthusiasts – all options are possible with this durable, adjustable, high-quality choice.
Sizes: This jigsaw puzzle comes in five sizes (30, 110, 252, 500, and 1000 pieces).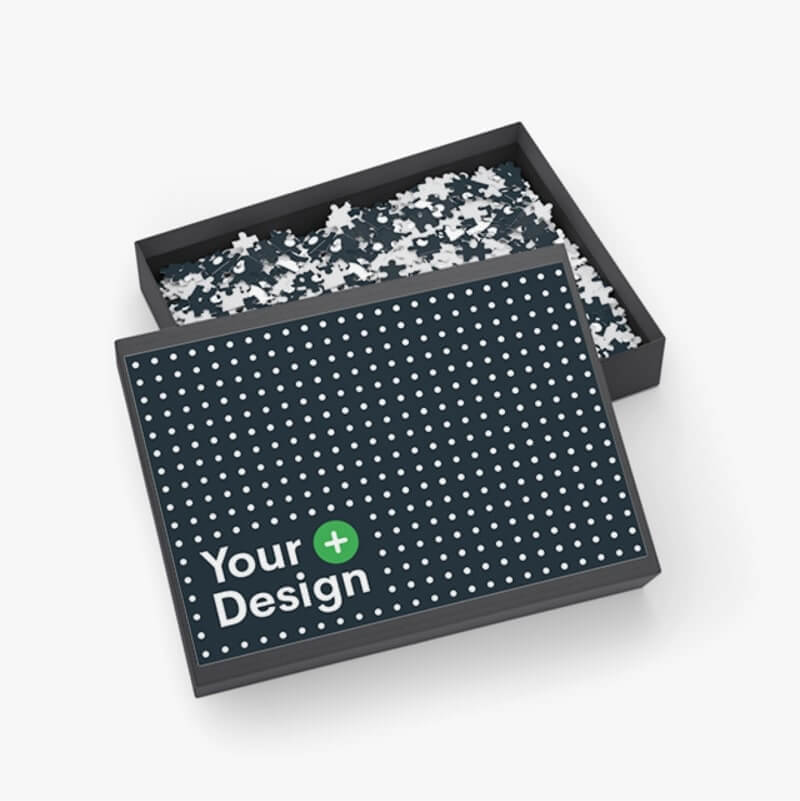 Add a personalized touch to your gifts with these beautiful, natural Christmas jigsaw puzzles. Surprise a friend, colleague, or your favorite puzzler with something magical. From special images, text, and patterns or a mix of everything in a unique, custom-made design.
Sizes: This jigsaw puzzle is available in four sizes (96, 252, 500, and 1000 pieces).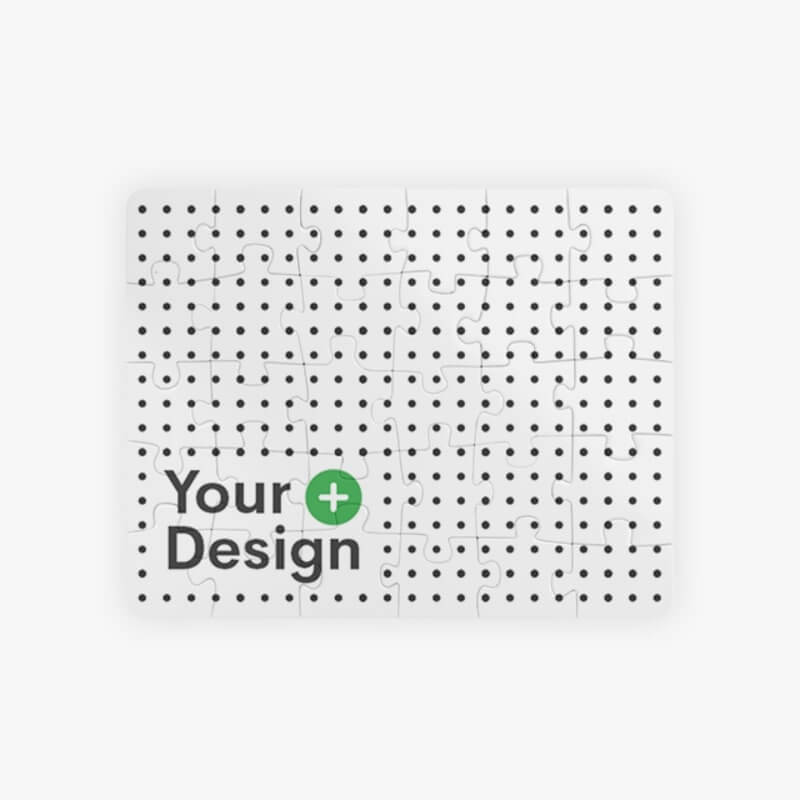 Let's not forget the jolliest puzzlers of the holiday season – kids. Customize this time-honored tradition for the youngest enthusiasts, making a one-of-a-kind puzzle for the holidays. Christmas puzzles are great gifts for the whole family to enjoy, bringing people together and guaranteeing fun winter nights together.
Size: This puzzle is available in one size (30 pieces).
Over 8 Million People Trust Printify
Hear it from our successful merchants who have reached sky-high profits with Printify.
I don't have to invest the money I can't lose into my business. With Printify, I only pay the fulfillment fees, and the rest is all profit.
I really appreciate working with Printify on my brand. Afro Unicorn was only supposed to be my design on a white shirt. It is so much more. Printify allows me the time to run the business and not work in the business.
Printify helped me start a completely hands-off revenue stream. When you spot a niche that you want to enter quickly, you don't have to worry about buying stock or equipment.
Printify Premium has helped my profit margins tremendously, and spending $20 a month has probably saved me over $200 a month.
Using Printify saved our struggling business of 6 years and gave us more time with our family.
I like Printify products because they tie in with our organisation's message.
I love the Printify Mockup Generator. It keeps everything consistent and allows me to keep my brand looking sharp and professional.
Christmas Puzzle Design Ideas
Browse our list of inspirational suggestions to design the best Christmas puzzles for your friends, family, or online store. Create one, two, or a whole collection of various sizes, types, and difficulties to bring everyone together for Christmas.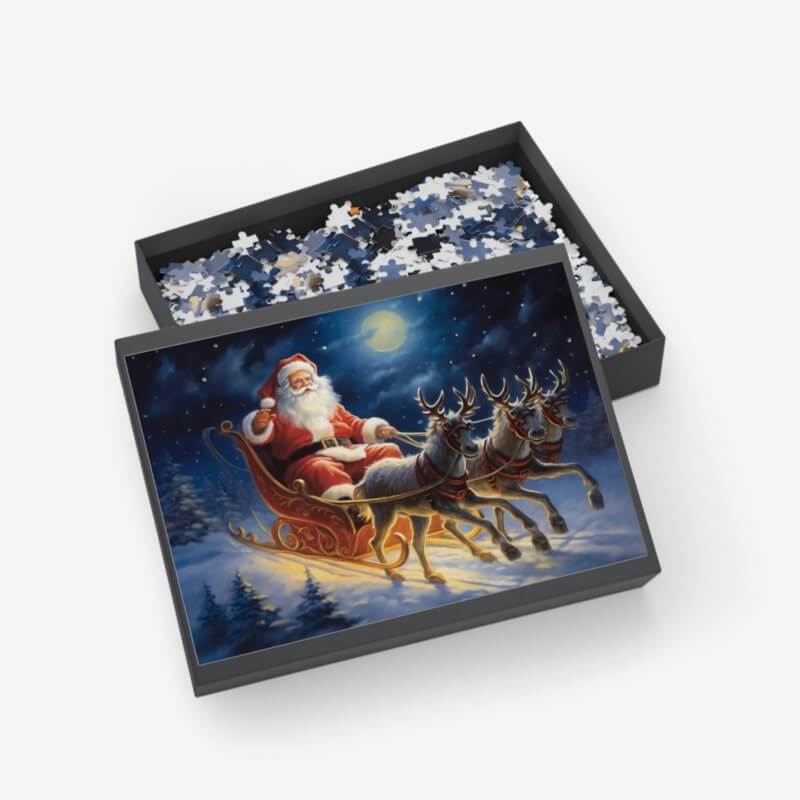 Puzzle With Santa and His Reindeers
A personalized Santa puzzle will delight every Christmas enthusiast – big or small. From classic imagery to humorous scenes, design Christmas jigsaw puzzles with the jolly man himself and his noble steeds.
Many families enjoy Christmas together, spending quality time playing board games and doing puzzles. What better way to bring joy this year than with personalized Christmas puzzles with family photos?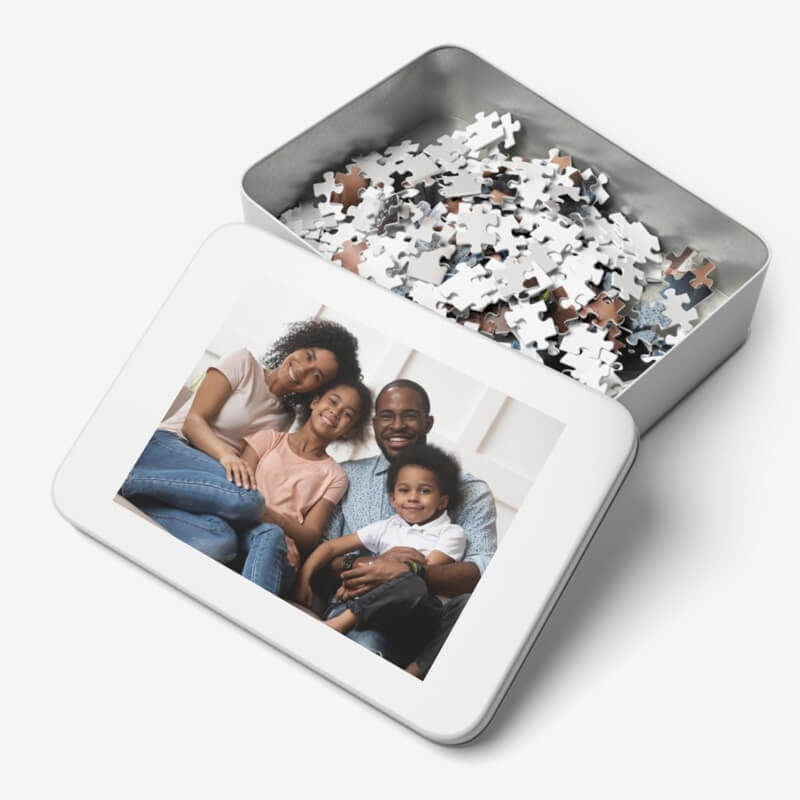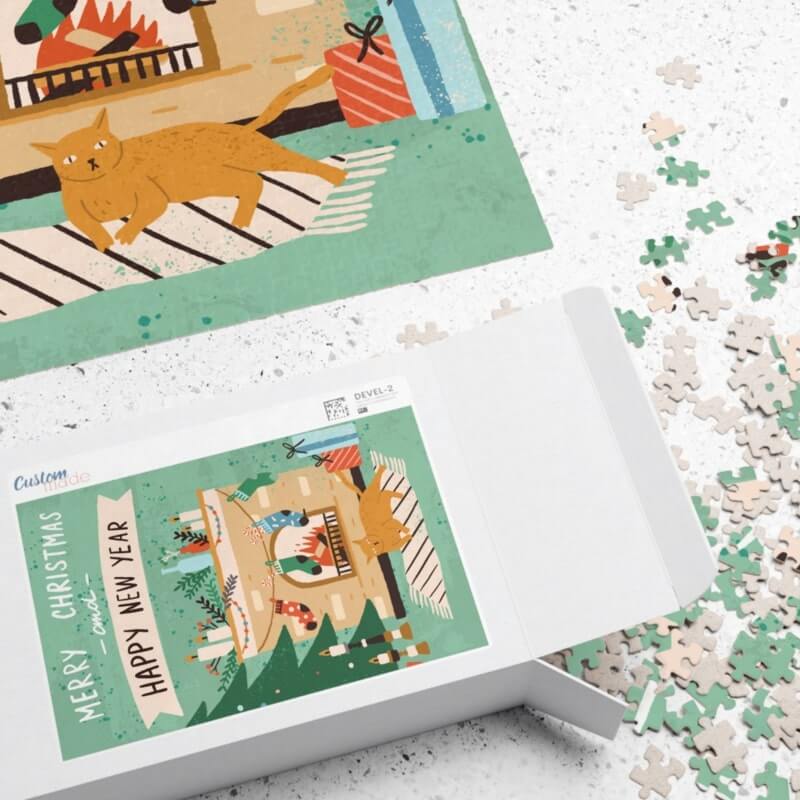 Other Christmas Themes That People Love
From a cute elves puzzle and winter-themed designs to Christmas trees, stockings, and all things jolly. There are plenty of Christmas-related design elements to implement into your personal collection.
Imagine 300-piece Christmas puzzles with beloved pets. Or children. Or special moments like weddings, graduations, proposals, and more. Design custom puzzles with a personal touch to make this Christmas extra special.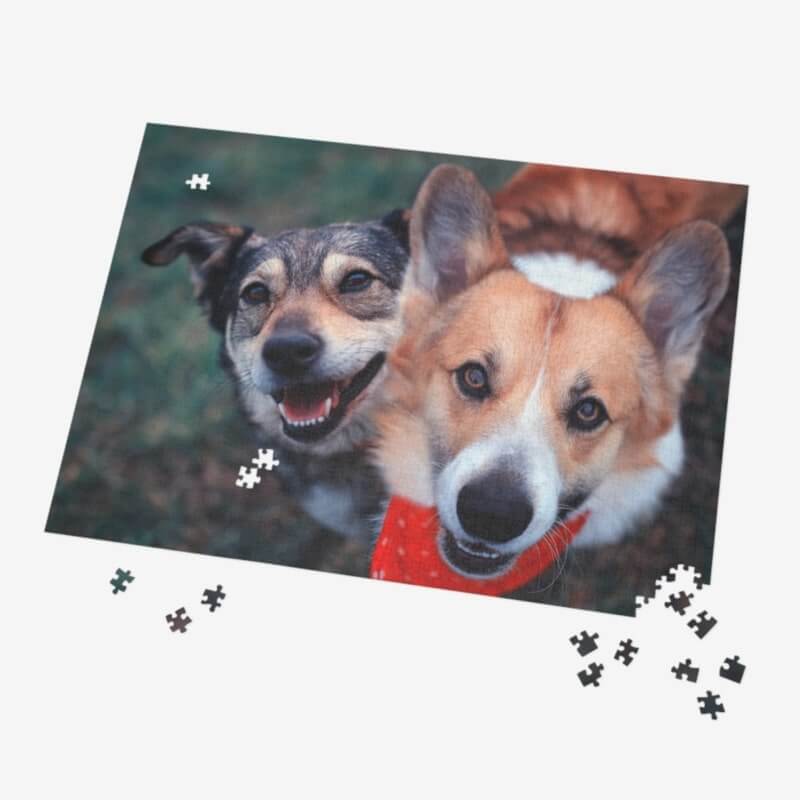 Are Christmas Puzzles Worth Selling?
Christmas jigsaw puzzles are excellent gifts, combining relaxing nights with a bit of brainteasing and quality time for the whole family. And they sell quite well.
That means there are millions of enthusiastic puzzlers worldwide eager to get their hands on your custom Christmas collection. So get creative and spread the joy with personalized winter-themed holiday puzzles.