Print on Demand leggings is the New Black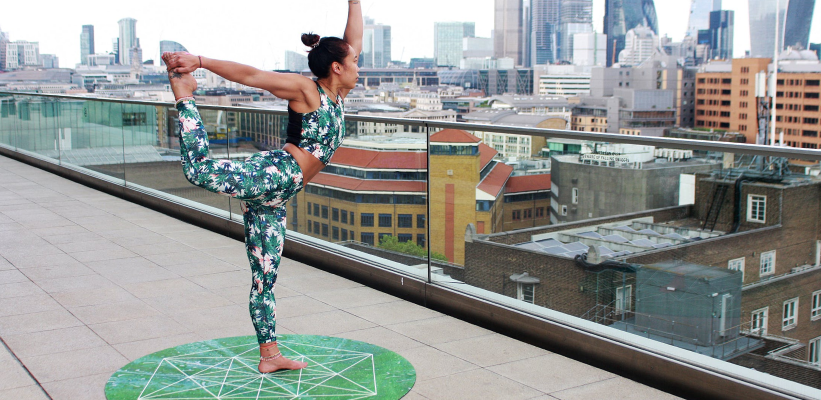 Several years ago we were used to seeing memes about how yoga pants or leggings are not real pants. You've probably seen pics like "what you think you look like" with a nice shapely bum vs. "what you actually look like" pic with the most hideous of angles. But like Bob Dylan said back in 1964, the times they are a changin'. So the timing is just right to add some print on demand leggings to your store.
Why leggings?
According to Merriam Webster's online dictionary, pants are "an outer garment covering each leg separately and usually extending from the waist to the ankle." Sounds familiar? I thought so. And thanks to the Kardashians who are not hiding their valuable erm… assets, leggings and yoga pants are at their hottest right now. Think Kylie Jenner. When's the last time you've seen her wearing jeans and a t-shirt? Can't remember? Well, me neither. It's because she's a sneaker and leggings girl. And so are the rest of the Millenials.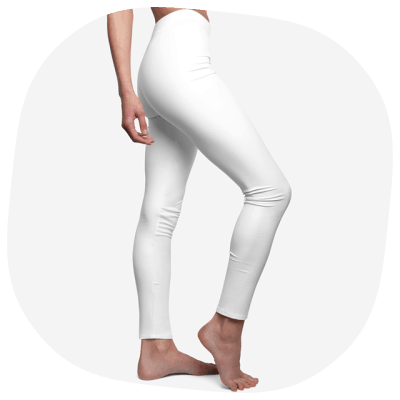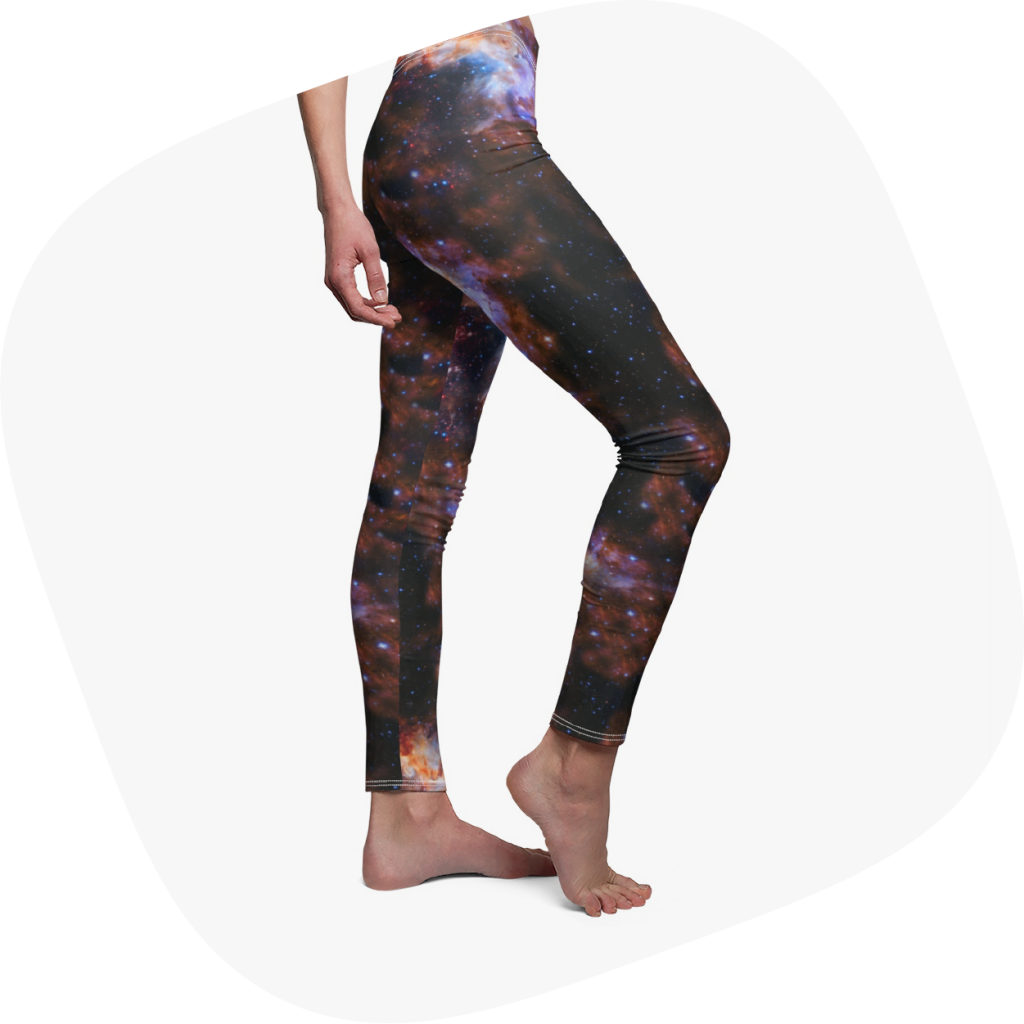 Tis' the era of influencers. And partially thanks to them, activewear sales value has grown exponentially in the past six years. According to Global Industry Analysts Inc., sports and fitness apparel clothing will reach $231.7 billion worldwide by 2024. It's a huge trend in the eCommerce space, so it's worth considering and exploring further.
With the upcoming holidays, Google Trends shows that leggings are an especially increasing trend. And because of the physical properties of print on demand leggings, it's a product that would rarely be returned due to size issues, for example, so it presents no risks for you, an eCommerce entrepreneur.  It's also a lightweight product so it's zero-hassle shipping as well.
Say No To Plain & Boring Leggings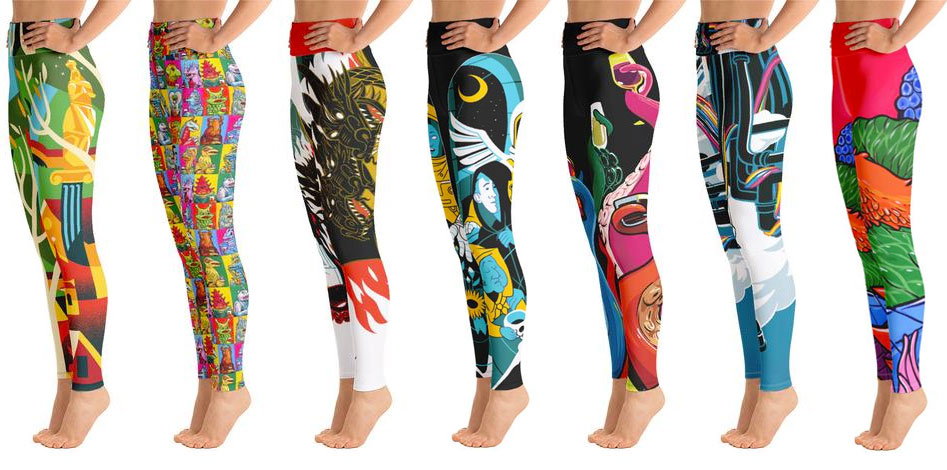 From funky patterns, casual prints to bold colors, or athletic prints, leggings are one of the most comfortable items you can wear. It's safe to say that this piece of clothing is your go-to wardrobe staple already, so why don't you treat your clients with the stuff you love? Print on demand leggings are easy to blend with multiple print designs. Looking at the number of Yoga enthusiasts these days, it's true to say that the market potential is quite remarkable. 
It's the perfect time to spice up your online store with some custom made leggings. Listen to what your clients need: A tush-shaping, tummy-tucking, leg-enhancing garment with personality. That would complement them IRL and their Insta feed as well. And this is where you come in.
All-over-print leggings
With All Over Print(AOP) the fabric is first stenciled and then cut, creating a continuous design that goes into seams leaving no inch uncovered. To put it simply: first, here's a giant piece of fabric on which the print provider prints the desired design, and only then it gets cut and sewn together. The all-over pattern exceeds the outer edge of the garment, allowing enough ink coverage to fully decorate the garment for a continuous design.
All-over print products like print on demand leggings work best with patterns. This holiday season, you can go crazy with seasonal staples: Elves, Christmas trees, pets in Santa hats or, you can choose a more conservative approach and go all solid. The NY Fashion Weeks trends tell us that bright colors are all the rage right now. To make your life easier, Pantone has put together the trendiest color palette for Fall/Winter 2019/2020.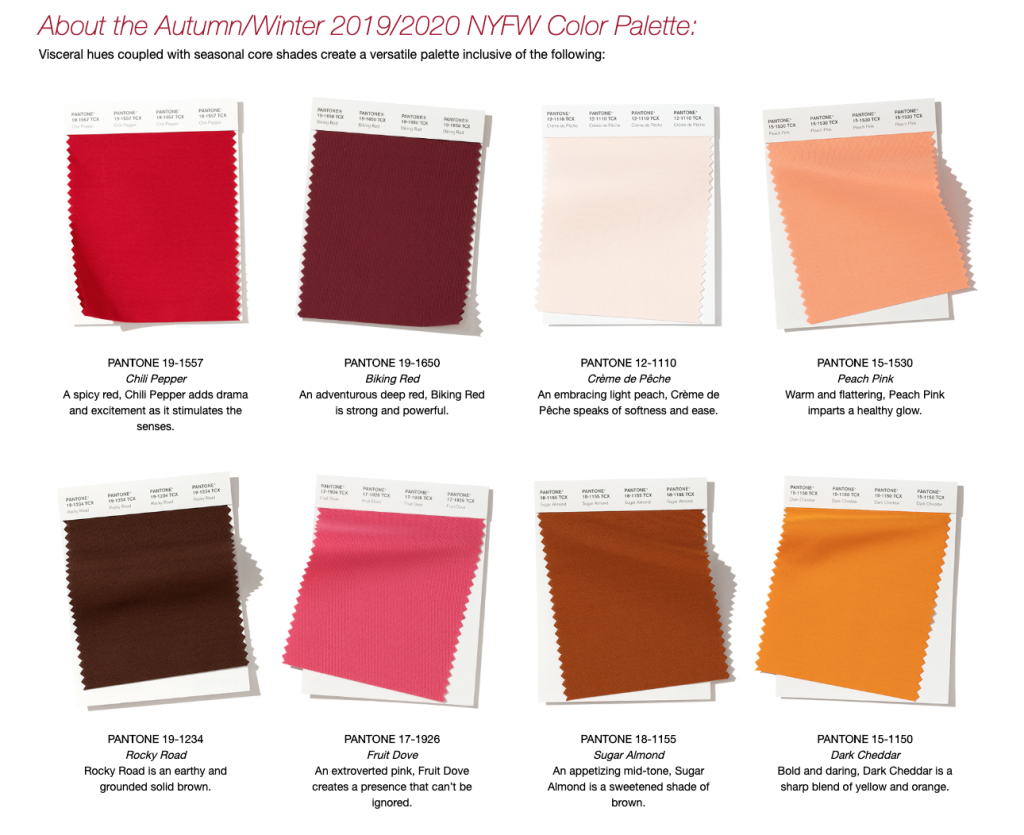 Sublimation isn't just a fashion statement; it's a great way to expand your portfolio of designs and bring out your true creative self. All-over-prints also open up design possibilities for a different type of design, such as patterns or large artwork, or even breathtaking vistas.
RELATED: Everything You Need to Know About AOP
How to start selling? 
Based on your experience, you have three options: if you're a designer yourself, you can create your own designs, or you can pay someone to do it, or you can download our free print-ready patterns. If you choose to hire a designer, keep in mind the additional costs. The more you do yourself, the higher the profit margin (it's the percentage of revenue remaining after all costs, depreciation, interest, taxes, and other expenses have been deducted.) 
The moment you decide you're ready to offer your clients print on demand leggings, and you have just the right design ideas your customers will love, you know you've gotten to the fun part.  We here at Printify have developed great, easy to use design tools on a powerful free Mockup Generator in which all you need to do is upload your design, and adjust the size, color, and placement on the product + come up with a compelling copy. The rest of the process—printing, shipping, handling, labeling—is what we're here for. 
Leggings match athleisure and sportswear categories, so you can market them for both avid gym rats and lazybones. And because it's so easy to get started with print-on-demand shop since you don't need to have any inventory to run an eCommerce business. On the flip side though, you need to put in a significant portion of creativity to stand out, since the market for print on demand leggings is pretty dense. 
Why choose Printify for your custom leggings?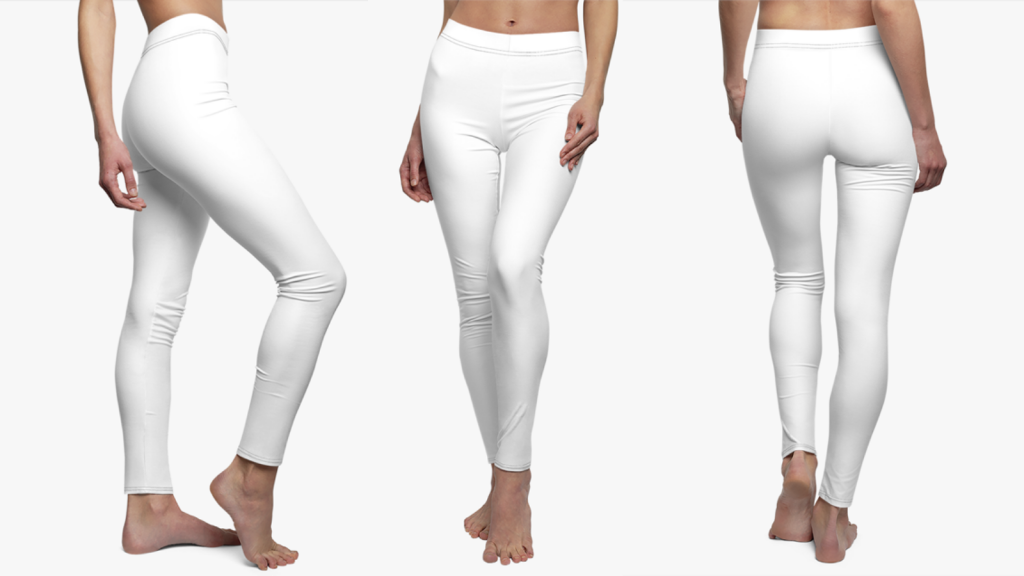 It is a known fact that Printify is one of the biggest players in the print on demand market. And rightly so. Our price politics allow for easily customizable high-quality leggings with no actual inventory on your hands. All you need to do is create a product, sell it and it'll be made to order.
While we arrange the fulfillment, you can focus on marketing your product to sell it on Etsy, Shopify, Woocommerce, Wix, or your own custom online (or even offline!) store. 
One of the many advantages of Printify is that it's free. We offer a fixed pricing scheme so you as a store owner always know what you're paying to Printify, but you can also price your goods with flexibility. This is different from other platforms, which don't give merchants the leeway to set their own profit margins. Instead, they give merchants a small portion of the revenue share. Printify does things differently. If you intend to sell large quantities, it makes sense to go Printify Premium and save top dollar on each sold item, plus you'll receive up to 20% off on all Printify products. Merchants pay a small fee but eventually realize high-profit margins. 
Trust is everything
At Printify, we have a provider rating system where you can always see how they do, besides, we monitor our partners on a regular basis, so you never need to worry. We always recommend ordering product samples to check the print quality and feel the materials. Because the only downside of dropshipping is apparent: you lose some amount of control over what happens to your products. As opposed to keeping the stock at your own place when you're always in control over it.
If you're new to the print-on-demand world, we suggest you read our guide on How to Start a Print-on-Demand Business.
Pictures speak louder than words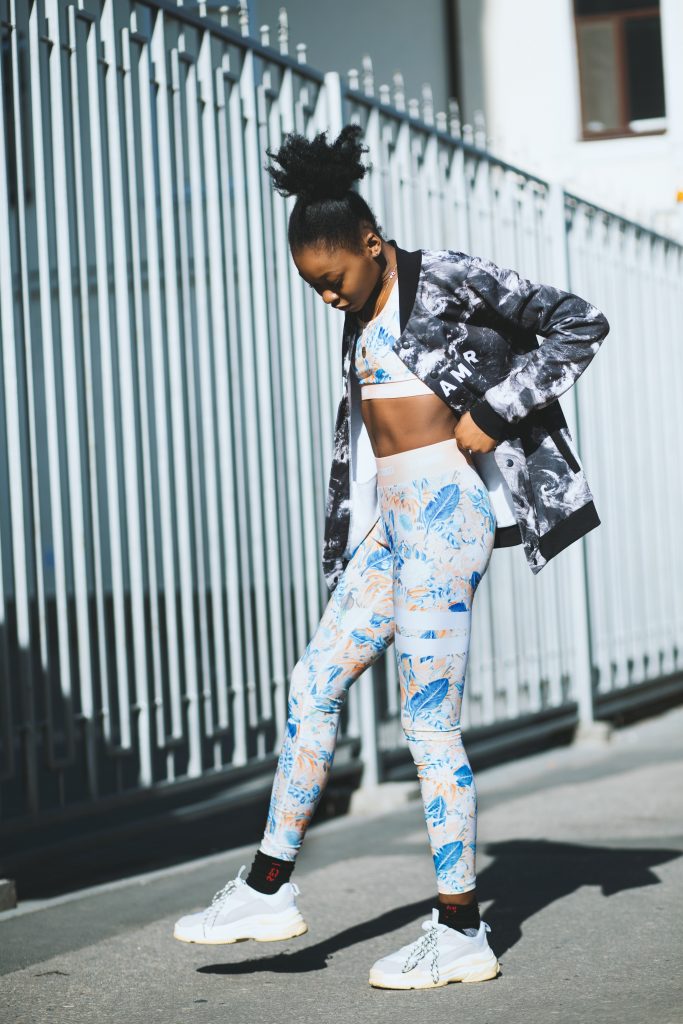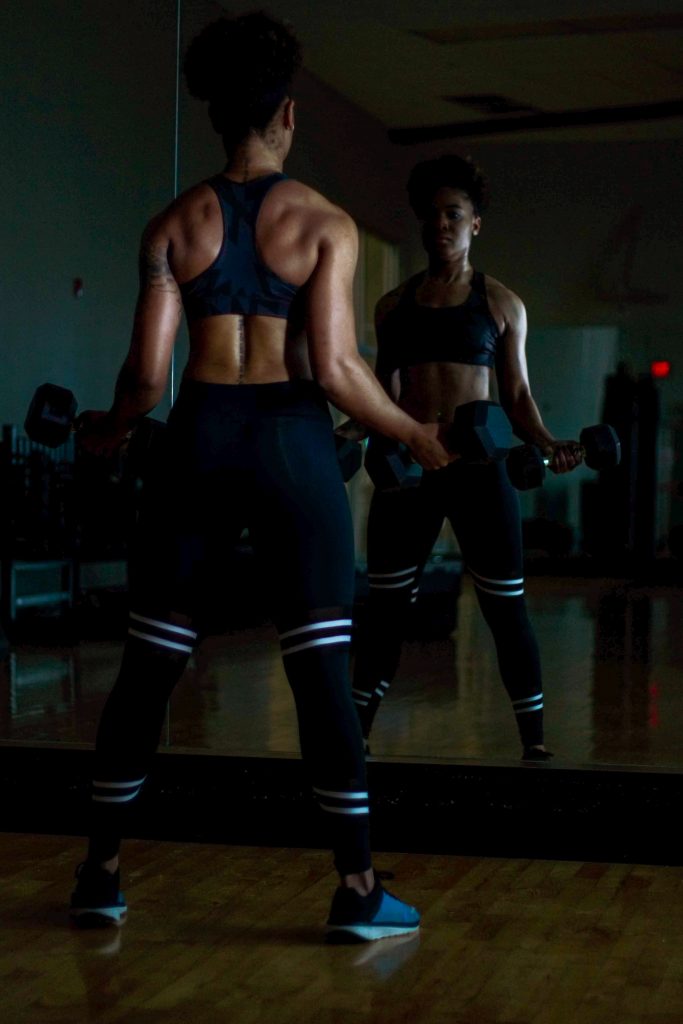 No words can describe a design better than a great photo. And due to the specifics of drop-shipping, unless you have ordered samples, you don't actually know how your garments will sit on the body.  
When your samples have arrived, we suggest hiring a photographer (of, if you have the skills and equipment yourself) and do a photo shoot. And don't limit yourself. Hire a professional model or ask a friend of yours to help you at and take the leggings out for a spin—visit a running track or drive to the nearest beach and showcase them in action. Get some pretty shots in the oh so flattering natural daylight. Consumers care for going about their business in style, and it doesn't matter whether it's hitting the gym or grocery shopping, so your visuals need to represent that. 
If you can't arrange a photoshoot, try PlaceIt for lifestyle mockups to showcase your gorgeous designs on real people. PlaceIt lets you preview your designs on literally anything and see how it looks.
See how I put the pattern I love on this girl here, and look how great she looks in ham and sausage-themed leggings! If I were to see these just laying flat, I don't think I would ever pay attention to them. Shoppers love seeing people wearing the garments they're browsing to get a glimpse of how they would look on them. 
To sum it all up:
Leggings are all the rage right now
They're fun and comfy
Print on demand leggings are easy to ship and the returns percentage is very low
Come up with a perfect target audience, but market to both athletes and lazy mofos daisies
Don't forget about taking nice photos because research shows that garments styled on real people sell better than plain flat lays
Share the article
Topics