Print on Demand Leggings Is the New Black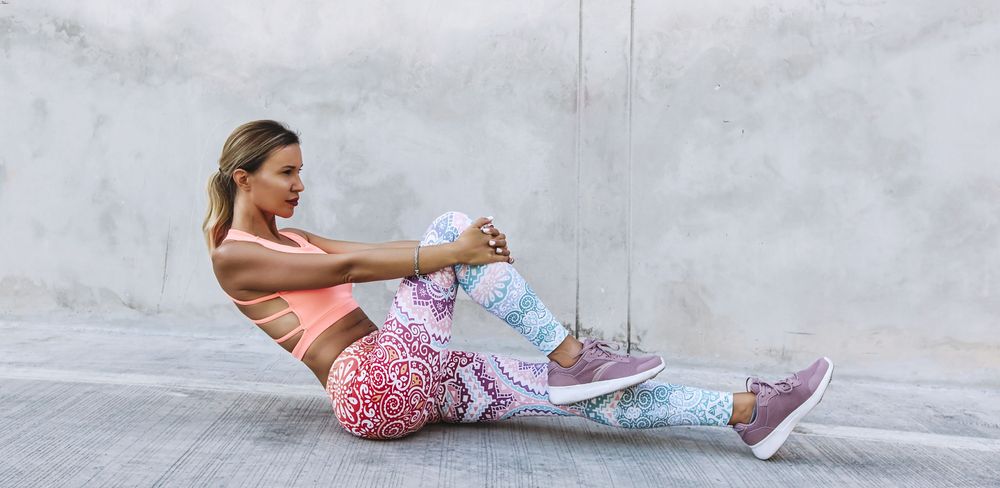 Leggings are a fundamental element of a capsule wardrobe, but these days they're not just a must-have basic – they're also en vogue! That's right, top designers are embracing leggings at levels unseen since the 1980s. 
Don't believe us? You can spot the stretchy closet staple front and center of Stella McCartney's collaboration with Adidas as well as on the runways of big names like Givenchy and Marine Serre. 
There's never been a better time to add print on demand leggings to your store.
The leggings market continues to grow, so it's no surprise that so many sellers are telling us "I want to sell leggings!"
With so many people working from home, it makes perfect sense that the sports-luxe look is back in a big way. Leggings combine comfort with cool. They're flattering, but they're also fashionable! What more could you ask for in a garment?
Surely the best thing about leggings is their versatility. Styled right, they can be worn in any environment: at the gym, at the bar, in the park, at the workplace, or simply on the sofa! This is good news for sellers. It means they can target a range of audiences with their print on demand leggings.
Sellers can customize leggings to meet diverse tastes and for specific purposes. If they want to target exercise enthusiasts, they might make printed workout leggings. If they want to make the most of a particular trend, they might design their own galaxy printed leggings, for example.
The options for differentiation are endless, so the question shouldn't be "why leggings?" Instead, ask yourself why not leggings? You can enjoy your own slice of this market by designing and selling leggings from home.
What Makes Print on Demand Leggings So Appealing?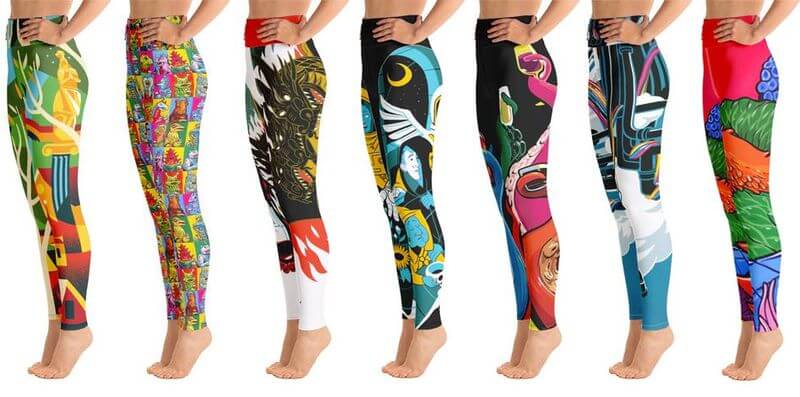 Leggings are one of the most comfortable items you can wear, and they can be improved even further with the right design. You might choose to apply funky patterns, bold colors, or athletic prints, depending on the kind of customer your shop serves.
Printed leggings represent the ideal canvas for a range of designs. Considering the number of yoga enthusiasts these days, the market potential of this item shouldn't be underestimated. You can spice up your online store and increase your sales with the right custom made leggings. 
Open your Instagram app and you'll see leggings everywhere. Every influencer seems to have a statement pair. As a seller, this is a great sign: your customers will most likely want to share their printed leggings with their friends. Consider that free advertising!
Read on for a few exciting options when it comes to print on demand leggings.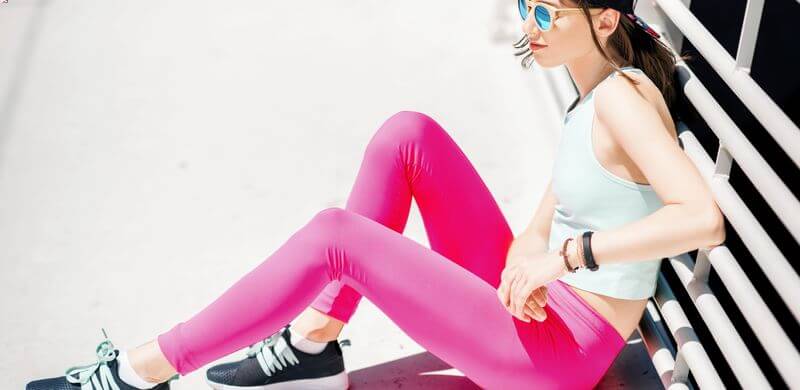 Is there a particular color that your customers would love to see in your store? You can choose the coolest color schemes for your custom yoga pants.
Leggings are an amazing layering item, so some people buy them in a range of shades. Then they have coordinating leggings for every outfit imaginable. Think about it – you could be the one to sell them.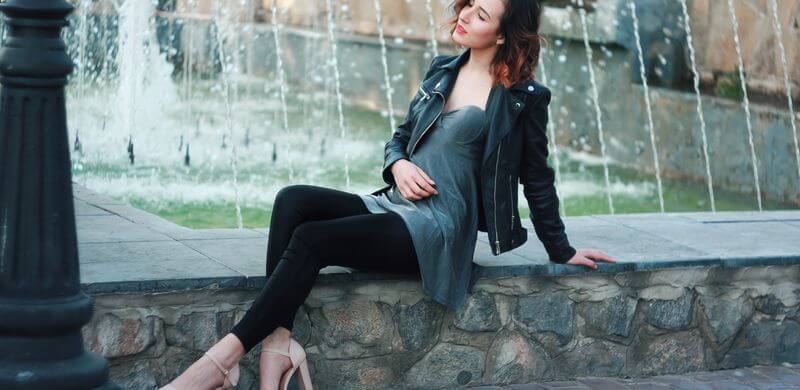 What would a wardrobe be without a trusty pair (or two) of black leggings? They seem to work with every outfit. Worn with an oversize tee, they convey an effortless style. Worn under a dress with sneakers or heels, they can add either edge or elegance. 
If your store isn't currently offering a pair of classic leggings, maybe you should reevaluate the situation. People have to buy them somewhere, so why not from you?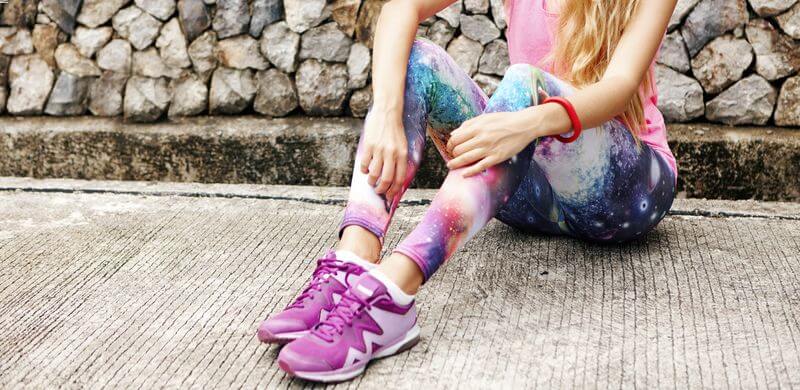 Custom all over print leggings are where you can really go all out with creativity. You might choose to capitalize on the trend for galaxy printed leggings, for example. Alternatively, you could embrace the obsession for all things Y2K on TikTok and make a throwback pair. A pink and purple camo pattern might prove surprisingly popular…
If your store targets the fashion-forward, pattern leggings are a must. Don't become overwhelmed by the many available options. What's cool about Printify's print on demand leggings is that they're free to design and add to your store.
That means you can easily design a whole range if you want to!
All-Over-Print Leggings: Everything You Need to Know
All-over-print leggings certainly make a statement, but how are they made? Your customers will definitely love the quality and attention to detail that this process implies. Printify providers have perfected the art of printing personalized leggings.
With All Over Print (AOP) the fabric is first stenciled and then cut, creating a continuous design that goes into seams leaving no inch uncovered. To put it simply: first, here's a giant piece of fabric on which the print provider prints the desired design. Afterward, it gets cut and sewn together.
The all-over pattern exceeds the outer edges of the garment, allowing enough ink coverage to fully decorate the garment for a continuous, uninterrupted design. All-over print products like print on demand leggings are the perfect garments for eye-catching patterns.
The printing process used is called sublimation. It makes a strong fashion statement and it provides the perfect opportunity to bring out your full creative potential. All-over-prints open up an impressive range of design possibilities.
How to Make Your Own Leggings?
So, you've decided you're ready to offer your clients print on demand leggings and you have just the right design ideas your customers will love. Now you're at the fun part! Printify has developed great, easy-to-use design tools for our free Mockup Generator.
All you need to do is upload your design then adjust the size, color, and placement on the product to finalize its appearance. Then, come up with the compelling copy that will attract your customers. The rest of the process – printing, shipping, handling, and labeling – is what we're here for. 
How to Start Selling Print on Demand Leggings?
Anyone can run an eCommerce business with Printify's help. All you need to bring is creativity and your unique personality to stand out from the competition.
According to your experience level, you have three options available:
If you're a designer yourself, you can create your own designs.
Alternatively, you can pay someone to do it.
If you choose to hire a designer, keep in mind the additional costs. The more you do yourself, the higher the profit margin: the percentage of revenue remaining after all costs, depreciation, interest, taxes, and other expenses have been deducted.
Starting a print-on-demand shop is incredibly easy since you don't need to invest in or stockpile any inventory. You simply add your Printify products to your online store and start selling straight away! Once they're ready to be purchased, your job is to publicize them.
Remember, print on demand leggings fit into both athleisure and sportswear categories, so you can market them at couch potatoes and gym bunnies alike.
Why Choose Printify for Your Print on Demand Leggings?
It is a known fact that Printify is one of the biggest players in the print on demand market. And rightly so. Our price politics allow for easily personalized yoga pants with no actual inventory on your hands. All you need to do is create a product, sell it, and it'll be made to order.
While we arrange the fulfillment and shipping, you can focus on marketing your product to sell it on Etsy, Shopify, Woocommerce, Wix, or your own custom online (or even offline!) store. Selling leggings from home has never been so straightforward.
One of the many advantages of Printify is that it's free to design and add print on demand leggings to your store. We offer a fixed pricing scheme so you as a store owner always know what you're paying to Printify, but you can also price your goods with flexibility.
This is unlike other platforms, which don't give merchants the freedom to set their profit margins. Instead, they give merchants a small portion of the revenue share. Printify does things differently!
If you intend to sell large quantities, it makes sense to go Printify Premium and save top dollar on each sold item, plus you'll receive up to 20% off on all Printify products. Merchants pay a small fee but eventually realize high-profit margins.
Personalized Leggings Options
When you design your own leggings online with Printify, you benefit from excellent product options. You might choose to add high-waisted yoga pants to your store. They're 100% polyester with a flattering, streamlined skinny fit.
Alternatively, you might add cut and sew casual leggings to your store. They're made from a blend of spandex and polyester brushed suede, so you can imagine how soft and comfortable they feel! 
Struggling to choose? Remember, you don't have to. Printify's model means it's free to design and add as many pairs of print on demand leggings as you like to your store.
Place Your Trust in Printify
At Printify, we have a provider rating system where you can confirm quality levels. We're committed to excellence so we consistently monitor our partners, meaning you never need to worry about delivering customer satisfaction.
We always recommend ordering product samples to see for yourself how your products have turned out. This is your chance to check the print quality and feel the materials of your print on demand leggings – we're sure you'll be impressed!
Brand new to the print on demand world? Then we suggest you read our guide on How to Start a Print-on-Demand Business. This is our area of expertise, after all!
Top Trends in Print on Demand Leggings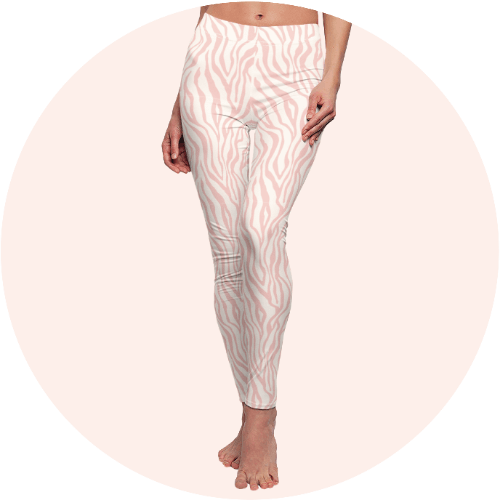 Does animal print ever go out of style? Not really! However, new variations continue to come into fashion. You might be used to seeing wildcat looks, but now even more outrageous prints like cow, zebra, and snake are also becoming popular.
Can you think of an animal whose print hasn't been made mainstream yet? Maybe you can pioneer it with your custom made leggings.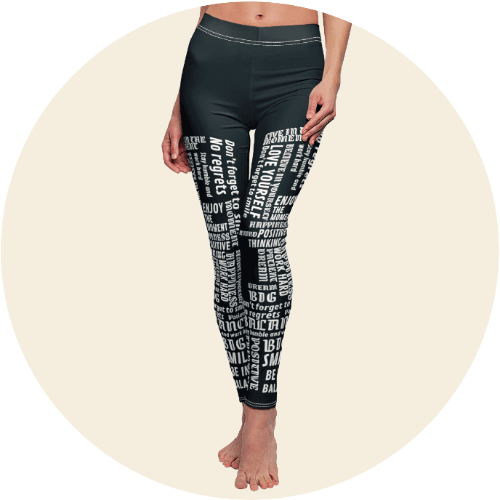 What speaks louder, words or action? Why not combine both? You could make original printed workout leggings using the written word as your inspiration.
Maybe you plan to bring back the 2000s with a cheeky slogan printed across the bottom of your yoga pants or maybe you want to make your print on demand leggings hit the headlines with a funky newspaper print…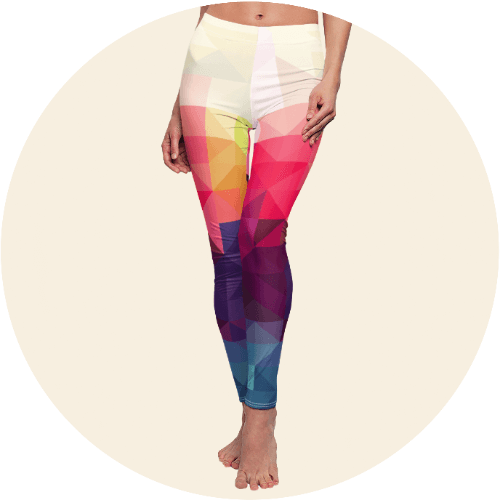 There's something so edgy about eye-catching abstract prints. Geometric patterns can make a big visual impact and they can be very flattering on a pair of personalized yoga pants.
These styles lend themselves easily to athletic clothing but geometric leggings aren't just for the gym. They can also become streetwear staples.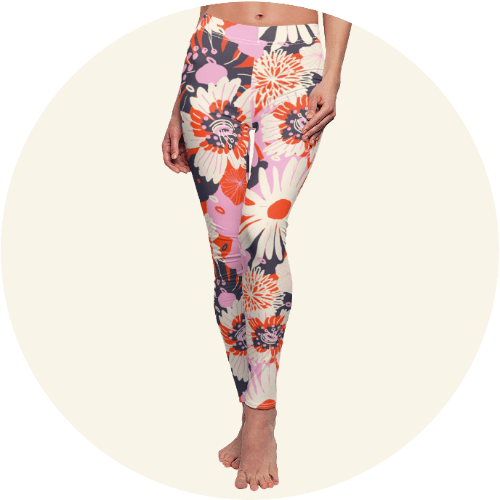 There's a floral print for every season, not just spring, and if you choose to embrace these feminine prints, your sales will surely blossom. Floral has been a fashion mainstay for as long as anyone can remember, and there's a reason these prints are eternally popular: they're just so pretty!
Can you imagine custom the perfect pair of all over print leggings adorned with fabulous flowers? Remember, thanks to Printify, you could easily be the one to design and sell them.
Leggings are a long-term fashion favorite, and they aren't going anywhere! If recent patterns are any indication, the market will only grow when it comes to this particular product. That's why it's a great idea to design and sell print on demand leggings.
It's easy to see why sellers want to add this product to their store. Customers love that they're comfortable, fashionable, and practical. That makes them very easy to sell! And Printify makes it even easier for you to start an eCommerce business selling custom leggings.
Share the article
Topics