Level up Your Collection With Next Level Apparel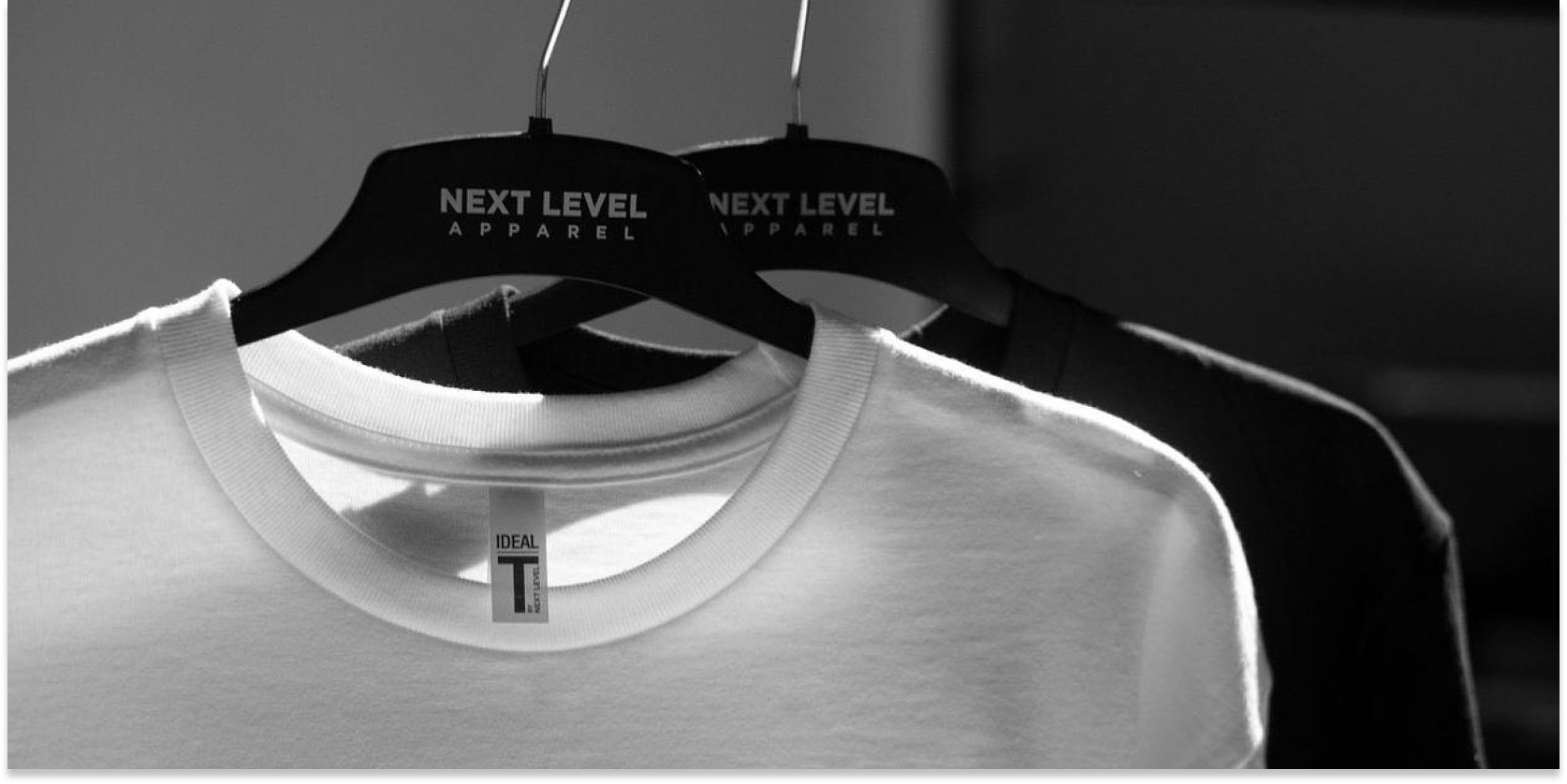 Next Level Apparel has led the clothing industry with innovative fabric blends to become an American heritage fashion brand. They are renowned for using combed ring-spun cotton fabrics that are heavenly soft, at a value that is second to none. 
For over 12 years, Next Level Apparel's fantastic color palette, full range of fits, and diversity of styles continue to define them as one of the top suppliers of fashion blanks in the world market. Their distributors and partners' network continues to serve with dedication, professionalism, and expertise. Today, Next Level Apparel's distribution network in the US includes over 28 locations nationwide that bring one of the hottest fashion blank tee brands to your customer's doorstep.
A Strong Sense of Social Responsibility
At Next Level Apparel, they are committed to keeping the highest standards in every aspect of their business. Each member of the team is dedicated to delivering a superior customer service experience. Next Level Apparel follows all of the CPSIA (Consumer Product Safety Improvement Act) testing standards. Their WRAP (Worldwide Responsible Accredited Production) certified factories are committed to the highest ethical standards of conduct and best quality practices. The Next Level Apparel team respects the rights of each individual and cares for the environment.
The Next Level Apparel Brand Is Committed To:
Fall in Love With Next Level Apparel
If you are in the market for high-quality t-shirts, you probably heard of Next Level Apparel. Known for good high-quality fabrics, Next Level Apparel products, primarily in the t-shirt segment have made a mark.
Next Level Apparel is one of our favorite brands in the Printify catalog. Not only are their products of the highest quality, but they are also comfortable, and the company is socially responsible. The brand has produced top-notch blank t-shirts and other apparel for more than 12 years and offers many different styles for women, men, and children. Here's why we love Next Level Apparel.
When it comes to t-shirts, comfort is one of the most critical factors, and this is one area where Next Level Apparel excels. The company offers innovative fabric blends and uses ring-spun cotton to create unbelievably soft and comfortable shirts.
Custom blank t-shirts from Next Level Apparel are some of the most sought after by online merchants. The innovative fabrics offered by Next Level Apparel are designed to feel unique and drape nicely for a stylish look. Whether you choose a basic t-shirt, a tank top, or something heavier like a hoodie, you will love the Next Level Apparel clothing you design. All their products are soft, comfortable, and will quickly become your best selling favorites.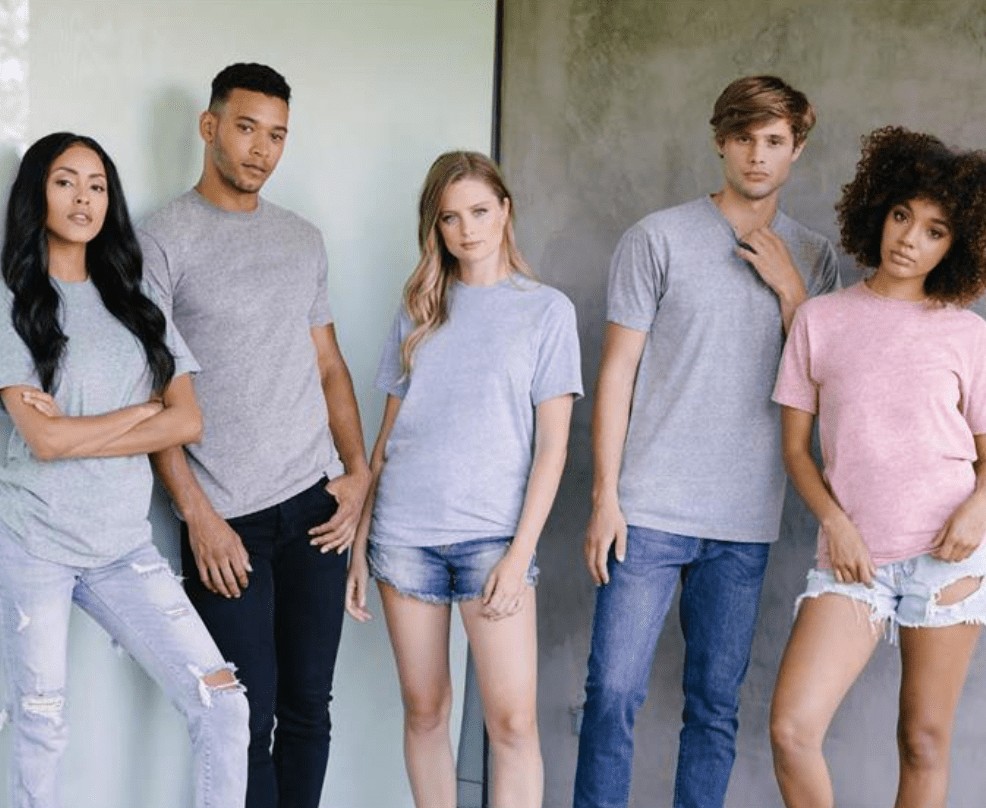 Next Level Apparel offers 14 custom fabrics and several types to meet your blank t-shirt needs. Next level Apparel fabrics are engineered for optimal comfort and durability. Next Level has products for men, women, and children and offers styles ranging from basic tees and tanks to hooded sweatshirts and everything in between. Their products come in numerous colors to match any taste. They have an option for you to suit virtually any market.
Next Level is popular among people who are looking for trendy, contemporary clothing. The company is well known for its tri-blend fabric, consisting of 50% polyester, 25% ringspun cotton, and 25% rayon. The polyester prevents wrinkles and helps the material retain its shape, while the cotton adds unbeatable comfort. The rayon is what makes this material unique, though. It allows the fabric to drape nicely and creates a fashionable fit.
The CVC fabric is also pretty remarkable. Consisting of 40% polyester and 60% ring-spun cotton, it blends cotton's comfort with polyester's durability. It feels great to wear, and it stands up well to repeated washing and wearing. We have outlined every fabric they offer in a section below so you can choose easily.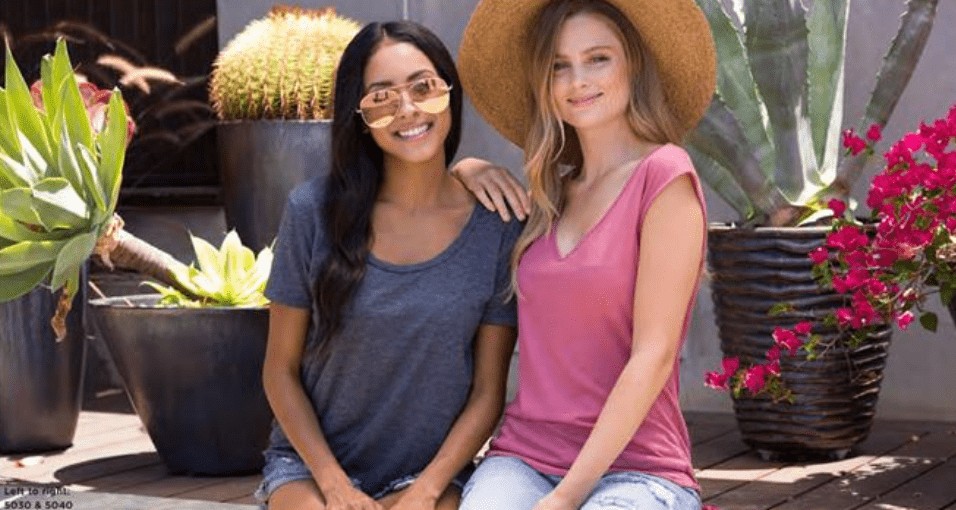 You just can't beat Next Level Apparel when it comes to style. From basic tees to fitted t-shirts, V-neck t-shirts, scoop-neck tees, and more, the brand has what modern, fashion-forward buyers love. The fabrics the company produces allows the clothing to drape nicely and fit bodies of all shapes and sizes in a unique and flattering way.
Because Next Level Apparel has been manufacturing high-quality shirts for more than a decade, they have mastered the art of offering a great product at a great price. This means the value Next Level Apparel provides is second to none. 
This aligns very well with the Printify business model of offering quality products at affordable prices. That is why we are proud to be a member of their distribution network. This allows us to deliver these exceptional products to you so your customers can enjoy them and have the products delivered directly to their door at an affordable price. 
Selling custom t-shirts from this heritage brand allows us to provide our merchants with the best possible deals on the products they need. When you choose Next Level Apparel, you can rest assured that you are getting a premium product at an affordable price.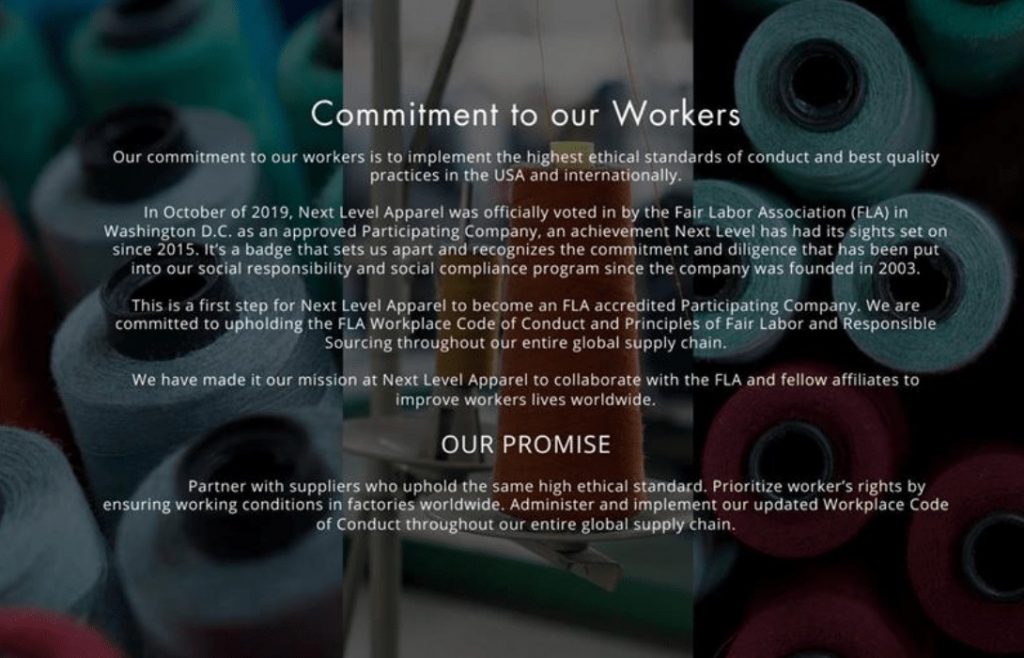 The Next Level Apparel team is diligent in keeping the brand as socially responsible as possible. This is evident both in their brand and their mode of working. The company follows all Consumer Product Safety Improvement Act (CPSIA) testing standards to ensure its safety. 
Next Level Apparel factories are also Worldwide Responsible Accredited Production (WRAP) certified. This ensures that all factories that manufacture their products adhere to strict ethical standards and treat employees fairly. 
The brand is eco-conscious and eco-friendly which is why it takes steps to care for the environment. Next Level Apparel respects the rights of everyone who works for the company. The company is socially responsible and does not use sweatshops or child labor.
Next Level Apparel is renowned among sellers for their high-quality, well-engineered products. Their t-shirts are known to be comfortable, affordable, and stylish. The brand offers t-shirts in unique colors that are rarely available from other brands. They are available with unique fabric blends that you won't find anywhere else, and they will quickly become your favorite clothes in your closet. You will also love Next Level's commitment to quality and social responsibility.
Fabrics Made by Next Level Apparel
Next Level Apparel has developed 14 custom fabrics to fit all your print on demand blank product needs. The fabrics showcase an excellent combination of softness and stretch and are creatively engineered for different customization types.
Next Level Apparel uses exclusive machinery and premium yarns to yield maximum results and create beautiful fabrics. Below is a list of all the fabrics they are known and loved.
Next Level Apparel - Fleece Fabrics
Next Level Apparel Products on Printify
On the Printify catalog, you will find these beautiful Next Level Apparel blends in products that you can personalize and sell on your online POD store. Below are the products ready for you to customize.
Already found what you were looked for?
Make it happen right now.
Use Our Free Mockup Generator to Design Next Level Apparel
With a Printify account, you can access our free mockup generator made for easy use and understanding. With the Printify free mockup generator, you can start designing and customizing products for your online store with just a few clicks of a button. 
To start designing, all you need to do is pick the blank custom t-shirt you would like to design from our range in the catalog. Upload your designs or photos from your computer or select one from your Printify account library. Make sure that your designs fit the requirements for a high-quality print. 
Every product on the mockup generator has the size requirements indicated at the user panel's bottom right. Once you've made sure you've picked the best pixel size for a high-quality print, apply your design on the t-shirt. You can check the placement and sizing of your designs as you go on the preview mode.
After designing, easily publish it to your store and wait for a sale to move it to the production and fulfillment processes. Printify also goes the extra mile to make sure you have the highest quality. That is why we do quality checks for each of your products, and we will let you know if it does not meet the printing standards. If you would like to check firsthand that your products look great, you may order a sample before publishing it to your store. 
Here's a comprehensive guide for you to use the free Printify Mockup Generator.
Take It to the Next Level
Printify provides services and integrations that make it easy to design products and sell them online with print on demand. We link you to our network of great print providers and connect your shop to platforms like Etsy, Shopify, WooCommerce, etc.
Print on demand allows you to create a diverse range of products from Next Level Apparel such as t-shirts, hoodies, and kid's apparel to sell online. Through Print on demand, products are printed after each sale and sent directly to customers. You don't have an inventory, and you keep all the profit. Take advantage of Printify's high-quality, low-cost, and fast printing services today. You design while we handle the rest.
Make it happen right now.
Share the article
Topics