How to earn money from home: The print on demand way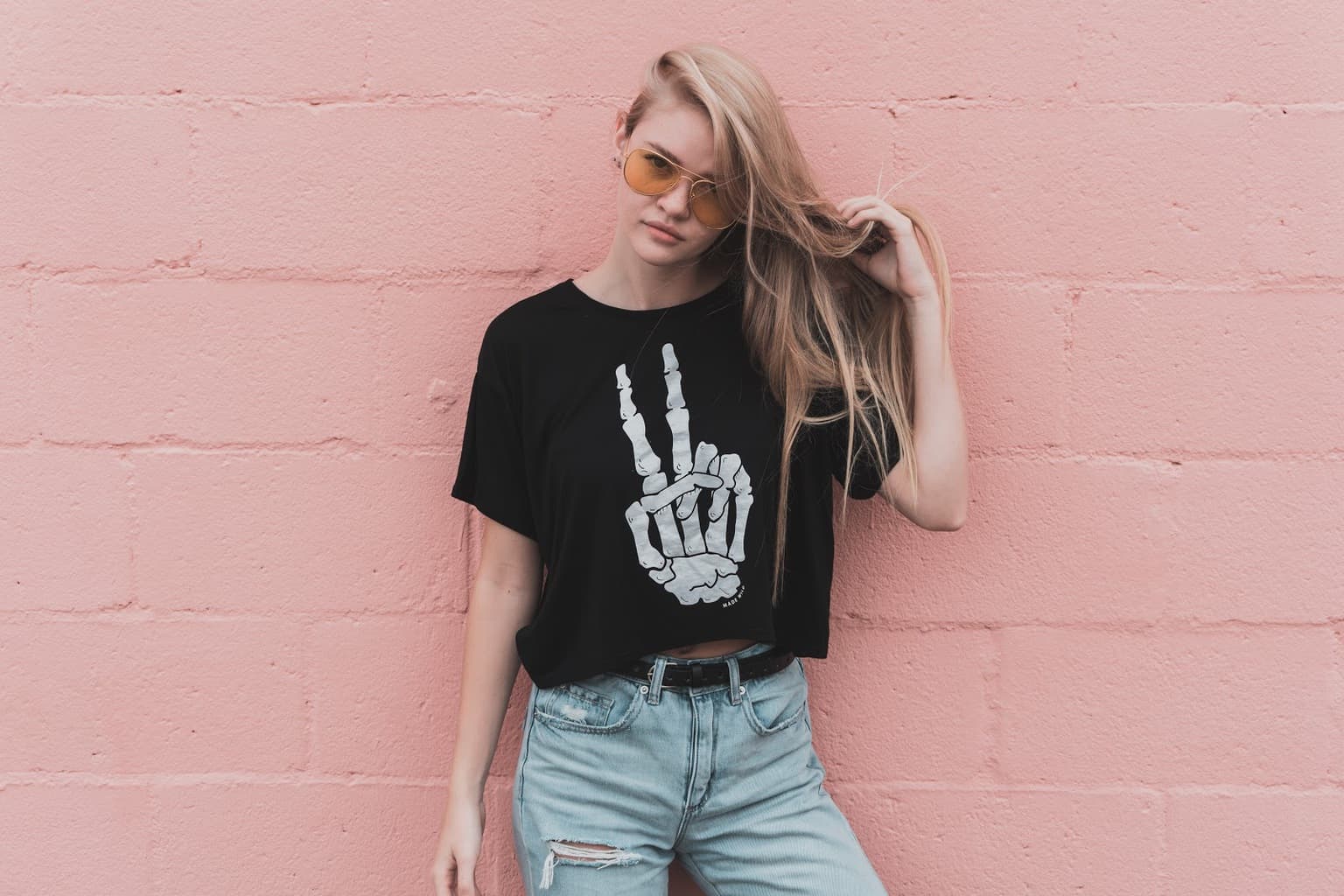 Do you want to join the e-commerce revolution and start your online business? There are many things to consider before you start. What will you sell? Where will you find your customers? How will you market your store? What will your business model be?
This article will teach you how to launch your online store and join the e-commerce revolution in the right way.
Opening a Print on demand store is a proven way to earn money online. For many people, it becomes a way of living and it's also easy to give it a try – you can launch your first store for less than $100!
Interested? Let's dive into it.
What is Print on demand (POD)?
In a nutshell, POD is an online business model where you outsource your production and shipping processes to a manufacturer of e-commerce goods. You sell products that are printed on "blanks" – blank t-shirts, mugs, bags and other merch. You upload your images to your partner's app, add the product to your web store and split the profits for every sale.
When people buy your product, the orders are printed, packaged and delivered by your printing partner. You pay your supplier for their materials and work. What's left is your profit.
Let's say you pay $9 for a t-shirt with your custom design on it. You list it on your website for $25. Someone buys it, your printing partner receives an order and fulfills it. You sold it for $25, paid $9 to the supplier and earned $16.
Simple, isn't it?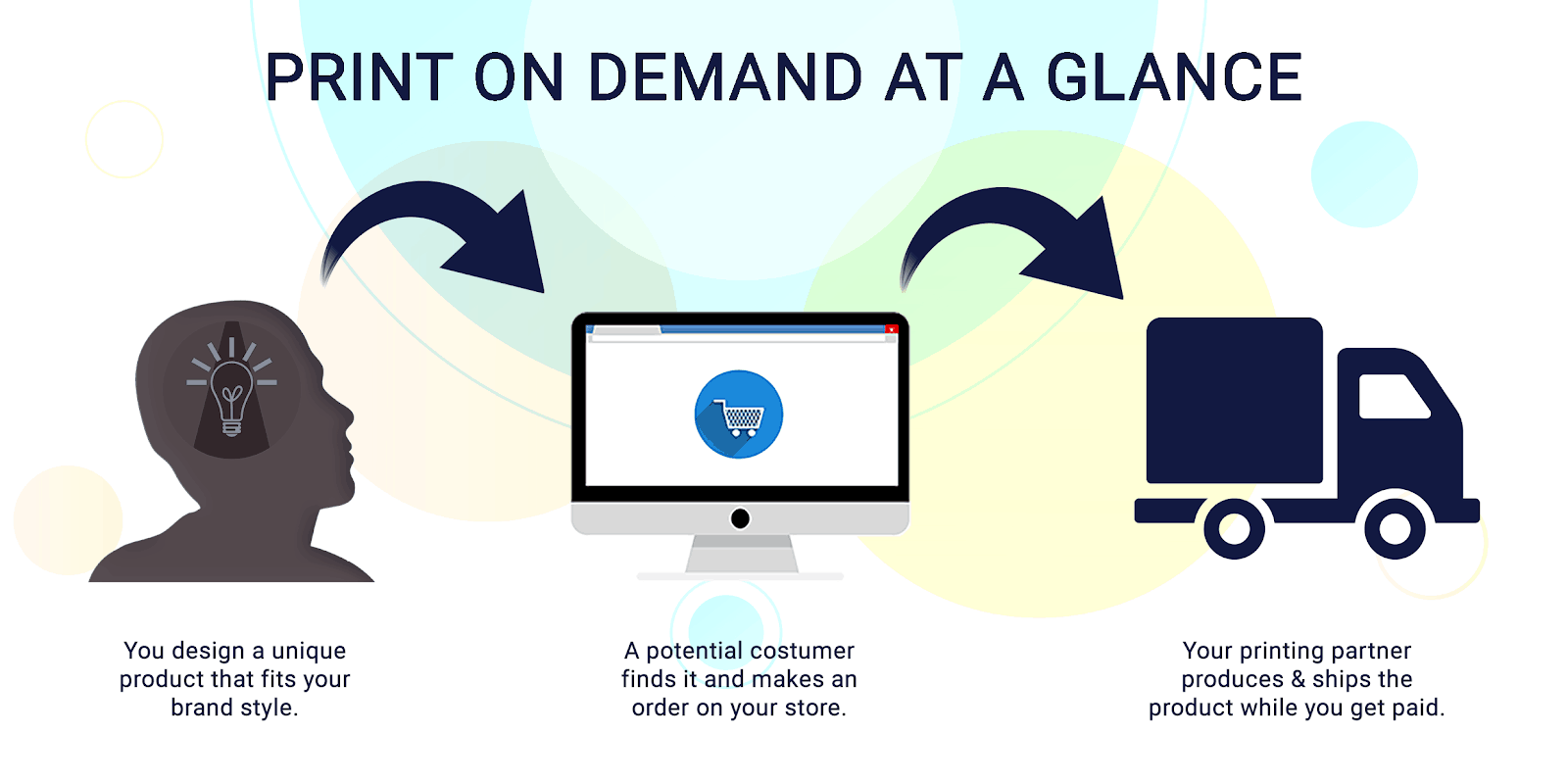 The best part is that you only have to pay for what you've sold, which means little to no capital risk. Also, you don't need to worry about your inventory space or shipping. You can focus on sales and growing your business.
That's the beauty of POD dropshipping.
Pros and Cons of Print On Demand Business
Of course, POD sounds like a gold mine, but that isn't entirely true. There are drawbacks and benefits to it that must be considered before making a move.
Let's examine it closer.
The good – Pros of POD
1. Low startup costs.Unlike traditional retailers, there's no need to invest thousands of dollars into your idea before you even start selling. $100 is enough to begin. You'll get your domain name, Shopify subscription (for the first few months) or even a nice WordPress theme with a few premium plugins. You don't need to store anything and you still have a complete catalog of products.
2. Quick to set up. The time of needing to hire a web designer is over. With all the available themes, guides, plugins and templates, you can have your store up and running in no time.
3. No need for inventory space.Your supplier takes care of order fulfillment, while you can focus on selling.
4. Easy to experiment with product designs. Whenever you're up to something new, you only need to arrange it with your print partner and add it to your store.
5. Access to international markets.Your store will be able to ship goods wherever your manufacturer can ship goods. And most manufacturers deliver internationally.
6. Scale and test new products without financial risk. You can see which designs sell well and which don't, so you can easily make adjustments on the go.
7. Ability to customize and sell YOUR unique designs. If you're a graphic designer, artist or someone who knows people that produce beautiful visual content, POD presents a chance to make money by creating your own unique brand.
8. Products are hard to copy for competition. Unlike most dropshipping businesses, no one can have the same products as you do.
By selling unique products, you are building your own brand, community and repeat customers…which is more beneficial in the long-run.
The bad – Cons of POD
1. You have to find a partner with quality "blanks". Since you have no control over the production process, you have to find a trustworthy supplier who maintains high production and order fulfillment standards at all times.
2. Low entry barrier. Even if you sell the coolest merchandise with the best designs, you still need to be ready to stand your ground. Your suppliers are working with your competitors as well, and there are many other suppliers, too. The competition can be fierce, so bring your A-game.
3. Your order fulfillment and reputation depends on your suppliers. Logistics of your business can become a problem as your business grows. If your supplier ships from more than two warehouses, it can become an even bigger issue. Improper addresses, incorrect tracking numbers and shipping delays can all add up to a subpar customer experience.
4. Order fulfillment + delivery time can take up to 2 weeks. In worst-case scenarios, delays and mistakes will cause frustrated customers, bad reviews and even superior customer support service can do little about it.
5. Finding a profitable niche and learning to recognize good designs can take time. Learning the ins and outs of POD business takes time. It takes time to find reliable suppliers, it takes time to discover the most profitable designs and it takes time and effort to grow your business.
6. Returns management can be tricky. Make sure that your return policy is aligned with your supplier's return policy.
7. There might be some added costs. If you're serious about your store, you might want to spend more to sell. Domain registration, plugins, payment gateway, paid ads cost extra, but they also give you a competitive advantage.
As you can see, there are many things to consider before you decide to set up your own POD store. There's still remarkably less risk and hassle compared to opening a regular e-commerce store. But you don't need to make your decision just yet.
First, let's take a look at how to open your own POD store that sells.
Already found what you were looking for?
Make it happen right now.
How to start a POD business that sells?
By now, you already know the idea behind a POD store.
In theory, it goes like this: you create a website and get your original designs, find a suitable POD vendor and promote your products until you make a sale. The manufacturer prints your product, packages it and ships it to your customer. When your customer receives the goods, all involved parties win: you and your supplier made a profit and the client has received what he or she wanted.
In practice, it's a little more work than that. Which niche & products should you choose for your POD store? Which niche & products should you choose for your POD store?
1. Which niche & products should you choose for your POD store?
You might want to use phone cases, mugs or even custom all over print t-shirts as the raw items to place your designs… However, you shouldn't decide that before you do some proper research.
First, you need to discover a niche where you can thrive. It can be something as specific as "cats on synthesizers in space" or something broader like "manga comics." If you don't have anything specific in mind, write a list of 20-30 things that you like. For instance: basketball, ecotourism, healthy food, biking, etc. A rule of thumb is that the more specific your niche is, the easier it will be to stand out and find your customers.
Once you have the list, begin validating your ideas. Go to Twitter, Facebook or Google Trends to see whether people are talking about your niche and what are they saying. If there are plenty of active and passionate people talking about your subject, they could potentially be your customers.
The next step is to narrow down your list to a few fundamental ideas with the most promise. Check out other social platforms as well – what's being said on Instagram, Pinterest or Reddit? The more posts and discussions there are, the better.
Lastly, go to Amazon, eBay or Google and try to find what's already being sold in your niche. Don't worry if someone else has already realized an idea which is similar to yours. Pay attention to the number of reviews – it's a good indicator that tells if these products actually sell.
If you're an artist or a designer in your particular niche, then you don't need to reinvent the wheel. If you have an audience already, they are likely to love your merch, too.
Once you've figured out an idea, you may also want to know what sort of products to sell. There are thousands of products to choose from. For starters, you might want to stick with what's popular. The most popular POD products are t-shirts, hoodies, mugs, hats, notebooks, stickers, phone cases, pillows, and posters.
Despite the wide choice, the goal here is to align your products with your market needs. Ensure that your designs will be printed on products that make sense. However, don't stress to get it perfectly right from the launch; mistakes won't cost you much anyway and there will be plenty of room for experimenting later.
2. Get your website and designs ready.
When you know your niche and key products, the real work begins. If you've never had a website or design before, it might appear overwhelming at first. Don't worry – we've got your back.
How to Get Your Print On Demand Designs
Getting cool designs is easy if you're a graphic designer or an artist. Just sell your talent or recreate what inspires you online in your own style and you're on the right track.
For everyone else, it might prove a little more troublesome. You can't just steal the designs you like. It's illegal. However, you can buy them. Here are some places you can get your designs done for you (for a reasonable price):
How to Get Your Print On Demand Website Ready
Setting up a website takes at least a few days (if you're lucky or skilled) but it's worth your time. After all, it will be your home, sales hub and center of marketing operations.
1. Register a domain name. You can get one at GoDaddy, Namecheap or a similar service provider. You're building a brand around it, so make it relevant to your niche and easy to remember.
2. Choose a platform for your website. Once your domain is ready, it's time to set up your web store. The easiest ways to do it are using:
3. Design your store. WordPress, Shopify, and Etsy provide easily customizable templates. Kickstart your creativity and use them as a starting point. You'll need to make all the basic pages (homepage, contact, payment, shipping information, etc.) and make your website easy to navigate.
You might also want to add a premium theme or plugins to create a better experience for yourself or your customers. Make your site easy and pleasant to navigate and purchase goods. For example, a good idea is to install an abandoned cart plugin that emails your customers a discount if they've left the site without purchasing.
4. Don't be cheap – in time, a well set up store will pay for itself.
4. Supercharge your store with your partner's dropshipping plugin. Once your website is more or less ready, it's time to choose a print provider.
3. Select your print provider and place products in your store.
By using Shopify Sourcing App, WooCommerce + Dropshipping extension or Etsy Print on Demand App, you can finish your website and turn it into a store.
Keep in mind that by choosing a POD plugin for your store, you're also choosing a partner that will fulfill your orders.
A reliable print partner makes all the difference between successful and failed POD retailers. Yes, it's that important.
Whether you've built your website on Shopify, WordPress or Etsy, Printify is a good choice as it offers store integrations for all of these platforms.
Printify's app lets you choose from more than 15 suppliers. Make sure to do your research and find what suits your brand most.
You get access to more than 250 blank products, which enables you to find the most suitable combinations. It also means that even if you're unhappy with one supplier, you can quickly switch to another one. Pritinfy's app also lets you create mockups that can be immediately uploaded to your shop.
4. Promote your Print On Demand store to maximize sales.
Marketing is an essential part of every Print on Demand business. Without marketing, you're like a book on a shelf in the biggest library in the world. No one knows that you exist until someone accidentally stumbles into you. You must make it easy to find your business. How well you do it will reflect in your sales volume.
Here's how you can increase your marketing efforts with little to no cost.
Set up compelling social media accounts
Today, social media is one of the most effective and engaging ways to sell. Most importantly, it's free. Make use of Facebook, Instagram, Pinterest, YouTube, and other popular social channels. You'd miss out a lot by not utilizing them.
It doesn't mean that you should use all of them, too. One or two platforms will do. Which ones? It all depends on your strategy, target audience and knowledge of the platform.
Some universal tips for social media:
1. 80/20 principle. Post 80% of entertaining and engaging and 20% sales content.
2. Use niche influencers to boost sales. Niche influencers usually don't endorse products, unless it aligns with their brand and values. In turn, their promotional messages come across as more natural and organic.
3. Join engagement groups. Engagement pods for Instagram or Facebook can significantly increase your reach and help you to stay on top of your audience's feeds.
4. Come up with a hashtag for your store. Ask your customers to tag your brand whenever they post pictures with your product. Re-post these images to your channel.
5. Use paid social ads to drive new sales. Social media advertising is an ultimate testing ground. If your ad or product isn't selling, shut it down and try something else. If your ad or product generates lots of clicks and conversions, scale it up. Identifying winning ads and products is the key to your store's growth.
Learn SEO and optimize your website
Your sales happen in two ways – either you reach out to someone and show them your product, or someone searches for your product and ends up in your store. Guess which one is easier to convert?
There are plenty of SEO learning resources online. For now, you just need to know that a well-optimized website, product pages, product collections, and blog posts will help you rank higher in organic search rankings and will bring more traffic to your site. When building your store, consider the keywords your buyers will type.
1. Add reviews and comments from previous customers as testimonials
Almost every e-commerce marketer tells you how vital reviews and testimonials are for your products. Positive word of mouth has always been a strong sales driver. Research has found that 85% of online customers trust online reviews as much as personal recommendations. Also, positive reviews make 73% of customers trust your business more.
Reviews and testimonials add transparency and a social aspect to your site. When images don't work anymore, install a plugin to allow your customers to clear their doubts.
2. Write a blog with relevant content for your niche
The best and most innovative e-commerce brands recognize the power of content marketing. It's not just creating content, keeping a regular publishing schedule and sharing your blog posts with your Twitter and Facebook followers. Content marketing is about providing value to your readers and prospects.
This is your chance to establish yourself as a transparent and reliable expert in your niche. Share your expertise, stories, experiences, hire more skilled writers and share epic content resources with your audience. Remember, it's not about quantity, but the quality of posts!
Of course, these tips are just the tip of the iceberg when it comes to marketing your store. Look for other resources online and check out our other blog posts on Facebook marketing and Facebook's organic reach.
5. Monitor performance, experiment and improve.
Once the business gets going, you'll start reaping the fruits of your labor. You'll also be able to see what's working and what needs to be improved. You may need to change your catalog, designs, adjust prices, create special offers, redesign your store or even change your suppliers. But that's a small price to pay for success.
Be bold and experiment with different offers, suppliers, ads, designs or products until you find the mix that brings you and your customers the most value.
How Much Money Can You Make With a POD store?
Honestly, there are no ceilings to what you can make selling your custom designs. It all depends on how well you do it.
Expenses also vary. Let's say you'll spend $20 yearly for a domain name, $29 per month for Shopify services, $20 per month of extra website plugins, $500 annually on custom designs and $100/month for paid ads.
In such a case, your store will cost you around $200 per month. If you earn approximately $10 per sale, that means that you'll need to sell 20-30 products per month to break even. That translates to one purchase per day.
Again, you'll probably decide to do things differently. However, hard and, more importantly, smart work pays off.
Print on demand mistakes to avoid
We know what you're thinking: what could possibly go wrong?
Well, there are always more things that can go wrong than right. Mistakes await you where you'd expect them the least. Here are some common traps that too many sellers fail to avoid.
1. Expecting products to sell themselves. Dropshipping is a competitive business. When you don't promote yourself sufficiently, buyers forget that you exist.
2. Lack of research. It seems simple, yet so many people end up selling products that no one wants to buy. Don't be one of them. Do your research.
3. Low-quality "blanks."Just as people ignore the research of their niche, they also fail to examine and test different suppliers. Don't stick with what doesn't work.
4. Ugly designs. If you're not a designer, it's better to hire someone than to keep on selling something that isn't aesthetic and well-designed.
5. Ignoring the waiting times. It can take up to two weeks for your products to be delivered. That's the trade you make when you decide to dropship. Be open about it and don't upset your customers.
Is Print On Demand For You?
Print on Demand is a business model for everyone who has a brilliant t-shirt, mug or sticker idea and would like to sell it online. It's also for people who want to free themselves from order fulfillment and would instead focus on growing their business, sales, and marketing.
POD business is one of the best solutions when it comes to getting your custom merchandise for sale quickly. As a seller, you only have to worry about product design and selling. Once a sale is made, great POD partners take over for you.
Make it happen right now.
Share the article
Topics