Galaxy Hoodie: Out of Style or Trendsetter?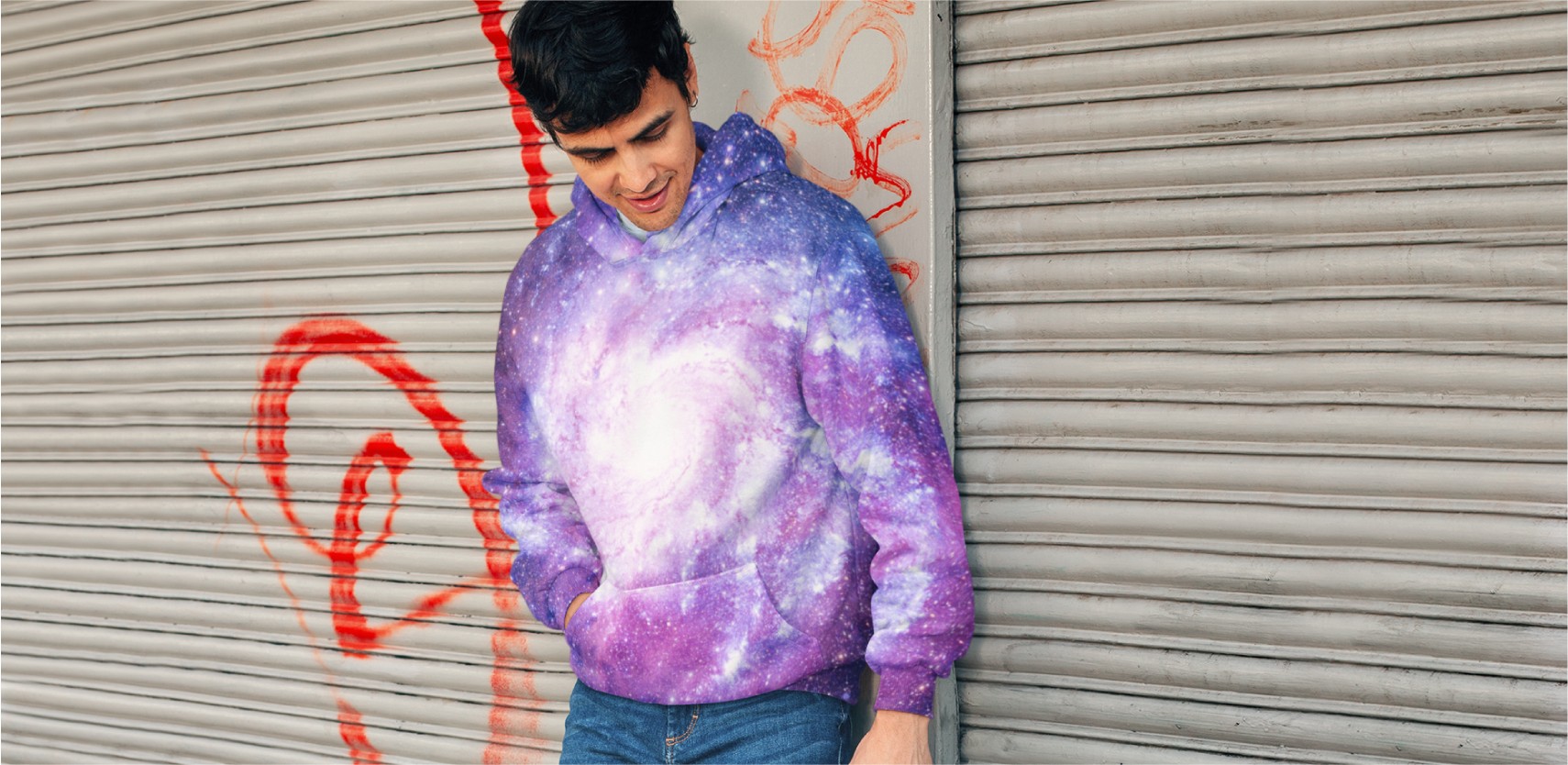 Is the Popular AOP Hoodie With the Star Galaxy a Trendsetter?
Are you looking for something to take your store's sales out of this world? If there's been one popular All Over Print or AOP hoodie that's stormed to the top of the popularity chart in recent years – it's the Galaxy Hoodie. You've seen it on streets, at skate parks, and virtually everywhere in between. But has its popularity waned since you first started to see it?
We're going to analyze the sales data and see if it or its popular variants have staying power.
We'll Look At:
General Types of Galaxy Hoodies
Google Trends
Popular marketplaces selling Galaxy Hoodies
Who knows? It could be that style itself is the harbinger of a revolution in hoodies and tees that you can use – and sell!
Let's take a look at the – ahem – galaxy of the Galaxy Hoodie! By that we mean, the popular original and some of its variants, just so that we know what we're talking about.
Galaxy Hoodie Classic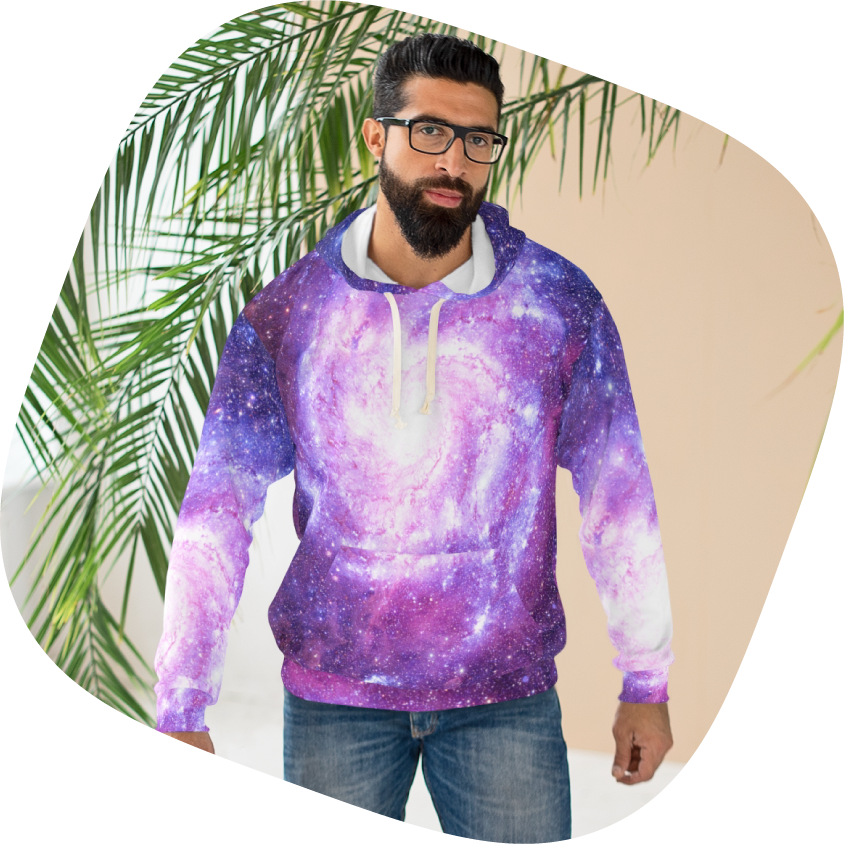 Galaxy Hoodies are an all-over-print or AOP hoodie that has lots of different designs and design variants centered around a galaxy or star theme. AOP means that the entire garment is printed on, and the design is front, back, and even on the hood!
This is a colorful and clever design that inspires awe and wonder in those that see it. It's popular and people from science fiction fans and NASA enthusiasts to environmentalists and even mind-expanding spiritually enlightened people can appreciate and relate to the design.
Galaxy Hoodie Variants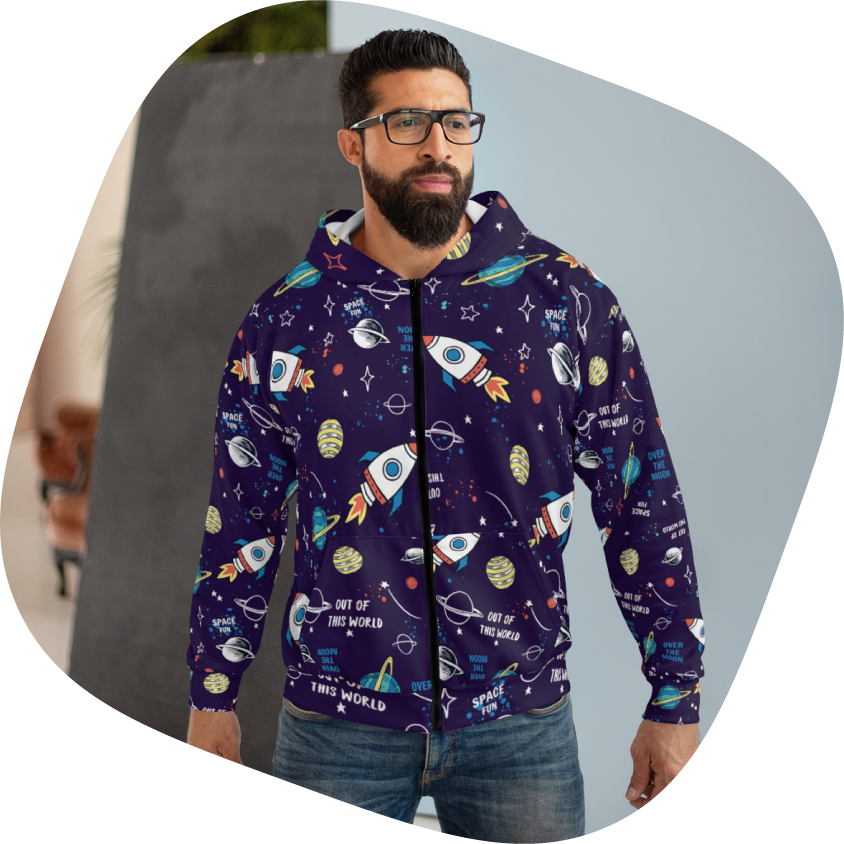 The most famous Galaxy Hoodie (above) classic is just one flavor that vendors are selling the Galaxy Hoodie in. Galaxy print hoodies have different types of star formations, planetary bodies, or other celestial themes. You can see that they mostly maintain a purple/black/blue color variant to some degree. There are variants centered around stars and the sun that may be interesting for your store, so take a look and see if there are any designs or star clusters or constellations you might want to put on a hoodie.
Trendy Styles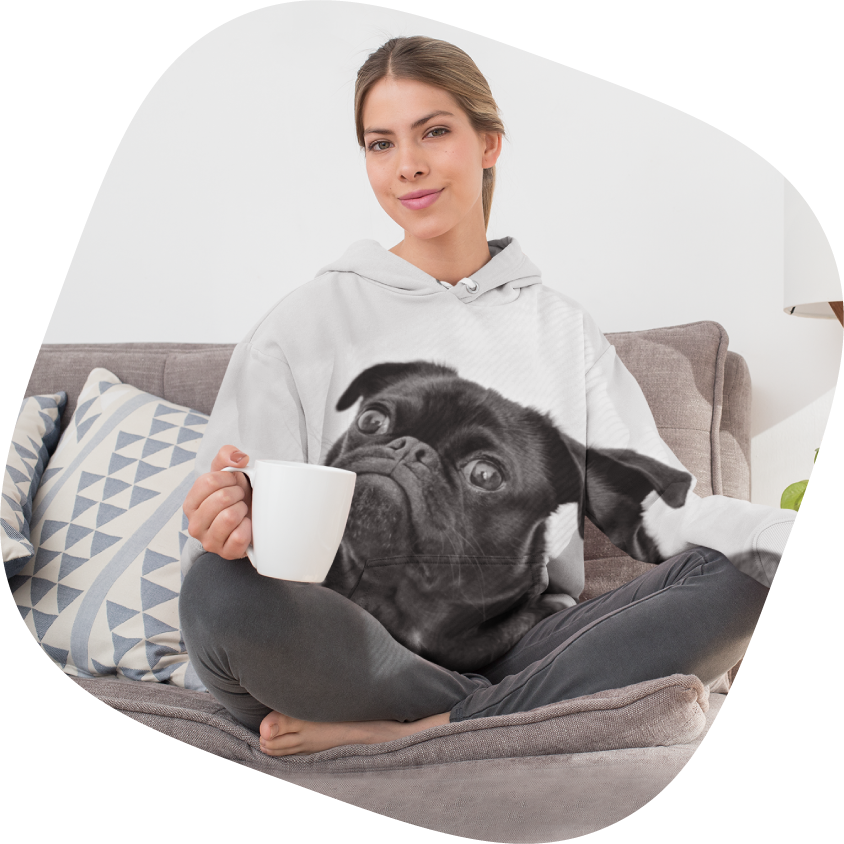 Don't limit yourself to just a Galaxy Hoodie. There are lots of design options to think about when thinking about designing an AOP hoodie. AOP hoodies could be sea or nature-oriented. Think of an underwater theme or even a shipwreck if you're in a nautical based business. Animals remain very popular, so why not throw some wolves or cats on that AOP hoodie and see if you can come up with the next "Three Wolf Moon" design that takes the internet by storm! The Galaxy print hoodie shows that the only limit is your imagination, and nearly anything you can think of can go on a hoodie!
Trending Searches Related to Galaxy Hoodie
Galaxy Hoodie
Ok, so now we know what we're talking about. Let's shift focus a bit to the popularity of the garment and how well it's trending on Google:
Peak searches for Galaxy hoodie came in 2017 at Christmas time. Like a lot of trends, there is a seasonality to purchases in this garment, and Christmas time, December 6th to 12th, sees a spike in searches around that time.
Although the December 2017 time was when the search was most popular, it doesn't mean there's been a huge drop off in searches. Close to 80% or more of the same search volume was registered next Christmas season in 2018, and again in 2019. This garment obviously has some legs, so get in on the trend!
People, of course, find your products in different ways. Let's look at some related search terms to see if the performance continues through the category:
Astro Hoodie
Astro Hoodie is another term that might come to mind when a parent or loved one is trying to find the perfect gift for their creative child. Interestingly, this search term has a lot less volume than Galaxy Hoodie, but it is increasing in its performance. That might be because of the Houston Astros, the American Baseball team that won the world series. Galaxy themed clothing, especially athletic or yoga-themed clothing, will sometimes be called "Astro" – but we might get some wires crossed in our hoodie data.
However: "Astro Hoodie" is the most searched time period was in 2018, and also at Christmastime. This suggests that there are a lot of substitute searches happening that you might be able to capture, perhaps even with other design types.
Star Hoodie
We've included star hoodies because, by far, this is the most popular search term. However, it could be a bit misleading. Undoubtedly, there are some people that are trying to find the famous Galaxy Hoodie when they're searching for "Star hoodie" or similar. But, there are lots of different types of star hoodies, even some clothing brands named star.
This means that we can't take the search volume at face value. The wise aspiring Galaxy Hoodie salesperson would use this information to try to capture some of that search volume and use it to their store's advantage. ?
Popular Marketplaces Selling Galaxy Printed Hoodies
Galaxy Hoodies On Amazon
Now let's take a look at one of the most popular marketplaces for Galaxy Hoodies, Amazon.
Exact Match
Here's our exact search term match analysis for Amazon. There are over 3,000 search results on Amazon when you type in Galaxy Hoodie – including some of the most popular ones that have sold thousands on the platform. The first few hundred search results are variations of the same popular theme, and of course, they have some nearly identical sponsored results.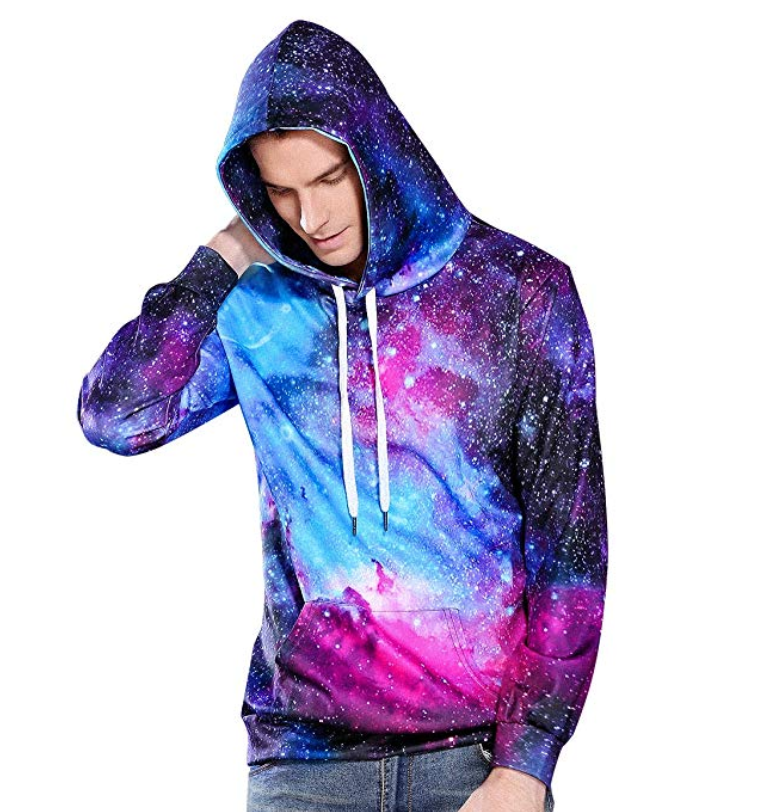 Not Much Differentiation
What we've noticed is that there isn't much differentiation between one product or another. There certainly is one in the quality of the hoodie that's being sold. Higher quality hoodies tend to sell better. Not only are they better for printing, but they also make for a more satisfied customer.
Here are the first rows, including some sponsored results: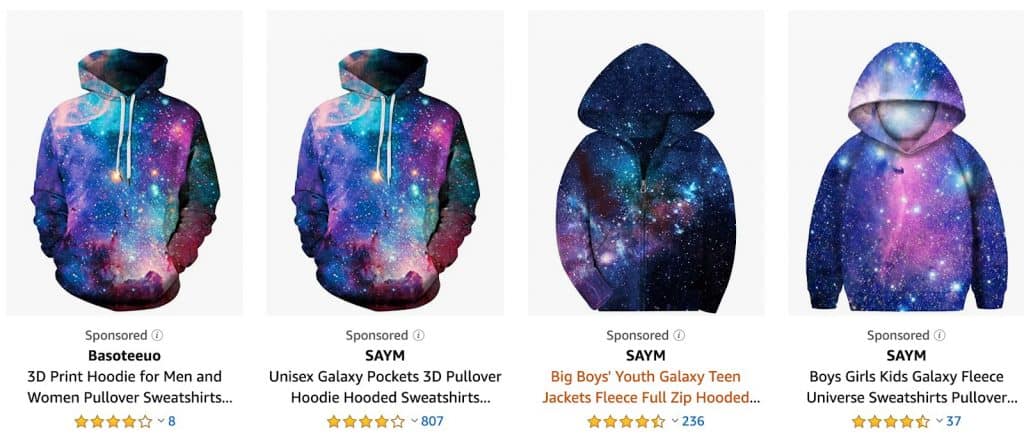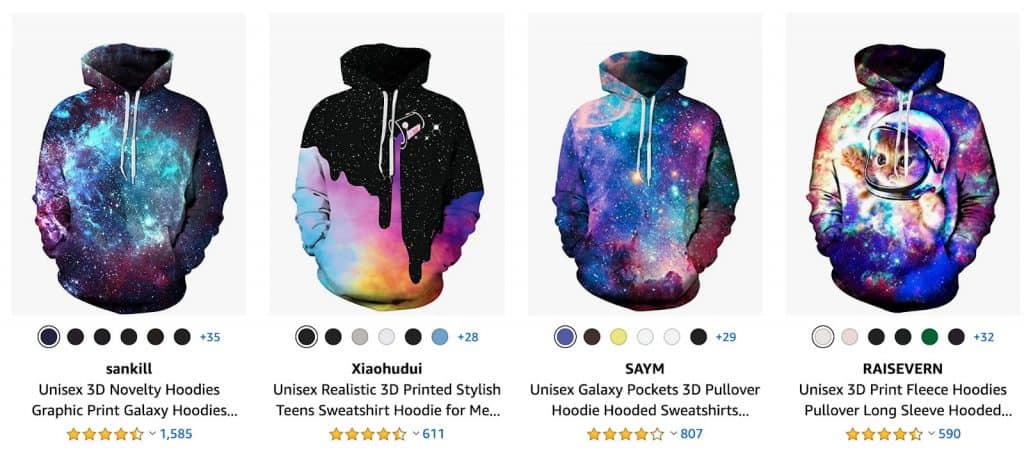 You can see that they're very similar, one to the next, with some celestial body or nebula. Some variations also appear. The paint can pouring down design appears to be incredibly popular, and there are several variants on this theme. The "catstronaut" is also very popular, so there's a lot of room to have some fun and play around with this product and theme.
Colors Are Largely the Same
Although the design style might change from vendor to vendor, you can see that the theme color palette is largely unchanged. This pink, purple, green and blue with white stars and black background make up what everyone thinks about when they're looking for a Galaxy Hoodie, so try to stay in that lane if you're going for the classic flavor.
Let's check out how our similar search terms are working on Amazon.
Astro Hoodie
Although "Astro Hoodie" might be more popular in Google search for Galaxy Hoodie themed products, on Amazon, we're mainly getting Houston Astros gear. ? Keep this in mind when you're setting up your content.
Star Hoodie
Star Hoodie is by far the bigger Google search term, but how well does it fare on Amazon? It comes up with 8,000 results on Amazon, so nearly 3 times as many as Galaxy Hoodie. What's coming up?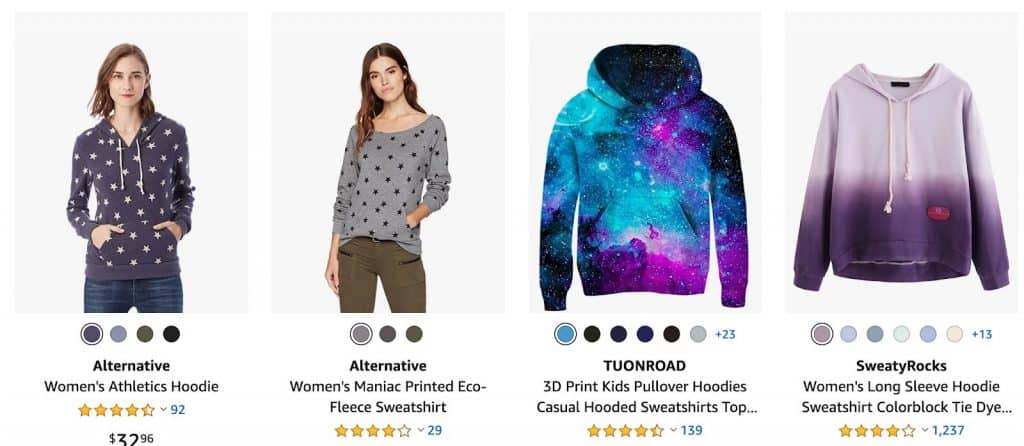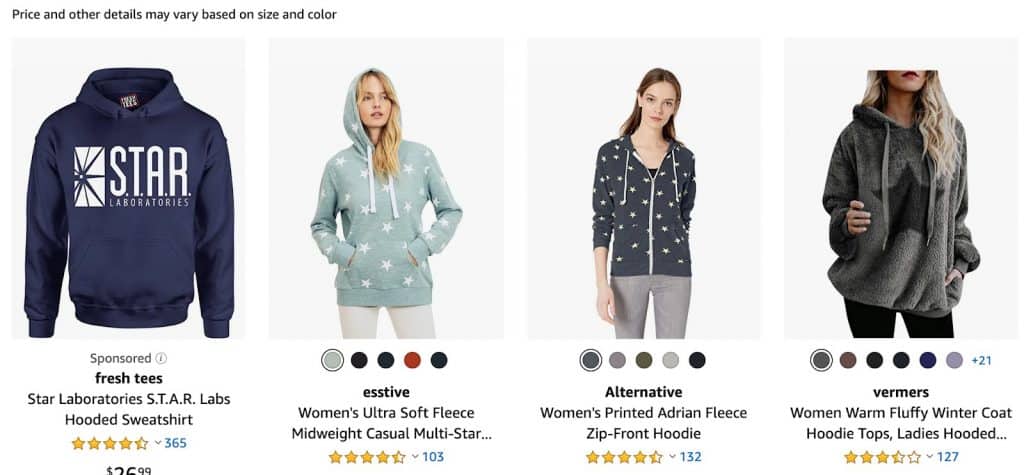 As you can see, these might not necessarily be related to our selling sweet spot for our Galaxy Hoodie.
These are just the first three rows on Amazon, but they don't help our Galaxy Hoodie searcher. However, you will note that a few items in the row do rank for Star Hoodie, and so it's possible that some sales are being captured this way.
Not So Star Crossed…
Most of what comes up? Hoodies with star illustrations, the brand name Star, or unrelated products. That's unfortunately not very helpful for our search, but if you're all about volume and substitute search terms, this is definitely one you can try to rank for. The volume alone suggests that there are people searching for it, and if you bring them to your site, that's the first step to selling something!
Let's check out some similar search terms for all over print hoodies that have popular designs on Amazon.
3D Hoodie
3D Hoodie is by far the most popular search term for the general genre of printed hoodie involving AOP hooded sweatshirts. It has over 6,000 results for 3D hoodie, the genre is incredibly popular and diverse.
From animal heads made from wireframe to art, paint, and popular TV shows, there's no limit to the types of all over print hoodies that are being sold. If you're going to branch out, try to rank or sort for this search term, as it's by far one of the largest, even larger than the "Galaxy Hoodie" search term, which relates to one family of products.
Digital Print Hoodie
Digital print hoodie is another search term that has over 2,000 results and all within the same vein as the Galaxy Hoodie. Interestingly, some of the hoodies that rank high for the Galaxy Hoodie, also rank high for the Digital print hoodie.
There are also a lot of variations that also come up under the 3D hoodie search term, and so this is another popular substitute search term you might consider when building your content strategy or your product description.
Animal Print Hoodie
The animal print hoodie is another term you might not associate with the Galaxy hoodie, and with good reason. However, if you are considering some more 3D print style designs, and you want to branch out from the Galaxy Hoodie, then this is a term worth considering.
While most of what comes up are leopard print or even hoodies topped with ears, it's not totally off base for your product. There are a decent number of 3D animals, AOP, and digital print hoodies that come up with this term – something that you might consider if you want some cheap sales outside of your search term!
Hoodies On Etsy
Let's look at Etsy now. Etsy is a bit more unique than Amazon and has a lot of alternative and even handmade products.
Exact Match
When we do an exact match search on Etsy for Galaxy Hoodie, a lot of the same types of products come up. Interestingly, there are a lot of variations on the "Galaxy" theme, rather than the classic, AOP hoodie that we're looking for. Some have "Galaxy" style numbers or letters on a black background, rather than the all-over print hoodie.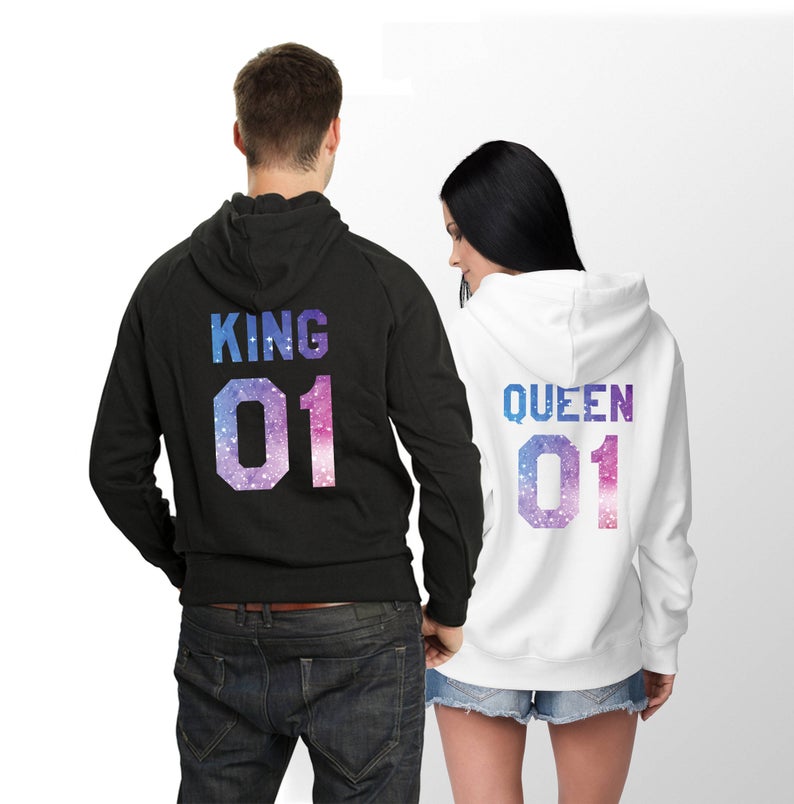 The Results Are Good!
There are 1,042 results for "Galaxy Hoodie" on Etsy, which means there's significantly less competition for this keyword on the platform vs. Amazon or even eBay (as we will talk about in a few minutes). That's an advantage you can really use if you're already on Etsy, using our Printify plugin that helps your products to get on Etsy's platform.
Lots of Options Here
Other variations have a basketball that looks like a comet, streaking across the hoodie, and even a unicorn. Attention is drawn away from the regular Galaxy Hoodie right away to hip and creative variations, and this will grab the attention of would-be buyers that are trying to differentiate their wardrobe from their peers or want an individual stamp on their wardrobe.

Bring Your A-Game
That's not really a surprise, as Etsy is a place where a lot of creative people come together to produce great products. There are some next-level designs here, so if you want to stand out, bring your A-game!
Let's take a look at similar or alternative keyword searches on Etsy.
3D Hoodie
Searching for 3D hoodie on Etsy produces 400+ results, most of which are similar to a Galaxy style or AOP design. With wide variations, including in the type of hoodie, this is again a time where you need to stand out in order to grab the attention of the discerning buyer.
Remember, not only are the sellers here very creative and crafty, but the buyers on the platform tend to be looking for something unique as well. Don't hold back if you're looking to capture some sales!
Digital Hoodie
There are over 2,000+ results for this on Etsy, but don't let that fool you, there are quite a few unrelated products here. When we drill down into the clothing category, we only have 200+ results – which might be a great opportunity while it's still hot!
Most of the products here are print on demand products, but they're not AOP, like we found on Amazon. That's great news, because it means less competition. It also might mean that there's not a lot of demand for this search term – but in a crowded marketplace, finding gems like this might mean some big sales for your Galaxy Hoodie!
AOP Hoodies On eBay Hoodies
Let's cast our eyes now to eBay, the worldwide leader in secondhand marketplaces. But wait, there are tons of new and print on demand products all over eBay, as you'll soon see:
Galaxy Hoodie Exact Match
We searched for Galaxy Hoodie on eBay and wow, did we get some results. There are over 35,000 results for Galaxy Hoodie on eBay, before you refine or filter anything. And most of the results that came up are first exactly what we were looking for.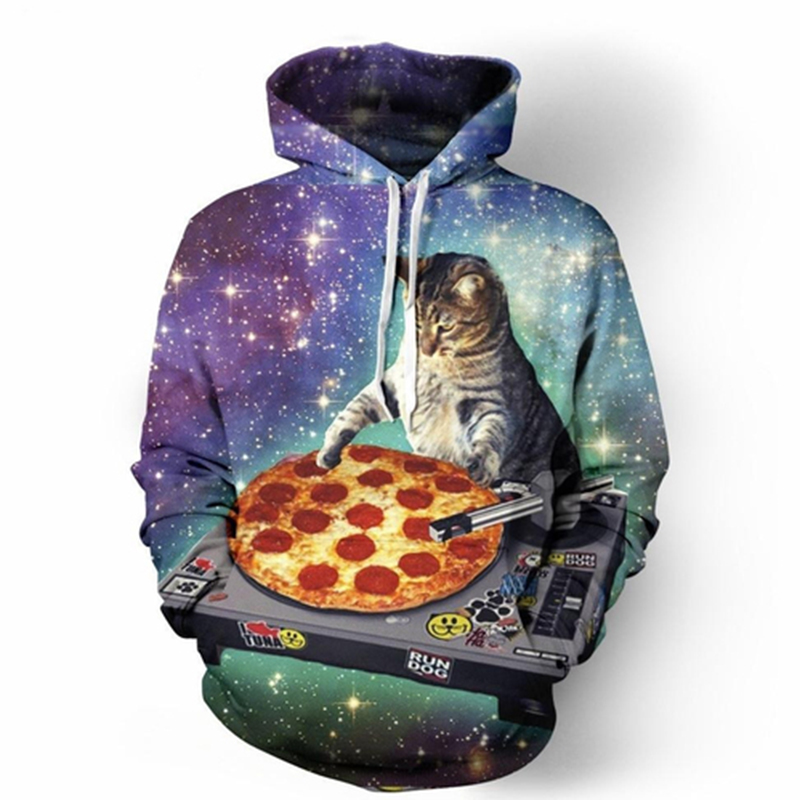 eBay can be a bit strange, and in this case, it certainly was. As we "narrowed" our results to focus only on clothing, the number of results actually went up, to over 45,000. Again, most of the results on the first few pages were exactly what we were looking for in terms of design.
Quality Quality Quality
We dove deeper, and of course, there are a lot of hoodies here, but most of the companies aren't using brand names. That means we have no idea of the quality unless we read the reviews.
Another Issue: Print Quality
Your stunning Galaxy Hoodie will look a lot less stunning if there were corners cut in the printing and dying of the garments. That's an issue that you can't fix – and will lead to disappointed customers. You could try to differentiate yourself on this platform by advertising your name brand, quality garments.
3D Hoodie Search
A search for 3D hoodies on eBay produced over 450k results. That's a lot of hoodies! Of course, not all these results are hoodies, but there are thousands and thousands of relevant results for this category.


Another thing to mention once more is that there's almost no guarantee on quality, either of the hoodie or the quality of the printing done onto the garment. That's a serious issue that most of your customers will care deeply about, and for many, it will be a no brainer to pass on buying without this information.
Quantity Over Quality
It's clear that this is a quantity over the quality issue, but that may not matter for most sellers. One or two sales a month of a few thousand different products is a good living! This shows by far that this is the strongest search term for eBay and one you might try to use if you're going to sell Galaxy Hoodies on your site!
Sell Your Own Galaxy Hoodie
Have you got a good idea for a design? The first thing you might want to do is take a look at our all-over print hoodies. We offer two all over print hoodies, one pullover and one zip up. We also have an AOP sweatshirt you might be interested in.
Take a look, and if you don't have a Printify account, get signed up today!
Make it happen right now.
Share the article
Topics