The Next Big Trend – Custom Luggage Tags and Suitcases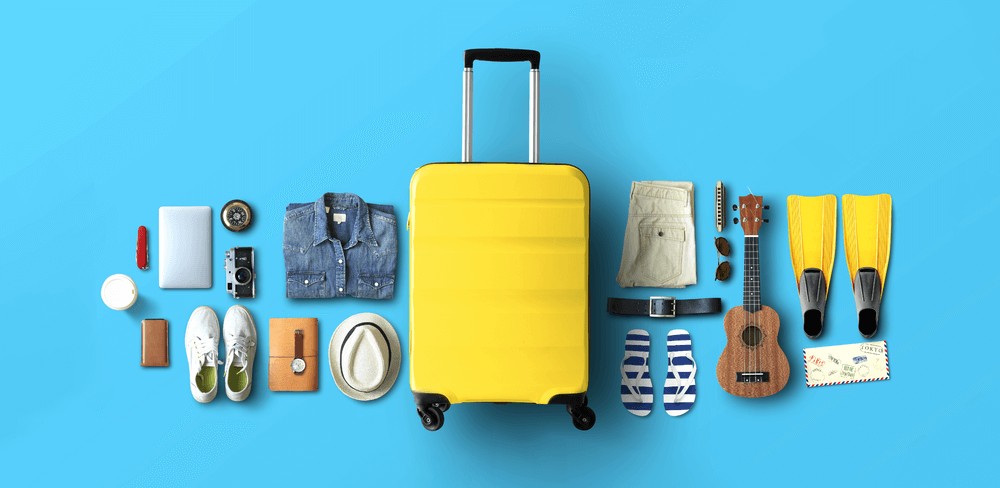 Whether you're a newcomer to print on demand or a successful eCommerce veteran, you probably already know how hard it is to come up with an original product or a design that gives you an edge over the competition.
T-shirts and mugs are evergreen items that continue to make amazing profits for hundreds of print-on-demand entrepreneurs every year, but competition is fierce and it can be tough to stand out from the crowd.
Offering unique products is one way to boost your online store's popularity, and with over 300 items in the Printify catalog, finding a profitable niche has never been easier!
In this article, we're taking a look at custom hard case luggage and custom luggage tags. These two unique items tick all the right boxes for a profitable print-on-demand business. Let's take a deep dive into why we think these two travel accessories are the ones to watch for 2021 and beyond:
If you're new to the concept of print on demand, you've landed in the right place! Printify is an online print-on-demand dropshipping service that connects people looking to sell printed products online with a large network of hand picked print providers.
Our mockup generator allows you to create products and add them straight to your online store. When one of your customers makes a purchase, the item is printed and shipped automatically. No upfront investment or stock inventory required!
Why Should You Sell Custom Printed Travel Gear?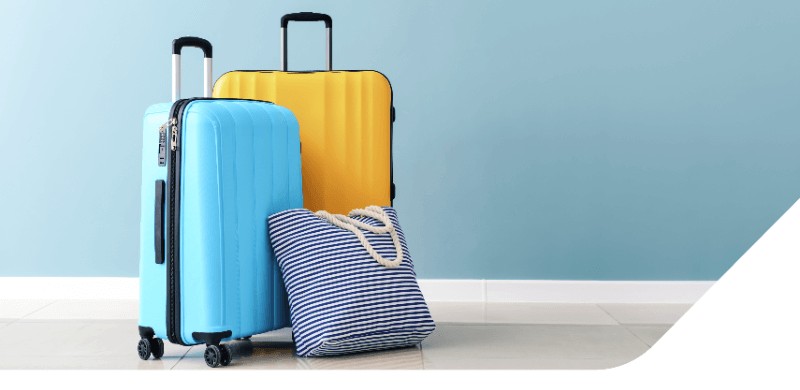 The global COVID-19 pandemic may have put a dampener on our 2020 vacation plans, but as restrictions begin to ease and more people begin to plan trips again, the travel industry is cautiously preparing for a brighter future.
So what does that mean for print-on-demand businesses?
Put simply, travel is an extremely lucrative niche for accessories and apparel. Every year, over $24 billion dollars is spent on luggage and bags in the USA alone, with nearly half of that amount being spent in the travel sector. 
That means for print-on-demand sellers, the travel niche ticks all the right boxes:
Lots of low-ticket items like

custom luggage tags

that are bought on a whim

There are many high profit-margin items that are thought of as necessities

It's much easier to brand and market yourself as a travel apparel / gear/ accessory business, rather than a generic clothing store

Travelers are positive, upbeat and ready to spend more
Choosing the Right Products to Sell
Now we've gone over some of the reasons why the travel niche is a fantastic way of standing out from the crowd, let's get more specific, checking out a couple of items from Printify's own catalog. Custom carry on luggage and custom luggage tags are ideal as winning, vacation-themed products: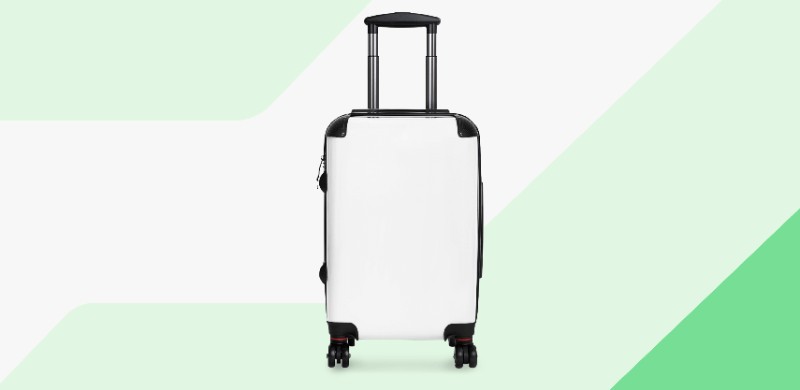 Yes, you read that correctly! This Printify product allows you to create custom made luggage with your own unique designs printed on the outer shell.
The custom carry on luggage measures 34cm x 54cm x 22cm in size, which means that it meets the size requirements for cabin luggage on most major airlines. Let's take a look at the full specs:
Size: 13.3" × 22.4" x 9.05" (34 cm × 54 cm × 22 cm)

Weight: 7.5lb (3.4 kg)

13.3" × 22.4" x 9.05" (34 cm × 54 cm × 22 cm)

Adjustable telescopic handle

Material: Polycarbonate front and ABS back hard-shell

Two inner pockets

Four double wheels with 360° swivel action

Built-in lock
Selling Custom Printed Luggage
The polycarbonate front of the custom suitcase gives designers a large and prominent area to apply bold patterns and logos, allowing for some really distinctive, original product ideas. It's also a great way of targeting very specific audiences, combining travel with other hobbies and interests: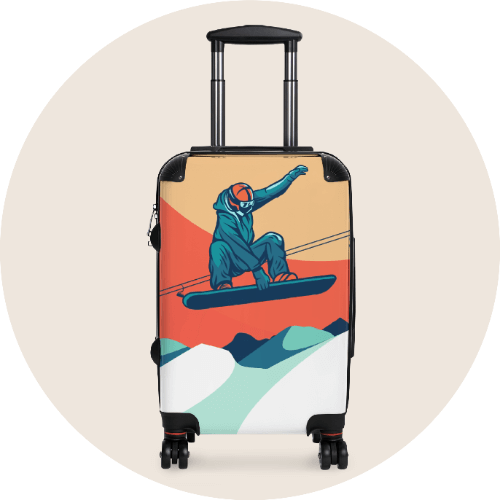 Custom-made suitcases are a perfect fit for the skiing and snowboarding niche. Clothing and apparel in this industry can be seriously pricey, so marketing your products and designs towards snowboarders might allow you to achieve higher profit-margins. If you're trying to establish yourself as a designer apparel brand, custom luggage is a fantastic way of showing off your original designs and getting your logo noticed.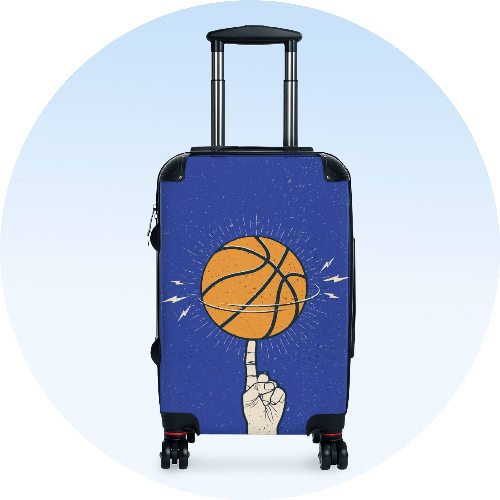 Custom-printed luggage is a great fit for traveling sports players: You could either incorporate eye-catching designs with motivational quotes, or create an entire brand selling a range of unique sporting apparel and accessories. 
If you were able to persuade local teams to commission complete sets of matching luggage, you could notch up some serious profits!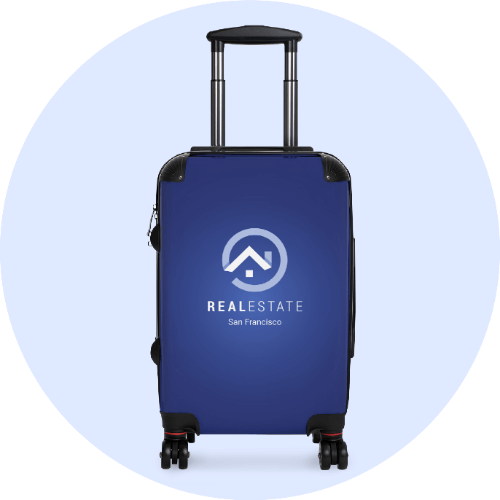 Business Travelers and Contractors
Custom suitcases might not be the best fit for an executive traveller looking to keep a low profile, but they're an awesome marketing tool for traveling contractors, tradesmen, and other professionals. Just like sports teams, contractors and business users are likely to buy multiple items at once, and you can definitely reach out to their companies to strike a lucrative deal.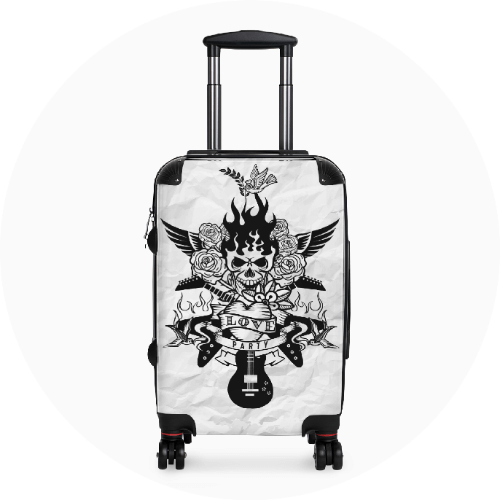 Sure, drummers and double bass players won't have much luck fitting their equipment into a carry-on case, but this is still a niche where people need to lug around lots of gear when they travel.
There's plenty of scope here for original designs too: You could take inspiration from old-school tattoo artwork or rock-themed jewelry, or simply stick to humorous slogans and memes. This niche isn't limited to bands either: Many roadies and tech engineers would love custom luggage when they travel.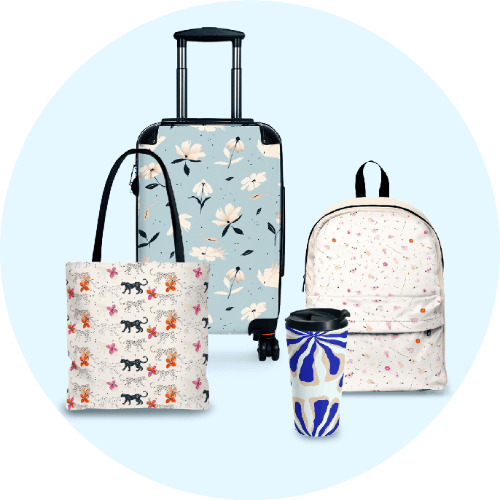 Once you've established yourself selling custom travel accessories like carry-on cases, the natural progression is to match different pieces of equipment into designer luggage sets. Combining items like tote bags, backpacks, and other travel accessories into curated sets, allows you to really maximize your profits and upsell your items in bundles.
There are many different items that you can combine successfully into sets. Which leads us to our next item: Custom Luggage Tags.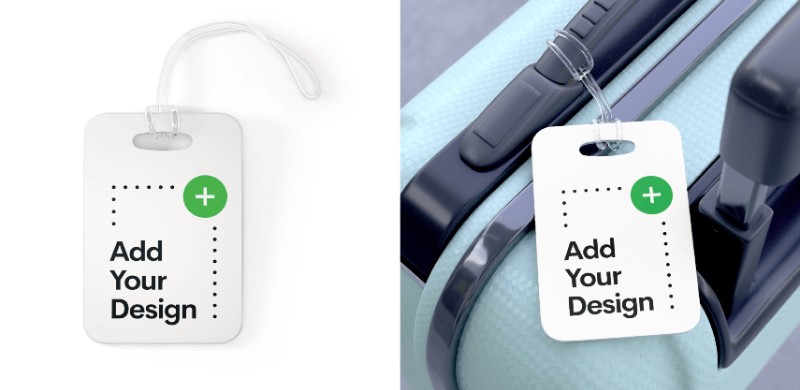 Despite being small and modestly priced, custom-printed luggage tags are must-haves when traveling. If you're not lucky enough to own one of Printify's custom carry-on cases, a custom-printed luggage tag can help you to spot your bag among a sea of nondescript black hold-alls as you wait next to the airport carousel.
Custom luggage tags are a practical travel item with only a modest cost. They're also a perfect item to display your apparel brand's logo, a custom design, or a novelty theme. You can even give your customers the option to upload their own personal designs to make luggage tags custom to every taste and requirement.
Printify's custom luggage tags are glossy, vibrant, and completely customizable. They fit all kinds of baggage and are extremely durable.
The Benefits of Custom Plastic Luggage Tags
Custom Luggage Tags Are Inexpensive
Luggage tags have low production costs, which means you can either pass those savings on to your customers, or charge a slightly higher markup for better profit margins. Custom-logo luggage tags can be bundled with other products or even given away as promotional tools, making for a very cost-effective, prominent marketing tool.
Custom Luggage Tags Are Practical
Luggage tags make keeping tabs on your belongings easier. They may be fun, customizable and cheap, but they still have a very practical purpose. That makes them an easy sell, especially to people preparing for a vacation or business trip.
Custom Luggage Tags Are Easy to Market, Sell, and Ship
There are literally hundreds of niches that suit our custom luggage tags: wedding favors, vacations, business trips, special occasions, music, and movie quotes. The list is endless. On top of that, custom luggage tags are super easy to ship, as they're small enough to fit in a regular letter-sized package.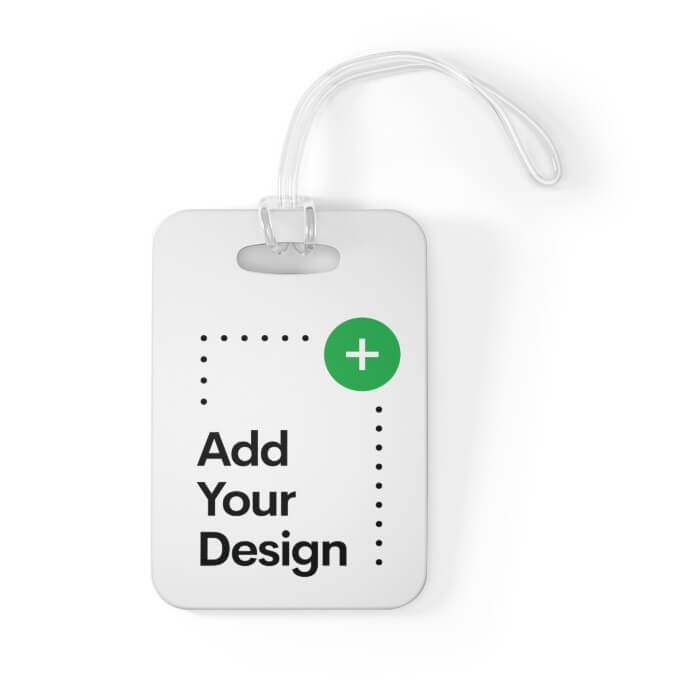 Custom Luggage Tags Are Perfect for Growing a Brand
Custom-made luggage tags are perfect for standing out from the crowd. They can either be directly used by businesses at conferences or events, or given away for free as promotional tools.
Lastly, there's one other stand out reason to use custom luggage tags: no minimum order volume. That means you can print 1 tag, 5 tags, or 500. The choice is entirely up to you!
Custom Luggage Tags Work in Any Niche
From custom-photo luggage tags to tags with logos, artwork, or brand slogans, they work in every niche imaginable.
Custom Plastic Luggage Tags Versus Other Materials
When it comes to custom luggage tags, plastic beats other materials hands down. Here are some of the other popular materials used for custom personalized luggage tags, and some of the issues they present:
Custom leather luggage tags are very durable and can look extremely stylish. They're a good fit for more subtle applications where bright and bold designs wouldn't work, but aren't a great option if you're looking to stand out from the crowd, as leather isn't a good medium for printed designs.
Custom-printed paper luggage tags can look stunning, but they're best suited to wedding favor gifts and other one-off uses. Custom paper luggage tags are very fragile, especially if they get wet or scuffed.
Custom rubber luggage tags are available in lots of colors, they're durable and have the ability to be moulded in various different designs and shapes. Unfortunately, like custom leather luggage tags, it's difficult to print colored logos or complex designs on rubber, so they aren't anywhere near as versatile as their plastic equivalents.
Travel accessories are set to grow massively in popularity as more and more people return to normal life after a very subdued 2020. Custom luggage tags and suitcases are the perfect way for print-on-demand retailers to cash in on this trend, whilst at the same time offering lots of opportunities to angle your products towards different sub-genres and use cases.
Why not head over to the Printify catalog today and get inspired?
Create Your Own Merch for Free!
Share the article
Topics