An accessory, in a secondary manner, is an item to contribute to one's usefulness, versatility, or physical appearance.
Hundreds of accessories are available on different print-on-demand platforms. We've hand-picked the most promising ones to save you hours of research time. 
Top Print-on-Demand Accessories
When it comes to print-on-demand accessories, it can be overwhelming to decide which items to sell. From tote bags and pouches through to custom-designed phone cases, there are hundreds of products to pick from. Of course, you want to choose items that have a stable to growing demand in the market and avoid ones that have become saturated already. 
 If you're searching for print-on-demand accessories with the highest sales potential, look no further. We've compiled a list of the top items you can make yours by just applying your design. Here is a list of the most promising print-on-demand accessories.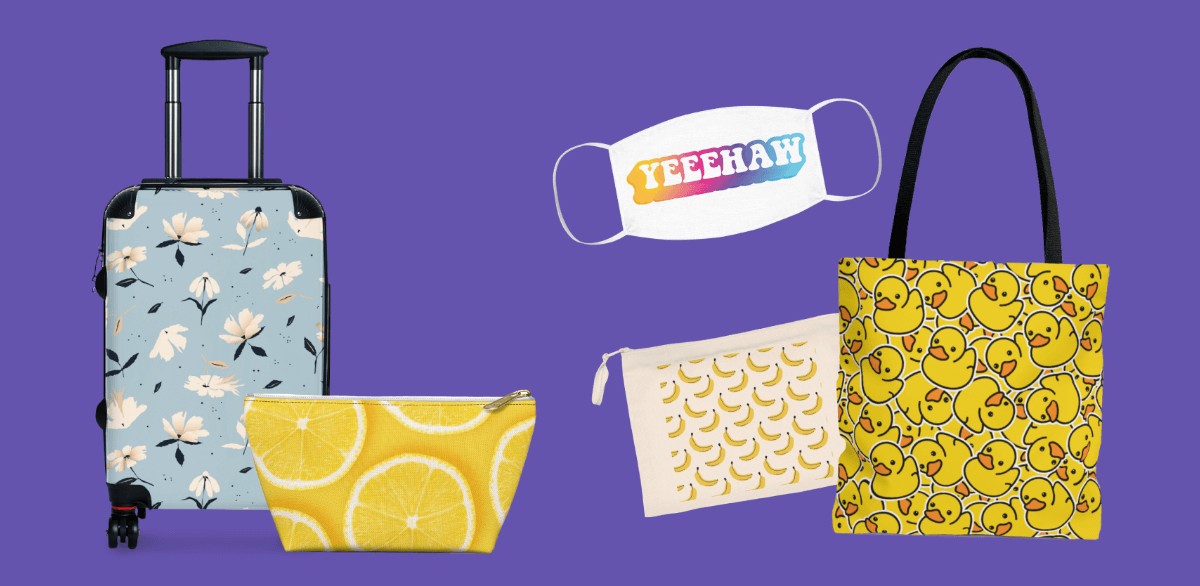 Coronavirus pandemic has made masks a necessity for many. You can sell two types of accessories in this niche: masks and neck gaiters. You can come up with new designs based on seasons, aesthetics, and geometric patterns on fabric. As any print-on-demand store could feature a few puns rather easily, a custom mask with a funny phrase, question, or comment could make for a great seller. 
The demand for pet products keeps rising and hits its peak during the holiday season. Pet-related gifts are heartfelt and appreciated by owners. In 2021, it's estimated that pet owners in the US alone will spend $109.6 billion buying products for their fur babies. The best pet accessories you can print and offer on your store include:
Doormats are an essential part of any household because they filter dust and keep the house clean. There is a wide selection of prints and customizations you can do to doormats and ask your clients for their input as well. Add stylish, colorful, or fun prints to match your exterior's aesthetics. 
Throw pillows can be a popular item in your store because everyone loves to buy or gift cute home décor. Personalized pillows liven up sofas, chairs, and just about anything that can house a pillow. You can sell the pillow cover or the filling too. Used for aesthetic and for fun, custom pillows show off your personality and design skills. 
Everyone has a smartphone today, making phone cases one of the best gifts and accessories to buy. Phone cases aren't for security anymore, and they are a fashion statement. Sometimes the clients have an idea of what they want to be printed, and other times you can suggest them from your most popular designs. 
Tote bags are a bestseller for a print-on-demand store because they offer a lot of room to customize. They are easy to print and appeal to a wide audience for self-use or gifts. Canvas tote bags are more popular as people are becoming mindful of carrying reusable shopping bags. There's also AOP (All-over-Print) tote bags that enable you to make prints and designs to cover the bag's surface. With the tote bag market set to increase by $5.17 billion by 2023, this is one product you'd surely want to sell through your store.
Who can ignore a cute-looking bandana? Bandanas are an accessory that gets more popular every year, yet the customization ideas never run dry. They are popular because they are super flexible in using as a handkerchief, scarf, or wristband. People also get items like bandanas printed for charity organizations or group projects, which adds the custom effect where you can work your magic. Make sure you work with a fabric that is washable and reusable.
Beanies are a winter accessory and have a lot of potential for your print-on-demand store. If you are selling on a global market, then there is always winter somewhere. Print-on-demand beanies can also be promoted as fashion accessories with embroidery options, printing, and all-over print labels. 
Hats never go out of style, and that's why you should always offer them at your store. However, pushing through this saturated market needs a lot of creativity and effort. For making a name in this niche, you need to ensure the audience that you offer a truly unique product that they won't find anywhere else. 
Neckties are a very niche product that you can add to your store. They may be niche, but there is a lot of potential in neckties from a fashion accessory, gift, or costume party point of view. Some people even run a customized tie business that relies on the same print-on-demand model. 
These are accessory items that are not just red hot right now, and they are in sizzling demand! Pins rose to fame in late 2019 and are still selling like hot cakes in the print-on-demand industry. They offer a lot of options to customize and look cute on bags, shirts, and flags. You can increase your order value by offering pins with upselling on your ecommerce store. 
Print-on-demand pouches fit into a lot of niches like makeup pouches, travel pouches, medicine pouches, pencil pouches, etc. Whether looking for a makeup bag or a stationery pouch, you can offer them print-on-demand pouches that fit their needs. There are a lot of options with pouch material, size, and capacity. 
Another headgear item, visors, is a practical accessory that suits athletes, kids, and the elderly. It is a no-nonsense accessory that has survived the test of time. So you should add this item to your store and offer many options to the client to customize their visor. 
Similar to tote bags, drawstring bags have a slightly different appeal and usage. They are also a reusable bag option to promote in your store as an eco-friendly accessory. If you are stocking tote bags in your store, you can offer the same designs on a drawstring bag and let the customer decide. 
Socks are another product that has gone through the test of time and will probably continue to be in demand till the end of time. Socks are a main piece of wardrobe for any person, but also a potential gift option if you offer them at a print-on-demand store. They are a product that offers so much to customize. 
Yoga is one of the best exercises globally, and yoga mats come along with the package. It presents you with the best opportunity to target Yogis with customized yoga mat options. Moreover, yoga mats are not limited to yoga only but for a multitude of uses. If you check the material and choose a good one, yoga mats can be pretty handy for everyday usage other than the exercise itself.
Supplies and stationery always look nice, and people tend to overspend if these items look cute and appealing. Journals are one such item that people love to collect and gift. However, the market for custom journals is also very stiff, and you need creativity to stand out.
The jewelry market keeps thriving because of new styles and designs people love to wear to be on-trend. Driven by online trends, you can introduce pendants to your print-on-demand store. The base cost varies, but you can make a good margin by selling a pendant or a bracelet charm, designing them according to the client's need. If you want to experiment, you can place a lot of designs on different pendants to see which one sells best.
Sell Print-on-Demand Accessories Today
Whether you have a Shopify store or work on a WooCommerce website, you want to find a platform that makes it easy to create and import accessories. Printify has more than 250+ different accessories that you can personalize in just a few steps. Our providers will print and ship all your items – there's no need to worry about inventory costs or shipping supplies at all with our print-on-demand technology.