Light on delivery and perfect for large designs – custom shower curtains are a home decor must-have and a huge sales opportunity. Create and sell your personalized shower curtains right away.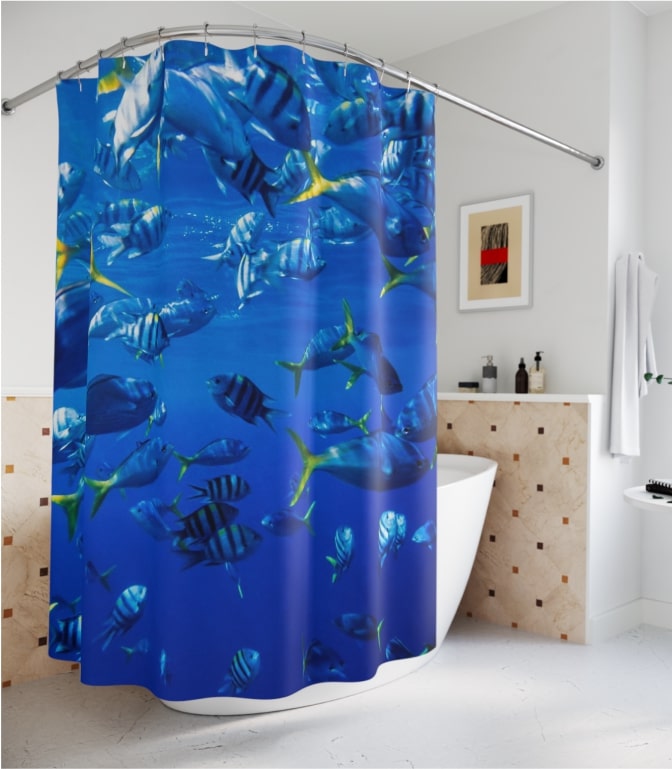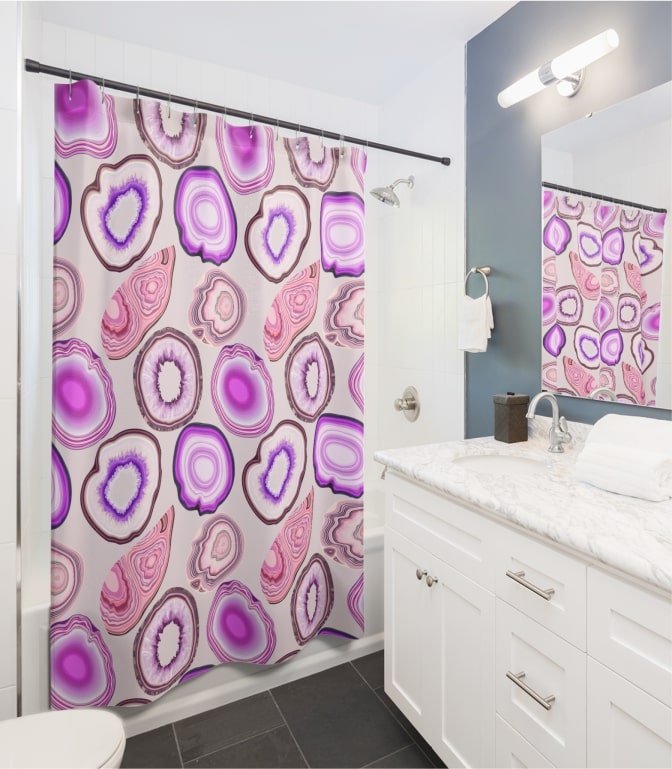 Bring a Bit of Flavour With Custom Shower Curtains
in total revenue over the first half of this decade in the US alone.
Whether you want to start selling to a crowd or get a gift for yourself, don't wait – eCommerce has drastically expanded the availability of merchandise with a competitive market for all things personalized.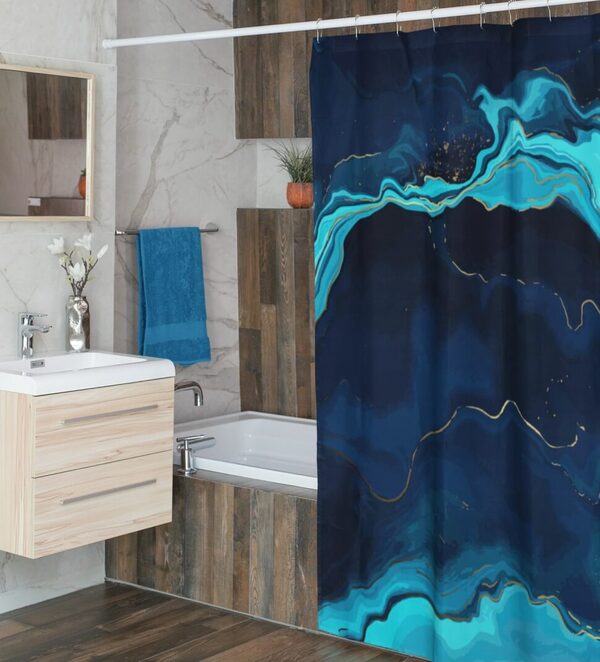 Not everyone makes the time to decorate their bathroom, but those who do have drastically raised the average national expenditure for curtains and draperies to well over $12 per household. With our tools and your great design in mind, your custom shower curtain can be made, ordered, and delivered in under a week.
Personalized Shower Curtains for You
Want your image on custom shower curtains with full control over the print process but none of the hassle? Don't wait. Start right away and see your results in just a few days. Create custom-made shower curtains from industry blanks and distribute them on your own terms.
Print on demand empowers designers and merchants to fulfill their decor and apparel concepts without worrying about production lines or supply chains. Create stunning custom shower curtain designs – fully automated by Printify.
Explore Our Selection of Curtains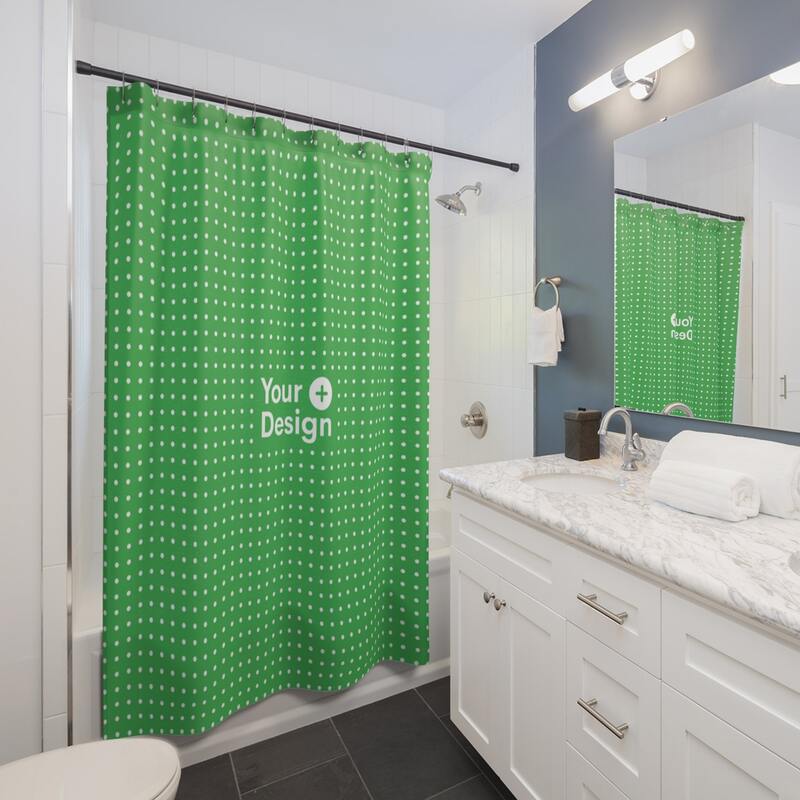 With a highly durable machine-washable fabric that retains shape, Printify's Custom Shower Curtain holds a vast print canvas with good waterproofing and sewn-in buttonholes.
Create stunning patterns, graphics, or photo artwork on one side of the custom shower curtain with high-quality detail and state-of-the-art print techniques. Order and deliver in less than two days.
Available sizes: 71″ × 74″ size fits standard shower rod dimensions (+/- 2″ variance)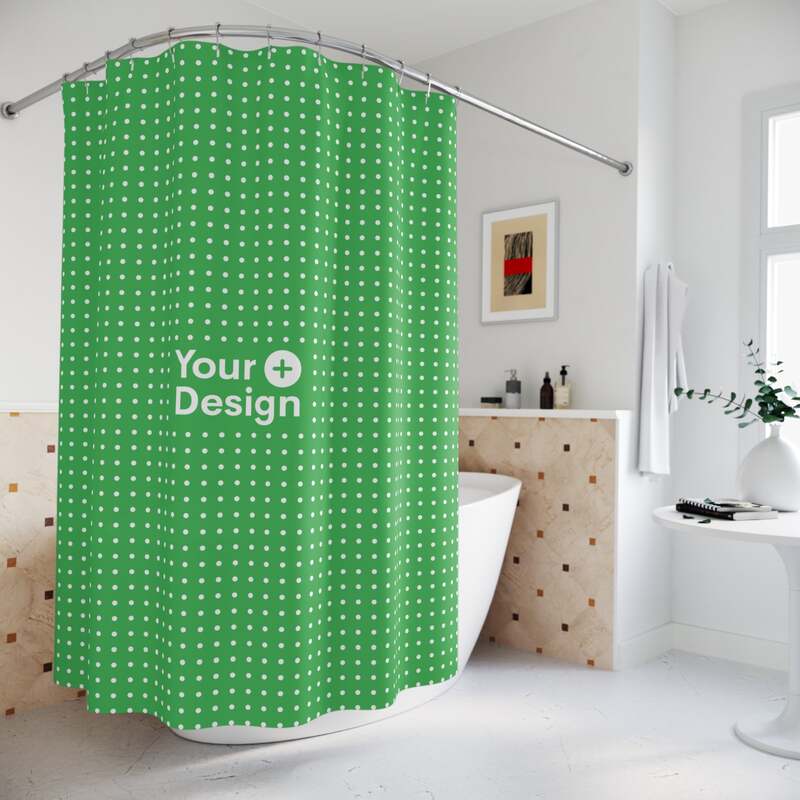 Try our Polyester Shower Curtain with 12-stitch reinforced eyelets and a powerful synthetic fabric that dries quickly.
Our partnered print providers ensure a bright and crisp print quality for a stunning contrast against any bathroom tileset.
Available sizes: 71″ × 74″ size fits standard shower rod dimensions
Create, order, and ship your custom shower curtain as well as more than 800 other print-on-demand products through the Printify catalog. Filter by preference, edit size fits, colors, and print features to suit you or your customer.
Create Your Shower Curtains Today!
No Limit to Your Creativity
Use Illustrations and Abstract Graphics
Modern art is in the eye of the beholder. Experiment with abstract art that soothes the senses and provides an otherworldly customer experience. Place patterns and vector-style graphics that draw the eye to the shower curtain and make a statement.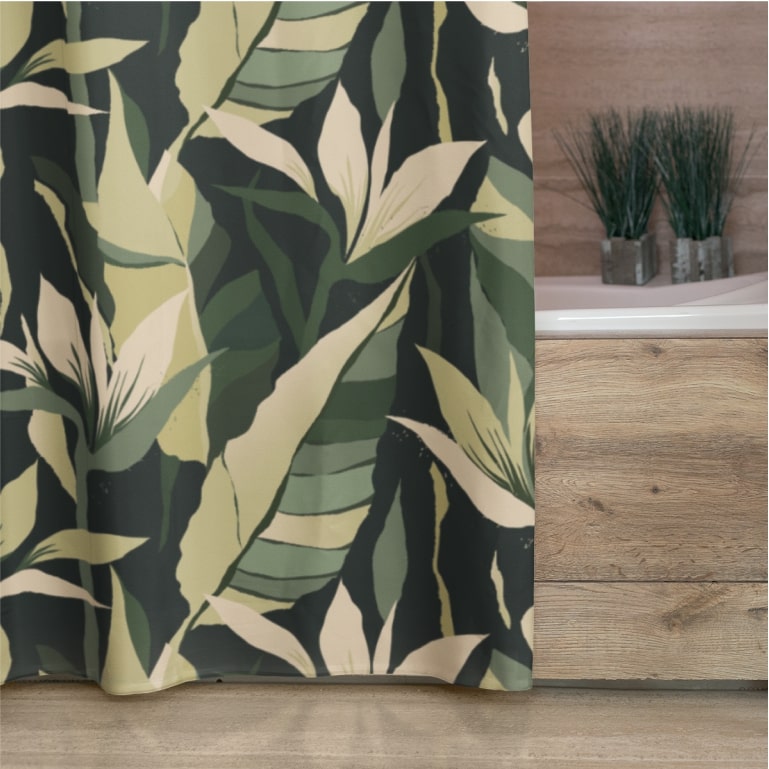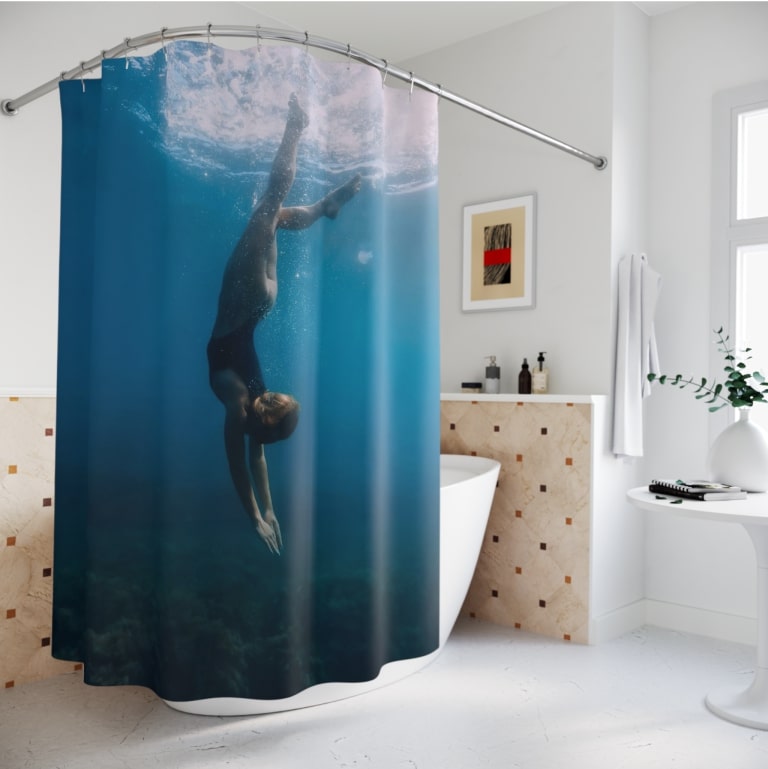 Personalize It With a Picture
From zoomed-in celebrity faces to a collage of scenic pictures, create designs that surprise and delight customers and loved ones. Go for a hilarious twist with your shower curtain, a collage of gimmicks, or stand out with a beautiful urbanscape or wildlife background.
Create merchandise for other projects, advertising your content or career. Use custom shower curtains to supplement your campaigns or new releases. Skip the regular merch and sell something truly unique – a gift that always has a place in a household.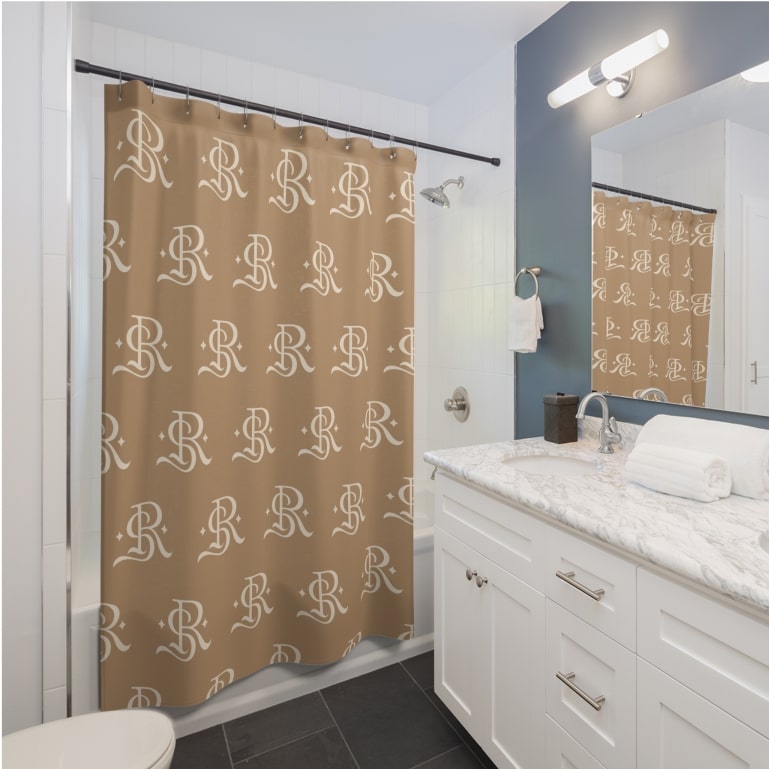 Sell Custom Shower Curtains With Printify
Pick a Shower Curtain and Upload Your Image
Choose your favorite custom shower curtain blank from the Printify catalog. Check design details, and once you're satisfied, click Start designing. Using Printify's free Mockup Generator, upload a design file that fits the shower curtain from your device, and center it on the canvas.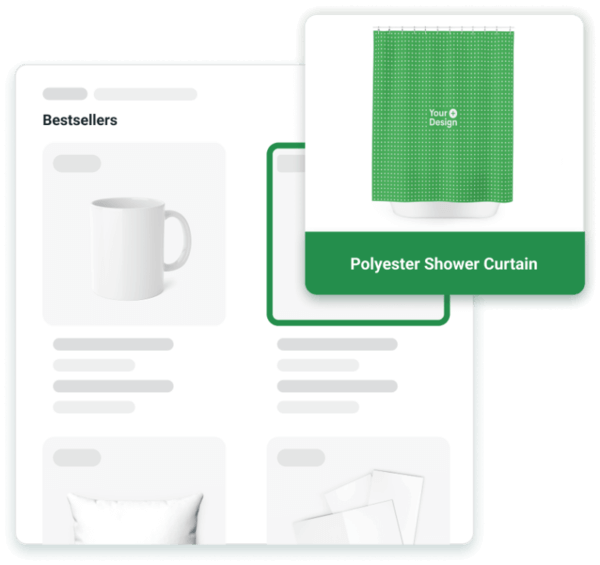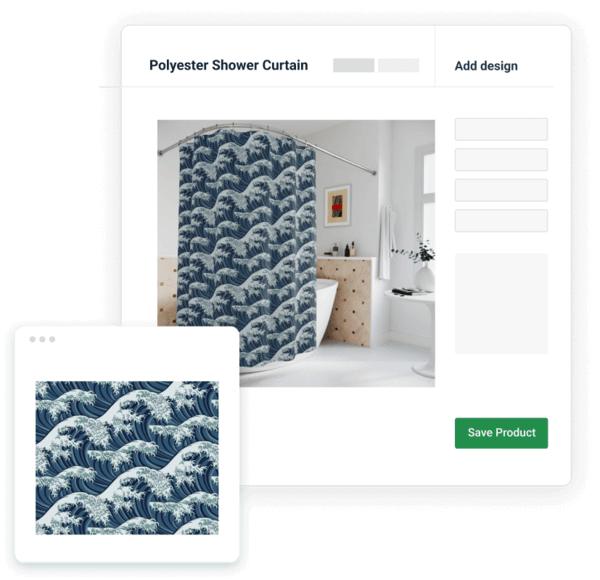 Use Product Preview and Order a Sample
Check the Preview screen to ensure your image is high-quality and matches the shower curtain dimensions. The Mockup Generator will guide you through the process. Once you're done, go to the My products tab on your Printify account dashboard and click to order a sample shower curtain to test the print quality and delivery estimate.
Integrate Your Store and Start Selling
Printify integrates with top-leading eCommerce platforms and marketplaces. Click Add store on the top menu of the Printify home screen – choose from Etsy, Shopify, WooCommerce, eBay, etc. Finish with appropriate tags, descriptions, and prices in the product edit section, and you're all set to sell or ship your first custom shower curtain.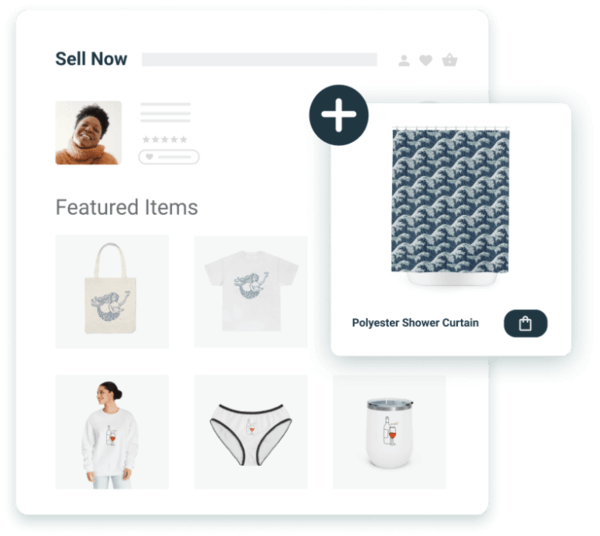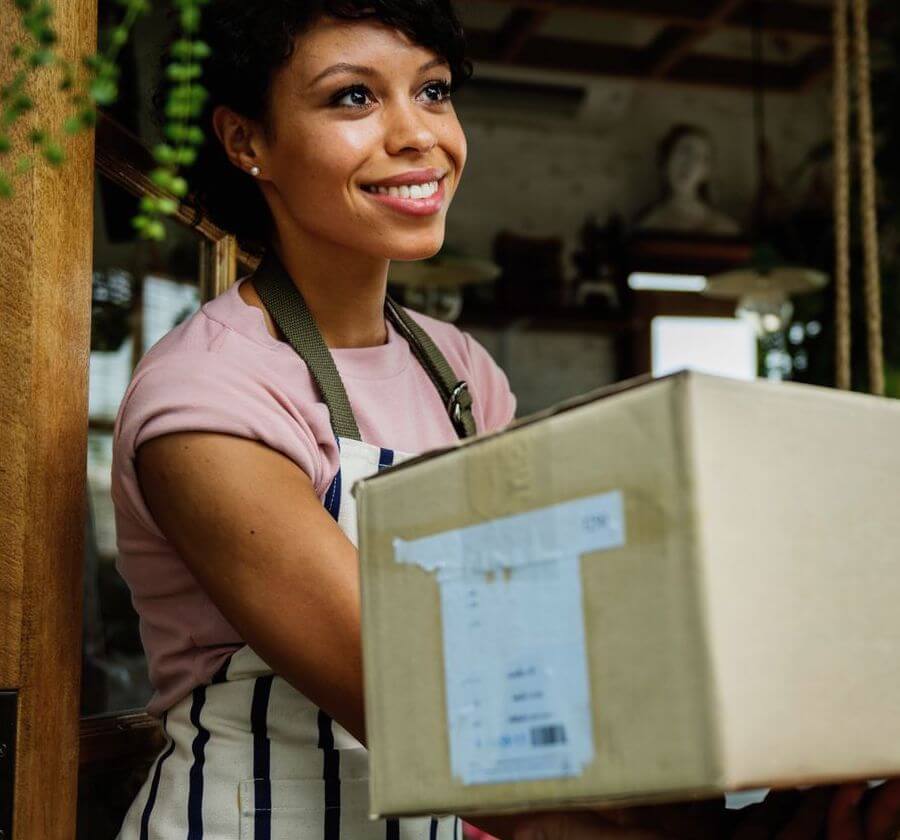 Custom Shower Curtains With No Minimum Order
Once you've set up a store and designed a shower curtain, added a price, product description, and tags, it's time to sit back and enjoy a product with no minimum order policy.
You don't need to fill a quota or set up limited stock. Once you've made a product, we'll print it on-demand whenever and wherever you need it.
Frequently Asked Questions
Take any photo, graphic, or artwork and create custom-printed shower curtains as a gift or part of your store collection. Get custom shower curtains for competitive prices with direct shipping and delivery estimates.
Integrate your Printify custom shower curtain with Etsy, eBay, Shopify, and more to sell with zero order minimums. Develop a well-rounded store, sell on demand, and ship to your preferred customer demographic. Turn home decor into your next money-making venture.
Start a Print-on-Demand Business Now